Frank Boucher was born on October 7th, 1901. During his time on this earth, Frank Boucher would work for the federal government during World War I, become a Royal Canadian Mounted Police (RCMP) officer and then would go on to put together a Hall of Fame career, in the sport of professional ice hockey.
Nearly 100 years ago, on November 16th, 1926, Frank Boucher, wearing a Rangers sweater, would take the opening ceremonial face-off against Nels Stewart of the Montreal Maroons. The puck, which was dropped by Lois Moran, a silent-film star of her time, was the first puck ever dropped in Rangers history. A few minutes later, Frank Boucher & Nels Stewart would take another draw, this time for real and Tex Rickard's New York Rangers were now a reality.
Frank Boucher was part of the original New York Rangers and was their first line center for two separate Stanley Cup victories. During his playing career, Boucher would win the Lady Byng trophy seven times, before being given the trophy out-right to keep. Off the ice, Boucher was an innovator, who constantly changed the game & actually helped write the NHL rule-book. On the ice, Boucher was one of the league's top stars. Perhaps Boucher's biggest highlight, of his eventual Hall of Fame Career, took place during the 1928 Stanley Cup Final.
In the 1928 Stanley Cup Final, the Rangers, who were at a disadvantage due to the fact that they were a team located in America and were only two years old, squared off against the heavily favored Montreal Maroons. While this series is known for Lester Patrick's appearance in goal for the Rangers, after an injury suffered by goaltender Lorne Chabot, what is lost is what Frank Boucher did in that series.
In the five game series to determine the Stanley Cup Champion, Frank Boucher scored the overtime game winning goal in Game 2 of the series. In Game 4, with the Maroons leading the Best of Five series by a tally of 2-1, Frank Boucher scored the lone goal, thus tying the series at 2 games a piece. In the winner-take-all Game 5, the Rangers would win the game by a final of 2-1, with both goals coming from Frank Boucher. If there was a Conn Smythe Trophy in Boucher's era, he would've won it.
After a career that was Hall of Fame bound, Frank Boucher would eventually take over the head coaching reigns from Lester Patrick. From there, Boucher coached the 1939-1940 New York Rangers to the Stanley Cup. In Frank Boucher's book, "When The Rangers Were Young", which was published in 1973, he called that Ranger team the best Ranger team in team history.
With Lester Patrick getting ready to retire, Frank Boucher would once again replace Lester Patrick, this time as General Manager. While Lester Patrick would still hold influence with the franchise as an advisor, the show was now in the hands of Frank Boucher.
Boucher had the unenviable task of trying to piece the Rangers together during World War II. In this era, most hockey players served in the war. This left the Rangers at a great disadvantage, as they were the southern most NHL team geographically, in a league where rights to players were based on the location of where they lived. With teams having rights to players living within a 50 mile radius, teams playing in the hockey beds of Montreal or Toronto, had better access to talent, than in New York, where hockey wasn't as popular.
Things got so bad for the Rangers, that Boucher was forced to come out of retirement during the 1943-1944 season. Even at his advanced age, he was still the best player on the team.
Adding to Boucher's struggles as GM, was that right before Boucher took the job, Lester Patrick sold off all of the Rangers minor league assets, as Patrick thought all minor league hockey operations would be suspended during the war. However, minor league hockey continued & the Rangers had even less of a talent pool to choose from.
Despite an uphill battle to make the Rangers a competitor, Frank Boucher, as General Manager, was able to put together a roster that made the 1950 Stanley Cup Final, largely due to the work from goaltender Chuck Rayner. Rayner was so dominant that season, that he won the Hart Trophy, as league MVP.
However, just like every other obstacle that the Rangers faced, the Rangers were once again at a disadvantage in this series. During this era, Madison Square Garden did not care about their hockey team, nor did they have the speed to have two events in one day, as we now see today with the Rangers & Knicks.
(Another history note here, for those who don't know – Emile Francis was the one who changed this practice. One of the conditions that Emile demanded, before the Rangers hired him to be the GM of the team, was that the Rangers must play all their home playoff games at MSG. What a concept.)
In this era, the circus was more important than hockey and more profitable. Thus, whenever the Rangers had playoff games in the Spring, when the circus was in town, the Rangers would play second fiddle and would have to play their home playoff games in other markets. The 1950 Stanley Cup Final was no exception, as the first two Ranger home games were held in Toronto, while the next five games of the series were held in Detroit, the city of the team the Rangers were opposing.
Even with these things against the Rangers, the Rangers did force Detroit to a Game 7 in the 1950 Stanley Cup Final. For the Rangers, sadly, they lost Game 7 in double overtime. One must wonder, how would've the series played out, if the Rangers actually played any of these games in their own arena?
For Frank Boucher, this would be the last time he would be part of a Stanley Cup Final. It's a shame too, because he was a puck bounce away, from being in the rare air of having his name etched onto the Cup as a player, a coach and as a general manager.
The Rangers, still reeling after World War II & the sold off assets by Lester Patrick, could never recover. While Chuck Rayner was still an amazing goalie, he couldn't single-handedly carry this team again to a Stanley Cup Final, as he did in 1950.
In 1955, after a 29 year association with the New York Rangers, Frank Boucher, who wanted to re-sign from his post two years prior, finally had his resignation letter accepted by General Kilpatrick, the-then head of Madison Square Garden.
For the next 22 years, Frank Boucher went back home to Kemptville, Ontario, where he continued to be involved with hockey. After a long battle with cancer, Frank Boucher passed away on December 12th, 1977.
If you are a regular reader of these blogs, the above intro should be no new news to you. I've recapped Frank Boucher's career plenty of times on this site. There's also a tab at the top of this site, with plenty of links to all of my material on Frank Boucher. However, as this site/blog continues to get new readers, I'm reprinting some stuff here, in case these new readers haven't seen this stuff before.
In fact, for the new readers, or for the older readers who have may have forgot, here is my past work on Frank Boucher and my goal to have the Rangers honor him in the rafters of MSG:
---
---
---
---
---
---
---
---
When it comes to Frank Boucher, here is how my fascination and interest grew with him. For starters, I've always been a fan of history, whether it be American history or sports history. When thumbing through old Ranger programs or other reading material, you would always see "The Frank Boucher Award", an award that was silently discontinued in 2010. I didn't pay much mind to it then.
Personal life wise, throughout my twenties, I was in the pro wrestling business and that took up a ton of time. It was basically having another full-time job. During my ten years, where I promoted/ran/booked and was basically a jack-of-all-trades in the independent wrestling business, I traveled a lot and was always busy. While I watched the Rangers, Yankees and Giants, I would routinely miss games because of my obligations with my wrestling business.
When I finally sold my wrestling business and all my wrestling assets off in 2012, it opened up a ton of free time for me. While I still kept up on all my teams, attended games and all that jazz, I wasn't as hardcore of a fan as I am today. I knew what was going on and everything, but I wasn't on top of the day-by-day minutiae with all three teams. In the present day, I now feel like I have the same fandom from my teenage years. I can't overstate enough how much time the wrestling business took when I was in it.
With new free time now opened, I started reading a ton of books. And I mean a ton of books. I have thousands of books now in my place, with 90% of them sports or American history related. One author who I always liked, was someone who I knew from TV since as long as I can remember, and that's Stan Fischler.
For those who don't know, Stan Fischler has worked in hockey for over 65+ years. While many fans know him from his articles and television work, the man has written 100+ books, usually on the topics of hockey and the subway system. To this day, he's still writing books and usually writes the foreword of any hockey book, that is NY Ranger history related.
In 2014, Fischler wrote a book, where he transcribed many of his interviews with legendary players. In that book, he reprinted an interview he did with Frank Boucher. Turns out, Frank Boucher was the one who originally gave Fischler a job with the Rangers, back in the early 1950's.
After reading Stan's book, I wanted to know more about Frank Boucher. I went through Google rabbit hole searches. I tried to find old interviews. I went through YouTube. I read more books, including Frank Boucher's autobiography, "When The Rangers Were Young".
As I continued to do more and more research, it just baffled me – how come the New York Rangers ignore this guy? After all, the Rangers have only won 3 Stanley Cups in 93+ seasons and Frank Boucher was a major factor in 75% of them.
I mean think about it. Look at the rafters in Detroit, Boston, Chicago, Toronto and Montreal, the other 5 teams that make up the Original 6 teams. In those rafters, you will see every Hall of Famer and legend that played for those franchises honored, no matter what era those men were part of. When you look at the rafters at MSG, you see a few guys without a Stanley Cup honored. You also see the 1994 legends honored. And oh yeah, instead of honoring a guy with three Stanley Cups, MSG honors the hippie drug band called "Phish". Are you kidding me?
As I continued my research, I started writing blogs, campaigning for the Rangers to do the right thing and honor Frank Boucher. I linked some of those blogs above.
In this new age of social media and blogging, you never know who is reading your stuff. All it takes is the right eye to find something and maybe you can make something positive happen. It's why I reprint my Boucher blogs from time-to-time, as I'm hoping someone in the Rangers with influence sees it.
I can tell you this, some people from the Rangers have seen some of these blogs. I was told by someone within the MSG Networks, that when he asked about this topic, he was told, "It's been too long and no one cares." I've also heard rumors that Rod Gilbert, who would have some pull, isn't interested in seeing his number 7 shared in the rafters. To that, I say, "are you serious?" After all, the Rangers already have the number 9 and number 11 retired twice. Putting Boucher's #7 up in the rafters would not discredit anything Rod Gilbert ever did.
And furthermore, Stan Fischler has asked the Rangers about retiring Frank Boucher's #7, only for his pleas to fall on deaf ears. From what I get, the Rangers don't want to honor Frank Boucher because they feel it's been too long, it's not profitable and they don't see the point. For them, all I can say is that it is better to right a wrong, than let an error go by forever.
In 2015, I first started writing about Frank Boucher. In 2016, I did a monster blog on Frank Boucher. In 2017, a distant relative (a great great nephew) of Frank Boucher commented on one of my blogs. Turns out, his son was doing a family tree project for school. When googling "Frank Boucher", he found this blog.
When I saw the comment on the blog, I didn't know if this person was screwing around. I emailed this person, whose name is Mike Casagrande, and asked him if he was being playing around or not. He replied with this:
Yes he was. Frank had a non-hockey playing brother named Carrol (my great grandfather). Carrol had two boys, Ray and Thomas.

Ray is my grandfather. 

I came across your website, as my son is doing a project on Frank right now. Ironically, he is the same age I was when Frank gave me a copy of When The Rangers Were Young.

I grew up in Ottawa but now live in British Columbia. What is even funnier is that I met my wife in 1994 ( a Canucks fan no less ) she was renting a condo from Andy Bathgate's daughter (Sandee), who Frank coached. We had our honeymoon in NYC just to go to a Rangers game!
For all the horror stories you hear about the internet, here is a great one. From this one email, Mike and I went back and forth. Mike, through email, would introduce me to other members of the Boucher family. Mike would then ultimately introduce me to Frank Boucher's grand-daughter, whose name is Frankie Baird.
On September 14th, 2017, I received the following email:
Hi Sean,

My name is Frankie (Boucher) Baird, eldest grandchild of Frank Boucher. My grandfather had one son, Earl, and 6 grandchildren. Our family has now grown to 17 great grandchildren and 11 great-great grandchildren. Most of us live in the Kemptville area where Frank settled after his hockey career. My husband and I bought Frank's home from him in 1972 and still live here.

My grandson, Braden Leeder has been in touch with you. I had a visit with Mike Casagrande a few weeks ago and he told me about your push to get my grandfather's retired number in the rafters at MSG. I remember years ago, my cousin Brian Boucher lamenting that Frank wasn't honoured in that way. I'm sorry I didn't pursue this.

Thanks so much for your efforts.

Let me know who I should contact to put some pressure on. I'm attaching a couple of pictures of my sisters and I with our children and grandchildren at our Reunion this summer. There are lots of us, descendants of Frank Boucher.

Kindest regards,

Frankie
For the next two years, Frankie and I would go back and forth over email. As you can tell from the blogs I linked above, I would post updates from her and share some never before seen photos. She would tell me stories about her grandfather and I would tell her what was the latest with my push to get her grandfather honored.
After mostly doing a solo-campaign, Frankie Baird officially joined the efforts to get Frank Boucher his just due from the Rangers, on December 13th, 2018. On that date, Frankie Baird released the following letter/statement:
December 2018

To Whom it may concern:

For many years I have thought about the fact that my grandfather, Frank Boucher, has had his #7 jersey retired by the New York Rangers, but is not being honoured in Madison Square Garden. Why is his jersey not hanging in the rafters? I remember the night that #7 was retired. My Dad, Frank's only son, accepted the Jersey posthumously in MSG. It was a special night, and for many years, I assumed my grandfather's jersey would be in that place of honour. No offense to Rod Gilbert, I'm glad his is there; however, I don't understand why Frank Boucher's isn't.

Frank Boucher joined the original New York Rangers in their inaugural season, 1926. He is one of hockey's legends, playing, coaching and acting as General Manager for the Rangers from 1926-1955, and has been in the Hockey Hall of Fame for years.

I grew up hearing about New York and knew how Frank and our grandma, Aggie, loved their life in New York. His success as a player, coach and GM is well documented. Pick up any book on hockey history and you will find Frank Boucher mentioned. Frank wrote a great book, "When the Rangers Were Young" and it tells of the early years of hockey in the NHL and in New York. He was a humble man, but hard working and always thinking of new ways to improve the game (eg., the red line, pulling the goalie).

We have been remiss, as a family, in not asking for this small gesture from the New York Rangers and Madison Square Garden. We are a large extended family, and we remember and love Frank Boucher. It saddens us that he is all but forgotten in New York. His immediate descendants include six grandchildren (one grandson, died at age 41), 15 great grandchildren, and 19 great-great grandchildren. In the family tree, descending from Frank's siblings, there are dozens of grand nieces and nephews.

Frank's third grandchild, my sister, Bridget, remembers that she was in high school before she even realized that there was something special about Frank Boucher's career. He was a very humble man and never bragged, and because there were so many hockey people around our house in the off season, it all just seemed normal to us. (I felt like I knew Lester Patrick, the Cook brother's, Stan Fischler, all these names of managers, players, sports writers that we heard so often from our grandpa.)

It was Bridget's job in the winter, when Frank and Aggie were away for the hockey season, to polish the trophies that were on the staircase, as well as in a chest in our house that burned down, the winter of 1966. I felt so guilty, as a 17 year old, reading the sports page the next day about Frank Boucher's trophies being lost in a fire. I had walked right past all these trophies as I lead my sisters and brother out of the burning house. It was such a relief when my Poppa called and told me not to worry, all that mattered was that we all got out safely.

Bridget also was so disappointed when she learned that the Rangers had renamed the Frank Boucher Trophy. Bridget remembers the year Adam Graves won the Frank Boucher trophy; he was her daughter, Katie's, favourite player. A Ranger fan, Katie's room was plastered with posters, articles and pictures of the Rangers. It hit home that another generation of grandchildren would appreciate the accomplishments of their famous Great Grandpa.

In Bridget's words: "I personally think that Frank Boucher was extremely well rounded as an elite player, coach, manager, and commissioner (Canadian Western Junior Hockey League). As much as he loved the Rangers, I think the Rangers were lucky to have him. His ease of speaking to the press probably helped them a great deal when they first entered the League, and basically everything he did would have helped them to become a successful franchise. He helped build the New York team that has thrived for so many years."

Frank Boucher's first great grandchild, my son, Rod, was born on Frank's 70th birthday on October 7. Frank was so excited, not only about the birth of his first great grandchild, but also about Rod being born amid all these #7's, his lucky number. My two oldest children, Rod and Angie, have fond memories of their Great Grandpa Frank coming over most days of the week to play with them. They were precious to each other.

Although we think our Poppa would feel slighted that Rod Gilbert's jersey is holding that place of honour for #7 at Madison Square Garden, we don't think he would have lobbied on his own behalf, for his sweater. He was not a man who sought recognition, but we always saw how very gracious he was when he received that recognition.

For we who loved Frank Boucher, it is our hope that we will see the day that our grandfather is recognized for his contribution to the New York Rangers and that we will see that Frank Boucher #7 hanging in Madison Square Garden.
Frankie (Boucher) Baird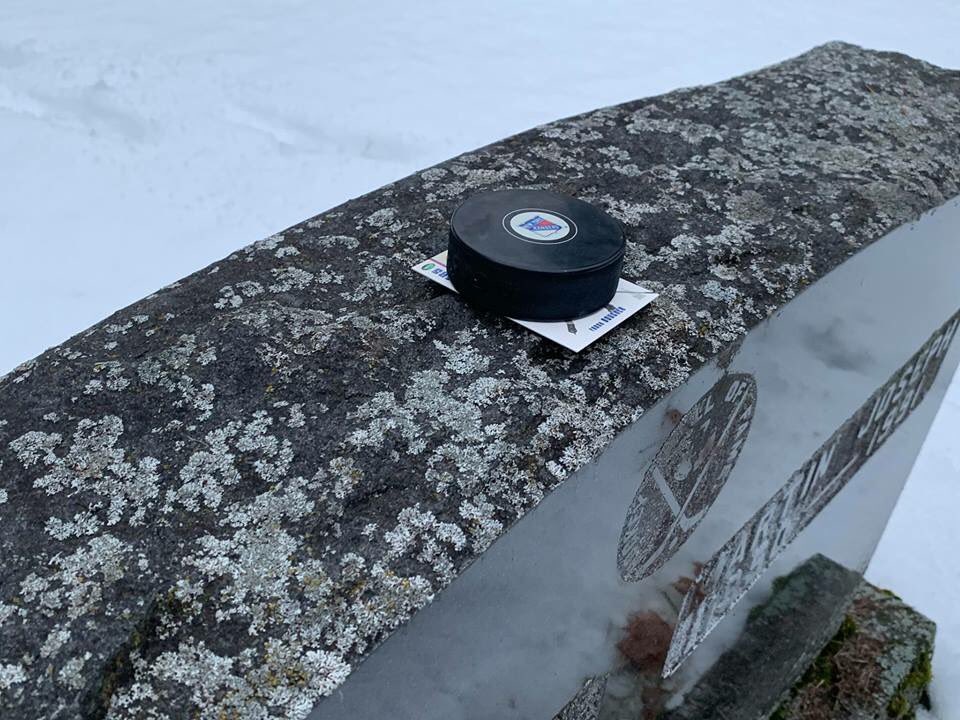 In November of 2018, BORGATA RAY and I went on a road-trip to see the Rangers play Ottawa and Montreal. When you drive from Montreal to Ottawa, the city of Kemptville is on the way & about 30 minutes from Ottawa. Kemptville is where Frank Boucher is buried and where Frankie Baird still lives. Unfortunately, during our trip, Frankie Baird had a family obligation when we were in town, so we couldn't meet up.
In the time after visiting Frank Boucher's grave and releasing Frankie Baird's letter on this site (A letter that Rangers beat reporter Rick Carpinello told someone "I have no interest in this story.") Frankie & I would continue to exchange emails and stories.
When the Rangers released their schedule for the 2019-2020 season, I noticed that the Rangers were doing the same road-trip as the season prior, as they would be playing Ottawa & Montreal during the same weekend. Since Montreal is always one of our favorite cities to visit, I figured BORGATA RAY would be interested in doing this trip again. He was. I then relayed to Frankie that I would be back in Ottawa. From there, we made plans to meet up.
Originally, the plan was for my crew to meet Frankie & her family at some random bar or restaurant in Kemptville. After all, despite talking electronically for 2+ years, it's not like we knew each other personally. However, call it through the powers of hockey fandom or what, Frankie invited myself, TEN O'CLOCK TOMMY & BORGATA RAY to her house.
Just think about that. Frankie Baird is 70 years old. (I know, never ask the age of a woman, but it is pertinent to this story!) Frankie's sister is a few years younger and Frankie's husband is also of that age group. All three of these people are Canadian small city citizens. Now look at me and my crew:
Despite a 30 year or so age difference, different nationalities and a different way of life, through hockey, on a cold day in November, the Baird family & my crew all got together, to talk about the legendary Frank Boucher.
On November 22nd, 2019, my crew all packed into BORGATA RAY's car and we did the two hour drive from Montreal to Kemptville. While both BORGATA RAY & TEN O'CLOCK TOMMY know about my blogs and my passion to get Frank Boucher's #7 retired, it's not like they know about all my emails and conversations with the family of Frank Boucher, particularly with Frankie Baird.
I don't know how the Baird's felt (I'm sure I'll find out after they read this) but Ray & Tommy were nervous a little bit. After all, here we are, three American citizens in a different country, going to visit people who were, and now no longer are, complete strangers to them.
Personally, while I was excited to meet the Baird's, I could understand why Tommy & Ray had that "I don't know what to expect" feeling. I have to give Ray & Tommy credit here too, because they wanted to be part of this. And really, without Ray, his car and his love for history too, this trip doesn't happen for me. Talk about a good friend. (And you know you're really good friends with someone when all you do is break balls with each other all day!)
And again, I look at it through the Baird's eyes too. They were inviting three strangers to their house. They don't know if we were nuts or anything. Okay, maybe we are a bit nuts, but our craziness for the Ragners isn't going to hurt anything, except for our livers while drinking and watching these games!
I can't stress this enough – this is just a great story, where hockey brought people from different backgrounds all together. I'm not petitioning Walt Disney to make a movie out of this or anything, but I'm just trying to give you all the groundwork and facts here!
Around 3:45PM on a Friday afternoon, we finally arrived to the Baird family home. As mentioned, this is a home that Frank Boucher used to live in, as Frankie & her husband Brian, bought the house from him in 1972. And really, it's not a big deal that Frank Boucher used to live there, as our meeting was with the Baird's. It is just a cool little factoid to add to this story.
Upon our arrival, after exchanging pleasantries, (and yes, Ray & Tommy were nervous to begin with, but within five minutes, when they saw how cool and nice the Baird's were, they opened up) we sat down at the Baird dinner table, where the table was adorned with all sorts of Frank Boucher, Ranger and NHL memorabilia and photos.
I have to say this, before sharing a ton of these photos – what the Baird's have here is invaluable. I don't know how much this stuff is worth on the open market, but I would imagine at least five figures, if not more than that. Keep in mind of this fact, as mentioned in my Frank Boucher autobiography book review, Boucher lost a ton of stuff after a 1962 house fire. The biggest item lost in that fire was the original Lady Byng trophy, a trophy Frankie Baird remembers seeing as a little girl.
What is even more amazing, is that everything the Baird's have, is kept in mint and pristine condition. Nothing looks weared, weathered or faded. In fact, when looking at some of the stuff, I wanted to make sure my beer-soaked fingers didn't ruin anything!
And speaking of beer, the Baird's are aware of this blog and had some cold beers for us as well. Frankie also whipped up her famous hamburger nachos, in addition to these bacon-wrapped chestnuts, which blows away anything I've ever had in a restaurant! And that says a lot, because most Americans love bacon!
Again, I can't thank the Baird's enough, as they really took us into their home and went above & beyond for people who were virtually strangers to them. I hope to be able to one day reciprocate in the same manner. And after all, we were originally going to meet at a bar or restaurant, where I wanted to treat them. Instead, they fed us and beered us & gave us an experience we won't forget.
Oh, and I have to mention this – they had Coors Light beer for us. The ironic thing here? If they ever come to NYC, and hopefully, to see Frank Boucher's #7 jersey go to the MSG rafters, I will be getting them Molson Canadian or Labatt Blue beers, while they are in America!
After the usual feeling out process and small talk, the Baird's and my crew forged a friendship and exchanged stories and laughs. Frankie and Bridget, the granddaughters of Frank Boucher, had stories for all the pictures and memorabilia they showed us. Between Tommy, Ray and myself, we took something like 300 pictures. I can't post them all, as this blog would take forever to load, but here are some of the best ones: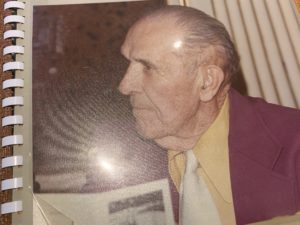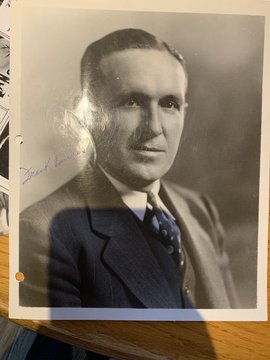 To be honest, seeing all of this stuff was overwhelming. Despite the fire of 1962 and even with other members of the Boucher family having other memorabilia, the Baird's collection is enormous. They have countless photos. Even better, they also have countless newspaper clippings, which helps capture the era and the feel of things at the time.
After our meal and looking at everything, the Baird's and my crew all talked about some current events. The best thing was that the Baird's were just like us, and when I say that, I mean they have the same sense of humor as us, especially Brian Baird, who I enjoyed a few laughs with.
Since my meeting with the Baird's, I have posted this picture a few times already:
Some people were asking me, after seeing this picture, the same question: "Why is Bridget wearing a Senators jersey?" While she would be the best person to describe her own fandom, I think it's quite obvious – she lives 30 minutes from Ottawa. Plus, after all, the Rangers haven't righted their travesty of justice yet, so maybe if and when the Rangers ever do honor Frank Boucher & put his jersey in their rafters, maybe she will get a #7 Boucher Rangers jersey too!
After about an hour or so, we had to make our way to Ottawa, to attend the Rangers/Senators game. In the hour we had with the Baird's, it was an hour we won't forget and it made our road-trip our most memorable one yet.
I can't thank the Baird's enough. What started off as one voice, albeit maybe loud and abrasive at times, in an effort to see the Rangers do Boucher right, these blogs led us to the family of Frank Boucher. It's just one of those "Only in Hockey" stories.
In conclusion here, I hope this blog inspires someone, even if it's just one person, to do their own research on Boucher. I hope that just like me, that person or people, also bombard the Rangers with emails about Frank Boucher. Maybe someone has a connection to John Davidson, the Rangers team president, and can put this suggestion on his desk. Maybe the Rangers aren't truly aware that there is a huge family of Boucher's & Baird's, that would be appreciative and eternally grateful, if the Rangers decided to honor Frank Boucher and his number 7 jersey.
And really – no one is looking for a huge pomp and circumstance thing here. In fact, I would be more than happy to just walk into MSG one day and just see the jersey in the rafters, even without a ceremony. All I want to see is this wrong righted and I don't care how it gets done, as long as it gets done.
One last time, thank you to Frankie, Brian and Bridget for going out of your way and hosting us. Just know, we will keep on fighting, no matter how long it takes.
As far as this website goes, I'm attending the Rangers/Carolina game on Wednesday night. I'll be back late Wednesday/early Thursday, with a game review. If you missed my previous recaps, check out the blogs on the main page.
As always, thanks for reading, Let's Go Rangers and…
"LONG LIVE THE MEMORY OF FRANK BOUCHER!"
Sean McCaffrey
BULLSMC@aol.com
@NYCTHEMIC on twitter