Greetings and salutations everyone and welcome to another blog here on BlueCollarBlueShirts.com. On Monday night, the Rangers hosted the Minnesota Wild, in a game that was pretty much built up around the M$G return of Mats Zuccarello. For many fans, a younger generation of fans, this was their Eddie Giacomin return game. Just how Ranger fans, of nearly 45 years ago, saluted a returning Eddie Giacomin, Ranger fans in 2019 gave Zuccarello huge ovations tonight. However, unlike the Giacomin return game against Detroit, the Rangers won this battle with the Wild, picking up the 3-2 win in overtime.
Before getting into this game and the Giacomin vs Zuccarello stuff, I want to thank everyone who read the road-trip blogs. I got a ton of feedback from those blogs. If you haven't read them already, you can check them out below: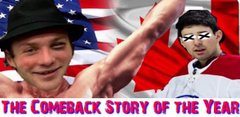 ---
---
---
---
Unlike the other 27572342764678 Ranger fan blogs, podcasts, twitch reports or whatever else is out there, I always try to find the storylines of a game. After all, as you know, just like Tony DeAngelo, who ironically scored the game winning goal in overtime tonight, I am not a fan of all of these fugazi and foo-foo charts, which other people spend copious amount of hours on. Maybe it's the pro wrestling in me, but I really enjoy the dramatic aspects of the game.
When the Rangers schedule was announced this past summer, one game that many Ranger fans had circled was this game. Providing he was healthy, this was going to be the game where Mats Zuccarello made his return to MSG.
I've talked a lot about Mats Zuccarello on these blogs. In short, I've always liked his game. I've always respected his drive, his spirit, his passion and his desire. While he wasn't the best player, you never saw him take a game off. During his run here in New York, Zuccarello always gave his all. As a result, he became a beloved Ranger, just like how Eddie Giacomin once was.
Due to the Rangers rebuilding and not wanting to give a 32 year old player a long-term deal, the Rangers traded Zuccarello, during the 2018-2019 season trade deadline. It's a deal that many Ranger fans knew was coming, and it was a move some fans didn't want to see. After all, the Rangers continue to pay a 37 year old Henrik Lundqvist big money. If you look at the two players, who are now all of a sudden BFF's (Many fans will recall that Zuccarello was once part of a Three Muskateer crew, with Brassard & Hagelin) during a rebuild, I would much rather Zuccarello than Lundqvist here. After all, Zuccarello is younger, a better team leader and could help young forwards. In addition, the Rangers have two amazing goalie prospects right now, who could use the playing time during a rebuild.
The reason I bring all of this up, is because when you look at all of this, it's interesting to compare Zuccarello vs Giacomin and Giacomin vs Lundqvist.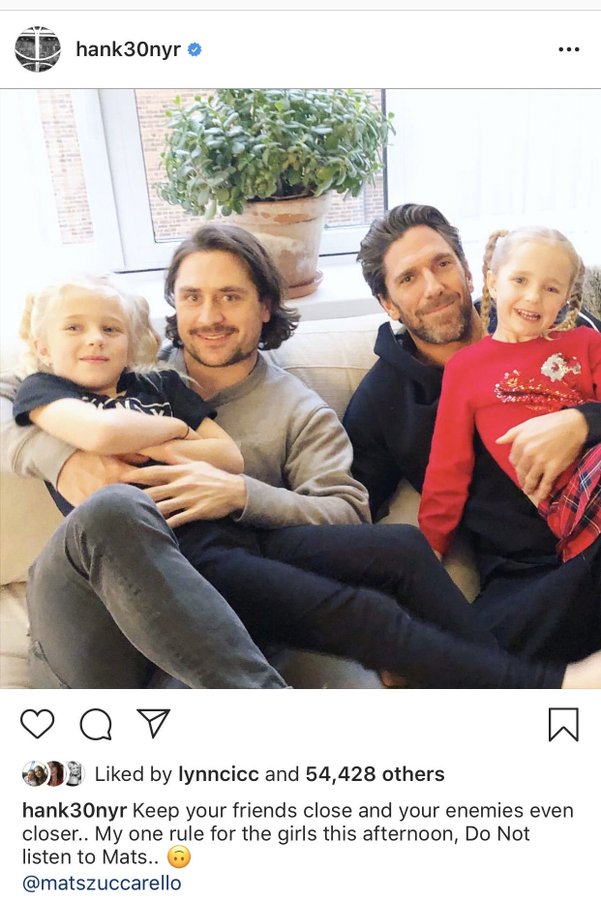 To be clear here, especially to the older fans who are reading this, in no way, shape or form am I comparing Zuccarello to Giacomin here. Obviously, the situations were different. Giacomin, unbeknownst to him, was WAIVED for free and Detroit claimed him. Zuccarello knew he was going to be traded.
While Zuccarello was a big part of deep Ranger playoff runs, there was never a point in his career where he ever matched Giacomin's popularity, that Giacomin had with Ranger fans from a different generation. For a long time, Giacomin was the face of the Emile Francis "Cat Era" Rangers, despite the team boasting the very popular GAG line and Hall of Famer Brad Park. This is not a knock on Zuccarello. Giacomin was just more popular.
And if you're a young reader who doesn't believe me here, just ask you parents or grandparents. They will all tell you how much Giacomin was beloved, during his time as a Ranger. In fact, I would even argue that when it comes to the topic of popularity, Giacomin is a Top 3 beloved Ranger. To many, Giacomin will always be like the jersey number he wore – number 1.
Plus, after all, Giacomin had his number retired by the Rangers and entered the Hall of Fame in 1987. The Rangers will not be retiring Zuccarello's #36 and I doubt he will ever go to the Hall of Fame, unless there is some sort of Team Norway tie-in.
For younger fans who aren't aware and for older fans who want to re-live it, while this video quality is not the best, take a listen & a look at Giacomin's return game:
Of note, as mentioned in my Delorean blogs of the summer, if anyone has this complete game, please drop me a line. I can't find a full copy of this game anywhere. Once again, the Rangers & M$G Networks have dropped the ball here. It's just a shame this franchise doesn't care about their history. Instead of replaying all the 1994 games 78636436964378963463489 times over, this would be a great classic game to watch. I mean seriously, can anyone name a more emotional regular season game in Rangers history, that didn't have a tragic event surrounding it? (The post 9/11 game with Mark Messier was probably more emotional, but that game wasn't emotional for hockey related reasons.)
Of course, you can also talk about Giacomin vs Lundqvist here and I've done that a lot during this rebuild. There are more similarities with those two, than the returns of Giacomin & Zuccarello to M$G.
At the beginning of the 1975-1976 season, Emile Francis, the long-tenured GM and sometimes head coach of the Rangers, knew that his team had peaked. They missed their window to cash in. The Rangers had three really great chances of winning the Cup during the "Cat Era", but they fell short in the 1972 Stanley Cup Final to the Bruins. That Stanley Cup Final loss was also sandwiched in between two playoff series losses to the Chicago Blackhawks.
In the 1975 Stanley Cup playoffs, the Rangers lost in the most embarrassing of fashions, when the lowly and new New York Islanders beat the Rangers in the first round. At that moment, Francis realized that it was time to start anew.
Yes, I know there was a game tonight, but hey –  where else are you going to find this stuff in a recap of tonight's win over the Wild?
During the beginning of the 1975-1976 season, Francis wanted to give his old guard one last crack at it. However, very early into the season, he knew the team didn't have it. While the Rangers didn't send out a letter about their intentions to rebuild, as they did in 2018, Francis set out to do just that. Gilles Villemure would be gone. Jean Ratelle & Brad Park would go to Boston.  Derek Sanderson was traded to St. Louis. Eventually, Emile Francis would be gone too, as he was fired in January of 1976.
What the Rangers franchise didn't know then, is that Francis made a series of moves that would pay off. Three seasons after making all of these moves, the Rangers would make it to the 1979 Stanley Cup Final. This new core of Rangers, while not winning the Stanley Cup, would also become a perennial playoff team again. Francis wasn't there to see this success, but it was the moves he made in 1975, which allowed the Rangers to move on, despite how difficult it was to move past these legendary Rangers.
In 1975, Emile Francis knew he would get extreme backlash and hatred for waiving Giacomin. He didn't trade him. HE WAIVED HIM FOR FREE, without any compensation. This was also in the non-salary cap era, so it's not like Giacomin had a hefty contract that was preventing the team from making moves. Ironically, Francis wanted to build up a new goaltender, in John Davidson. Fast forward to today, it is my opinion that JD needs to learn from his own personal past, and have the Rangers move on from Lundqvist.
In 2019, during this Rangers rebuild, even as recent as last week, we heard head coach David Quinn talk about how he "wants to get Henrik Lundqvist into a rhythm." This is a futile exercise and a move that does the team no good moving forward. Instead of building up Alexandar Georgiev or Igor Shestyorkin, the team still adopts the "We rather lose with Lundqvist, than try to win without him" mentality. This mantra bleeds all over the franchise, with Steve Valiquette and Joe Micheletti being the biggest drum-beaters of this thinking.
I look at the story of Eddie Giacomin and it just makes me wonder why the Rangers won't move on from Lundqvist? If you can waive Eddie Giacomin (and trade Brian Leetch on his birthday) you can move on from Lundqvist; whether it's forcing him in the press-box or buying out his contract.
When I re-watch the clips of Eddie Giacomin's return game to M$G, while this Zuccarello return game was big for Ranger fans, it didn't come close to rivaling Giacomin's return game. Of course, because of the positions Giacomin and Zuccarello play/played, there were more eyes on Giacomin in 1975, than there were on Zuccarello tonight.
I mean, think about this too – there were no cell phones in 1975. Ranger fans were locked in on Eddie. Tonight, all you saw were people distracted by their cell phones, as they snapped shots for social media, while admiring Zuccarello. In other words, unlike Giacomin, Ranger fans didn't give their 100% undivided attention to Zuccarello tonight. Giacomin had the eyes of every Ranger fan, at all times, during his return game. And unlike Zuccarello's return game tonight, Ranger fans were chanting "EDDIE" throughout the whole game and after the final buzzer.
From fan accounts and newspaper reports from that time, there were "EDDIE! EDDIE! EDDIE!" chants all game long, which again, is also due to the fact that Giacomin was a goalie, meaning that he was on the ice all game and was always involved. By the second period of this game with the Wild, M$G was pretty much quiet, as the noise at M$G reverted to its usual funeral level.
And another reason why I just spent 2000 words on this? Don't you think there is something in bringing up Giacomin, in regards to Zuccarello's return tonight? Isn't it an interesting story? I bring this up because this fact was never brought up on the M$G Networks tonight. Instead, we had Steve Valiquette verbally humping Lundqvist's bleached five-hole with his tongue, for the first 30 minutes of this broadcast. Sure, Zucc was also mentioned, but he was mentioned as Lundqvist's little side-kick.
Even sadder? Brendan Lemieux's monster game from Montreal wasn't mentioned at all. But hey, Lundqvist and Zuccarello are friends! Let's dedicate the broadcast to that!
I think Jennifer Eberhart said this first, and I'm paraphrasing her here – "Didn't we draft some guy named Kaapo Kakko? It would be nice to hear about him once in a while."
I've said it 7878070734 times this season, Steve Valiquette and these MSG broadcasts have never been worse. I miss Ron Duguay every time I watch these broadcasts. As I said a few blogs ago, instead of re-running an episode of JB Smoove for the 7678678967896789689698th time, extend the pregame show to one hour. Let Steve Valiquette read his love poems dedicated to Lundqvist in the first half hour. Then, in the next half hour, force him to talk about the rest of the team. Everyone wins.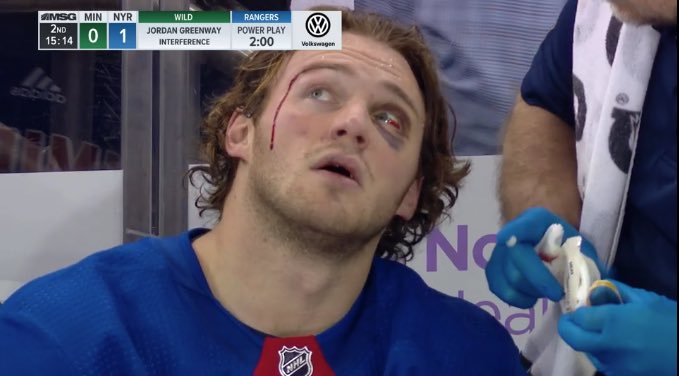 If you read the blog from last night, I mentioned that going into this game with the Wild, I was nervous. Despite winning the statement of all statement games in Montreal, I thought the Rangers were going to lay a stinker tonight. And really, until the final three minutes of this game, that's the way this game was headed.
In fact, Las Vegas must be aware of the Rangers struggles to capitalize after big wins. Let's go to the GAMBLING segment of the blog. This is what I said earlier today:
Season o/u record: 12-9

This is a tough one. These hooks are killers this season for me. What concerns me is Minnesota is in last place & #nyr isn't a big favorite. Tells me Vegas thinks NYR lays an egg, as usual after a big win.

Hank in net, MN stinks, play the trends – OVER pic.twitter.com/AzlcbDfZdm

— BlueCollarBlueShirts (@NYCTheMiC) November 25, 2019
With only 5 goals scored in this game, my season over/under record drops to 12-10. At this point in the season, I'm doing way worse than I did last year. A big part of that is because these over-under lines are usually at -6.5. Last season, you had a bunch of -5 and -6 lines. I think we've seen only one -6 line this season.
As I also said in my prediction, Vegas was predicting a stinker from the Rangers too. After all, how does Vegas make the Rangers a +115 HOME DOG, against a last place team? And not for nothing, Vegas pretty much had this game pegged. If it wasn't for a late Rangers power-play goal, Minnesota may have very likely won this game.
Whatever the case, with the win, the Rangers are now a true .500 team, with a 11-9-2 record.
A big part of tonight's game and broadcast were centered around Mats Zuccarello and I had no problem with that. I just wish the Rangers would honor their legends, especially one, that you know, won 3 Stanley Cups here, with the franchise.
The Rangers also aired this video during the game:
ZUUUUUUC

I'M NOT CRYING, YOU'RE CRYING 😭 😭 😭 pic.twitter.com/I7dPWOZZFm

— Rangers on MSG (@RangersMSGN) November 26, 2019
The Garden was rocking for Zuccarello tonight, cheering his name before puck drop and all during the first period. However, the feeling of "Zuccamania" died down after the first period. Whether it was the game becoming a snoozer or the fact that the Rangers blew 7364734 opportunities to distance themselves from the Wild, the once insane energy from the crowd petered out.
When it comes to Zucc, all I really have to say is this. I was a big fan of his. He had a great run here. He is a perfect candidate for my Rangers Rink of Honor. However, I just wasn't as amped for this return game as many others were. It's a great story, no doubt, but if Brendan Lemieux took a run at him, I would've been cheering for Lemieux. Maybe it's my "root for the front of the jersey" mentality.
Line-up wise tonight, the MSG Networks didn't care to tell us what the Rangers were doing. You see, Henrik Lundqvist had a house-guest on Sunday, so that was more important.
Here is what David Quinn put out there tonight: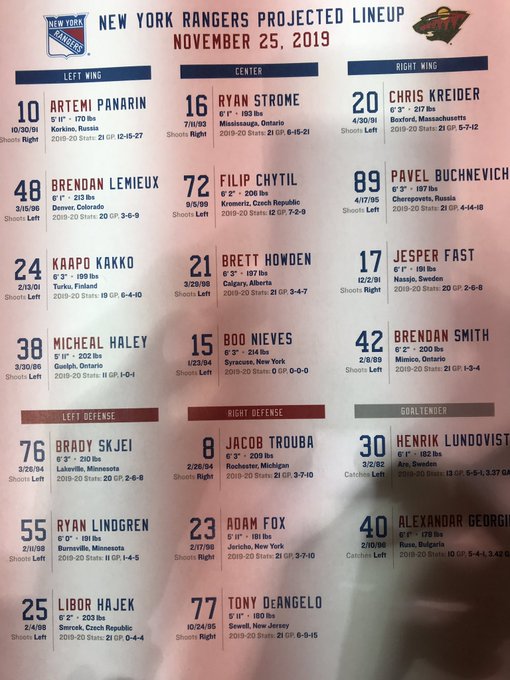 As you can tell, David Quinn made some changes, most notably, promoting Brendan Lemieux to the second line. While Lemieux didn't score two goals like he did one game ago, I thought he put forth another excellent effort tonight.
David Quinn also shook up Kreider and Fast, as Kreider went to the first line and Fast went to the third line. Understandable decision.
And as mentioned yesterday, Boo Nieves is back with the club and filled in for the recently injured Greg McKegg. Micheal Haley, who the Rangers had no problem moving on from last week, is still on the fourth line, while Vinni Lettieri, Timothy Gettinger and Lias Andersson skate in Hartford.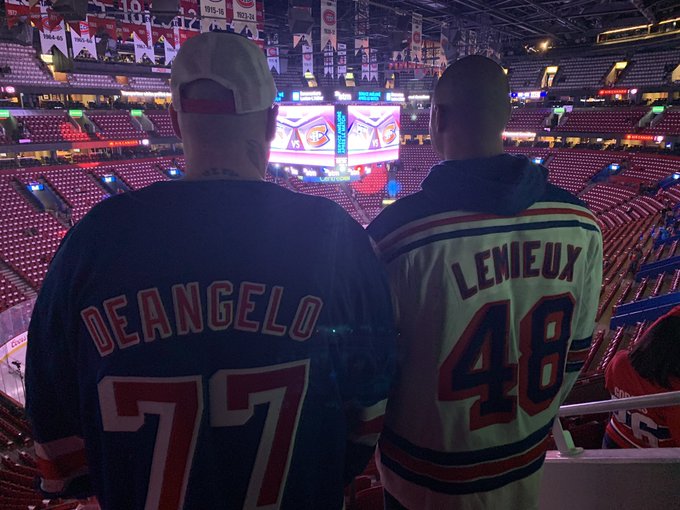 At this time, let's go to the box score of this game, courtesy of ESPN.com:
SCORING SUMMARY: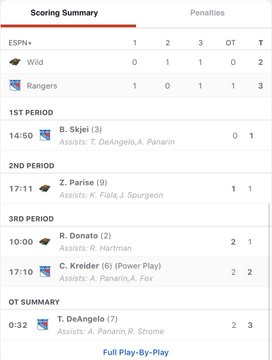 PENALTIES: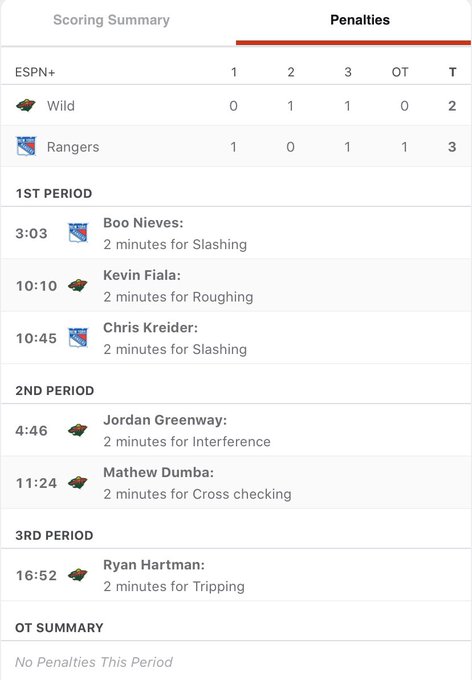 GOALIES:
| | | | | | | | | | | |
| --- | --- | --- | --- | --- | --- | --- | --- | --- | --- | --- |
| SA | GA | SV | SV% | ESSV | PPSV | SHSV | SOSA | SOS | TOI | PIM |
| 31 | 3 | 28 | .903 | 23 | 0 | 5 | 0 | 0 | 60:32 | 0 |
| | | | | | | | | | | |
| --- | --- | --- | --- | --- | --- | --- | --- | --- | --- | --- |
| SA | GA | SV | SV% | ESSV | PPSV | SHSV | SOSA | SOS | TOI | PIM |
| 28 | 2 | 26 | .929 | 24 | 0 | 2 | 0 | 0 | 60:20 | 0 |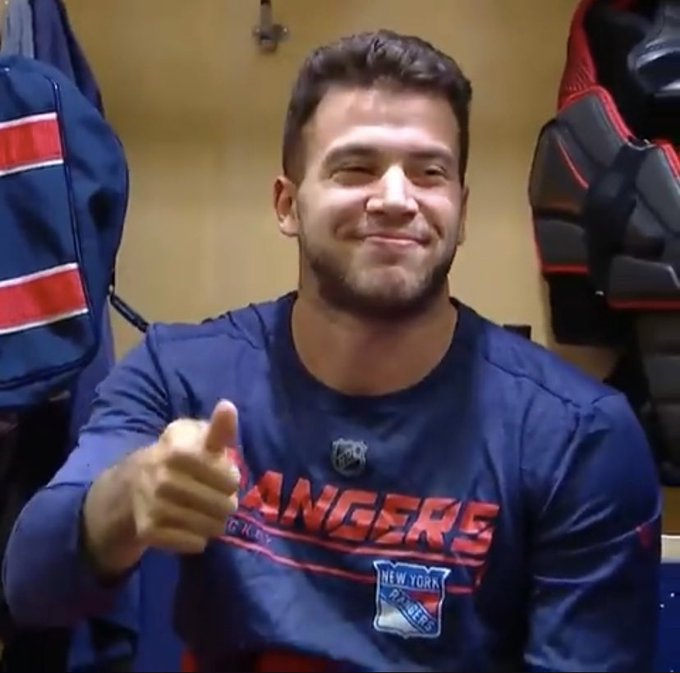 There were two things that I thought before the game and when watching this game. I feared the Rangers were going to lose and give away two points. That almost happened. As the game progressed, I felt that Zuccarello was going to have his Disney moment and score the game winning goal. When the two teams went into overtime, I for sure thought that Zuccarello would score the game winning goal in the shoot-out. Luckily, none of this happened and the Rangers battled back and won.
For two periods, the Rangers just dominated the Wild. They were dictating the tone of the game. They had extended time in the Minny defensive zone. They were drawing penalties. They were out-shooting the Wild. However, the Rangers didn't have much to show for it, outside of a one goal lead. Eventually, that lead would be erased. Then, in the third period, the Wild would take the lead.
It just felt that this game, a game where you felt the Rangers should be leading 4-0, was going down the toilet. However, a late power-play goal and a quick overtime goal would save the Rangers. While not the same comeback they had 48 hours ago, this was another hard fought win, even if the Rangers should've never even let it get to this point.
I must also mention, this was the Rangers "Hockey Fights Cancer" night. As mentioned, I've already attended three of these games already, in Nashville, Ottawa and Montreal. I don't have anything left to say about this night, outside of that the NHL does a good job with this. The NHL really does a good job with this night and with their Support the Troops night.
Oh, and of course, Sam Rosen made sure to let us know that the crowd wasn't booing early on. They were chanting "ZUUUUUUUUUC". Thanks Sam.
Speaking of boos, how about Boo Nieves? In his first game of the 2019-2020 season, he was penalized just three minutes into this game, as he took a slashing penalty. Luckily the Rangers would kill this penalty off. Can you imagine if the Wild scored here? Lundqvist would've had Nieves deported back to Hartford before the second period started. Of note, Nieves only played 5:41 of ice-time, with only Haley playing less, with 5:27 of ice-time. As we saw with Gettinger, if you don't perform, you're going back to Hartford. I didn't think Nieves did much tonight and this early penalty, penalties that Quinn despises, won't help his cause.
After hearing a few Wild pucks hit iron, the Rangers settled down and would go on the first of their many elongated attacks. Adam Fox would come close to a goal, but Wild goalie, Alex Stalock, made a big stop.
From here, the Rangers aired their tribute video to Zucc. Sam & Joe were cackling like hyenas when they aired the Lundqvist instagram post. What's even funnier is paying a 38 year old goaltender $8.5M. Actually, scratch that. That is just SAD!
At the ten minute mark, Haley drew Kevin Fiala for roughing, as Fiala cheap-shotted Haley. The Rangers would go on the power-play. While on the power-play, Kreider took a stupid slashing penalty, chopping the stick of a Wild player in half. As that happened, Ryan Strome, you know, the player all these chart geeks hate, scored. However, because of the Kreider penalty, this goal was taken off the board. Also erased, was the Rangers power-play and the Wild would wind up with 33 seconds of power-play time themselves.
The Rangers would kill the Wild PP and both teams were even strength again. Of note, this would be the last Wild PP of the game. After this, Lemieux pulled off a perfect one-timer, but Stalock made a huge save to keep the game scoreless.
With 5:10 remaining in the first, Brady Skjei picked up a goal, off of this rocket of a wrister:
Brady Skjei gets the Rangers on the board #NYR pic.twitter.com/1V7CVK7Ekv

— Rob Taub (@RTaub_) November 26, 2019
1-0, GOOD GUYS.
On the goal, Panarin picked up his first of three assists. Also assisting was this guy:
As the period ended, a period where the Rangers had the upper-hand, Lemieux, who was all over the place (in a good way) got into it with Matthew Dumba. Nothing was called here. However, my friend/neighbor/Jameson drinker TEN O'CLOCK TOMMY, who was over my place for the game, remarked, "GIVE LEMIEUX THE "C!""
And not for nothing, Lemieux is starting to look like the guy from that old "Operation" board game:
1-0, GOOD GUYS, after one period.
During the intermission, with 12 saves made, all Valiquette could do was talk about Henrik Lundqvist and how Lundqvist shits out gold bricks. I would imagine Vally would know this, since his head is always up Hank's asshole.
In the second period, the Rangers would get a 90 second shift in the Minnesota D zone. Fox would get the best shot off for the Rangers here. Then, with the puck remaining in the zone, Trouba took one of his patented blasts that go high and wide, allowing the other team to get a clear.
During all of this, Jordan Greenway would get boxed for interference. The Rangers did nothing with the power-play.
Later on, the Rangers would get another long shift in the Minny defensive zone. During this, Matt Drumba had a shift of 2:57! That's how long the Rangers pressured the Wild. Drumba, exhausted, cross-checked Lemieux. The Rangers went to the power-play again, and once again failed. The Rangers, up 1-0, were 0-3 on the power-play at this point.
With only 3:30 remaining in the period, the Rangers, whose defense was smothering the Wild, were out-shooting Minnesota by a tally of 10-1 in the period. Twenty seconds later, Zach Parise beat Lundqvist on the Wild's second shot of the period. 1-1 game. This was a save we've seen Lundqvist make before. In fact, he made a similar save earlier in the period.
Despite this being a 1-1 game, Joe & Sam started talking about the Carolina Hurricanes and their roster. Yes, that is what was needed at this point in the game.
The two teams finished out the period, and the score remained 1-1 after forty minutes.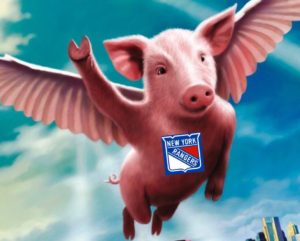 Of note, going into the third period, I thought Stalock and Lemieux were the best players on the ice.
Also of note, it was just frustrating that this game was tied. The Rangers really were the better team, but they allowed Minnesota to hang in there and tie it.
In the third period, I had that proverbial pit in my stomach. I for sure, thought Zuccarello was going to get the GWG.
After starting off hot, Stalock denied the Rangers. After Stalock's saves, Zucker flew right to Lundqvist and Lundqvist made the save of the game here. While this wasn't like Fleury's save from a few days ago, this was almost as impressive.
Then again, right after this save from Lundqvist, Dave Maloney bare-handed a puck. Maybe that was the save of the game!
With ten minutes left in regulation, Ryan Donato broke up the 1-1 tie:
Ryan Donato gives the Wild their first lead of the night with the toe drag BEAUTY!#MNWild pic.twitter.com/qek2CeUaDj

— Hockey Daily 365 (@HockeyDaily365) November 26, 2019
When Donato scored here, the MSG cameras flashed to David Quinn. He had the face that OJ must've had, after he killed Goldman & Brown. You could feel the steam coming off of him.
2-1, bad guys.
What I also must mention here, this third period was the worst period of the game for the Rangers. For some reason, David Quinn, who you know I like and defend on these blogs, shifted his lines and put Panarin on the second line. I didn't get this move at all, especially since Panarin was the best player in this game. Plus, the Rangers, despite the goals not coming, were playing really well in the first two periods. They just didn't score.
With less than four minutes remaining in regulation, Ryan Hartman took a dumb dumb dumb penalty. On their fourth power-play attempt of the game, Chris Kreider cleaned up and put a puck past Stalock. 2-2, as we were all even with less than 3 minutes to play. In a way, Quinn was redeemed here. If the Rangers don't get this PPG and they lose this game, people would've been ragging on Quinn for moving Panarin.
In the final minutes, Buchnevich would have a million chances (Okay, it was three) and a post, a huge save and a close-miss would deny the Rangers of taking the lead. To be clear, I'm not burying Buchnevich here. He just didn't have the puck luck. He put himself in the right position to score.
Towards the end of the period, Adam Fox, who once again had a great game, had a chance to put the Wild away. I thought he got too fancy and his fanciness allowed Stalock to get himself into position. This would then take us to overtime, with the two teams tied at 2 goals a piece.
Again, with the game tied 2-2, I was waiting for Zucc to win this in the shoot-out. Instead, the Rangers won the faceoff and Tony DeAngelo finished the Wild, 33 seconds into overtime:
That's all folks! ✊ #PlayLikeANewYorker pic.twitter.com/Raa4UkmuTE

— Rangers on MSG (@RangersMSGN) November 26, 2019
BOOM! 3-2, in overtime, your final from M$G. Another two point game from Tony DeMAGAngelo!
Of course, whenever TDA does something good, which seems to happen every game now, I get sent screenshots of some idiot who hates DeAngelo just because his politics aren't the same as hers. How about this reaction: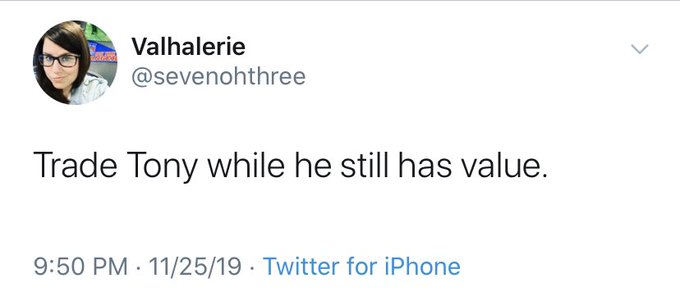 Like Mr. Mackey on "South Park" says, "drugs are bad, mmm'kay?" If anything, the Rangers need to re-sign TDA, Lemieux and Strome, and as soon as possible.
Even better, TDA went off on these chart losers & Trump haters 24 hours ago. To stick it to them, he gets the OT GWG. Isn't that amazing Suzyn?
All in all, not the best win for the Rangers, as they really should've had the Wild buried by the mid-way point of the second period. That said, a win is a win, and the team earned the two points.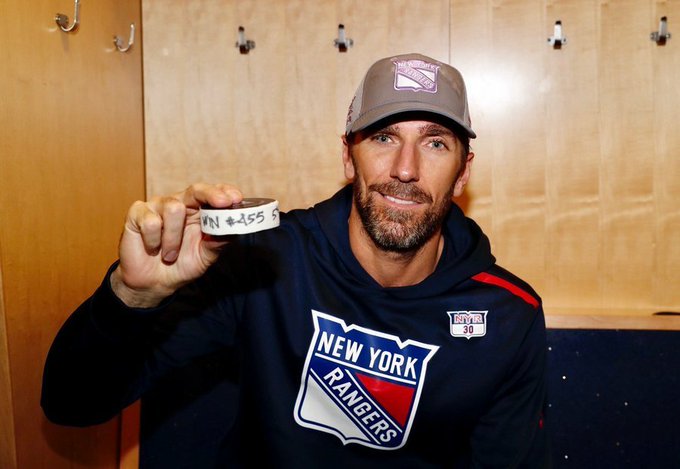 Lundqvist picked up win number 455 tonight, giving him the fifth most amount of wins out of every goalie that's ever played in the NHL. I talked about this stuff when Lundqvist won his 454th game – this stat is heavily skewed and needs an asterisk; but at the same time, you only play in the era you're in. In either event, it's a nice achievement for a Cupless career. And to think, Lundqvist also is four playoff games away from being the all-time leader in playoff wins without a Stanley Cup. I think that's a record CuJo, who is the leader in this stat category, would love to see Lundqvist break too!
The only real true thing that bothers me, is Steve Valiquette, who has just turned into a cheerleader this season. His love affair with Lundqvist has now surpassed Pierre McGuire's love affair with Sidney Crosby. In fact, I think Vally's lips are on Hank's ass more than Micheletti this season. Then again, Micheletti was upset tonight that Lundqvist wasn't named one of the stars of the game. (Panarin 3A, Donato and TDA 2 points were.)
I'm begging the MSG Networks – BRING RON DUGUAY BACK. Duguay reeled Vally in and would spread attention to other players. In this game, TDA scores a GWG, Panarin has 3A, Fox was amazing, Lemieux was a wildman, Skjei & Kreider had bounce-back games and the defense arguably had their best game of the season. Instead, all Vally could do was go on and on about Henrik Lundqvist and how much Vally worships the ground Lundqvist walks on.
Seriously, every time I see Vally these days, I hear this song:
Lundqvist and Valiquette sittin' in a tree;
Father F-I-N-K-I-N-G!
(And yes, this my way of working the term "Father Fink" into tonight's blog!)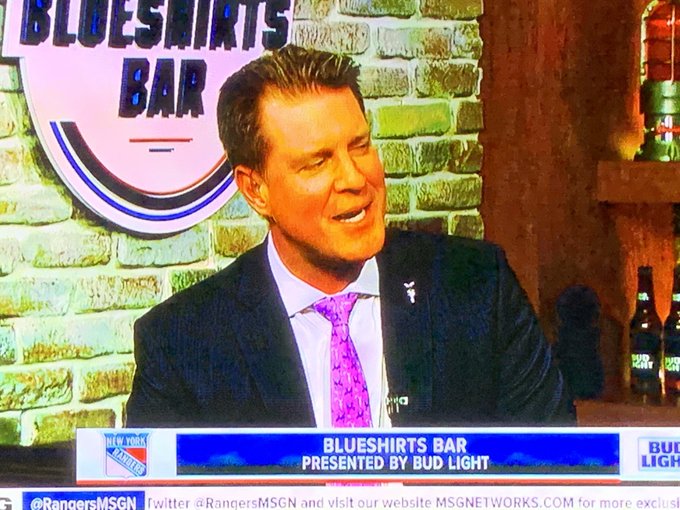 The SADDEST thing about all of this? Lundqvist made 2 great saves tonight. For most of the game, the Rangers defense was excellent, limiting Minnesota to only 14 shots in the first forty minutes. That's a fact that wasn't brought up. I just think that the MSG Networks should give Vally some hand lotion, a picture of Lundqvist & a dark room before he goes on the air, so Vally isn't sporting a raging Lundqvist hard-on during the entire broadcast. There are other things to talk about, in regards to the Rangers, but you would never know it with Vally.
It also irks me that Vally has been petitioning for the Rangers to send Georgiev to Hartford. You don't see any other broadcaster in sports, begging for the team they are covering to take money & a job away from a player. I've done rants on this already, so I'll leave it at that.
And really, it's truly a shame, because I like Steve Valiquette the person. I think he offers a lot. He just needs someone to be the chocolate to his vanilla. As Ranger fans, we need another voice on a full-time basis. You need another ex-skater or defenseman on that panel, to give us takes as well. Vally is too invested with Lundqvist and it hurts him, when it comes to carrying a broadcast solo.
One last thing, before we wrap up here. Did you see this interview with Brendan Smith, talking about Kaapo Kakko, which was posted by @KuklasKorner: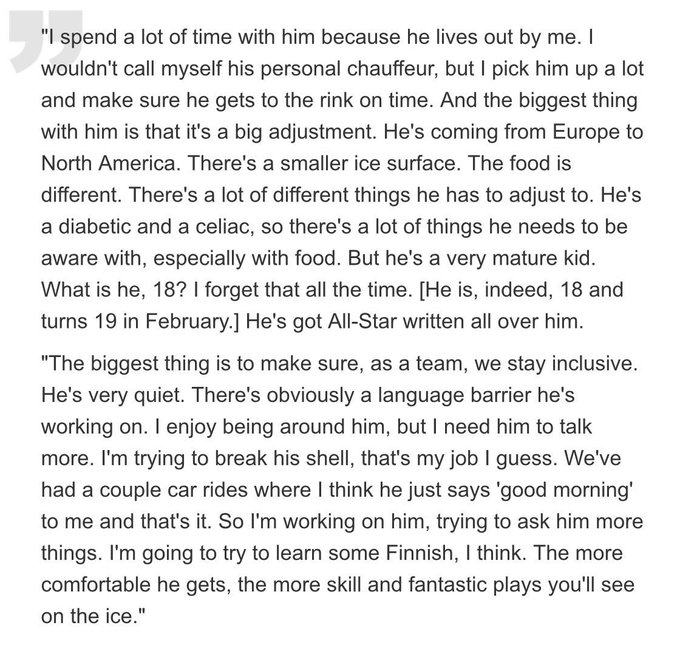 Give it up to Brendan Smith. This is one way to create job security!
Seriously though. Do you remember a few blogs ago when I brought up Kakko's celiac disease and how it could lead him to getting sick? I think Smith is telling us here that this celiac disease is something Kakko always has to deal with. This is also something that one of my readers, in Rick (whose story I posted a few blogs ago) talked about as well.
Up next, the Rangers host the Carolina Hurricanes. I would expect Georgiev to get the start. I pray to the hockey gods he does, as I'm going to this game. Then again, since I'm going to the game, if Lundqvist does start, at least I'll be spared of Valiquette's crooning and serenading of Lundqvist all game long.
I'm also hoping for Georgiev to start, as he looks to pick up career win 24! Let's do this!
In the past, I have felt that the Thanksgiving Eve and Christmas Eve games, have been the best Ranger games to attend of the season. With a win on Wednesday, the Rangers would go over the .500 mark. That would be something to be thankful for.
Oh, and to throw this out there – does anyone know if the Rangers are selling 2019-2020 season yearbooks yet?
Wednesday night's blog will be posted later than usual. I also have to finish blogs on my meeting with the Boucher family & do a "Guardians of the Goal" book review.
Until next time, great win tonight, thanks for reading and as always…
"LET'S GO RANGERS!"
Sean McCaffrey
BULLSMC@aol.com
@NYCTHEMIC on tweeter