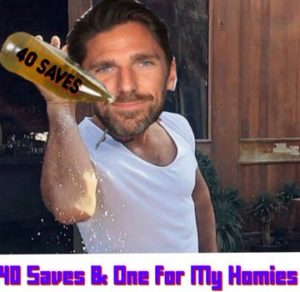 Greetings and salutations everyone and welcome to another blog here on BlueCollarBlueShirts.com.
On Wednesday, November 27th, the day before Thanksgiving, the Rangers hosted the Carolina Hurricanes at M$G, in a battle of Metropolitan Division teams. The Rangers, who came into this game with two emotional back-to-back victories, continued their winning ways and defeated the Canes by a score of 3-2.
For the Rangers, they are now riding a season high of three straight wins, with each victory being different than the next. While I'm not calling for the Rangers to win the Cup right now, good teams find different ways to win games. In these last three games, the Rangers have found a different way to win in each of them.
In Saturday night's win over the Montreal Canadiens, the Rangers were able to make the statement of all statements, when they rallied from four goals down, to beat an Original 6 rival in their own barn. On Monday night, in the "Zuccarello Cup" game, the Rangers blew a lead, but would tie the game late. The Rangers would then win that game with Minnesota, after a game winning overtime goal.
In tonight's home game with Carolina, the Rangers jumped out to a 3-0 lead by the end of the first period. The Rangers would then give up two goals in the second period, putting the score at 3-2, in favor of the home team. The Rangers & Hurricanes would then skate to a scoreless third period, as the Rangers held on, protected their lead and picked up two valuable points in the standings.
With the win in tonight's game, the Rangers move over the .500 mark and now sport a record of 12-9-2.
As mentioned in previous blogs, in the past, Thanksgiving was once considered the day where you could really see who was making the playoffs and who was playing for a draft pick. However, in this new era, Thanksgiving has now been replaced by New Year's Day. With New Year's Day five weeks away, the Rangers have a good as of a shot as anyone, of making the playoffs. And as we've seen in these last few seasons, all you have to do is make the playoffs and anything can happen.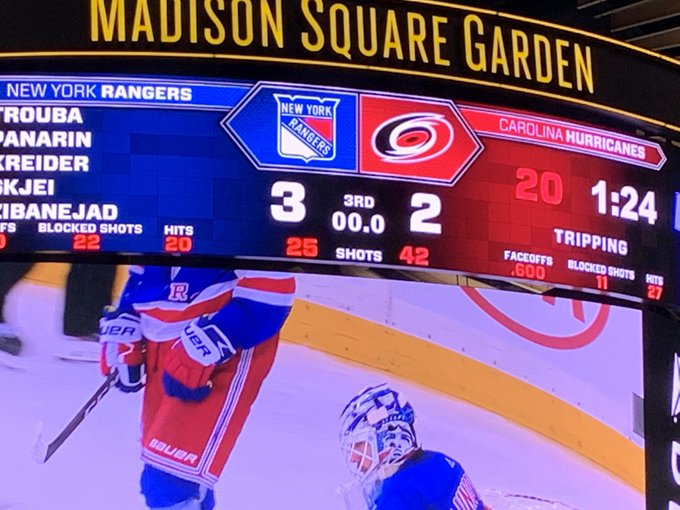 Late last night, I posted my blog/report of my meeting with the family of Frank Boucher. In case you missed that blog, or any of my most recent blogs, check out the following links:
---
---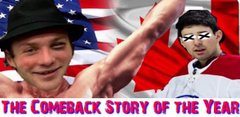 ---
---
---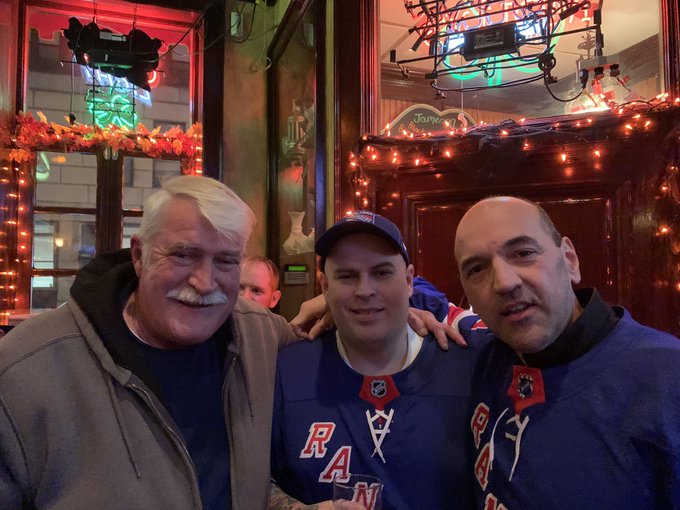 During the last few weeks, this blog/website has been doing more traffic than ever before. It's also fostered new relationships and garnered new readers.
In my last blog, the Frank Boucher blog, I mentioned how I never know who is truly reading these manifestos. While I have some idea of who's reading, there is no way for me to 100% know my entire audience. After all, in the rare times I check the site traffic, I see website hits from Australia and Russia. I have no clue who's reading this blog from those places. Maybe the traveling family of CZAR IGOR SHESTYORKIN?
One reader who has found these blogs is Marc G., who originally is a French-Quebecker, and now lives in Bermuda. Marc is a huge hockey fan, whose allegiances first started off with the teams from Canada. If you don't know this generalization already, most people from Canada root for all the Canadian teams, once their team is out of the playoffs. Again, I'm saying most Canadian fans and not every Canadian fan, as Montreal Canadien fans usually won't root for the Toronto Maple Leafs and vice-versa. However, fans of both of those teams, will pull for Edmonton, Calgary, Vancouver or whoever, once their team has finished their season. Marc was one of those guys in 1994, but would later on see the light! Welcome aboard!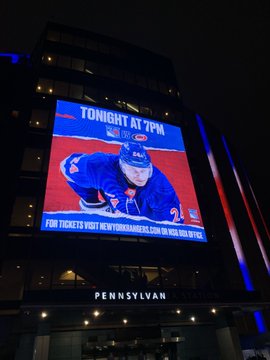 While I do know some readers of this blog personally, (Hi Padma & Larry, nice to see you guys tonight) it's a small minority of people that I know. Once in a while, I'll be in a bar before a game or taking a leak at the game and someone will say, "Hey, I love what you're doing with your blog." (And conversely, some will tell me how much I suck too! All is fair in love and blogs!)
Some fans, like Marc G. tonight, will tell me that I should try to monetize these manifestos. However, I don't want to charge anything, nor run any ads or potential spyware. After all, this is just a hobby and the ramblings of one hockey fan, who enjoys a few "Sprites" when watching his favorite hockey team. This is not a profession. It's just a fun thing to do with my free time. If it ever felt like a job, then that's when I would stop doing these Ranger missives.
Anyway, before this game, Marc G. commented on this blog and we then had an email exchange. Turns out Marc, who has since relocated to Bermuda after spending time in Montreal, New Jersey & other places, was attending this game. He asked me if I was going to attend this game. Originally, I wasn't; as I already blew my money and attended two games in Canada this past weekend. However, Marc graciously offered me two free tickets, one for me and one for my dad; with my dad being the originator of the "FATHER FINK" term that I use on this blog.
I talked about this on the Frank Boucher blog too – you never know who you're talking to over the computer/email and who is real and who is full of defecation. When Marc offered tickets, I thought it was a nice gesture, but I didn't think it would be real. A few hours later, there were two tickets in my Ticketmaster account, from Marc.
According to Marc, he found this site three years ago and enjoys all the craziness, rants and uniqueness that this blog brings. Since I don't charge anyone or run ads on this blog, he wanted to give back and get me a pair of tickets for tonight's game. That gesture wasn't necessary, as I enjoy doing this hobby for free. That said, I really appreciated the tickets and really, I couldn't have asked for better tickets, as I was sitting center ice. Even better, the Rangers won, so it was a win-win all around.
In closing on this topic, I would like to thank Marc and his wife for these tickets. My dad and I had a blast tonight. If there is anything negative to say here, it is that beers at M$G cost me more than the face value of these tickets! (Okay, maybe I'm exaggerating here!)
Speaking of expensive beers at M$G, that brings me to my next mission – to figure out a way to sneak in cold beers into M$G. Once I come up with a successful fool-proof way to do this, I will report back to you people. (Is it okay to say "you people" in 2019?)
Oh and I will say this – I do know how to sneak in warm booze into M$G. If you go on Amazon.com, they sell hollowed out canes. What you can do, is fill up one of these empty canes with whisky, vodka or whatever your spirit of choice is. Then, when inside of M$G, either buy a water, a cup of soda, or whatever container you want and once you finish that liquid, you can twist the cap off of the bottom of the cane and pour your booze into your container. Then again, for my true degenerate Ranger fans, you can just drink right out the cane. (And if you ever do this, please send me a picture!)
I gotta ask you – where else will you find knowledge like this, on any other hockey blog on the internet? I'm always looking out for you people. (Damn, I said "you people" again!)
Thanks again Marc & Martine!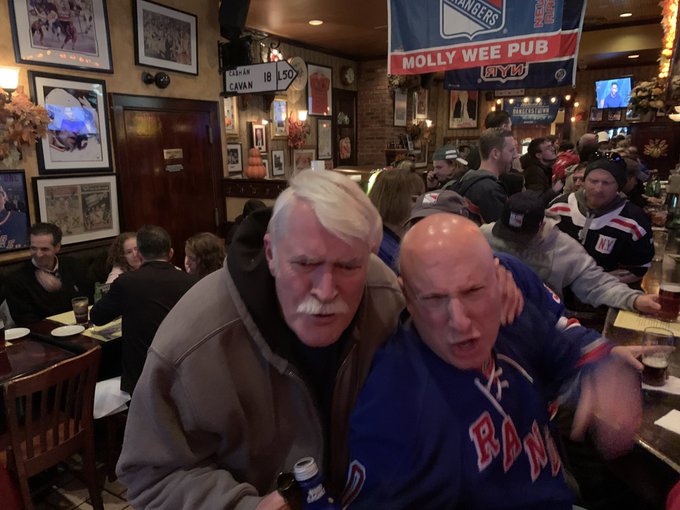 Going into tonight's game, the biggest news was that Mika Zibanejad was returning. I've said it before and I'll say it again – Ryan Strome was remarkable in Zibanejad's absence. Head coach David Quinn must've thought the same thing too, as Quinn kept Strome with Artemi Panarin, as the two have displayed some quality chemistry in Zibanejad's absence.
Team-wise, it's hard to figure these Rangers out. It seems that any time anything goes well for them, they somehow trip over their own dicks and louse it up. Whether the win over Montreal was a catalyst or what, the fact of the matter is that since that win, the Rangers are now on a three game win-streak. Obviously, a true test comes Friday afternoon in Boston, but more on that once we reach the end of this blog. And really, I need to get to the end of this blog, as I'm currently typing with one eye open. It also doesn't help that my pal (and sometimes ghostwriter) Boogie, is jumping all over the key board ;aldjaondlnjaldnja;dnjanjadmnjamjdj….
lajdkljasdklja……
aldjkadjadkljadjadkljadkjkjadklja…….
FEED ME, GIVE ME NEW WATER AND CLEAN MY LITTER BOX NOW…..
lkjadklajdkljakljdkl
lkjadkljadadjklja
Go away Boogie! As I was saying, it doesn't help that my pal Boogie is jumping all over the keyboard right now!
Let's go to the GAMBLING segment of tonight's blog.
Here's what I said before the game:
Season o/u record 12-10:

The Rangers gave only played one game this year where the o/u was less than -6.5. Once again #NYR are also home dogs too.

Mrazek v Lundqvist tonight. Hank's best game this year was vs CAR. Zib back too.

CAR can shoot. I don't see magic twice.
Bet OVER pic.twitter.com/eN6qCvpiEj

— BlueCollarBlueShirts (@NYCTheMiC) November 27, 2019
I used to be so good with these over/under predictions. I was something like 15 games over .500 last year. However, as mentioned previously, there were a lot of lines of -5.5 and -6 last season. This season, every game besides one, has had a line of -6.5. And really, with a 3-2 game after two periods, you would think the over would hit. That said, it wasn't meant to be and my season over/under record drops to 12-11. Just like the Rangers, I'm now only one game over .500.
If you're looking for a silver lining here, if you've been placing money on my predictions, you're still up for the season. That's something, right? After all, the best sport gamblers in the world only have a 57% success rate.
Moving along!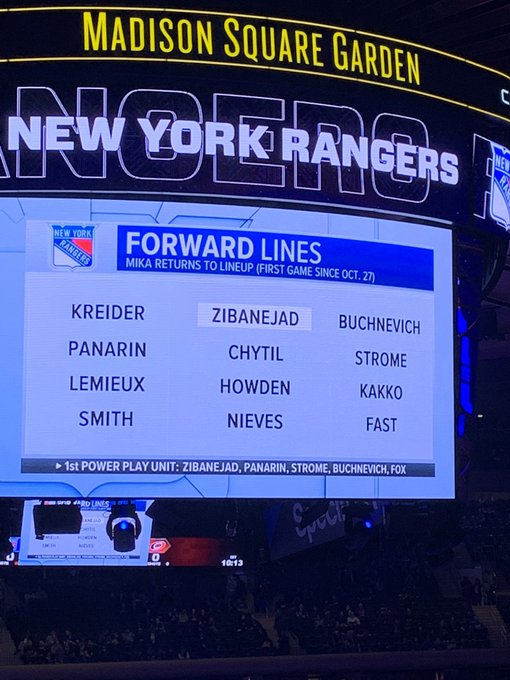 As you can see from above, we had new lines tonight, because of the returning Mika Zibanejad. With McKegg still injured, Micheal Haley was your healthy scratch in this game. I doubt you're shedding tears over that. As you can also tell, Strome was flipped to the wing in this game, while Fast was slotted with the fourth line. Again, I see no problems here.
Defensively and goaltender wise, everything stayed the same from Monday. I will say this, even with the win tonight, I would've went with Georgiev here. I just don't get the logic behind trying to go young and develop your forwards and defensemen, but throwing that logic out the window with your goalie. It's nice that Hank had a good game tonight, but what does it do for the future of this team?
Just say Hank was having a Vezina level season. Even then, what does that do for the franchise moving forward? I can admit to you and say Hank had a great game tonight, just like he did the last time the Rangers played Carolina. However, making Lundqvist a priority serves no long-term purpose for the franchise. With each Hank start & practice, it takes time and experience away from Alexandar Georgiev & CZAR IGOR Shestyorkin. SAD!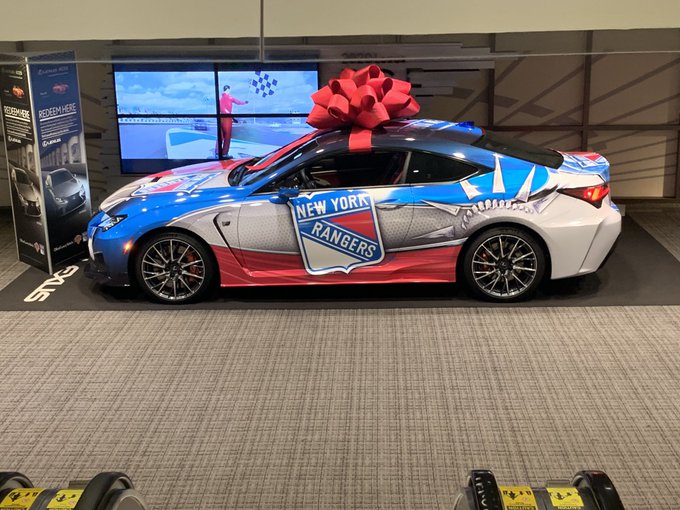 As mentioned in previous blogs, when I attend games, I barely look at the phone. I'll tweet stuff out, but I don't check notifications. This also means that I didn't see the broadcast or post-game show either. I'll re-watch the game before I leave for Thanksgiving dinner tomorrow.
I bring this up, because when I checked my 736478637589637894 twitter notifications, I heard that Quinn was mad at Lemieux. I didn't see this live. I also heard that Valiquette and Micheletti got into a shoving match, as they both fought over who could be the first to "service" Lundqvist & his genitalia.
I'll say this again on this site. Nothing beats hockey live and in person. However, when doing these blogs, you do miss stuff when you're not watching on TV. However, I rather be at the game and miss stuff 10/10 times, 1000/1000 times on Sunday. I also want to be nowhere near my television whenever Joe Micheletti & Steve Valiquette are braiding each other's hair and reading love poems for their Swedish Cupless dreamboat.
And yes, one more time here, (I keep saying one more time, as I have seen I have a new influx of readers here & feel like I need to explain things I've been saying for years) Micheletti & Valiquette make me despise Lundqvist on this team and his contract, even more. If Micheletti & Valiquette were able to talk about everyone on the team, in the same way they swoon over Lundqvist, I don't think Lundqvist being on this team would bother me as much. However, when you got these two braying jackasses going on and on and on and you get the point, it's just too much. Go rent a room. I heard the Hotel Pennsylvania just put in a hot tub and mirrored ceilings!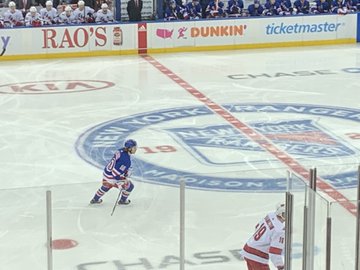 2800 words in, maybe it's about time I start talking hockey. I'm telling you, this blog is a tough one to do tonight, as I'm typing with one eye open and with one hand, as my other hand is being used to shoo Boogie off the keyboard. I'm also trying to finagle in some whisky, or as I like to call it, "blog-juice". My buddy Al Demauro is loving this!
Let's go to official box score, courtesy of ESPN.com:
SCORING SUMMARY: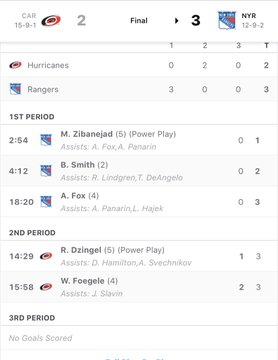 PENALTIES: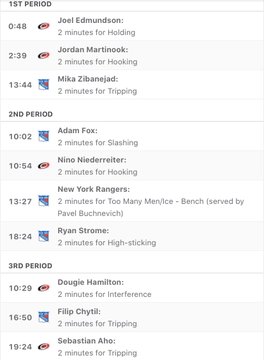 GOALIES:
| | | | | | | | | | | |
| --- | --- | --- | --- | --- | --- | --- | --- | --- | --- | --- |
| SA | GA | SV | SV% | ESSV | PPSV | SHSV | SOSA | SOS | TOI | PIM |
| 43 | 2 | 41 | .953 | 30 | 3 | 8 | 0 | 0 | 60:00 | 0 |
| | | | | | | | | | | |
| --- | --- | --- | --- | --- | --- | --- | --- | --- | --- | --- |
| SA | GA | SV | SV% | ESSV | PPSV | SHSV | SOSA | SOS | TOI | PIM |
| 25 | 3 | 22 | .880 | 17 | 2 | 3 | 0 | 0 | 57:54 | 0 |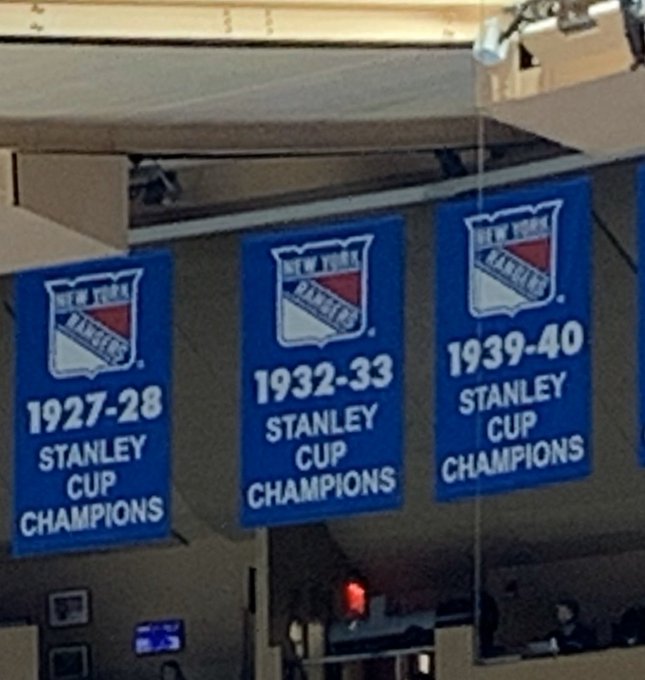 The story of the first period of this game, can be summed up by a quote that the great Julius Caeser once said. "Veni, Vidi, Vici", which translated from its Latin origin, means "I came, I saw, I conquered."
The Rangers did just that in the first period, as they came on the ice, they saw their competition and they conquered them. Unfortunately, the Rangers forgot about the other two periods.
The first third of this game saw the Rangers open up a can of whoop-ass, as they were all over the Hurricanes. While not exactly an offensive onslaught here, the Rangers dominated the puck and found their shot. Lundqvist didn't really have to do much. After all, look at the shots on goal and score after 30 minutes of action: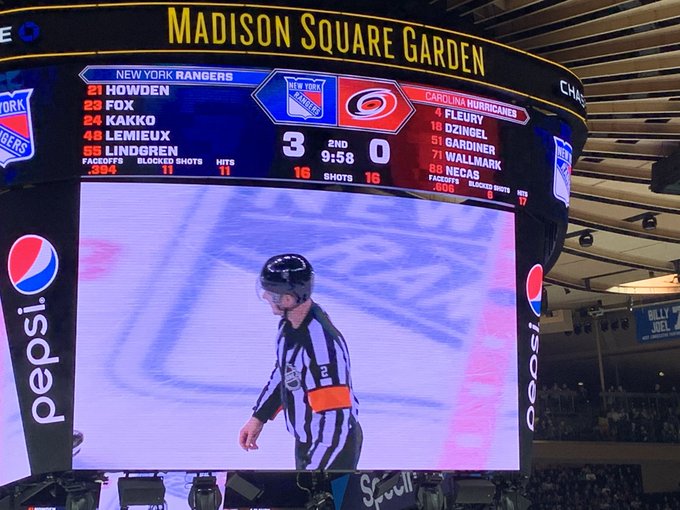 While the Rangers controlled most of the first half of the game, the Rangers took their hand off the throttle in the second half of the game and this is where Lundqvist had to do his best work. The Rangers would only get off 9 shots in the final 30 minutes of this game, as opposed to Carolina logging 27. For all you fans of fractions out there, that means Carolina out-shot the Rangers at a 3:1 ratio, which isn't a recipe for success.
In a play out of the bizarro world, it was Carolina taking two early penalties in this game, instead of the Rangers.
48 seconds in, Joel Edmundson took a penalty for holding. With 10 seconds remaining into the Rangers scoreless power-play, Jordan Martinook took a penalty for hooking. This gave the Rangers a 5 x 3 pp, albeit, a 10 second 5 x 3 pp.
With Edmundson out the box, the Rangers would immediately capitalize on their second power-play, as Adam Fox delivered a picture-perfect pass to the returning Mika Zibanejad:
Early 2-0 lead? We're here for it pic.twitter.com/KsKkDrYMbh

— Rangers on MSG (@RangersMSGN) November 28, 2019
Of note, the above clip also shows you the second goal of the game too.
I have to give credit for this joke to my dad here, as he said it first – "It took Zibanejad long enough!" (Sad thing about this joke, if I just wrote that sentence without saying it was a joke, some people would freak out & think I was being serious. SAD!)
1-0 GOOD GUYS.
On this goal, while Zibanejad got himself into the right position to score against a defenseless Petr Mrazek, this goal is all Adam Fox. What a freaking sweet pass. I don't want to be one of those, "I could've even scored here" people, but god damn pal, Fox couldn't have made a more perfect of a pass here.
78 seconds later, Brendan Smith beat Mrazek. 2-0 GOOD GUYS.
And if you're a regular reader here, you know how much I hate these chart humping losers. To see Smith score here, especially with DeMAGAngelo picking up an assist, I had a smile that went ear-to-ear. Give it up to the fourth line.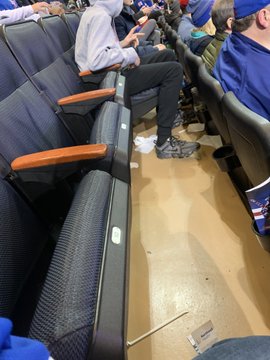 The Rangers continued to bring the fire in the first period. However, with 6 minutes and change to go, Zibanejad was boxed for a dubious tripping call. Zibanejad was driving to the Carolina net and it looked like a Cane took a dive.  (I can't remember the name of the player in question, as I didn't live tweet this game, which means I don't have notes to refer to. I'm doing this blog off of the top of my head & referring to the box score for time cues.)
On the Rangers PK, the Rangers did their job and held Carolina off the board. After this, in a page ripped out of the "Oh come on Henrik Lundqvist" playbook, it was the Rangers scoring a goal, with less than two minutes to go:
That's one Foxy goal 🦊

…ya I said it 😂 😎 #LGR pic.twitter.com/YvV0UyHQcF

— Rangers on MSG (@RangersMSGN) November 28, 2019
3-0, GOOD GUYS!
It was nice to see Fox pick up a goal here. It kind of felt like a reward after that sweet pass to Zibanejad earlier in the game.
Oh, and I have to mention this – this was Panarin's second assist of the game. It's so weird to be excited and filled with joy over a big name free agent. That said, and I don't want to kill your good vibes here, what happens if Panarin doesn't deliver in his first playoff series for the Rangers? I can already hear the Rick Nash comparisons.
That being said, I think Panarin is light-years better than Nash. While the two both share Columbus in common, Panarin is 100% healthy and in the prime of his career. Nash was past the prime of his career when he was here and was also battling concussions during his stay with the Rangers. Maybe I'm rambling a bit here, but this is the shit I think about. I'm just not used to having nice things with the Rangers and it doesn't get any nicer than Artemi Panarin.
3-0 after one period, GOOD GUYS.
Oh, and while I didn't see it, I was told by people on Twitter, that Valiquette actually credited Lundqvist for the Rangers 3-0 lead. Perhaps if Vally was castrated, he would be able to contain a raging hard-on for Lundqvist all game? Food for thought.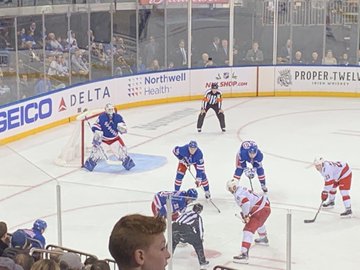 Worth mentioning here, just to give you an inside look at the cretins that chant "HEN-RY" after a shot hits the post – M$G ran a trivia question during the break here. The question was, "name the Swedish Ranger that has a twin brother."
Let's break this down, shall we?
This question, ESPECIALLY IF YOU'RE A LUNDQVIST KOOL-AID DRINKING BRAINWASHED DELUSIONAL IDIOT, should be a piece of cake. For a Cult of Lundswiss fan, they should be able to answer this question easier than whenever they put on their helmet to eat or whenever they use velcro to close their shoes. To make things easier, the question told you that the answer was a Swedish player.
To break this down even further, M$G gave you three choices, in Zibanejad, Fast and Lundqvist.
When this question aired, people in my section were saying Zibanejad and Fast. When the answer was revealed, that it was indeed Lundqvist that has a twin brother, these people were shocked.
Maybe next time, M$G should ask, "Joel Lundqvist has a twin crybaby bitch of a brother. Who is that brother?"
I know, I know, I know – I'm ragging on Lundqvist after a great performance. I just don't get how these Hank-bots don't know who Joel Lundqvist is!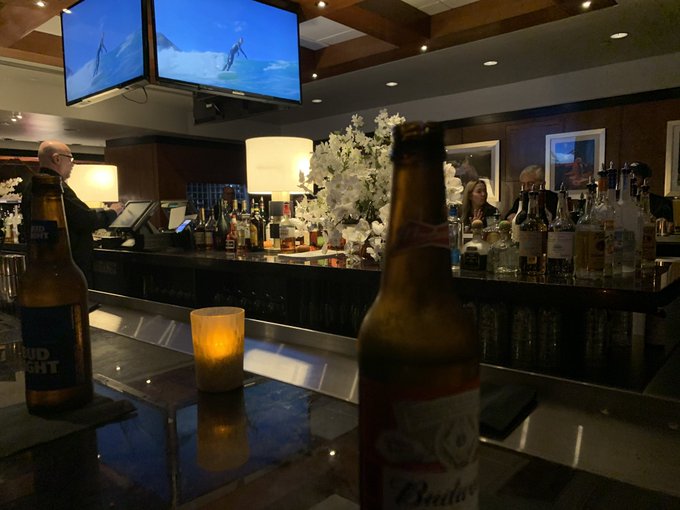 Before getting to the second period, I have to go on one of my M$G rants again. I'll try to contain myself and limit the repetitiveness from past blogs.
Marc & Martine did me a huge favor tonight. That said, I still wound up spending $150! That's on me and my penchant for the sweet mixture of hops and barley, which produces a golden hued liquid.
I just don't know how families can do it. Fortunately for me, I'm now single, after a 7 year relationship. I don't have to worry about treating someone or paying for two anymore. (And before you ask, my ex and I just drifted apart. I have nothing bad to say, it just wasn't working out. We still talk to this day, mostly about cats!)
If you're a guy looking to take a date out, or even if you're a woman looking to take a soyboy (or perhaps a girlfriend out, as I know many diehard and passionate lesbian Ranger fans) you better prepare to take a second mortgage out.
The prices at M$G are jacked this year. $15 for a tall-boy of beer. $8 for a pretzel. $12 for a slice of pizza. $7 for a water. $14 for cotton candy, which I'll never understand. Do dentists or the ADA sponsor the cotton candy industry? Who would eat that shit? I mean, call me a hypocrite because I don't do my body any help by smoking and drinking, but eating cotton candy? That shit will rot the teeth out of your damned skull!
As I get older, I look at things as if I was my brother-in-law & sister, who together, have three kids. However, to make things a round number, let's say they only had two kids. How in the hell does a family of four afford one game, much less season tickets? No joke, it has to be a $1000 affair to attend one game. Obviously, the two kids aren't swilling beer like it's a frat party (or me and my dad at a game) but still, between all the food and merchandise, you might as well put yourself on the Garden of Dreams kidney transplant list, and hope that M$G gives you a discount on all the bullshit that you buy.
I'm telling you, and as I've said 86786789686789676789 times on this blog, this is why I've limited my trips to M$G and put my money towards road-trips.
Not for nothing, for someone 20 beers deep right now, I'm getting a lot of content in!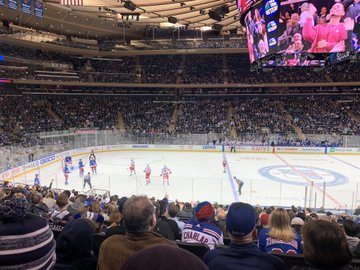 The second period was sloppy hockey from the Rangers. In this period, the Rangers took three penalties.
If there was anyone who didn't show up in the box score tonight, but once again did his damndest to put up points, it was the intoxicating Pavel Buchnevich. He was feeding his teammates all period, but like the game with Minnesota, Buchnevich couldn't produce a goal for the Rangers. And once again here, to be clear, this isn't me knocking Buchnevich. He's hustling and trying to make plays.
At the halfway mark of the period, Fox was boxed for slashing. 50 seconds later, Nino Niederreiter joined the penalty box, as he was caught for hooking. Carolina power-play killed.
At the 13:27 mark of the period, the Rangers were called for their third "too many men on the ice penalty" in five games. I talked about this in the Montreal blog – you can literally call this penalty during every line shift in the NHL.
Again, I'm at the game and blah blah blah, but from what I saw on Twitter, Quinn was blaming Lemieux for this. I have to re-watch the game to see what happened, but I'm going to go with one of my usual talking points here – David Quinn changes his lines all the time, so I think it leads to confusion at times. I could be wrong, but with all the "too many men on the ice" penalties last year and with all these penalties happening now, what else could be the reason? I'm up for suggestions.
On the ensuing Carolina power-play, Ryan Dzingel scored. Nothing Lundqvist could do on this one, and if there was, you know I would say it! 3-1, BAD GUYS.
Oh, and really, for all you people who tag me on social media, halfway into a game when Lundqvist has a no-no going on, maybe you should stop doing that. You're jinxing the overpaid crybaby!
A minute and change after this goal, Warren Foegele scored. 3-2 BAD GUYS.
Once again, you can't fault Lundqvist here. Foegele was pushed into Lundqvist and scored. Lundqvist looked like he was going to throw a temper tantrum, but he did settle himself down.
Listen, this goal allowed isn't on Lundqvist, but as I've been saying all along, he signed up for this. He could've left. He didn't. When bad shit happens, you have to roll with the punches and keep your composure. And really, because he didn't throw the same crybaby fit that he threw in Ottawa, he was able to keep himself in this game. In turn, he produced a period of perfection when it mattered most – in a one goal game in the third period.
With 1:26 to go in the second period, Ryan Strome was the next man up in the penalty box, this time for high-sticking. The Rangers would hold Carolina off the board here, meaning Carolina had a 34 second power-play to start the third period.
In a game where the Rangers were cruising in after twenty minutes, Carolina got themselves back into it, as the horn went off to signal the end of the second period. 3-2, GOOD GUYS. Little did we know at the time, that would be the final score, my over prediction be damned!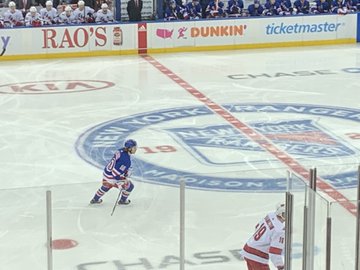 The third period was pretty much the Henrik Lundqvist show, as once again, he showed dominance over the Hurricanes of Carolina. Offensively, the Rangers didn't do much, even with a power-play that they got, mid-way through the period, after Dougie Hamilton was called for interference.
They key period of time occurred with 3:10 remaining, as Filip Chytil was boxed for tripping. Once Carolina won the faceoff, Mrazek was pulled, giving the Canes a 6 x 4 attack. It also allowed the Rangers to ice the puck, whistle-free.
The Rangers would kill this penalty & Lundqvist made a few more saves. With Mrazek still pulled, Sebastion Aho erred and took a tripping penalty, with 36 seconds left in regulation. This gave the Rangers a power-play and pretty much sealed Carolina's fate.
At the final horn, Rangers 3, Carolina 2. HAPPY THANKSGIVING EVERYONE! What a way to send the crowd home happy!
All in all, a great win for the Rangers tonight. While they didn't play their best after a strong start, they did hold on. And really with a 6 x 4 advantage at the end of the game, it was huge that the Rangers prevented Carolina from tying the game.
With the win, the Rangers now have a three game win streak. That seems like a rarity these days, so let's appreciate it and go to Will Ferrell:
Up next for the Rangers, a matinee game in Boston, against the red-hot Boston Bruins.
I don't know this for a fact, but I assume the Rangers are currently traveling to Boston right now, as they have a game at 1PM on Friday. I would assume Quinn and Kreider are at least in Boston, as that is where they have family.
Going into Friday, I'll bet you that Alexandar Georgiev is starting, as Boston lit up Lundqvist last time. Plus, the day after Thanksgiving, when all the skaters will be slow and farting out turnips? Sounds like a game Lundqvist would want no part of. We'll see. If Lundqvist does start that game, I will man up and give him credit for taking this start.
As we head home here on this blog, I would be remiss if I didn't express what I'm thankful for right now, and that's for all the old and new readers of this blog. I'll be even more thankful when the Rangers kick Lundqvist to the curb and I see #31, as in CZAR IGOR, in net. And really, I'll be even more thankful, if the Rangers would ever do the damned right thing and retire Frank Boucher's #7 already.
Enjoy your Thanksgiving. Thanks again Marc & Martine.
I'll be back Friday afternoon, eating leftovers, breaking wind and recapping the Rangers/Bruins game.
Until then, here's a Thanksgiving cheat: wear sweatpants. It also doesn't hurt to wear two pairs of underwear either, especially for you people with long drives home. I'll save you my "don't drink and drive" PSA, you guys know the deal. Uber makes people who drink & drive look like morons.
As always, thanks for reading and…
"LET'S GO RANGERS!"
Sean McCaffrey
BULLSMC@aol.com
@NYCTHEMIC on twitter