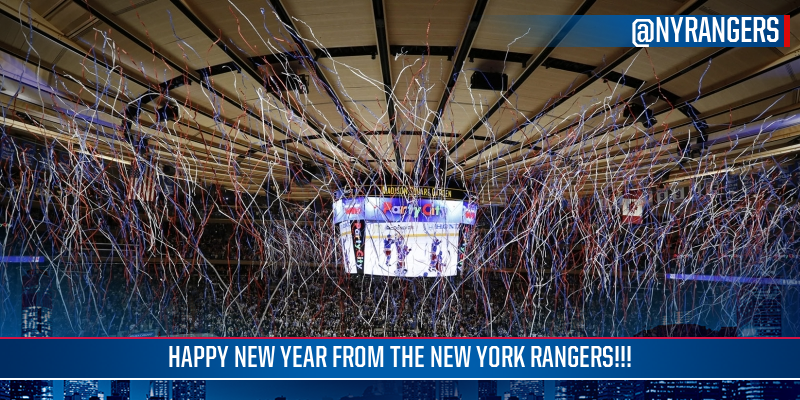 Welcome everyone to the first blog of 2015, here on the new DOINOW.com. As always, thanks for your patronage and make sure to check out the right hand of the site for the archives.
Sorry this blog is later than usual, but a Rangers victory on New Years Eve led to me getting a late start on this. I hope everyone enjoyed themselves. I know Ranger fans did, as the Rangers closed out the year, winning 9 out of their last 10 games. However, the start of 2015 presents some big gut check tests, with a west coast road trip & a clash with the Islanders.
One of the biggest stories of the game, for me, happened before the puck even dropped. Coach AV benched Tanner Glass, in favor of giving Jasper Fast & JT Miller playing time. Glass, despite not being impressive all season, seems to be a guy AV loves. The Rangers have a lot of guys kicking and clawing for that 12th forward spot. As mentioned in my last blog, not only do you have Miller & Fast looking for a spot, you have a tough decision about what to do with Anthony Duclair when he comes back. This situation also makes it tough to give a look to someone on the Wolfpack.
The Rangers had another 5 goal game, bailing out King Contract once again. Seriously, how many leads will Hank blow this season? How many 3 goal leads will he let shrink to one this season? It's automatic this year that no 2 goal lead is ever safe, never mind one goal. I miss the Hank that said, "Give me two goals and I got this."
Scoring came from all over on New Years Eve. That's all you can ask for. Everyone is producing during this streak. I was especially happy to see Chris Kreider get the scoring going, netting the Rangers first goal. He hasn't had the same season that he had last year, but it's not because of effort. Things just aren't going his way. I'm glad to see him starting to right his ship.
It was also nice to see Brassard get a goal. There have been many games this season where he always tries to find the extra pass than shooting the puck. Hopefully the feeling of scoring a goal will encourage him to shoot more. It's not being selfish when you have open looks.
Captain Ryan McDonagh is in a nice flow right now. Not only did he score a PP goal, he bailed out linemate Dan Girardi on a disgusting turnover, which in turn helped out Hank's save percentage, because we all know that an open skater equals a goal against Hank this year. Captain Mac Truck also brutalized the Panthers with several bruising hits. You wouldn't even know he has had shoulder problems this year.
Marty St. Louis got back on the board. He's quickly and quietly stockpiling tallies in the assist columns. During this recent win streak, he's had 3-4 goals deflected in by his teammates, giving him an assist rather than a goal. I believe it was Rick Carpiniello, who said that sometimes there are those games where you don't feel like MSL is even a factor. However, when MSL is a factor, the game always favors the blueshirts.
Dominic Moore also got on the stat sheet, scoring an extra insurance goal, late into the game. This was his second goal since scoring the game winner in game 6 during last season's ECF. Man, let me just take a second to remember that day again. Part of the reason I'm so hard on King Contract on these blogs is that last season was our year, but he got bested by a better goalie, blew every lead he had and was outplayed in every OT that he caused. PS, thanks Hank for losing the Cup on my birthday, you overpaid megamaniac!
Now that I got myself all wound up on Hank again, I just would like to get some feedback on this picture. You can email me at BULLSMC@aol.com or tweet at me at @NYCTHEMIC. Take a look at this:
The above picture was posted by Mats Zuccarello. First off, look at who is front and center. Cam Fucking Talbot. Every big star is in this picture- Nash, Boyle, MSL, Mac Truck, DG. The young guys are there like Hayes & Kreider. The grinders are there, like Hags & Klein. Who the fuck is missing? Why none other than KING CONTRACT himself!
Every hockey club that wins is a close knit bunch of guys. You can see these Rangers all are friendly and hang out together. The official Rangers site has a show currently with Zucs, Brass & Hags. You know who has no friends on this team, Henrik Lundqvist. Do you know why? Where to start! How about he's alienated himself with his insane money, affecting the amount his teammates can be paid.
How many games in the last 3-4 years have the Rangers lost, and Hank blames his teammates. How many games have the Rangers lost where Hank takes 100% accountability? Even during Hank's ugly stretch in the beginning of the season, he was blaming his defense for not blocking shots. That's your fucking job, you overpaid useless $8.5 Million Dollar Man! Maybe if Hank put more time in at the rink, and less doing MSG shows showing you how much stuff he owns and how much time in a day he spends on his hair, he wouldn't be in the bottom half of the league in GAA and SV%.
I have read and seen many Ranger interviews where the players take responsibility and/or try to pick up their teammates up in a difficult time. I mean guys even defended Michael Del Zaster during his dying days as a Blueshirt. However, time and time again, Hank takes no responsibility and will call out his teammates. He also got Coach John Tortorella fired. When it came to a magical playoff run, that was aided by other goalie injuries, not having to play the Bruins, etc, when it mattered the most, Hank got sonned by Jonathan Quick. The Rangers gave him two leads on the road. Just imagine if the Rangers came to MSG up 2-0. However, this is not Hank's fault. He blamed his teammates. If his teammates are always the problem, maybe they should get paid more since they have so much responsibility!
In recent seasons, Hank reminds me of toned down Carmelo Anthony that does Eli Manning faces. Melo has constantly bashed his teammates and makes everything about himself. Hank isn't as bad as Melo, but you get the point. Hank with his Eli Manning faces after every soft goal is ridiculous too. I get you can't save everything, but if you need to take all your teams payroll and be the highest paid goalie in the league, then play like one.
Listen, I never was a pro athlete. The extent of my team sports career reached the high school level and that was it. However, all through high school, I played four sports. I'm telling you and I don't care what anyone says, the fact that Hank is not in this picture really tells you something. Don't blow this off. Camaraderie is crucial in team sports, and you can't spell camaraderie without CAM. Time to give Talbot the starting job.
What will happen, in my prediction, is that Talbot will get playing time on this upcoming west coast trip against the tough teams. How funny that Hank gets starts against all the cream puff teams, like the Sabres, Oilers, Flames, Devils, Hurricanes, etc. The season is a long grind. Talbot bias aside, Hank should be resting for the playoffs. The Rangers had to win 9/10 games, and are not in the playoffs right now (but have two games in hand) because of how horrible Hank was in the beginning of the season. In theory, Talbot should be starting against the weak teams, with Hank playing against the top teams. That hasn't happened this season. Perhaps it's part of AV's plan to ego boost Hank.
In any regard, you can blow off what I'm saying here, but the fact that Hank isn't in that picture speaks volumes.
Rangers host the last place Sabres at MSG on Saturday night. They then go out on a 3 game west coast trip, which is usually murder for them, against the Sharks, Kings & Ducks, only to return home to the New York Islanders. The Rangers made history on their western Canada trip this season, perhaps lightening can strike twice here. After all, the Tampa Bay Lightening struck 5 times, in three different games against King Contract this season!
LGR!
A new American sports tradition started in 2015. On New Years Day, not only do we have the Winter Classic, we have the NCAA Football playoffs. While many of us rested easy on our couches, and farting out our hangovers, we were treated to an all day affair of sports. The Capitals/Blackhawks kicked it off at 1, followed by the Rose Bowl & the Sugar Bowl. I really enjoyed this lazy New Years Day, and getting my sports fix.
The Capitals winning in the last minute was rough to watch. Obviously, us Ranger fans were rooting for the Blackhawks to win. The Capitals move ahead of the Rangers in the standings, although the Caps have played two more games. I really enjoy the visual of the Winter Classic. Attending the Stadium Series last year was an enjoyable day of hockey. However, if you don't sit in Centerfield, some of the angles are off. This is a great event for the NHL. Bring on All-Star Weekend!
While on the NHL, did anyone see Shannon Hogan, interviewing Anders Lee? Check this out:
https://vine.co/v/OwMT7DM2jnD
Only the Islanders! What a joke!
I'm not really a big college football guy. However, I always watch the big Bowl games, just to see the hype about the future stars of the NFL. Mariotta has Tampa Bay written all over him. I really enjoyed the Ducks kicking the shit out of the Seminoles. Listening to the Ducks chant "NO MEANS NO", after their win, was hilarious. You just know that Rapist Jameis Winston will wind up with the Jets, despite all signs saying to avoid this guy. I talked about this before, but the Jets should be looking at a white Quarterback, just like how teams draft black running backs.
The BCS Bowl is now set for a week from Monday, with Ohio State & Oregon doing battle. I think it's the Ducks year this go around and expect them to win handily. I'm just glad that there is finally a playoff system. It's more exciting this way.
While rambling here, here are my quick NFL predictions. Let's see how I do come February:
Carolina over Arizona
Detroit over Dallas
Colts over Bengals
Ravens over Steelers
Seahawks over Carolina
Packers over Detroit
Patriots over Ravens
Broncos over Colts
Seahawks over Packers
Patriots over Broncos
Patriots over Seahawks.
Yep, I think we will see two number 1 seeds again at the big game.
See you Sunday for Rangers/Sabres postgame reaction! Enjoy the extended weekend!
Sean McCaffrey
BULLSMC@aol.com
@NYCTHEMIC on the twitter!