Where to start, where to start, where to start?!?!?
Off the top here, I'll say this – we are going long tonight! The Rangers don't play again until Saturday, so you have plenty of time to read this manifesto!
Greetings and salutations everyone and welcome to another blog here on BlueCollarBlueShirts.com. On Tuesday night, on national television, the New York Rangers defeated the Tampa Bay Lightning, by a final score of 4-1. Hands down, and I won't even consider another opinion here, this was the best win of the Rangers young season.
Surely, you may read that last sentence, and say, "what about the win over Buffalo?" To me, when you're missing your best centermen and second best player on the team in Mika Zibanejad, go into this game without one of your best defensemen of the last decade in Marc Staal and are coming off one of the most brutal losses in some time; to me, when you beat an upper-echelon team like the Tampa Bay Lightning, then that's your best win of the season.
Usually when I do these blogs, somewhere in the third period I already know what I'm going to feature when I start doing my game review. I pretty much have an idea of what bad and silly photoshop picture I'm going to make. I know what my lead story is. I know what I want to hammer. Once the final horn goes off, I pretty much have the blog in my head and it's all about putting the fingertips to the keyboard.
In tonight's 4-1 victory, once the game was over, I had no clue how this blog was going to go, what I was going to lead with and what puerile picture I was going to make as the blog teaser photo. The only thing I knew was that this was going to be one of the best blogs to do in some time. As I sit here as I start this blog, I'm really looking forward to recapping this game.
Oh, and I was also glad that I did the blog last night on Chytil, Lindgren and Quinn, because if I didn't, this blog tonight would be a lot longer!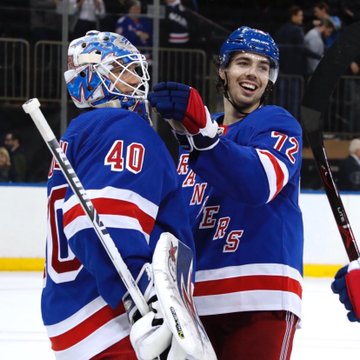 In tonight's massive victory, I know and you know, that it's only one game. For as bad as that game with Boston was, this game with Tampa was the complete opposite and was great. However, it's one game. However, in this one game, the Rangers made many statements and the Rangers showed us that on any given night, they can be one of the best teams in hockey. That being said, the Rangers must play like this on a consistent basis. These one-game mini-morale victories need to become the norm. With this win, and the win over Buffalo, the Rangers have shown the league that they can beat the best teams. They just need to string some wins together.
When I sit back and start this blog, there's not one individual that you can single out for the Rangers win. Sure, you can say that because Alexandar Georgiev had the best performance out of any Ranger goaltender this season, the Rangers won this game. However, Georgiev doesn't win games by himself. This win was a complete team effort, with major contributions coming from up-and-down the line-up. Chytil had a big game. Buchnevich played well. Trouba was a beast. Lindgren had a solid debut & picked up an assist. David Quinn looked masterful in his decision making. Strome had a two point game. Fox scored his first goal. Haley jump-started the team. Brendan Smith was great defensively.
During the last week and a half, we have heard the Rangers use the terms, "communication" and "battle level", very frequently. The Rangers have used those terms more than Micheletti says the word "Lundqvist", while having one of his sleep walking wet dreams. In tonight's game, the team collectively were all on the same page and battled for the entire duration of the game. If there is anything negative to say about this game, it is the fact that Chris Kreider still can't score if his life depended on it. As I said last night, trade him to St. Louis.
Speaking of last night's blog, in case you missed it, I recapped all the big Ranger news from Monday, such as the call-ups of Lindgren & Chytil. I also talked about the moronic people of this fan base who think David Quinn should get the ax. For that blog, and all my most recent blogs, here are the links:
---
---
---
---
---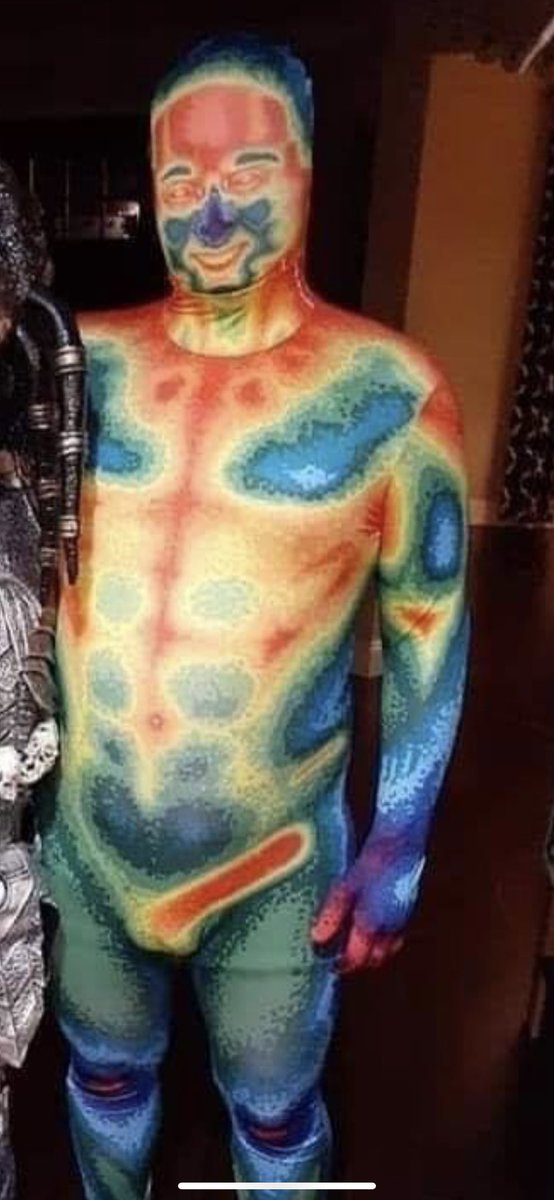 While on the talk of predictions, let's go to the GAMBLING section of tonight's blog. Here's what I said before the game:
Over/under season record 7-2.

Tough one tonight, as you need 7 goals to win. Vasilevskiy is the best goalie in the league. Georgiev is the best goalie on the Rangers. I can't see #nyr being spanked twice, no matter how much better Tampa is. I'm going with the UNDER tonight. pic.twitter.com/otmYZ9dkli

— BlueCollarBlueShirts (@NYCTheMiC) October 29, 2019
My over/under record cruises to 8-2. That's six games over .500, for those of you good at math.
I couldn't have been more right in my prediction tonight and I didn't need a stinkin' chart to do it either!
I was right on the money with this game, as the two goaltenders stole the show tonight, as both were impressive all game. I was also correct on how this game would play out – I didn't see the Rangers getting spanked in back-to-back games, especially with the cool, calm and collected Alexandar Georgiev in net.
If you follow the trends (and it's funny how these nerd chart people in Rangerstown ignore these stats and trends) once again, another Alexandar Georgiev game hit the under, while nearly all of Henrik Lundqvist starts hit the over. It's like a goalie that is 15 years younger and nearly $8M cheaper is more valuable and better than Lundqvist! Go figure! Who could've been telling you that for years?
Moving along.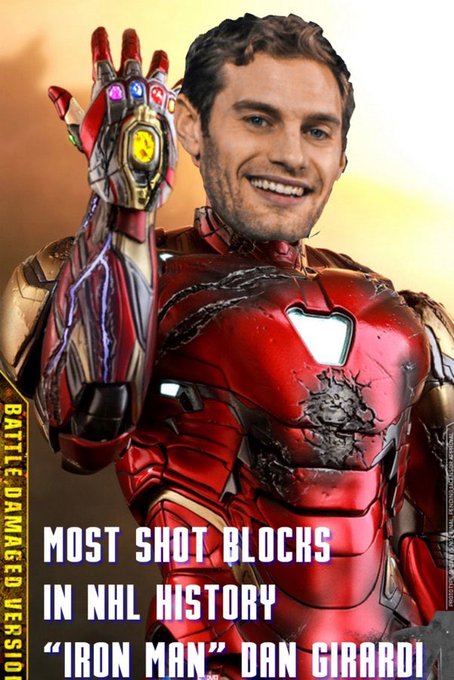 Before digging into tonight's game and all of the line-up changes, I wanted to talk about Dan Girardi, who was honored with a ceremony before puck drop. I'm not going to get into all of my opinions on Girardi right now, as I already wrote about him several weeks ago. You can read that blog on Girardi here: bluecollarblueshirts.com/92119/
For some reason, the Rangers did not announce that they were going to honor Dan Girardi tonight. The ineptness of this organization when it comes to team history is just mind-boggling. Refer to my stuff on Frank Boucher for more on that. As I've said 778678634963894 times, it is just outstanding that the Rangers don't have a RANGERS RINK OF HONOR, where they can honor guys like Girardi. That said, I'm sure one day, the organization will remodel MSG to resemble Henrik Lundqvist. SAD!
Even worse than the Rangers not promoting this ceremony, which you know, could've been used to draw ticket sales, the Athletic website, ran an "Open Letter" from Dan Girardi today. Of course, this "open letter" was hidden behind a paywall, meaning that if you wanted to read this letter, you had to pay to read it. I don't know about you, but I'm not paying for sports opinions. There's enough of that out there for free. After all, you're reading a free opinion right now. In 2019, if you're paying for sports opinions, you're probably someone who pays for porn too. DOUBLE SAD!
To me, the Rangers went 0-2 right here, by not promoting Girardi or even getting a statement from Girardi on their website. Just poor management, if you ask me.
With this game being an NBC game, as opposed to a MSG Networks game, I feared that we wouldn't get the Girardi ceremony on TV at all. As the time went from 7PM, to 7:15PM, to 7:30PM and then past 7:30PM, it didn't look good. However, the NBC studio guys said we would get the ceremony. With the time already being 7:40PM, I was wondering what kind of ceremony was this going to be? When it was all said and done, in my opinion, I felt like the Rangers just went through the motions and put forth a lackluster effort.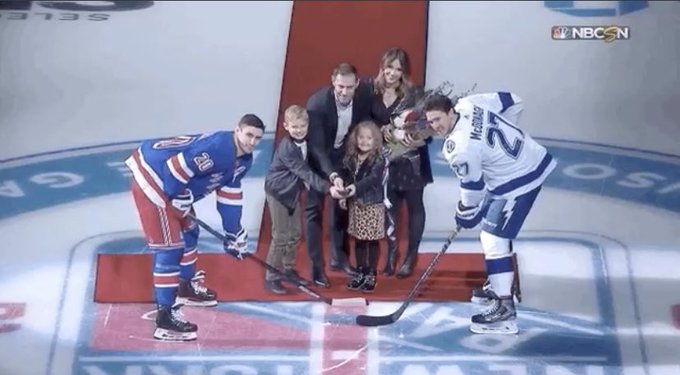 In a ceremony that lasted all of two minutes, the Rangers ran clips that they previously released weeks ago, when Girardi first announced his retirement. The Rangers then welcomed Girardi, Girardi dropped the ceremonial puck and that was that. Goodbye. 11 years, 11 hard and battle-tested years, and all the Rangers did was air a video that looked like a basement cretin made on his YouTube account. Seriously speaking here, the video the Rangers aired was as bad as my photoshops!
When it was all over, the Rangers treated Girardi like he was Emerson "FUCKING" Etem. Even Rick Nash had more time than what Girardi got tonight. 11 years of service to the Rangers, which is like 30+ years at a normal 9-5 job, where retiring employees get a gold watch or a grandfather clock. All the Rangers gave Girardi was a cheap video and a golf clap. TRIPLE SAD.
If it was me running this thing, I would've dedicated at least 20 minutes to this. The Rangers were playing the Lightning, which means you had all of Girardi's recent teammates there, plus a few holdovers from Girardi's time with the Rangers.
For all the work Girardi put into this organization, while I wouldn't advocate for a jersey retirement or anything like that, (the only #5 that belongs in the rafters is the number 5 that Bill Cook once wore. However, the Rangers don't know who he is, which is part of the problem here) I thought Girardi deserved more.
In my opinion, the Rangers should've given Girardi a few gifts, or a big gift, like a car or something. I would've flown in Callahan for this thing and honor the both of them in their retirement. Without those two (and Staal & later on, McDonagh) Lundqvist doesn't win his Vezina and Lundqvist doesn't get the contract either. When you look at Lundqvist's early success, you can trace a lot of it to three men – John Tortorella, Dan Girardi and Ryan Callahan.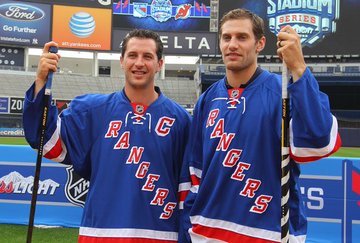 After giving Girardi some gifts (or a big gift) I would've had speeches with Ryan McDonagh, Henrik Lundqvist and Marc Staal. Then obviously, I would've closed with Ryan Callahan and Dan Girardi making speeches, where I would expect that they would thank the organization and the fans. This would've been a nice little memory for everyone – the players and the fans. Instead, the public address announcer introduces Girardi, that little wuss Chris Kreider gives the Girardi family some 99 cent bodega flowers, and that's that.
Maybe I'm too much of a fan of Dan Girardi here. After all, people like this make me violently ill: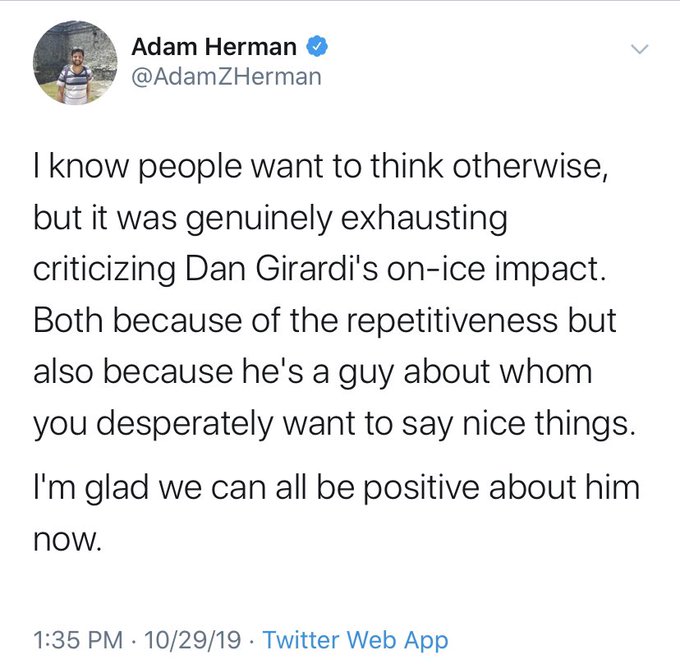 Girardi fan or not, I wonder if the Rangers, one day in the future, when they honor Lundqvist, will have a 120 second ceremony like this? We all know what will happen – the Rangers will hold a year long celebration. However, for the men who helped prop Lundqvist up, they barely get a blip.
Again, maybe I'm too much of a fan of Girardi's, but I thought the Rangers failed him tonight. Fortunately, the current Rangers helped make up for it.
And now, with that Girardi/NYR rant out of my system, let's go back to this fantastic game.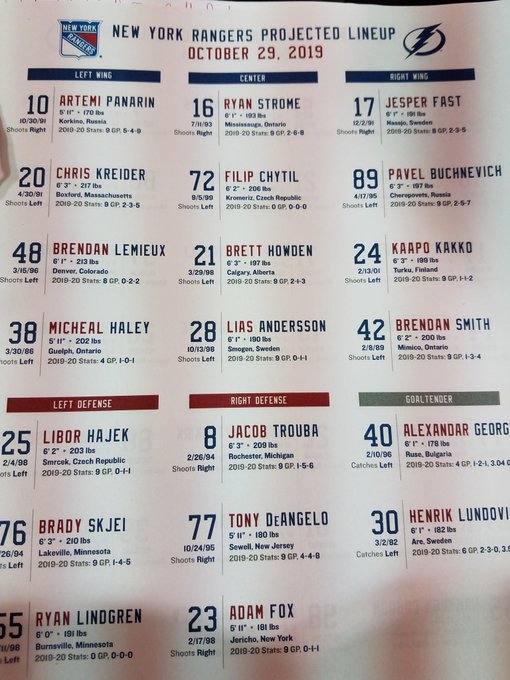 When it comes to the "List of Quinn", for the first time in 13 seasons, Marc Staal was a healthy scratch. If you read my blog from last night, which I linked above, this absolutely floored and shocked me. I did not see that coming. As I argued and deducted last night, I 100% thought Hajek was going to the press box.
I thought it was pretty shitty to scratch Staal on the night that Dan Girardi was being honored. That being said, I understand that this is a business. Plus, Quinn is coaching to win this game, and not looking to be a Walt Disney movie. Furthermore, Quinn doesn't have any allegiance to Dan Girardi. So while maybe I'm too emotionally invested, I totally get why Quinn did what he did.
In a way, the scratching of Staal is kind of poetic and bittersweet, as Girardi and Staal are in the same boat. They block a ton of shots a game, always were true stay at home defensemen and their bodies deteriorated as time went on. Instead of being lauded as heroes, you have these chart making basement losers, who also spend time making GIFs of Lundqvist's hair, burying Girardi and Staal at every turn.
After the game, Quinn said this about Staal:
"It was just something that I felt was needed and was the best thing for our team right now. Listen, we want to run a meritocracy here and guys who are playing well will continue to play."
Let's see if the "meritocracy" applies on Saturday. If Quinn is staying true to his word, that means Alexandar Georgiev will start against Nashville and not the goalie who goes for cheap hits and cries like a bitch all game.
As far as the forward lines go, Quinn had to get creative a bit, with Mika Zibanejad still hurt and out of the line-up.  Kakko was put on the third line, which created a huge cry-storm from some of the people in Rangerstown, USA. However, that move worked out nicely tonight.
In a move that I didn't predict correctly last night, it was Haley over McKegg in the line-up. We found out why Quinn made that move, within the first two minutes of this game.
3000 words in. I think it's about time we dive into this game! However, as usual, here's the box score from ESPN.com:
SCORING SUMMARY: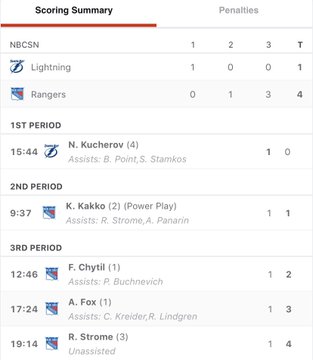 PENALTIES: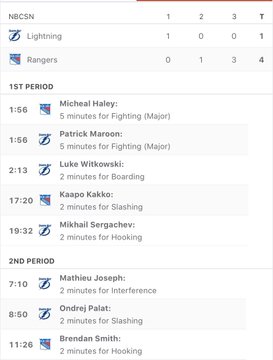 GOALIES:


THREE STARS: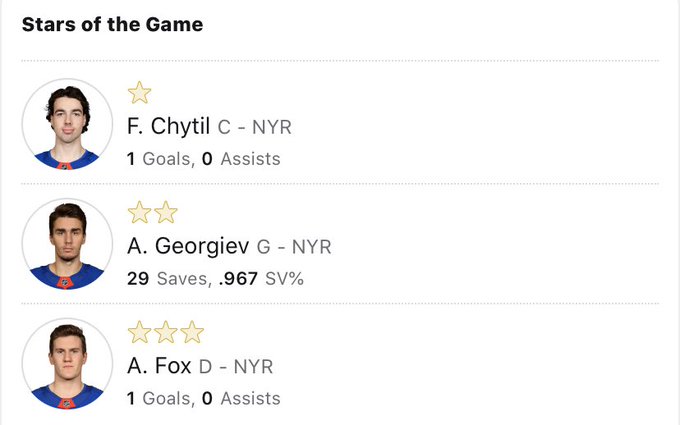 Please look at the above three stars graphic. ESPN.com has a hell of a picture for Alexandar Georgiev, huh? He gets as much respect from ESPN as he does from some of these Cult of Lundswiss types!
Oh, and not that it matters, but whoever came up with the three stars seriously erred. It should've been Georgiev first star, Vasilevskiy second star and Chytil as the third star. Again, it means nothing, but just like the picture ESPN.com used of Georgiev, these three stars were off.
One more time – this was the best win and game that the Rangers have played this season.
After the Girardi "ceremony", we finally had puck drop at 7:46, which was 16 minutes after the advertised start time. That might not mean much to you, but it means a lot to the people in M$G, who have to catch a train after a game.
One minute and 56 seconds into the period, we found out why David Quinn put Micheal Haley into the line-up. He was there to rally up the troops, and he did just that, when he beat up the "Big Rig", in Patrick Maroon:
I've talked about fighting in hockey before. Not going to do my whole spiel here. (Check the archives for my long blogs on fighting.) I know how Larry Brooks is currently crying about fighting, but he is a weak-minded liberal, so of course he is going to be against fighting. All I'll say on fighting is this – these guys know what they sign up for. I'm a fan of MMA, wrestling, and boxing, which are all combat sports. Concussions may happen. It's what you sign up to do. It's a job hazard. I don't care if that sounds barbaric, but fighting is a part of hockey and anyone who wants fighting out of hockey can take a one way trip to Sweden.
Oh and let's be honest – this Haley fight brought the energy that Quinn and the Rangers wanted. This move worked.
The reason I bring up dangers of fighting here is that because after this fight, Maroon, after getting KO'd by the much shorter Micheal Haley, went to the penalty box. 10 seconds later, Maroon took a trip down the tunnel and never returned. While it wasn't Haley or Quinn's intention to knock Maroon out of the game, that's what happened. I think we all know this – this fight was staged and set-up. (Quinn basically admitted as much during his bench interview with Pierre McGuire.) While this fight was set-up, it was set-up to get the juices going and not to hurt Maroon. If Haley cheap-shotted Maroon, then it would be a different story. That's not what happened here though.
Right after this fight, seconds later, the debuting Ryan Lindgen was boarded by Luke Witkowski. This set off a scrum and at the end of it, the Rangers got a power-play out of it. While on this scrum, Kevin Shattenkirk, the ex-Ranger, was involved.
I don't have much to say about Shattenkirk, because I said everything I wanted to say already. For more on Shattenkirk, read this blog that I wrote over the summer:
In short, Shattenkirk left something like $15M on the table when he signed with NYR. He was sold a false bill of goods. His career here was a complete Murphy's Law and it just snowballed. I don't blame him for his bad tenure here, it was just one of those things that unlike tonight's game, anything that could go wrong did go wrong.
Just from these opening minutes, we saw a physical brand of hockey from the Rangers, a brand that Quinn wants. This worked out well for the Rangers, because by being physical, while yes, there were some track-meet spots in this game, it slowed Tampa and their potent offense down.
I'm not calling Quinn an Einstein here, because all anyone has to do is watch that playoff series from last season, with Tampa and Columbus. Torts figured Tampa out. You gotta grind, hit and slow down these Bolts. That's what Quinn wanted tonight and that's what worked tonight. Once you let Tampa fly, you're in trouble. If you're one of these people who bury Quinn after every loss, you have to give Quinn a ton of credit tonight.
On this opening Rangers PP, they didn't do much. In fact, Georgiev made the best save during these two minutes. Both goalies were absolutely outstanding and beyond fantastic tonight. I'm probably going to sound repetitive all blog long on this. That said, these goalies were superb all game.
Worth mentioning, early on in this game, the Rangers, who out-shot Tampa all game, were out-shooting the Bolts by a tally of 4-2. It took the Rangers ten minutes to get a shot off against Boston on Sunday.
As the period progressed, you could see every Ranger breaking their hole out there. They all wanted it. Ryan Strome really stood out to me, as he was all over the place.
Later on in the game, Kakko thought this was Disney on Ice, and started doing his puck hogging thing. This led to a turnover. I've said it before and I'll say it again – I don't mind if Kakko goes into Kobe mode, because great players need to be selfish at times. However, Kakko has to know when a play is not there and needs to trust his teammates, even if Quinn changes the lines every 10 seconds.
I really can't rave enough about the goaltenders. One of the key saves early, is when the Rangers really moved the puck well, Lindgren found Vasilevskiy screened and Vasilevskiy still made clean glove save on the shot. Vasilevskiy really showed us why he's the current Vezina champion tonight.
And isn't it amazing Suzyn, that how the Tampa Bay Lightning once had an amazing goalie in Ben Bishop, a goalie that took them to the SCF, but TBL went with a cheaper, younger and better goalie in Vasilevskiy? I wonder who's been preaching that logic?
In related news, I give you these stats, which are current after tonight's game: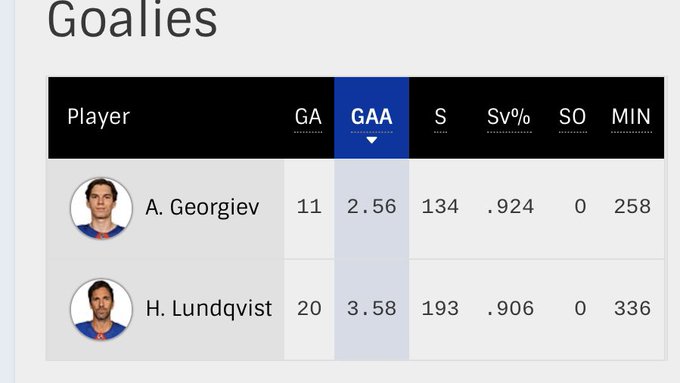 As the period continued, Georgiev made two fantastic saves on shots right from his grill. Instead of crying about the team "hanging him out to dry" or goaltender interference, Georgiev did his damn job. It's amazing how much better this team plays in front of Georgiev. It's like these guys are calmer when they don't have some 38 year old asshole egomaniac screaming at them all game. Because of Georgiev's demeanor, it also allows the Rangers to take chances offensively, as they don't have to worry about the evil eye of old man Lundpiss.
With 4:26 remaining in the first period, Kucherov put the first goal on the board. The Rangers got caught making a terrible line change. With all five skaters going to the bench, Stamkos, from the neutral zone, passed the puck to Point and Point dished it to Kucherov for the easy goal. 1-0 BAD GUYS.
Tampa had a 2 vs 0 break, with two of the top players in the league. Despite Georgiev highlighting his excellent lateral movement all game, he never had a chance here. It's a shame that the Rangers made this error. If they don't, who knows? Maybe Georgiev records the first shutout of the season.
Of note, this is why people hate the plus/minus stat. All five Rangers go to the bench too early and the five Rangers who jump on the ice all get a minus here. Stats like this need to be amended. Ditto to the game winning goal in a blowout game deciding goalie wins and goalie losses. Lundqvist was horrible against Boston and was pulled with a 4-1 score. The Rangers got two late A-Rod goals, with 90 seconds remaining in that game, making the score 6-4. Because Georgiev gave up the fifth goal, Georgiev got the loss and not the person who deserved it. Again, that's why all of these stats mean shit if you don't watch the games.
Tampa would get a late power-play, after Kakko slashed Shattenkirk. The Rangers PK stopped Tampa. Panarin would then get a shot at Vasilevskiy but Vasilevkiy stopped Panarin. That trend continued all game, as Vasilevkiy was like the city of Baltimore – committing robberies all game. Panarin probably could've had a hat trick against a weaker goalie, such as Henrik Lundqvist. However credit where credit is due – Vasilevskiy was amazing.
In the final seconds of the period, the returning Jesper Fast drew a hooking penalty on Mikhail Sergachev. This gave the Rangers 27 seconds of PP time to close the period with. They wouldn't score at all, during this wraparound power-play. In fact, the Rangers PP would go on to finish 1-4 during the game. However, that one power-play goal was a big one, as we'll get into.
1-0, BAD GUYS, after twenty minutes. Worth noting, the Rangers led the SOG stat, by a tally of 14-11.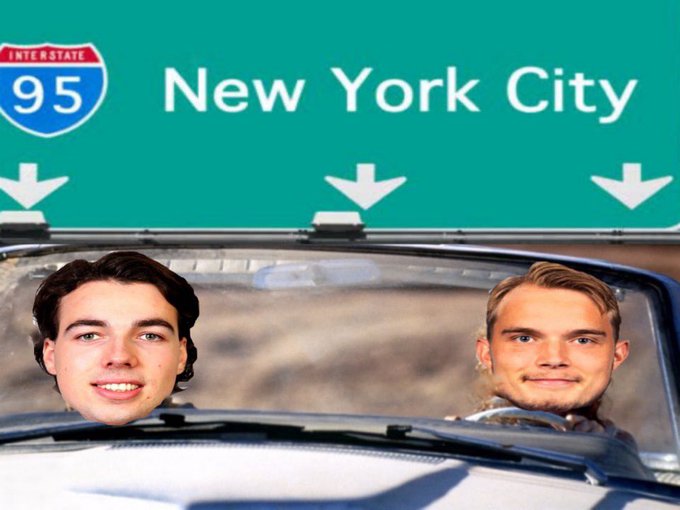 The Rangers started off the second period on the PP. Once again, Vasilevskiy was great. Also, it was announced that one of the best defensemen in the game, in Victor Hedman, wasn't going to be returning to the game either. He apparently got hurt in the first period, but it wasn't noticeable during the television broadcast.
I mention Hedman being out here, because I think some fans will say, "Well Hedman was out, blah blah blah." I see your Hedman and raise you Zibanejad, who didn't play for the Rangers. Zibanejad means more on a talent deprived team than Hedman does on a stacked team. That's not to say Zibanejad is better, that is to say that Tampa can survive this roster blow better than the Rangers can survive theirs.
With both goalies showing off their ice-water veins, Stamkos knocked the net off the moorings and collided with Georgiev. No tears were shed. Take notes on how to be a man Hank.
As this game continued, one thing that was apparent was the chemistry between Pavel Buchnevich and Filip Chytil. They were setting each other up all game. It would pay off in the third period.
After more great goaltending, the Rangers would get 30 seconds of 5 vs 3 PP time. They failed. However, on the 5 vs 4 PP, Ranger fans exploded after this:
Number ✌️for pick ✌️

📺: NBCSN
💻: https://t.co/AfA6nMtVXN pic.twitter.com/2eHUtgpZHt

— NHL on NBC (@NHLonNBCSports) October 30, 2019
1-1, courtesy of a power-play goal from KAAPO KAKKO!
On the goal, Kakko showed off his skill here. He skated McDonagh to the ice, moved around him, fired away and got a deflection goal. Of note, Ryan Strome, who assisted on Kakko's first goal, picked up the assist on this Kakko PPG. The secondary assist came from Panarin. I hope we get more of Panarin and Kakko on the ice together. I've only been saying that ever since both signed with the Rangers!
This was a huge goal for Kakko, as he's been struggling and hard on himself lately. Glad to see his hard work pay off here.
After the goal, the game continued with both goalies being lights out. In fact, with a 1-1 score, you couldn't pin either goal on the goalies. Georgiev had a bad line change and Vasilevskiy had a puck deflect off his defender.
Georgiev, who continued to amaze with his lightning (no pun intended) lateral speed, made saves on several odd-man rushes. I know you don't want to hear it, but I feel if Grampa Lundswiss was in there, this game is a 7-2 Lightning win.
Brendan Smith would be penalized at 11:26. During this Tampa PP, Georgiev made six huge saves. KING.
Then, with Smith out of the box and the Rangers tired from being in their own zone for so long, Smith stripped Stamkos of the puck and made a bee-line to Vasilevskiy. This was one of the best defensive plays that the Rangers had all season. I've said it already and I'll say it again – yes I understand that Smith's contract sucks and him being on this team isn't ideal, but you can't knock his game this season. He's been great.
After this play, we had more world class goaltending. Vasilevskiy absolutely robbed Panarin on the doorstep. Then, right after, Georgiev made a save on a two vs one Tampa break. This was better than Bluechew!
Later on in the period, the cold as an Eskimo's asshole, in a one Chris Kreider, got three shots off in a ten second span. Kreider hit a post, robbing Tony DeAngelo of an assist. Then Vasilevskiy made two more saves on Kreider. Pack CK20 to St. Louis already.
In the waning moments of the period, Vasilevskiy made a huge stick save on a blast from Ryan Strome. The period would then conclude, with the score remaining at 1-1. As a fan of goaltending, I was absolutely blown away by these two goalies tonight. They were fucking fantastic. I know I'm saying that a lot, but I can't stress how great Vasilevskiy and Georgiev were tonight.
Oh, and again worth mentioning, after two periods, the Rangers continued to lead the shots on goal stat, by a tally of 28-22.
The third period continued the great streak of goaltending, but it would be the Rangers winning the war.
To start the period, Trouba broke up a Tampa 3 on 1 break, which saw Point shoot high. It did get scary here a bit, as Tampa was starting to show off their speed. The Rangers, with Georgiev making key saves, would eventually go back to what was working and would slow Tampa down.
The refs also played a part in this period, but unlike the 99.9% of the time when we talk about referees, these refs were great. They allowed both teams to get physical and just let these teams play. One key part in this period saw another scrum, which led to Lemieux challenging Gourde to a fight. Gourde pussied out, even after Lemieux dropped the gloves. No penalties were called.
As the game went along, the Rangers fourth line continued to make plays. Andersson was solid defensively. Smith found himself alone with Vasilevskiy, but shot high. Even with this missed opportunity, there seemed to be more passion from the Rangers in this game with Tampa, than in Game 7 of the 2015 SCF.
In a third period dominated by the goaltenders, it would be Filip Chytil breaking up the tie and scoring what would be the game winning goal:
Filip Chytil: first game, first goal #NYR pic.twitter.com/Pjp0cDWXgC

— Rob Taub (@RTaub_) October 30, 2019
2-1, GOOD GUYS, with under 8 minutes left in regulation.
On the goal, this was your classic "it's game of inches Suzyn", type of goal. Buchnevich made a great pass, Chytil found the right angle with his stick and the puck went off Vasilevskiy's glove for the goal. Good things happen when you drive to the net. And hey, like everyone else, GOOD FOR CHYTIL! He wasn't happy about going to Hartford. Instead of crying like a jilted ex-lover like Vitali Kravtsov, Chytil made the most of it and forced the Rangers to call him up. Once on the big team, Chytil made the most of his minutes and was a force to be reckoned with all game. Even better, he gets the game winning goal. I'm happy for the guy. Hard work pays off.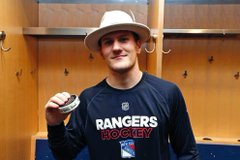 As the game wound down, all Ranger fans could do was watch the clock go tick-tick-tick. Georgiev would once again come up huge. Then, with 2:30 remaining, Chris Kreider once again couldn't finish. However Vasilevskiy left a juicy rebound and Adam Fox slammed the puck home. 3-1 GOOD GUYS.
On the goal, I heard some people trying to spin this like this was a set play. Bullshit. For starters, Vasilevskiy was a rock all game. You can't assume he's going to give up a big rebound, a rebound which falls perfect for Fox. Secondly, Kreider was horrible all game and it's tough to imagine that he had this offensive wizardry now. Lastly, Kreider had no clue where Fox was on the ice. He may have known Fox was close, but he didn't know if Fox would be able to follow up. To me, this was Kreider missing and this was a fortunate rebound for NYR. Maybe I'm so sick of Kreider, but yeah, you can't convince me that this was designed this way.
With a 3-1 score, and with 90 seconds left, Tampa pulled Vasilevskiy. With 50 seconds remaining, Ryan Strome iced the Bolts for good, with an unassisted empty net goal. 4-1, GOOD GUYS, which would be your final here tonight.
I can't say enough good things about this team tonight. This game was a complete team effort, from the goalie, to the forwards, to the defense, to the coaching. Now the question is – can the Rangers continue this?
There's a lot to take away from this game. Perhaps the biggest takeaway is that the Rangers did this without their two oldest players on the team, in Lundqvist and Staal. If anything, this was a true glimpse of what can be for the Rangers, when Quinn isn't forced to dress guys that he doesn't want on his roster. I know that's me being blunt here, but let's face it – in a perfect world, Quinn isn't knocking down doors for a defenseman long past his prime and beaten up. Quinn also is not craving a goalie whose prime was 7 years ago. When you factor in the contracts, it's inconceivable that any GM in the NHL would sign either of these two, to the money they are getting today, at the present moment.
I'm interested in what's next for the Rangers. I want them to follow this statement game by neutering the Predators on Saturday. I want to see Lindgren and Chytil in the line-up, even if Zibanejad is ready to return.
I've mentioned this before – in the past, or at least last season, Quinn would go with the same line-up after a big win. He didn't do that after the win with Buffalo this season. (He already had the lines changed before Fast pulled out with "personal issues.)
When it comes to Nashville, I hope Quinn employs the exact same line-up in that game, in the event that Zibanejad can't go. If Zibanejad can go, then scratch Haley for Chytil. Defensively, even though I'm a Marc Staal fan, go with what worked. I'm sure you can guess what goalie I want too. If you can't, your head must be buried in the sand.
All in all, a great win for the Rangers, and a win to hang your hat on.
I'll also say this – for as much razzing I give the MSG Network guys, I missed them tonight. I would've loved to hear Vally break down the goaltending in this game. I would've loved to hear Sam scream, "It's a POWER PLAY GOAL for Cocko Cakeo, um Cucko Cuckoo KAKKO!" (And to Jim & Eddie of BSU Radio/Video, should you read this, I was in freaking tears with your Sam Rosen soundbyte from your Monday show. The robotic computing noises are almost as funny as RUM F'N Greschner. And yes, this is my plug for BlueShirt Underground Radio/Video, which is my favorite Rangers podcast out there today. Oh, and this isn't a knock against anyone else. There's just a difference between being funny and thinking you're funny. The BSU guys are funny.)
Up next, a tilt with the Cats of Tennessee. Personally, I will be at the game. In fact, I just realized that the Predators are hosting the Flames on Thursday night. I'll be in town. If Cam Talbot is starting that game, then shit, I'm going to that game too! I also plan on seeing my buddy of nearly twenty years, in Ricky Otazu, who was the first person in this fanbase to want Lundqvist off this team!
Friday night, I hear the best Nirvana cover band in the world is playing on Broadway. I'm looking forward to that, plus experiencing everything Nashville has to offer. I've only heard great things about the city.
Blog wise, because of my travel and my penchant for enjoying a few "Sprites", (Hi Dad! Calawesome!) I may not be back until Sunday morning, with a recap of my Nashville trip. If something crazy happens between now and Saturday, I do have the trusty old cell phone with me, where I can put up something quick if necessary.
Until then, it's nice that the Rangers have four days to bask in this win. They just can't let what happened happen last time after a big win. The Rangers need to make it two, three, four, five wins in a row. Whatever they did tonight, whatever got them pumped, they need that again. If that means benching Staal and Lundqvist, then you do just that.
As I close on tonight's manifesto, this was fun to write. I'm sorry if I was all over the place, but so much good happened in this game, that I got smoke flying off the keyboard right now. Games like this is why I started this blog to begin with.
See ya in Nashville! I'll post pictures on my Twitter and Facebook accounts, and then do a blog about my trip there.
Until next time, thanks for reading, and as always…
"LET'S GO RANGERS"
Sean McCaffrey
BULLSMC@aol.com
@NYCTHEMIC on twitter