Photo Credit: Ryan Gaynor
What's up everyone and welcome to another blog here on DOINOW.com, the second of the day! Make sure to check out the two new book reviews posted on the site today, as Joe DiLeo has a review up on the new Sandy Alderson book & I just put up a review of "Deception & Doublecross".
This is obviously a predominately pro-New York Rangers blog. However, from time-to-time, I will chime in on my favorite baseball team, the New York Yankees, as Joe DiLeo continues to blog about his beloved New York Mets.
If you know me personally, then you know I'm a diehard Yankee fan. If you're someone who's found this blog, well thank you for reading. I'm a diehard Yankee fan and have been my whole life. I even have Yankee tattoos, if you want to consider that a fanatic or just plain deranged!
I will be 33 years old shortly and for the first time in my life, there isn't a face of the franchise. I grew up with Donnie Baseball. Gravitated to the hard-working Bernie Williams. Jeter became a legend. Of course, many great players have come up in and between, but no matter what, the Yankees always had that constant. Mattingly already has his number retired by the Yankees. Williams gets his moment in the sun later this year. We all know Jeter is a first ballot Hall of Famer & even though it's not official yet, will have his number retired as well.
In fact, you can go through the Yankees history. Ruth. Gehrig. Berra. Joe D. Mantle. Munson. Jackson. Guidry. There aren't many years that the Yankees don't have that face that all fans universally love and adore. This 2015 season, for many people, isn't only the first season for people who don't remember the Yankees without Jeter, it's a season where the reset button has been pressed on the franchise. The Yankees have been extremely fortunate in finding legends and warriors. I don't think the next player to carry the torch is currently in a Yankees uniform today.
Summer is near when there is clean cut grass on the field
Opening Day is tradition for many people. Vacation days are used at work. Kids come down with the flu and have to miss school. Fans try to sometimes brave the cold, as they just wear their jersey. The lovely sounds of "ICE COLD BEER HERE" ring around a Stadium that has been as quiet as a mouse since October. Baseball is back!
For me, this was the first time, since 1996, (I was upset about Mattingly), that I wasn't excited for Opening Day. There are some fans who will never get this – but your team will not win the World Series this year. 29 teams will not win the World Series this year. In fact, this may be the worst Opening Day line-up the Yankees have put on the field since those dog days of the 1980s.
The Yankees have created a "Win or bust" mentality through their strong runs in the late 90's and with their free spending ways since those runs. Where the late 90's-early 00's teams did have free agents, the Yankees made their bread and butter with their home grown guys. Jeter, Rivera. Williams. Pettitte. Posada. The current team today is full of a bunch of guys who would be great for a 2006 fantasy team. Brett Gardner is a homegrown Yankee with the most tenure.
The most recent Yankees World Series Title was achieved by the Yankees Core Four and by paying for top names. Mark Teixeira came in for big money. CC Sabathia came in for big money. Alex Rodriguez was already getting the most money in baseball. Along with Gardner, these are the only four players from that 2009 World Series team. Only Gardner is in his prime.
A-Roid
In the previous two seasons, true legends and future Hall of Famers, Mariano Rivera (2013) and Derek Jeter (2014) were embraced around the league, as they finished their final tour in baseball. The Yankees didn't field playoff teams those years. The only draw the Yankees had was with their legends. The Yankees are going back to those legends of the past to help draw this year, as the Yankees are retiring a whopping three numbers this year – 46, 20 and 51.
While on that, I get why people think the Yankees are retiring too many numbers. Three in one season (and Jeter will be four) is a lot. If you are arguing 51 being retired, then I can't waste my time with you. However, if you put Posada and his numbers and Pettitte and his numbers, on any other team in the league, then guess what – you would be retiring their numbers there too.
I have no expectations for this team. If they finish higher than fourth place, I'll be shocked. There are too many question marks. You don't know what you will get from your starting pitching. The line-up is old. I'm surprised the Yankees don't ask for more day games, so they can have the early bird buffet dinner. The bullpen has no consistency. I know many fellow Yankee fans were upset with me for predicting last year that the Yankees would suck in 2014, but I was right. I just think this team is even worse than last year while Toronto and Boston beefed up. Baltimore will be playing angry as well.
For the Yankees, their drawing card is Alex Rodriguez, the most polarizing player in baseball. I respect my Yankee friends who are rooting for A-Rod. I get it. You want to support the front of the jersey, not the back. We're stuck with this piece of shit for three more years, you might as well get over it and root for him. However, I'm in the anti-A-Rod camp. He's just not a likable guy. For the people who read these Ranger blogs regularly, I would rather say "Bench Talbot" than ever root for A-Roid.
A-Roid is hated. I refer you to this blog I wrote in October:
The guy has made a laundry list of mistakes, then pissed on the laundry afterwards! He is the complete opposite of what you would call "an ambassador to the sport." He is everything that is wrong in baseball. A contract that a team can't get out of despite cheating. A drug user. An egomaniac. He is truly the anti-Derek Jeter.
The face I make when I realize A-Rod is the leader of this team today
Derek Jeter, in retirement, takes the Captaincy with him. This isn't hockey where there has to be a captain. Captaincy needs to be earned in baseball. However, if there is an unofficial leader of this team, it's A-Rod, with his 20 years of service. He's the elder statesman on a team mixed up of unknowns and other fellow broken down ball players. While I can understand why fans want to #FORG1V3, I'm in the #F13KAROID camp. There is just nothing redeeming about this person as a human being.
I debated going to Opening Day today. It is hilarious. Tickets for today's game started at $100 on the secondary market. Those same tickets for tomorrow, $9. Opening Day is a great gimmick, but the game tomorrow, Wednesday, Friday, Saturday, etc, at 1/10th the price, is just as important in the standings as Opening Day. When the game was over, I'm glad I kept the $100 in my pocket.
You can't overreact to an Opening Day win or loss. It feels good to win, no doubt, but a loss isn't the end of the world. You can lose 80+ games and still win a World Series, with all the teams baseball now lets in the playoffs. We're probably 10 years away from 16 teams making the baseball playoffs. Playoff games = $$$ and there is no reason why baseball won't keep expanding their playoff field.
What troubled me with this loss is that everything that I thought happened. I don't mean to toot my own horn, because it comes off as egotistical as A-Rod, but my concerns going into the season were:
– Would Tanaka be able to come back after his injury? This game was a horrible showing for him.
– Would the line-up produce? Of course not, they looked old and lethargic, compared to a more athletic and full of life Toronto team.
– Would Tex have a bounce back resurgence? I don't think he will, and he didn't look great today either.
– Will McCann shrug off his first year in NY? I've seen Matt Nokes play better.
– Will the Yankees overuse their bullpen because of shaky starting pitching? You knew that would happen.
The only time the Stadium got loud was for A-Rod. I wasn't even a fan of that! It should be interesting to see what happens when A-Rod is having an 0-4 game in the middle of July. Let's also not forget, the loudest fans are in the bleachers, and the head of the bleacher creatures, "Bald Vinny", is selling a #FORG1V3 shirt. It's in his best interest for A-Roid to do well, both fan-wise and financially.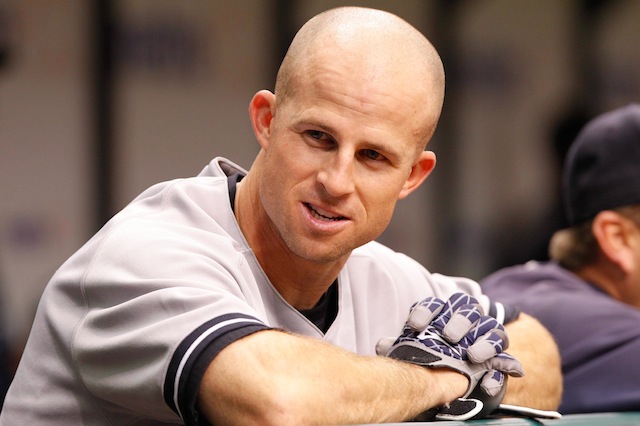 The longest tenured homegrown Yankee
I won't be recapping every Yankee game like I do with the Rangers. I'll be here time-to-time to talk about big stories. Today, the Yankees lost to the Blue Jays 6-1. Gardner got the lone RBI, with a solo homerun. The Yankees left men on base time and time again, just like last year. Tanaka gave up four earned runs in four innings.  Yanks were in a 5-0 hole until Gardy's homer in the sixth. Toronto erased it when Travis homered in the seventh.
The game was a snoozefest. Toronto took the early lead, as Hutchison mowed down the Yankee batters left & right and making sure every time the ball was hit, it would find the glove of J-Bats.  The crowd was quiet the whole game, minus the Gardy HR and whenever A-Rod came to the plate. I wouldn't expect the same reaction for A-Rod on the road. I can't wait to see what happens when he gets to Boston, that should be fun TV.
Yankee fans, I hope you are into the Rangers. The Rangers must make a deep run, because I am not ready to be watching every Yankee game again. I have a bad feeling that come the All-Star Break, we will be counting the days for the NFL season to start and get this baseball season behind us.
It's going to be a long year Yankee fans.
I'll be back with my third blog of the day, the Rangers/CBJ recap!
Thanks for reading!
LET'S GO YANKEES
NOTHING BEATS THE YANKEE BODEGA!
Sean McCaffrey
BULLSMC@aol.com
@NYCTHEMIC on the twitter