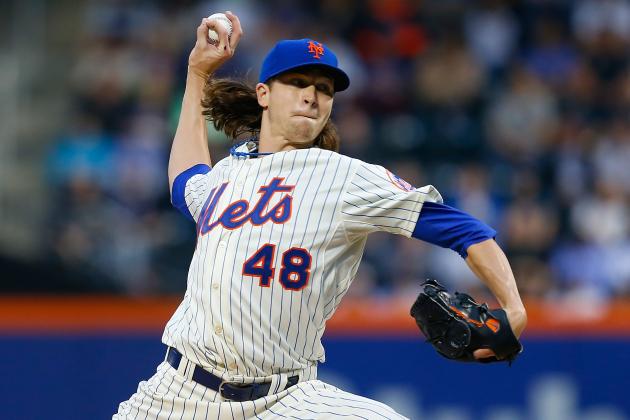 If I would have said the Mets were going to win games for fielding a less-terrible infield squad defensively you would have scoffed and told me I was full of shit. Hell, if I would have actually done that, I'd honestly have to be trolling you.
But that's exactly what happened today.
The Mets won their home opener at Citi Field this afternoon 2-0 behind a good performance from reigning NL Rookie of the Year, Jacob deGrom and some not so stellar defense from the Phillies.
Juan Lagares drove in the first run in the 4th on an infield single off Phils' starter, Aaron Harang. Harang seemed to get a spike stuck in the mound and twisted awkwardly which caused him to be slow getting to the ball allowing Lagares to beat the throw. In the 8th, they added a run on a Travis d'Arnaud sacrifice fly after Chase Utley booted a routine double play earlier in the inning.
The Mets continue to capitalize on the shortcomings of their opponents which is a good thing. The bad thing is having to rely on such instances which is exactly what's happening right now.
After killing the ball in spring training, the Mets' offense has yet to find any real flow through the first seven games of the season. Michael Cuddyer had two hits today, but, aside from the game against Stephen Strasburg and the Nationals, the team has failed to string together hits or a sustained rally. They have seven extra base hit through seven games all coming from different players.
While you try not to get too concerned this early, you would like to see more consistency. It feels like everybody – outside of David Wright, d'Arnaud and maybe Cuddyer now – are in slumps and that's just not going to get the job done.
Thankfully, it hasn't hurt them too bad as of yet as the pitching has been very good. deGrom pitched 6.1 gutty innings today. He didn't have his best stuff. He was all over the zone, having trouble locating and ran numerous high counts, but was able to keep everything contained and made the 1 run he was given in the 4th stand up before handing things over to the bullpen.
And those gentlemen in the pen did a great job again of closing things down. Carlos Torres finished the 7th, Jerry Blevins did another great job shutting down the lefties in the 8th and Jeurys Familia closed it out to pick up his second save.
The early returns on Blevins have been probably better than expected. It was only 10 days ago where we genuinely wondered if we'd even have a lefty in the bullpen and (small sample size) through seven games, it's been a strength. The obvious concern is Terry Collins falling in love with a certain reliever again and overusing them to the point where they become ineffective later in the year.
That's the main stuff. Pitching was good. Hitting needs to pick up.
Outside of that, I heard some absolute horror stories concerning fan experience today. It was the largest regular season crowd ever at Citi Field and from everything I heard, the building just wasn't big enough to accommodate people. The walkways were flooded with standing-room only ticket holders, the lines for facilities and concessions were two-inning waits and all of this, added to some cases of beer-muscles, led to a few fights breaking out around the park.
That's not good for anybody. I'm not a saint and I enjoy having a few adult beverages so I understand that things can get rowdy. I have no problem with that. I do have a problem with people showing up for the sole intent of getting shitfaced and causing a ruckus. Or people trying to cut the bathroom line when others have been waiting for upwards of a half-hour. The Mets and Citi Field staff should have been better prepared for this and if that means putting a security officer or alcohol compliance guy every 10 feet then so be it. Allowing this kind of stuff to go on on Opening Day is just inexcusable.
Just imagine if/when this building is playing host to a post-season game. After people have been gauged for hundreds or thousands to just get in the building how much they'd flip out dealing with this kind of shit. I understand the game isn't the main reason for a lot of people nowadays to actually go, but for someone like me, the game is the only reason. Yes, I enjoy the concessions and eating steak sandwiches, but I'm still there primarily to see the game. If I paid a few hundred bucks to get in, $25 to park (public trans is a mess from where I lived so I'd have to take two trains and then a bus to get there and back), another $20 for a sandwich and soda and then miss two innings to stand on a line to piss all the while these drunk messes are showing up and pushing through the line with no security in sight, I'd be fucking hot and would then cause another scene.
What's the solution to that? I don't know. But the even staff needs to address it sooner and better than what went on today. There are plenty of people that can handle their alcohol and act like adults. A dipshit few shouldn't be allowed to ruin a day out for the rest.
Speaking of dipshit. That guy behind the RF fence that threw the beer at Grady Sizemore hopefully was arrested and banned from the stadium. Like I said, plenty of people behave. Fuck that guy.
Final talking point of the day! I know this has been long-winded, but stay with me here. If you're reading this, you know about Darren Meenan and The 7 Line. He was just a Mets fan who started making shirts, yada, yada, yada. Good for him. He's a pretty OK guy too! And he's done really well with organizing these group outings over the past couple of years to both home and away games.
Full disclosure, I've been to 2 or 3 of his group outings and have bought a bunch of shirts from him. And I'm not shitting on him at all. I think what he does is great. What's not great is this feeling that permeates around the people in his groups as if they're better fans for going and wearing matching t-shirts. Just fucking stop. It's an arrogance that is unwelcome and gross. I've been there. I've sat in for it. It's not like I'm judging from afar.
That's why I'm super happy I wasn't part of the group today. At the beginning of the game, the 7 Line Army did a "roll call". You know the deal. That's a Yankees thing. It's not fucking cute or funny. It's sad. It's desperate. What was even the point of this? All of you that took part in this should also get banned from the ballpark for pure fucking stupidity. You make the rest of the fanbase look like petulant, little children when you do shit like this.
Off my soapbox. That shit really bothers me. Create your own thing. Don't copy what other teams do. It used to bother me a ton when they'd play "Sweet Caroline" in the 8th inning too. That was a Red Sox thing. Create something new! Something that brands your team and the fan experience at your ballpark.
I've traveled to a few different ballparks now and they all have different elements that make their in-game experience fun and exciting beyond just the game. The Mets really just have one thing that separates them: Mr. Met. And he's phenomenal. But other teams and ballparks do it better. Which is fine. Not everybody gets to be the best, but don't just settle for ripping off others. That's lazy.
Hopefully, I don't have to go into this again this season. But I won't hold my breath. #HarveyDay is tomorrow so at least there's that. Try not to start any fights, people.
Joe DiLeo
@MaximusSexPower