FIRST PLACE!
To accentuate Sam Rosen, "OH FUCKING BABY!"
Welcome everyone to another blog here, on the NEW & IMPROVED DOINOW.com. While DOINOW.com isn't really that new, as it's been around for 5 months, it is definitely improved and looks new. So I'll take that new & improved cliche and use it here!
As these words reach your eyes, please lift your drink in the air, your hand in the air or just take a moment and appreciate this: after Henrik Lundqvist played like shit in the beginning of the season, Cam "MOTHERFUCKIN" Talbot has the New York Rangers in first place. Yes, the Rangers have scored a ton of goals. Yes, the Rangers are playing their best hockey of the season, but the facts are the facts, the Rangers have been better without Hank, which supports what I've been saying all year – Hank is overpaid & a hypocrite.
Why is Hank a hypocrite? Easy. Don't say, "I want to win at all costs" but then demand to be the highest paid goalie in the salary cap era. Your back-up, for $8 million less, is 9-1-2 and has helped this team get into first place after the epic hole you put them in, after your blow outs to Toronto, the Islanders (3 times), Tampa Bay (3 times), etc. Gotta say it – IN CAM WE TRUST!
Before continuing and giving you the usual intro spiel, feel free to click this link and savor in the greatness that is Cam Talbot:
Thursday night was a huge night for the Rangers. When the game was over, they would still have two games in hand with the Islanders. Would this game in hand be a waste or would the Rangers capitalize? A win meant first place. Ranger fans knew how important this game was. As I start to recap this game, let's not forget, tip your bartenders, IN JEFFREY WE TRUST (when it comes to stubhub), try the chicken soup at the Bold O'Donoghues, fuck the Islanders & always, and I mean ALWAYS, use "IN CAM WE TRUST" as your personal mantra.
Yours truly during warm-ups
You know this is a personal game recap when you read these reports. As always, I have my pregame story. As I talked about in my last blog (CHECK OUT THE ARCHIVES ON THE RIGHT HAND OF THE SITE, AS I DON'T LIKE TO REPEAT MYSELF AND TYPE THE SAME SHIT EVERY REPORT) JEFFREY and I have been trying to beat the system. Our system really only works on weekday, non-Islander games. An earlier week/work day like Monday or Tuesday works best, but you can do our deal on Thursday's too.
The "veteran move", so to speak, is to buy tickets last second. Usually people panic last second. In this case, a big SHALOM to Robert Goldberg, who unloaded his 8th row blue line $354 tickets for $100. If you've been to MSG, you know you can't bring in mobile tickets unless they are from MSG. The move to make, is to go to a bar early or of course, take a later train to MSG. Check out Stubhub (They 100% guarantee their tickets vs Seatgeek) an hour before the game. Of course, you have to gauge the market earlier in the day as well. If there are a 1000 tickets around 2pm on gameday, you are golden. People & corporations will panic and sell for less.
You can print tickets at the Hotel Pennsylvania directly across the street at MSG. It's usually $2 for internet time & the printout fee. I am a blue collar guy. I am not rich. I am fortunate to have my own co-op in Nassau County, but I act like a little kid in rich seats. There are a minority of real fans who sit in these rich seats and it pisses me off. For the second game in a row, JEFFREY & I gambled with the last second stubhub and hit. It's not always going to work out like this. It just pisses me off sitting there, with half the section empty and the majority of people who do show up in suits.
If the people behind me tonight are reading this, I didn't want to say this during the game, because I wasn't going to get into a fight or distract myself from the game, but I hope you all get AIDS in the slowest fashion possible. During "NIGHT-TRAIN", and my good friend BISON, will appreciate this, someone said they love AC/DC & this was AC/DC's best song. Of course, JEFFREY & I, being wiseasses, would make that a recurring joke. When "Baba O'Riley" played, we said we loved the Beatles. When any of the 3 Foo Fighter songs the Rangers played hit the speakers, we said we loved Stone Temple Pilots.
What killed me about the assholes behind us, is that they said that Hank made $5 million a season. If you read these blogs, you know how infuriating that would be for me! They then said that Nash had 60 goals this year. What pissed me off, is that I have to pull my stubhub theatrics last second & would love to be sitting on the ice every game. I appreciate it. I'm not the only one. There are thousands more of you reading this that would love to sit great at a low price. It's these elite fucks (One who had to leave with 10 minutes into the second period to get sushi, I shit you not) who don't give a fuck, clogging up space for the real fans. It really pisses me off. I want to be sitting with people who know their shit and even give me shit when I scream IN CAM WE TRUST! Ranger games are serious, not somewhere you go to talk about your Tokyo Tinder (TRUE STORY from these bougias fucks behind me and JEFFREY) experiences.
Keep "CAM" and Let's Go Rangers
Dealing with bougias ass fucks aside, before I could even get two good swigs of my Molson (Sold in section 103) down my gullet, Mark Arcobello beat the defense and had a wide open look at Talbot. 41 seconds into the game and the Rangers were losing to one of the worst teams in the league, a team that was beat 3-0 by the Devils earlier this week and 5-1 by the Islanders on Tuesday. It was also the same team that Talbot had a strong start against on during Valentine's Day. It was a great look for Arcobello, but perhaps a shot Talbot should've stopped.
We all know I'm a Cam Talbot guy, at points where I exaggerate at times, just to get a laugh. Watching him up close and watching him as a starter, there are two noticeable weaknesses in his game. Long distance shots and the high glove. Perhaps that he's played more, it's more well known. It's something he can work on and get better. I still think Talbot is a starting goalie for the majority of the teams in the NHL right now. Dallas Stars fans are already clamoring for him on social media.
I wasn't panicking when it was 1-0, but it was concerning. It wasn't the first time during Talbot's run as starter where he let up an easy goal to start a game, before settling down. Yes, the Rangers have been winning, but there is no reason to spot a team a 1-0 lead before I can pull the wedgie out of my ass in these small seats.
In the last week, I have been hanging out with the infamous JEFFREY. JEFFREY & I had a great time with 10 other Ranger mongos at the local bar here, the Bold O'Donoghue's on Friday night, for Skapski's win. We then attended the next 3 Ranger games, using our Stubhub gambling skills, and sat great for all 3 of Talbot's starts. The result, three Talbot wins. Just a great feeling as one of Talbot's biggest supporters.
INKREIDABLE
How about that Chris Kreider? Just like Wayne Simmonds & PK Subban, while not black, Kreider is very similar. He is that player you love to hate if he's not on your team. Boy, did Kreider make Coyote fans hate him tonight!
With several seconds left on a powerplay, Kevin Hayes, who has just been playing out of his mind right now (And I hate to sound like a braggart, but when you sit close, you can really see it) made a beautiful pass to Kreider. Kreider tapped it in to make the score 1-1. It was an important goal, because the Rangers had 3 very good opportunities to tie it up before Kreider's goal. Can I get this out of my system now – YOU SUCK TANNER GLASS. What a ripoff. He's getting paid nicely for his one assist all season. While he played a decent game tonight, getting several shots off, man, would I rather Derek Dorsett wearing that 15 this season than this piece of broken glass.
The Rangers have been playing strong first periods as of late. However, they had a big breakdown with less than four minutes to go in the first. Martin St. Louis took a questionable tripping call. While on the kill, Klein airmailed a puck over the glass. The result was a 5 vs 3 PP for Arizona. The Coyotes took advantage, with Gagner scoring an easy one. With a 5 vs 4 now up, Gagner got another easy one. The Rangers penalty kill was horrendous. 3-1 Arizona after the first, and a very angry JEFFREY, who even got into it with poor old sweet Frank, the security guard by the Delta 360 bar.
I could understand JEFFREY's frustration. Down 3-1 to a team that sucks ass, when the Rangers had this game in hand and could take first. You know I'm a Talbot guy, and while I blame Talbot for the first goal, those two PPG's were the result of a shoddy PK. Thankfully, the Rangers woke up and Talbot was incredible for the next 40 minutes.
STEMPY
Before the game started, I remarked to JEFFREY that Lee Stempniak has been cold as the NY weather. Maybe I should call out more Rangers on their cold streaks, as Stempy had perhaps his best game as a NYR.
Stempy made the game 3-2, after strong play from the fourth line, that challenged Arizona a lot during this game. A mad rush, five minutes into the second, brought the Rangers within one. Chris Kreider, with 18 seconds left, on a Rangers powerplay, scored his second powerplay goal of the game on a breakaway. 3-3, with twenty minutes in the game. Even the pessimistic JEFFREY was excited, that he wanted to do shots after the period.
What a turn of events. This was a game the Rangers had to win. With a horrible ending to the first, the Rangers came back in the second. The Stempy goal was a result of grinding it out. Kreider used his speed to get a game tying goal with 18 seconds left in the third. These dreaded two goal leads in the NHL. Once the team coming back brings it within one, the momentum totally shifts. The Rangers handled business, took the momentum and had 20 minutes to grab first place. It was now on Smith & Talbot to steal a win for their team.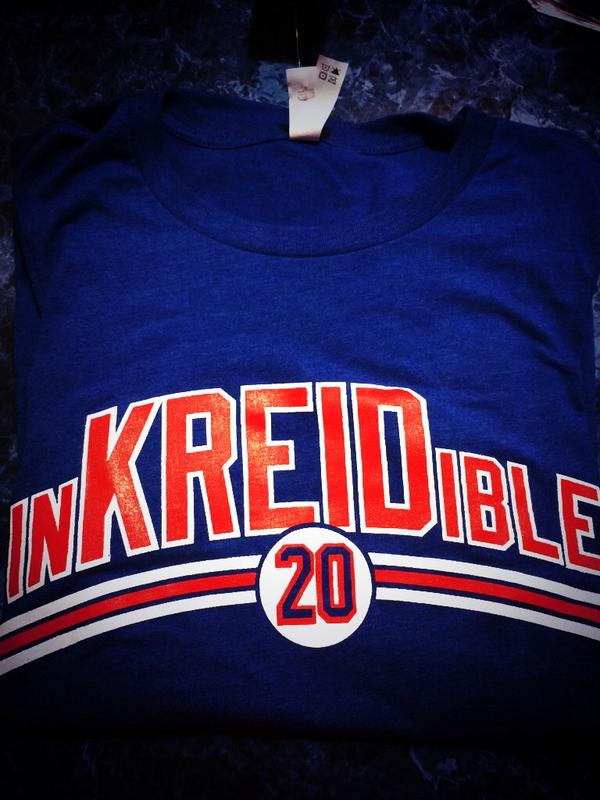 InKREIDible shirt now on sale at WeBleedBlue.com
With the game 3-3 and twenty minutes to go and first place on the line, the Rangers entered the period on a powerplay. They looked great throughout this game on the powerplay. However, they couldn't get an early goal and would have to fight the Coyotes to the finish.
Call me a racist, a classist or just an asshole, but I thought this was funny. In my section, it was all suits and sushi eating rich jews. Just the facts. I wasn't sitting with diehard fans, outside of JEFFREY.  The guy behind us had to explain to his friend what a hat-trick was. If Kreider scored, I was expecting yarmulkes (pronounced YA-MA-KAS) to be flying at the ice, like a discus at a track meet.
It wouldn't be jew skull caps flying at MSG on this night. However, with less than three minutes to go, Hayes was there with another big assist. Hayes created a turnover in Arizona's defensive zone and found Stempniak. Stempniak took one shot, then grabbed his rebound and got the top of the net for the game winning goal. What a fucking relief, 4-3 Rangers with less than 180 seconds to go.
On an aside, check out the Coyotes postgame report on their website or on NHL.com. Goaltender Mike Smith pulled a Henrik Lundqvist and buried his teammates after the game. I can understand his frustration, but damn, he did a huge rip job on his skaters.
Flashing the 33 with JEFFREY
Talbot shut-out the Coyotes in the second and third periods, giving him 37 saves on the night. Giving up a field goal looks bad on the stat sheet, but if you watched the whole game, you would blame Talbot for the first goal and the two PPG's were due to a bad Rangers PK.
Again, just because I'm a Talbot guy, don't underrate this stat. The Rangers are now 9-1-2 with Talbot as starter, 10-1-2 since Hank went down with a life-threatening injury. It's what I've been saying all along. Hank is way overpaid. I wouldn't care in the non-cap era, but just don't tell me you want to win at all costs, then demand to be the highest paid goalie in the NHL. Yes, the Rangers have been scoring, but it's not like Hank has been lights out either. Really, what it comes down to me personally, is I don't want to lose Zucc or Hags because Hank needs more money for the highlights in his hair.
With the win, a win the Rangers had to have, the Rangers are now first place in the Metropolitan division. Check out the graphic at the top of this blog. The Rangers have games in hand and a better ROW record than the SECOND PLACE Islanders.
However, let's not kid ourselves. The Islanders can grab first place tomorrow with a win over the Flames. They will be gunning hard tomorrow.
If anything, this is just great for NY hockey. Let's face it – the football teams sucked this season, the NBA teams suck, baseball is still 6 weeks away. The Rangers & Islanders have done a great job giving hockey fans a great season.
Moving forward, the Islanders, who have played more games than the Rangers, can reclaim first place tomorrow. The Islanders have a Friday/Saturday back-to-back at home. (Us Ranger fans would love that, but the schedule makers know the Rangers will sell out, on paper, on a weeknight and the Islanders need the weekend/no work the next day games to sell tix.)
The Islanders play the dreadful Hurricanes on Saturday, where the Rangers head down to Philly for an 8PM clash. JEFFREY, myself and a few others will all be attending the WEBLEEDBLUE.com party at HUDSON STATION on Saturday night. Let's hope the Rangers are still in first place after that game.
Ranger fans, we have a lot to be excited about. The NYR are in contention for the number 1 seed and not too far away from the President's Trophy. However, we all know, come playoff time anything can happen. No first round series is a gimmie, but you want home-ice advantage.
One of the best of all time
I've written about Jaromir Jagr several times on this site. With the news of Jagr being traded from a team with a way outside shot of making the playoffs to a team that has an outside shot of making the playoffs, I had a mixed reaction.
Jagr, even missing 5 NHL seasons, due to lockouts & playing in the KHL, is arguably the 5th best player in NHL history. He is top 5 in the NHL in goals, assists and points. Really, you can only slam dunk Gretzky, Howe, Orr and Super Mario in front of him. As a hockey fan, it would've been great to see him finish his career in Pittsburgh. I don't know if Jagr plays next year, but to see him in the state known as "God's waiting room", while it seems fitting, seems like a horrible ending for a first ballot hall of famer.
Jagr is an NHL legend and one of the greatest hockey players of all time. Lockouts hurt his career stats. Perhaps he could've finished as a 1000 goal scorer. Whatever the case, it will be a sad day when Jagr hangs up his skates. Let's hope it's not in Florida.
See you at Hudson Station on Saturday night!
LET'S GO RANGERS
IN CAM WE TRUST
Sean McCaffrey
BULLSMC@aol.com
@NYCTHEMIC on the twitter