How can you not root for this man?
Welcome everyone to another blog here, on DOINOW.com. As always, check out the right hand of the site for the archives, live tweets, search button and all those other goodies.
What a game, what a game, what a game.
I don't have to tell you. It's amazing the emotions these games spark in us. A game like this could've had us hanging our heads and furious over what could've been. Instead, due to a somewhat fluky goal, the Rangers won a game they should've won handily, and all is right in the world again.
In fact, this game inspired too many positive feelings in me, as I didn't get home till 11PM!  Leave it to Hockeytown, Nassau County, USA to celebrate a Rangers victory!
Just some of the crew at The Flying Puck of Long Island!
What a day. As we all know by now, this is never a cut & dry report, like a newspaper. I try to give you the blue collar perspective in these white collar ticket price times. I was looking for tickets for this game, but after gauging the market and seeing what they wound up (Cheapest ticket I could find was $210, in the obstructed view 400's) I decided to hit up Hockeytown, Nassau County, USA, "The Bold O'Donoghue's, in East Rockaway, NY.
The bar had a good crowd for a Saturday afternoon. The Miller Lites were flowing just as much as the nerves through my veins.
The best part about the day, which turned into a night, was that due to hitting on the Preakness pool, my disgusting 11 hours of pounding Miller Lites and Jack Fire shots, was free. More importantly, the Rangers won Game 1 of the ECF. Talk about a hell of a day! That also explains why this blog is so late and why it won't be as long as usual!
On a side-note, if you like Fireball, try Jack Fire. It blows Fireball away. It won't give you diabetes and make your mouth pucker up after doing it!
Henrik Lundqvist, looking bougias as if he had tickets in the 100's section!
As you already know by now, the Rangers won Game 1, of the Eastern Conference Finals, defeating the Tampa Bay Lightning, 2-1. For the Rangers, despite the score, another one goal difference, (15 1-goal playoff games in a row now), it was perhaps their most dominant game yet.
If you didn't see this game, and relying on me to be your eyes, let it be said, the Rangers kicked ass this game. It could've easily been a 6-1, 5-0, 4-1, type of game. The final stats will tell you that Lundqvist finished with 23 saves on 24 shots, while his counterpart, the impressive 6'7″ Ben Bishop, finished with 28 saves on 30 shots. However, those stats don't tell the story.
The Rangers just whipped Tampa's ass. Ex-Ranger, and now Tampa center, Brian Boyle, missed the game with an undisclosed injury. Of course, the Rangers are missing Mats Zuccarello. However, losing Boyle turned to be big, as the Rangers held their own in the faceoff stat, winning 23 out of 53 faceoffs. For them, that's a miracle.
While Bishop finished with 28 saves, it doesn't account for all the times the Rangers either went wide with a shot, airmailed a shot, fucked up a pass on a two-on-one or three-on-one man advantage or Tampa's blocks. What seems norm in the playoffs, Nash missed several opportunities, while Martin St. Louis, the ex-captain of the TBL, wiffed on a shot, right in front of the net.
He's been horrible in the playoffs, but I'll never forget the run last year
As fans, the sexy story the media was trying to sell us was the Callahan/MSL trade. Who would make their opposing team pay? The answer, at least after watching game one, was no one. Gotta give Callahan a pass, as he just had an organ ripped out of his body 4 days ago, yet he's here playing. For MSL, while he gets in the right spot and is positioned well, he can not convert. As sure as I can slam home a Miller Lite, MSL is able to miss, wiff or mishandle a puck in front of an open net. The Rangers never make these games easy.
For the first forty minutes of the game, the Rangers just kicked Tampa's ass with a barrage of shots. I said this on twitter, as well as in my TBL/NYR preview blog with Johnny Fontana of Rawcharge.com and in a conversation with ex-Rangers goalie/MSG analyst, Stephen Valiquette – the Rangers momentum from their game 7 win over Washington could propel them in this series. Just look at last year. The Rangers were dead and buried, but came back from a 3-1 series deficit to defeat the Penguins. After a huge game 7 win, the Rangers just steamrolled the Canadiens.
Here today, the Rangers just dominated the game. Tampa & Washington are night and day. Washington has so many bruisers, big hitters and such a physical game. However, TBL's make-up is more like the Rangers – fast, skilled and no edge, especially with Zucc out. You really have to wonder if the Washington series "toughened" the Rangers up, so to speak, as TBL just skated & glided in their two series with the Redwings & Canadiens. The TBL may have beaten two other Original 6 teams, but the Rangers weren't having it today.
Most of this game was contested in the open ice, whereas in the Washington series, the Caps tried to slow the Rangers down by keeping the puck near the boards. Both teams, in this ECF, are comfortable in the open ice. During these 3 ECF appearances in 4 years streak, the Rangers are favored when they play a team that plays like them, as opposed to playing a physical team that will bang and hit all game.
Overpaid? Perhaps. However, he's been amazing in these playoffs
I'm not going to rehash my whole deal with Lundqvist with you. I think he has a bad contract, in the salary cap era of the NHL, that is all. That said, he's been remarkable in the playoffs. You really have to wonder if Lundqvist taking a puck in the throat, was the best thing for the team.
Look at it this way, when Lundqvist went down, in turn, it gave him 25 games off. That's less wear and tear on him than every other goalie still alive in the playoffs. Without Talbot being lights out and setting all types of goalie records (And beating the teams Hank couldn't beat in the regular season, like for example, the Islanders or the Bruins) Hank didn't have to rush back.
We all know I'm the Talbot guy, as you can tell from these pictures:
Best thing in my collection!
A Presidential Jersey!
Yes, I know. It's amazing I turned this blog into another Talbot love-fest! However, people forget. It seems like ages ago that people were talking Lundqvist vs Talbot. However, if it wasn't for Talbot being remarkable, during his stretch as starter, due to Hank's injury, the Rangers wouldn't have won the President's Trophy. Hank would've had to rush back. With Talbot's play, Hank was able to take it easy and make a full recovery.
When Hank returned, towards the end of the regular season, and again, doesn't that feel so long ago, no one knew what to expect. All we know, is that Talbot played out of his skull, giving Hank the most perfect situation to walk into. Nearly two months later, Hank is the best goalie in the playoffs, statistically and is fresh. Like Coach AV said at the end of the regular season, due to Talbot's play, "The injury to Henry may be a blessing in disguise."
Henrik Lundqvist deserves to be the first star of the game, no question. Another one-goal game victory for him, where he turned down all comers, outside of a powerplay goal. However, this may have been the one game where the Rangers needed him the least, just because of how well the Rangers handled the puck. Sure, Tampa had their flurries, but the Rangers were able to rebound, clear the puck, make hits, meet TBL at the blue line and break up passes.
The Rangers just kept clamping the pressure on TBL all night. For as good as Bishop was, the Rangers got in their own way a bit, by not converting on open looks, whether it was the bad passes, wide shots, etc. However, the Rangers just kicked Tampa's dick in for most of the game.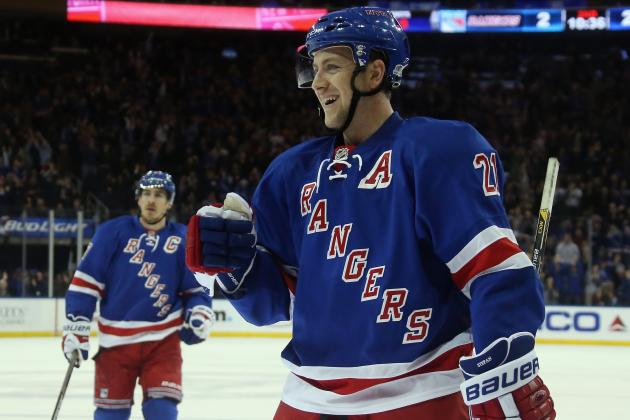 How big has Derek Stepan been?
Derek Stepan, in a contract year, a guy that the Rangers have to re-sign, in a no-brainer, came up huge once again. This guy has been a warrior in the playoff the last two years. How could anyone forget last year, when Stepan broke his freakin' jaw, yet still played and scored points?
After hitting the GWG, in Game 7 vs Washington (And boy, did Ovi catch that first flight back to Team Russia, real quick), Stepan got the first goal of the game, late in the second period.
For the Rangers, and Ranger fans, a huge sigh of relief was exhaled, because the Rangers were all over the Bolts. They just couldn't score.
Stephen Valiquette, in his "Quest for the Cup" preview, on MSG, basically called out the blueprint for this blue shirt goal. Deflect, screen and grab rebounds. After point blank shots, the Rangers mustered up a goal, with 12 seconds left in the first period. Talk about a huge momentum goal, to break up a scoreless game.
McDonagh got the puck to Kreider. Kreider slammed a shot that bounced off Bishop. Stepan was right there to collect the rebound and put it past Bishop. An All-American Goal! How can you not love that?
1-0 Rangers after the second period, 40 minutes of great hockey for our guys. With the way Lundqvist was playing, you kind of thought it would be enough.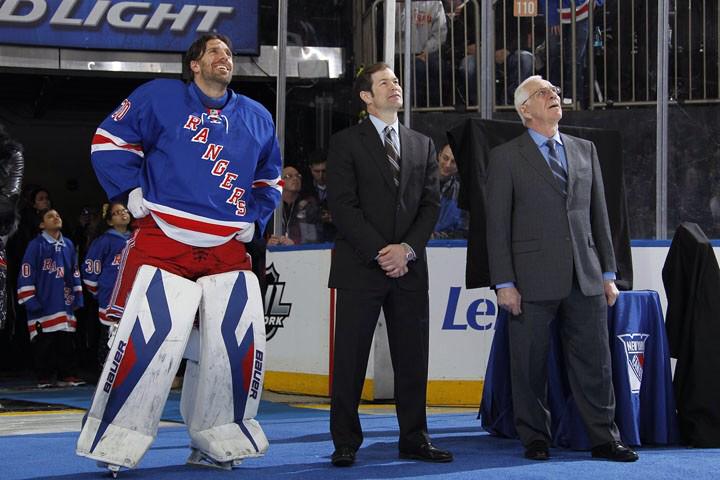 Is this the year Lundqvist finally gets his crown & becomes the greatest goalie ever in NYR history?
Lundqvist, as usual in these playoffs, was amazing. There were times where you want to rip your ass hairs out watching him, especially when he's trying to block pucks with his helmet, making these terrible passes behind the net and just leaving the net in general. Sometimes, he makes the saves harder than they have to be, because he's so frantic and amped up out there. However, he made the saves when it mattered.
The lone goal to beat Lundqvist, was an Ondrej Palat powerplay goal, nearly 7 minutes into the third period. Palat got a cross ice pass from a Conn Smythe hopeful candidate (Lundqvist may have something to say about that), Tyler, and beat Lundqvist over his glove on the short side of the net. It's hard to call powerplay goals a bad goal on the goalie, yet it is something we've seen Hank stop a 1000 times before.
1-1, 13:00 left to go in the third. Asshole officially clenched and the feelings of pure joy were evaporating.
The Rangers, like usual, couldn't convert on powerplays. Luckily for them, outside of the Palat goal, neither could Tampa. I thought both powerplays looked good tonight, even if the Rangers didn't score on theirs. They actually won faceoffs and tested the goalie. Just because you don't score, doesn't mean a PP is bad.
Not his biggest goal (Game 6 in last year's ECF was) but the second biggest for D. Moore
How can you not love Dominic Moore? If you're a Rangers fan, he will forever be a hero for his Game 6 goal, a series clinching goal, against the Montreal Canadiens, in last year's ECF's. On & off the ice, he's one of the games classiest representatives. Not to create tears, or to invoke sympathy or make him a sob story, but what he went through with his wife several years ago, man – he's just a warrior. You would root for him anyway if he was on another team, but I'm glad he's on mine. Really, a pure class act and a hardworking hockey player. I am proud to root for him as a New York Ranger.
Moore, who's been the hero before in an ECF game, as I've mentioned, donned his Superman cape one more time, and scored the game winning goal today. For Moore, it wasn't pretty, and perhaps it was fluky, but who gives a fuck – he was in the right place by design and beat Bishop.
With 2:25 to go in the game, Kevin Hayes, who's been heating up as of late, tossed a pass from near the goal line, across ice and found Dom Moore. The puck bounced off Dom Moore's leg and into the net. While it didn't touch Moore's stick, it was obvious it wasn't a kicking motion. Good goal.
For the rest of the game, TBL tried to come on strong. The Rangers were able to make their clears. People won't believe this, after all the shit we gave him all season for not scoring, but Tanner Glass has been leaps and bounds better in the playoffs, than he was in the regular season. He's an AV guy and making AV look smart with each shift, when the shifts matter the most.
It is funny, the Rangers missed the empty net a few times, when Bishop was pulled with 67 seconds to go. It's like they wanted to win another one goal game. Hank made a few stops, when the stops were extremely needed.
Final score 2-1 Rangers. Rangers take game one in the series. 9 games won, 7 to go.
Nash has played well, but he's paid to score. Can he convert his good looks at the net into goals?
No game is a must-win game, until you've lost 3 games in a playoff series. The Rangers have proved that plenty, during the last two years. However, it is nice to take Game 1. After trailing Washington for most of that series, it's good to have a lead, as the Rangers won their fourth playoff game in a row.
I'm not the only one. You've probably read it or thought it yourself. We all thought or said, "The Rangers need to score to win games." Well, they haven't really been doing that, winning the majority of their games 2-1. This was the league's third best offense. Of course the playoffs are a different animal, but for the Rangers, they are doing a bang-up job with their defense.
When you really compare TBL vs NYR, you can say either team has a slight advantage or disadvantage in every category except one – defense. TBL can not match the Rangers D. I thought Coach AV did a great job with his match-ups, keeping his slower D-men, Boyle & Staal, away from Tampa's speedier guys. McDonagh & Giardi, who shut down Crosby, Backstrom, Ovi & Malkin, shut down Tampa here today. Yea, Lundqvist gets all the praise, but you can't forget about the army in front of him. The Rangers D has been pure gold in these playoffs.
It's been a long night for yours truly, so we'll wrap it up here. I'll be back Monday night with the Game 2 recap. If you haven't already, you can check my "Freezing of Ryan Callahan" (Who was a non-factor today) post, as well as the official Game 1 Post game news/notes. In addition, you can also check out my Point/Counterpoint Blog, with TBL reporter, Johnny Fontana, on the main page too.
HUGE WIN!
LET'S GO RANGERS!
9 DOWN, 7 TO GO
WE WANT THE CUP
Sean McCaffrey
BULLSMC@aol.com
@NYCTHEMIC on twitter