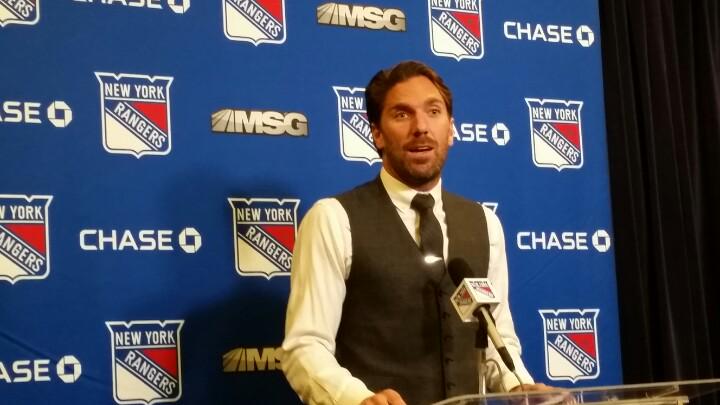 Hank, talking to reporters before Dallas/NYR took the ice
Welcome to another blog here on DOINOW.com. As always, thanks for your support, as website traffic & even the twitter followers has just grown exponentially. Of course, as always, don't forget to tip your bartenders, make sure to thoroughly wipe, don't play Trivia Crack & drive, and always, ALWAYS, believe in CAM TALBOT!
Two huge news stories broke on Sunday afternoon, right before the Rangers hosted the Dallas Stars. The first story is an update on future Hall of Famer, Henrik Lundqvist and the other story is about Hank's boss, one of the worst owners ever in sports, James Dolan.
An hour before the game, Henrik Lundqvist held a quick press conference. You can watch the full press conference here:
http://www.blueshirtsunited.com/video/lundqvist-gives-injury-update
Hockey is a different animal, when it comes to the other sports. We all know that. You lose some teeth, tear your groin, get HIV, whatever, chances are, you're right back on the ice for your next shift. So when the news broke that Hank would miss at least a month's worth of games, you had to wonder what happened. Something major had to happen for Hank to miss this much time.
The big news from Hank's press conference was that Hank said that his life was in danger due to the injury he received, last Saturday, against Carolina. It turns out Hank has a sprained blood vessel. Playing with this injury could lead to a stroke or at in the most severe case, death. It makes you really question the team doctors. How was Hank cleared when the injury first occurred? Why was he allowed to continue to play? Why was he cleared to play two days later?
Hank's injury, while not the same injury, reminded me a lot about the death of pro wrestler Chris Candido. Candido broke his fibula and tibia during a match for TNA Wrestling on 4/24/05, in Orlando, Florida. He had immediate surgery in Florida. He blew back to his home in New Jersey two days later, after being cleared by doctors. On 4/28/05, he was dead, due to a blood clot. Some doctors thought he died because of the high altitude during his flight. When it comes to blood, whether it be a sprained blood vessel or a blood clot, it is no fucking joke.
Fortunately for Hank, this injury was caught before Hank continued to play and make his condition worse. You have to wonder, if the team doctors, who are PAID by the team, kept clearing Hank, what would've happened? A team doctor has the team's best interest in mind. Hank seeing a specialist gives more clarity and knowledge on his injury. This was just very scary to me. As much as I like to ball-break about his contract, his death because of a misdiagnosis or something not being read/interpreted correctly by a doctor would be a blasphemous tragedy.
Get well soon Hank, and don't rush it. No game is worth your life. Unless it's the Cup! For real, here's to hoping for a full recovery.
James Dolan, one of the worst owners in sports
Resident asshole, James Dolan, the man who owns MSG, The New York Knicks, Cablevision and for purposes of this blog, the New York Rangers, made headlines as well on Sunday. Long story short, Dolan attacked an elderly fan and basically told the fan to fuck off. The full story from ESPN is here:
http://espn.go.com/new-york/nba/story/_/id/12297599/new-york-knicks-owner-james-dolan-upset-fan-root-brooklyn-nets
A 73 year old man emailed Dolan to voice his frustrations with the terrible low life Knicks. It's very rare to get a response from an owner, but I guess Dolan couldn't help himself. Dolan wrote a response to the fan, saying:

"Why would anybody write such a hateful letter. I am.just guessing but ill bet your life is a mess and you are a hateful mess," Dolan wrote. "What have you done that anyone would consider positive or nice. I am betting nothing. In fact ill bet you are negative force in everyone who comes in contact with you. You most likely have made your family miserable. Alcoholic maybe. I just celebrated my 21 year anniversary of sobriety. You should try it. Maybe it will help you become a person that folks would like to have around. In the mean while start rooting for the Nets because the Knicks dont want you. Respectfully James Dolan."
It just amazes me that Dolan wouldn't even spell or grammar check his email. Making false accusations, by calling the fan miserable and an alcoholic is a new low for Dolan. It reminds me of Rick Carpiniello, of Rangers.Lohud.com falsely stating that Ranger fans don't donate to charity.
Dolan's terrible track record as an owner is a blog for another time. Despite primarily owning the Knicks & Rangers since 1999, neither team has won a championship. The amount of blunders and mistakes he's made with the Knicks is so unbelievable, you really need to take time to process everything and realize all this stuff happened.
Listen, I love the Rangers. I'm going to root for them no matter what. I won't lie though. It is infuriating that I give Dolan a large part of my salary, whether it be through tickets, beers at the game, jerseys, hats or whatever other Rangers merch I have. I would be happier knowing that my money was going to a real philanthropist and all-around good guy, like Mark Cuban of the Mavericks or the Mara/Tisch families of the Giants. Hands down, Dolan is one of the worst owners in sports and a story like this does him no favors.
WHO YOU GONNA CALL
Let me say this right off the bat – this was one of the worst games I've seen the Rangers play all season. They are lucky to even walk out of this game with a point. There was no excuse not to win this game. I don't want to hear that they were coming off a back-to-back. So was Dallas. If you watched any of the Islanders/Sabres game (The Sabres beat the Stars last night & the Islanders played last night as well) both those teams looked as sharp as you would expect either side to be.
This was the most pathetic effort the Rangers forwards put out this season. As I was browsing through twitter during the game, all I kept reading were tweets about how boring this game was. The Rangers didn't even get a shot off, until half way through the first period. They came off flatter than the ass of an Asian woman. It was disheartening to watch, as this should've been a hands down 2 points in the standings.
The Rangers finished a snore of a first period with a whopping 5 shots. It's amazing how during the recent Rangers winning streak, they were able to put up 3-4-5 goals, where it looked like they would put Papajohns out of business, but then they get into these funks where they are struggling to find the net.
The Dallas Stars got the scoring started, three minutes into the first, with a 5 vs 3 power play goal by Jason Spezza. It was an unavoidable goal, a goal that came off the Rangers being lazy and taking dumb penalties. Cam Talbot was looking good and saving whatever came his way, but the 5 vs 3 was too much.
Carl Hagelin answered back, getting the Rangers on the score sheet after a beautiful tip-in goal, after a pass from Kevin Hayes. Before we could start celebrating Hayes, Hayes would make a horrendous turnover, leading to the Stars going up 2-1, after a wrist shot from Erik Cole.
AV was not happy tonight
Coach Alain Vigenault rarely shows emotion on the bench. He seems more into snapping his gum, than screaming. He has a great poker face. However, watching the broadcast of the team, you could see him rolling his eyes during several spots in this game, especially after a bad icing by Rick Nash.
In what was a first this season, AV benched the top line, Nash/MSL/Stepan for about 10-12 minutes. I get it. They didn't look fired up. However, Nash does lead the league in goals and all it takes is one breakaway and the Rangers have a goal. I get trying to send a message, but how about benching Zuccarello then? Once again, Zucc had a wide open look in front of the net and decided to throw an errant pass into the corner of the boards. In Zucc's defense, he eventually started firing shots during a Rangers powerplay. And if Nash is going to be benched, Tanner Glass should be sitting on a park bench with smelly homeless people.
This was really an infuriating game to watch. You know Dallas sucks. Watching Dallas dominate faceoffs and puck possession for the first 40 minutes would drive any Ranger fan mad. You know the Metropolitan division is one of the best in hockey. It's going to be a tight race for the #1 seed, a seed that is attainable for the Rangers. Dallas has just had the Rangers number as of late, sweeping the season series. I wouldn't call this a game where Dallas outmatched the Rangers, it was just a game where the Rangers looked like shit. At points in this game, I thought AV should've just sent out the "Little Rangers", the kids that skate in between periods, to send a message. At least those kids let you know they want to be out there.
Chris Kreider would eventually tie this game up, late into the third period, at the end of a powerplay. The powerplay was a questionable call, but the referees tend to miss calls too. I guess the BS call was a way to even things out. However, Dallas would score the OT winner after a screen on Talbot. What an emotional roller coaster, but bottom line is that this game should've never got this far. The Rangers should've handled business like good teams do, and not come out as flat as soda laying out in the heat for weeks on end. No excuse.
GOALBUSTER
After three games as the starting goalie of the Rangers, due to Hank's injury, Talbot posts a 1-1-1 record. Looking at the three games, I didn't think Talbot was much of a factor in the win over Boston. The second game against Nashville, he only let up one bad goal. Today, Talbot made a ton of quality saves. Talbot carried the team until the Rangers found their legs in the third period.
What I like about Cam Talbot, whether it's a regulation loss or OT loss, is he handles himself well. He never throws his teammates under the bus after a loss. He could've tonight, but he didn't. For the second straight game in a row, Talbot was screened by his own teammate on a game winning goal. That has to be fucking excruciating and infuriating. He made a ton of great saves, in both games, for the games to end because his own teammate is blocking his line of vision.
I've seen plenty of Henrik Lundqvist interviews where he blames his defense and skaters for losses and how "We need to score goals" or "We need to play better on defense." Talbot has turned baiting questions into, "I thought I was able to make some great saves but Dallas was ready for us." There's a reason why Talbot is hanging out with McDonagh in the Dominican Republic and is front row and center in a team selfie on an airplane (A pic where Hank was not included). He's a likeable guy. At $550,000 a year vs Hank's $8.5M a year, I think he's got a higher value and will only get better with more games under his belt.
This was just a game where I was screaming at the TV and wanted to punch a hole through my wall. Sometimes, as a fanatic, we take these games more seriously than the people at work. You want to root for guys that want to win and don't treat it as a job. I rarely say this about the Rangers, but this looked like a game where they were wondering what they were going to have for dinner.
Bottom line is. Right now the Islanders are in first place in the division, with 69 points in 53 games. The Rangers are in fourth place, with 65 points in 51 games. Win the two games in hand and the Rangers are tired for first place. However, the Rangers gotta get back to the winning ways. They get that chance against the Leafs, in Toronto, on Tuesday night. It's another game the Rangers should win and if they want to be considered a great team, they need to beat the bad teams.
In another injury update, Jesper Fast will be out 2-3 weeks with the leg injury he received in Nashville. Makes you wonder why they were in such a rush to send Duclair down. They could've really used Duke during a stretch like this.
Sorry for the rush-job blog here tonight, but we got "The Walking Dead", "Shameless", "Better Call Saul", "Bar Rescue", "Togetherness" & "Total Divas" all on at 9PM. I gotta be at work at 5:30am. You do the math!
Barring anything crazy happening tomorrow, I'll be back Tuesday night with Toronto/NYR reaction.
LETS GO RANGERS
IN CAM WE TRUST
Sean McCaffrey
BULLSMC@aol.com
@NYCTHEMIC on the twitter