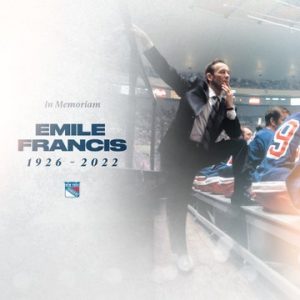 "Greetings and salutations everyone and welcome to another blog here on BlueCollarBlueShirts.com" is a sentence that I always use whenever kicking off one of these humorous manifestos – but tonight, this isn't your normal blog that's usually printed in this space.
The purpose of tonight's blog is to pay tribute to Emile "The Cat" Francis, the one-time Ranger who was certainly more well-known for his days serving the club behind the bench and in the front office, as both head coach and general manager; rather than being known for his playing days, when he once manned the pipes for the Blueshirts.
During the course of this site's history, I've always advocated for the Rangers to do more when it comes to honoring their legends, and most certainly the men who were inducted into the Hockey Hall of Fame because of their time with the franchise. Emile Francis is one of these people.
For regular readers of this site, over the years, I've been adamant, even to the extent of getting pissed off about it, that the Rangers have refused to honor Emile Francis in the rafters of Madison Square Garden. Now, it's officially too late to do so, unless the Rangers decide to go down the posthumous route, which would be a disservice – as the Rangers easily could have honored Francis during the past fifty years or so.
Even worse? Madison Square Garden have banners for Phish and Billy Joel, but the Rangers, one of the top tenants of the venue, couldn't honor the guy who turned the franchise around. In fact, I wouldn't be shocked to see one of these no name DJ's, that the Rangers currently flaunt around during every home game, get a banner before "The Cat."
At the end of this blog, I will be reprinting the Emile Francis chapter from my book, "The New York Rangers Rink of Honor and the Rafters of Madison Square Garden." I should state, while I'm including Francis' chapter here – the book also talks about him, and his era, about thousand or so other times. I'm just including the chapter dedicated to him in this blog.
I'll also admit the following before continuing – while the news of Francis' passing doesn't surprise me (I'll explain why in just a second), it still bothers me, rationally or irrationally, that the Rangers never honored him. (My emails with Larry Brooks would also suggest as much!) In turn, my writing may be a little scrambled tonight, as I am writing from a state of emotion – and for better or for worse.
---
During the past eighteen months on this site (and on social media too), I have provided you with Emile Francis health updates, without directly saying what was afflicting him. With him now deceased, I can now tell you that he was battling dementia. For anyone who knows somebody who has or who have had dementia, you know how serious and sad it is.
A few weeks back, on January 31st, someone close to Francis told me that he was at the end. I wrote about it on this site then, and also tweeted this out at the time:
Been told Emile Francis, as old as the #NYR franchise themselves, isn't doing well. It's a travesty NYR never gave him a banner, not only for official work, but for his character too. Every alum member from The Cat's era have all told me the same thing – "wish we won for Emile." pic.twitter.com/hNR9i7Nh1s

— BlueCollarBlueShirts (@NYCTheMiC) January 31, 2022
---
As of this writing, the cause of Francis' death wasn't announced, but between old age and dementia, we can determine that "natural causes" was the main reason. After all, Francis, who would've turned 96 on September 13th, 2022, was older than the Rangers themselves – or at least was born before the Rangers ever played their first game.
In case you're new here, in all of my writings about Francis, between this site, my books, social media or whatever else; I have always said some version of the following – "the Rangers always ignore Emile Francis, but once he passes, they'll release all of these flowery statements and tributes."
Within minutes of this sad news, the Rangers released two statements.
Here's Chris Drury: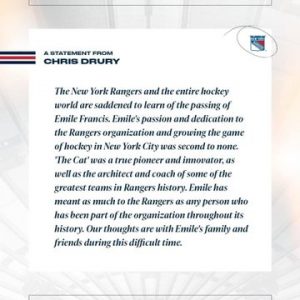 Here's Glen Sather, who actually played under Francis, and just like "The Cat," who also served the team as both a head coach and as the general manager:
Obviously, the Rangers had to say something about the Class of 1982 Hockey Hall of Famer, and a man that defined a generation of Blueshirt hockey.
I know this isn't the time for this, and it may even come off as callous; but as stated, I've been saying this for years and this isn't anything new out of me – it drives me nuts that the Rangers never gave him a special night. I think this is a society thing too, where we often pay respect to people we care about after they die, rather than saying how much we love them when they're alive.
The Rangers full statement on Emile can be found here: https://www.nhl.com/rangers/news/rangers-mourn-the-passing-of-emile-the-cat-francis/c-330992696?icmp=int_web_nyr_news_rightrail
The NHL's story on Francis' passing can be found here: https://www.nhl.com/rangers/news/rangers-mourn-the-passing-of-emile-the-cat-francis/c-330992696?icmp=int_web_nyr_news_rightrail
---
Francis, always gracious with the fans, did one final interview for the M$G Networks during Vic Hadfield night.
To watch it, click the play button below:
---
I'm currently working on a second book, with the working title of "The Best & Worst Trades in New York Rangers History (And Everything In-Between)."
As talked about previously on this site, this book isn't just a list. It examines over 600+ trades in Rangers history, telling you all about the players, the general managers, what led to the trade, what happened after the trade, and etc. As you'd imagine, it's an overwhelming undertaking, so much so, that this book is going to have to come out in volumes. Fingers-crossed, I'll have it out by the start of next season.
(I'm already 1,500 pages deep and just got to the year of 2003. And I haven't even added pictures, formatted it, edited it, etc – which means that once done, this book is going to be a monster. For those who dare, I'll also release one big-ass book, in addition to the volume set.)
In December of 2021, I pretty much finished the "Emile Francis Era" for the project (a phrase often used in my first book too), where I wrote over 250 pages on that era and all of the trades that Francis made.
Between this site, my first book and working on this volume set of books – the Emile Francis Era is still very fresh in my mind.
Within the past year, I've devoured as much information as possible on Francis, between reading books, talking to the alumni, looking back at old interviews, and my favorite part – watching old games.
For my books, I've talked to several members of the Rangers alumni from the Emile Francis Era, and EVERY SINGLE ONE of these people say the same thing – "I wish we could've won a Stanley Cup for Emile."
(Just think about that for a second. How many Rangers have said the same thing about other Blueshirt general managers, whether it be Fred Shero, Craig Patrick, Phil Esposito, Glen Sather, Jeff Gorton, etc? Of course, outside of Gorton, all of those men have their name on the Cup. Even so!)
And for the players who I didn't talk to? They all shared that same sentiment in interviews with other people, including all three members of the "GAG" line – Rod Gilbert, Jean Ratelle and Vic Hadfield.
---
Just a few last things on my mind, before giving you the chapter from my book.
Keep in mind, what I'm about to share next, is just the Emile Francis chapter from the book. The book has a ton of other Francis stories intertwined. It would be too time-consuming to pick out all of them to include here.
If you're interested in purchasing a copy of the book, you can buy it off of Amazon, by visiting: https://www.amazon.com/Rangers-Rafters-Madison-Square-Garden/dp/B09F1D2G4V/ref=tmm_pap_swatch_0?_encoding=UTF8&qid=&sr=
This chapter is one of over one hundred profiles in the book. For a book strictly dedicated to the Emile Francis Era, and "The Cat" himself, check out George Grimm's "We Did Everything But Win" 2017 release. More on that book below.
I do want to stress here – I am not trying to inundate you with "cheap plugs." I just want to share the life of Emile Francis with you, especially for younger fans who may not be aware of who he was and what he did.
I'm sure some fans might not even know that it was Francis himself, who demanded that the Rangers play their playoff games at home, rather than playing them on the road, because of that damn circus – a circus that cost the Rangers at least 2-3 Stanley Cups over their near hundred years worth of an existence.
Without further ado, the Emile Francis chapter from "The New York Rangers Rink of Honor and the Rafters of Madison Square Garden."
---
— Emile "The Cat" Francis (Player: 1948-1952, General Manager: 1964-1976, Head Coach: Three separate stints during the years of 1965-1975.)
To be clear here, I think a banner should be hung for Emile "The Cat" Francis because of his front office and coaching work – and not because of his playing days with the Rangers!
As of this writing, Emile "The Cat" Francis will soon turn 95 years old. It is my opinion that it is an absolute travesty that the Rangers haven't honored Francis yet.
During several of my writings on BlueCollarBlueShirts.com (and during this book in the Mark Pavelich profile), I always point out how, recently, whenever a legendary Ranger passes away, the Rangers are quick to write flowery things and post lovely obituaries. However, I would much rather see the Rangers pay their respects to Hall of Fame talent when they are alive, rather than waiting for them to pass. The name of Emile Francis most certainly applies here.
I have no clue what the Rangers, as an organization, are waiting for. There is no question that there should be a banner for Emile Francis in the rafters of Madison Square Garden. While yes, Frank Boucher and Lester Patrick had more success, and yes, 1994 happened, that said – Emile Francis truly defined an era of Rangers hockey like few others.
It's going to be a shame when Emile Francis eventually passes away, especially since the Rangers have taken a fat swing and an airy miss in honoring Francis while he is alive. For the Rangers, unless they honor Emile Francis by the time you read these words –  it's just mind-boggling and distasteful if the Rangers write another one of their flowery and heartwarming tributes after the passing of Francis, rather than showing their respect for Francis while he's alive.
With that said, let's now get into Emile "The Cat" Francis, a person who has a whole book dedicated to him and his era already. (I would advise any Rangers fan to pick up George Grimm's "We Did Everything But Win" book, a book that recaps every single thing during the Emile Francis era of Rangers.)
(I should also mention this before continuing. I have no clue how many times I used the "Emile Francis Era" phrase throughout this very book that you're reading right now. I may have used it about 1,000 times! If anything, that should tell you how much Emile Francis means to Rangers history and why it infuriates me that the Rangers refuse to honor this man while he's alive.)
Of everyone living today, no one deserves their name in the rafters of Madison Square Garden more than Emile Francis. After all, in the present day, Madison Square Garden has banners for Phish and Billy Joel. Are you telling me that Phish and Billy Joel meant more to MSG than Emile Francis? I don't think so!
Emile Percival Francis, who would later be known as "The Cat," was born on September 13th, 1926 in North Battleford, Saskatchewan. As of this 2021 writing, Francis has been alive for every single Rangers game ever played throughout franchise history!
In an interview conducted in 1982, after his induction into the Hockey Hall of Fame, Francis said, "hockey is the greatest game in the world!" For Emile Francis, this statement could never be truer, as he first started playing organized hockey in 1941 at the age of 15. Francis would eventually retire from hockey in 1993, at the age of 67. Even with a hockey career that spanned 52 years, in retirement, Francis continues to promote and advocate the sport to this very day.
Due to Emile Francis still being with us, and with Francis having done so many incredible interviews in recent years; as opposed to the other profiles in this book, I will allow Emile Francis to tell the bulk of his story.
Unless cited to another source, the following quotations come from a Hockey Hall of Fame interview with Francis, which was conducted on December 4th, 2009.
Here's Francis on his early beginnings:
"North Battleford at that point in time was a town of 12,000 people. My Dad died when I was eight years old and my uncle took me everywhere. He was a defenseman on a senior team there called the North Battleford Beavers, and they played against cities like Saskatoon, Prince Albert and Flin Flon.
I wanted to see a hockey game. The very first game I ever went to was in North Battleford and they had natural ice in those days. The Beavers would start the season on Boxing Day. I was selling newspapers, the Saskatoon Star-Phoenix, trying to make a nickel here and there. It was the Depression, and there weren't too many nickels around, believe me! I would get half a cent for every paper that I sold. By then, my uncle had left to play hockey in Sudbury. 
For an adult, it was 75 cents and for a kid, 25 cents. I didn't have 25 cents so I checked out the hotel where the Flin Flon Bombers stayed, which was a block away from the rink. They would dress in the hotel, put their coats over their uniforms and carry their skates and stick to go down to the arena. I waited for the biggest guy to come out and I'll never forget – his name was Butch Stahan. I said, 'Mr. Stahan. I don't have a quarter. Would you put me under your coat to get me to your game?' He said, 'Come on, kid,' and bingo! I got through that door and they went to the dressing room on the left and I took off to the right. There was no way the guard was going to catch me. That was the very first time I ever had a chance to watch hockey and I was mesmerized. I loved the game."
Francis continued on in the interview, where he talked about his growing fandom of the sport:
"I was home every Saturday night with my radio on. Foster Hewitt would say, 'Hello Canada and hockey fans in the United States … ' There were only six teams in the league (at that time) and I was a real Toronto Maple Leafs fan. When I was 12 years old, I woke up in the middle of the night and had been dreaming that I was playing goal for the Chicago Blackhawks. I was in shock. I said to myself, 'I can't play for the Chicago Blackhawks! I'm going to play for the Toronto Maple Leafs!' Well, guess who I broke into the NHL with? The Chicago Black Hawks! It was a dream come true, believe me!"
Francis would continue to credit his uncle for his start in hockey:
"He coached me from the time I started playing. I was a center most of the time, the best player on the team, so I played different positions. When my uncle came back from overseas (World War II), he said, 'You have to decide what you want to be. You're playing forward one day and goalie the next.' I said, 'I think I want to be a goalkeeper.' He said, 'Why would you want to be a goalkeeper?' I said, 'Because a goalkeeper plays 60 minutes a game. I like that challenge.' He said, 'Okay! From now on, you're going to be a goalkeeper.' I played goal from then on." 
As a teenager, Francis would play for various teams, starting with the North Battlefield Beavers in 1941. Francis would then bounce around with the Philadelphia Falcons and the Washington Lions, then of the Eastern Amateur Hockey League (EAHL). By 1945, Francis returned home to Saskatchewan, where the 19-year-old Francis played for the Moose Jaw Canucks. It was with Moose Jaw where Francis would become known as "The Cat," a nickname that he's still known as to this very day, some 75+ years later.
Francis, on the origination of his nickname, said:
"When I was playing with the Moose Jaw Canucks, we were playing in Regina and the Regina Leader-Post had a sports editor named Scotty Melville. The next day, he wrote, 'Moose Jaw Canucks unveiled a new goalkeeper named Emile Francis and he's quick as a cat.' That nickname, 'Cat,' stuck for the rest of my hockey career."
As a result of signing with the Moose Jaw Canucks, Francis became property of the Blackhawks. On this period of his life, Francis said:
"The Moose Jaw Canucks were a sponsored club of the Chicago Blackhawks. Since they were a sponsored club, Chicago owned your rights if you were to go professional. That year, we had a great club – Metro Prystai, Bert Olmstead.
(Businessman) Bill Hunter bought into the Regina Caps of the old Western League. He came to see me in June and offered me $5,000 to play for his team. Bill Tobin (of the Blackhawks) decided he was going to offer me a contract. He said, 'We'll give you $5,000 to play in Chicago and $3,000 to play for our minor league team in Kansas City.' I said, '$3,000! I can make that much money playing in the Western League in Regina.' He said, 'I don't think you're telling me the truth,' so I said, 'Thank you for asking me to your training camp. I'll see you later.' I went back to my room and called Bill Hunter. They were starting their training camp the next day. I said, 'Is that offer of $5,000 to play for Regina still on the table?' He said, 'Not only that, but I'll give you $1,000 to sign.' I said, 'I'll be over there in 30 minutes!'"
During this time in NHL history, the Chicago Blackhawks were struggling and were in desperate need of goaltending help. "The Cat" would finally make the jump to the show:
"Tiny Thompson, once a great goaltender and by that time, a scout for the Blackhawks, kept coming to me and telling me I had to sign with Chicago. I said, 'They'd better change their offer or I'm staying right where I am.' We finally came to an agreement. I said, 'I'll go to Chicago, but what are you going to do to help Regina? I'm not leaving until you look after them.' Chicago gave them $25,000, and they needed it at the time."
As a result, starting with the 1946-47 season, the 20-year-old Emile Francis was now in the NHL. While the Blackhawks still struggled, Francis would bring his innovative glove into the NHL:
"The old goal gloves were five-fingered gloves with a little wee webbing between your forefinger and your thumb. It wasn't two inches wide, so as a result, every time you caught a puck, it caught you right in the middle of your hand. I can still feel bruises today! Because of baseball, I got a first baseman's mitt. It was a George McQuinn model made by Rawlings. He played for the New York Yankees. At training camp, I asked the trainer to take the glove to a shoemaker and have him take the cuff off an old hockey glove and sew it onto the baseball glove. I used that glove."
In the same interview with the Hockey Hall of Fame, Francis recounted the controversy with his new piece of equipment:
"We were playing in Detroit, and Jack Adams was the coach and manager. At a quarter to 8:00PM, we would warm up and then the game would start at 8:00. The officials came out and Jack Adams was yelling from the bench to King Clancy, who was refereeing. King went over to the bench and Adams was pointing towards me. I thought maybe there was no goal judge, but all of a sudden, King came over to me and said, 'Let me see that glove you've got there.' I showed him the glove. He said, 'You can't use that.' I said, 'What do you mean, I can't use it?' He said, 'It's too big!' I explained that I simply took a first baseman's glove and had a cuff sewn onto it. He said, 'You can't use it.' But at the time, you only had one goalkeeper on a team, so I said, 'If I can't use this glove, you've got no game tonight!' 'I said, 'I don't have any other glove and I have no intention of using any other glove. I'm not using a forward's glove to play goal.'"
Francis continued this story while recapping an interaction with then-NHL President Clarence Campbell:
"Mr. Campbell questioned me for an hour – 'Why did you do this? How much did you pay for it? Who sewed that cuff on?' I said, 'I had the glove made to protect my hand. Those other goal gloves aren't worth a nickel. I'm surprised goalkeepers don't break their hands using those.' He listened and finally said, 'Okay, you can use it.' Well, the story got out and within a month, all the sporting goods companies were making those goal gloves. I should have copyrighted the idea! All I wanted was to be a better goalkeeper. From then on, every goalkeeper started using the catching glove."
Francis would be a Blackhawk for only two seasons. On October 7th, 1948, the Blackhawks traded Emile Francis and Alex Kaleta to the New York Rangers in exchange for "Sugar" Jim Henry. This trade would begin the relationship that Francis would form with the Rangers, en route to a long stint as both a head coach and general manager of the Blueshirts.
Here's Francis on the trade:
"The Rangers had Charlie Rayner, who was 29 at the time, and teams only carried one goalkeeper. I was 21. They sent me to their American Hockey League farm club, the New Haven Ramblers. Lynn Patrick was the manager and coach. The next year, the Rangers got off to a lousy start. They fired (coach) Neil Colville and brought in Lynn Patrick. Just before they were going to Chicago, Rayner got hurt in practice so they called me up and I went to Chicago and we won 3-0. That was Lynn Patrick's first win and justice for me. Bill Tobin was standing over in the corner and I gave him the finger. That cost me $500. When you're making $6,000, that was a lot of money. I have never given anyone the finger since!"
In the four seasons that Francis was under the Rangers employ, he would play only sparingly, playing in 22 games in total and finishing with a record of 7-10-4. In those 22 games, Francis gave up 67 goals for a goals allowed average of 3.14. When Francis wasn't with the Rangers, he played in the AHL for Rangers' farm teams such as the New Haven Ramblers and the Cincinnati Mohawks.
The 1951-52 season would not only be The Cat's last season with the Rangers, but The Cat's last season as an NHLer too. In a league that only had six starting goalies, six starting goalies that usually played every game, Francis would have to play elsewhere.
In the 1952-53 season, Francis played for the Vancouver Canucks of the Western Hockey League, where he won the league's award for top goaltender and made the All-Star team. Even better, Francis was also named as the league's MVP. Despite these accomplishments, Francis was then traded to the Cleveland Barons of the AHL in the summer that followed, with Johnny Bower, another Hall of Famer, going the other way to the Rangers. In The Cat's first season with the AHL Cleveland Barons, Francis was once again an All-Star and then went on to win the Calder Cup.
Starting with the 1955-56 season and up until his retirement in 1960, Francis played in the WHL. On his final years of playing professional hockey, Francis said: "I played fifteen years and enjoyed every minute of it. I thought I was the luckiest guy in the world."
Emile Francis, now at 34 years old, and retired from playing hockey, had to figure out what to do next with his life. The Rangers would soon come calling. Francis would begin his front office and coaching career with the organization in 1960, before eventually being named as the team's General Manager on October 30th, 1964.
Once again, here's Francis talking about the time that led up to him in becoming the fourth General Manager in all of New York Rangers history:
"The year before I retired, Tiny Thompson, who was living in Calgary, contacted me and said, 'When you're finished playing, you've got to come back to the Blackhawks. We want you to be part of our organization as a coach. The next year, I knew it was time to pack it in. Tiny Thompson asked me to go to Moose Jaw to be the manager and coach there. He said, 'We have five or six prospects in Saskatchewan and if you are in Moose Jaw, they'll play there.'
Even though I was retired, the Spokane Comets (of the WHL) owned my rights, and they refused to release them until they got someone back.
Finally, Muzz Patrick (of the Rangers) said, 'If I can make a deal with Spokane, will you come with us?' I said, 'Sure!' He asked where I'd like to go. Well, I had been in professional hockey for 15 years and always enjoyed working with young people. I said, 'I'd like to go to Guelph to coach a junior team in the Ontario Hockey Association.' An hour later, Muzz called back and said, 'We're all set.' It took Chicago more than a month and they couldn't make a deal with Spokane. The Rangers made a deal in an hour and I was in Guelph within the week. That's how I joined the Rangers' organization. I had a guardian angel on my shoulder." 
With Chicago dropping the ball, the course of Rangers history was changed forever. Soon enough, the "Emile Francis Era" would begin.
Francis, who began his coaching career with the Rangers' farm team in Guelph, the Guelph Royals; would then be introduced to two of his future superstars with the Rangers – Rod Gilbert and Jean Ratelle. These three men would then be part of a first-place finish in the Ontario Hockey Association. However, Gilbert and Ratelle would then be called up to the Rangers in the season that followed, leaving Francis devoid of talent. However, unbeknownst to Francis at the time, he would soon join Gilbert and Ratelle in New York.
Here's more from Francis, talking about the time right before he was announced as the Rangers' General Manager:
"I hated to leave Guelph because I loved it there and the Rangers had been there for a lot of years and had won Memorial Cups there in 1952 with Andy Bathgate and Harry Howell. But to play in the National Hockey League had always been my dream, and then after I was through playing, to come back to continue in the NHL continued the dream. I saw every player in every league. When they asked me to be the general manager, I knew every player, and what they were doing." 
During Muzz Patrick's time as General Manager, the Rangers only qualified for the Stanley Cup Playoffs four times. In addition, prior to Patrick's dismissal, the Rangers only qualified for the playoffs once in the last six years, and in a six-team league at that. It was time to make a change.
On October 30th, 1964, Emile Francis was promoted and became the General Manager of the New York Rangers. His one condition before signing his contract? All Rangers' home playoff games had to be held inside of Madison Square Garden – circus be damned!
One of the first moves Francis made as General Manager was to acquire goaltender Eddie Giacomin. When looking back on this, this decision seems like a no-brainer. However, at the time, it was thought that Francis gave up too much for Giacomin. To make matters worse, Giacomin didn't start out so hot and would see Rangers fans pelting him with various objects, including fruits and vegetables. Can you imagine that?
Like many in his position, Francis would try to focus on his general manager duties and try to find someone else to coach the team. Francis, who was the team's General Manager from October 30, 1964 through January 6, 1976, hired many people to coach the team, including people like Red Sullivan (the coach Francis inherited from Muzz Patrick), Bernie Geoffrion, Larry Popein and Ron Stewart. However, Francis was always drawn back to the bench, as it was thought that Francis was the best man to coach the team that he had assembled. Truth be told, he was – as no other Rangers coach during this era was as successful as Francis was.
When it comes to Emile Francis and his coaching days with the Rangers, his 343 games coached is good for fourth all-time, with only Lester Patrick (604), Frank Boucher (487), and Alain Vigneault (410) coaching more games than Francis. Francis also has the third-most wins among all Rangers coaches with 201 victories, which puts Francis behind Lester Patrick (281) and Alain Vigneault (226). In addition, Francis is second-best all-time with a .586 winning percentage, second-best to only Mike Keenan. The latter only coached the Rangers for one season and finished with a winning percentage of .619.
After missing the Stanley Cup Playoffs in his first season as General Manager, the Rangers and Emile Francis qualified for the playoffs in the next nine consecutive seasons, including making it all the way to the Stanley Cup Final in 1972.
During the Emile Francis era, Francis would coach future Hall of Famers, such as Brad Park, Eddie Giacomin, Jean Ratelle, Rod Gilbert and others. Francis would also put the Goal a Game line together, in addition to putting the best third line in all of Rangers history together too. Francis, who always had a strong head on his shoulders, understood team chemistry, and was always able to put forth a strong and competitive team on the ice.
As George Grimm's title of his book would suggest – despite all of the accolades and playoff berths under Francis, sadly, the Emile Francis era is also known as the "We Did Everything But Win" era. Even with multiple future Hall of Famers and elite talent in their prime of their careers, for one reason or another, these Rangers under Francis could never get over the hump. However, for over a decade, the Emile Francis Era of Rangers were always in the thick of things, which always created excitement and high hopes. Outside of Emile's first year with the Rangers, the Rangers were always right there knocking on the door. There was never a time where the Rangers were counted out.
Of course, all good things must come to an end.
Once the Rangers were upset in the first round of the 1975 Stanley Cup Playoffs by the New York Islanders, Francis realized it was time to rebuild. Francis, who previously dealt off talent such as Vic Hadfield and others, would eventually trade talent such as Gilles Villemure, Teddy Irvine, Brad Park, Jean Ratelle and Eddie Giacomin. Of course, Francis was also the engineer of "The Trade" of November 7th, 1975 – a trade that lives on in infamy to this very day.
What people didn't know then, but what Francis knew at the time, was that after the 1975 Stanley Cup Playoffs, it was over for his aging core. The window had been closed. Francis understood that one era was over and that it was time to start another. However, Francis would never see the fruits of his labor, as during that tumultuous and emotional 1975-76 season, Francis himself would soon be removed from the team, as Francis was fired on January 6, 1976. A monumental era in Rangers history was complete.
After a brief stint where John Ferguson was the team's General Manager; Fred Shero would benefit from the moves that Francis made during the 1975-76 season. The Rangers, with the new players that Francis largely acquired, would make it all the way to the Stanley Cup Final in 1979 – just three years after all of the big moves made by Francis.
While Lester Patrick, Frank Boucher, and later on, Mike Keenan and Neil Smith would have more success with the Rangers than Francis did; whether it was due to television and how hot hockey was during the late 1960s and early 1970s – it's perhaps Emile Francis who is still more fondly remembered today when defining an era. Unfortunately, since Francis didn't win a Stanley Cup with the Rangers, for all the good that Francis did – he will always have that "We Did Everything But Win" label affixed to his era.
It should also be mentioned that despite the Rangers flying high during the Emile Francis era, Francis was unfortunately the person who had to claim the dead body of one of the greatest goaltenders of all-time, if not the greatest, in Terry Sawchuk. As Francis has stated numerous times in various interviews after Sawchuk's untimely passing, he had to claim and identify Sawchuk's body at a local New York City morgue. Francis would say, "there was the greatest goaltender of all time, laid out and cold as if he was anyone else."
After being fired by the Rangers, Francis hooked up with the St. Louis Blues, where just like Francis did with the Rangers, Francis served the Blues as both a general manager and as a head coach. In 1983, Francis returned to the east coast, where Francis served the Hartford Whalers as both the general manager and team president of the club, remaining with the organization until 1993.
In retirement, Francis relocated to Florida, where he currently lives today.
In 2018, Emile Francis returned to Madison Square Garden during "Jean Ratelle Night," which is when the organization finally retired Ratelle's #19 jersey. Francis would be interviewed during this time, saying that the greatest years of his life were with the Rangers.
On this same night, rather than announcing a similar celebration for Francis, Rod Gilbert and the Rangers announced that Vic Hadfield would be the next man to join Ratelle in the rafters of Madison Square Garden. Of course, without Francis, the GAG line would've never come together. In addition, without Francis, the already honored-in-the-rafters Eddie Giacomin would've never been a Ranger either.
Francis, who still does interviews to this very day, is always complimentary of the Rangers whenever speaking about the franchise, despite the Rangers not reciprocating. Hopefully, one day, and while Francis is still alive, the Rangers will honor one of their greatest coaches and general managers in all of franchise history.
After all, a cat may have nine lives, but at nearly 95 years old as of this writing – time is against Francis when it comes to being alive for this hopeful honor. It's up to the Rangers to do the right thing.
---
In the Fall of 2017, George Grimm released his tribute book to Francis and his era. To check it out, click: https://www.amazon.com/dp/1510722300/ref=sspa_dk_detail_6?psc=1p13NParams&spLa=ZW5jcnlwdGVkUXVhbGlmaWVyPUExQzNRNFUxRkRMSU9TJmVuY3J5cHRlZElkPUEwODYwNjI3MlhJUEFRMjBNTzU2MSZlbmNyeXB0ZWRBZElkPUEwMDk3OTczMzJNUTI4TDA4MkFXSSZ3aWRnZXROYW1lPXNwX2RldGFpbDImYWN0aW9uPWNsaWNrUmVkaXJlY3QmZG9Ob3RMb2dDbGljaz10cnVl
I also reviewed that book on this site when it first came out. I should state, that the review is nearly five years old, my writing was much worse than it is today, and that several pictures and links may be broken. If you want to suffer through all of that, the review of "We Did Everything But Win" is here: https://bluecollarblueshirts.com/efbook/
---
I admit, I'm glossing over a lot tonight, as Francis had a career and a life that was more than just the Rangers. Outside of his family life, he also had long stints with the St. Louis Blues and the Hartford Whalers, following his time in New York. He also played professional hockey for nearly twenty years too.
Emile Percival Francis, forever known as "The Cat."
September 13th, 1926 – February 19th, 2022.
Rest in Peace.
---
Sean McCaffrey
BULLSMC@aol.com
@NYCTHEMIC on Tweeter