Greetings and salutations everyone and welcome to another blog here on BlueCollarBlueShirts.com. It's a win, but it could've been better.
On late Sunday afternoon, the Rangers defeated the Ottawa Senators by a final score of 2-1. I'm happy about that.
All season long, following a Rangers win, I'm usually pumped up, especially since I have a "glass half-full" mentality. However, despite the much-needed two points in the standings as a result of this victory – I felt some disappointment afterwards.
Going into this game, the Senators were without four of their regulars, including their top defenseman Thomas Chabot. They were also without their starting goaltender too, as third string goaltender Filip Gustavsson manned the net for the Senators during this tilt. If that wasn't enough for you, the Senators were also without two of their best scorers, in Josh Norris and Drake Batherson.
And did I mention yet, that the Senators had played less than 24 hours prior to this game, a 3-2 overtime loss to the Boston Bruins? Conversely, the Rangers were well-rested, and prior to puck drop, had the past 48 hours off.
Instead of just blowing out the Senators like they should have done; the Rangers "escaped" Ottawa with a one-goal win in regulation, in a game that was never safe for the Blueshirts. And if CZAR IGOR wasn't in net for this game, who knows?
I know any NHL season, and for any team, is an 82-game grind. I completely comprehend that.
As stated repeatedly on this site, I'm also aware that every NHL team are due for some stinkers and off-nights. No team, nor no player, are without flaws. That said, this was a perfect storm for the Rangers to just come out striking, and by the end of the game – they were the ones that looked like the team that had just played 22 hours before.
I'm not here to do the "blame game," nor the finger-pointing stuff either, because that's not necessary – especially after a win. And yep, I know that Ottawa has recently beaten some good teams too; as within the last two weeks, the Senators have knocked off two of the teams that the Rangers are battling with in the Metropolitan Division standings, the Hurricanes and the Capitals.
However (and unlike those previous two Ottawa triumphs), the Senators on this day were beat up, gassed-out, and had a goalie with a 3.80 GAA and .892 save percentage in net. The Rangers never took advantage of that.
---
I wouldn't say that the Rangers were bad or anything like that; but obviously, the lack of goals scored was woefully apparent in this game. Of course, come the playoffs, you will need to rely on defense, physicality, the ability to roll out four lines, and a stud in net – which the Rangers most certainly have in CZAR IGOR.
At the same time, especially under these pregame conditions on Sunday; a team like the Rangers needed a "pick me up" type of a game, and a win to feel good about.
After all, since returning from the All-Star break, the Rangers have struggled with a Boston team without Patrice Bergeron and Brad Marchand, and then lost to a non-playoff team in the Detroit Red Wings. I thought the Rangers needed to pull up their boots a bit, and should've stomped a mud-hole against the Senators on Sunday.
While it was nice to see Ryan Strome redeem himself, and Artemi Panarin get off of the goal scoring schneid too; Chris Kreider, the team leader in goals with 33, hasn't scored a goal since returning from Vegas. Mika Zibanejad is without an even strength goal. Fox seems hesitant to shoot at times. And K'Andre Miller, coming off of a good stretch of games, had his worst game in a while to date.
And I want to be clear – I'm not burying or trashing anyone. I'm just observing and stating the facts.
Another fact is that the schedule will pick up with a string of games against playoff contenders, starting once the Rangers return on home ice this Thursday night, where they will host the Washington Capitals. Following that, it's a game in Pittsburgh on Saturday, followed by a home game against Vancouver. Then, after a pair of home games with the Blues (the Buchnevich tweets will be out of control on that night) and the Devils, it's a rough four-game road-trip.
I guess what I'm getting at, is that I would've loved to seen the Rangers just blow-out someone for once, and this was the ideal game to do so. No joke, I was expecting a touchdown and the extra point against this Ottawa team – which admittedly, is yours truly being very optimistic.
However, once again, it was CZAR IGOR who held down the fort. And had a piece of galvanized rubber, shot from 200 feet away, moved over just an inch to the right – Igor would've been one of the top scorers of the game. That's great for Igor. That's not great for the expensive forwards in front of him.
I don't want to give the impression that I'm down about a win, but since my expectations are so high for this team (I've been saying that they'd be a playoff contender since the off-season), I guess I expected more tonight.
But hey – that CZAR IGOR fellow, the one I have been telling you about since 2017? Once again, PURE DOMINATION.
From one goalie to another, before continuing on with this particular game, and the usual segments that are included in these GAME REVIEW blogs, including the game review itself; a few more words on Emile Francis.
---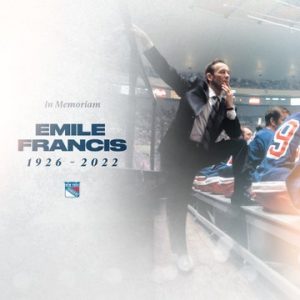 For starters, if you missed last night's blog, where I talked about the passing of Emile Francis, check it out by clicking the link below:
---
Thanks to all of you for your feedback, as I received nearly a hundred emails in response, emails that I'm still sifting through. I'll eventually get back to everyone; but again, thanks for caring enough to read about Francis, and then caring enough when sharing your memories of "The Cat" with me.
On Sunday, members of the Rangers alumni released statements on Francis' passing, through the Rangers themselves. Here's what Adam Graves, Pete Stemkowski and Brian Mullen said:
---
I couldn't cover everything about Emile Francis last night, and even tonight, I still can't do him justice.
That said, a few more thoughts that weren't included in last night's blog:
— Emile Francis was one of the founders of the Metropolitan Junior Hockey Association, going all the way back to 1966. Three notable players came out of it, and were all eventually coached by Francis himself (after Francis' 1976 dismissal) – Nick Fotiu and the brothers Mullen, as both Brian Mullen, and 2000 Hall of Famer Joe Mullen, played in the MJHA.
— It's still early, but the Rangers, the M$GN, or whoever else is in charge of such things, really need to get a camera in front of Eddie Giacomin. No other Ranger had their career significantly impacted, and in a positive way, than Giacomin had his career impacted by Francis. I'm surprised that the Rangers didn't at least get a statement out of Giacomin yet. I'm sure it's soon to come.
— Another man who had a huge debt of gratitude to pay under Emile Francis? This guy:
While I brushed upon the death of Terry Sawchuk last night, it was his fight with Ron Stewart that ultimately led to the death of one of the greatest goaltenders of all-time – a fight that prior to his passing, Sawchuk accepted full responsibility for.
(I've talked about this before, but in short, Sawchuk had substance abuse issues, financial problems, and a temper to boot; and all of that led to his 1970 fight with roommate Ron Stewart in Long Beach, NY.)
Sawchuk, while hospitalized, always said that he started the fight and that Stewart deserved none of the blame. However, once Sawchuk passed from his injuries and ailments, Ron Stewart was brought up on charges. Emile Francis stuck with Stewart the entire way.
It would've been very easy for Francis to move on from Stewart, either by trading, waiving or releasing him; but "The Cat" stuck with his player, and he was also there for Stewart once he was exonerated on all of the charges levied against him.
Later on, in an act of loyalty, and once Stewart's playing days were over, Francis hired him as head coach – a move, that admittedly, didn't exactly work out.
The M$GN also talked about Francis on the broadcast today too, but let's get the NEWS segment out of the way first, and then get into all of that.
---
Following Thursday's loss, the Rangers took off on Friday. On Saturday, the team reconvened for practice prior to their afternoon flight to Ottawa.
If there was anything worth nothing from the practice itself, it was that Patrik Nemeth was there and took some repetitions with Braden Schneider on the third defensive pairing. It should be stated that despite Nemeth's status on the IR on Saturday, he could have had come off of it at anytime, since he was put on the IR retroactively. And that's what eventually happened on Sunday.
Prior to takeoff, Gallant met with the media. Here's what he said on Saturday:
---
Not much came out of Gallant on Saturday, as he continued to praise his players to the media. Both Zac Jones and K'Andre Miller got the bulk of "The Turk's" attention, where Gallant spoke highly of both rearguards.
If there was one interesting takeaway, Gallant mentioned that he thought that the officials, who called both games against Boston and Detroit, did a tremendous job. Of course, it's a fine and a phone call from Gary Bettman whenever a head coach buries the men in stripes; but Gallant did sound sincere when talking about them.
And while I have pretty much agreed with 99% of what Gallant has said all season, this would be the 1% of the time where I don't agree with him. If you read Thursday night's blog, you'd gather as much.
---
On Sunday afternoon, around 3PM, Gallant and the Rangers busted out their "Taliban Technology," as the head coach spoke to some of the media members on Zoom. Nothing of note came away this short chat, but if you want to watch it, here you go:
---
While Gallant didn't talk about it, nor did the Rangers say anything official about it either; Patrik Nemeth is now off of the injured reserve and did play in today's game.
I know the news of a sixth defenseman in the line-up sets off the fan base, as if this news is the biggest miscarriage of justice to ever take place in all of history; but needless to say, Nemeth had a good game in Ottawa. Ditto his partner Braden Schneider.
If there was any defenseman that looked like a nightmare against the Senators, it was K'Andre Miller, who paid homage to the two local NFL teams, with all of his never-ending turnovers. This was tough to watch, especially since Miller had been playing so well as of late. And if it weren't for Miller? Perhaps CZAR IGOR would've had a shutout in this game.
And for all of the people that will not stop kicking Nemeth on social media, these people are jackasses. Is Nemeth having a great season? Of course not. Is he overpaid? Obviously. Did Nils Lundkvist, who has not lived up to the hype, hype that these same Nemeth haters once bestowed upon him, hurt Nemeth's case? Most certainly.
That said, if you're one of these freaks who thinks that Nemeth is the second-coming of Satan himself; then at the same time, how do you think Chris Drury is going to trade a guy that never plays? Nemeth has to play and he needs to be showcased. Who better than Ottawa to do so?
To these people, Zac Jones is the best defenseman since the days of Bobby Orr – the same Jones who was part of the Rangers losing effort to lowly Detroit.
Nemeth currently has a three-year deal, where he's being paid handsomely. For Drury to wiggle out of this deal, Nemeth is going to have to play some. And again, as both Gallant and Drury predicted against a bad and depleted Ottawa team – Nemeth did have a good game tonight.
Most of this anti-Nemeth nonsense comes out of the chartholes of the analytical folk; folk who can never look at the bigger picture.
With cap issues ahead, it's in the Rangers best interest to get Nemeth in against inferior opponents, even if it's only because then they can at least get something decent back in return, including ridding themselves of Nemeth's full cap hit itself. That's impossible to do if Nemeth doesn't play at all. (Need a recent example? Exhibit A: Brady Skjei.)
And while Schneider is a lock for the playoffs in my eyes – I'm not so sure about Jones.
As talked about 78678678967896 times before, Jones' original plans were to stay at college, because he didn't think he was ready for the NHL. He even said so himself that he needed to add size to his frame. However, like Vito Corleone, the Rangers made an offer that he couldn't refuse, and instead of graduating, he signed with the Rangers instead.
While Jones has played decent enough, I do think playoff hockey will expose him a bit. I hope I'm wrong, but I still don't think Jones is the answer for a deep playoff run.
Then again, perhaps I should also take my own advice – worrying about sixth and seventh defensemen, and twelfth and thirteenth forwards, is foolish and the least of the Rangers' concerns.
---
Here's what "The Turk" went with for this Eastern Conference game:
FIRST LINE: Kreider/Mika/Lafreniere
SECOND LINE: Panarin/Strome/Goodrow
THIRD LINE: Hunt/Chytil/Gauthier
FOURTH LINE: McKegg/Rooney/Reaves
Defensively, we had this:
FIRST D-PAIR: Lindgren/Fox
SECOND D-PAIR: Miller/Trouba
THIRD D-PAIR: Nemeth/Schneider
And in net, CZAR IGOR.
---
BOX SCORE time.
The following information and graphics come from the new world-wide leader in NHL coverage, ESPN.com:
SCORING:
PENALTIES:
TEAM STATS:
GOALIES:
| | | | | | | | | | | |
| --- | --- | --- | --- | --- | --- | --- | --- | --- | --- | --- |
| SA | GA | SV | SV% | ESSV | PPSV | SHSV | SOSA | SOS | TOI | PIM |
| 33 | 2 | 31 | .939 | 26 | 0 | 5 | 0 | 0 | 58:39 | 0 |
| | | | | | | | | | | |
| --- | --- | --- | --- | --- | --- | --- | --- | --- | --- | --- |
| SA | GA | SV | SV% | ESSV | PPSV | SHSV | SOSA | SOS | TOI | PIM |
| 30 | 1 | 29 | .967 | 24 | 0 | 5 | 0 | 0 | 60:00 | 0 |
---
The M$GN pregame show opened up in similar fashion – John Giannone being cut-off mid-sentence by a BET MGM commercial. Also of note, the entire crew were in-studio – as there was no way Sam and Joe were busting out the passports and going to Canada for one night.
"OH JOE, THE TRUCKERS JOE!"
It was a shame we were disgraced with Steve Vagistat on the broadcast; as the bird-brain would not shut up about his own legendary and Hall of Fame career of 46 games – where he was absolutely nauseating on the post-game show, when comparing his iconic career to Shestyorkin's. I had to turn it off at that point.
Dave Maloney, who usually gets face-time during home games, wasn't there today. That's a shame, as he could've talked about Francis. And really, I'm surprised that "Shameless Steve" didn't talk about his days of playing GM mode on EA Sports NHL '22, and how his video game GM career compares to the career of Emile Francis.
I can hear the seven-foot jackass braying now:
"JOHNNY, I TRADED PATRIK NEMETH, VITALI KRAVTSOV AND FILIP CHYTIL FOR CONNOR MCDAVID ON MY X-BOX. MY CHARTS TOLD ME THIS WOULD BE A GOOD DEAL! DID I EVER TELL YOU ABOUT THAT ONE TIME WHEN HENRIK ASKED ME TO SHAVE HIS ASS HAIR? MY CHARTS SAID TO EXPECT A GOOD TIME AND I DID!"

To his credit, Giannone, and the M$GN as well, did pay their respects to Emile Francis – even if the organization decided not to over the years.
A lot of the stuff that Giannone and Vagistat said about Francis was true, but for a casual viewer at home, I'm sure they didn't understand what the two were saying. The stories were incomplete.
Vagistat talked about Francis innovating the goaltender's glove, a story that I talked about last night. Whether it was for TV time constraints or what, Vagistat didn't really explain the entire story.
Giannone would later talk about Francis having a short NHL career, but didn't explain that "The Cat" played in a six-team league, where only six goaltenders at any given time played in. It were like the two were spitting out facts, stuff that I know, and stuff that you probably know too, but for other fans – these two didn't give the full details of these stories.
M$GN also ripped Emile Francis footage out of that old 1988 "Tradition on Ice" VHS tape.
I guess they were pressed for time, but the M$GN reran the same clips over-and-over. I'd just like to see new gems unearthed.
Again, I'm on a whole different level, because I've seen all of this stuff 78678678666789 times, while most likely, 99% of Ranger fans have not. (And as mentioned last night, I've been engrossed in the Francis era during the past eighteen months, due to my books, so all of this stuff is still "fresh" and "recent" for me. It isn't for others and I'm fine with that.)
Sam and Joe also paid their respects to Francis, where Micheletti brought up that he played under "The Cat" in St. Louis.
After talking Francis, Micheletti gave us the most obvious "Taco Bell Take" of the season – the Rangers need to have better first periods. There's something about that old "Keep It Simple Stupid" adage, and it most certainly applied here. (To be clear, I'm not calling Micheletti stupid. I'm agreeing with him!)
Game review time.
---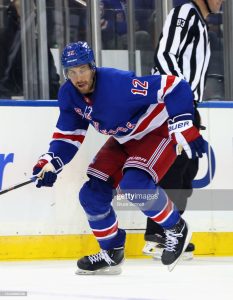 There are two ways to look at these last three games since the All-Star break. Neither way is wrong.
One – the Rangers haven't found their scoring touch at all.
Two – the Rangers, as a team, have played well defensively.
For all the talk about the Rangers five vs five scoring issues, where they rank dead-last in the league; defensively, as a team, they are also the third-best team in the league in the goals allowed average department. Yes, CZAR IGOR is the reason for that, and you'll get the odd-man rush here-and-there too; but for the most part, the Rangers don't give up that many great chances, chances that you routinely see in other games around the league.
And while you'll get your occasional 6-1 or 7-2 score in a playoff game – for the most part, teams that play strong defense usually win playoff series'.
Just food for thought.
---
Chris Kreider, without a goal since the break (a fact, and not a negative opinion), put the first shot on goal of this game at the 37 second mark. In other words, we didn't have to wait over ten minutes to see the Rangers get a SOG.
Gustavsson, who the Rangers didn't attack nearly enough, which is also a credit to Ottawa's defense too; made a horrible turnover early, but the Blueshirts didn't capitalize on it.
The first five minutes of this game were pretty much all Rangers, as Lafreniere, noticeably improved during these past three games, muscled a puck into the Senators zone. Panarin also showed off some razzle-dazzle as well. However, no goals.
Despite the Rangers playing well, it were the Senators who scored first.
Just 4:52 into the period, Miller got caught being aggressive, a puck squirted by him at the blue line, and the Senators then had a two vs one against Trouba. Tim Stutzle buried the puck on the odd-man rush, to give us a score of 1-0, bad guys.
This would be the only goal CZAR IGOR allowed all game, and it was the end result of a bad turnover/play from Miller.
The Rangers (very turnover prone as of late), then saw Zibanejad make a bad turnover himself in front of Igor, but the Senators shot wide, which gave the visitors a pass.
Just under three minutes after Stutzle's tally, Ryan Strome tied the game:
Strome grabs the rebound in front to tie it! pic.twitter.com/zX18695G3w

— Rangers on MSG (@RangersMSGN) February 20, 2022
---
1-1, after Strome grabbed Schneider's rebound and buried the puck home.
A few things on this goal.
One, there's this:
Kind of expect a big game out of Strome tonight #NYR

— BlueCollarBlueShirts (@NYCTheMiC) February 20, 2022
---
It's always nice to be proven right! Heck I also predicted Panarin to score too. (That said, I also predicted a Kreider goal, a CZAR IGOR shutout, and a Rangers blowout too; but let's focus on the positives and not on the negatives!)
Two, there's this:
Braden Schneider now has one goal and four assists in thirteen games played.
Nils Lundkvist has one goal and three assists in twenty-five games played.
Not too shabby for the twenty year old, who was thought to be a defensive defenseman. And this isn't a shot against the Swede – but Schneider is definitely more NHL-ready than Lundkvist.
(And as stated at the top of this season, I thought Lundkvist was thrown into a bad situation, as I thought he should've began his North American career in Hartford anyway.)
---
Three, there's this:
Patrik Nemeth set this whole goal up.
After keeping a puck in the zone, Nemeth then took a shot, Panarin got the rebound, fed the puck to Schneider, and there was Ryan Strome, vilified by some of the morons in this fan base over a shootout, to tie the game up.
And I guess four, there's this:
ANALYTICS ARE WORTHLESS.
Moving on.
---
"OLD FRIEND NICK HOLDEN JOE" had a decent game tonight, where with 10:31 remaining, he broke up a Lafreneire to Kreider connection.
As you thought that the Strome goal would pick the team up a bit; instead, it were the Senators who became the aggressors.
Really, it were the Senators who pressed the issue, although Nemeth challenged Gustavsson with 2:50 remaining in the first frame. Then, on his next shift, Nemeth broke up an Ottawa scoring chance and got the puck out of the zone.
The bottom six forwards were also noticeable, as they had elongated shifts in the Ottawa zone, but couldn't pick up a goal.
After one period, we remained 1-1, in a game where the Senators led in SOG (8-7), faceoffs (8-5) and hits (15-9). That soon would change.
---
The Senators came out buzzing to open the middle stanza, but as is always the case – CZAR IGOR said nyet, nyet, nyet.
Panarin then had a wide-open look at third-string Gustavsson, but the goaltender made the save. At the time, I remarked that "The Breadman" looked snake-bitten, but also felt that he'd score. And once he gets going again, the Rangers will be much better than they are right now.
I'd soon be proven correct.
With 12:12 to go, Panarin drew Nikita Zaitsev for a hooking call.
What followed next was a hell of a "Harlem Globetrotter" power-play out of the Rangers, where they had a bunch of "GOOD LOOKS," made a dozen-or-so passes, and with under thirty seconds left on the man-advantage, this happened:
Panarin goes 🔝🧀 pic.twitter.com/Dcy4UDXGt8

— Rangers on MSG (@RangersMSGN) February 20, 2022
---
2-1, GOOD GUYS!
And low and behold, this would stand as the final goal of the game. In addition, with Strome's assist, this meant that both #10 and #16 finished with two-point games tonight.
What a rip and a laser from Panarin. You could see how much he wanted this goal, and not even the sight of Tom Wilson could wipe the smile off of his face here.
Also worth mentioning? Do you think Gallant said something to Panarin about shooting the puck after that game with Detroit? Panarin was in shoot-first mode all game.
With under six minutes to go, while Kreider didn't score tonight, he may have prevented a goal (which is just as good anyway); following K'Andre Miller's brutal turnover in Ottawa's zone, which then gave the Senators a breakaway. Kreider turned on the jets and broke up Sanford's one-on-one chance with Igor, where in turn, CK20 bailed out his young defenseman, in addition to preserving the lead.
Crisis averted.
At one point in this period, the Rangers were out-shooting the Senators 11-2, but outside of the Panarin PPG, they'd never score again. It wasn't for a lack of trying, as Gustavsson stopped all of the Blueshirt name brand players, including Zibanejad, Trouba, Kreider and Fox.
By the end of the period, the Rangers were out-shooting the Senators, 22-15 in all.
Spoiler alert: Igor finished with 29 saves in this game, which meant that with the game on the line, the Rangers gave up nearly as many SOG in the third period as they did during the first forty minutes of action.
As stated 896786789678967896789676 times in the past, Igor is pretty much the Rangers version of Harvey Keitel from "Pulp Fiction" – he's the fixer.
---
Again, I'm not "upset" – I'm disappointed. After all, I know what CZAR IGOR can do. I was disappointed with what the team in front of him couldn't do.
Up one goal, on this previously described disadvantaged Senators team, the Rangers could never find the insurance goal.
Strome whiffed on a wide-open shot from a foot away. Filip Chytil couldn't score on a two vs one. Julien Gauthier? Ha!
Then, when the scoring chances dried up, Miller continued one of his worst games of the season, where he made two horrendous turnovers on one shift, where as a result, allowed Ottawa to maintain their presence in the Rangers zone. This also led to a tired Trouba taking a tripping call, just seven minutes into the period.
The Rangers did Igor no favors on this Ottawa power-play, a power-play unit that was missing three of their regulars. In all, Igor made five saves during this successful penalty kill, where he was pretty much a one-man PK.
Once back to full strength, and as the clock went tick-tick-tick; Igor was forced to make back-to-back glove saves in a span of six seconds, and with 6:36 remaining, following another defensive zone faceoff loss.
With 4:15 to go, the Rangers had a chance to put the game away, after Nick Paul blatantly held Panarin as #10 was streaking to Gustavsson's net.
Rather than the Rangers scoring the power-play insurance dagger goal; the Senators penalty kill survived, thus giving them a chance of tying the game when they employed their empty net attack with 1:20 to go.
While CZAR IGOR is into a class of his own; what does it say when your goaltender has the best chance of putting the game away with an empty net goal:
Igor Shesterkin almost did it. pic.twitter.com/Vj5Uz81Qfb

— Brady Trettenero (@BradyTrett) February 21, 2022
---
As I said since CZAR IGOR first arrived to Broadway – one of these days, Igor is going to get one of these goals! This was the closest he's ever came thus far.
Perhaps equally as amusing? Despite this icing, CZAR IGOR was smiling and laughing. He didn't give a shit about Ottawa having a faceoff in his zone. He followed up this scoring try with two more back-to-back glove saves with a minute remaining. He makes it look so easy.
Following two clears from Barclay Goodrow, as the horn went off, GOOD GUYS 2 – BAD GUYS 1.
And there's also this:
If you're a regular here, you know all of my stuff about CZAR IGOR already, so I won't rehash all of that and go into "GREATEST HITS" mode.
All I'll say is this, and keep in mind, these 50 wins in 79 games is stat that's being tracked back to 1943-44, which exempts Dave Kerr here – the goalie who I think Igor will match one day, and who will eventually join Kerr as the only two Rangers goalies to win both the Vezina and the Stanley Cup:
Chuck Rayner. Gump Worsley. Eddie Giacomin. John Davidson. John Vanbiesbrouck. Mike Richter. Henrik Lundqvist.
None of these Ranger franchise goaltenders hit fifty wins as fast as Igor did.
And sure, you can explain away some of this too (no-tie era, quality of the teams in front of them, Igor having pro experience before joining the Rangers, age, etc); but still, it's a nice feather in the Russian sable hat of the CZAR!
---
All in all, I hope I didn't come off "too down" after a win.
As always, I'm impressed with the goaltender. I just wasn't impressed with only two goals against this depleted Senators team. Had the Rangers been in one of those three games in four nights situation, I would be doing the King Kong shit. Not tonight.
That all said, with the win, the Rangers creep up on the Penguins for second place in the division, as the Rangers (69 points, nice) are now one point back of Pittsburgh (70 points), and also have two games in-hand over the black-and-yellow. Carolina, 72 points in 49 games played, still paces the division.
PLUGS time!
---
The hardcover version of my book, available now at Amazon.com
The first plug of tonight's blog – the mandatory plug for my new book, "The New York Rangers Rink of Honor and the Rafters of Madison Square Garden".
As mentioned previously, the book is now available in hardcover, in paperback and in Kindle formats. To purchase a copy of the book, visit this link:
https://www.amazon.com/Rangers-Rafters-Madison-Square-Garden-ebook/dp/B09CM5N2WD
For those still looking for signed paperback versions of the book, I have re-ordered more copies. I now have 2 signed copies for sale at $25 a pop (includes shipping price) through me directly. Here is all the information on that:
---
Here are my last few blogs, in case you missed them:
---
---
---
If you haven't already, subscribe to this blog for the next update:
---
Up next: a few days off, then a rematch with the Washington Capitals at M$G on Thursday – a team that the Rangers haven't seen since the first game of the season.
Will Georgiev, who opened up the season in Washington, get that start? We'll find out, but it should be mentioned that Georgiev hasn't played in a while now, but at the same time – how do you have Igor sit?
More likely? Georgiev gets one of the back-to-back games over the weekend.
As always here, thanks for reading and…
LET'S GO RANGERS!
Sean McCaffrey
BULLSMC@aol.com
@NYCTHEMIC on Tweeter