What's up everyone and welcome to another blog here on BlueCollarBlueShirts.com. After last week's blog, the political talk will be kept to a minimum. I'm just looking forward to watching hockey & escaping the craziness in this world again.
As I publish this blog on Monday, October 2nd, 2017, we are two days away from the NHL season and three days away from puck drop at MSG. After a long summer, the New York Rangers will kick off the 2017-2018 campaign on Thursday night, against the woeful Colorado Avalanche. Not to jump ahead here, but you really couldn't ask for a better opening day opponent. The Avalanche are in shambles & a team wallowing in the mire, while the Rangers prepare to come out blazing on fire. Well, not literally. We don't want to see the team looking like this:
Anyhoo, the preseason is finally complete. The roster has been announced. The team is getting ready for a male-bonding soiree in Lake Placid. Everything is over. Up next on the calendar is Game 1 of the 2017-2018 season. As usual, I got a ton of thoughts and opinions before the Rangers & Avalanche go at it on Thursday.
However, before getting there, let me share my last few blogs with you, just in case you're just jumping back into the hockey season now. I am not going to repeat prior thoughts & with the readership growing here, (Thank you for reading) you can catch up below:
---
---
---
---
---
---
---
Based on my site stats and from the conversations I have with many of you, many of you reading are 30+ years old. I even know of a few 70 year olds who read this blog. (Hi, Eddie S.!) Granted, there are some young readers here, but for the most part, the majority of my readership are adults with careers. This blog is 10 minutes out of your day, during your coffee break, commute, toilet time, etc. Despite literacy being at an all-time high, many of the kids of today do not have the attention span to read anything longer than 3 paragraphs. They want the instant gratification of a 140 character tweet or a quick blurb about some viral video they are about to watch.
Every generation complains about the generation succeeding them. Whether it's about their music, their lifestyles, their personal choices, whatever it may be, we all have that old man on the lawn, shaking his fist at the sky, moments.
Trust me – I'm not exempt from this either. I'm covered in tattoos and an atheist. Not exactly qualities or traits of the generation before me!
When I was 18 in the year 2000, I am sure the generation before me whined about my generation. I'm also sure the generation before me, were complained about by the generation before them. It's the circle of life here in America, complaining!
During the course of American history, many 18 year olds were forced to go to war through the draft. Many didn't need a draft to fight. Whether it be World War I, World War II, the Korean War, Vietnam or the Gulf War, for the last 100 years, America was involved in many international conflicts.
As you know, in the present day, America is still at war with parts of the Middle East. I don't want to sound like I'm trivializing what's going on now, because there are American lives being lost overseas. Americans are effected by what's going on with our military every day. Please keep that in mind. However, the battles of previous generations were the literal definition of the word "war". When historians look back at this era 100 years from now, they may describe these battles, post 9/11/01, using the phrase we use today, "the war on terror."
I hope that came off right. I have nothing but respect for our military. Their sacrifice of today, is no different than the sacrifice of generations before them.  Human life is human life. Fighting for your country is fighting for your country, no matter what day or year it is.
What I'm trying to convey here is that previous battles, there was a target country we were fighting against. There were enemies, with names behind them. Today, there is no real country we're at war with. That's just a product of the time. Instead of fighting a Germany or Vietnam, we are trying to eliminate terrorism. We are picking off terrorists and not going after a country or political leader, although, who knows, we might not be far off, with that idiotic Rocketman in North Korea.
Trust me, I'm going somewhere with this!
I was 18 before 9/11/01. However I do remember a year later, when 9/11 happened. No one knew what was going to happen. Personally, I didn't know if there was going to be a draft or not. You look back at that day and the immediate aftermath and while you knew everything changed forever, you just didn't know where the world was heading. Thankfully, 16 years later, America has recovered. Put it this way, if America wasn't recovered, you wouldn't have shows like "The Kardashians", "TMZ", "Maury Povich" and all that other mindless crap that's on TV. I don't think America will ever go back to the way it was, but America took this huge hit and got back up. That much I am certain of.
I know, I know, get to the point already. Then again, this isn't a BCBS blog without me going on a million tangents!
I remember being 18 years old and still living at home with my parents, just like many of the people on twitter, today, who think Henrik Lundswiss is the greatest goalie of all time. (You knew I would get a shot in on Hank somewhere in here!)
I remember thinking then, damn, how come I can't afford to move out on my own? Granted, I was living in Nassau County, NY, which has some of the highest property taxes in the country. As many of you know, living in NY, no matter what year, is never cheap. I have a decent job, and while I'm not struggling, I don't have the money I should at this stage in life. Even with a solid income, I don't have the money (inflation considered) that generations before me did.  I blame the government for taking half my check for taxes for that. It is just hard for many of us to get ahead in life, when the government is treating us like a "Pulp Fiction" rape victim. Again, living in NY doesn't help, nor does property being much more expensive now, than generations prior.
I succinctly remember in 2000, thinking about my parents, and where they were at 18. I remember thinking of my grandparents. I just remember thinking about other eras. As talked about repeatedly in this blog, I am a huge fan of history. At 18, people were going to war. At 18, people had their own farms and were raising kids. At 18, people were getting married. At 18, you just grew up much quicker than you did when I was 18. These trends have all continued. Nearly 18 years after I was 18 years old, people aren't getting married as young. People are staying with their parents longer. People are becoming parents at a later age. Is the government to blame? Lack of jobs? The world becoming smaller? I would answer these questions, but I have gone on long enough. It's time to get to the fucking point already!
I told you where I was at 18 years old. Now think of yourself. Some of you might not even be there yet. Some of you may have seen 18 ages ago. However, just take a second, and think of whatever year it was when you turned 18. What were you doing at the time? Where was your life going? Finished? Okay. Now think of this…
At 18 years old, Filip Chytil will be centering a $13 Million Dollar line consisting of Rick Nash & Mats Zuccarello. I may have taken a lot of words to get to this point, but really, just think about the gravity of this situation. Chytil is not entering the league as an elite prodigy, such as a Wayne Gretzky, a Sidney Crosby or a Connor McDavid. In fact, unlike those three players, Chytil doesn't even know English, as he is just learning it now.
To think, three months ago, Chytil was a teenager in the Czech Republic. He was battling acne and finding a date to the prom. (Really, I don't know if either of those two things happened, but just go with it.) Now, on October 5th, 2017, at 18 years old, Filip Chytil, will have a ton of pressure on him, as he plays his first game in the "World's Most Famous Arena." What were you doing at 18 again?
To add even drama, Chytil wasn't even supposed to make the team for numerous reasons. For starters, the Rangers other first round draft pick, Lias Andersson, was more heralded and considered to be more talented of the two. Like most Swedish players, especially when it comes to Ranger goalies, he was disappointing. Yes, I'm exaggerating a bit. Andersson is only 18. That said, so is Chytil, and he outplayed Andersson in camp.
I know what's next. "But Sean, Andersson, hurt his foot in camp." That's great. However, do you remember during the Traverse City tournament, Chytil was forced to miss the games because of a groin injury? That wasn't even a month ago. There was even talk that Chytil might miss part of the season. Instead, Chytil healed up quick and made an impression during Rangers preseason that could not be ignored. It also helped that the Rangers are at their weakest, when it comes to the center position, right now, than any other time in the Alain Vigneault era.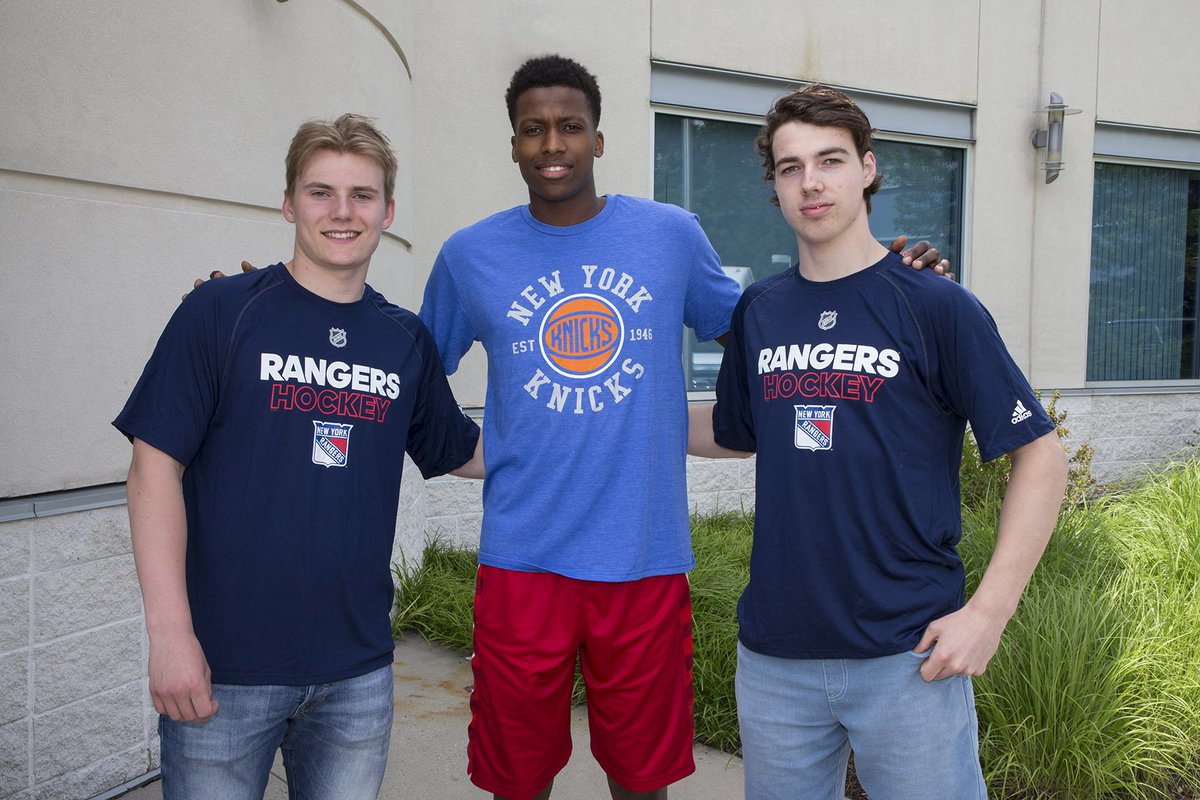 Before anointing Filip Chytil as the savior of the Rangers, there are a few things to know. This whole thing could be over with in 9 games. If you don't know, every NHL team is allowed to test out their young rookies on a 9 game trial. Here's the official rule:
"According to the Collective Bargaining Agreement, players aged 18 or 19 as of September 15 before the start of a season are eligible to have their contracts deferred by one year if they have not played 10 NHL games in a previous or current season."
In other words, Filip Chytil has 9 games to impress. A bad start, and it's back to the Czech Republic. A good start, and his entry level contract kicks in. You can't say Chytil isn't getting a chance either, because he has Rick Nash & Mats Zuccarello as line mates.
Obviously, the best case scenario for Chytil, the Rangers and their fans, is for Chytil to have his strong preseason play carry over into the regular season. Just like the playoffs are a different animal than the regular season, the regular season is a different beast than the preseason.
Sure, Chytil looked great against other players trying to make an NHL club, but come October 5th, the games are real. The players are older, bigger and more experienced. The game will get faster and more physical. Can Chytil's 18 year old body take it? There is also the learning curve, of not speaking the language, in addition to not even skating with Zucc & Nash in the preseason. It's tough to envision Chytil being a stud night one, but will he make the case for himself after 9 games? Time will tell.
In a "this will make you feel old" story, the reason why Filip Chytil will wear number 72 on opening night is because 1972 is the year his father, Rostislav Chytil, was born. Minga!
For those wondering, here are the Rangers first 9 games:
Thu, Oct 5

vs

Avalanche

Sat, Oct 7

@

Maple Leafs

Sun, Oct 8

vs

Canadiens

Tue, Oct 10

vs

Blues

Fri, Oct 13

@

Blue Jackets

Sat, Oct 14

vs

Devils

Tue, Oct 17

vs

Penguins

Thu, Oct 19

vs

Islanders

Sat, Oct 21

vs

Predators
While there are no "gimmies" in the NHL, outside of Colorado, there is some tough competition for Chytil and the Blueshirts. You have 6 playoff teams in there, including the Stanley Cup Champions and the Western Conference Champions.  The Islanders and Devils, while not playoff teams, are still rivalry games that usually go the extra mile against the Rangers. Montreal will be out for blood after last season's playoffs. The Leafs are a team on the rise. The Blue Jackets will be looking to prove that last year was no fluke. The only game that looks "easy" would be the Blues, only because they are decimated by injuries right now.
The Rangers sure have their work cut out for them early. For the Rangers, if Chytil can pass this test, against this selection of teams, it would be good fortune and a windfall for the team.
The Rangers have made their final cuts. Here are your 2017-2018 NY Rangers:
Forwards: Pavel Buchnevich, Paul Carey, Filip Chytil, David DeSharnais, Jesper Fast (Injured), Steven Fogarty (Injured), Michael Grabner, Kevin Hayes, Chris Kreider, JT Miller, Rick Nash, Jimmy Vesey, Mika Zibanejad and Mats Zuccarello.
That's 12 forwards, with two being held due to injuries. From a quick glance, once Jesper Fast is available to return, I see Paul Carey being sent to Hartford.
Defense: Tony DeAngelo, Nick Holden, Steven Kampfer, Ryan McDonagh, Kevin Shattenirk, Brady Skjei, Brendan Smith and Marc Staal.
That gives you 8 defensemen, with most likely DeAngelo and Kampfer being scratched on opening night.
Goalies: Henrik Lundqvist & Ondrej Pavelec.
Who was playing net for the Rangers, was the only thing, for better or worse, that was guaranteed in the off-season. Can't wait to see Antti Raanta & Cam Talbot battle for the Vezina this year.
With the roster announced, here are the moves the Rangers made on Thursday, courtesy of the Rangers twitter page:
When this news was released, Matt Puempel was put on waivers. As of this blog writing, Puempel has cleared waivers and will be sent to Hartford. I'm surprised no one made a play for him, especially a team like St. Louis, that is just destroyed by injuries right now.
To me, Vinni Lettieri going to Hartford is a mistake. Listen, we all gotta be aware that really, the team on opening day most likely won't be the team on the last day of the regular season, and if lucky, the first day of the playoffs. In reality, Carey can be sent to Hartford after game one and Lettieri could be promoted. Not saying it's going to happen, but you could do it if you wanted to.
As usual, I don't understand the thinking from the brain trust behind the Rangers machine. Is this a team rebuilding? A team looking to win now? On one end of the spectrum, Chytil played so well during the preseason that he made the team. Lettieri played just as well and he's in Hartford. How does that make sense?
Furthermore, as predicted, AV's statement about Marc Staal was a bunch of bullshit. If you recall, AV said Staal had to earn his spot. You tell me what Staal did in the preseason to earn that spot. He was arguably the worst defenseman, out of all the players who had a realistic shot, at making this team. You can't tell me that Staal outplayed Neal Pionk.
The company line is that the Rangers want their young talent to get major minutes in Hartford, rather than playing 6-8 minutes on a fourth line or third D-pair. Chytil is the exception, which is more due to the Rangers being weak at center, than anything else. In other words, if Stepan was still here, I don't know if Chytil makes it.
While the number 7 pick of the draft, Lias Andersson, may be a star one day, (Many expert scouts feel that the Rangers ranked him too high and drafted him way too high as well) he's going back to Sweden. In fact, Jeff Gorton, in a statement, said, "We told Andersson not to worry about the Rangers." What a rubber stamp of approval!
As I've been preaching and orating about all off-season, you can't half-way rebuild a house. The Rangers still have this pipe-dream idea that they can win a Cup behind the highest paid goalie in the league, despite not one team winning a Cup in the salary cap era, with a top 5 paid goalie. Look at the teams winning Cups. LA. Chicago. Pittsburgh. All had strong play down the middle. When Edmonton gets their Cup, fulfilling my prophecy that Talbot would get a Cup and Lundqvist wouldn't, while I will jump up and down about Talbot, the truth is that another center, this time in McDavid, was the driving force behind the win.
All I can do right now is sit back and hope that Chytil and Andersson aren't Pavel Brendl and Jamie Lundmark. Let's hope they turn into Patrick Kane (minus the rape stuff) and Jonathan Toews. However, as I've been saying all summer, I would rather see all the young guys play in the NHL, grow together, take their bruises together, gel together and create chemistry together. Once they are ready, it will then be CZAR IGOR time.
If you're not aware of what CZAR IGOR SHESTYORKIN is doing in the KHL, Google it. The Rangers, who have the rights to him, will be able to negotiate a deal for him in 2018-2019. Of course, the Rangers, never shy of overpaying a goalie, could buy him out right now, but that seems highly unlikely. In my fantasy world, my pal Donald Trump strikes a deal with his pal Vladimir Putin, and brings Shestyorkin to the Rangers. Trump would also deport Lundswiss in my dream scenario. Make the Rangers Great Again!
Without question, this has been the toughest time for Gorton and Vigneault, during the AV era. Where the roster was mostly stable, with a few additions here and there, the Rangers really did lose a lot this season. From stalwarts in Derek Stepan (A number 1 center) and the ironman warrior, Dan Girardi, the Rangers are hoping young blood can fill those positions. I've talked about Talbot/Raanta vs Pavelec previously on this site. Losing another starting goalie, at the expense of the team, because you  continue to build around one player who chokes when it matters most, is another major loss. Hank's cap hit alone will make you shart.
For the first time in a while, the Rangers seem blessed with a lot of young talent. As you're reading this, I have kind of made sophomore players, Jimmy Vesey & Pavel Buchnevich, seem like an afterthought. However, everyone loves new toys. With Chytil, Andersson, Lettieri, Nieves and Pionk, the Rangers are starting to develop their new core. Let's also not forget about CZAR IGOR.
Speaking of Buchnevich, I'm not sold on him. In fact, I know people will hate me for this (I'm used to it, even Sean Avery had some comments for me this week), but I still prefer Tanner Glass over the commie. I'm sure 89 will eventually grow and hopefully realize his potential, but in this last year, I've never seen a player come so close to making great plays, only to never finish at the end. He was also rag dolled alot in the preseason, which concerns me and tells me that maybe he needs to put on a little more weight. I'm willing to give him a fat transplant from my beer gut!
Yes, I know I'm a "mark" for buying an Adidas jersey, but I'm all in on Kevin Shattenkirk! As I talked about in previous blogs, I love everything about his move here, how he's handling himself and his quotes. As someone who pulls for the American players just a little more, I'm all on the Shatty train. Let's just hope that my fellow pessimistic fan, @ScottyHockey, isn't right when he dubs Shattenkirk as the next Wade Redden!
While I don't see the Rangers winning the Cup this season, despite my urges for wanting it to happen, I do see a lot of promising things on the horizon. One of these days Lundswiss will be gone, and all these young guns will be the next crop of Rangers. For this season, I really like the first two pairs of the defense.
When people talk about defensemen in the NHL, I think what gets lost is that not everyone is a Bobby Orr (offensive genius) or a Ray Bourque. Defensemen need to be more offensive these days, which is why guys like Karlsson, Subban and Weber are so coveted. The league continues to make rules to increase scoring. If your job in the NHL is to prevent goals, you will always have the league trying to fuck with you, in the never-ending attempt to draw casuals. No NHL defense is perfect. You have good defenses, but there is not one team in this league with 6 excellent defensemen.
For the Rangers, I really enjoy the first pair, the All-American duo of McDonagh & Shattenkirk. Shattenkirk will hopefully be that powerplay quarterback, that the Rangers looked to get when they acquired Dan Boyle and Kevin Yandle, of recent seasons. The second pair, of Skjei and Smith, are extremely promising as well. Skjei may look for offense too much, but with time and experience, he will pick his spots better. The third pair for the Rangers is kinda of a shit show, but if AV has to coach for his job this season, (And you know people will be clamoring for Ruff during the first Rangers cold spell) then maybe he won't be so reliant on Staal & Holden.
Listen, as I said from day one, the Rangers, if they were going to buy out anyone, should've bought out Staal this season. The Rangers had the chance to buy out two players and I understand the cap ramifications of buying out two players. I would've never bought out Girardi before Staal. Not in a million years. Girardi is an asset as a third pair defenseman. TBL thinks the same. Staal is just a liability. Again, not to pile up on Staal, but he's never been the same after the injuries.
When it comes to Nick Holden, he may be an example of "what have you done for me lately?" If you recall, during the regular season, he wasn't that bad. In fact, at one point, he was one of the top scorers for the Rangers. Some of us, JOKINGLY, even compared him to Bobby Orr, because he was scoring a bunch of goals at a fast clip. However, the jokes became a morbid concern, when Holden was horrendous in the playoffs.
I think Holden can still turn it around, where I think Staal is just done. The Rangers are keeping DeAngelo & Kampfer with the team. Just because this team is always about money, I see DeAngelo as the first guy to get out of the press box. Not gonna lie either, I'm pulling for him because he's American. I know I said no politics in this blog, but I am a fan of the heels. I like how he doesn't care about the main stream media and openly supports our President, like an American. I can get behind a guy like that. Plus, as Americans, don't we all love redemption stories?  Maybe three times is a charm and DeAngelo finds success here in NY.
Overall, when it comes to the opening night roster, while I don't agree with Lettieri in Hartford and Carey on the club, I'm excited for the season. It's a long grind to the second season, and anything can happen. No team stays 100% healthy all season either. It's only a matter of time before Pionk and Lettieri get the call to make the drive to MSG.
Despite not being optimistic about a Cup run, I'm ready and looking forward to the season. DROP THE PUCK.
So did you see this article from ESPN on Thursday: http://www.espn.com/nhl/story/_/id/20839515/nhl-why-new-york-rangers-traded-henrik-lundqvist-cam-talbot
I'm not going to rehash this, but because everyone knows me as the anti-Hank/pro Talbot guy, I was tagged in this about 100+ times on Twitter. Of course, this started all the debates again.
While author Ben Arlidge basically plagiarized my writings from 2015, he missed so many things. I'm not going to get into it again, because all you have to do is read the last three years of this blog. I've made my opinions well known. The funniest thing about all this, is the comments Ben got. Death threats. "You don't know hockey." "You're an asshole." "Kill yourself." It's always nice to see the young fans, that live in the Henrik Lundswiss NYR bubble, keep their faith alive.
What people don't understand, is that people like me or Ben, are not discounting Hank's career. He's a HOFer. Number will be in the rafters. Arguably a Top 10 NYR of all time. That said, this is the HOCKEY BUSINESS. Pittsburgh moved on from 3X Cup winner, Marc Andre Fleury. Tampa moved on from Bishop, who like Lundqvist, has been to a SCF and lost a ECF. (Hank lost 2 ECF's.)
The teams winning Cups and going deep, are the ones that pay a goalie an average amount of money. That is what it's all about. Plus, Talbot and Raanta have been better anyway.
In today's NHL, to win a Cup, you need great play down the middle. Bottom line.
While I have explored this Lundswiss topic to death, repeatedly, I felt that Arlidge didn't go all-in and left a lot out.
And for those who asked, no, "Ben Arlidge: isn't my alias. Do you think ESPN would agree with my politics? Come on now! Plus, I would've at least ended that article the same way I'm going to end this section, with an "IN CAM WE TRUST!"
As I start to head to the homestretch, there is one topic I want to discuss and I hope you guys do your own research on it as well.
Chronic traumatic encephalopathy (CTE) is a topic that we are all probably familiar with. The movie "Concussion", starring Will Smith, was a great film tackling this subject.
I'm not a scientist nor pretend to be a reporter here. I'm asking you to do the Google searches and make your own assessments.
I've been doing a lot of reading on CTE recently. As you know, many NFL, WWE wrestlers and NHL players had it. Currently, CTE can only be 100% confirmed after someone dies. However, this week, it was announced that doctors have made a huge breakthrough and will soon be able to test for CTE in the living.
While we are still years away, it's only a matter of time before there is a fool-proof way to test for CTE in the living. Even further away, is a cure or at least a preventive measure for CTE. A 100% cure or preventive measure for CTE may never happen in our lifetimes, but it could happen one day. Until that day happens, CTE is very real and is a serious & deadly consequence in pro sports.
I wonder where the future of sports will be, once scientists are able to 100% accurately diagnose CTE in the living? How many careers will be cut short? In this lawsuit happy world & a world that is being overrun by the liberal agenda, what team, in their right mind, would sign a player that is known to have CTE? The public outcry would make this kneeling shit look like small potatoes.
You will one day see articles about players wanting to risk their lives, at the expense of getting CTE, to play a child's game for money. You will see counter-articles, saying how can a young man decide such a fate for himself? You will see articles saying owners are taking advantage of young men who want fame & money. You will see tragic tales of CTE, just like the anti-smoking commercials on TV. CTE is about to become a much bigger topic in sports and in America. Give it a few years.
Just think – there's probably a really good chance Sidney Crosby has CTE right now. Right? If a doctor was able to confirm that, would the Penguins or the NHL let him play? Is his career over, despite him having a good chunk of time left? Furthermore, once CTE is diagnosed, how will sport leagues amend their rules to further prevent concussions? It seems nearly impossible, especially since all the athletes are just getting bigger, stronger and faster as time moves on.
While we are still a whiles away from an accurate diagnosis in the living, it's only a matter of time. Once it happens, sports will change forever. Again, I'm not a reporter or a scientist, but this is a story you should keep tabs on. There will certainly be a million takes on this topic once testing is available.
The Rangers are in Lake Placid, as part of their team bonding exercise. Come Thursday night, the madness beings.
Due to my work schedule, I don't know when I'll be back next. I would like to do an opening night game review, but I will be at the game on Thursday. With a 4:30AM alarm clock for work Friday morning, it might be tough to squeeze it in. Maybe I'll just give quick thoughts and recap Saturday's game instead.
With my feelings sour on the NFL, the NHL couldn't have come back soon enough. With the Yankees in the playoffs and the Rangers back, what a great time to be alive! I look forward to talking with and sharing opinions with you guys all season.  I really mean that. I have about 50 different email threads with you guys, plus all the twitter nonsense. I enjoy it all, even if you don't agree with everything I say. That's what makes all these debates fun. And really, at the end of the day we all want the same thing – a Stanley Cup for our Rangers. We just have different ideas on how to get it.
As always…
LET'S GO RANGERS
Sean McCaffrey
BULLSMC@aol.com
@NYCTHEMIC on the tweeter gimmick
PS: FIRE BEN MCADOO!!!