NOTE: When I started this, I really tried to do a normal length blog. Instead I went over 7000+ words as usual. I hope you stick around for it all, or read a bit and pick up where you left off. That's what happens when I take a week off!
What's up everyone and welcome to another blog here on BlueCollarBlueShirts.com. The NHL preseason is underway and the sports world has been divided since I last posted a blog here. What a busy week for sports, and not necessarily the good type of busy. There's a lot to get into today, so let's head to the races and get going.
As usual, before starting, in case you missed my last few blogs and are just getting back into hockey now, here are my last few entries on BlueCollarBlueShirts.com:
---
---
---
---
---
---
The NHL preseason is different for many teams. For bottom of the barrel teams, like the Devils, Avalanche or Canucks, the preseason is used to to determine lines, defensive pairings and figure out their goaltending. There is also more opportunity for young talent to make the big league team. For established teams, like the Penguins, Blackhawks and even the Rangers, the preseason is a way to get rust off their regulars and try new things out. There aren't as many roster spots available, as the teams pretty much have an idea of who will be with the big club.
In the case of the Rangers, you pretty much know who's making the team, especially during the Alain Vigneault era. You may have one or two players break through, but with the salary cap and guaranteed contracts, you have a general idea of who's making the Rangers and who's going to Hartford.
For the first time in the AV era, there will be more decision making than in previous years. Rookies like Lias Andersson, Filip Chytil, Vinni Lettieri and Neal Pionk are all trying to make the team. A young veteran, like Anthony DeAngelo, is also pleading his case. Ditto Boo Nieves, who has had a cup of coffee with the team. Even Matt Puempel, who spent time here last season, is trying to become an everyday player with the Rangers.
If there is anything 100% concrete about the positions for the New York Rangers, for the 2017-2018 season, it is that, for better or for worse, Henrik Lundqvist and Ondrej Pavelec, will be your suited up goalies, come opening night.
The defensemen situation is easier to figure out than the forwards. You know the All-American duo of Ryan McDonagh & Kevin Shattenkirk, are most likely the first pair. The second D-pair is most likely Brendan Smith and Brady Skjei. The third pair is where you run into some murkiness.
While AV said everyone has to earn their spot on the team, does anyone really see AV scratching Marc Staal? This is the same Marc Staal, who is the fourth highest paid player on the team, as he will make $5.7M for the 2017-2018 season, whether he plays or not. (Lundqvist at $8.5M, Nash at $7.8M and Shattenkirk at $6.65M are the only players paid more than Staal.)
As I've said previously on this site, I see 18 on the ice for the Rangers, come opening day. As far as his partner, I think another question mark, in Nick Holden, wins out and is slotted as number 6, out of the 7 defensemen, that the Rangers will most likely carry.
With four preseason games played, I see either Anthony DeAngelo or Neal Pionk being the most likely player to take that 7th D-man spot and challenge Holden for his job. Gun to my head, I would say DeAngelo ekes on in, just because his guaranteed money is higher than Pionk.  The Rangers also got rid of two great players in Derek Stepan & Antti Raanta in the DeAngelo trade. If Andersson and DeAngelo don't make the team, and if Stepan & Raanta have banner years for Arizona, it would be egg over Gorton's face.
Looking at the Rangers offense, it seems, based on the preseason, that the KZZ line will be your first line. Even if they don't play together, it's a no-brainer that Mats Zuccarrello (who should get the "A" on his jersey), Chris Kreider and Mika Zibanejad will be on the team. Rick Nash, Jimmy Vesey and Kevin Hayes, who could be a line, will also make the team. Looking at the third line, I'm sure Michael Grabner will be on it. Maybe that's where you'll also find JT Miller & Pavel Buchnevich, who are both shoo-ins to make the team.
With Jesper Fast on the injured reserve, there is an opening slot for opening night. Fast, who most likely figures to be on the second or third line of the team, opens up a spot on the Rangers fourth line.
For the Rangers fourth line, Matt Puempel and David DeSharnais both have guaranteed contracts. Are they the best players for the job? I wouldn't necessarily say that, based on what we've seen after four preseason games.
To me, Vinni Lettieri (who can play both center and the wing) and Filip Chytil have stood out the most. Lias Andersson, who can also play center and the wing, hasn't been any better or worse than Puempel or DeSharnais to me. However, for the number 7 pick in the 2017 draft, he hasn't shone as much as his counterpart, Filip Chytil, who was the 21st pick in the same draft.
Vinni Lettieri, who at 22, is four years older than Chytil & Andersson, is a product of the University of Minnesota. He spent the end of the 2016-2017 season with the Hartford Wolfpack. Like another college star on the team, in Jimmy Vesey, who has a friend in Kevin Hayes, Lettieri also has a friend on the Rangers, as he played with Brady Skjei in college.
While Puempel & DeSharnais probably make the team because of their guaranteed money, wouldn't a BARELY LEGAL line of Andersson/Chytil/Lettieri be something on opening night? Granted, it probably makes sense to split the three up, so they can play with a veteran and develop that way, rather than figure it out blindly as three rookies together, but it would be entertaining.
As I talk about this scenario, it all leads me back to what I've been saying since day one on this blog. You can't halfway rebuild a house. You can't build a solid foundation, then leave the roof open. You can't say you want to rebuild, and put all brand new and shiny stuff inside, while your load bearing walls are about to fall down any day now.
What are expectations from the Rangers and their fans? Are you happy with just making the playoffs and being bounced out in either the first or second round? Is being a perennial playoff team an accomplishment or a reminder that this team can not get over the hump? Would you rather be eliminated from the playoffs every year or would you sacrifice 2 or 3 seasons and hope to be a real Cup contender four years from now?
Put it this way – if the Rangers could guarantee a Cup win two or three years from now, but that means Henrik Lundswiss wouldn't be a part of that, would you sign up for that? You know my position on this. It's about the front of the jersey, not the back. However, from what I see, many Ranger fans are happy to have a kick at the can with Lundswiss, even if every season ends the same – "We gotta be better next year."
I truly believe that if Gorton was able to sack the contracts of Henrik Lundswiss and Marc Staal, the Rangers would be in a better position to compete. I am hoping that the Rangers can somehow bring over Igor Shestyorkin over sooner than later. If you're following the work of Igor Shestyorkin in Russia's KHL, the guy is the best goalie in the league and posting video game stats on a daily basis. Granted, the KHL game is different than the NHL game, and there will be a huge learning curve & life adjustment, plus the whole having to teach Igor the English language thing, but if you're a Ranger fan, the faux Swedish King (Kings have crowns) may be replaced by the CZAR OF NEW YORK. All Hail Czar Igor? Put that on a shirt.
The topic of rebuild is always a tough one, because you're accepting losing now and gambling on winning for later. The NHL playoffs are like no other playoffs in all of sports. Anyone can get hot. The NBA playoffs are a joke, with only 2-3 teams having a chance of winning in any given season. The NFL playoffs have bye weeks for top teams, so you don't have a first round upset.  The MLB playoffs are usually dominated by starting pitching. In hockey, any seed can take out any seed. It's a brand new season and the rules are looser & the game is at its best.
That leads me to this – can the Rangers win a Cup? Sure, anything can happen. Will they win a Cup in 2018? I wouldn't bet my money on it. However, I'll be rooting for it. That said (take a shot), I would feel more confident about this franchise if they did a full rebuild. I just see headlines of "Staal, Holden and Lundswiss" dominating all season. I would've preferred Raanta here, and Talbot before him and I would've preferred Staal being bought out before Dan Girardi.
I don't think there is any escaping Marc Staal and that would be a detriment to the team's goal to win a Cup, just like I think Lundswiss is a detriment. The biggest problem for the 2017-2018 Rangers, is that I don't see another goalie who can outplay Lundswiss right now, because Raanta & Talbot are now starters elsewhere & are much better than Lundswiss in 2017. With Marc Staal, I do see defensemen who are better in the Rangers system, but will the Rangers recognize that, or will they do what they did with Lundswiss and just keep going with the same old shit?
And while it may seem I'm dumping on Marc Staal, I'm not. It's just a reality of the business of putting together a hockey team. He is a high price asset with putrid results. In today's NHL game, you need to have a puck moving defenseman that has offensive skills. Staal is not that. I've said it before, and I'll say it again, Staal just isn't the same player after all the injuries. Just like Lundswiss has aged out, is overpriced and the team would be better without him, I feel the same way about Staal.
A storyline all season will be AV's quote of saying that Staal has to earn his spot. Staal, who has looked horrendous during the preseason, will most likely make the team. What does that say for AV's word? Preseason is 66.7% complete and there is no way you can tell me that Staal has outplayed DeAngelo or Pionk. We'll see what happens, but I think we all know what to expect.
The Rangers have played four preseason games now, beating the Islanders & Devils at home, in overtime games. Neal Pionk was the game 1 hero, with a beautiful spinorama to the house. Filip Chytil was the game two hero, putting away the Devils three seconds before a shootout was to be played. The Rangers then lost to the Islanders, in Bridgeport, Connecticut, on Friday, in a 2-1 game. The following night, the Rangers dropped a 2-1 decision to the Devils, at the Rock. What does this tell you about the Rangers? For starters, they played four straight one goal games. In other words, the games are close.
What frightens me, and really this is an overreaction, because you can't go nuts about preseason, is that the Rangers are struggling against bottom of the barrel teams. Yes, there are a lot of young talent vying for jobs on both sides, but more so on the Islander and Devil side of things. The Rangers played a lot of their regulars, and the scoring isn't there. The Rangers should trounce the Devil's C-squad, especially with the KZZ line, Nash & the first D pair of McDonagh & Shattenkirk in the line-up.  Again, these games are also to get the rust off, but if you're looking for something to bitch about, for a team that struggles to score goals in the playoffs, you would like to see more scoring against shitty teams here.
The big talk of the preseason is the horrible officiating. The league, for whatever reason, has cracked down on faceoff violations and slashing. That means we've seen literally 896789687967968796 penalties a game. While I'm sure this crap will be gone come the playoffs and won't be as prevalent in the regular season, it just shows you how much a referee can influence a game. And this influence is not for the better.
On the opening night of preseason, the Rangers & Islanders combined to go 0-15 on the powerplay. 18 penalties were called. The following game against the Devils wasn't any better, as the Rangers & Devils went 3-16 on the powerplay after another 18 penalties were called. With all these penalties, at this rate, a hockey game is going to be longer than the last minute of an NBA game.
The league, after the Rangers/Devils affair on Wednesday (which was the game I attended, hence the photo at the top of this blog), told the refs to loosen up a bit. Only in hockey do the rules change as they days move along. There's just no consistency. Just think, for many players across the league, these are the most important games of their lives or at least up to this point in time for their careers. They are trying to make an NHL team. The NHL life is much different than the minor league life.
A player could've spent time in the penalty box, for a penalty that was no longer a penalty two days later. Instead of trying to show what he has to his coaches and organization, he is sitting on his ass in the sin bin. How is that fair? If you're one of these on the cusp players, how do you think you're feeling when you're boxed for a bullshit call? Who knows, instead of two minutes in hockey jail, you could've made a big play and scored a goal instead?
This has always been a problem under Betttman – changing the rules as he sees fit. Whether it's the Sean Avery rule, cracking down on faceoffs or just being a fucking jerkoff in general, Bettman has done more harm for the game than good.
I get the point of all the penalties – the league wants to increase scoring. The league forgets that some fans like defense and great goaltending too. You can't sacrifice the quality & integrity of the game and elongate these games, by having a million stoppages a game. I was thinking this on Saturday night, during the Rangers/Devils tilt, but Dave Maloney said it for me.
(Quick aside – as I have said numerous times on this blog, what is wrong with the MSG Networks? Dave Maloney is 7896789678967967896 better than Joe Micheletti. Maloney & Sam should be the pair on the TV end of things. I know Maloney is great radio, but TV is more important. Does Micheletti make more money than Maloney? At least that would make sense, because that's the Ranger way of doing things – sacrifice better talent for higher paid talent! Seriously – Maloney during this preseason and as he always is, was great. I know you guys know I'm not a Micheletti guy, but it's not even that. Maloney just brings more to a broadcast than Micheletti, who is just a corporate talking head in a suit at this point. Maloney colors it up.)
Back to what Maloney said. Maloney on the broadcast said that the biggest drawing point of the NHL is the live game experience. I've championed that statement for years. Out of the major sports, nothing beats the NHL live game. Every other sport is better on TV. By clunking the games down with all the stoppages and taking the flow of the game out, you're hurting that experience. I do think at the end of the day, the NHL will get this right, because every team is in unison here, they want these ticky-tacky penalties removed.
What did concern me, as Rangers fan, with all these penalties, was how bad the Rangers PP team produced. Shattenkirk was the ace when he played on Wednesday night, but the Rangers went 0-8, on Monday night, without 22 in the line-up. Seriously, how did Scott Arniel, the architect behind the PP, keep his job? Jeff Beukeboom gets canned because Holden & Staal didn't live up to their end of their contracts, but Scott Arniel remains when the PP was absolutely horrendous in the playoffs? Again, in the Rangers way, maybe Arniel makes more money than Beukeboom! It made no sense to retain Arniel and in reality, the reason why he has a job right now is because he helped make the Lindy Ruff deal happen.
Moving forward, the Rangers, who are now done with the Islanders & Devils, until the regular season begins, have two more preseason games left, a home & away pair of games, with the Flyers. What is known right now is that Lundqvist will get a full 60 minutes of action at home in MSG, while Pavelec will take the harder game, on the road, in Philadelphia. Isn't that always the case with Lundqvist?
The biggest wild card in the Rangers plans, is a player I talked about previously, in Vinni Lettieri. The Rangers, who continue to cut players from the main team and fill out their Hartford roster, announced that forwards Ryan Gropp, Malte Stromwall, and Adam Tambellini were assigned to Hartford. Joining them are defensemen Alexei Bereglazov, John Gilmour and Vince Pedrie. Goalies Alexandar Georgiev and Chris Nell were also sent to Hartford.
Lettieri was supposed to be part of the cuts, but has played so well that he will earn some time in the Philadelphia games. I can't lie, I'm rooting for this guy for several reasons. For starters, he caught my eye right away with his style of play. Secondly, he's American. Thirdly, my niece's last name is Lettieri, so a Lettieri jersey would be a great X-Mas gift!
The biggest shocker out of all the cuts is Alexei Bereglazov, who can refuse to go to Hartford and go back to the KHL. If AB goes back to Putin land, then the Rangers wouldn't be able to use him for the 2017-2018 season.
As you read these words Monday morning, we do not know the full team that will lace up on 10/5, for the home opener against Colorado. We will hopefully know by the end of the week, when all the cuts are made. If you're just jumping into preseason now, the players to watch in this set against Philly are Chytil, Andersson, Lettieri and Pionk. These four men are the players that are in limbo right now.
We're less than two weeks away folks!
I had some people ask me about my twitter comments about Amanda Borges, so let me get this out of the way real quick. I have no problem with her. She seems like a nice person. She seems like she cares about her job. She seems like she wants to learn. That said, the Rangers replaced veteran Jim Cerny for her. Borges, who admitted she had no clue about hockey, was Cerny's replacement. How does that make sense?
Listen, if Jim Cerny is an asshole and the Rangers wanted to get rid of him, I get that. I don't think that's the case here. I think this is just the usual case, of a sports team trying to replace a middle-aged man, with a young looking, easy on the eyes, type of woman. I get it. Sex sells. When you're trying to do video content for hits (ad revenue), would you rather look at Jim reading off questions or Amanda? I totally get it. However, just don't tell me that Amanda is more qualified for the job than Jim. That's my beef. If you wanted the best person for the job and wanted to fire Jim, then you should've replaced him with someone, man or woman, who knows the game. That's all. That said (take another shot), I wish Borges the best.
Moving along, speaking about the media, how about Brett Crygalis, of the NY Post, calling Anthony DeAngelo a "Trump-Loving Bad Boy"? You can read that article here: http://nypost.com/2017/09/18/rangers-new-trump-loving-bad-boy-wants-a-fresh-start/
Keep in mind, this article was written before all the Trump vs sports stuff, that occurred on Saturday.
What does Anthony DeAngelo's politics have to do with anything? How come Brett or the NY Post in general, have never done articles on who the other Rangers voted for? Who did Lundswiss (I assume he has dual citizenship, but if he doesn't, maybe Trump can deport him for me!) vote for? Who did McDonagh vote for? How about Brady Skjei? Was Shattenkirk pro-Trump or pro-HRC?
Of course we don't hear who the other athletes on the teams supported. We only heard who DeAngelo supported, because the cool thing in the media is to bury our President. Bad-mouthing the President leads to clicks, ad revenue and more eyeballs. Disgusting.
I kinda hope DeAngleo makes the team, because of this scarlet letter that Brett tried to paint on his chest. DeAngelo, who without question, has had his run-ins during his short career, is not a stranger to controversy. Apparently he called someone a "fag", and that got people all upset. I've done my rants on the word "fag" before on this blog.
I wrote this last year, during Hockey Is For Everyone:
The NHL is currently in the middle of their #HockeyIsForEveryone campaign. I would link you to their story, but every time I go to the NHL site, my computer crashes, my phone crashes or I can't find what I'm looking for. Seriously, the NHL website is TERRIBLE.

Instead, you can read up about the campaign here:

http://sports.yahoo.com/news/nhl-announces-plans-for-hockey-is-for-everyone-month-210435101.html

For the Rangers, Mats Zuccarello has been named the Rangers Ambassador for "You Can Play". You Can Play is a charity that supports the LGBTQRSTUVWXYZ (seriously, this whole LGBT (now Q) lumped together thing has to go. Being gay doesn't mean you had a sex change) movement and fighting homophobia in sports. The Rangers held their #HockeyIsForEveryone night tonight, while other teams in the league are doing it on different nights and the NHL setting aside two national games to promote the movement.

This all kind of ties in with what I've been saying a lot in these blogs – the political correctness of America. So for one night, the gay community is treated like royalty. Then what, should people ignore them after tonight? What happens when MSG turns off the rainbow colors that illuminated from the building tonight? Where does the rainbow stick tape go? Sure, it's nice to bring attention to one section of the hockey fanbase (There are a ton of lesbians who love hockey, more so than gay men, from what I see and know) but what about everyone else?

Listen, I'm all for gay rights, gay marriage, the whole 9 yards. Some religions are anti-gay, which I think hurts acceptance for some people. However, to me, how does someone's sex life affect you? Furthermore, gay people are great for the economy. More marriages (and divorces) is great for businesses!

As far as I can remember, outside of calling things "gay" when I was younger, I really never had an issue with people's sex lives. On an aside here, in my teenage years (I'm nearly 35 now) I've called things gay. I don't know how going to school is "gay", but I know I ignorantly said that 20 years ago. I'm glad I've been educated enough to know that describing inanimate objects or events as "gay" is stupid. I understand the point of tonight is to educate others that calling things "gay" is silly, but I felt tonight sort of made the gay fanbase seem like a charity case. Gay people aren't charity, they are just like me, but probably denied less in the bedroom!

That said, I still don't think the word "faggot" is always a gay slur. It can be used as one, but if you're joking around with your friends, saying "Ah, you're such a fag", it's akin to calling your friend a "dick" or a "pussy". I think "South Park" did an episode on this too and I agree with their take.

While I've heard people use the word "faggot" as a gay slur, I understand that the word isn't always a slur. That said, I've actively tried to eliminate that word from my vocabulary. I understand how some people take it wrongly. I guess it's just easier and more politically correct to call someone a dickhead than call them a fag! Trust me, I'm the last one to be PC, but there really is no reason to use that word anyway, when there are plenty of great viable adjective options to use, especially when discussing my friends! The words "douchebag", "hemorrhoid", "anal wart" or "cockbag" all convey the desired effect!

Why call someone a "fag" if it's not necessary, especially when pecker pimple works just as well! I don't think I'll be visiting London in the year 1800 anytime soon, so I doubt I will be using the word "faggot" to describe a cigarette either! While I've eliminated the word "faggot" from my every day vocabulary, I do understand when people use it as a non-slur. Basically what I'm saying here, is that I don't think everyone that uses the word "faggot" is a bigot or homophobic.

Living in NY and having a college education, perhaps I'm fortunate to understand people have the right to choose what they want to do. We see different races, creeds, colors, sexual preferences and surgeries on our TV and on the subway, on a daily basis. I don't think much can phase the average New Yorker. A man dressed up as a woman in 12 inch stilettos petting her black midget girlfriend? Who cares, but if they are gonna take up three seats on the train, we are gonna have an issue!

I do believe you are born gay, just like how people are born straight. Conversion therapy is a farce. While I think some choose to act "gay" or perhaps go overboard a bit (No one is born with a limp wrist, skinny jeans, leather boots and having a sing-song voice) if that's what you want to do, so be it. More than 50% of my wardrobe is sports related, whether it be Ranger jerseys, Yankee sweatshirts or Giants hats. Who am I to question what other people wear? I frankly do not care, you do you and I do me!

What bothers me about these types of movements or rallies, is what happens after the day it ends? Do we just forget? I think most people, at least the ones I know, don't give two shits what you do in the bedroom, as long as you don't do it to them. Having a gay night, a black night, a latino night, etc, when does it end? I think it just villainizes the straight white male, as if every straight white male in 2017 is some 1820's southern slave owner running around and calling everyone "boy". I'm all for everyone embracing from where they are from and doing whatever, but it shouldn't be at the expense of others at the same time. I won't be holding my breath for the "Straight White Male Taxpayer" parade any time soon.

Maybe this part of the blog comes off what the media would make you believe to be as "Trumpesque", but I'm not here looking for the Rangers to salute me for being a straight white male who loves hockey. I also don't think the Rangers should make a special case out of gays, blacks, latinos, aborigines, midgets, or Caitlyn Jenner either. I think the Rangers should focus on providing a great service and time for all their fans, no matter what walk of life they are from. The only exceptions to this are little kids battling life-threatening diseases and our military. I have no problem with a "Salute the Troops" night or the Garden of Dreams night. Those are people that should be saluted.

Plus when you think about it – when has the NHL ever been "anti-gay?" Sean Avery was one of the first athletes to speak up and defend gay rights. This is also the same league that has aired the Sidney Crosby and Pierre McGuire homoerotica love story for a decade! This story has led to the spinoff of "Micheletti & Lundqvist", where you get a 50% off Papa John's pizza every time Joe shoots three or more loads! (I'm sure I offended Larry Brooks again here, but please try to understand my warped sense of humor!)

Gay is normal. Straight is normal. Many gays aren't looking to be made a martyr or looking for special treatment. They just want the American dream too. To make them look like a charity case, as I know I thought, seems wrong. Gay New York Ranger fans are just like straight Ranger fans – they just want the fucking Cup!

That's the great thing about sports as a uniter. Gay, white, black, asian, straight, latino, midget, eskimo, poor, rich, whatever; if the Rangers score a goal, you don't give a fuck who is sitting next to you, if they are wearing Rangers blue, you're giving them a high five.
When DeAngelo called someone a "fag", I get why he shouldn't of said it. I don't think he meant it as a slur though. He meant it akin to calling someone a "pussy" or an "asshole." While his language is colorful, he is not trying to slander homosexuals. However, Brett Crygalis tried to tie DeAngelo's alleged slur with being Trump voter. This is why you got to question what you read and where it's coming from.
Talking politics is always 100% guaranteed to split your audience in half. Since I do not make money on this blog, and just a fan with an opinion, I don't care about airing out my side. I talked about it before. I voted for Gore in 2000, Kerry in 2004, Obama in 2008 and 2012 and Trump in 2016. I'm not going to bore you with all my politics, but I just wanted to show you that I always voted Democrat until this year. I just couldn't stand Hillary and her corruptness. I just don't think she cared about the blue collar worker, which is the name of this blog. I'm not saying Trump is the blue collar champion either, but I tend to agree with him on his views on nationalism, patriotism and putting America first.
Trust me, I get other countries have it bad, like a Syria, but instead of paying to help them out, how about taking care of America and our veterans first? That's just my position on this. I also don't think Trump can be bought, where I could give you 97867896789689 word blogs on how Hillary has been bought.
The media and now the sports media, has made our President an enemy. We all know what's going on with ESPN & all their pro-liberal yellow journalism. If you are a regular reader here, you know I'm an American history guy and will always support America. I don't  care who the President is, unless he's a potential child raper like an Anthony Weiner type or committing treason, I will support my President. Maybe it's the old school in me, but I rather support our President than knock him every step of the way. It's fair to say this – when Trump won the election, many people would not give him a chance & just decided to tear him down.
I was not a fan of Hillary Clinton going into the 2016 election, but if she won, I would support her. Would I agree with her on everything? Probably not. But I wouldn't try to tear her down. I would've given her a chance, just like I did when George Bush Jr. won his elections.
I don't want to get too political here, but how you can you ignore what's going on? Politics in sports is all around us now. Sports, our last safe haven from politics, has now been infected by it. Of course the media loves this, because it equals more hits/views, which means more ad money. The media and sports media won't let this die. They will promote it because that is what's profitable.
By now, you know Trump has spoken out against the idiots who are kneeling in the NFL:
Of course, this led to the NFL kneeling all over the place on Sunday. I'll save the arguing for twitter, where most of the Trump battles take place, but it is just my opinion that the politics should be left out of sports. Sports is an escape from reality. Now it's not. People don't want to think about the real world when watching a game. Now they are forced to. This is why NFL ratings are lower now, than during any other period of their recent boom. If it wasn't for fantasy football, I guarantee NFL ratings would be in the toilet.
I have many police officer friends. I just can't get behind the cops are evil mentality which is how these protests started. Are there bad cops? Sure. Are they all bad? No. I just don't like how this country has turned into a bunch of whiners. With the Golden State Warriors and now college basketball teams turning down invitations to the White House, to protest Trump, it is all just ridiculous to me.
Say that Trump even had anything to do with these NFL protests. (Keep in mind that these protests started before Trump was in office.) At the very least, if these holier-than-thou NBA players, want change, doesn't change come from within? Wouldn't it be easier for these players to open up a dialogue with Trump, rather than rejecting him? By turning down Trump and America, the players are fueling and energizing Trump supporters. Instead of breaking bread and talking, the players are creating more of a divide.
Of course, the media, which tends to skew to the left, is all about the NFL players kneeling down, because it's another story for profit and a slam at Trump. Meanwhile, everyone forgets that this crap started with Obama in office. However, you didn't have players attacking Obama or turning down White House invites. A season later, the word "racist" or "white supremacist" is thrown around as loosely as the change floating around under your couch cushions. It's really disgusting where we are as a country on these issues.
While the NBA & NFL feud over Trump, with many of their players not even knowing why they are doing what they are doing, you won't see this in hockey for several reasons. For starters, the NHL is not predominately black like the NFL or NBA, so when the media calls slanders Trump by calling him a racist, it doesn't have the same impact. I have always found hockey to be more patriotic than the other sports. While baseball is dominated by Latino players, many of them feel like they have achieved the American dream by playing in the States. For the NBA & NFL players, with many of them being American black, they feel entitled and are a product of the times. They are part of this snowflake millennial generation.
In hockey, Patriotism is very strong. Players and fans respect each other and other countries. I mean just look at this:
These are Canadian hockey fans signing the American National Anthem, out of respect, after a mic failure in Edmonton. Where America has always been behind and ass-backwards on race relations, during the course of history, perhaps we could learn a thing or two from our friends up north.
If athletes want to protest what they perceive to be injustices, just like any other American worker, they should do it at their own time. If I showed up at my job site and decided to take a knee, I would be fired.
I know I'm going too long on this and probably offended half of you (I'm used to that), but bottom line is that I feel the flag, the national anthem and the office of the President should be held with respect, always. If you want to protest, and that's your right, just do it on your own time and don't disrespect the flag in the process.
Trust me, I know this is a hot button issue. I'm not saying the opposite opinion of mine is wrong, but I also will not be swayed to think otherwise. Some things should be sacred and politic-free, and I believe respecting the flag & the anthem should be above politics & protests.
As you all know by now, the NHL will not be participating in the Winter Olympics of 2018. This is a Bettman decision. However, it seems NBC is shunning their partner, the NHL. Larry Brooks, of the NY Post wrote the following today: "What you probably are not aware of, however, is the NHL nevertheless will go dark across all NBC platforms between Feb. 7-26, during the Games. Last season, NBC and NBCSN combined to telecast 20 NHL games over the comparable period."
In other words, the NHL's broadcast partner, NBC, will not air NHL games during the Olympic games. Instead of seeing the Penguins, the Oilers, the Blackhawks or the Capitals, we will see a watered down Team USA, a star-depleted Team Canada and a softer than usual Sweden team. Another great job for Gary Bettman.
As said, NHL players are very patriotic and wanted to support their countries. This is just another fail during the Bettman era.
At least there is this: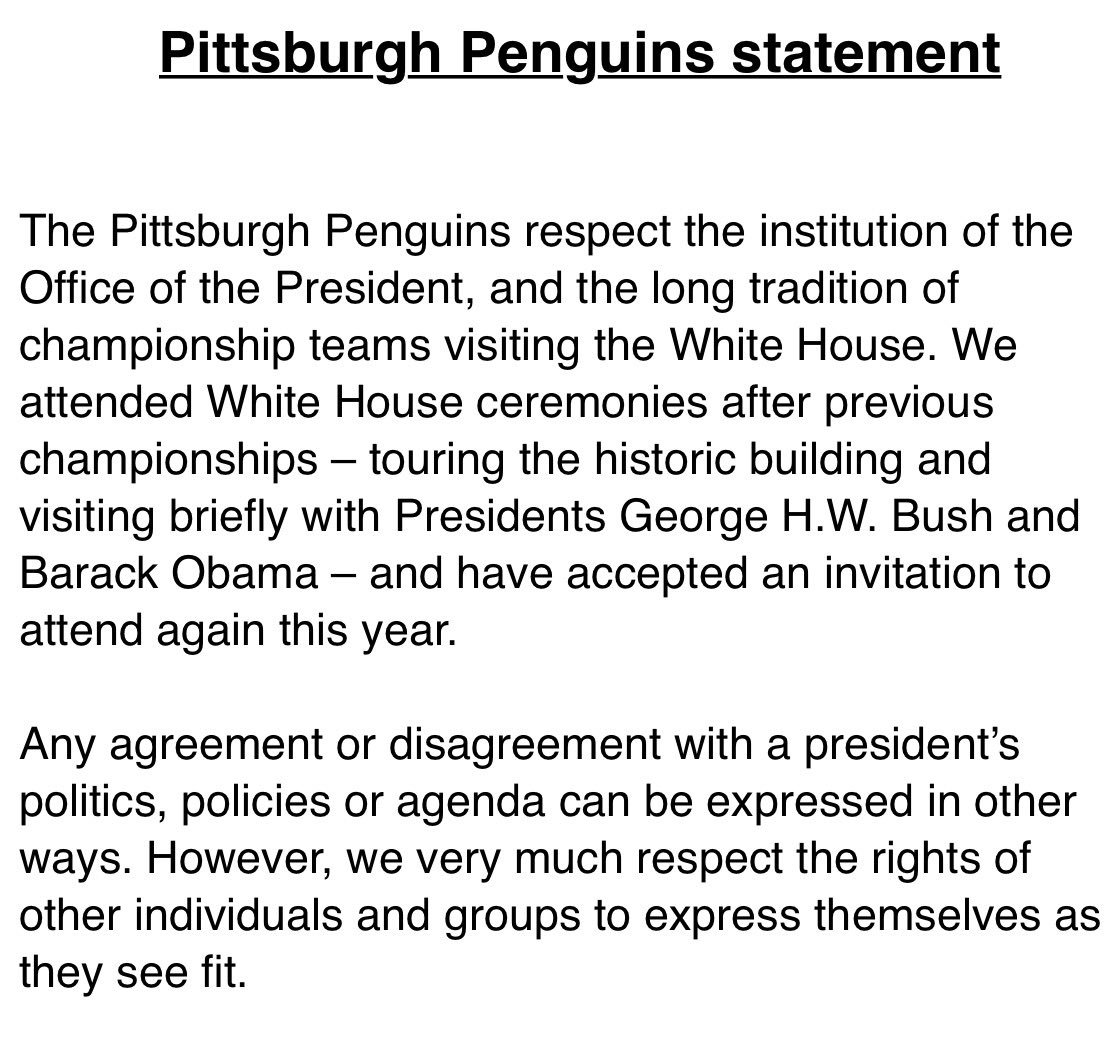 I can't believe I'm siding with the Penguins here. This is how you handle stuff like an adult. I don't know the Penguins feelings on politics, but at least if they feel any angst, they will be there and can discuss it with Trump face-to-face, rather than hiding like their NFL counterparts, the Pittsburgh Steelers.
Remember when the politics were out of sports? I hate that the Penguins going to the White House is even a story.
As talked about in my book review blogs, I'm eagerly awaiting Sean Avery's new book. The book doesn't come out until 10/24. However, Greg Wyshnski, of Yahoo Sports, received an advance copy. He did a mini review here: https://sports.yahoo.com/sean-avery-savages-john-tortorella-new-book-164531904.html
I'll do a review when I read the book, but the following excerpts released by Wyshnski has Rangerstown talking:
"Tortorella has a reputation as a hard-ass, but not if you know him as a player. We used to laugh at him all the time. There was always someone in the dressing room who wanted to take their skate and decapitate him or take their stick and whack him over the head with it. Marion Gaborik despised him with every bone in his body. Even Hank Lundqvist, an even-keeled Swede who was usually in his own world, thought Tortorella was a terrible manager of pro athletes. And he can't skate and stickhandle a puck at the same time, and he doesn't realize we don't take him seriously because of that."
There's more:
"I've never walked out of a meeting with my head coach, but if I didn't leave the room I was going to end up in Rikers for choking this little shithead within an inch of his miserable life. If he really believed that Henrik was playing poorly because of Tiny's, then he knew nothing about his star player. Lundqvist was not working at Tiny's, he was investing in it. Players have slumps. Anyone who knows how to coach professional athletes would know how to deal with that."

"I told [Rangers GM] Glen Sather about it, but he had nothing to say, really. He kept a poker face and wasn't going to play his hand, but all he had to do was watch a game – he didn't have to live through playing for a coach who responded to something he didn't like on the ice by kicking water bottles or throwing shit on the bench or tugging on a player's jersey and screaming at him and ripping him a new asshole."
And there's this:
"None of us can stand listening to the mental midget and his big goofy sidekick, Mike Sullivan. Tortorella is a power-hungry control freak but he's not smart enough to hire a good cop, even one he could play like a violin. If Mike Sullivan had played the good cop, he could still have turned around after meeting with a disgruntled player and told his puppet-master JT the details while giving the players some form of relief. Instead, they're only able to bitch and vent to each other. This creates an unhealthy locker room."
I'll do a full review when I finish the book, but this Avery book confirms what I said from day one, which many of you readers argued with me about – Henrik Lundqvist hated Torts and was a reason behind his firing.
How ironic that Lundqvist has never won a Cup, while Torts has? Even better, Lundqvist's best seasons were under Torts, who employed a shot blocking style. Once Torts left, Hank's decline started, because he didn't have the same shot blocking in front of him. Furthermore, Torts is the current reigning Jack Adams award winner and his goalie, Sergei Bobrovsky is the current Vezina winner. Lundswiss didn't even get a Vezina vote and has been exposed as a mediocre goalie these last few seasons. Maybe Lundswiss should've stopped whining about Torts and focused on his game!
My name is Sean McCaffrey and I'm a JOHN TORTORELLA guy!
With the Knicks accepting a rebuild and jettisoning out their most famous & highest paid star, it only makes me wonder, will the Rangers ever give Lundswiss the boot to his Swedish ass? Let's be honest, the Knicks have stunk forever. They still sell out and are the most profitable franchise in the NBA. If the Rangers missed the playoffs, only to become a true Cup contender, would it hurt business? Of course not. MSG lives off corporate money. As long as corporations have a place to wine and dine clients on 33rd & 7th, it doesn't matter what the teams do in front of them.
Can you believe the NHL season will soon be underway and Jagr still doesn't have a job yet? This is a bigger disgrace than these idiots kneeling all over the place! I go back to my argument with Marleau. Jagr had the same production as Marleau last season, yet Marleau gets a guaranteed 3 years and $18M?  And no one can find a job for Jagr? WAKE UP NHL!
Two more preseason games left and then 10/5 will be the next time the Rangers play and it will be for real! As far as my next blog, it all depends on work. Unlike others, I don't have the luxury of taking a knee all day at work. My schedule has been busy. I would like to get one last Delorean blog done before the season starts. I'll try to get something up after the final roster is announced too. In the mean time, if you haven't already, feel free to catch up on the past blogs that you may have missed this summer.
See you soon and as always…
LET'S GO RANGERS
Sean McCaffrey
BULLSMC@aol.com
@NYCTHEMIC on tweeter
PS: FIRE BEN MCADOO!!!