What's up everyone and welcome to another blog here on BlueCollarBlueShirts.com! It's been three nights since the Rangers lost back-to-back games to their most hated rivals, in the Devils & Islanders. To me and to many, the reason the Rangers lost those games was because of anemic, weak and pathetic special teams. King Raanta did his best, but with opposing power play goals and a fluke goal, the Rangers did him no favors. Tonight, King Raanta wasn't going going to let the Ranger special teams spoil his night, as he was an absolute beast in the Rangers 3-0 win over one of their newest rivals, because of 2014, the LA Kings.
This game started off like any other game against a bad team this season. The Rangers played down to their level of competition and basically looked like crap for half the game. However, King Raanta held down the fort and wouldn't let the Rangers put the team in a hole. Before the Rangers scored, he was stopping breakaways, two on ones and anything else that dared cross his moat and into his castle. Unlike a majority of Henrik Lundqvist starts this season, Raanta kept this game at 0-0 and when the Rangers finally got their head out of their asses, the Rangers were able to play with a lead, rather than playing catch up.
I doubt I will get a serious answer from any of the people that are paid to cover this team on this next topic. After all, it's sacrilege for anyone involved with the Rangers to have an opinion that goes against the grain. That said,my opinion really means crap at the end of the day – I'm just a fan of this team and I enjoy drinking beer while watching these games. I'm not paid to do this. However, if you've followed my blogs over the last 3+ seasons, you will see that a lot of the opinions & predictions I have, usually become true.
Not to do the "Barry Horowitz" and pat myself on my back, but in case you're new, just as a small sample, here's some of the stuff I said at the time:
Marty for Callahan was a bad trade, because NYR didn't have to give up two number 1 picks.
Letting Stralman walk, so the Rangers can go for Boyle instead, was a mistake.
Not talking to Hagelin and signing Emerson FUCKING Etem was quite simply, the move of a GM that is senile and border-line mentally retarded.
Cam Talbot is a starting goalie & the Rangers were making a huge error by dealing him and not exploring moving Hank. Talbot is currently a Vezina candidate while Hank remains the most overrated and overpaid goalie in the NHL. You could argue that Lundqvist has the worst goalie contract since the days of Rick Dipietro.
Trading Duclair in the Yandle trade wasn't necessary. While Duclair hasn't panned out in Arizona (and really, who does pan out in Arizona with that losing culture?) what did this trade all lead to? Yandle (acquired for a first round rounder & Duclair) for a fourth and sixth rounder. What a steal!
I have also been saying all year that Raanta is better than Lundqvist is 2017. I gave you the stats a few blogs ago and all season long, Raanta has outperformed the overpaid Swedish goalie. Raanta is top 10 in the league in all the pertinent stats, while Hank is ranked 20th or worse, in stats such as GAA, SV%, etc.
And because I know people will want to talk about the two recent losses to the Devils & Islanders – if you kept Raanta (or even Talbot) as the starter, they make way less money than Hank. Last season, Talbot was a $1M cap hit. This season & next season, Raanta is a $1M cap hit. If you got rid of overpaid Hank, you save $7.5M. It's sad that with the same team, and for $7.5M less, Raanta has outperformed Hank. It's simple business folks – you gotta go with the better product.
Again, I know everyone under the age of 21 loves Hank, but this is the franchise that traded/moved on from Leetch, Howell, Bathgate, Giacomin, Messier, Graves, Ratelle; the names go on and on. Now, especially in the cap era, you should move on from Hank, who is a major strain on your cap. Why would you pay $850 for a cell phone plan, when you can get a better cell phone plan for $100? It's economics guys!
Going into this game, the Rangers still have a lot of unanswered questions. Not for nothing, it's amazing that whenever I write a blog on a topic, about two days later, Larry Brooks of the NY Post has an article on the same topic. Plagiarism or just happenstance? I assume it's the latter, but let's see how long before he does an article on "How Short is Hank's Leash?" After all, it only took him two days to talk about what AV does with his defense, after I did a whole thing about it on Wednesday night. You can read Wednesday night's blog here:
I talked about the Rangers defense and what AV will do a few nights ago. Larry Brooks basically said the same thing a few days later. I'll talk more about the Rangers defense and line changes after this question – "How Short is the Leash on Lundqvist in the Playoffs?"
Lundqvist will return to the Rangers tomorrow night, as he gets the start against the Ducks. It's worth mentioning that Hank has terrible numbers against LA, but the Rangers usually play the Ducks pretty well. I can remember several 6+ goals scored games off the top of my head.
If you are worried about giving Hank work for the playoffs, in reality, he should've played tonight, rested tomorrow and then play in San Jose. Then again, what do I know, I only have as many cups as Alain Vigneault!
Here's the deal – Alain Vigneault has gotten a two year contract extension. His job security is relatively safe, considering he works for an owner who doesn't give a fuck about the team. AV coaches for the worst owner in sports. All AV's owner cares about is if the team is making money. There is no microscope over him, as there was when he coached in Montreal and even in Vancouver.
AV is safe, but at some point, after mismanaging his goalies in Montreal, Vancouver and in New York (By going with Hank instead of Talbot in 2015, especially when Hank was 0-3 and 15 goals allowed vs Tampa in the regular season, only to give up touchdowns in back to back ECF games) when does AV spit out the gum and realize that Raanta gives the team the best chance to win?
We saw Hank get embarrassed and bombed, like he was a walking Pearl Harbor, in last year's playoffs. Raanta only came in when the games were a done deal and never got a start. Is AV so comfortable with his job, that he will use the same script as last season? Or will he grow a fucking pair of balls, like Joe Girardi, and bench Hank when he plays bad, just like Joe Girardi did to another overpaid diva, in Alex Rodriguez? (Let me make this clear – FUCK ALEX RODRIGUEZ, the drug abusing cheat. Hank is just declining naturally, A-Roid is/was garbage.)
Will AV pull Hank when the score is 2-0 or wait for the Rangers to be down 4 goals before giving Raanta mop-up time? If Hank gets torched in the playoffs, will he let Raanta start a game? These are all valid questions, because the way it's looking, the Rangers are gonna draw Montreal in the first round of the playoffs. If you're not familiar with Hank in Montreal, do your research – he fucking sucks.
In fact, if you need recent stats, here's Hank this season vs Montreal (Keep in mind, he always struggles IN Montreal.):
Canadiens vs Rangers
January 14th, 2017. Canadiens 5 – Rangers 4. Lundqvist 17 saves on 22 shots. Price plays and wins. Of note, Raanta started this game and had a shut out after one period. Raanta got hurt in this game and Hank played the next 40 minutes, which featured at one point, Hank giving up three goals in less than two minutes. King!
February 21, 2017. Canadiens 3 – Rangers 2 (Shootout). Lundqvist 28 saves on 30 shots. Price plays and wins. Of note, Price out-dueled Lundqvist in the shootout.
March 4th, 2017. Canadiens 4 – Rangers 1. Lundqvist 31 saves on 35 shots. Price plays and wins.
Here's the deal – Raanta is outperforming Lundqvist in every statistic. He's beaten the tougher teams. Hank is already making excuses before his start tomorrow/tonight in Anaheim, as he's saying "It's going to take time for me to get back." Of course, NYR is ok with this, as they continue to coddle this overpaid miscreant.
If you're like me, you should have had enough by now. How long will AV let Hank go in a first round series with Montreal? Do we have to watch Hank get his brains beat in? All I'm saying is this – I hope AV has a short leash with Hank in the playoffs this year and has the grapefruits to give Raanta a start if Hank is struggling.
I can't take it, you can't take it and this fanbase can't take anymore of coming so close in the playoffs and having nothing to show for it. We need this team to realize that the days of Lundqvist being the only answer are long and gone. What more do you need to see from Raanta?
We all know that Hank will start in the playoffs this season. That's unfortunate. However, at the first sign of his normal struggles, AV & NYR must have the confidence and strength to sit their overpaid goalie and go with the guy who gives them the best chance to win. This is about the TEAM. The FRONT of the jersey, not the back. I can give two fucks if Hank ever wins a Cup. I am here to watch the RANGERS win a Cup.  If Hank has to watch Raanta do it, so be it.
The whole point of this is that the Rangers must be willing to let Raanta carry the load, just like Pittsburgh did with Murray last season.
Long time readers of this blog may be familiar with my handsome friend Joe DiLeo aka @maximussexpower on the tweet tweet. He is a diehard Penguins & New Kids On The Block fan. Put it this way – in a potential NYR/Pitt playoff series, he hopes the Rangers start Lundqivst over Raanta, just like how many anti-Pitt fans, last season,  were hoping that Pitt would start Fleury over Murray. If you talk to fans of other franchises, they hope the Rangers start Lundqvist too, because they know the cracks in Hank's armor are bigger than Amy Schumer's vagina.
When fans of other teams would rather play Lundqvist than your "back-up", you have to take the blinders off and realize what's going on here. Raanta has been superior to Lundqvist in 2017 & it will be a huge mistake if AV allows Hank the chance "to play through it", rather than going with what's best for the team.
And to be clear on this topic – I hope Hank plays well, goes 16-0 in the playoffs, hoists the Cup and I get a million death threat & fuck you tweets when he wins. However, I'm not so confident that it happens. All I'm saying is that I hope AV will consider Raanta if things get hairier than my butt crack!
2000 words and I haven't even got into this game yet. Damn, this Gretzky Whisky & Carlsberg beer has me flowing like Mount Etna tonight!
As I talked about above, AV has a more pressing issue for the playoffs – who is his starting defense? I am of the feeling that Girardi & Klein are in the lineup for essentially the same reason why Hank will be – the money. I'm a Girardi fan, which I know is an unpopular opinion from most of the NYR fanbase. However, the Rangers gave up PP goals in 8 straight games. Tonight, the Rangers PK was 3-3, with Iron Man Dan back in the fold. Are the two things linked? I think so, although I wouldn't say Girardi is the only reason for tonight's PK success.
With the team finally healthy for the first time in a while, here's what AV rolled out tonight:
Vesey/Zibanejad/Nash – We've seen this line before, I have no issues.
Kreider/Stepan/Zucc – This line has played together before. I got no issues with this either.
Grabner/Hayes/Miller – after fucking around, AV finally brought this line back. Note to AV: LEAVE THIS LINE ALONE. Despite not scoring tonight, this line had the most opportunities at the net and provided the best scoring chances.
Lindberg/Fast/Buchnevich – not much of a presence tonight. I know that again, I have an unpopular opinion, but I rather Tanner Glass than any of these three guys. The Rangers got outmuscled tonight. That doesn't happen with Glass. In the playoffs, you need some physicality & I want Glass on the ice for that.
Defensively, the Rangers went like this:
McDonagh/Girardi – glad to have this first pair back. I thought both played well and this was McDonagh's best game in a while.
Staal/Holden – Staal is such a liability out there, but Holden is solid. With Girardi back, at least you decrease Staal's first D-pair minutes.
Skjei/Smith – I like this pairing, but I can't see how Smith (or Kampfer or Clendo, for that matter) get a start in the playoffs, once Klein is back.
As noted, Raanta was in nets, with the returning Hank playing tomorrow.
Per the norm here, here's the official ESPN.com box score, followed with my thoughts and recap of this 3-0 (and much needed) victory:
1st Period Summary

Time
Team
Scoring Detail
NYR
LA
No scoring this period
0
0
Time
Team
Penalty Detail
8:03

Jake Muzzin: 2 Minutes for Interference

2nd Period Summary

Time
Team
Scoring Detail
NYR
LA
13:02

Derek Stepan (14)
Assists: Brendan Smith, Mats Zuccarello
1
0
Time
Team
Penalty Detail
No penalties this period

3rd Period Summary

Time
Team
Scoring Detail
NYR
LA
1:50

Ryan McDonagh (6) (Power Play)
Assists: Mats Zuccarello, Mika Zibanejad
2
0
18:52

Rick Nash (21)
Assists: Mika Zibanejad, Dan Girardi
3
0
Time
Team
Penalty Detail
1:46

Andy Andreoff: 4 Minute Double Minor for High sticking
2:34

Rick Nash: 2 Minutes for Holding the Stick
7:25

Chris Kreider: 2 Minutes for Holding
13:02

Derek Forbort: 2 Minutes for Roughing
13:02

Chris Kreider: 2 Minutes for Goalkeeper Interference
15:35

Chris Kreider: 2 Minutes for Hooking
If you're like me, you love the MSG Network guys, even if Micheletti gives you hemorrhoids. Kenny Albert had the call tonight, which meant Sam Rosen was missing. There was also no John Giannone. MSG networks didn't explain their absence. John Giannone told me, after I asked him on twitter, that Sam had a family outing & John covered the Knick game. Poor John, I wouldn't wish watching the Knicks on my worst enemy! John said he would be back tomorrow for the "between the glass" & in-between period interviews. Dave Maloney covered for John in those spots tonight. No word on Sam, but if he's not there tomorrow, it's because he's doing the thing with the fam.
Michletti was beyond horrible tonight and had an unhealthy obsession with Paul LaDue. More on that later. Kenny, as usual, was great in replacing Sam. I know Kenny & John are older than most people think, but when Sam finally retires, NYR fans will have two guys who can handle the job. I just wish NYR would get rid of Micheletti on these broadcasts. Go with Maloney. Shit, see if Sean Avery is interested, that would be must-see TV!
Ok, now I'm 2800 words in, let's get to something game related!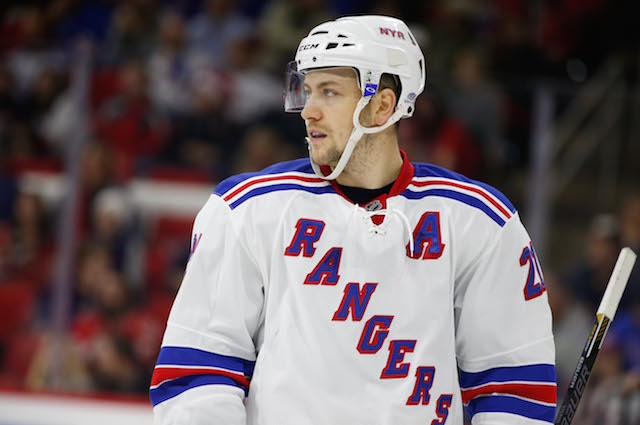 This was a game that the Rangers tried to give away. For 30 minutes of this game, the Rangers played down to their competition and did whatever they could to hurt Raanta's numbers. To me, this may have been Raanta's best game of the season. The win against the Blackhawks, in Chicago, was the best Raanta game to me, but tonight may have been a bigger burden of work.
In a game that was scoreless for the first half hour, Raanta had to make several breakaway saves, two on one saves and point blank saves. I know I'm the "anti-Hank" guy to many of you, but I don't think Hank makes these saves. Raanta also displayed great work with the stick, moving the puck along in several situations.
The Kings were all over the Rangers to start the game. Steve Valiquette, who is always right when he brings up Zuccarello with the puck, has to now take my point and use it – whenever Raanta makes the "BITCH PLEASE" glove save, he's in the zone. Raanta started the game with a "BITCH PLEASE" matter-of-fact glove save. I'm telling you, just like how Zucc makes good things happen, whenever Raanta makes that sweeping glove mic-drop save, the Rangers netminder is locked in.
Raanta was tested early in the first period, but the Rangers would fight back. In a defensive first period, NYR led LA 8-6 after one period in the SOG department.
I said above how the reunited third line played well. Grabner could've had a hat trick in this game, but he flashbacked to his Toronto days. He went wide right on a breakaway, which I still don't understand, since he was three feet in front of the net. Then, on another wide open look, he went high. Tough night for Grabner. That said, his line created a ton of scoring opportunities, it's up to them to finish. (On why I said he could've had a hat trick, he would later miss an empty net in the third.)
The Rangers got a PP in the first period and Stepan was terrible on it. He refused to shoot on an open look. Then, right after, he shot right into a King (An LA King, not Raanta). Stepan would redeem himself later, with the eventual GWG.
In a period that dragged along and felt like all LA, it was King Raanta who was the best NYR on the ice, as teams went to the locker room 0-0.
In what has been the Rangers trend all season, the Rangers were out-shot and even doubled up in the SOG department in the second period, 14-7. However, the Rangers would score the lone goal of the period.
The Kings, who had numerous opportunities to score, only to be denied by King Raanta, saw their two time Cup winner, Jonathan Quick, give up the first goal of the game.
The first Rangers goal was all because of Zuccarello. I alluded to Valiquette before. He's been saying all season, whenever Zucc is on the ice, track him. Good things usually happen.
Zucc prevented a Rangers icing, got the puck, fed Smith and Smith took a shot. Stepan was there for the rebound and boom 1-0. I'm not going to be quick to say the monkey is off 21's back just yet, but I'm glad he scored.The Rangers will be a much better and different team if Stepan can play like the way he's being paid.
However, the Rangers weren't at their best defensively, as Raanta had to continue to make big save after big save. I'm sorry guys, there is no fucking way Raanta is a back-up next season. Unfortunately, because the Rangers will never move on from Lundqvist, that means Raanta will earn more money & provide better for his family (he has a new born child) somewhere else, as a starter next season. This game was just another highlight reel audition tape for Mr. Raanta.
With a 1-0 lead heading into the third period, I was kinda nervous. We all know the Rangers are the highest scoring third period team in the NHL. However, they haven't lived up to that in their last two games, both against rival teams.
On another one of my million asides – is there another team in the NHL with more rivalries than the Rangers? You got the Islanders & Devils obviously. If you move out of the tri-state, Philly and Pittsburgh are rivalries. Boston is a rivalry. Montreal is a rivalry. Columbus is a new rival, ever since the Nash trade & with Torts there now. You also have LA as a rival, just because of 2014.
The Rangers, once again, would get doubled up in the SOG department in the third period, being out-shot 10-5. However, because of King Raanta, Stepan's goal would be the only goal NYR needed.
I thought the third period was very Tim Donaghyish. The Rangers were banged for four penalties, three on Chris Kreider alone. However, the Rangers PK was very good and had their first blanking in 9 games.
Andreoff would be called for a high sticking on the commie, a double minor, early into the third period. Ryan McDonagh would make the Kings pay "quickly" (Get it? Har, har, har) and scored from a blast from the point. I can't remember the last time the Rangers scored two goals on a double minor or on a 5 minute major. It didn't happen tonight, but the Rangers at least had a shot at it.
Nash would be called for a penalty during the Rangers PP, which is infuriating. This would give the Kings a 50 second PP, which the Rangers killed
After that, it was the Chris Kreider vs the Zebras show, as Kreider would be called for three straight penalties, with one off-setting penalty with Forbort. The PK, while not excellent, held the Kings off, but Raanta was the man during all of this.
With under five minutes to go, Kreider would be called for another penalty. LA coach, Darryl Sutter, would pull Quick, giving the Kings a 6 vs 4 advantage. Grabner would miss an empty net, but the Rangers would kill the penalty. The Rangers would take an icing after the penalty was killed. AV wisely took a timeout. The Rangers were then able to hold off the Kings attack and Nash would score an empty netter, giving him goals in three straight games. Hey, you take them any way you can get it.
On Nash, before the game, Maloney had an interview with him on the preshow. Nash was laughing and smiling about not scoring goals this season and how he knows that's his job. I'm sorry, Nash is sitting here talking about what a throwback/old school player he is, but laughs and smiles about his failures this year? As someone who spends a lot of money and a lot of time on this team, I wasn't down with that. If I fuck up at my job, trust me, I hear about it and I'm not smiling & laughing. I hold Nash to that same standard.
The Nash goal, scored with less than 2 minutes left in regulation, sealed the deal. Raanta and the Rangers would go on to blank the Kings 3-0, effectively killing any potential playoff berth that the Kings were eyeing.
Speaking of the playoffs, here's the latest:
| | |
| --- | --- |
| | Canadiens |

| | |
| --- | --- |
| | Senators |

| | |
| --- | --- |
| | Maple Leafs |

| | |
| --- | --- |
| | Bruins |

| | |
| --- | --- |
| | Lightning |

| | |
| --- | --- |
| | Panthers |

| | |
| --- | --- |
| | Sabres |

| | |
| --- | --- |
| | Red Wings |
| | |
| --- | --- |
| | Capitals |

| | |
| --- | --- |
| | Blue Jackets |

| | |
| --- | --- |
| | Penguins |

| | |
| --- | --- |
| | Rangers |

| | |
| --- | --- |
| | Islanders |

| | |
| --- | --- |
| | Hurricanes |

| | |
| --- | --- |
| | Flyers |

| | |
| --- | --- |
| | Devils |
As a result of the win and the Isles loss tonight, the Rangers magic number to clinch a playoff spot is 2. That means any combination of Ranger points & lost points by the Islanders. In other words, if the Rangers prove the Ducks aren't so mighty tonight, the Rangers clinch a playoff spot. It's pretty much a lock right now, but just not official yet.
The Senators are now 0-2-1 in three games in two weeks against Montreal. It's really looking to be NYR vs MTL in the first round, although I was really hoping for the Sens to take first. I think NYR matches up better against Ottawa & I really wanted to see a Boston/MTL first round series. As it stands right now, we have a battle of Ontario first round series with Toronto/Ottawa, with Boston having the right to get crushed by the Capitals in the first round.
This all said, expect all this playoff jockeying to change every night. Shit, even Carolina is alive for the second wild card spot. Of note, the DEVILS HAVE BEEN ELIMINATED! See ya!
What I'm really hoping for, after Rangers/Sens for the first round, is a first round series between Caps/Penguins. That idea is still alive, although the Blue Jackets are the monkey wrench in those plans.
While the NHL will watch a deserving team get bounced out early in the first round, while a team with 20+ points less advances to the second round, the playoff race is exciting. We are in the nitty-gritty now, so enjoy the ride.
I was originally going to do a play-by-play of how bad Micheletti was tonight, but since I'm near 5000 words and it's near 4AM, I'm just gonna give you the two highlights.
All game long, Micheletti was talking about his crush on Paul LaDue of the Kings. He just wouldn't stop talking about the guy. It was like he was rooting for him to score. There was one play in the game where Raanta made a stone cold save on a King breakaway. Instead of talking about the save & the Rangers defense falling apart, Micheletti talked about LaDue's family. I wonder if the Hank blow up doll in Micheletti's closet was jealous tonight!
However, despite Micheletti gushing like a virgin getting laid for the first time on prom night, the best part of the game was an exchange in the third period between Joe & Kenny. I'm paraphrasing this, because it's 4AM and I'm not replaying this on my DVR to transcribe it:
Kenny: "Joe, how do you feel about Dan Girardi returning to the line-up and his play tonight?"
Joe: "Pavel Buchnevich has been great tonight."
<Awkward silence>
Kenny: "But how about Girardi?"
Joe: "The thing about the Rangers is, what a save by Raanta."
If Joe started talking about LaDue, I think I would've passed out from laughing. As it was, I was hysterically laughing and missed one of Kreider's 76789678967896789678968 penalties.
You know Micheletti is bad, when he makes Suzy Waldman seem like Vin Scully!
As I wrap this bad boy up, it's Rangers game day. The Rangers go to the other side of town, to play the Ducks tonight. I'll be back tomorrow night to recap that one too.
As always,
Let's Go Rangers!
Sean McCaffrey
BULLSMC@aol.com
@NYCTHEMIC on the tweeter