Oscar Lindberg may have got the Broadway Hat tonight, but make no bones about it, this game was all about Tanner "FUCKING" Glass. Photo Credit: NHL
What's up everyone and welcome to another blog here on BlueCollarBlueShirts.com. It's been a long day for yours truly, as it started with a 4:30AM alarm clock, a day at work and a night at the bar. However, the lack of sleep is worth it, especially after the Rangers just finished dominating the Senators, 4-1, in Game 4 of their best of 7 series. With the win, the Rangers and Senators are tied at two wins a piece, turning this best of 7 series into a best of 3 series.
I have just switched my beer to a red bull & vodka, so hopefully that gives me Glass-like stamina to power through another one of these manifestos!
As always, for the sake of continuity, here are my blogs on this series, thus far:
---
As I write these words after this Rangers win, I have not looked at any other hot takes or blogs from people who think 500 words are enough. I will eventually read all the other blogs and newspaper articles on this game, but if any of the stories you read don't start off talking about Tanner Glass, you may as well hit the back button – you're not getting the truth.
This Rangers 4-1 victory was another TEAM WIN, just like the Game 3 win. However, one player shined brighter than the rest and it wasn't a usual suspect. It was Tanner Glass.
If you recall, I wrote this during the preseason:
Of course, just like the MORONS who said that "Talbot will never be a starting goalie in the NHL", this article was panned from several of the Rangers faithful in October of 2016. Now, in May of 2017, as usual, I'm right and you're wrong.
What a lot of these geeks, who live in their mother's basement, don't realize with these stupid charts, Corsi comparisons and other Doc Brownesque calculations, is that HEART, WILL and DESIRE are never factored in. You can make all your little pretty pie graphs and charts with your t-squares, scientific calculators and pocket protectors, but the BOTTOM LINE, when it comes to GLASS 3:16 and other players, is that you omit EMOTION and the human element.
Did any of these NERDS (Yes, I'm doing "Revenge of the Nerds" humor here) have Tanner Glass being a major player in these playoffs? Of course not. Who told you that Glass should play and would be a positive factor? Only three people I know – Ron Duguay, my good friend Ricky Otazu and myself. I talked about these worthless Corsi charts and all that other stupid crap before and that's what it is – CRAP. I wonder if Corsi or any of these other virgin charts would've had Matteau on the ice in 1994? To end my gloating, in essence – games are won on the ice, not on paper. If games were won on paper, sport books would be broke.
Since this is a unique Rangers blog, where you will not find any other blog like it, let's go to a comparison you won't find anywhere else! To me this was a Frank Sinatra win for the Rangers. How so? How about taking in this classic:
Whether it was the Rangers doing it "MY WAY" or beating "Senators in the Night", just look at the Rangers performance in Game 4 and some Frank Sinatra hits:
"Come Fly With Me" – I'm buying in and flying with the Rangers all playoffs.
"The Best is Yet To Come" – I fucking hope so!
"The Way You Look Tonight" – Rangers sure looked great tonight!
"The Good Life" – I was feeling the "high life" with the Miller beer, but yes, life was good with this win.
"Fly Me to the Moon" – We will all feel over the moon if the Rangers can win 10 more games.
"Strangers in the Night" – The Senators felt like strangers from the Cup tonight!
"Call Me Irresponsible" – This is how AV felt, after starting the commie in the first two games over Tanner Glass.
"Somethin' Stupid" – for all the Ranger fans who panned Tanner Glass.
"My Kind of Town" – There is no town like Rangerstown!
"It Was a Very Good Year" – let's hope this year goes to the middle of June.
"New York, New York" – self explanatory.
"Drinking Again" – whether you're a Ranger fan tilting one in celebration or a Senator fan crying into your beer, everyone's drinking tonight. "WOOOOOOO TELL 'EM ARN" (Yes, a wrestling/Ric Flair reference.)
Going into this major battle, I felt good. I felt the same way as I left you after my Game 3 blog. The Rangers were going to come out hot after John Amirante, but it was going to be only a matter of time before Ottawa responded. You couldn't expect Ottawa to be as flat as they were in Game 3. I would say I was right about my prediction, but I undersold the Rangers – the Rangers dominated this game. Yes, Ottawa had their flurries and put up a fight, but they were over matched.
As I said on twitter and on this blog, these are the Rangers we expected. It's like the Rangers, after the Game 2 loss, said, "Ok, no more fucking around. It's been real Ottawa, and you're real cute, but we're done toying with you fucks." In M$G, during Games 3 & 4, the Rangers won by an aggregate score of 8-2. I'll talk about Game 5 at the end of this blog, but give credit to the Rangers – after all the talk about their struggles at home, they've won their last four playoff games at M$G.
With tickets starting in the high $200's – low $300's for obstructed view seats, I decided to watch the game at my local bar. After all, this whiny bitch who lives under me (I live in a condo building), is banging on my door after every Rangers playoff win, because, and I quote, "it's too loud." I didn't want to deal with her headache, so off to the bar it was.
Credit to my fellow patrons at my local watering hole, "The Bold O'Donoghues". Hats were off and people stood for this:
— NHL on NBC (@NHLonNBCSports) May 4, 2017
John Amirante was back at M$G! However, his performance lacked his signature towel waving. I don't think it's a secret that Amirante is battling with health issues. You could see him using the microphone stand to base himself. The guy is 82 years old after all. While it wasn't the classic Amirante rendition we all know and love, I'm just happy to see him there. Even on Amirante's worst day, he's better than most. 82 years old and the guy is belting out the National Anthem like a champion. All the credit in the world to him. I'll tell you what, as expected, just the presence of Amirante had the Garden in a frenzy.
1500 words in. Let's get to the game. For the sake of prosperity, let's go to the ESPN boxscore:
1st Period Summary

Time
Team
Scoring Detail
OTT
NYR
14:04

Nick Holden (1)
Assist: Kevin Hayes
0
1
Time
Team
Penalty Detail
19:00

Brady Skjei: 2 Minutes for Roughing
19:00

Zack Smith: 2 Minutes for Roughing
19:00

Zack Smith: 2 Minutes for Unsportsmanlike Conduct (Served by Bobby Ryan)

2nd Period Summary

Time
Team
Scoring Detail
OTT
NYR
2:01

Oscar Lindberg (2)
Assists: Michael Grabner, Tanner Glass
0
2
15:54

Oscar Lindberg (3)
Assists: J.T. Miller, Tanner Glass
0
3
Time
Team
Penalty Detail
2:33

Brendan Smith: 2 Minutes for Cross checking
12:21

Marc Methot: 2 Minutes for Roughing
13:45

Mats Zuccarello: 2 Minutes for Holding
13:45

Erik Karlsson: 2 Minutes for Holding

3rd Period Summary

Time
Team
Scoring Detail
OTT
NYR
10:45

Chris Kreider (2) (Power Play)
Assists: Ryan McDonagh, Derek Stepan
0
4
13:34

Kyle Turris (2)
Assists: Zack Smith, Ben Harpur
1
4
Time
Team
Penalty Detail
10:32

Clarke MacArthur: 2 Minutes for Hooking
13:45

Brendan Smith: 5 Minute Major for Fighting
13:45

Dion Phaneuf: 5 Minute Major for Fighting
13:45

Dion Phaneuf: 2 Minutes for Holding
13:45

Brendan Smith: 2 Minutes for Holding
14:42

Ben Harpur: 2 Minutes for Interference
15:58

J.T. Miller: 2 Minutes for Interference
17:32

Bobby Ryan: 2 Minutes for Slashing (Served by Ryan Dzingel)
17:32

Bobby Ryan: 10 Minute Misconduct
19:34

Tanner Glass: 5 Minute Major for Fighting
19:34

Kyle Turris: 2 Minutes for Roughing
19:34

Mark Stone: 2 Minutes for Roughing
19:34

Oscar Lindberg: 2 Minutes for Roughing
19:34

Kyle Turris: 5 Minute Major for Fighting
19:37

Marc Methot: 2 Minutes for Roughing
19:37

Viktor Stalberg: 2 Minutes for Roughing
19:37

J.T. Miller: 2 Minutes for Roughing
19:37

Chris Kreider: 10 Minute Misconduct
19:37

Alex Burrows: 2 Minutes for Slashing
19:37

Nick Holden: 2 Minutes for Roughing
19:37

Alex Burrows: 10 Minute Misconduct
Goaltending Summary
Ottawa Senators Goaltending

Player
SA
GA
Saves
SV%
TOI
PIM
C. Anderson
20
3
17
.850
40:00
0
M. Condon
10
1
9
.900
19:49
0

New York Rangers Goaltending

Player
SA
GA
Saves
SV%
TOI
PIM
H. Lundqvist
23
1
22
.957
60:00
0
Oh, and how about those 3 stars of the game. Anything ring a bell here?

O. Lindberg (Rangers – C): Goals: 2, Assists: 0


T. Glass (Rangers – LW): Goals: 0, Assists: 2



M. Grabner (Rangers – RW): Goals: 0, Assists: 1
As expected after a win, the Rangers went with the same lines/D as game 3. Here's what you got, as a refresher:
Forwards:
Vesey/Stepan/Nash
Kreider/Zibanejad/Zucc
Grabner/Hayes/Fast
Miller/Lindberg/Glass
D-Pairs:
McDonagh/Girardi
Staal/Holden
Skjei/Smith
And of course, Lundqvist in net.
While the lines and D were the same, there were some things to note. For starters, Glass started the game and played for the first line, replacing Jimmy Vesey. As the game went along, Glass rotated back on the fourth line. Glass was used for his physicality. Also of note, Chris Neil was rumored to start for Ottawa, but remained scratched from the series.
The other thing worth mentioning was after all the drama about D-men minutes, where NYR reporters logged every minute of Skjei & Smith vs Staal & Holden in Game 3, Staal & Holden got more ice time than Skjei & Smith, here in Game 4. With the Rangers winning, this won't be mentioned. Of course, if the Rangers lost, this is all you would hear about.
The Rangers were all over the Senators to start the game, and would eventually out-shoot the Senators 11-7. Nick Holden, who has been horrible these whole playoffs, foreshadowing what was to come, got the first good Rangers chance, firing a shot at Anderson. Anderson, who played well and behind a terrible defense, would eventually be pulled before the end of the night.
While my confidence in Lundqvist is mediocre at best, he was once again fortunate from a strong effort in front of him. He was also the beneficiary of a terrible Ottawa offense in the first period, who relied at shooting at the "G" on his chest, including stopping a pedestrian shot from ex-Ranger, Viktor Stalberg.
Tanner Glass, who did everything in this game besides score a goal, (He logged two assists & a fighting penalty) made his presence felt early. Not only was he moving the puck and was a pest for Ottawa with the forecheck, he chirped his ass off, getting under the skin of many a Senator. By the end of the game, the Senators had enough and acted like a bunch of cunts. (Yes, cunts. Don't be offended.)
Marc Staal & Nick Holden have felt the venom of Ranger fans. For once, the duo both combined to provide a great effort. Staal had his biggest hit of the postseason in this period, breaking up a Senator's scoring chance and excelled at clearing the puck.
The Rangers had many good looks at Anderson, including a Grabner breakaway & a two on one, but Anderson was able to keep his team in it. He also stopped a Stepan shot, which came off an Ottawa turnover. Ottawa survived the first storm, then made it hairy for the Rangers, but the Rangers defense and Lundqvist were able to volley back.
The Rangers would start the scoring in this game, as Nick Holden found himself all alone with Craig Anderson, when Kevin Hayes fed Holden with a perfect pass, with a little under 6 minutes in the first period. Perfect pass from Hayes and a great finish from Holden. For Holden, he really needed this. Remember when Holden was scoring and tallying points at a rapid rate, before the defensive liability he has become in these playoffs? Let's hope he can keep this up.
After the Holden goal, the Senators would try to respond, but credit to Lundqvist, he held these bums off. After a Zack Smith/Brady Skjei altercation, the Rangers would get a PP, late in the first.
Again – HELLO AGAIN NBC ANNOUNCERS. SHUT THE FUCK UP WHEN THE PA ANNOUNCER IS ANNOUNCING PENALTIES. MAYBE PIERRE CAN FUCK HIS SIDNEY CROSBY ASSHOLE FLESHLIGHT INSTEAD OF TALKING DURING A PENALTY ANNOUNCEMENT!
Anyway, the Rangers PP sucked ass like usual and featured the usual Derek Stepan turnover instead of a shot on net. The Rangers PP would finish 1-6, the lone goal coming when the game was basically over. At the end of 1 period, 1-0 good guys.
I got to say, after the first period, my attitude perked up a bit, I really felt, even at 1-0, there was no fucking way the Rangers were losing this.
As the dreadful Rangers PP that carried over from the first period went no where to start the second period, the Rangers remained all over the Senators.
Just like in Game 3, early into the second period, Tanner Glass made a great defensive play, the puck ricocheted to Grabner and Grabner fed Oscar Lindberg for a goal. 2-0 good guys. A dreaded 2 goal lead with plenty of time remaining. Make no bones about it – Glass started this play, got the assist and the Rangers kept the momentum. Major credit to the eventual Broadway Hat winner (and as a result of this, got the GWG) Oscar Lindberg, for capitalizing on the opportunity.
I gotta say, some of the basement boys were tweeting negative things about Glass and Holden at this time. The same people who cry when I point out Lundqvist is overpaid. These poor souls – I guess their charts didn't predict this! These fans were hunting for a reason to point out why Pavel Buchnevich should've played. Poor babies.
Speaking of hunting, that topic came up at the bar I was at today. Just to do one of my infamous tangents here, I am not a hunter. The idea of waking up at 3AM, covering myself in deer piss, then chest pounding after shooting a defenseless animal, is just not appealing to me. Don't get me wrong, I am being a hypocrite here. I do eat meat. Nothing beats a steak dinner. That said, shooting animals is not "a sport", in my eyes. Shooting plates, like clay shooting or skeet shooting, that's a sport to me. Blasting an unexpecting animal is not a sport to me. Don't even get me started on these assholes who try to kill lions as an ego-boost.
While on the topic of eating meat, one of my friends was severely constipated today. Sometimes these games will do that to you. The cure? A $20 bill and a Taco Bell drive-thru. Seriously, the Taco Bell menu is just the same thing written in 5667567856785678578 different ways. Whether it's a Taco Supreme, a quesadilla, a Gordita, a Mexi-melt, a Burrito or whatever cute name Taco Bell calls a product, it's all the same Grade D meat wrapped in a shitty shell. If you're ever feeling backed up, kinda like the Rangers PP, go buck-wild at Taco Bell and smell the sweet sounds of success in just minutes after eating.
I swear – one of these blogs these days will be tangent free. Just not tonight!
"You mess with the bull, you get the horns" — Tanner Glass on the sequence at the end of tonight's Rangers win pic.twitter.com/f6NzjS0ena

— SportsNet New York (@SNYtv) May 5, 2017

Tanner Glass lays down the law after the game!
During this time, Pierre McGuire did his meaningless interviews with the coaches. Here's what we found out – both teams are good and want to win. WHAT BREAKING NEWS! This is akin to the Daily News "BREAKING" the story that Brendan Smith wants to play well and worry about his contract later. You mean to tell me, Smith isn't going to sit out the playoffs and negotiate his contract this very minute? It's amazing what passes for "news" these days.
Of course, with a 2-0 lead, instead of chanting for the team, we got a "POTVIN SUCKS" chant. If you have been reading these blogs, you know how much I hate this chant and why I hate it. However, this didn't stop some fan from tweeting this to me:
@NYCTheMiC @MoikeAAAA i was born in late 80's. i fall into that category. but i know who Felix Potvin was. or somewhat. who was Nilsson? and why are you against?

— rich (@Fassman12) May 5, 2017
No offense to a @Fassman12, but this is exactly why I hate this chant. Felix Potvin? Really? I even followed up with this guy and this wasn't even a sarcastic tweet from the guy. He genuinely didn't know. If I didn't shave my head, I would've been pulling my hair out.
The Rangers would eventually fail on another PP in this period and saw Anderson rob Nash on a near goal. While Nash didn't show up the score sheet tonight, he's been having a great playoffs. Some things just don't show up in the box score.
Then in perhaps in the play of the game, with under 5 minutes to go, Tanner Glass fought off about 3 Senators. It's amazing how people tell me that "Glass isn't skilled" or "Glass isn't a good forechecker." Please watch this game back and then try to tell me the same thing with a straight face.
To be honest, I know a lot of the Glass hate comes from people who think Pavel Buchnevich should play. For the millionith time, Buch has potential. However, Glass is the better option for TODAY.
Anyway, Glass fought off the Senator defenders, stayed with the puck, got it to Miller and Lindberg connected with a long shot, making it 3-0 and getting his second goal of the game. Perhaps that $40 Steiner mystery autographed Lindberg puck is worth extra tonight!
3-0 after two periods.
Only the low-life Islanders could blow a three goal lead in the playoffs. If you've been following me on twitter, I've been changing my profile picture to correlate how many wins remain before the Rangers win the Cup. After tonight, it's 10, in the race to 16 wins. I would change my picture before this game ended – that's how confident I was.
To start the third period, Senator coach Guy Boucher switched goalies, putting in Mike Condon to replace Craig Anderson. I don't think Anderson was bad, but perhaps Boucher felt the game was over and wanted to rest Anderson. Of note, also out of the game, after 40 minutes played, was Erik Karlsson. The Sens captain has been dealing with fractures in his feet and taking crushing body checks from the Rangers all series. I guess with the game basically a done deal, why risk hurting your best player any more than he's already been beaten up?
For Ranger fans, with a 3-0 lead, the third period was all about getting down to triple 0, safe and sound. However, when Ottawa had the fork stuck in them, they acted like complete cunt asshole bitches. Just check the box score, specifically the penalty department. Ottawa just kept picking fights and perhaps were trying to injure Rangers. A complete classless act from these low lives.
The third period was perhaps Lundqvist's best period. If you have noticed, I haven't mentioned Hank much for the second straight game. That's because of how dominant the Rangers were in these last two games. After blowing three 2 goal leads, blowing a 5-3 game with 2 minutes to go, the Rangers weren't going to let Lundqvist determine any games at M$G. The Rangers gave a complete team effort, and when Hank was asked to make saves with a 4 goal lead, he would only give one back.
Kreider would tally the lone Rangers PPG, with ten minutes remaining. Kyle Turris would respond less than 3 minutes later. This was on Lundqvist, but I'm sure Hank fan boys will find a defenseman to blame anyway, because nothing is ever Hank's fault.
As noted, I watched this game at a bar. It was tough at times to make out what the M$G crowd was chanting, from just the general chatter of the bar. However, I checked twitter to see if I heard what I thought I heard, when the crowd started chanting "SLOPPY SECONDS." If you're not familiar and I'm sure many of you aren't, based on the "POTVIN SUCKS" feedback I have gotten, here's where this chant came from.
From Wikipedia, because it's 2:30 am and a copy and paste job will suffice here:
"Sloppy seconds" comment

On December 2, 2008, prior to the Stars' morning skate in preparation for a game against the Calgary Flames, Avery approached the assembled reporters in the dressing room and stated, "I just want to comment on how it's become like a common thing in the NHL for guys to fall in love with my sloppy seconds. I don't know what that's about, but enjoy the game tonight." At the time, Flames defenseman Dion Phaneuf was dating Avery's ex-girlfriend, actress Elisha Cuthbert (the pair married in 2012), and Kings center Jarret Stoll was dating model Rachel Hunter (the pair was engaged in 2009, but the wedding was called off), another ex-girlfriend.

Within hours, the NHL suspended Avery indefinitely for "conduct detrimental to the league or the game of hockey". His comments were met with near-unanimous condemnation by the Stars organization, fellow players, and fans alike. Stars owner Tom Hicks said that the team would have suspended Avery had the NHL not acted first. Avery apologized the next day, calling his actions "inappropriate" and "a bad attempt to build excitement for the game".

On December 5, the NHL fixed Avery's suspension at six games, retroactive to the December 2 game against the Flames. He agreed to undergo anger management counseling due to what the NHL called unacceptable and antisocial behavior. Commissioner Gary Bettman noted that both he and league disciplinarian Colin Campbell had warned Avery several times before about his behaviour. On December 14, after the last game of Avery's suspension, the Stars announced that Avery would not return to the team. One factor in the Stars decision was that coach Dave Tippett and several of the players, including Mike Modano and Marty Turco, let it be known they weren't willing to take him back on the team. Tippett had warned Avery not to talk to the media about his former girlfriends, and was outraged when he did so.[39][40] According to TSN's James Duthie, Avery's teammates had soured on him not long after he arrived. The "sloppy seconds" incident was the last straw, and Hicks had been actively looking to cut ties with him while the suspension was underway
 The "SLOPPY SECONDS" chant started after a Brendan Smith and a Dion Phaneuf fight. When you're winning by three goals, fans are going to get loud and find ways to entertain themselves. This was a great example of that. I gotta admit, I was cracking up when I realized I wasn't hearing things when I heard "SLOPPY SECONDS." Credit to whoever started that chant! Beats "POTVIN SUCKS" any day.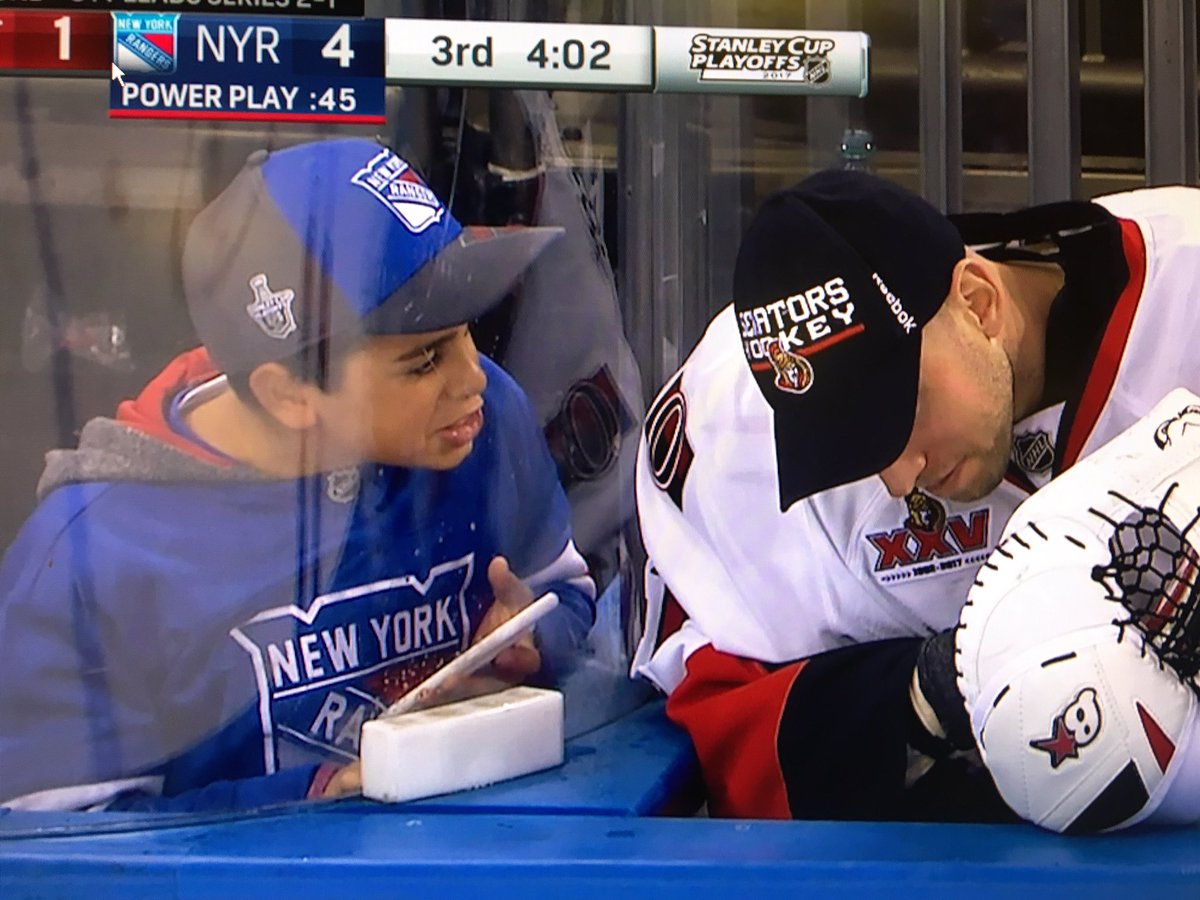 As mentioned, the end of this game, which remained at 4-1 at the final horn, featured Ottawa being desperate and dirty. Give it up to the NYR fourth line, they weren't having it and basically told Ottawa to "SUCK IT", as they laughed at the Senators feeble attempts to rattle them. If Ottawa thought this was a way to build momentum for a Game 5, I got a bridge to sell these blowjobs. Ottawa must've forgot they are playing a veteran playoff team, not some team happy to be there. These silly macho head-games aren't going to work on a team like the Rangers.
So here we are now, tied at 2. In reality, you wish the Rangers were up 3-1, as they really should've won game 2. However, they didn't and the Rangers have rebounded since that loss. It's now a 2-2 series with a best of 3 on tap. The Rangers must win one game in Ottawa if they want to see Pittsburgh in the Eastern Conference Finals. (Yes Pittsburgh. There is just no way Washington is getting out of the second round, especially down 3-1.)
If you're a Senators fan, and really, there aren't many of them, based on their attendance, you gotta worry about Karlsson. How bad is his injury? For the Rangers, they gotta do what they've been doing and that means sitting the commie and letting the "Glassholes" cheer on number 15 every game. To paraphrase Paul Heyman, when talking about Brock Lesnar, right now it's all about "EAT. SLEEP. GLASS. REPEAT!"
Who would've thought at the beginning of this series, that the home team would win each game? The Rangers must buck that stat real quick and there is no time like Game 5 than to snap that streak.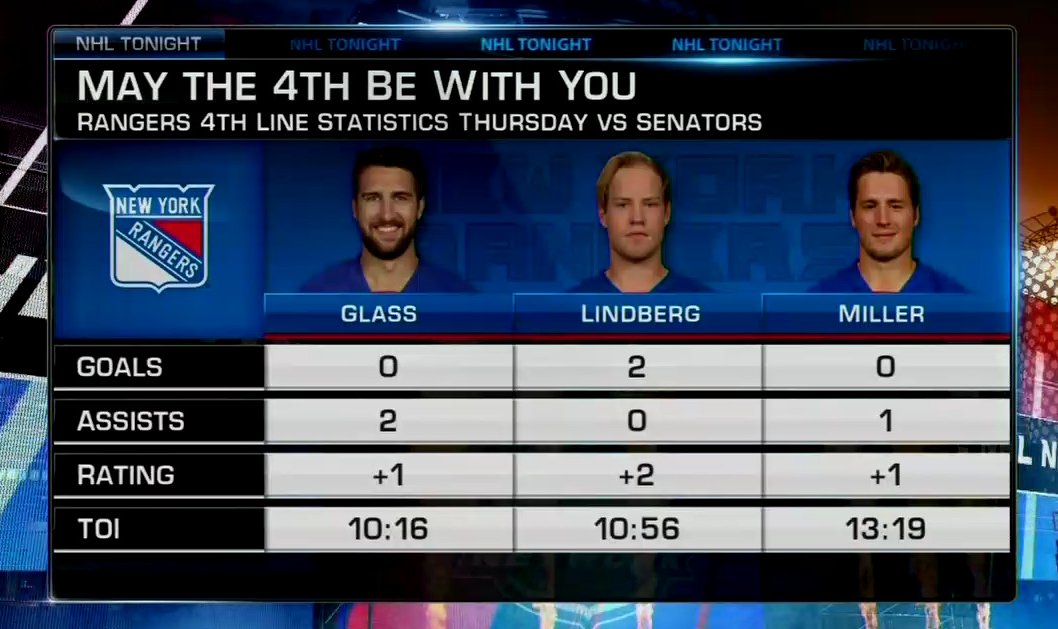 Couple of quick parting shots:
NBC broadcasters and the whole format is just terrible. I really miss the MSG Networks crew. I get the whole TV rights shit, but I wish the local markets could keep their home guys. After all, they are the ones we've been watching all year.
I love how Ron Duguay is a Glasshole too! In case you didn't know, you can get postgame coverage on MSG Networks. I wonder why they won't do a pregame show though? I really have enjoyed Vally's predictions and breaking Trautwig's balls all season.
I had some people upset over my use of "commie" when describing 89. It's a joke. I mean nothing by it. Get over it.
I'm jealous of all of you who met Joey Kocur at Rangerstown today. One cool picture I saw featured his knuckles. For as much shit as we all give this team, Rangerstown has been a success since its inception several seasons ago. I wonder if the Rangers will ever bust out Leetch or Messier for one of these things. Maybe it goes against a Steiner-type of contract. No offense to Pete Stemkowski, who some of my friends know personally, but how many times can you see Stemmer at these things? His best success came in Toronto anyway. Give me Leetch!
Does AV still deserved to be fired? HAHHAHAHAHAHAHA. It's amazing how some Ranger fans ignore that AV is already one of the top 5 coaches in Rangers history.
The last time the Rangers fourth line was this deep, they went to the SCF.
Injured Crosby or healthy Crosby, I think Pittsburgh wins in 6.
My other team the Oilers, were perhaps the biggest victims of the horrible NHL officials this postseason last night. Just brutal. Will the NHL ever hold these refs accountable?
I still say Oilers in 6.
Predators in 5, St. Louis just ran out of steam. They probably regret selling.
I love reading every fanbase on twitter. One thing everyone agrees on – $6M plus for Shattenkirk would be grossly overpaying him. Sather would give Shatty the deal. I wouldn't say the same about Gorton.
Once again, I have to work on Saturday. However, I'm expecting to get out of work (I work in NYC) before 3PM. Not sure how early I'll get out and whether I'll race back to LI to catch the Rangers & the Derby. Maybe I'll go watch it at Rangerstown. Maybe I'll go the Larry party. Maybe I'll go to Hudson. Maybe I'll go fuck myself, hey you never know!
It's a best of three series now. I truly feel this is the Rangers series to lose. Just like round 1, go win Game 5 on the road and finish another Canadian team at home during Game 6. With ticket prices already sky high, I can't imagine how much a Game 6 ticket at M$G will go for on Stubhub.
I'll be back either late Saturday or early Sunday. Until then, as always..
LET'S GO RANGERS
BEAT THE SENS
Sean McCaffrey
BULLSMC@aol.com
@NYCTHEMIC on twitter