Welcome everyone to another blog here at DOINOW.com. If you haven't already, check out the archives for the Rangers/Senators game review/recap, in addition to blogs on other NY Ranger and NY Sports material.
Today, I will be giving my Rangers Mid-Season Report Card Grades, as we head to the NHL All-Star break. With over half the season over, the Rangers find themselves in third place, but in range of first, in the Metropolitan division. The Rangers started off slow this season, which was disheartening, because many of the losses came at home. Many of the losses were ugly, with several blowouts to Toronto, the Islanders and the Lightning hurting the team. The Rangers started off slow last year as well, but also had their first 9 games on the road, due to renovations at MSG.
This will be a fun blog to look back at, come the seasons end. Who will progress? Who will regress? Will this be a magical year? The Rangers have accomplished many historic feats during this first half of the season, such as sweeping Western Canada on the road, sweeping all three California teams on the road and going on many different win-streaks.
Keep in mind, this blog isn't official or anything. Just one fan's opinion. I'm doing this for shits and kicks. Feel free to comment on this blog, either through email, twitter or facebook. If you like what you read, feel free to spread the word about this blog to your friends, family and enemies.
As far as grading, this is what I'm looking at, when making my grades: Productivity, Stats, Intangible factors, Player's worth vs his contract/cap hit, Clutchness and what the player means to the team. This is not just a cut and dry stats report card, as I'm looking at how the player fills his role for the team. For example, Kevin Klein is over-exceeding expectations due to his spot and contract with the Rangers, where I think Dan Boyle needs to produce more due to his spot and contract with the team. That is why I gave Klein a better grade than Boyle.
Another thing to take into account is the Rangers are on fire right now and one of the hottest teams in the league. I didn't really give too many bad grades, not because I'm a light grader, but because the team is winning, players are living up to their role and expectations and for the most part, everyone is playing well. There really is no "Michael Del Zaster" of this team. Some players are just better than others.
With nothing else left to say, let's get into it. For the sake of making this easy to follow, I will do this in Alphabetical order, by position. Forwards first, defense second and goalies last.
Enjoy:

FORWARDS:
Derick Brassard- B+
Brassard, one of the centermen of the NY Rangers is having another good season. Brassard has been scoring, both via the goal and via the assist. He's arguably the Rangers best defenseman, due to Stepan's injuries over the season. "PASS THE BRASS" has been a comment saying by Ranger fans, due to Brassard's production this season.
Jesper Fast- B-
Fast didn't break into the line-up until the beginning of the Rangers 12/13 game winning streak. Fast, who played some games last year as a call-up, has become a solid fourth line forward. Fast has scored and has shown he belongs in the NHL and not with the Wolfpack. While a defensive liability at times, Fast is a young kid that shows a ton of promise. For a guy getting his feet wet, he is not hurting, but adding to the team. That's all you can ask for.
Tanner Glass- D
Not only is Glass is overpaid, he's been a liability for this team on offense and defense. In my opinion, he's the worst player on this team. Once an AV favorite, Glass has been a healthy scratch as of late, due to the play of Fast and Miller. Glass was signed to this team to fulfill the Dorsett/Carcillo role, but isn't producing offensively nor has he protected the Rangers when it has come to fisticuffs. It took a while for Glass to make AV's shitlist, but one thing is for sure – this Glass is broken.
Carl Hagelin- B-
Hagelin, arguably one of the fastest players in the NHL, has scored a bunch of goals, although many of them have been empty netters. I don't think we've seen Hags play the best hockey he's capable of. He relies on the slapshot way too much, a slapshot that hasn't really produced any goals during breakaways and one on one's. Criticism aside, Hags gives it his all and has done a great job of clearing the puck when the Rangers need him to. You would just like to see more offensive production out of the guy, especially during a contract year for him.
Kevin Hayes – B-
Hayes has been a pleasant surprise for the Rangers. During his rookie campaign, Hayes is scoring and producing. He needs to up his faceoff game, as he's lost many crucial faceoffs during games. For a rookie, Hayes is holding his own, and it doesn't matter if he's with the third or fourth line. We may be looking at the future of the Rangers with Hayes. Put it this way, he's not lights out, but he's adding, not subtracting to the team. It's a culture change, coming from college and Hayes is holding his weight.
Chris Kreider – B-
Kreider is looking to match the production that he had during his first year under Coach Vigneault. It's slowly happening mid-way into the season. Kreider had to deal with his grandfather's death early in the season. Kreider is also getting the reputation of being a dirty player. He needs to learn how to fight if he's going to make questionable plays. Kreider has been nasty, of late, with his breakaway backhand shot. A young player, just like Hagelin, I think the best is yet to come for Mr. InKREIDable.
JT Miller – B
I rank Miller above several of the other Ranger forwards, due to the fact that he has a rookie contract and is playing way above his salary. MILLER TIME has scored many big goals during this run. While he has committed several bad turnovers, Miller is learning. As a fourth liner, Miller has bumped the overpaid Tanner Glass for a spot on the team. You have to like the Rangers future with a guy like Miller in the line-up. He's making a lot out of his minutes on the ice.
Dominic Moore – C
Moore, who will forever be remembered as scoring the Game Winning Goal in Game 6 of the ECF, is off to a rough start. The fourth line center has been the least productive of his various linemates during the season. He's been strong defensively at times, but you want to see Moore produce more on the score sheet. Perhaps the second half of the season is when he nails it down.
Rick Nash- A+
What other grade can you give Nash? He leads the league in goals, and could be a Hart Trophy winner when this season is over. This is his first full season as a healthy NY Ranger. He's been the Ranger everyone expected him to be when the Rangers got him from Columbus. Concussions are a motherfucker and a healthy Nash is the most productive NY Ranger today. Nash wasn't a force during last year's playoff run, but if he doesn't get a case of the "A-Rod's", Nash could carry this team to another Stanley Cup Final.
Martin St. Louis – A-
The Rangers alternate captain, MSL is a major part of this team. MSL provides the sweetest passes in the NHL. MSL's goals stat is not indicative of the player he is, as he's made many shots that were tipped in by his teammates this season. MSL leads this team in assists and at times, is the heart and soul of this team. Perhaps I'm biased, because I'll never forget what MSL did for this club during the playoff run last year. As I type this, I'm wearing a MSL jersey right now! Even in his 40's, MSL is a major factor on this team and makes everyone he plays with a better hockey player.
Lee Stempniak – B-
Some might say this is an overgrade, but Stempy has been huge this year for the Rangers, scoring many clutch goals. Another forward who can go from the third to the fourth line, Stempy has produced, has been solid on defense and holds his own on the ice. Even when Sam Rosen isn't calling out his name for goals, Stemp is playing good hockey and doing his job to a tee.
Derek Stepan – A
This was one I went back and forth on. Sometimes I wonder if he's injury prone, but when I think about it, he comes back usually sooner than he should. Does anyone remember the playoffs last year? Step has a hat trick this season and has produced a point a game. What more do you want from a first line center? Step will also be due for a big contract come the offseason. He deserves it. At times, Stepan carries this team and takes the load off his linemates.
Mats Zuccarello- C
I really hate giving Zuc one of the lower grades here, but while Zuc is scrappy and has a no-fear attitude, Zuc isn't producing like last year. Zuc's biggest enemy is the post this season. I feel bad for Zuc. I feel the Rangers will lose him during the off-season due to free-agency. He deserves more money for the production he gives. Things aren't going his way this year, even if he's the highest scoring player from Norway in NHL history. From what we've seen with Zucs, you just expect more production on the stat sheet. Out of every Ranger graded here, I expect his grade to jump the most come the final report card.
DEFENSEMEN
Dan Boyle- C+
I would've graded him higher, if it wasn't for the fact his contract was so high and he was one of the reasons the Rangers didn't keep Stralman, who has been having a fantastic year in Tampa. Boyle, who has been called the Quarterback of the Rangers Powerplay, has turned it on as of late. Boyle battled many injuries earlier in the season, which is why his numbers aren't where they should be. Like Zuc's, I expect his grade to jump up once the final report card is written. Boyle is expected to produce daily and it hasn't happened just yet, both from an offensive and defensive side of the puck.

Dan Girardi- A-
Another Rangers alternate captain, DG has been a pure defenseman's defenseman during this Rangers campaign. Girardi is logging more minutes than anyone else and had to carry the Rangers defense when players like MacTruck, Boyle and Klein were down with injuries. Girardi has been all over the ice, doing his job and holding down the D. You would like to see more goals from DG, but on this Rangers team, he is needed to stop the other teams best players and he's been doing just that.
Matt Hunwick – B-
Hunwick has been a pleasant surprise for the Rangers. He's bumped John Moore out of playing time. Hunwick has been huge on D and has been the Rangers best call-up. Hunwick earned his playing time due to other Rangers being hurt, and he hasn't looked back. The sixth defenseman of this team is constantly moving the puck up the ice and laying the body. He's definitely one of the the best 6th defensemen in all of the NHL.
Kevin Klein- A+
Along with Rick Nash, Klein gets the highest grade. I mean where to start? How about he has the most even strength goals out of any defensemen in the league, despite being a third line defenseman? How about three game winning goals? How about beating guys up? How about preventing many goals with his stick? How about his offensive and defensive awareness? The guy was a fucking steal from the Predators. You can argue he's one of the best trades Sather ever made, if you look at pure value. Klein has been the best Rangers defenseman all year and it's disgusting he was snubbed out of the All-Star Game. Optimus Klein is quickly becoming a Rangers fan favorite.
Ryan McDonagh- B+
The captain of the Rangers had some early difficulties due to injuries, especially with the shoulder that plagued him last year. However, during the recent win streak, Mac Truck has turned it on. Mac is making big hits, holding down elite goal scorers like Sidney "The Crybaby Cunt" Crosby, and getting on the score sheet. Mac is one of the youngest Rangers captains ever in history, but his maturity is of a seasoned veteran. Personally, it's great to see an American player on the Rangers, and at Captain nonetheless. You have to love what you're seeing from MacTruck as we head to the second half of the season.
John Moore – C-
Moore has been a healthy scratch, more times too often, due to the play of Matt Hunwick. Moore, who was a fan favorite last year, is slowly being forgotten about. He's not scoring. He's made bad turnovers. He's also being left in the dust, or ice, if you will, by Hunwick. I would be surprised to see him back next year and surprised to see him get time in the playoffs, unless Hunwick has an aneurysm or goes down.
Marc Staal – A
Another Rangers alternate captain, Staal has played so well that he got a 6 year deal at $5.7 million per. I think his contract is kinda high, in the salary cap era, but that doesn't mean he doesn't deserve it. Staal is one of those defensemen where if you're not talking about him, it's a good thing – it means he's doing his job. He's produced the least amount of turnovers this season by Rangers defensemen. You're not getting goals out of him, you're getting a guy who moves the puck to his forwards, clamps down under pressure, gets the puck in dirty areas and is not afraid to step up to anyone. Staalsy would be the best Rangers defensemen at the break, if it wasn't for the superb play of Kevin Klein.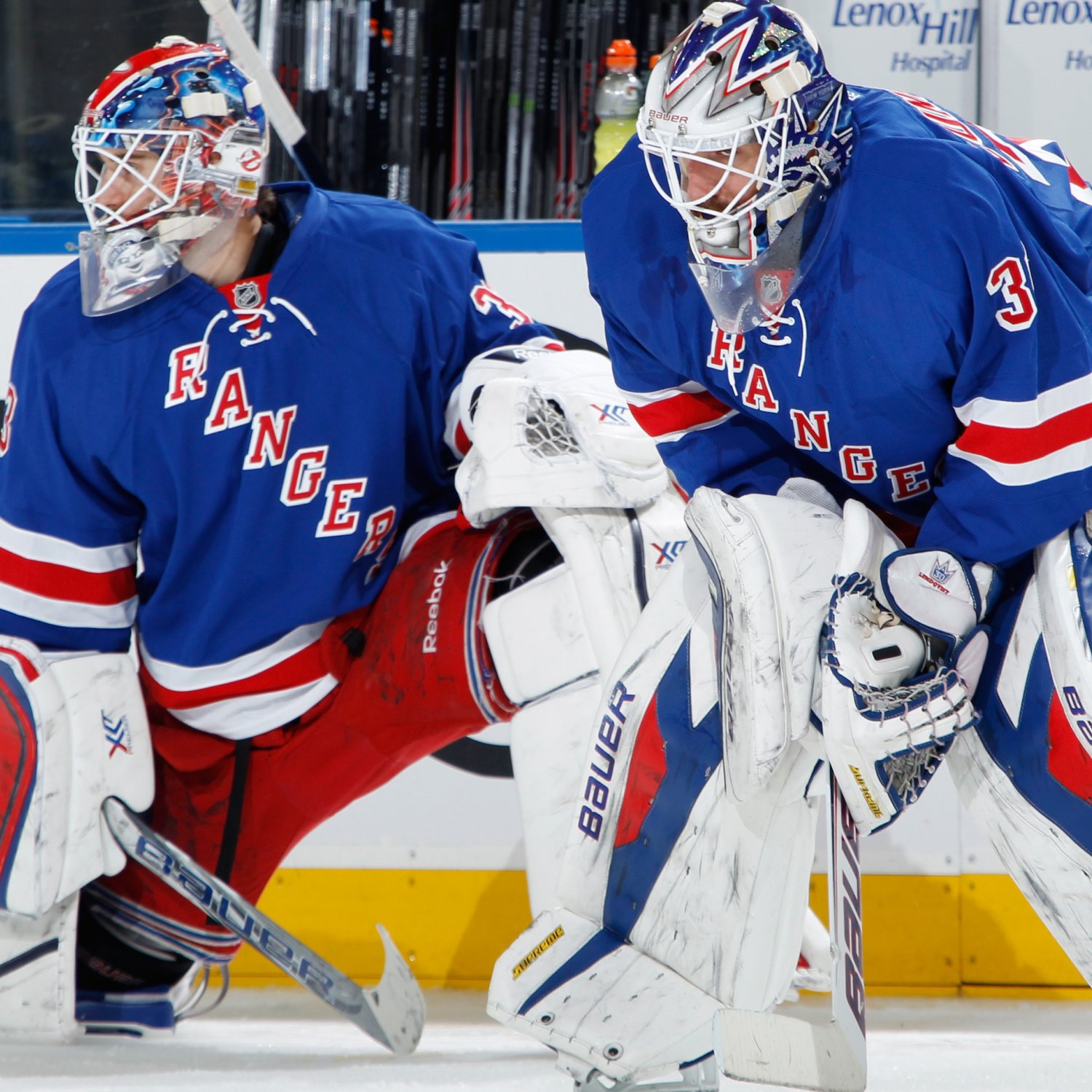 GOALIES:
Henrik Lundqvist – B+
I would've ranked Hank higher if it wasn't for two things – his contract that hurts this team from making much roster movement and the first 25 games of the season. Hank bolstered up his stats during the recent winning streak. A notorious slow starter, Hank has improved as the season has worn on. However, he scares you at times, as he's prone to getting blown out, especially against playoff teams. He's given up 15 goals to Tampa in 3 games, 9 goals to the Islanders in four periods. However, he will then give you 30+ saves against top teams. Hank has stolen 2-3 games this year. You need Hank to be Hank come the playoffs. Hopefully, whatever mental block or crap he has going on, he can shake out come the playoffs. The Rangers need him at his best to win a Stanley Cup.
Cam Talbot – B+
You can make an argument that he's the best back-up goalie in the league. The Rangers thought so, giving him a million dollar raise per season for next year. Talbot has more shutouts than starting goalies, in limited playing time, with 3. Hank has blown several big games this year, only for Talbot to come back with a shutout win. Talbot also beat the Kings, who have instantly become a hated team by Ranger fans, due to last year. You have to wonder how many wins he would have if he played more or got the goal production Hank has gotten this year. Sure, it's an ongoing joke/somewhat serious commentary when I say WE WANT TALBOT, but this is Hank's team. Talbot has done a great job in relief and never do you worry when he's in net.
INCOMPLETES:
Anthony Duclair – INC
The Duke played well during his limited stint with the Rangers. I wish he would've stayed with the team, as I think he's proven all he can on the minor league level and could benefit from practicing with top NHL talent. Coach AV only wanted him if he could be a top 9 forward. He wasn't that during his stretch, but it was a small sample of games. The Duke should have a spot with this team next year.
Michael Kostka – INC
Kostka showed he doesn't belong in the NHL during his limited run, playing only due to starting defenseman injuries. He was a bigger turnover machine than Mark Sanchez. Unless the whole Rangers defense gets AIDS and Cancer, I don't see Kotska playing for this team at all this year or next year.
Dylan McIlrath- INC
The Undertaker got some opportunities last year and this year. He seems to be the last of the NHL goons, as he hasn't showed he could do anything else but fight and take penalties during his limited NHL minutes. Every team needs a tough guy, but not at the expense of the team. He's a young buck and maybe he figures it out, but McIlrath has been a pure goon, although that's not a bad thing, during his time in his #42 Rangers sweater.

COACH:
ALAIN VIGNEAULT: A
Coach AV, and I'll admit, I wanted Messier last season, has steered this ship positively, just like last year. Don't let the above picture fool you, AV never shows emotion on the bench, as he shows more fury snapping his gum than at his players. A pure poker face of a coach, AV has juggled this line-up time and time again and has produced results. Listen – as fans, bloggers, outsiders, we don't know the team on an everyday basis. Only AV does. AV has done well with his mixes and matches. I would give him an A+ except for one reason – I think he's playing Hank too much. We need Hank healthy for the playoffs. Talbot needs to be eating up the Sabres, Devils and Hurricanes of the world. When Hank gets blown out time and time again by the Lightning and Islanders, perhaps it's time to give Talbot a chance. Perhaps Talbot isn't as scouted as well as Hank is. All the stuff I write about goalies on this blog, I KNOW AND YOU KNOW, a healthy Hank is how we win the Stanley Cup. Hank needs more rest as the Rangers should have a long spring this year. Outside of that, I don't question AV on any of the moves he's made.

That wraps up the first ever Rangers mid-season report card here on DOINOW.com. Feel free to share, discuss and critique my rankings with anyone. This is a NY-centric blog, with heavy emphasis on the Rangers. I'll revisit and do final season rankings before the start of the playoffs.
Looking forward, this team needs another magical run. The Rangers will lose many players in free agency come the summer. This is a team built to win now. Let's hope they can do so.
I'll definitely be back 1/27 with Rangers/Isles reaction. Maybe I'll squeeze in a Francesacon, Royal Rumble and NHL All-Star Review in the mean time. Until then,
LET'S GO RANGERS!
Sean McCaffrey
BULLSMC@aol.com
@NYCTHEMIC on the twitter!