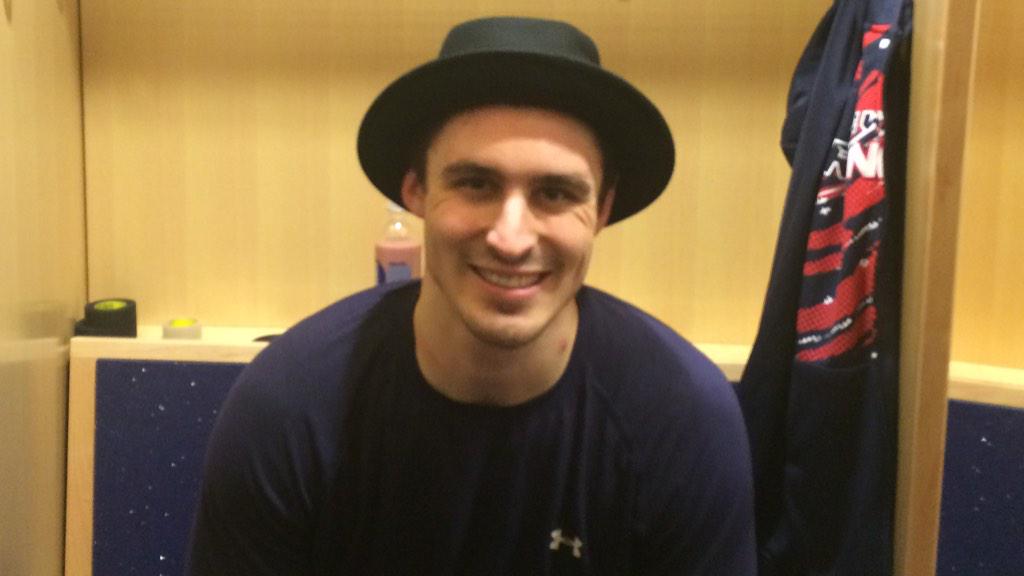 Welcome to another blog here on DOINOW.com. As always, check out the archives for previous news, thoughts and opinion, tip your bartenders, lift up the toilet seat, look both ways before crossing the street and don't drink and drive.
The Rangers played their final game before the All-Star break on Tuesday night. While it wasn't a must win game, it was a great game to win, as the Rangers can rest off the week-long break with a W. The Senators have been a thorn in the Rangers side at MSG, so to put them away in a tough game, showed a lot of character for the Blueshirts.
Funny story before going into this recap of the game. One of my good friends, who for the sake of this blog, I'll just call JEFFREY, is a long-time Rangers season ticket holder. JEFFREY (it's only funny if I capitalize his name) sold his tickets to this game, thinking he had work, early on Wednesday morning. Unfortunately, as most construction workers are, he got a temporary layoff check, meaning he's off for the week, but will be back to work soon.
Since I'm also a construction worker on a layoff, I understand Jeff's plight. JEFFREY asked if I wanted to buy tickets last minute with him and go to the game. I agreed. JEFFREY, living 20 minutes away from me, asked if I could pick him up, and take us to the train station, while he bought us tickets off Stubhub. JEFFREY is a good friend, so no problem, I was in my car within minutes.
As JEFFREY was heading to my car, he realized that the tickets he printed out for tonight's game, off Stubhub, were for the Carolina 1/31 game. Basically, whoever uploaded and sold the tickets off Stubhub, uploaded the wrong tickets. After a phone call to Stubhub, JEFFREY got his money back, but it was too late to get to the game from Long Island, due to train times and having to print out new tickets.
I bring up this story for several reasons. One, it's funny that this could only happen to JEFFREY. Two, and on a serious note, Stubhub really needs a booth/kiosk at or near MSG like they have at Yankee Stadium. As many people know, you can't use Stubhub tickets at MSG, unless they are printed out, as opposed to Ticketmaster or Ranger account tickets, which you can scan off your phone. MSG will not scan Stubhub tickets off your phone. So in a case like this, if you have Stubhub tickets, you're fucked, because Stubhub isn't there to give you a 100% guarantee. In this day and age, MSG should accept Stubhub tickets or Stubhub should have a kiosk, in walking distance of MSG.
While JEFFREY did get his money back, it was an unneeded headache. How nice of Stubhub to accept his money 10 seconds after his order, but told him it will take 10 days to refund it. In the end, we watched the game in my mancave with my other diehard Ranger friends/fans. An 18 pack of Miller Lite and a plate of proscuitto later (THANKS STANZI), we forgot all about the Stubhub fiasco. Still, we can't be the only ones who wait for Stubhub tickets to down in price an hour before game time. How could the blue collar fan afford to go any other way? Stubhub really needs to up their game in the NYC area. I'm sure not only us, but other Ranger and Knick fans are affected daily. I mean what are you supposed to do if you want tickets last second, wait inside a Staples to print them out?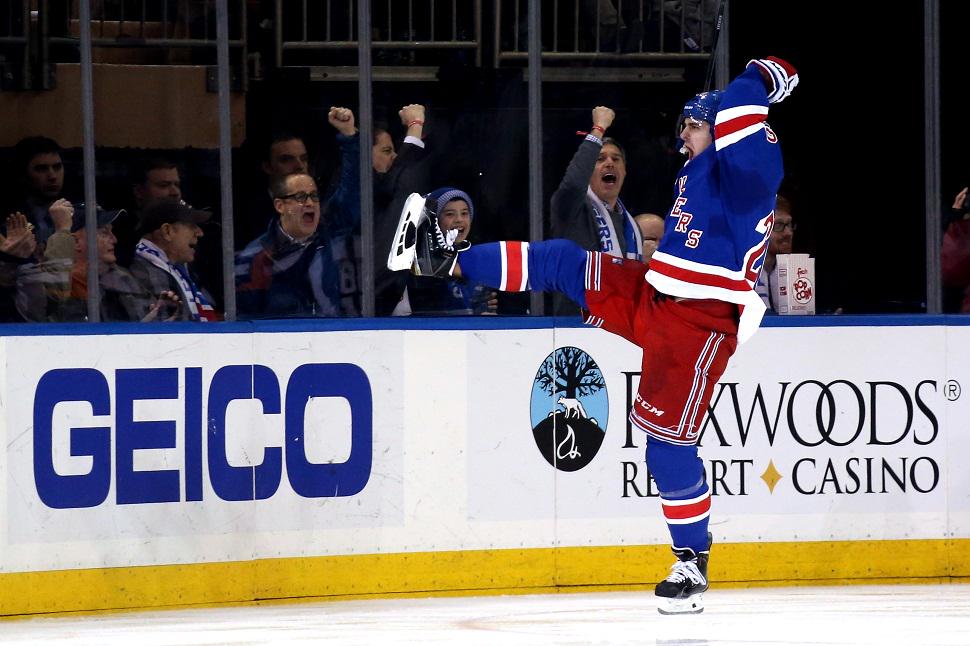 As far as the game itself, I thought the Rangers looked sloppy and slow in the first period. Henrik Lundqvist, who is a notorious slow starter, has been hot as of late. He stole another game here tonight, stopping Ottawa time and time again. No one has been harder on King Contract than me all season, so this isn't false praise. Hank is stealing many one goal games of late, and this is what I expect for $8.5 million a year. I would just like to see it all season and I would like to see Hank do this against the fucking Islanders!
Hayes got the first goal of the game, 9 minutes and change into the second period. It was an easy goal, but a much needed goal, in what looked it would be a goaltenders game. Craig Anderson and Henrik Lundqvist were both on top of their games tonight and it looked like goals would be scarce. However, as soon as Hayes scored, Erik Karlsson scored his 9th of the season immediately after. The Rangers were committing turnovers, Ottawa was stealing pucks and ripping shots, it was only a matter of time before one went in.
With the score tied at 1-1, Milan Michalek scored a PP goal, 9 seconds into the powerplay. It was an ugly goal, as it seemed Hank scored on himself while trying to protect the puck. Hank should've made the save, but it was during a period of time that the Senators were amping up the pressure and laying in a barrage of shots. I'm one of Hank's harshest critics, while I thought the goal was bad, the guy made 10-12 crucial saves on sure-fire shots. He held down the fort.
However, this game seemed like it would end at 2-1, due to the great goaltending from both sides. That was until the Amazing Kreiderman, who led the game with 10 shots, found open twine, via a forehand shot on Anderson's blocker side. 2-2 game, with only several minutes to go.
Since I have two TVs in my mancave, one big one on the bottom, a smaller one up top, I was watching the NHL Network and flipping through Capitals/Oilers and Flyers/Penguins highlights. I would've been happy with the Rangers just getting a point, as it seemed the same thing would happen in the other games. Fortunately for the Rangers, it did, as the Oilers beat the Caps and the Flyers beat the Pens, giving each team a point, while the Rangers would eventually get two points.
The last two minutes of the game were nerve-wracking, as Hank came up with several big saves of his 33/35 performance. The game went into OT and the Rangers got their point. They weren't done yet.
With the OT period more than halfway over, Derek Stepan rifled in a backhand pass, that went off Hagelin's stick and into the net, giving the Rangers a 3-2 victory over the tough Ottawa Senators. What a way to finish, as the Rangers hit the unofficial mid-way point of the season. This was also the first time the Rangers beat the Senators at home since 2009.
With the win, the Rangers are 1 point out of second place, gained a point on the fourth place Capitals, whom the Rangers have two games in hand on. I've said it before here, you do not want the Islanders or Boston in the first round, if you're a Ranger fan. The ideal match-up is Pittsburgh, since the Rangers just match-up better against them. Let them get their feet wet with the Pens then move on to the trials and tribulations of the NHL playoffs.
While I thought some of the game was sloppy, due to turnovers, not being able to clear the puck and missing checks, the Rangers found a way to win. The good teams always do. The Rangers are a good team. In NY, what is, for lack of a better word, marginalizing the Rangers success are the NY Islanders, the biggest rival the Rangers have and the best team in the East. The Rangers return on 1/27, after the break, for a showdown at the dump in Nassau. Again, not a must-win game, but a game the Rangers need to win to show themselves that they can beat the best teams today. They did it on the west coast, and there is no reason they can't do it 20 or so miles from the homebase.
Couple of quick parting shots:
– Zucc's agents were in town today. I fear the Rangers will lose Zucc next year due to the salary cap. I can't see how they keep him with King Contract and the top 3 defensemen signed until 2020. How many hometown discounts can you give?
– I will say, I have heard of several trade rumors, with Zucc, Miller and Hag's names mentioned. If it's on me, I don't trade anyone. This is a team built to win now. Why break up a good thing? If anything, this team needs a center. Bozak? I don't know who the Rangers would make a deal for, but I wouldn't be shipping anyone off this team, except for Tanner Glass.
– Hags is another free agent. With Stepan being a slam dunk signing come the off-season, I hope the Rangers keep Hags. I don't think we've seen him play his best hockey yet, and the best is yet to come.
– With the ticket prices the NHL are charging, basically pricing out the next potential generation of fans, the NHL should increase the salary cap to reflect that.
The All-Star Game is Sunday. Rangers return Tuesday with the Islanders, before returning home Thursday with a big game against the Canadiens. I went to Montreal in October to see the Rangers play, and trust me, Canadien fans hate the Rangers. Expect a physical game there. The Rangers close out January with the Hurricanes. Good teams should always beat bad teams, that's all I'm saying.
I'll be back shortly with my RANGERS MID-SEASON REPORT CARD.
LETS GO RANGERS!
Sean McCaffrey
BULLSMC@aol.com
@nycthemic on the twitter