The hero of last year's NYR vs PITT series
What's up everyone and welcome to another blog here on DOINOW.com! We're only two days away from Ranger playoff hockey. I hope you enjoyed the Point-Counterpoint blog about the NHL Playoffs that I did with Joe. Make sure to check out his Mets blogs on the site. In addition, you can find every game recap, editorials, my Rangers Report Card blog & everything else in the archives, located on the right hand side of the site.
"We've spilled a bunch of ink", so to speak, already, discussing the Rangers and the playoffs already on this site. However, with two days to go, let's really examine this upcoming Penguins/Rangers series.
I don't know how the majority of you feel, but I feel the Rangers should sweep this series. It's a bad feeling to have. I'm not used to this team being a favorite, and a strong favorite at that. It's bad karma to be so confident about your team, but really, I don't see how the Penguins have a chance in this series. I know many of us believe in superstitions and "mush's" but really, if the Rangers don't win this series, it's totally on the team. There is no excuse not to win this series. I will not blame this blog if the Rangers don't handle the business that they should handle with ease!
For the Rangers, what they need to do with the Penguins is to come out of this series healthy and try to end this quick. I can see the Rangers potential second round opponents, the Islanders or Capitals, grueling through a rough 7 game series in the first round. The Rangers should not fuck around with the Penguins and put this to bed in four. The Rangers really did catch a break when Boston missed the playoffs and that they didn't draw a hot team like the Senators. The Rangers drew, a limping into the playoffs, the Pittsburgh Penguins, a team that they are 7-0-1 in their last 8 games with.
It's time to kill the Penguins chances at winning a Cup this year!
For the Rangers to be successful in this year's playoffs, the two key players to me, are the two highest paid players on the team, in Rick Nash & Henrik Lundqvist. Rick Nash needs to continue his hot season. He can't have another playoff performance like last year. I talked about this all season. Nash is finally 100% and has recovered from his concussion symptoms. There is no excuse for him not to be "NASHTY!" in the playoffs.
A healthy on-top-of-his-game Rick Nash makes the Rangers better in every facet. The powerplay gets hot. The PK is unbeatable. His linemates get more confidence. Nash just needs to keep firing the puck and good things will happen for the Rangers. That's really what it comes down to. Nash can't pull another "A-Rod" in the playoffs and needs to come out firing strong.
We all know my thoughts on Henrik Lundqvist here. However, it remains to be said again. Hank needs to be that Hank of 2012, where he stood on his head and stopped everything. If Hank is that same Hank that Ranger fans fell in love with, I can see this first round series having scores of 6-1, 4-0, 3-1 and 5-1. Hoping that a goalie has shook off all his rust for the playoffs is nerve wracking, but when you see that Marc-Andre Fluery is on the other side of the equation, you breathe a little better. I will take a broken down rusty-ass Hank over Flower in his prime, any day of the week.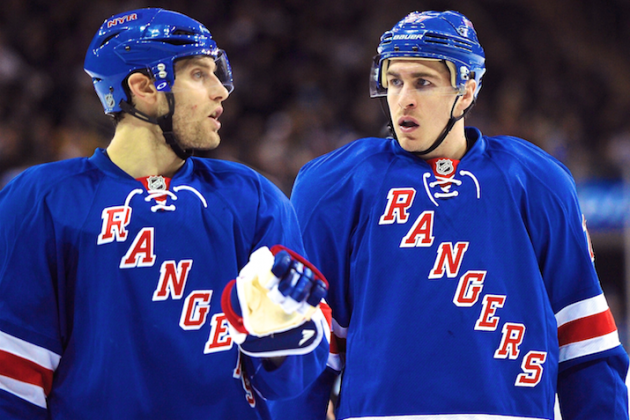 Fort Knox
When you look at the last 8 games the Rangers played with the Penguins, you will notice that the little bitch, known as Cindy Crosby, hasn't done much. It's not that he's cold or was hurt. The fact is that Dan Girardi & Ryan McDonagh pull a Jon Taffer every time and "SHUT IT DOWN!" I know many Ranger fans love goals and the sexy plays on the ice, but what Mac & DG do means just as much.
While we have seen Girardi & McDonagh make some bad turnovers this year, that is not the norm. These two are solid defenders and the ace D pair on the team. With Staal & Klein backing them up on the second line (I would expect Boyle & Yandle get the most bench time out of the Rangers defensemen), you have four great shut down defenders. Pittsburgh will struggle to score in this series, as long as the Rangers keep the turnovers to a minimum.
As I write that last paragraph, the chatter is that Klein might miss game one. I have no issues with Hunwick stepping in, but obviously, you want Klein there.
The Rangers have had some slow starts to games, but luckily they have had strong goaltending, combined with defensemen willing to block shots. If the Rangers start off slow, the Rangers are comfortable staying back and capitalizing on a mistake. We've seen it all year. The Rangers strong defense is as much of a key to winning this series as the offensive production.
I better not have to post this picture again!
The Rangers powerplay has been an issue for many years, especially in the playoffs. For the Rangers, they can win games without the powerplay clicking. They've done it all year. I think the Rangers can easily beat Pittsburgh with a shoddy PP, but come the later rounds, the Rangers will need the PP to be hot to win games.
Towards the end of the season, the powerplay picked up. Some of that had to do with Martin St. Louis' return, as he is the team's best passer and always seems comfortable firing the puck from the face off dot on the left side. Yandle also seems more comfortable as well, but like several other Rangers, such as Brassard, Stepan and Zuccarello, needs to shoot, rather than making that extra pass. I understand trying to find the perfect shot, but it rarely happens. Firing the puck and hoping for a deflection or a rebound has led to success for the Rangers this year.
Time to send the Penguins to a late April tee-time!
I know I seem very confident and cocky in this blog, but I believe Ranger fans should feel good about this team. For the Penguins, they need a lot to go right to win this series. Perhaps not having the pressure to win on their backs, as they have had in previous years, will work out for them. The Penguins will be missing Letang, which helps the Rangers offense. The Penguins will need strong performances out of their defense.
The Penguins will need to hope that if Crosby is shut down by Mac & DG, that the other lines can perform. The Penguins are not a team with as much depth, as compared to previous years. The Penguins will need Flower to step-up and hope that Hank is at his rustiest. The Penguins truly got into the playoffs by the skin of their teeth and will need everything to go wrong for the Rangers and everything right for them. It seems impossible to see that coming to fruition.
The Rangers gave AV a lot to smile about this season
Critics of the Rangers will bring up how AV has lost 2 Stanley Cups and not that many President Trophy winners have won Cups. That's all malarkey to me. This is a team unlike any other Ranger team. It is the most successful team in the near 90 year history of the Rangers. For AV, I think the third time will be a charm, providing the Rangers can get to the Cup Finals.
AV, who should win the Jack Adams award, has been masterful at mix and matching lines. The production he got out of JT Miller, Kevin Hayes and Jesper Fast was brilliant. Having Benoit Allaire on his side has given the Rangers the best goaltending in hockey. While the job as a head coach of a hockey team might not be as strategic as say the NFL or MLB, where you have to micromanage every play, AV has done a great job at getting this team ready and winning games.
It is tough to draw up plays and hope they run to perfection, in such a fast speed game such as hockey, but AV's influence and philosophy of constant offense, rather than Torts defensive schemes has transformed this team.
The Jack Adams award would be nice, but in reality, AV has been King Fucking Midas since taking over the reigns. Trust in AV.
On an aside, you should check out Blueshirtsunited.com for their player/coach interviews. AV is so refreshing to hear and always shows a personality. He won't sell you bullshit and comes off as a likeable guy.
If there is one "X" factor player for the Rangers, that one guy that would give you the edge in the "intangibles" and a guy who will be hard to draw up a game plan against, it's Rangers rookie Kevin Hayes.
Kevin Hayes has been absolutely amazing this season. It's been a pleasure to watch him grow all year. Hayes, after a full 82 game schedule, is comfortable on the ice and is starting to use his size to his advantage. The mitts on this kid is incredible, as he able to chase down loose pucks and make moves out of a Patrick Kane youtube highlight reel.
You could argue that Hayes is the Rangers second most productive forward, behind Nash. He's had a great rookie year and could be a major force to reckon with come these next two months.
If there is any player on the Rangers that could be "The Man" for this run, to me it's Kevin Hayes.
John Giannone!
My favorite Ranger ever, Jeff Beukeboom
If you've been following me on twitter or reading these blogs, you know that I think ticket prices for the Rangers are ridiculous. In fact, check out this article: http://blog.tiqiq.com/2015/04/new-york-teams-lead-nhl-in-playoff-ticket-prices-on-secondary-market/
The average playoff ticket to a first round game at MSG is $653!!!!!!!!
SIX HUNDRED AND FIFTY THREE FUCKING DOLLARS!!!!!
When you see the other average prices, it really saddens me. I get it. Supply and demand. NYC. I just don't know how you create a new generation of fans if parents can't afford to take their children to games. It will only get worse as time goes on. There's a reason why the Coliseum is full of families and have a louder building than MSG, while 50% of MSG, during a regular season game, are in suits and texting.
If you can't afford a mortgage payment or want to sell a kidney, another option is attending the Rangers Hockey House, located next door to MSG. The Rangers really do a nice set-up for their fans. You can meet ex-players, MSG personalities, and other Ranger alum. All autographs and pictures are free. The Rangers even supply pictures to the fans to get signed. They also run raffles for tickets, game used equipment, and other Rangers merchandise. They have some cool Ranger artifacts there too, such as Wayne Gretzky's first pair of skates, Lundqvist's Team Sweden gold medal jersey, etc.
I was fortunate last year to attend a bunch of playoff games. The Rangers Hockey House was always my first stop. The Rangers really did a great job of taking care and appreciating their fans there last year and I would expect no less this year. Now, if they can only get Messier or Richter to attend one of these free signings…
WE WANT THE CUP!
Ranger fans, it's ok to be nervous, yet proud. The Rangers need to win 16 more games. It can be done. This is a Cup or Bust year and a magical season thus far. Like many people, I do expect an Original 6 Stanley Cup Finals between the Blackhawks & Rangers. How fitting would it be for the Rangers to win their fifth cup against another Original 6 team? Of course I'm getting ahead of myself here, but it's hard not to get excited.
Big props to the NHL for putting the Caps/Isles series on alternating days as the Rangers/Pens series. It's going to be a great 40 days of hockey. I hope you keep coming back here as we move closer and closer to the goal!
And if you didn't read my Point/Counter-Point blog with Joe DiLeo, on the front page of the site, what are you waiting for? I'm taking NYR in four for the series and Rangers vs Blackhawks in the Cup. You can guess who I think will win that series….
LET'S GO RANGERS
WE WANT THE CUP
THE BLUESHIRT DREAM TEAM OF TWENTY FIFTEEN
Sean McCaffrey
BULLSMC@aol.com
@NYCTHEMIC on twitter