Skap Don't Take No Crap
Welcome everyone to another blog here, on the new & improved DOINOW.com. As always, check out the right hand of the site for the archives, live tweets, the search bar & all that other good shit. Keep in mind not to fart & cough (You will shart, especially if you had corned beef for dinner), tip your bartenders, don't drink & drive, always raise your points when you're holding two Jacks or better on Broadway and always, and I mean always, use "IN CAM WE TRUST" as your personal mantra.
The Rangers defeated the lowly Buffalo Sabres on Saturday night, 2-0, to keep them #1 overall in the NHL. The Rangers are now 3 points ahead of the Islanders in the Metropolitan division with 4 games in hand and have games in hand on every other point leader in the NHL. For Ranger fans, you have every reason to be ecstatic right now. The team is playing well. The goaltending is the best in the NHL. The PK is on fire. The first three lines are playing amazing. If you're looking to nit-pick, you want to see more production from the power-play, but hopefully that will come.
Let's keep in mind, the Rangers dug themselves out of a hole, took over first place in their division and then took first place in the whole entire NHL. This all without the overpaid and overrated Henrik Lundqvist. If anything is true for the Rangers right now, they are proving that Hank is the most overpaid player in the NHL, by far. You don't need to spend $8.5 million on a guy when he's near 40 years old and has never won a cup in his life. The Rangers are perfect without him.
The type of literature you will find at the Bold O'Donoghue's
With the Rangers on the road & the Islanders hosting a home game on Saturday night, both with 7PM start times, myself & some merry other hockey fans visited the "Flying Puck" of Nassau County, the lovely Bold O'Donoghue's in East Rockaway. The Bold O'Donoghue's or as it's commonly known as, "The Bold", is always a great environment for Ranger hockey. You always get the volume for the games, which is key, in addition to ice old Miller Lites & Stella beers on tap.
What made tonight funnier and more entertaining than usual was the presence of a local celebrity. No not me, you silly cad. For Long Islanders, "The Hot Dog Hooker" (I swear to everything holy, please google that) is an urban legend. The legend became real, when "The Hot Dog Hooker" showed up to enjoy some puck action. "The Hot Dog Hooker", known for her "Sabreasts" hotdogs & sexual stimulation whenever frank & beans are involved was there and signed autographs for all that inquired about obtaining one.
The Hot Dog Hooker with an adoring fan, but which one is which?
Meeting the Hot Dog Hooker is like meeting Justin Timberlake & John Lennon all wrapped in one solitary bun
If you have the time, and if you're reading these words, you probably do, please check out one of the numerous Hot Dog Hooker videos on youtube. Here's one here:
https://www.youtube.com/watch?v=hcgO6fd28x8
I have probably spent way too much time talking about the Hot Dog Hooker, but if you're from Long Island, meeting her is like taking a ride to the Amityville Horror House! Speaking of horrors, how about the Islanders at home this month?
HANK WHO? $8.5M for what?
How great must it be to Mackenzie Skapski right now? Not only is he defeated in the NHL right now, he's undefeated with a 2-0 record, allowing an average of a half a goal a game. If it wasn't for a bad faceoff in the early seconds of his first start, he might have two shutouts and a GAA of 0.00.
Let's not get too carried away. Skapski played the Sabres, both games on the road, in his two starts. The Sabres are tanking as they are hoping to land McDavid. (On a side-note, the overpaid Swede for McDavid? I would do it in a heartbeat, but no one would be that dumb, outside of Slats to sign a goalie and pay him $8.5M til he's nearly 40 years old.)
The young 20 year old ginger gave up one goal in his first start. A goal that wasn't his fault. While he did look shaky and flopped like a fish out of water in his first start, Skapski looked like a seasoned veteran in his second start. Credit Benoit Allaire for settling Skapski down. If anyone deserves any type of award this year, it is Rangers goaltending coach Benoit Allaire, as his goalies have given him a collective 11 shut-outs. (Talbot, in half the games played, matching the overpaid Swede, at 5 shut-outs each.)
While the Rangers played the worst team in hockey, it didn't look that way in this game. Skapski was tested and he passed every test with flying colors. Skapski made 3-4 really great saves, saves that an NHL rookie usually does not make. However, Skapski was on top of his game and in a word, IMPRESSIVE, all night. I bet the Islanders wished they had goaltending this great at this point in the season.
Sure, Skapski is now 2-0, both wins against the last place team in the league, but it is 4 points nonetheless. Again, how great must it be to the young 20 year old Mackenzie Skapski right now? You can't help but smile, as you feel his emotion while he plays. When the Rangers scored an empty netter late in the third period, Skapski celebrated on the ice. It's something you don't normally see, as it's not polite to cheer like that (Act like you've been there before), but for Skapski, he hasn't been there before. It was great seeing a kid deliver and you really lived vicariously watching him play the best game of his life. Let me throw out a huge "CONGRATULATIONS" to Mack-Skaps!
He might be a ginger with no soul, but how can you not root for Skaps?
Everything has been coming up Blueshirts as of late. With the overpaid Swede out for the last 6 weeks, the Rangers are now the best team in hockey and winning games in different fashions. Even better, teams that were hot, like the Islanders, Penguins and Capitals, are all on losing streaks. The Rangers have games in hand on everyone in the west and against another potential #1 in the east, the Montreal Canadiens. I mean who gets the luxury, of starting a 20 year old rookie on the road, against an NHL caliber club, and earning a shut-out victory? Only the Rangers!
The final 2-0 score might suggest signs of dominance, but don't be fooled. This was anyone's game. The Rangers allowed the Sabres to hang around too long. For nearly 50 minutes, the Sabres held their own with the Rangers. It was a nerve-wracking game, because while Talbot didn't start, you still didn't want to throw away two points against the worst team in the NHL.
I don't know if you would call this a sloppy game, as Buffalo goalie, Anders Lindback, a back-up, made 31/32 saves. For a back-up goalie, Lindback played amazing and kept his team in it the entire way. In comparison, Skapski made 20/20 saves for his shut-out.
The Tablot train has two more passengers
With super-Islander fan in the bar, a one Donna Daly, not only was the fireball flowing, but the Rangers were in their groove on one TV, as the Islanders free-fall continued. It was funny watching both games at the same time. Montreal just had their way with the Islanders as the Rangers & Sabres played a neck and neck game. In the end, Montreal dominated the Islanders, earning their 93rd point, as the Rangers grinded out their win, earning their 93 point. Due to the games in hand, the Rangers remain in first place in the whole entire league.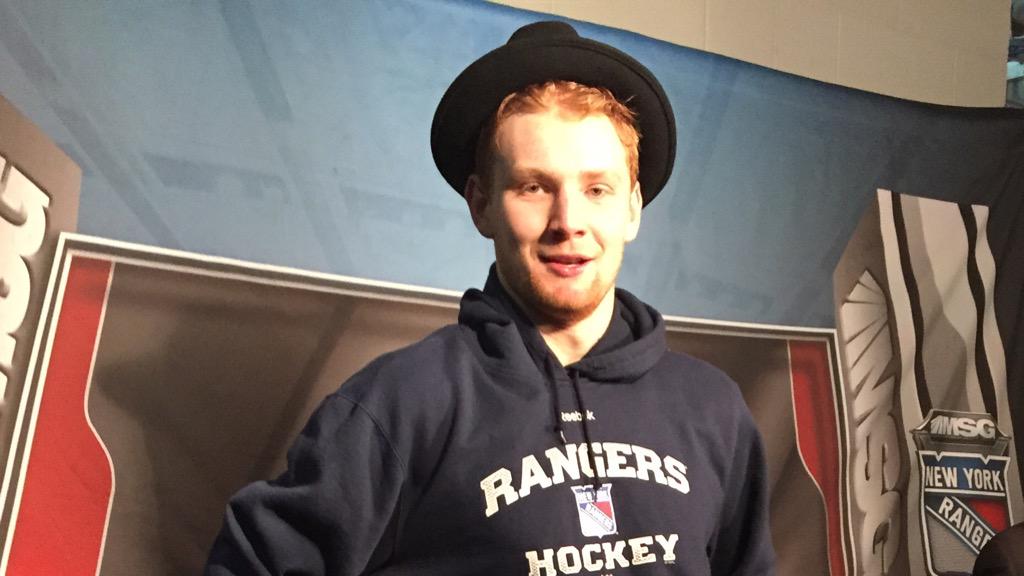 His dick must feel 10 feet right now!
The Rangers had many opportunities to bury some goals early in this game. However, in what seems to be the norm of late, the Rangers couldn't find a power-play goal. The Hot Dog Hooker scored more than the Rangers power-play. Fortunately, Skapski, making his second NHL start, was able to shut-out the Sabres & make big saves along the way.
Even with Kevin Klein out (Arm injury, expected to miss at least 3 weeks) the Rangers looked fine defensively. Klein's replacement, Matt Hunwick (Who has played all year, alternating with John Moore) knows AV's system. Hunwick was fine all night and at one point, looked to have an easy assist, until Marty St. Louis found metal instead of twine on what should've been a sure-goal.
The power-play makes you nervous, as you will need that to be hot come the playoffs. It is funny watching these games with other diehard fans. Everyone is nervous to celebrate this success. When does the bubble burst? Can the Rangers maintain this momentum? To be honest, the only thing I'm worried about is King No-Cup coming back and fucking this all up. As I've said a million times in these blogs, if Hank doesn't win the Cup this year, everyone will question pulling Talbot. But I get it – you can't have $8.5M sitting on the bench, even if it's not best for the team.
I am genuinely excited and happy for Skaps The Kid
With Skapski holding the fort down like he's done it a million times, Skapski allowed the Rangers to find a way to bail themselves out and find a goal. The goal wouldn't come until the third period, with Keith Yandle scoring his first NYR goal of the year off a huge slap shot from deep. The puck looked like it was deflected on first glance, but after review, Yandle got the clean goal. It was a big goal for Yandle, as it finally got him onto the stat sheet. Hopefully he'll have some of Marty's magic, as once MSL got going, he never stopped, last season.
It was a big goal for the Rangers, as it broke up a 0-0 tie and it deflated Buffalo a bit. Buffalo, the worst team in the league, either rose to the Rangers level tonight or the Rangers sank a bit down. However you want to look at it, even though they got the win, the Rangers style of "just finding a way to win" is nail-biting for any fan.
With 30 seconds to  go, and with the goalie pulled, MSL added an empty net goal, sealing the Rangers 2-0 victory. The Rangers reclaimed their spot as #1 in the NHL.
It's great to be proud of our blueshirts right now, but all of these wins will mean shit come the playoffs. It's very hard not to be excited and to have your chest puffed out right now. However, come that second week in April, we press the reset button and hope the Rangers can continue to pull out victories in any way possible.  Will it happen when Hank returns? We can only wait and see.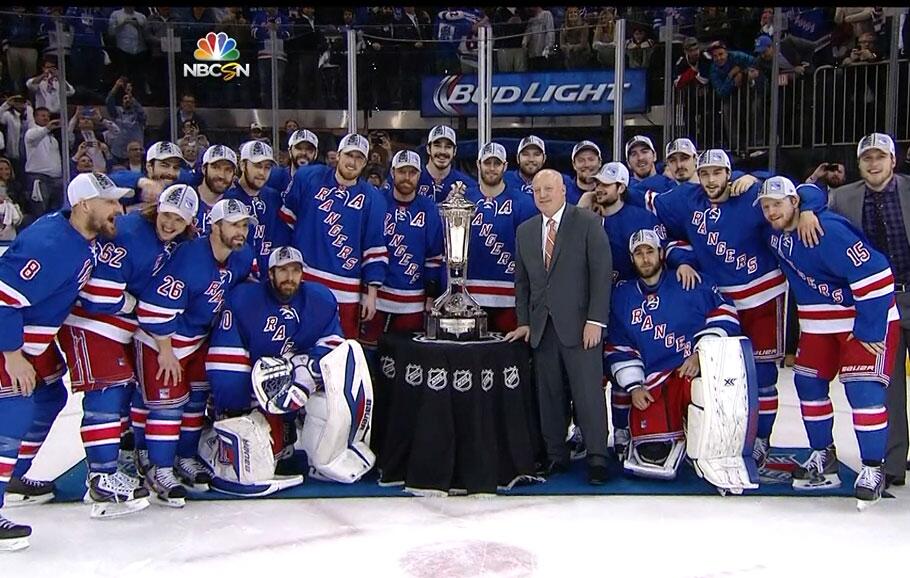 The Rangers hope to take this picture, this time with the Stanley Cup, come June
The Rangers get no rest, as they take on the Panthers at home Sunday at 5PM. It is sickening what tickets are going for on the resale/stubhub market. It's currently $150 for seats in the shitty 400's. For comparison, the Islanders, a second place team with high playoff aspirations, had Friday & Saturday games at home this weekend. You could've went to either game for $20 and sat on the glass for $60. Some fanbase. The toughest thing about being a diehard Ranger fan that wants to attend the games, is the price. The Rangers do a great job of pricing the blue collar fan out of the Garden. However, when people pay these prices for secondary tickets, instead of waiting for prices to drop, this is what happens.
My friend, the indescribable JEFFREY, has season tickets. The Rangers are already charging him near $7000 for his two season tickets for the playoffs. The Rangers want their season ticket holders to pay for 12 playoff games already. Talk about greed. It is fucking sickening. It's also very quite assuming on them, to assume that every series will go to 7 games and the Rangers will win every series. The Rangers really give their season ticket holders no benefits, outside of the option of selling their playoff tickets to recoup their money on the high ticket prices year round. However, who wants to sell their playoff tickets? The reason to have season tix is so you can attend playoff games. We're all in this ride together, but the Rangers really take their fans for granted.
Congratulations once again to the young Skapski. I can't imagine the feelings he has going on right now. Luckily for Skaps, he is too young to legally drink in the US, so I had a few celebratory cocktails for him! Maybe I'll give his number to the Hot Dog Hooker if needs to celebrate!
I'll be back tomorrow night!
LET'S GO RANGERS
IN CAM WE TRUST
IN HANK WE BUST
SKAP TAKES NO CRAP
Sean McCaffrey
BULLSMC@aol.com
@NYCTHEMIC on machine