Please return to MSG when found.
Welcome to another blog here on the new and improved DOINOW.com. As always, follow the right hand of the site for the archives, live twitter updates, a search menu should the mood strike and all that other good stuff. Make sure to check out the last few blogs, as I do not like to repeat myself time and time again. Of course, don't forget to try the black bean soup at the Bold, don't drink and drive, don't be one of those assholes on a cell phone and always, and I mean ALWAYS, use "In Cam We Trust" as your personal mantra.
The Rangers lost a 1-0 game to the Chicago Blackhawks on Wednesday night. The Rangers haven't been losing lately, and while this game was a game you felt they should've won, the sky isn't falling or anything. As a result of the loss, the Rangers remain the top seed in the East, have games in hand on every contender and are now two points back, with 3 games in hand, on the league leading Anaheim Ducks.
Cam Talbot, the hottest goalie in the NHL today, was amazingly remarkable as usual, stopping 30-31 shots, stopping several powerplays, stoning Patrick Sharp on a breakaway and being his usual Goalbuster self. The lone goal, ironically off the stick of Brad Richards, came mid-way in the third period, after Dan Boyle hit the crossbar on a two on one, the Blackhawks grabbed the rebound, marched up the ice and Brad Richards skated past Tanner Glass for an easy goal.
Tanner Glass should've paid for admission to the game, as he was a pure spectator and his normal worthless self. Seriously, does he have nude pics of AV in a compromising situation or something? He does not belong on a Cup contending team. I would rather see Lindberg, Haggerty or whoever the Rangers think is the best player on the Wolfpack take the roster spot that Glass is wasting. Glass has been a complete bust all season, and outside of a few hits that gets "Ooooohs" and "Aaaahs" from the fans, he has been completely detrimental to the teams success all year. A future Vezina winner?
It is funny how the rollercoaster season of an NHL club plays out. Talbot, while being a phenomenal back-up, took over for Hank after Hank's injury on 1/31. In that time, the Rangers are setting all types of winning and point records. During the beginning of Talbot's tenure, he was beat on powerplays, screens and everything else, giving up a few goals a game. However, the Rangers were scoring one more than a few, allowing the Rangers to pick up wins. Now that Talbot has been the main focus of goaltending coach Benoit Allaire, Allaire has settled Talbot down and Talbot now lets the game come to him, rather than trying to do too much. Talbot has been lights out. Those previous powerplays and screened shots aren't going in anymore. He's only given up 1 goal a game in his last 8 starts. However, as Talbot has been playing better, the Rangers offense has not.
My view from  Section 213
I have gone to hundreds of Rangers games in my life. I've seen Stanley Cup games. I've seen preseason games. I've seen the Rangers blow people out. I've seen the Rangers get blown out. I've seen the Rangers win in OT. I've seen the Rangers lose heartbreakers. Sure, that LIRR train ride is always an easier one when the Rangers win. However, going into this game, it was really a house money game, because the Rangers are the point leader in the east and have games in hand on everyone. However, I've never left the Garden so enraged like tonight.
Let me go on one of my bitch-fit rants.
WHY MADISON SQUARE GARDEN FUCKING SUCKS
1. If you are not super-rich, the Garden is not built for you. Try taking a piss in between periods on the 200 level. It's easily a 20 minute affair. No wonder so many people take their empty beer cups and piss into them in the staircase.
2. You have all these suit assholes and dumbass twats in the crowded 200's rotunda who will just stop walking in the middle of the crowd to text, check twitter or play Trivia Crack. I probably walked into 28384 people tonight, who just stopped short, forgot where they were, just so they could play with their phones. I wanted to punch everyone in the face!
3. Want to know why MSG is the quietest building in the NHL? Because the majority of the fans sit in the 200's/400's which all share the same 2 bathrooms on the concourse. So you have about 14,000 people all trying to use the same bathrooms, buy beer, buy food, etc all within an intermission. The Garden is hellbent on checking IDs. I made three beer runs during the game, and every time, the MSG staff were checking the ID's of people who looked way above 21. One dopey bitch didn't serve a man who looked like he was 70 years old because he didn't have ID.
When these idiots are checking beer ID's, that takes up an extra 1-2 minutes per person, because these MSG staffers have a hard time figuring out what makes someone above 21 in the year 2015. Then you have all these "Bars at the Garden" that have 3874374 taps, but no cups ready to go. So you have to wait for them to pour their beers, full of foam, for every person waiting. To get a beer is usually half hour ordeal. Of course there are no beer vendors in the aisles, because of the nature of watching hockey, but you got the same jackass trying to sell you cotton candy in the aisles every 10 seconds.
So since it takes longer than the intermission break to go to the bathroom, buy whatever you want etc, for the first 5 minutes of a period, you are constantly getting up and down to let people into their seats. Because MSG in the 200's only has one way up and one way down, instead of having bathrooms at the top of the 200's, in addition to the bottoms of the 200's, you have people clogging the aisles, blocking sight lines and people getting up and down. By the time everyone is settled in, the period is over and you go through the process all over again.
4. Sure the bridges and 100's are nice, but most of the people who sit there are either on business or don't know about the game. I've sat in the bridges and 100's a few times, and I'm one of the few people wearing a jersey. I went to the Flames/Rangers game a few weeks ago, where Talbot got his shut-out. The two jews in suits behind me were talking about how great Lundqvist was playing. Most of these fans in the 100's and bridges think Mark Messier is still playing for fucks sake.
5. Anyone who gets loud in MSG is automatically a leper. There was one guy in my section chanting "LET'S GO RANGERS", "WAKE UP" "YOU SUCK TANNER GLASS", "TAL-BOT" and all these other Ranger chants. A security guard told him to keep it down. Hell of a way to increase fan interaction at the games.
6. It's bad enough tickets and everything else are so god damn expensive at a Ranger game, and I get new fans want to jump on the bandwagon now. However, I have never experienced a game in my life where the stairs were as jammed as the LIE for a period. I was sitting in an aisle seat and had to keep constantly getting up and down and having all these morons walking up and down the stairs during play, without anyone saying anything. If I wanted to watch the game on the big screen, I would've just stayed home.
7. As I said, I've sat in good seats before, and MSG really has a class system there. Even with the expensive seats in the 200's and 400's, you are treated like a black person in South Carolina in 1859. Solidarity to all my brothers and sisters who sit there. You might as well sing songs while waiting like cattle to use the bathroom, while MASSA has the lay of the land one floor below.
8. Ranger tickets have gotten so damn expensive that season ticket holders are forced to sell their tickets to keep their season tickets. People can't afford thousands upon thousands. As I said in an earlier blog, the Rangers are dropping $7000-$15,000 bills on their season subscribers for 12 playoff games up front. So what happens is that Ranger fans can't afford these disgusting jacked-up prices, so they are forced to sell their tickets to fans of the opposing team. There were an easy 2000 Blackhawk fans at MSG tonight.
Anyway I'm done bitching about this, but it is infuriating that Ranger games are so expensive and the difference in between the 100's/bridges vs everywhere else. It's like Greasers vs Socs. ("The Outsiders" reference worked in here!)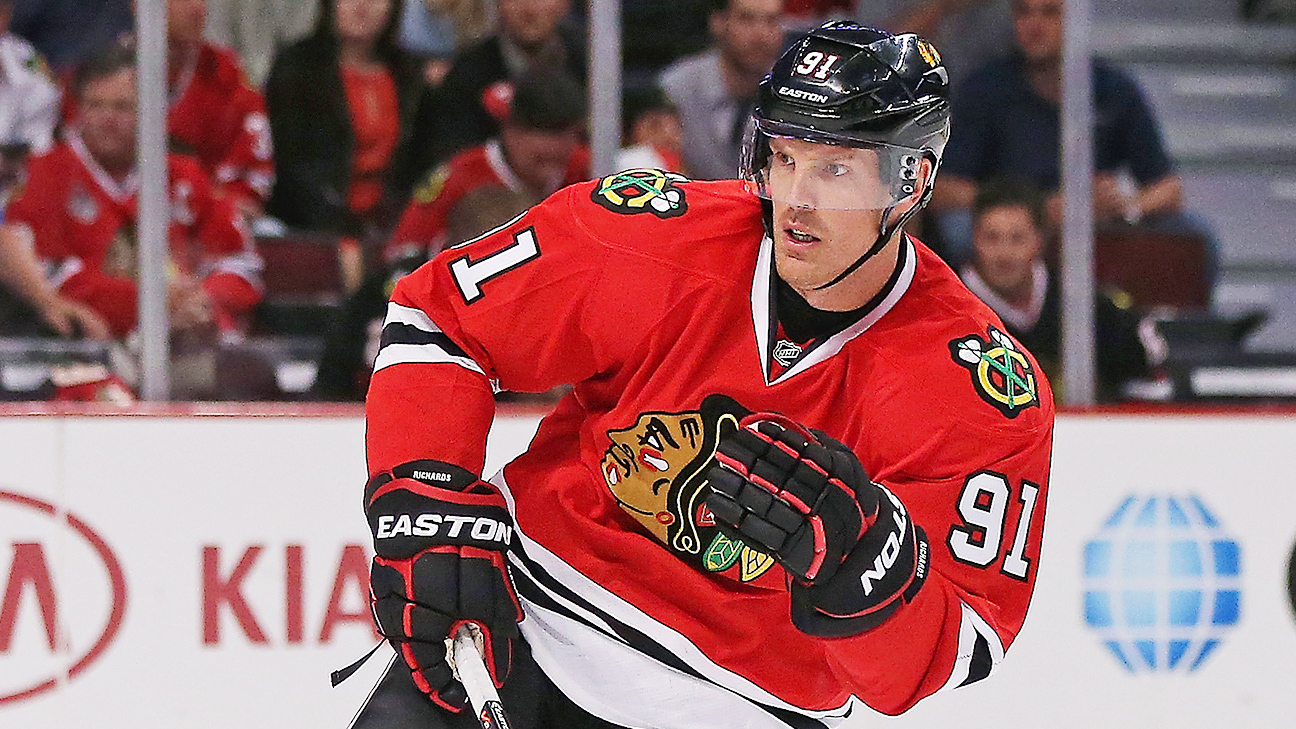 Broadway Brad returned to MSG
Brad Richards, a Ranger that I was and I would say a large part of the fanbase as well, were a fan of, made his MSG return tonight. The Rangers did a nice little video package on him, right after the incompetent referees disallowed a Dominic Moore goal. It's amazing how bad the referees are at times. I would say the NHL referees are the best refs out of all four major sports, but they have been tragically horrible as of late, league-wide.
Tonight, Moore scored in the first period, but the goal was disallowed because the referees lost sight of a loose puck. I don't get how you can blow the whistle so fast. Let the play finish, then review the play if you have to. In this scenario, because the whistle was blown as Moore was shooting, the play was not reviewable. In a one goal game like this, it cost the Rangers points and a potential win. It's not say that this was the only reason the Rangers lost this game, but it definitely didn't help either.
Brad Richards would find the net, courtesy of Tanner Glass having the best seat in the house and enjoying the game. How many times have ex-Rangers from last year burnt this team this year? Michael Del Zaster, Ryan Callahan and now Brad Richards all have game winning goals against the Rangers this year. Maybe Derek Dorsett can put up a hat-trick next time he's in town.
Rick Nash is in 2014 Playoff form
I have given Rick Nash a pass the last two years  because he was hurt the first year and got a concussion the second year. It is amazing what we know about concussions from as recent as 15 years ago. Concussions, and recuperating from them are no joke. What we now know about CTE and how concussions can lead to severe depression, and in some cases, suicide, there is no time-table on concussion recovery. It affects everyone differently.
As of late, Nash has considerably cooled down. He was once in a two man race with Tyler Seguin of Dallas for the Richard trophy. Seguin went down and it looked like Nash's trophy to lose. However, Ovechkin caught fire and now it looks impossible for Nash to catch Ovi. I joked before the game to the infamous JEFFREY, whose season tickets we sat in tonight, that when I saw Nash/Kreider/Stepan on the same line again, that it reminded me of last year. Well, Nash played just like he did in last year's playoffs, missing a wide open net on three different occasions, had a stick break on him, and made a pass instead of taking a shot. I'm not here to dump on Nash, but the Rangers can ill-afford to have Nash have an A-Rod post season again. The Rangers need Nash to be the player he was for most of the season come the playoffs.
Most aggravating about this loss tonight was the lack of offense and burying the puck home. The Blackhawks were on the second game of a back-to-back, starting their back-up goalie, Scott Darling. Allowing Darling to shut you out at home is really inexcusable. Again, the sky isn't falling, because 99% of the time this season, the Rangers have found ways to win these games. Talbot was phenomenal keeping them alive all game, but the Rangers couldn't muster up a goal. The Rangers are comfortably ahead in their division, but to lose a game like this, the best word would be "frustrating", especially after that Florida shit-show and having two days off. This wasn't Darling shutting the Rangers down, as much as it was the Rangers stepping on their own toes.
Was Yandle worth Duclair and all the picks?
When the Rangers made the trade with Arizona for Yandle, I read Coyote fan blogs and Coyote reporters tweets. They didn't seem too upset to lose Yandle. It's tough to gang up on Yandle, as opposed to Tanner Glass, because Yandle just got here, is still learning the system and acclimating himself. However, he's supposed to be another QB on the powerplay. I thought the QB on the powerplay means going to the endzone, but like a real NFL QB, all Yandle does is pass. With the PP being non-existent in the last 7 games, the Rangers need to tee off more.
The closest the Rangers got on their PP was a Derek Stepan shot that was two inches off and landed into the side of the net. The Rangers have got good looks during their PP, but at some point, they need to score on it. The Rangers are wasting too much time losing faceoffs, chasing the puck and then getting set up. A two minute powerplay easily turns into a 45 second PP for this team too fast.
One loss isn't all doom and gloom for this team. This was bound to happen as the Rangers haven't really been playing well offensively of late. Talbot has just been lights out, and yes, we all know I'm the biggest Talbot fan (non blood related) in the world, but the guy continues to make highlight reel saves and keep his team in every game. Tonight, the Rangers got blanked and all their problems all occurred at once.
Coach Alain Vigneault is an easy Jack Adams award winner in my eyes. I have trust in AV that he will figure it out. MSL's injury hurts the team no doubt, but his absence didn't cost the Rangers the W here. Everything went wrong – bad officiating, hitting posts/crossbars instead of nets, Tanner Glass getting too much ice time, PP having no juice and bad bounces. Even the rebounds Darling let up would always land to a Blackhawk, rather than a Ranger. If the Rangers got one rebound in their direction, who knows, this could be a different game.
Hags!
Even in the loss, I thought Carl Hagelin continued to play consistently well. With the goaltending most of the focus this season, in addition to Nash's early season heroics, many people haven't been talking about Hagelin. He's been an asset to the team every time he touches the ice. I thought he had another good game tonight.
The Rangers now have two more days off to figure this mess out. Hopefully visiting Carolina on Saturday night will help the Rangers. The Rangers then host the league leading Ducks on Sunday night, before having a game every other night of the season, minus a back-to-back sandwiched in, to close the season.
We all know the Rangers  will be a high playoff seed this year. While many of us, myself included, have spent a lot of time discussing Talbot vs Lundqvist, it might all be naught if the Rangers can't figure out this goal scoring drought. Let's hope they turn it around in Ric Flair country.
I'll be back Saturday night for sure, if I don't have something sooner. Lundqvist has been cleared to practice, but has a daughter on the way. He may rejoin the Rangers next weekend in Beantown.
Speaking of Beantown, if you're in Long Island, and want to meet the infamous JEFFREY and have a good time with some good people, feel free to drop down to the Bold O'Donoghues on March 28th. Here are the full details, in this lighthearted promo ad:
LGR
See ya Saturday!
LET'S GO RANGERS
IN CAM WE TRUST
Sean McCaffrey
BULLSMC@aol.com
@NYCTHEMIC on the twitter machine