The time is now for Henrik Lundqvist
Welcome to another blog here, on the new and improved DOINOW.com. I gotta be up at 5AM, so let's get right into it. Of course, check out the right hand of the site for the archives, live tweets, search button and all that good shit. Don't forget to check out the soup specials at the Bold O'donoghues, don't drink and drive, tip your bartenders and always, and I mean ALWAYS, use "IN CAM WE TRUST" as your personal mantra.
Before getting into LA vs NY, the big news to discuss today is the return of Henrik Lundqvist. The cat came out of the bag before the game, as Henrik practiced, is cleared to go and will start sometime this weekend. If it's up to me, I give him the MSG start on Sunday. Either way, Hank will play Saturday or Sunday, with the Rangers on a back-to-back. Just makes sense to me to give the Garden faithful Hank's first game back.
I can only imagine what tickets on the resale market will go for, if Hank plays Sunday afternoon. Tickets against the Capitals on Sunday are already triple face value as it is. If it's made official, I would expect a normal $56 ticket to go for an easy $200+ on Sunday. It's pure insanity what Ranger tickets are going for right now.
If you haven't already, I'd suggest checking out BLUESHIRTSUNITED.com, the official Ranger website for all the Hank return news and press conferences. Bottom line, he's back.
The saddest thing about Hank's return will be not knowing what Cam Talbot could've done in the playoffs. It would've been fun to see if the Rangers could've rode the hot hand all the way to the Cup. For the Rangers organization as a whole, if you look at in dollars & cents, the best thing for the Rangers would've been for Cam to win the Cup.
Thank you Cam!
I understand the blind loyalty to Henrik Lundqvist. I have never argued Hank's career on these pages. I do question making him the highest paid goalie until he's 40 years old. 99% of the time, goalies don't get better with late age. The best thing about this blog is you can go back and see what I said. If you do look through the archives, I predicted the Rangers would be better with Talbot. That's what happened this year. I also said & still believe that the Rangers would've won a Cup last year, if the Hank of 2012 was in net. I just think at this point in time, Talbot is the better goalie.
One thing I hate, when talking to people on social media, is that if you're a Talbot guy (There's a lot more of them out there now, but let's not forget who the first was!) that means you just became a Ranger fan. Is that really the best defense people can muster? If you prefer Talbot to start NOW, you're not giving the finger to Hank's career, you are of the feeling that Talbot is the hottest goalie on the hottest team in the NHL and why tinker with that?
Another thing that drives me nuts, when reading people's blogs or social media postings is how trading Talbot is a slam dunk move that will lead to big gains. That Swedish kool aid must've hit your brain hard.
Here is why trading Talbot is not going to bring you back big gains and why you shouldn't do it:
1. You don't know what Hank you will have this year when he gets back.
2. Hank could stink the joint out, get hurt, have something happen.
3. You're not getting anything major back because you have no payroll for it. These theories of trading Cam for big name players or a first round pick, are you nuts? How would the Rangers pay these guys? It's bad enough the Rangers might even lose Hagelin after this season.
4. If this is a Cup contending team for the immediate future, win or lose this year, don't you want to win next year too? Why would you downgrade? Let's face it, the Cup window is a small one. Why would you close it a bit at all?  Hank's getting older, might as well keep Cam around for next season to protect him.
5. The best case scenario, outside of Hank taking a paycut (union won't allow it anyway) is Hank to come back, crap the joint out like he usually does at the beginning of a season, then Talbot goes 16-0 in the playoffs. Again notice I said best case scenario , not what I think will happen.
From there, Talbot is your guy, 5 years younger and even with a raise will still be half of what an out of his prime Hank will be. Hank will waive his NTC to start somewhere else and you just cut $4.5-$5 million out of your payroll for an aging goalie. How many long term goalies ever work out anyway?
6. Cam is only being pulled based on Hanks rep & not thru fault of his own. Cam has a nice rep for himself now, if Hank doesn't win the cup this year, you really need to assess Hank, considering all the favors & trades his organization has done to back him up.
Bottom line, trading Talbot, win or lose this season, is a bad idea for the Rangers. I believe he could be a starter here, just like how he could start for most of the teams in the NHL. However, Rangers have him signed, Hank could get hurt/need a break next season and how can you argue that no matter where he is on the depth chart, he's a huge asset for a Cup contending team?
Imagine you trade Talbot and he's the guy that stones you out the playoffs next year?
The Buffalo Killer
Before getting into the future with Hank, let me be the first to give a thank you to Mackenzie Skapski for his contributions to this team. Sure it was only 2 games, but it was also four points. I enjoyed watching him play. His emotion, energy and joy to be there really came out while watching him, even if he was on the bench. I plan on attending some Wolfpack games next season to track his progress. I don't know if he will play with the Rangers again, but he's a great human interest story and by all accounts a great kid.
In my perfect world, the Rangers get Hank to waive the NTC, get his contract off the books, and have a Talbot/Skapski tandem. In my perfect world, the Rangers win the Cup every year too, I don't have to go to work, I have center ice row 1 seats to every game and I can drink beer without having to urinate every 5 seconds.
For real though, thank you Skapski and I hope he goes on to have a great NHL career, even if it is not with the Rangers. I'll be pulling for him to do well and he provided some great thrills with his limited time on the ice. I hope the Rangers allow him to continue to practice with the team and have him at every playoff game. The experience would be beneficial for "The Buffalo Killer"!
A face Ranger fans are familiar to seeing at the end of the playoffs
Henrik Lundqvist. Hank. King Contract. Whatever you want to call him, Hank is back. It's not like Glen Sather can walk into IKEA and return his Swedish player back to this Swedish store, just because he got a newer and younger product that does the same thing. Barring injury, it's put up or shut up time with Hank.
Maybe I haven't made it clear in these blogs, although I feel I have. No one is arguing Hank's career with this team. He's had some pretty terrible teams, offensively, in front of him. No question – Hank has stood on his head and carried this team. His two most recent carry jobs were two years ago, when the Rangers fell to Boston, after the Rangers PP went 2 for 3848343874737377347 and Tort lost the team. The year before the Boston loss, Hank had the Rangers in the ECF and again, the offense was out of gas and the team was tired from blocking shots all year. Ironically enough, the Devils who beat the Rangers that year, would go on to lose to the Kings, the same team Hank lost to last year.
Everyone has an opinion on last year and Hank's Game 7 record. Let's make it clear – if you have a great game 7 record, it's because you lost 3 games already and basically one game over .500 for a series. It does mean you won a high pressure game too, but means you lost 3 pressure games too. I wouldn't say having a good game 7 record is meaningless stat, but it's a stat I wouldn't put much stock into.
I am hearing fans say that Hank carried the team last year. I don't buy that for a second. Again, Hank lost 3 games to a back-up goalie in Philly and won a game 7. He quickly found himself down 3-1 against Pitt, and if the MSL tragedy doesn't happen, who knows if he has an opportunity to win another game 7 that series. The Rangers avoided a bullet not having to play Boston, who has owned Hank these last two years. The Rangers needed 6 games to beat Montreal without Carey Price and that Game 5 was ugly. Then Hank blew every lead he had, outside of Game 4, blew two goal leads and lost 3 OT games.
For the first time in a long time, I don't think Hank carried the Rangers in the playoffs last year, as much as it was a complete team effort and a lot of good breaks along the way.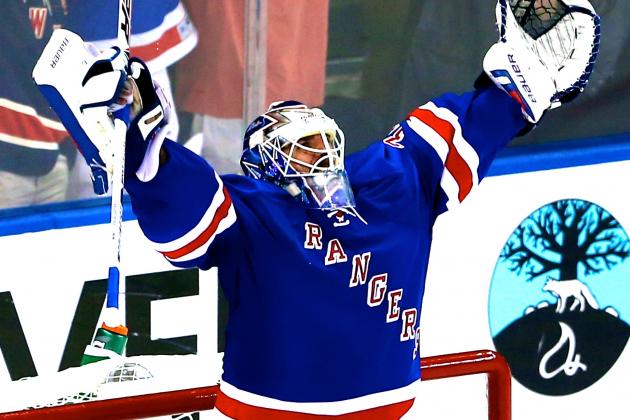 What every Ranger fan wants to see in the middle of June 2015
You all know my stance from reading the blogs and my social media posts. I think riding Talbot is the right move for the Rangers to win this year. However, the Rangers are going down the Hank road. I don't agree with it, but it's not to say that this road won't get us to the same place either. It is Robert Frost here, I just would've took the road less traveled, as the normal road has hit many speed bumps & while through no fault of its own, has not reached the final destination. It is not the road's fault for having potholes at times.
Talk about waxing poetic about roads!
It's Hanks job, starting this weekend to bring the Cup back to NYC. With a Cup win, he will go down as the best goalie in Rangers history. Without a Cup, he will have that Ewing label attached to him, in a city where winning is at the highest premium.
There really is no excuse for Hank not to win a Cup this year. Last year's team was a  Cinderella, this year's team is the favorite to get it done. All the trades were made to help Hank. You got the Coach of the Year behind the bench. You got the best goaltending coach in hockey. You got the most winningest team in the NHL. There is no reason that we shouldn't be high-fiving at the Canyon of Heroes come the middle of June.
I've said it before, and I'll say it again, this is the most pressure in Hank's career. It's Cup or Bust. If he doesn't win the Cup this year, everyone will be second questioning pulling Talbot.
To answer some feedback, yes I own a Hank jersey!
So Hank is back, even if it's at the expense of that the current team is accomplishing. What's to expect? I don't think anyone can say for sure. We all want the Hank that stood on his head and carried the team for so long. However, Hank has had some horrible starts at the beginning of every season. That is something the Rangers can ill-afford here.
Hank has been blown out 9 times this year and was so bad from October-middle of December that he was in the bottom half in the league in SV% and GAA. He did turn it around, and got hot from middle December to 1/31, the day of his injury. However, he struggled with every top team in the league. He will be tested strongly, if his return is on Sunday, against a team he's very familiar with, the Washington Capitals.
I wouldn't go nuts if Hank gets abused against the Caps on Sunday. I wouldn't expect a Willis Reed game either. I don't know if Hank's return costs the Rangers the President's Trophy, and while the President's Trophy is a nice bow to this great season, it is not the ultimate goal here.
The only thing that concerns me is Hank coming back in the playoffs, finding himself down 0-2 and the Rangers looking at Cam to help out. It doesn't work that way. You made your bed with Hank so you gotta lie in it. Even if Cam would return in that situation, do you ride him out all the way?
I don't care what anyone says, it is definitely a goalie controversy, that will only get as big as Hank's performances allows it to be.
Where I would Hank on the Depth Chart come the playoffs!
At the end of the day, I really wonder, as a human being, what Cam Talbot is thinking right now. He has to know he can do the job. At the same time, he knows this is Hank's job to lose. It is unfortunate that Cam's biggest days as a player might be somewhere else, and he will never have the opportunity to capitalize on his contributions to the club this year.
We all know I'm the conductor of the Talbot Train and all that. Many people have been asking me how I feel, hence this blog, but I'll make it clear here once and for all – I'm rooting for the front of the jersey, not the back. Sure I would prefer Cam. However, Hank is taking over and I can't prevent that. I hope Hank is the Hank of old and dominates. Put the people like me to bed.
I will still say that I think Hank's contract is bad, because he gets 10% of team payroll til he's 40, even if he wins. Still, if he wins the Cup this year, they can never take that away from him or us the fans. So all I gotta really say is PROVE ME WRONG HANK. WIN THAT FUCKING CUP YOU BEAUTIFUL BASTARD!
It is time for Hank to be the goalie we all know he can be and finally, put that crown on his head. Remind the skeptics like me why you should be remembered as the best goalie in NYR history.
And oh yea, there is a game to recap here too tonight!
Speaking of goalies…
The Rangers dropped a 4-2 final to the LA Kings on Tuesday night. It is funny how fans react sometimes. The sky isn't falling. As a result of the loss, the Rangers are still the best team in the league statistically. Standings wise, this was one of the several games in hand the Rangers have. They just didn't add more cash to their house money.
The only thing that really concerns me with the Rangers, outside of the goalie controversy, is that they have too many of these games, where they have these prolonged offensive slumps. Their powerplay continues to be horrible, as the two minutes quickly evaporates into 45 seconds by the time the Rangers are done losing the faceoff and chasing the puck around. Even at the end of tonight's game, the Rangers pulled Talbot with 3 minutes to go and continued to lose faceoffs and waste time chasing the puck.
It is funny how much better the Rangers play on the second game of a back-to-back than they do with days rest. The Rangers have picked up huge wins over the Ducks (best offensive game of the year), the Panthers (Talbot won that game) and the Capitals (another Talbot stellar performance), in their last three back-to-backs. However, with rest, they had a game like tonight, that 1-0 loss to Chicago and that loss to the Flyers. I don't know how to explain it. Perhaps the Rangers just ride that wave of momentum from the previous 24 hours, I don't know.
ZUUUUUUUC!
I am a huge proponent of Mats Zuccarello. Just check my previous writings about him, especially during the trade deadline. However, he has acquired this nasty habit of passing the puck instead of taking wide open shots. That's why I almost shit my pants when JT Miller one-timed the puck to Zuccarello and Zucc actually shot the puck, putting the Rangers up 1-0 in this game, 50 seconds in. However, that's where it ended. For the rest of the game, Zucc went back to making horrible passes instead of taking shots. Time and time again, Zucc would have open looks but would just make a wild pass rather than going for a shot. Even if you don't score, you have teammates trailing for a rebound or a deflection. It's annoying at this point.
Someone who has gotten over his offensive slump and started shooting the puck was Derek Stepan.  As I sit here 10 minutes after the game, I can't remember him taking a shot. He probably did, but he was invisible on the ice tonight. You would hope he would continue his streak instead of fading away.
Will we ever write NASHTY again?
I talked about it in the last few blogs, so I won't get too deep again here, but Rick Nash continues to be a ghost out there. He's in playoff form, falling down, missing shots, no puck luck and looking lost at times. I said it before, I give him a pass in the past because of his concussions and what we know about them. However, I don't know how to explain his slump now. He's getting looks, but just not finishing. Earlier in the year, he was using his size to bully himself to the net, now he looks like that midget who dropped the puck at the Islander game tonight. The coaches need to figure out what's wrong with Nash and put him back together.
As far as this game itself, the Rangers stunk the joint out. No other way to put it. Quick wound up with 34 saves compared to Talbot's 31 saves. However, that's a misleading stat. With 5 minutes left in the second, the Kings outshot the Rangers 29-14. It wasn't until LA got a 3 goal lead that they just played defense and let the Rangers take long distance and bad angle shots. LA just played a "let's get the fuck out of here" type of game for the whole third period. It worked.
I'll tell you what, and I know this is probably not the first time you're hearing this – NO ONE WANTS LA in the playoffs this year. They just manhandled the best team in all of hockey this year. Nobody wants them in the first round this year. Jonathan Quick reaffirmed to me why he's the best goalie in the NHL today. I know who has better numbers than him right now, but when it comes down to it, Quick always wins the most important games. While the Rangers flat-out sucked when it came to puck possession, face-off, turning the puck over, man-advantages, shooting at the goalie and everything else you could think of, when tested, Quick held it down.
TAL-BOT!
A 4-2 victory might suggest Talbot had his doors blown off, but it was anything but. LA just dominated the Rangers all game. After Zucc's goal, making it 1-0, the Kings scored 4 straight goals. It was ironic that every time Talbot made a huge heroic save, within seconds, the Rangers defense broke right down again and let LA walk to the net with a goal.
Here's a recap of the Kings goals:
1. Robyn Regehr scored seconds after Talbot stoned Trevor Lewis one-on-one. The goal deflected off Yandle's skate. This tied the game 1-1 at the mid-way point of the first.
2. Talbot overplayed a shot, came out of net and Gaborik had an easy look, making it 2-1, 5 minutes into the second period. This goal happened after Talbot made 3 straight quick saves in a row.
3. Dwight King beat the defense and found Jeff Carter all alone in front of the net, seconds into the third period, 3-1 Kings, and another goal created by a Rangers turnover and lack of drive of getting to the puck.
4. Jake Muzzin hammered the final nail, 5 minutes into the third when the Rangers were all tired and flat-footed & Dan Boyle made his 837489379387th turnover of the season.
Kevin Hayes would add a goal late into the third. It was Hayes 14th goal of the season, perhaps getting him closer to that 20/20 mark in his rookie season.
While Gaborik's goal came off the result of perhaps Tablot over-play, it was hard to blame him for the other ones. Of course you would've liked to see him stop it. I wonder if all this Hank talk was in the Rangers minds tonight, because they were horrible. It was worse than that Panthers game, that the Rangers somehow won last Sunday. To simplify this game, "The Rangers didn't do dick."
LGR
There's not much to really analyze in tonight's game. Rangers sucked. Sure they have had these games where they hit their offensive woes, but this was one of their worst games of the year. Just got to move on & let's hope it doesn't happen again any time soon.
The Kings wanted it more tonight and it showed. The Rangers got beat by a better team. I don't know if the Rangers are riding a high because of their standing in the league or Hank's eventual return, but whatever the case, they played like crap tonight.
It's not the end of the world, considering the Rangers situation. You just gotta forget this game and get ready for the test against the other hottest team in the league, the Ottawa Senators, led by Andrew "The Hamburglar" Hammond on Thursday night.  We could be looking at a potential first round match-up here. Time will only tell.
It's time to forget this game, look ahead and focus on the prize. Let's just hope the LA Kings aren't there to greet us again in June.
See ya Thursday night!
LGR
ICWT
Welcome Back Hank
Thank you Skaps!
Sean McCaffrey
BULLSMC@aol.com
@NYCTHEMIC on the twitter