Officially time to panic
Insert intro here, you know the deal already. Let's get into it.
The Rangers lost Game 4, of their best of 7 second round series with the Washington Capitals. The final score was 2-1, another one goal difference in these 2015 Stanley Cup Playoffs, for the New York Rangers. The Capitals now lead the series 3-1. For the Rangers, it was their 9th straight playoff game of the year, where only a goal separated the difference.
Bottom line, the Rangers have scored one goal in the last two games against the Capitals. You're not going to win many games like that.
People will call you a fake fan for thinking the season is over. However, I can really care less what people think of my fandom. I know how diehard I am. If you know me personally, you know how diehard I am. However, I'll say it – The Rangers are D-O-N-E!
I'm sitting here, three hours after the Rangers loss and just trying to find the words for the emotions I have right now. Part of me keeps remembering my train ride home with Brian Miller & JEFFREY, last year, after the Rangers lost Game 4 to the Penguins, in the second round. JEFFREY & I were going nuts and were furious. Brian Miller said they would come back. Whether that was blind fandom for his team or not, bottom line is he believed. The Rangers came back, at the same time, in the same situation, just last year.
Do the Rangers have another miracle run in them? You can look at the Kings winning three game 7's last year to make the Cup finals. You can look at this Rangers team from last year. You can go through the history of the NHL to look for 3-1 series comebacks. There is evidence to suggest it can happen, as recent as last year. However, I hate to be a downer, but this team just doesn't have it. The Caps are also too good to allow it.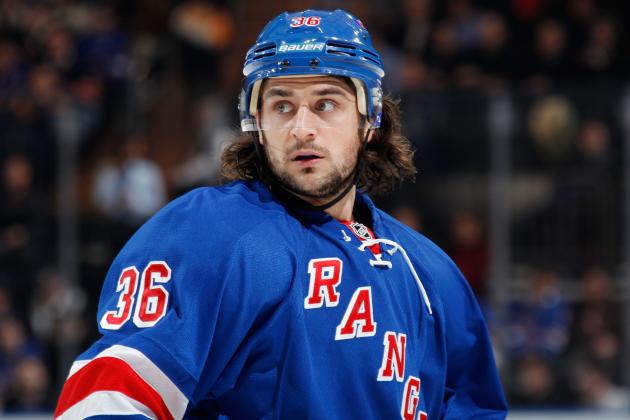 Who would've known how much he would truly be missed?
I'm sorry if I'm all over the place in this blog, but as you may be able to figure out, I got so many emotions pumping through me right now.
When Zuccarello went down with what's been reported as a minor concussion all the way to a fractured skull, (And great job NHL, thanks for the no info injury reports. They really need to adopt what the NFL does and give clear injury reports. I know the NFL was forced to do this for gambling purposes, as it affects lines/fantasy football and all that, but really, NHL needs to give their fans accurate information) I didn't think the Rangers would miss him that much.
Zucc has been a major factor for this team all year, but really, he didn't crack 50 points as a forward, that played first line hockey, for the majority of the year. However, he has been their heart, their fireplug, their guy who creates action. Zucc or no Zucc, there is no excuse to be down 3-1 to Washington right now. However, when you write the book on the 2015 Rangers season, not having Zucc for this series with the Capitals, needs to be mentioned. Then when you're done mentioning Zucc, you will then have to start talking about Braden Holtby.
King Henrik? LMAO!
I'll admit. I was wrong. However, I'm not going to be the only one to say that. When the Capitals beat the Islanders in 7, many of us took a sigh of relief. For starters, that series went seven. For many Ranger fans, we thought the Capitals would be the easier match-up. Who knows, maybe they are. Maybe the Islanders sweep the Rangers. When the Rangers pack up this season, at least they weren't eliminated by the Islanders. It will take the sting out a little bit, but not much.
If you couldn't tell already, I'm putting the eulogy on this season. It's over. Bluntly, the Rangers have sucked all series.
Let's sum up the Rangers powerplay in this game, which has been the blueprint all playoffs:
– Lose faceoff
– Clear
– Offside
– Lose faceoff
– Clear
– Dump puck
– Clear
– Overpass instead of taking a wide open shot
– Clear
– Shoot 50 feet wide
– Clear
With every single Rangers playoff game this year being decided by one goal, powerplay goals can make or break games. For the Rangers, it has broken them this series.
The powerplay isn't the only issue. The Rangers couldn't win a faceoff if it meant curing cancer, aids and creating world peace. It just doesn't happen. Most of the time, the Rangers lose a faceoff, chase the puck around and then need to make a line change. It's a waste of game time, game time the Rangers need when they are trailing in games.
Time and time again, the Rangers refuse to shoot the puck. They could be 3 feet wide open in front of the net, but they are looking for the trailing skater, rather than beating a goalie one-on-one. Very rarely do they look for deflections and rebounds. Even with a minute left, with the goalie pulled, the Rangers look to pass with the man advantage, rather than shooting the puck. How can you win that way?
If there are any positives about the Rangers in the playoffs this season, it's Henrik Lundqvist and the defense.
It hurts to lose this series even more than last year
Henrik Lundqvist is a polarizing player for me. If you've been following me all year and have reading comprehension, you know how I feel. I feel like I need to reiterate it every blog, because people twist my words around. Let's say it one last final time.
LUNDQVIST IS A GREAT GOALIE. HOWEVER HE IS NOT WORTH 10% OF TEAM PAYROLL NOR IS HE WORTH BEING THE HIGHEST PAID GOALIE IN THE LEAGUE UNTIL HE IS 40 YEARS OLD. LONG TERM CONTRACTS RARELY WORK OUT. HE SAID HE WANTS TO WIN A CUP AT ALL COSTS, THEN IN HIS NEXT MOVE, TEASED FREE AGENCY & DEMANDED TO BE THE HIGHEST PAID GOALIE IN HOCKEY. IN A NO-CAP ERA, HE IS WORTH WHATEVER YOU WANT TO PAY HIM. IN THE CAP ERA, HE IS WAY OVERPAID.
As time goes on and on, Lundqvist looks more like the greats who could never win a championship in their respective sport. Dan Marino. Charles Barkley. Karl Malone. Ernie Banks. Patrick Ewing. Mike Gartner. Jim Kelly. Pat LaFontaine. Do I need to go on? That's a list of athletes that Lundqvist doesn't want to join.
Once the season is over, I'll do a Lundqvist blog. But really, without expanding on these points here, look at his career. He's rarely ever had a great team in front of him. The first 8 years of his career, he carried the team on his back. These last two years, he had offense in the regular season and AV really opened the team up, but when he needed his teammates the most, they weren't there. If and when the Rangers lose this series to the Caps, he can look at his teammates all he wants (Like he did in his press conference) but he will also know he was beat by a better goalie in this series.
I don't know if Lundqvist will ever win his Cup in NY. I'm on record already saying I don't think he can do it. I said it multiple times. In the cap-era, his contract hurts the Rangers from getting the help they need. They could use a Stralman. They could use Brian Boyle. They could use a fighter like Dorsett. Tanner Glass is a waste. Dan Boyle is a mess. I won't say Callahan is better than St. Louis, because without St. Louis, you don't make the Cup last year.
Now, in 2015, Lundqvist has the best team in front of him than he's ever had. He also has the pressure of a back-up goalie that did his job, statistically better, than he did, and for $8 million less. While the Rangers have scored more in front of Talbot & are better statistically & Talbot is better offensively, this is Hank's team. However, when this series is over, he got beat by a goalie who played better and for $6.5 million dollars less. When you see this, it makes you really think, is Hank worth being the highest paid goalie? Aren't the Rangers better rolling the dice with Talbot next season and using the money for better offensive weapons, providing someone would take Hank's contract?
I'm not saying Talbot is better, worse or equal than Henry. I'm just saying contract wise, it makes more sense to keep him, deal Hank and look for offensive weapons. It's just not happened with Henry here and in this cap era.
What really hurts, for Henrik Lunqvist and for the Rangers organization, is that this year will be another wasted year of Lundqvist's prime, because once again, the Rangers offense was non-existent in the playoffs.
What kills you is how shaky Holtby was at times in that NYI series, but decided to morph into Braden "Ken Dryden Patrick Roy Domenik Hasek Martin Brodeur" Holtby in this series. For Lundqvist, it has to be maddening.
Another polarizing Ranger
In Lundqvist's defense, he has played out of his mind the entire playoffs. However, so did Fleury & so has Holtby. I said it in my Game 5 NYR/Pitt blog, but Pitt could've easily swept the Rangers in all those one goal games. The Rangers just got the timely bounce or luck goal before Pittsburgh did. In this series, the Caps are doing what the Rangers did in the first round. They've "out-Rangered" the Rangers.
Rick Nash is getting a ton of space and thoughts from Ranger fans and reporters. I will say this, every other big money player is holding their own in the playoffs. Ovi. Perry. Kane. Johnson. All four will most likely make the Conference Finals because of their performances in the playoffs.
I always gave Nash a pass last year, because of his concussions. Concussions are no joke. This year however, I still don't think he's played bad. People are willing to crucify him and bury him. I get the frustration. At the same time, he's playing well and is one of the Rangers point leaders. What he's not doing is scoring goals.  However, the same fans burying him are the same praising the Brassard goal tonight, when the Rangers led 1-0, which was assisted by MSL and Nash, two Rangers that Ranger fans have quickly thrown under the bus faster than AV did in his last press conference.
Nash has played well. Is he worth his contract? No. I just don't go as nuts about it, because it was his first big free agent deal and because he has never said he wants to win a cup here at all costs like Lundqvist said. Nash also doesn't get the same endorsements, have his own clothing line sold at MSG, nor has his own TV show like Lundqvist. His Ranger contract is his only hockey source of income, as opposed to Lundqvist who has made the big money and has outside revenue pouring in.
That being said, Nash isn't even a leader at his team, despite being the highest paid skater. He's not even an alternate captain. He's the guy paid the big bucks who scores in the regular season, but "A-Rod's" it up in the playoffs. At least A-Rod had the 2009 ALCS. Nash has never had that game, never mind series, where he was the best player on the ice.
Again, Nash hasn't been bad, he just isn't doing what he's been paid to do and that's put pucks in the net, come playoff time.
The tone of this blog right now. Can you blame me?
You are not coming here for the newspaper recap and you already know the result already. The Rangers lost and are now down 3-1 in the series. As far as Game 4 as a whole, what can you say? It was the same old shit. The Rangers relied on Lundqvist just as much as the Caps relied on Holtby. In the end, Holtby was better than Hank, which is why he has the best goaltending numbers in the playoffs thus far. Once again, Hank is runner-up to someone else. It will also pain me, as a Ranger fan, if the Hawks are eliminated. It will mean that another goalie has won a Cup during Hank's watch.
At least Ovi, Stralman, Boyle, Callahan and Richards have a shot at the Cup this year. I'm happy with any of those guys getting it. I'm sure Hank will be smiling if it's Hawks vs Bolts in the Cup this year. He can watch another ex-teammate win a Cup, while he calls himself and profits off being a self-appointed King.
As far as tonight's game, what can you say? I felt like I was sucker-punched. I really am not ready to start watching baseball closely again. However, I may have no choice. I said it all year, this is a Cup or Bust year, and now if the Rangers don't go on a three game win streak, Ranger hockey is over until October. It's depressing just thinking about it.
Despite his heroics last year & assist tonight, Friday could be MSL's last game as a Ranger
This game started off like every other game in this series. The Rangers applied a ton of pressure and couldn't score. Lundqvist was forced to bail out his defensemen and made some impressive saves. Holtby did the same on the other end. We all thought the Rangers would have the edge, goaltending wise, this series, but it hasn't been the case, because of how great Holtby has been.
The Rangers powerplay was once again as useful as tits on a bull. You gotta wonder if Torts is just laughing watching these games. Stralman, who Sather didn't think was worth $4.5M a year, saw his Lightning go up 3-0 against the Canadiens, while Dan Boyle, at the same $4.5M a year, looked lost and old all game, except for blocking an empty net opportunity, when the game was already lost.
The Rangers showed some life in the second period, when MSL found a streaking Brassard to the net, with 6 minutes and change into the second period. Brassard slammed it home top shelf. It would be the first & last Rangers goal of the game.
The Rangers, always looking to make heroes of relative unknowns, decided it was time to make a superhero out of Andre Burakovsky. Mind you Andre Burakovsky is 20 years old and only playing because Fehr is hurt. That didn't stop the Rangers though, they were hellbent on creating a new superstar on their watch.
Andre Burakovsky got his first goal, with under four minutes into the second period. The Caps forecheck produced the goal, as  Burakovsky "capitalized" (har, har, har) off a turnover based on the Caps strong play, got into the slot and beat Lundqvist. KING!
Go ahead. Blame the turnover. However, it was a shot that the highest paid goalie in the league should stop in a series defining game. If he can't do it, then maybe he shouldn't be paid to be the guy who can.
So nice of the Rangers to make a superstar out of this 20 year old kid, who is only playing because Fehr is out
1-1 after two periods. However, the Rangers weren't done crushing us yet. Really, I feel like changing my facebook relationship status to "In an emotionally abusive relationship with the New York Rangers."
Burakovsky beat Lundqvist 24 seconds into the third period after a boneheaded play by the usual stellar Ryan McDonagh. Sorry, that's a shot that needs to be stopped by Hank, especially when Holtby would go on to stone Hagelin on a penalty shot. Where goaltending was key, Hotlby outperformed Lunqvist, finishing with 28 saves on 29 shots, where Hank finished with 28 saves on 30 shots. Both goalies were tested. Both goalies passed their test, but Holtby got an A+ compared to Hank's A.
Still, you can't put this loss on Hank. The Rangers just don't score and haven't all series. I can understand Hank's frustration in his postgame press conference. The Rangers choked. They blew it. They refuse to shoot and try to score. Of course Hank is pissed. It just hurts more that Holtby is playing out of his mind.
What hurt me as a Ranger fan, was hearing Hank's postgame press conference. He sounded defeated, from a year ago, at the very same point, with the same series score. He sounded like it was done. I had no confidence that the Rangers will win three straight from here on out.
After the Burakovsky eventual game winning goal, the Rangers continued to blow chances and Holtby came up huge. What more is there to say? The Capitals have been a better team all series and I think Ranger fans, and I know did, underestimated them, especially after the Rangers went 3-1 against them in the regular season.
Put me out of my misery
Now I know there will be Ranger fans beating their chests, come up with catchy slogans, remind me of last year and all that rah-rah bullshit, but can you tell me why I should think the Rangers will win the next three games? If they do, I'll be ecstatic and on top of the world. However, what's in the wings? A four game sweep against Tampa?
I'm sorry, call me a fake fan, a non-believer, a realist, or whatever you want, but they are done. Can't win if you can't score. The Rangers offense is as present as sanity in Baltimore right now. Maybe they lose in 6 and save the home fans a shitty weekend.
Oh and notice how Ovechkin and Backstrom's names weren't mentioned? Even when the Rangers can contain them, they still find a way to lose.
What a waste of a magical season.
Let's Go Rangers, rah rah rah, blah, blah, blah. We might have our last game recap blog of the season on Friday night.
Let's Go Yankees
Sean McCaffrey
BULLSMC@aol.com
@NYCTHEMIC on twitter