I couldn't resist making this, now knowing that Hank is ok
Welcome to another blog here on DOINOW.com. As always, archives on the right hand of the site, I don't rehash previous points so please do read the previous columns, tip your bartender, don't forget to wipe, and please, don't text and drive, unless you're at a red light.
The Rangers, who have been playing their worst hockey since the beginning of the season, were coming off a heartbreaking loss against Montreal, when they took the ice on Saturday. Losing a 1-0 game, off a weak Max Pacioretty goal with 4 minutes to go in the game made you feel as deflated as a Patriots football. Prior to that loss to Montreal, the Islanders thoroughly beat the Rangers like a drum, at the dump in Nassau. Losing their first two games after the All-Star break and only getting one goal in the last 120 minutes, Ranger fans had every right to be concerned. After all, this was an offense getting 3+ goals with ease during their historic win streak.
It's funny how the NHL schedule works. Sometimes you're a victim of it, sometimes you benefit from it. With a home Saturday night game, which is very rare this year for the Blueshirts, the Rangers had the last place Carolina Hurricanes coming into town. While the 'Canes are in last place, they were 7-2-1 in their last ten games. However, they were coming off a back-to-back and with Cam Ward in net. Previously, Anton Khudobin had played well against the Rangers. Sometimes you just need a break to get things going again. The Rangers caught one here.
When I attend games, I usually use my friend's season tickets, as MSG prices are just too damn high. Sometimes going to a Ranger game, with the train ticket, the beer, the seat and everything else is like a mini-vacation. Hockey is a very expensive sport, whether you're playing or attending a game. Between the pads, gear, equipment, it's hard for parents to push their kids into hockey, where in other sports, you could just buy a bat & a glove or just an orange basketball. Taking your kids to MSG is no easy night on your wallet either. However, the demand for Rangers hockey is at a peak right now, so ticket prices have just been extremely high this year. I only bitch about this once in a while, because I like to attend as many games as possible, but I don't ever remember a year that has been so costly. Even tickets in the 400's are going for $150 a pop on the secondary market. Just disgusting.
My view from section 302, in the Lounges
With my friend, who has season tickets, giving his tickets to another friend, I decided to browse the secondary market. To my delight, Lounge tickets were only $115. I've walked by them before, but never sat there. All I know was that free booze and food were included, so for the ticket price alone, I know I would make my money back. It didn't make sense not to go! My good friend, who some of you know as "The Bison", was excited to sit like a god, so we bought our tickets and for the first time before a game, I wasn't at the Blarney Stone, Stout, Tracks, Cafe 31, or the Flying Puck until 6:45PM, I was in the lounge, pounding beers & eating bacon cheeseburger sliders at 6PM.
Yes, I felt somewhat hypocritical, as I can't stand the sushi eating suits at games, but let me make my defense – I was in Rangers gear from head-to-toe, which is the norm for me. To my pleasure, every one else in the Lounge were all in their Rangers gear too. What happened is that some corporation, who has the Lounge, couldn't go, so they just sold off all their tickets on Stubhub. This led to real fans all getting to experience how the other half lives, even for just a day. One of my friends, who just happened to do the same thing I did, took his two sons to their first game. Talk about kids who will be spoiled for life! Sometimes you're better off sitting shitty for your first game, because anything after this will be a letdown!
One of the 2 spreads you get complimentary in the Lounges
Being adequately nourished, from both a food and liquid standpoint, I was excited and pumped up once "Baba O'Riley" was blaring through the MSG loudspeakers. It really is a great song to turn off the phone, to shut up and to get into the game. Fuck that "Wind Beneath My Wings" bullshit, give me The Who at MSG any day of the week!
Due to having a nice flat screen TV in our lounge, I was able to catch up on the whole league before the lyrics "TEENAGE WASTELAND" made their way to our ears. With the Capitals losing to Montreal and for anyone who saw that game, WOW! Carey Price is playing out of his freaking mind. It just brings up bad memories for me. The Rangers eliminated him, via Chris Kreider, last year. Man, last year should've been the Rangers year to win it all. I've done this spiel before, but fuck, it still hurts every time I think about it.
Not only did the Capitals lose, but the Islanders got dropped in Detroit. The Devils would also go on to beat the Panthers. With two division rivals dropping key games, this wasn't a must win game for the Rangers, but a game the Rangers needed to win. With a win, the Rangers would move into third place.
I've said this before and I'll say it one more time here – The Rangers need to finish one, two or three in the division. THEY CAN NOT FINISH AS A WILD CARD. Home ice would be nice, but I'll sacrifice home ice for a series with the Penguins. The Rangers do not want to see the Islanders, Tampa Bay or Montreal in the first round. They just don't match up well against those teams. They need the Pens or the Caps, two teams they match up the best with, in the first round, before advancing for some real struggles. We can pretend that the Islanders don't scare Ranger fans, but deep down, we all know that is a terrible match-up for the Rangers.
The Great Cam Talbot During Warm-Ups
As the puck dropped to start the game, all I could think about was, "Damn, this is the best sport live." I haven't gone to as many games this season, as I've only been to 12, but nothing beats hockey live. It is fun on TV, but doesn't translate as well as the other three major sports. From my vantage point, I had a perfect view of plays developing, which is something you lose on a TV broadcast.
The game as a whole didn't really impress me. The Rangers still made a ton of turnovers, with Chris Kreider & Dan Boyle looking especially sloppy. Both would wind up scoring, but you would like to see them play a well-rounded game, rather than putting extra pressure on the goalie. Sure, I was ecstatic with the win, but the Rangers beat a last place team that played like a last place team.
The Rangers, who juggled up the lines again, with Stempniak & Hunwick being the odd-men out, were able to produce goals, but a lot of passes went wayward. I don't know if it's a chemistry issue or what, but many passes that usually connect, were just missing. I also don't understand why Tanner Glass is on the ice. I'm an atheist, so I won't say I'm praying, but I am hoping that Sather can pull another one of those Michael Del Zaster for Kevin Klein trades out of his ass, in regards to Tanner Glass.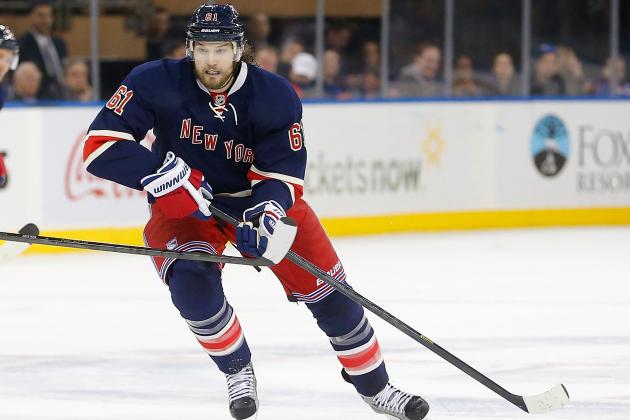 Remember when Ranger fans were disappointed in him? Seems so long ago now
Rick Nash got the scoring started, 6 minutes into the first period, with an unexpected wrist shot. A sigh of relief was heard at the Garden, as goals have been hard to come by this season. Leave it to the best player on the Rangers all-season, to add another tally. Nash remains the highest goal scorer in the league. When Dominic Moore added another goal, four minutes later, after a slick move and perhaps his best looking goal of the season, the Garden was rocking. 2-0 after one. Ranger fans were able to breath easy.
Ronnie G even told me "IN CAM WE TRUST!"
In between periods, the Rangers send alum to each lounge. In our lounge, was former Rangers captain, Ron Greschner. What a nice guy. He signed pictures, that the Rangers provided and took pictures with everyone. In my brief exchange with him, he said what a relief it was that the Rangers got some goals. Well wasn't that the truth. However, little did we know what we were in store for next.
Rangers captain Ryan McDonagh's stick accidentally lifted up Hank's mask, three minutes into the second period. As that happened, Brad Malone fired in a shot, that nailed Hank right in the throat. Hank went down like a ton of bricks. I've seen injuries in sports live before, but nothing like this. It was scary to say the least. I've seen people get knocked out, in wrestling, boxing and MMA, but I never saw a hockey player, especially a goalie, go down so quick.
With Hank writhing in pain, I got some texts from friends, who all know I'm a big advocate of Cam Talbot. All said the same thing, "This is your guys chance." Let me make this clear – while I'm the unofficial leader of "TEAM TALBOT", I would never want Cam to get a shot like this. Even while he was warming up, as doctors tended to Hank, my focus was on Hank. '
I feel like I have to reiterate myself time and time again on this point. I do not hate Hank. I hate his contract. If this wasn't the salary cap era, I wouldn't give a shit and this would never be an issue. However, to me, Hank is the the third best goalie in Rangers history (If he ever wins a cup, he will become the best goalie in Ranger history. Until then Richter is first to me and Eddie G I would rate a tad higher) and when it's all said and done, not only is his jersey going into the rafters immediately, but he's a first ballot Hall of Famer. I just think his contract hurts this team, moving forward, in the salary cap era. Trust me, when Hank got back to both feet, about 5 minutes after taking the puck to the throat, I was chanting "HEN-RY" like everyone else. He's our guy, I just don't like his contract. I would like to see Cam earn the starting job, or at the very least, let Hank get the mumps for a week.
Hank laid on the ice for a solid 5 minutes. Luckily, in the lounges, we had a TV to see what happened, as it was tough to see what exactly happened in real-time. I give Hank a lot of shit in these blogs, and to me he's just a peculiar guy. He doesn't hang out with his teammates. He buries his teammates in interviews. He is a primadonna. He wouldn't come out for the third period against the Islanders two weeks ago. He hand picks what games he wants to play. But then, you have something like this, where no one would fault him if he left the game, and he stays out there. Was it because it was Carolina and the Rangers had a 2-0 lead? Is it an ego thing? I really don't know. He's just a polarizing character to me.
On an aside, not that you ever root for injuries, but if this happened in the playoffs, I think this would've been a moment that could've propelled the Rangers to steal a playoff round. It was Willis Reedesque, if that makes sense.
Eventually Hank got back up. He would later say he was dizzy and grasping for air. I don't know how he played. I gotta give it up to King Contract. Brad Malone, who caused the injury, would later score in the period. A 100% Hank makes the save, but you couldn't say boo here. I think if the Canes scored another quick one, AV would've been forced to pull Hank, but that situation never arose.
InKREIDable struck again!
With the game at 2-1, entering the third period, Chris Kreider, perhaps along with Mats Zuccarello & Dan Boyle, have been the most inconsistent this season. Kreider separated some distance from being the most inconsistent, with a goal, half-way into the third period. Dan Boyle would finish the game a few seconds later. The Rangers took the game 4-1 and jumped into third place, with two games in hand with the Pens, Isles and Caps.
As I said in this blog, the Rangers caught a break with Carolina here. I don't know what happened after sweeping the west coast and western Canada on the road this year, but they haven't been the same team since. It seemed for a time that the 50% off Papajohns coupon was a given every game. Four goals, against a shit team, should happen. For the Rangers to be real playoff contenders, they need to score like this against the good teams too. The Rangers have a rough schedule coming up and points are at a premium.
Coach Alain Vigneault has been mixing and matching to various levels of success. He said last year, after the Rangers slow start, which featured the first 9 games on the road, due to renovations at MSG, that sometimes it takes a full season to really know what you got with a team. With half this season over, we are still learning and trying to find out this teams identity. In the salary cap era, it is difficult for teams to go to back-to-back championships, whether it be the NFL, MLB or NHL. NBA not so much, since you have all the super players working together in a fight against the cap. Can this Rangers team make another historic run? Only time will tell.
—–
I'll be back late Monday/early Tuesday with Rangers/Panthers reaction.
Enjoy the Superbowl! My prediction, the Patriots beat the Seahawks, 24-20.
LET'S GO RANGERS
Sean McCaffrey
BULLSMC@aol.com
@nycthemic on the twitter gimmick