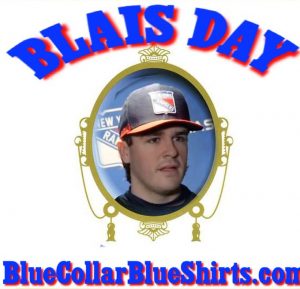 Greetings and salutations everyone and welcome to another blog here on BlueCollarBlueShirts.com. As Al Pacino once famously said in "The Godfather Part III," "just when I thought I was out, they pull me back in!"
Since I last left you, I've been simultaneously working on my two book projects.
In case you don't know what these two books are going to be about, the first one is my "Trades" book (working title for now), where I'm going to examine every trade ever made in all of Rangers' franchise history.
And as noted before – this isn't just a list of trades – every trade ever made will receive equal attention, where I'm going to give you what led to the trade, why the trade was made, what was said at the time and what happened following the transaction. I'll also have a ton on all of the Ranger general managers too.
(And yep – that damn Phil Esposito. I now have carpal-tunnel after writing about him.)
As you can imagine, with 95 years of Rangers' history, where over 700 trades have been made during that time – this has been a hell of a project.
Put it this way, my first book clocked in at 540 pages. This project is already over 2,000 pages (I've been working on this book for nearly a year now) and I still got a ways to go. (I'll be releasing one big-ass book, and also volumes, for the people who don't want to lug a 100 pound book around!)
However, I don't want to rush that book for some sort of a self-imposed deadline. I want to make sure it's as perfect as possible.
In other words, I don't know if I'll be able to get it wrapped up by 9/1 – which was my original target date. (I haven't even got to the editing process, which will be extremely lengthy.)
The second book I'm working on, and after receiving an overwhelmingly positive response from you guys, the loyal readers of this site, is a "Yearbook"/compendium of the 2021-22 season.
I'm going to have to figure out the best way to present that, because I've already copied and pasted fifty of my game review blogs in a Google document, and I was already over 1,500 pages.
Obviously, I don't need to be working on two Ranger encyclopedias at the same time – but I don't want to short-change anyone either.
When it comes to this book, I think I'm going to have to edit a lot of things out, where some of it is easy to do, such as the videos, the plugs and repeat pictures. However, I know I have to include all of my horrible photoshops for you guys – a major draw!
And for the new readers of this site, who may have just found this site during the 2022 Stanley Cup Playoffs, and who now may ask, "why cover a non-championship season?"
Easy – the 2021-22 season, at least in my opinion, is one of the twelve best in all of franchise history. Hands-down.
What can't be lost at all (and perhaps the biggest reason why this season was so special to me), is that once under new management – this franchise pulled off the greatest 180 that they've ever had.
I think this season should be fully recapped and put in book form, if only for future historians in 50-100 years, who want to understand why this season was so important.
And yes, I know this is the "historian" and the "Young Maven" in me, but in any event – that's how I truly feel.
That now concludes the "diary" portion of tonight's blog.
Let's now get into this off-season, where Chris Drury is still burning the midnight oil.
---
Let's run through all of the Ranger news in chronological order.
On Tuesday, June 14th, Drury made a coaching move that the team made public, while also privately dismissing some long-term scouts/employees.
Let's get into the public move first.
---
As I always do on this site, let's get into the press release first, and then into my thoughts.
The following comes courtesy of https://www.nhl.com/rangers/news/rangers-add-jessica-campbell-to-development-camp-staff/c-334603638?icmp=int_web_nyr_news_rightrail  :
New York Rangers President and General Manager Chris Drury announced today that Jessica Campbell will serve as a coach during the 2022 Rangers Development Camp set to take place later this summer.

Campbell served as an assistant coach for Germany at the 2022 IIHF Men's World Championship, becoming the first woman to join the coaching staff of a national team participating in the World Championship. This past season, Campbell joined the Tri City Storm, USHL development program actively heading the Windy City Storm Girl's Hockey program in Chicago while also serving as an assistant coach and skills coach for the Nurnberg Ice Tigers in the Deutsche Eishockey Liga (DEL).
As a player, the Rocanville, Saskatchewan native represented Canada in two Under-18 World Junior Championships, serving as captain at the 2010 event, scoring the gold medal winning goal and earning tournament MVP. She also played five games for Canada at the 2015 IIHF Ice Hockey Women's World Championship.

Campbell played three seasons (2014-15 – 2016-17) for the Calgary Inferno of the Canadian Women's Hockey League (CWHL), winning the Clarkson Cup in 2016. Prior to playing professionally, Campbell skated four years (2010-11 – 2013-14) at Cornell University, serving as captain in her senior season.
Jessica Campbell has been waiting, and preparing, throughout her entire hockey career for this moment. Each and every experience she's had, on and off the ice, has led her here.

"I've had this focus to continue and stay on my path and stay on track to learn, and grow, and be on top of the game at the pro level, and to make sure I'm always striving to be the best that I can be," Campbell said in an interview with NewYorkRangers.com on Tuesday, "so that an opportunity will come — like it has now — and that I'm ready for it."

On Tuesday, the Rangers announced that Campbell will join the Rangers' 2022 Development Camp as a coach, becoming the first woman in the history of the Original Six franchises to serve in such a role.

"It's hard to even unpack the level of gratitude and excitement for the opportunity because I've been working hard the last two years to really establish myself at the pro level," Campbell said. "I bring something unique and different to the table, and I'm confident and believe that that's what is going to be my special value-add. But when it comes to the actual opportunity at hand, I haven't really processed it. I think putting on the Rangers tracksuit in the role as a coach with those players is going to be a very special moment for me, and obviously really special for the growth of the game."
---
I have a few thoughts about Campbell's hiring.
Let's get the elephant out of the room first – yes, Campbell is a woman.
(And we're not doing the 67677896789 different genders talk on this site. She's a female coaching males.)
However, was this hiring solely a politically correct and/or a "woke" display? No, and an emphatic NO at that.
That said, of course the Rangers are also looking for their social media brownie points for hiring a woman.
After all, they didn't give similar hires (and firings too) of males the same treatment.
(They also made sure to hit the line of "becoming the first woman in the history of the Original Six franchises to serve in such a role." In other words – they made sure to bring attention to the fact that Campbell is a female. They also omitted that they are one of the last NHL teams to hire a female in this role.)
At the same time, this isn't a "stunt" hiring neither.
This isn't Phil Esposito (who has admitted that this was a stunt over the years) signing Manon Rhéaume in 1992.
This also is not a case of the Rangers hiring someone not fit for the job, as they once did with Amanda Borges, a female who didn't know anything about hockey.
(The Rangers also fired a knowledgeable and qualified hockey man in Jim Cerny once hiring Borges. Currently, Borges is out of sports. Cerny writes for NHL.com.)
Instead, this Campbell hiring is based on previous success throughout the league.
The most important question, and really, the only question that needs to be answered here – "Can Jessica Campbell help the Rangers?" My answer: YES.
---
If there was anything comical that I saw about the Campbell hiring, it were the social justice warriors on Twitter – basement bums who were looking to CANCEL people for having a negative opinion about this hire.
(And of course, they were doing this while belting out "FIRE GALLANT" too!)
No joke, some people just look to be offended – rather than promoting whatever Campbell could bring to the Rangers. Rather than talking Campbell up, and her background too; instead, people were searching for social media postings that they didn't agree with.
This stuff never ceases to amaze me.
I just don't get the "LET'S BURY PEOPLE FOR DISAGREEING WITH US, RATHER THAN PROPPING THIS PERSON UP" nonsense.
---
Here's the deal that nobody is really bringing up – going back to the 1960s (and even further than that, although this didn't happen as much in the early days of hockey history – which includes the NHL, the NHA and the PCHA); professional hockey players, on their own accord (in other words – teams didn't hire these coaches – players sought them out on their own), would work with female skaters during the off-season.
(And while this was a story included in my book, one of the first instances of a female skater helping out a male skater was during the early days of Lester Patrick's PCHA – the Rangers' first general manager and head coach, and a "Silver Fox" who also promoted womens' hockey long before the NHL ever came into existence. The more you know!)
Right around the time of the end of the "Original Six Era" and the start of the "Great Expansion of 1967 Era;" more and more, there were many cases of female power-skaters helping out their male counterparts.
While you can do your own deep-dive into this history; perhaps the most famous female coach/power-skater of all-time is Barbara Williams.
If you don't know the name, Williams was the first female (power) skating coach to be hired in all of NHL history – and with the New York Islanders – ugh. (Ugh, because it was the Islanders – and not ugh because she was hired.)
What happened next after the Williams' hiring of 1977? Do I need to remind you of this black mark of Rangers' history?
I'll tell you anyway – the Islanders then went on to win four consecutive Stanley Cups, where many players from that era all credited her for helping them with their games.
Over time, and through her hockey school, she'd soon go on to train over 200 NHLers.
While Williams was the first female power-skating coach to have an official NHL affiliation; there were many women before her who just worked with NHLers one-on-one.
However, because of the success that Williams had with the Islanders, many female coaches would soon follow in the pioneer footsteps of Williams.
(And that's why I also found the Rangers' Original Six comment from their press release so amusing – the Islanders did this first – and nearly fifty years ago at that.)
---
I don't really want to go on-and-on about the history of female power-skating coaches – only because that's not the purpose/main topic of tonight's particular blog.
I just wanted to give you some background – especially in a response to some of the stuff that you guys and gals have said to me on both Twitter and on email.
(For those who want more on the history, there are books about this subject on Amazon – including autobiographies from the women who lived it. I just can't do that history justice in one simple blog posting.)
For those with the fear of that the Rangers won't react positively to Campbell just because she's a woman? I don't buy that at all. In fact, I think it's bullshit. After all, history tells us so.
For all of the silly stuff about potential sexual relationships? That's more fantasy than reality. This isn't a Danielle Steel novel!
Furthermore, even a notorious playboy like Ron Duguay once had a female power-skating coach and nothing happened there!
If there was anything that I thought was misleading regarding the Rangers' press release concerning Campbell, it were all of the "gold medalist" comments.
While it's true that she won gold at IIHF tournaments (most professional hockey players do – and this isn't a slight – just the reality of the situation) – she never won Olympic gold – where I don't know if it's just me, but whenever I hear the phrase "gold medalist" – my mind immediately goes to to the Olympics – and not the 98686767679 tournaments that the IIHF holds every year.
(Holy run-on sentence Batman!)
I hope by providing this mini history lesson, that for some of the doubters, they'll give it a chance – and just like Drury is.
After all, Campbell knows (power) skating. It's not like she was hired as the team's hitting coach!
(There's no hitting in women's hockey – something that I believe should be changed – but I've made my opinion known on this before – no need to do it again here.)
---
If there's one fact that's often lost in all of the salary cap talk that we often find ourselves engrossed with (yours truly included), it's this – there is a hard salary cap on PLAYER contracts. There's no salary cap on coaches, staffs, amenities, etc.
While the Rangers will be handcuffed with the salary cap for this upcoming 2022-23 season; one of the biggest reasons why players are drawn to the Blueshirts in the first place, is because of all of the extra advantages and leverages that team owner James Dolan provides.
Say whatever you want about Dolan (and we all know that I've had my opinions concerning him too), but you can't call him cheap. And yes, I know – I've done this rant about 796789678967896 times before.
And since I love getting my kicks in on the Islanders – the reason why Artemi Panarin, and many others before him, all took cheaper deals with the Rangers instead of accepting better contracts with "little brother?" All of the above.
Whether it's travel, hotels, massage therapists, nutrition coaches, specialty coaches, support staff (finding housing, getting tickets, etc), or anything else that you can come up with here – the Rangers do it the best.
That's not an opinion. That's a fact.
---
As of right now, Campbell is only hired as the Rangers' power-skating coach for the team's 2022 Development Camp.
I hope it extends past that.
You can never have too many advantages.
While I have no clue what Campbell is earning, I do know this – whatever her salary is, and whatever her salary would be for the regular season – the Rangers will make 7896786786789679678967 times that amount if they can win the Stanley Cup. Hell, they are still selling 1994 merchandise today after all!
And yep, and as alluded to above – now is the time for the Rangers to hire a dedicated face-off coach too.
It's nice that the Rangers bring in ex-officials and former players to help the team with face-offs during both training camp and the preseason – but it would be much nicer if they had someone whose sole role with the team is in this department.
As the old saying goes, you're only as strong as your weakest link. The Rangers' weakest link is at the dots.
Hiring a power-skater is a nice touch.
At the same time, you don't want to see the Rangers exclusively using Campbell's work to chase pucks out of their own zone. Winning a faceoff or two will only enhance Campbell's work and efforts – or so I say!
---
In the news that the Rangers didn't make public, it was the news of Chris Drury changing up his scouting staff.
The following comes from Arthur Staple of "The Athletic":
I don't think the Rangers moving on from Clark is that much of a surprise, as that transition first began when Chris Drury first took over.
Since none of the beat reporters ever ask Drury about this, we're left to speculate.
However, I think that speculation is obvious – whether it's a sports franchise or some other sort of business – whenever a new boss takes over, changes are made.
It's my guess that's what's going on here. Simply put – Drury wants his own people. You can't blame him for that.
I know I talked about this last year, when Drury first moved on from Nick Bobrov; but yeah – recent top ten picks of the Rangers' haven't worked out that well.
We all know about Lias Andersson. We also know about Vitali Kravtsov, who is now on his third chance, where really – he's only getting that chance because of the team's salary cap issues.
When it comes to Kaapo Kakko, you really can't blame the scouts here, as the Finn was the consensus second-overall pick.
Alexis Lafreniere? The best is yet to come.
Now it's up to Drury to get rid of the last relic of a non-winning organization and era – Senile Sather.
---
Chris Drury, after completing his player exit interviews on Tuesday, then met with the media on Wednesday.
As predicted, Drury didn't really reveal much.
And as you'd expect, he praised everyone and their mother, even going as far as calling both Kaako and Kravtsov "all-world talents." That said, what would you want him to say?
After all, he's not as foolish as his predecessor, former g.m. Jeff Gorton, who devalued assets, rather than promoting them, when trying to off-load. But enough about Tony DeAngelo for tonight!
I think the only noteable thing to come out of Drury's Zoom call with the media, is that he somewhat tipped his hand on Kravtsov's future.
While not saying verbatim, "Kravtsov will be at camp;" Drury did say, "we're certainly glad to have him back in the mix."
Sure, while Drury could still trade Kravtsov; based on what he said (and again – knowing that the Rangers have salary cap issues) – I think the mercurial Russian will have every chance possible to make Gallant's 2022-23 roster.
Rather than a sign-and-trade scenario; it looks like fences are being mended and previously burnt down bridges are being rebuilt.
As far as anything else, Drury continued to talk positive about everybody and wouldn't reveal any plans on who he's targeting right now – especially for the many holes that he has to fill – including both the second center and back-up goaltending positions.
---
Here's something I'm wondering about right now, as we approach our final news item of tonight's blog – can the NHL get it over with already, and name CZAR IGOR as both the Vezina Trophy and Hart Trophy winner?
And I get it's because of the pandemic – but it's a shame that the NHL isn't doing their annual award show this season. I always liked watching those broadcasts, even for as silly as they could be.
I just hope that the NHL presents these awards to CZAR IGOR before he jettisons off to Russia.
And as I was just writing these words, the NHL announced late Thursday night that they will be handing out the rest of their league-specific awards, this Tuesday night, at 7PM.
The event will take place in Tampa Bay (during the off-day between Games Three and Four of the Stanley Cup Final) rather than in Las Vegas, where the event is usually held.
For complete details, click this link: https://www.nhl.com/news/2022-nhl-awards-show-presenters-helped-inspire-hockey-community/c-334629678
---
On Thursday, June 16th, the NHL confirmed what we all knew was coming – the 2022-23 salary cap range will run from $61M-$82.5M.
For the Coyotes and Sabres of the league, they'll have to at least spend $61M. For our Rangers, and teams like them, they can only spend up to $82.5M.
And I'll save you from another rant on the Coyotes here too. What a joke they have become, where their games played in front of 5,000 fans or less will do the league no favors during the next three seasons.

Sammy Blais will also be part of the Rangers' 2022-23 salary cap.
On Thursday, following the league's news; it was first reported by Cap-Friendly that Sammy Blais and the Rangers have agreed to terms on a one-year extension, a contract that will pay "Pavel Who?" $1.525M during the 2022-23 season.
The Rangers have yet to issue an official press release regarding this re-signing, but I'm sure they will soon enough. That said, it always surprises me how Cap-Friendly is always ahead of the game whenever breaking contract news.
---
I always thought that Sammy Blais would be brought back for this 2022-23 season.
After all, as Drury has already illustrated to us – depth matters.
Plus, as noted a few nights ago – the Rangers' were in the driver's seat here.
For Sammy Blais, and needless to say – it sucks that he was injured after Slewban's dirty tactics. In turn, he wasn't afforded the opportunity to display what he had during a contract season.
Conversely, for Drury and company – Blais wasn't able to price himself out.
For both parties, they'll get a "re-do," and once the 2022-23 season is over, then they can figure out their future relationship. (Blais will be an unrestricted free agent in a year's time.)
I liked the little that we saw out of Blais during the early weeks of the 2021-22 season. I also liked how he joined the team during their road-trips and during the playoffs too.
While he was never a possibility to play after his ACL injury – he hung around the team – rather than sulking at home – and as he could've done.
Despite being new to the Rangers, where he could've just collected his money while rehabbing; Blais tried to be as much of a team guy as he could. I think that's appreciated by everyone involved, including Drury, Gallant and the players. In turn, Blais won't enter the 2022-23 season as a stranger. He's still one of the guys.
And while one thing doesn't necessarily have to do with another – I think the writing is on the wall concerning a Tyler Motte return.
As stated last week, and many times before that – I hope that Motte returns. Let me be clear on that.
However, based on what Motte said during his media exit interview (especially when compared to all of the other Ranger free agents – both restricted and unrestricted) – I think he's going to play for whoever presents him the best offer – where it's hard to envision the Rangers making that offer. (And that's his right.)
Drury, who hasn't taken any time off since the loss to the Bolts; the Rangers' head-honcho is currently building up from the down floor.
As we've seen just one week into the off-season, he's fleshing out his coaching and training staffs. He's also signing players to cheap deals, such as Gustav Rydahl, Vitali Kravtsov and now Sammy Blais.
The big splash, and the biggest of this Rangers' off-season, will be whatever Drury does with the second center position.
It could be Ryan Strome. It could be Andrew Copp. And if he really wants to break the bank and leave the team suspect in other areas, it could be both.
At the same time, it could be neither, and Drury could look to make his move during the NHL's free agency period. (Hello Nazem Kadri?)
And of course, Drury could also explore a trade too, where as noted, Mark Scheifele's name is gaining a lot of traction.
Currently, Drury is addressing his roster's depth. Blais is a great acquisition, who like last season, will now be playing during another contract year. Between that, and looking to make up for lost time – I think #91 will be geared up for an amazing 2022-23 campaign.
A few quick shots before closing.
---
According to Kevin Weekes, the former NHL goalie now turned into this generation's version of Bob McKenzie; John Tortorella will become the next head coach of the Philadelphia Flyers.
This move is somewhat shocking, if only because of the situation that Torts' is signing on to navigate.
Torts', who turns 64 years old on June 24th, finds himself smack-in-the-middle of a Flyers' rebuild.
Due to his age and experience; I kind of expected him to return with a team that was a contender – and not a bonafide pretender.
As far as who this news benefits the most? It's most likely Carter Hart, the streaky orange-and-black goaltender in Philadelphia.
More times than not, and due to his heavy defense/block shots first system; goalies have the best seasons of their career under Tortorella, including Henrik Lundqvist.
For Tortorella, at least he will be joining a franchise that doesn't mind spending money.
In addition, and when compared to his last stop in Columbus, the "Winnipeg of America" – the Flyers do attract free agents.
I'm a big fan of Torts. Always was, always will be.
However, I hope he bombs in Philly!
And isn't it amazing Suzyn, all of the Tortorella and Alain Vigneault history, which first began in 2013?
In less than ten years, not only did the two coaches flip-flop spots (New York and Vancouver), but now Torts succeeds Vigneault in Philly too.
Small world.
---
Finally, we have two quick hits from Las Vegas, Nevada.
Bruce Cassidy didn't have to worry about the unemployment line for very long.
After being fired by the Bruins last week; just seven days later (after a firing that I consider to be poor), Cassidy now finds himself as the third-ever coach in all of Vegas Golden Knights' history.
On Thursday, after making the Cassidy hire official, the Knights also made this following trade:
The Canadiens have traded defenseman Shea Weber to the Vegas Golden Knights in exchange for forward Evgenii Dadonov.https://t.co/e54vQSalzC

— Canadiens Montréal (@CanadiensMTL) June 16, 2022
---
If you haven't figured it out already – this is a salary cap trade, where Shea Weber, who was admirable during his run in Montreal following one of the biggest trades ever made during the cap era (Weber to Montreal, Slewban to Nashville, which took place on June 29th, 2016), is expected to never play again.
In turn, Vegas can use Weber's contract for LITR salary cap relief.
But after watching Vegas fail to emulate what Chicago once did (Patrick Kane) and Tampa too (Nikita Kucherov) during their successful Stanley Cup runs – wouldn't it be something if Weber can return and wants to play during the regular season?
And yep, like most things salary-cap related – I hate these types of trades. Many loopholes and issues need to be addressed with the cap, where I've stated all of my problems with the cap about 789678687689 times before.
PLUGS TIME.
---
On late Tuesday night/early Wednesday morning, our friends over at "2 Guys, 1 Cup" returned with their final thoughts on the 2021-22 season.
To listen to the show, click the link below:
Episode 49 to reflect on a great playoff run and look to the future… and close out Year 1 is up!#NYR https://t.co/CSF4LXzNO0

— 2 Guys 1 Cup Podcast (@2G1CRangers) June 15, 2022
---
---
My first plug of tonight's blog – the mandatory plug for my book, "The New York Rangers Rink of Honor and the Rafters of Madison Square Garden".
As mentioned previously, the book is now available in hardcover, in paperback and in Kindle formats. To purchase a copy of the book, visit this link:
https://www.amazon.com/Rangers-Rafters-Madison-Square-Garden-ebook/dp/B09CM5N2WD
For those still looking for signed paperback versions of the book, I have re-ordered more copies. I now have a few signed copies for sale at $25 a pop (includes shipping price) through me directly. Here is all the information on that:
---
Here are my last few blogs, in case you missed them:
---
---
---
If you haven't already, subscribe to this blog for the next update:
---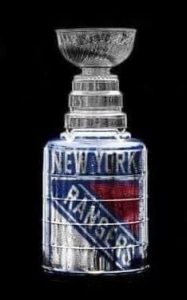 As will be the case during this off-season, I'll return once something big breaks. If not, I'll do a blog like this one, addressing the minor moves of the week.
Until then, I'm doing my Rangers' Hunter S. Thompson act!
Enjoy the summer.
LET'S GO RANGERS!
Sean McCaffrey
BULLSMC@aol.com
@NYCTHEMIC on Tweeter