Greetings and salutations everyone and welcome to another blog here on BlueCollarBlueShirts.com. We all knew this day was coming and it's finally here – Igor Shestyorkin, #31 in hometown blue, is your 2021-22 Vezina Trophy winner!
(And for those of you who have asked, I always use the "Shestyorkin" spelling rather than the Americanized "Shesterkin" translation. Why? Easy – I've been using the "Shestyorkin" spelling since 2017, when I first started watching his games and following his career. It's tough to teach an old dog new tricks!)
During the last two NHL Year End Award "presentations" ("presentations" in quotes, since we didn't have such ceremonies in both 2020 and 2021, due to the pandemic), the New York Rangers, despite their struggles as a rebuilding team – the Blueshirts were well represented.
In 2020, Artemi Panarin was named as a Hart Trophy Finalist, where he ultimately finished in third place/second runner-up, to winner Leon Draisaitl, and first runner-up, Nathan MacKinnon.
(Diane E., who you'll read about again at the end of this blog, has to be going crazy right now. No one overuses commas more than yours truly!)
A year later, in 2021, Adam Fox won the Norris Trophy. You may have heard about this before.
For the second consecutive year, a New York Ranger took home a major prize during Awards season, as the 2021-22 Team MVP, and co-winner of the Frank Boucher Fan Trophy too (Chris Kreider was the other co-winner), CZAR IGOR himself, was finally christened as the 2022 Vezina winner.
While I won't do my "GREATEST HITS" here, and tell you for the 978678667986th time that I predicted this day would come, and going all the way back to 2017 when I first made this declaration (well, I guess I just did that – but hey, I'm excited); in any event – CZAR IGOR's Vezina coronation was cemented months ago. Tonight's announcement just confirmed what we all knew.
Hell, #31 was pretty much the "Secretariat" of this year's Vezina Trophy voting, where some sports books just stopped accepting bets on this all together – and many months ago at that.
It was a lock that CZAR IGOR would win the 2022 Vezina Trophy – a lock that was officially confirmed when the final voting results were released on Tuesday night. (Complete results included below.)
Tonight's blog is centered around the Rangers' goaltender. How could it not be?
However, what I hope doesn't get lost in all of the Igor praise is the fact that the 2021-22 New York Rangers (who as mentioned on this site about 89678678969689 times before, completed the biggest 180 in all of franchise history), had a solid showing during this year's "Summer Soltice."
---
Before busting out the pom-poms, vodka and the marching band too, and all in tribute to CZAR IGOR; prior to getting there, I just want to touch on a few things that I'll also expand on following all of the Shestyorkin adulation.
Not only did CZAR IGOR win the Vezina Trophy on Tuesday night, but similar to his comrade Artemi Panarin from 2020 – he also finished third overall in the Hart Trophy voting too – voting that definitely had a Canadian bias and a flair to it. (And that's my story, and I'm sticking to it!)
Adam Fox, last year's Norris winner, #23 finished fifth overall in the 2022 Norris voting.
Obviously, you would have liked to seen him win this award during back-to-back seasons, but it is impressive that despite being injured during chunks of this season – he was still named as the fifth-best defenseman in all of the NHL today.
As mentioned a few weeks ago, Gerard Gallant finished in third-place for the Jack Adams Award.
Sure, "The Turk" should have won this award (even the 2022 winner of this award, Darryl Sutter, of Calgary, said this himself); but just to finish as a finalist is an accomplishment. After all, it's not like his predecessor was ever going to win this award!
Rangers' Team President and General Manager, Chris Drury, was also named as a finalist for the Jim Gregory Award, an award that honors the best executive in the league.
For whatever reason, the NHL hosted an award show on June 21st, where prior to it, the league had already announced a slew of winners. If that wasn't strange enough for you, the NHL will name their '22 Gregory winner during the NHL Entry Draft in July.
Only the NHL, only the NHL!
For comparison, this would be like the Oscar's announcing their best actor award in January, their best picture award at their official ceremony in March, and then announcing their best choreographer award a few weeks after that.
Again, only the NHL, only the NHL!
But enough about the NHL and their wacky ways. Let's talk CZAR IGOR!
---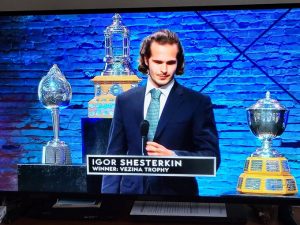 When it comes to how ESPN handled this NHL Awards Show broadcast; the nicest thing to say here is this – "it was better than nothing."
To be honest, I didn't really expect much.
After all, and nothing against Tampa (which is a party city in its own right) – Tampa isn't Las Vegas.
Prior to tonight, and during non-pandemic years, these awards were presented in Sin City, FOLLOWING the Stanley Cup Playoffs (as opposed to during it, like tonight), where guys were able to let loose a bit.
In fact, I was also shocked to find out that this event wasn't prerecorded, just because you had members of both the Tampa Bay Lightning and the Colorado Avalanche in-attendance.
You have to think that they had more pressing matters on their minds than the league's version of the "Golden Globes."
(And again – since this was held while the Stanley Cup Final is still going on – there wasn't any boozing during this one-hour broadcast. While I appreciated some sort of celebration for these awards, this should be done once the Final has concluded – and prior to both the NHL Draft and Free Agent Frenzy period.)
I thought that Keenan Thompson, the only good thing about "Saturday Night Live" during the past twenty years or so, was a good emcee.
However, in front of a stiff crowd, a lot of his jokes didn't land.
Again, for some of the people in the audience – tonight wasn't the night to laugh, especially with a big Game Four to be played on Wednesday night.
In addition, with English not being the native language of many in the crowd – and just like CZAR IGOR in net – it was going to be tough to get this audience to crack anyway.
That said, and like a true comedian, Thompson left them wanting more at the end of the show, when following Auston Matthews winning the Hart Trophy, the SNL funny man said, "it's nice to see the Leafs win something in June!"
ESPN got the hell out of there after that comment, where presumably, some WNBA game was more important than showing player reactions to that burning, yet truthful, punchline.
---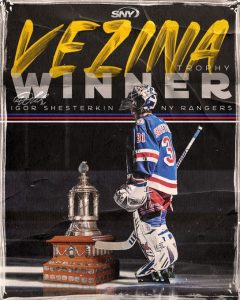 Ranger fans didn't have to wait long in order to celebrate CZAR IGOR's "EXPECTED" victory, as the Vezina Trophy was presented first.
(Oh yeah – I'm sure by the time that I publish this blog, the Rangers will be selling CZAR IGOR Vezina merchandise too! After all, the Rangers waited about 2.3 seconds to release Fox Norris swag at this time last year.)
Prior to the Bob McKenzie of his generation, Kevin Weekes, reading off Igor's name as the '22 Vezina winner; Thompson got this quip in: "Shestyorkin makes more stops than an UBER pool driver."
A tame joke, but I admit it – I politely laughed from my beer-stained couch.
Maybe someone can correct me if I'm wrong here (and some of you do take joy in that – and I appreciate it); but I think for the first time in his career (at least publicly), CZAR IGOR spoke straight English for nearly three minutes or so, where nary a Russian word was to be heard.
While Igor could've spoke Russian, Chinese or Klingon for all that I cared; by exclusively speaking English here, it tells me that he's trying to learn one of the toughest, if not the toughest, language in the world.
(And as anyone will tell you – it's much harder to learn a new language as an adult as it is for a child.)
Why am I making a big deal of this? For one reason only – it will only make CZAR IGOR more marketable than he already is.
I can't profess to be a big baseball fan anymore, but I do know that currently, both the Yankees and the Mets, the two New York clubs, are doing very well and have their own larger-than-life superstars – athletes that get a ton of endorsement dough and opportunities.
That said – CZAR IGOR, at least in my biased opinion, is the best athlete in all of the tri-state area today.
You can all debate this opinion until the cows come home, but for me – CZAR IGOR is #1 – and everyone else is in the running for #2.
CZAR IGOR doesn't need to be an English professor or anything like that; but if Shestyorkin can get comfortable while speaking America's language – it should only open more doors for the 2022 Vezina winner.
One door that I'm surprised that hasn't been opened yet, English or no English?
That fact that the Rangers (or another company/sponsor) aren't marketing CZAR IGOR headbands – something that I've been saying for a while on this site!
I can see it now: "OH JOE, CZAR IGOR HEADBANDS, AS PRESENTED BY CHASE JOE. CHASE WORKS HARD JOE!"
After all, it was a topic on the ESPN broadcast tonight too:
Igor Shesterkin says he gets his headbands on a cheap deal from Amazon 🤣

(via @emilymkaplan)pic.twitter.com/Oe97byrHLG

— Rangers Videos (@SNYRangers) June 21, 2022
---
Here is CZAR IGOR's acceptance speech:
Igor Shesterkin is the 2021-22 Vezina Trophy winner! #NYR #NHL pic.twitter.com/sNZ0q7vJr3

— David 🔹 (@DaveyUpper) June 21, 2022
---
Your favorite goaltender is both a respectful and team-first tribal chief, where CZAR IGOR didn't talk about himself once.
Instead, CZAR IGOR paid respect to the two runner-ups, then praised all of his teammates, Benoit Allaire (by name), his family, his friends, and then lastly his wife, for all of his own successes and achievements.
CZAR IGOR also said that he loves playing in New York. He then followed up that remark by thanking every Ranger fan for supporting him. (You're welcome!)
While #31 didn't really say anything earth-shattering here; at the same time – it's not like anyone ever does at these awards.
Quite frankly, he could've read the phone book during this time and I still would've been hooting and hollering like a teenage girl while watching a horror movie.
---
Here's the Rangers' press release on this news, courtesy of https://www.nhl.com/rangers/news/igor-shesterkin-wins-vezina-trophy/c-334684672?icmp=int_web_nyr_news_rightrail:
New York Rangers goaltender Igor Shesterkin has been awarded the Vezina Trophy, given "to the goaltender adjudged to be the best at his position," as selected by NHL general managers. Shesterkin is the sixth Ranger to earn the honor, joining Henrik Lundqvist (2011-12), John Vanbiesbrouck (1985-86), Ed Giacomin & Gilles Villemure* (1970-71), and Dave Kerr (1939-40).

*Of note, prior to 1981-82 the Vezina Trophy was given to the goaltender(s) of the team that allowed the fewest goals in the NHL – now that award is the William M. Jennings Trophy.

In 2021-22, Shesterkin, 26, led the NHL with a 2.07 goals-against average and .935 save percentage, while tallying a 36-13-4 record and six shutouts. He became the third goaltender in NHL history (min. 50 appearances) to post a save percentage of .935 or higher in a single season, joining Tim Thomas (2010-11 – .938) and Dominik Hasek (1998-99 – .937). Shesterkin's 36 wins ranked sixth in the NHL and his six shutouts ranked third in the league.

It is the 19th time in league history that a goaltender led the league in GAA, Save Percentage in his Vezina-winning season and first since Sergei Bobrovsky in 2016-17 with Columbus.
Since 1981-82, when general managers started voting for the award, Shesterkin (100 GP) is the fifth goaltender to win the Vezina Trophy with 100 or fewer career games played, joining Tom Barrasso (1983-84 – 42 GP), Ron Hextall (1986-87 – 66 GP), Ed Belfour (1990-91 – 97 GP), and Jim Carey (1995-96 – 99 GP). Shesterkin won the award in his first season playing 50 or more games. He is the 16th goaltender to win the Vezina Trophy in their first season playing 50-plus games and first since Tuukka Rask (2013-14 – 58 GP).

Shesterkin had a .900 save percentage in 75 percent of his starts this past season, the highest rate in the NHL (min. 20 starts). When facing 30-or-more shots in a game, Shesterkin was 24-7-2 in 2021-22 and when seeing 40-or-more shots, the goaltender was 4-0-0. A critical part of the Rangers penalty kill that ranked seventh in the NHL (82.3%) was Shesterkin recording a .929 save percentage when shorthanded, the second best in the league.

In addition, Shesterkin became the fifth goaltender since 2002-03 to guide his team to the third round of the postseason in the same season he won the Vezina Trophy. The previous four goalies were Marc-Andre Fleury (2020-21- VGK), Henrik Lundqvist (2011-12 – NYR), Tim Thomas (2010-11 – BOS), and Martin Brodeur (2002-03 – NJD).
---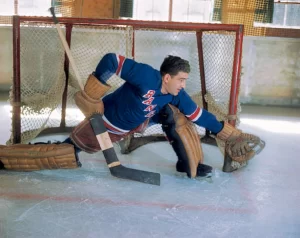 As a "Rangers' Historian," and now nicknamed the "Young Maven" by Stan Fischler himself; there was one remark from the Blueshirts' press release that jumped out at me – and not because I didn't know about this – but because I was surprised that they knew it!
That remark? This one:
*Of note, prior to 1981-82 the Vezina Trophy was given to the goaltender(s) of the team that allowed the fewest goals in the NHL – now that award is the William M. Jennings Trophy.
This is code for: "Chuck Rayner would've won the Vezina in 1950 under today's parameters."
Hell, it could also be code for: "Gump Worsley could've won the Vezina during his heyday too!"
(For more on both Rayner & Worsley, and the names soon to be listed below, check out my first book, a book that you can find out more about during the PLUGS segment.)
---
As depicted in my horrible blog header photoshop (sorry Lundqvist, you drew the short straw here), the Rangers now have six Vezina winners.
And not for nothing, but Dave Kerr, Eddie Giacomin, Gilles Villemure, John Vanbiesbrouck and Henrik Lundqvist are all pretty good company for CZAR IGOR.
Up next for Mr. S.? Joining Kerr one more time, Lorne Chabot, Andy Aitkenhead and Mike Richter too – the four Stanley Cup winning goaltenders of Rangers' history.
(And yes, I know that Chabot received an eye injury during the 1928 Stanley Cup Final – but he was the starting goaltender of that 1927-28 season.)
I know I first said this all the way back in January of 2020 (and many more times following that date), when CZAR IGOR made his Rangers' debut – but I still believe it, and even more so today – one day, in the future (just not in the near future!), #31 will end one of the biggest fan debates amongst the fan base and will eventually settle the argument of "who is the greatest goaltender in all of Rangers' history?"
When CZAR IGOR wins his Stanley Cup (I still say this is a matter of "WHEN" and not "IF" – power of positive thinking my friends!); the Russian will do something that only Dave Kerr has done before him – win both a Stanley Cup and a Vezina Trophy as a Ranger.
And since Dave Kerr was screwed by the era that he played in (he retired way too early, because he made more money working from home, where he managed hotels among other things, which in turn meant that he had a short NHL career); one day, and many years from now – CZAR IGOR will surpass Kerr's tenure.
Furthermore, CZAR IGOR's margin of victory is the biggest among all six Ranger Vezina winners:
Take a look at the voting results.
Aside from a few GM's voting for their own guys; CZAR IGOR took 29 of a possible 32 first place votes.
Heck, even the two other finalists/top two runner-ups, didn't receive a first place vote. Their GM's spoke the truth.
CZAR IGOR's teammates were also very appreciative of their favorite goaltender:
(Of note, Kevin Rooney referring to himself as "ROON DOG" had me cracking up.)
To: Our Vezina Trophy winner

From: The boys pic.twitter.com/jYefq5AMNh

— New York Rangers (@NYRangers) June 21, 2022
---
As we wrap up on CZAR IGOR's Vezina win; I can't help but laugh about some Ranger fans suggesting that CZAR IGOR was overpaid by Chris Drury during last off-season. You know, the same fans who also said that the Rangers were DOOMED when they traded away Pavel Buchnevich!
(The horror, the horror, the horror, as if this was "Apocalypse Now!")
I'm not going to do the Lundqvist vs Igor stuff here. However, I will tell you that CZAR IGOR was only a 6% cap hit last season. He now has one Vezina under his belt, and with three years remaining on that deal.
As you'd imagine – I don't think Igor is anywhere close to being done yet.
Come 2025, who knows?
Maybe #31 has another one or two of these Vezina Trophies to his name.
Better than that? Maybe he has a Stanley Cup too! (I just want one! Multiple Cups would just be the gravy!)
Before moving on from CZAR IGOR; the NHL also announced their 2022 Hart Trophy winner on Tuesday night: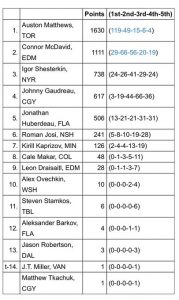 We've talked about the 2021-22 Hart Trophy voting earlier on this site during the past few months, where it came as no surprise that Auston Matthews won the prestigious award on June 21st, 2022.
While you know that my vote was for CZAR IGOR; at the same time, you knew that either Matthews or Connor McDavid would win it.
Call it a conspiracy, call it a bias, call it whatever you want – but it's tough for players from American franchises to win the MVP of the league – only because the Canadian media have their voices heard too – a Canadian media that's very favorable to their own.
(I appreciate the "homerism" and patriotic voting, but that doesn't mean that these mothercanuckers aren't without flaws either.)
After all, just visit TSN or SportsNet – all they talk about are the seven Canadian franchises of the league. Very rarely do you see anything on the American franchises.
(And this became even more profound during the past few seasons, since the Canadian media couldn't get in-and-out of the Great White North with ease.)
(And to be fair – I guess our Canadian chums can say the same thing about ESPN – a "world-wide leader" who focuses more on the American franchises, rather than they do whenever trying to cover the red-and-white clubs.)
I can't throw a fit about CZAR IGOR not winning the Hart Trophy. It's not like he lost to a scrub. Once Matthews hit sixty goals – you knew that was a wrap.
Conversely, I'm surprised that Chris Kreider, and his 52 goals, didn't get any respect from the media.
Are you telling me that guys like J.T. Miller, Matthew Tkachuk and Jason Robertson meant more for their respective teams than Kreider did for the Rangers?
I'm not so sure about that – and that's not a slight to any player receiving an MVP vote. I just thought that Kreider should've received one too. That's all.
Let's run through the rest of the awards that had Ranger representation.
---
As mentioned earlier, Adam Fox finished fifth overall in the 2022 Norris Trophy voting:
I don't want to do the same old song-and-dance that I do every year – but yep, I feel like I have to say it anyway – there should be two specific year-end awards for NHL rearguards.
Today, you have to be an offensive-defenseman to even be considered for the Norris.
Ignored along the way are the hit leaders, blocked shot leaders, ice-time leaders and so forth.
Sexy play is highlighted with the Norris. Grunt work is not.
Had the NHL ever instituted some sort of version of the "Dan Girardi Trophy;" I think Jacob Trouba would've been a candidate for it this season. Ditto Mr. Ryan Lindgren.
When it comes to Cale Makar winning the Norris this season? I can't say that I'm shocked, but I will say that I thought that Roman Josi was the clear-cut winner.
Many others thought the same too, as is evident by Josi collecting more first place votes than Makar did.
Conspiracy? Hmmm. You be the judge.
Makar certainly deserves to be in the running – but if you watched both Nashville and Colorado during the regular season – Josi was better.
It's my opinion that the NHL desperately wanted Makar to win this award, as Makar is now emerging as a league-wide superstar.
And I totally get it – perhaps the biggest weakness of the league is marketing their superstars.
Put it this way – who do you think will get more magazine covers during the next calendar year and perhaps the cover of the NHL '23 video game too? Makar or Josi?
Much like the '22 Norris – I think Makar, and not Josi, is the odds-on favorite for all of that.
---
Again, and for whatever stupid reason – the NHL is waiting until the '22 NHL Entry Draft to announce their Jim Gregory Award winner.
Chris Drury joins both Julien BriseBois (Tampa) and Joe Sakic (Colorado) as one of the three finalists.
I know I've said it a million times already, but what's one more time – both Tampa and Colorado were EXPECTED to reach the Stanley Cup Final this year.
My own personal prediction of the Rangers reaching the Eastern Conference Final this season aside; 99.9% of everybody else didn't have the Blueshirts going that far. Heck, half of the hockey media didn't even have the Rangers reaching the playoffs to begin with.
I'm not knocking BriseBois or Sakic here. Far from that.
However, let's face facts – BriseBois is going for three Cups in a row, and he's a GM who once inherited a great team that Steve Yzerman left behind.
The Bolts' boss also has the advantage of not having to worry about state income taxes – but I'll save you from another one of my rants on the salary cap – at least for tonight!
Joe Sakic? His team has choked, and badly at that, during the past four years.
Finally, Colorado are playing in a Stanley Cup Final, where now, and only now during these playoffs, have the Avalanche seen a quality NHL goaltender in the opposing net.
Conversely, Sakic's former teammate, and his fellow 2001 Stanley Cup champion, Chris Drury; "The DRU DRU Train" just pulled off not only the biggest 180 in his franchise's history – but finished two games shy of the '22 Final too.
Need more? How about Drury eventually becoming the biggest winner of this year's trade deadline? How about hiring Gerard Gallant, where many players (18 in all) either set career-highs and/or set and/or tied franchise records?
Again, while it's not my aim to take away from anyone – Drury did more with less. Neither Colorado, nor Tampa, had to deal with a mess like Drury did. Or so I say!
And here's some food for thought, and from the great Kenny Albert:
In the last year, @nyrangers have had: a 50-win season, 50-goal scorer, trip to East Final, Norris winner, Vezina winner, Hart finalist, Jack Adams finalist, Jim Gregory GM of the Year Award finalist (winner to be determined) and 2 First-Team All-Stars @MSGNetworks @RangersMSGN

— Kenny Albert (@KennyAlbert) June 22, 2022

Case closed.
---
As we start to go home here, a few things about the Blueshirts:
— The Rangers haven't made any moves since the last time I wrote to you. Since Drury is very tight-lipped, I'd imagine we won't get a heads-up on anything until something happens.
— When it comes to the beat reporters, they don't have an inkling of what's to come either. In other words, expect many Strome vs Copp vs Trade vs Free Agency discussions, all concerning the Rangers' second line center position.
— You can also expect columns about the Rangers' back-up goaltending position too.
— And whoever that Ethan Sears guy is for the NY Post, he had a brutal column on Tuesday when looking at this need. How do you omit the name of Braden Holtby from contention?
---
Last but not least, a few things on what I'm doing:
— As you all know by now, I'm not right in the head, as I'm currently working on two massive book projects. You can read my last blog (linked below) for the complete details on these two projects.
— The "Trades" book is something that I don't want to rush – but it's also something that I'd like to finish while I have the free time. In turn, I have enlisted help for my 2021-22 Yearbook/Compendium book ("One Game at a Time" is the working title), in the form of my editor, Diane E. (And if you liked my first book – she was a huge help – as she was the clean-up hitter who drove that book across the plate.)
— If you're a regular reader of this site, then you know this – the writing comes easy to me – everything else is a pain in the ass – including editing, formatting and anything else that you can think of.
— With Diane now spearheading the yearbook project, she is also opening up time for me to just solely work on the "Trades" book for now. A big relief for me, as even during the past two weeks, I was wasting too much free time formatting and editing the yearbook project – time that is much better spent writing the "Trades" book. (Nothing is more boring to me than looking for excessive commas, re-sizing pictures, getting rid of redundant material, etc. Plus – everyone is their own worst editor.)
— I have no timetable on when these books will be completed, but since it's my goal to get these books completed (rather than a major book campaign to generate the most profit possible), maybe they'll both come out at the same time.
— In other words, I'm not going to stagger releases. After all, once published, you can buy these books whenever you want, where I'm assuming that because of the run the Rangers just had – I'm now seeing an uptick in book sales from my first book. Thank you! Every penny goes to my 2022-23 road-trip fund!
— This news is also a must-win for site readers Doug I. and Brenda R.! Both loyal readers at that and who both supported my first book!
— That all said, I'm going to do my best in order to get both books out by September 1st. I don't know if that will be possible, but it's better to be goal-oriented than lazy! And like last time, I won't be putting up any links asking for your purchase until the books are 100% complete. (I don't like holding on to anyone's money. That's too much pressure!)
— When it comes to this site, as news comes in, I'll post stuff as it happens – just like tonight.
— Due to the two books, I'm not sure if I can write any long historical perspectives and/or "Delorean" blogs during this off-season – and as I usually do. But I'll try, as the "Delorean" blogs are usually a big hit (they always increase site traffic), especially since the majority of this site's readership lived through many of those games that have been covered. (Plus – people have requested me to flashback to certain games, which tells me that you guys and gals like going back in time – just like me.)
And oh yeah – CONGRATULATIONS TO CZAR IGOR!
PLUGS TIME.
---
My first plug of tonight's blog – the mandatory plug for my book, "The New York Rangers Rink of Honor and the Rafters of Madison Square Garden".
As mentioned previously, the book is now available in hardcover, in paperback and in Kindle formats. To purchase a copy of the book, visit this link:
https://www.amazon.com/Rangers-Rafters-Madison-Square-Garden-ebook/dp/B09CM5N2WD
For those still looking for signed paperback versions of the book, I have re-ordered more copies. I now have a few signed copies for sale at $25 a pop (includes shipping price) through me directly. Here is all the information on that:
---
Here are my last few blogs, in case you missed them: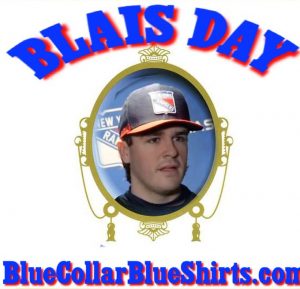 ---
---
---
If you haven't already, subscribe to this blog for the next update:
---
As will be the case during this off-season, I'll return once something big breaks. If not, I'll do a blog like this one, addressing the minor moves of the week.
Until then, I'm doing my Rangers' Hunter S. Thompson act!
Enjoy the summer.
LET'S GO RANGERS!
Sean McCaffrey
BULLSMC@aol.com
@NYCTHEMIC on Tweeter