Greetings and salutations everyone and welcome to another blog here on BlueCollarBlueShirts.com. What a bittersweet day – but not a day to be upset over.
When it comes to our beloved New York Rangers – both the head coach, and most of his players too, conducted their required media exit interviews on Monday.
To be clear, these were the media exit interviews.
Player exit interviews with Team President/General Manager Chris Drury are still to come – interviews that will be private while in comparison to today's public interviews.
Once these interviews are completed, up next is an off-season that should be most interesting, and an off-season that I previewed in-depth last night. (You can read that blog here: https://bluecollarblueshirts.com/61322/)
---
If there is one thing that I want to say before getting into all of the news of the day (including two player signings and the exit interviews themselves), it's this – neither Chris Drury, nor Alexandar Georgiev neither, spoke to the media on Monday.
As talked about last night, at the very least, I would've liked to heard from Drury – if only to shed light on his plans concerning Vitali Kravtsov.
I know that the Rangers' head honcho is tight-lipped (a modern day Lou Lamoriello type), and that he wouldn't dare talk about his own free agents or about the free agency period in general; but he could have at least put a lid on the "will they or won't they" stuff regarding the Russian in the #74 sweater.
When you look at every player on the 2021-22 roster, there is only player that we can say will be moving on with a 100% degree of certainty – Alexandar Georgiev.
It just would've been nice to hear from the "BULGARIAN BEAST" one last time – even if it was only for him to thank the fans. We didn't get that opportunity. That's all.
---
As far as anything else, before running through everything in a chronological fashion it's this – there was a lot of positivity out of everyone.
Similar to what I said on Saturday night, and similar to what most of you guys and gals have said too – there's nothing to be ashamed of. This was a fantastic season. Losing sucks, but to finish third-best in the NHL – it's a major step in the right direction.
This sentiment was echoed all day on Monday, and as they've done all season, from Gallant to his players themselves – they all stood up and defended each other.
There was no finger-pointing. There was no "blame game."
Outside of the "I wish we won" and the "we were just two games away" stuff – reactions that are both normal and human – everyone propped each other up.
Sadly, at the same time, and as Ryan Strome himself said verbatim on Monday – we'll never see this roster again.
---
At around 10AM Monday morning (two hours prior to the start of the exit interviews), the Rangers announced two signings – where not only did they announce that they have signed Gustav Rydahl (I have no clue who he is either) – but where they also confirmed the Kravtsov signing too.
Here's what they had to say about Rydahl, courtesy of https://www.nhl.com/rangers/news/rangers-agree-to-terms-with-gustav-rydahl/c-334587930?icmp=int_web_nyr_news_rightrail:
New York Rangers President and General Manager Chris Drury announced today that the team has agreed to terms with forward Gustav Rydahl on a one-year contract.

Rydahl, 27, skated in 44 regular season games with Färjestad BK of the Swedish Hockey League (SHL) in 2021-22, registering 15 goals and 15 assists for 30 points and a plus-6 rating. On Färjestad BK, Rydahl ranked third in goals, fifth in points, and seventh in assists. His plus-6 rating was tied for the fourth highest on the club. On his way to winning the 2022 SHL championship, Rydahl posted six goals and six assists for 12 points and a plus-9 rating in 19 playoff games.
The Karlstad, Sweden native has played parts of 10 seasons in the SHL, split between Frölunda HC, Växjö Lakers HC, Luleå HF and Färjestad BK, where he has tallied 108 points (64G-44A) and a plus-20 rating in 371 games. Rydahl collected SHL career-highs in goals (19), assists (16) and points (35) in 2019-20 with Färjestad BK. That season, the assistant captain, ranked first on the team in goals, third in points and tied for fifth in assists.

Internationally, the 6-3, 201-pound forward has represented Sweden at multiple levels, including the 2022 Olympic Games.
---
I can't profess to know anything about Rydahl, so I won't pretend that I do.
What I do know is that Rydahl signed a one-way contract with Drury, where if the Swede is sent to Hartford, he'll still earn his NHL salary of $750,000 while playing at the AHL level.
And if trading Patrik Nemeth away is an option, then maybe Rydahl can become the new babysitter of Nils Lundkvist! (I kid, I kid!)
And that low cap hit number of $750,000 kind of tells you what you need to know – this is a low risk deal.
Whether Rydahl makes it to the varsity squad out of camp or not – who knows? We'll find out in October.
---
Here's the Rangers' press release on Kravtsov, courtesy of https://www.nhl.com/rangers/news/rangers-agree-to-terms-with-vitali-kravtsov/c-334586676?icmp=int_web_nyr_news_rightrail:
New York Rangers President and General Manager Chris Drury announced today that the team has agreed to terms with forward Vitali Kravtsov on a one-year contract extension.

Kravtsov, 22, skated in 19 games with Traktor Chelyabinsk of the Kontinental Hockey League (KHL) in 2021-22, recording six goals and seven assists for 13 points. In the playoffs, Kravtsov notched seven goals and three assists for 10 points in 15 games. He ranked tied for seventh among KHL skaters in playoff goals.

In 2020-21, Kravtsov skated in 20 games for the Rangers, recording two goals and two assists for four points. In 2019-20, Kravtsov made his North American debut with the Hartford Wolf Pack of the American Hockey League (AHL), recording 15 points (6G-9A) in 39 games.
The Vladivostok, Russia native has played in parts of six seasons with Traktor in the KHL, registering 68 points (36G-32A) in 167 games. The 6-3, 193-pound forward won the 2017-18 "Aleksei Cherepanov (Best Rookie) Award" in the KHL after posting seven points (4G-3A) in 35 regular season games. In 2018-19, Kravtsov was named to the KHL All-Star team in a season that saw him tally eight goals and 13 assists for 21 points in 50 games.

Kravtsov was originally selected by the Rangers in the first round, ninth overall, of the 2018 NHL Entry Draft.
---
A few quick things before giving you all of the videos, quotes and opinions from all of the exit interviews:
— For whatever reason, the Rangers, as an organization, and as they always do – decided not to air any of these "breaking" interviews live.
— Despite Dolan's team being a multi-billion dollar franchise, with both a cable network and full access to a YouTube account – you know, YouTube accounts where it takes just two seconds for some people to show themselves picking their butts and noses to the entire world – the Rangers, unlike other teams around the league – they refuse to provide live coverage.
— Rather than providing live coverage of an event that many people were interested in; instead, M$GN felt that 87678677896696 hours of JB Smoove talking about being a vegan and pushing gambling is more important than the Rangers.
— In "real-time," when these exit interviews were taking place (and for four hours at that, from the hours of 12PM-4PM); Ranger fans were forced to read tweets from the beat reporters in order to get information. These tweets/snippets, while at least you got something here – wasn't the best coverage.
— All of these tweets from the beat, and my thoughts from tonight's blog too; these comments shouldn't be your end-all, be-all. Instead, I think you should take the time out to watch all of these videos – and then reach your own conclusions/make your own opinions.
— It's one thing to read stuff in black-and-white, but it's a much better thing to hear the tone and inflection in these guys voices. Plus, if you really have the keenest of eyes – you can look at everyone's body language too.
— Officially, the Rangers only uploaded the interviews of Gallant, Kreider, Zibanejad and Strome.
— While these four interviews are worth watching; for whatever reason, the Rangers decided not to upload interviews from Fox, Trouba, Reaves, Miller, Motte, Lafreniere, Chytil, Copp, Vatrano and others, where of course, the one interview that everyone wanted to see wasn't included either – Kaapo Kakko.
— In other words, while I can fully comment on Gallant, Kreider, Zibanejad and Strome; I can only provide you the snippets and quotes from the media when it comes to everyone else.
— A multi-billion dollar racket, and people who post cat videos all day do a better job in presenting their material than the Rangers!
Let's now take a look at all of the exit interviews.
---
Up first, the head coach himself:
---
Gerard Gallant spoke for the most amount of time on Monday, where his interview session ran nearly fifteen minutes.
For the full transcript of the interview, check out Adam Rotter's transcription, one that you can find here:  https://nyrangersnews.com/2022/06/13/what-gerard-gallant-said-on-monday-2/#more-192826
---
Of course, the first question asked to "The Turk" was about his decision to scratch Kaapo Kakko during Game Six.
While a valid question, and one that had to be asked; it also amuses me how the media goes bonkers whenever Gallant scratches a young player. After all, where is the outcry concerning Ryan Reaves and Gallant scratching him during the past two games? Where was the outcry about Kevin Rooney being scratched?
Sometimes, and this is no shock – I think the media tries to sell their own narratives – rather than trying to look through things from the coach's and/or a hockey perspective.
Furthermore, outside of Larry Brooks, look at who most of the media caters to – young fans, young fans who are attracted to Kakko, and young fans who are just as young as the newer and inexperienced writers on the beat today.
One last observation? The bulk of the young Ranger media write for sites that feature paywalls. They need their clicks and subscriptions to survive. Negativity and "sky is falling" headlines earn clicks – just as negativity and "sky is falling" lede stories are prioritized on any television news channel.
And what keeps these sites alive? Internet ad revenue. Who buys the junk advertised on these websites? Young people, as older people are more set in their ways and are less impulsive.
And now that I'm forty years old, let me add this too – "get off of my damn lawn!"
---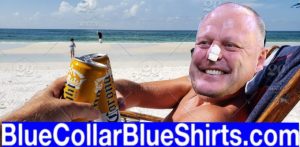 While there was some chatter about this Kakko scratch being over some sort of disciplinary issue; Gallant was never asked if that was the case. You'd think that someone would ask him this outright – but that question never came.
Instead, Gallant said the scratch was solely a hockey decision.
He also said that he thought it was the best move in order to help his team win Game Six – a response that should rile up Kakko. (More on this to come.)
And for the "Kakko Konspirators" out there; Gallant would later go on to say that Kakko would be back next season, where the two words of "offer-sheet" weren't suggested by the media either.
(And yes, while the whole topic of a Kakko offer-sheet is more of a question for Chris Drury, one that he wouldn't answer anyway; at the same time, you also can't 100% assume that Kakko will be back. Not yet. You can only think that once he inks his name on the dotted line – just sayin'.)
As he'd do throughout his interview, Gallant praised many players by name, including both Kakko and Lafreniere – two players that he hopes cracks into his top six next season.
In fact, Gallant followed-up that remark by saying that he'd be disappointed if they weren't.
As far as anything else Kakko related, as for whatever reason, some people feel that had #24 played, the Rangers then would've won the game 1000-0; Gallant said that he didn't talk to Kakko prior to the scratch. This comment created a ton of waterworks on the old "NYR Twitter Machine."
A lost FACT in all of the crying? Gallant hasn't told any player about his line-up decisions prior to games this season. He's consistent with that.
And really, what do you want Gallant to say – something negative about Kakko? What's the point in that?
Seriously, I've seen many people dump all over Gallant about this and I don't get it at all.
---
What really strikes me as hilarious, is that the same people currently crying bloody murder about all of this – these were also the same people screaming "FIRE DQ" during the past three years.
You can't win. You just have to laugh at the idiocy.
No joke, the Rangers could've hired Scotty Bowman in his prime, and after one loss, you'd still have these mooks tearing up and shouting, "FIRE BOWMAN!"
I mean after all, these people, who all made DQ out to be the second coming of "The Prince of Darkness," Satan himself – all of these fans bawled their eyes out about David Quinn being too hands-on and for being only a "college coach."
Here's Gallant, who from DAY ONE, has said that he treats all of his players equally – no matter their age, their draft status and/or whatever else – treating Kakko as he did Reaves – and just like anyone else that was scratched from his line-up this season.
Again, you can't win.
---
As you'd expect, Gallant also showered heavy praise upon Chris Kreider, Mika Zibanejad, CZAR IGOR, K'Andre Miller, the Drury acquisitions, and others.
When it comes to Ryan Strome (more on him in a bit), Gallant defended his decision to play his injured second line center during Game Six.
Gallant also admitted that Strome wasn't Strome and that every head coach makes mistakes.
However, Strome wanted to play and Gallant ran with a guy who has been a big part of his team all season.
As far as Gallant himself goes; Gallant said he was a bit nervous coming to New York and that he didn't know what to expect.
Gallant also said that at the start of the season, he was very concerned about his goalie doing all of the heavy lifting, but as the season went on – he then became extremely proud of his group.
Gallant, who is the complete opposite of the man before him, DQ; once again reiterated that he doesn't have any social interaction with his players, nor talks to them that much neither.
"The Turk" then confirmed that Chris Drury would be handling all of the player-exit interviews. However, he also said that he'd check in on his players over the summer – where I wouldn't expect Gallant to be globe-trotting as DQ once did. Instead, a simple phone call will be suffice.
As far as anything else worth noting here (read the transcript/watch the video for everything); Gallant did say that fatigue was a factor (twenty games in forty nights), but he didn't want to use that as an excuse.
He also credited the champs and then brought up the differential in experience between the two teams, where following that remark, Gallant then said something akin to – you won't be able to say that about us next season.
Yes, by now, especially if you're a regular reader of these blogs – I'm a fan of Gallant. I know that others aren't and that's fine too. We're all entitled to our own opinions – something that I think is often forgotten about!
However, I thought Gallant was good here. He kept accentuating the positives (he called this season a success – and anyone questioning him on that is out of their minds), while also swatting away any question that could be deemed as negative.
After all, what's to be gained by calling anyone out right now?
And more important than everything else, and a 100% fact too – this team was a huge success story.
Finally, while on Gallant, and as he said himself – it's time to follow up this season with a bigger one next year.
---
Here's Ryan Strome:
---
The biggest takeaway from Strome's exit interview (and the longest interview among all players at that), was this – he wants to be back. He couldn't have been any more clear on this.
Of course, whether that happens or not – and just like everyone else that's not signed right now – we'll find out soon enough.
Strome was very candid during his interview, where he admitted that he had suffered a pelvis injury during the regular season (when he missed those four games) and that it only got worse during the playoffs.
An uncalled crosscheck during Game Four only made it worse.
As far as surgery goes, Strome said that he'd find out on Tuesday if it would be required.
And yep, this injury explains that missed shot, but there's no need to get into that again.
Strome was also very reflective about his career during his interview, where he talked about his time with the Islanders and how he had spent the bulk of his twenties in New York. He even went on to say that New York has adopted him and how it's his second city.
In comments that felt like he was on the way out; Strome talked about first arriving to New York City from Edmonton, his tenure with the Rangers, and how he loved the organization and his teammates.
Strome also mentioned his close bond with Artemi Panarin. (So Strome went from being BFF's with Brendan Lemieux and Tony DeAngelo to "The Breadman.")
Strome also said, and many times at that – he wants to return. He kept on saying, "I want to be a New York Ranger."
However, Strome, no idiot, also brought up the business end of things and talked about how this was his first time as an unrestricted free agent.
Strome then mentioned that it will be weird for him this summer, when watching "Free Agent Frenzy" coverage, where he'll see his name included in the Class of '22 free agents.
Strome, like many on this day, brought up the two words of "unfinished business," and how he'd like to finish that business in New York.
After all, he's now one of the longer-tenured Rangers. He has also lived through the rebuild.
You can see that Strome was very emotional during this, as he doesn't know what his fate will be.
As talked about last night, if he's willing to accept a contract that's not fair to him, Drury would probably re-sign him.
However, this is now the best time in his life, and perhaps the only time in his life, to set up both he and his family for future generations for life.
It's improbable to think that he'll get a better chance to make as much money as he can right now. To do that, he'll have to play elsewhere next season.
---
Here's Chris Kreider:
---
Unless Chris Kreider is the second coming of Marlon Brando, and putting on an act here – no one was more emotional than him on Monday.
Once again, Kreider fought back tears and was all choked up.
I saw some fans kind of get on him for crying again ("Crying Chris"), but must I remind you of some guy named Mark Messier?
Kreider, perhaps the next captain of the team (for what it's worth, Gallant said now was not the time to talk about a captain for the 2022-23 season, but that the topic will be talked about eventually), has been through it all with the Rangers.
I don't think I have to recap Kreider's entire history with the franchise for you; but today, he now has four ECF's under his belt (he won one of the four), and he has also gone from a fresh-faced rookie to the longest-tenured Blueshirt on the roster. His name is also all over Ranger franchise records – both regular season and playoff records.
Kreider, now a veteran of ten NHL seasons, and all with the Rangers (he began his career during the 2012 Stanley Cup Playoffs); "CK52" really let his emotions show on Monday.
Whether he's sick of coming so close only to never get over the hump or what, I don't know, but you can see it – no one wanted this Stanley Cup more than him.
He said he'd use this season as motivation for next year. He also said that he felt like he failed "leader" Mika Zibanejad (talked about this last night), where he proclaimed that #93 was the best player on the team. (I'm of the opinion that CZAR IGOR is the best player on the team, but I'm sure Kreider said this when talking about all skaters.)
My words, or anyone else's, can't accurately describe this short interview. Watch it yourself to get the whole story.
---
Here's Mika:
---
Zibanejad spoke for over ten minutes on Monday, where really – I didn't get much out of this interview as I did with the others.
While obviously, Mika hoped that the Rangers would defeat the Bolts; like Kreider, he too was upset about the loss.
Mika thanked the fans and mentioned that "#NoQuitinNY" was a real thing, and a thing that he was most proud of.
Kreider, who also brought up NHL history during his interview, when he talked about how Tampa used the worst postseason loss in all of NHL history (when Columbus swept them in 2019) to turn their fortunes around; Zibanejad, Kreider's BFF, echoed these sentiments.
Zibanejad brought up all of the rough years that the Avalanche have had and how they are now competing for the Stanley Cup today. This was Mika's way of saying that this season was a learning experience and a building block, and something they hope to use come the 2023 Stanley Cup Playoffs.
These two history lessons, on both the Bolts and Avalanche, are lessons where the Rangers hope that history repeats itself.
And while I'm not a fan of this phrase (as I think you should always live in the moment), this was pretty much the equivalent of saying, "you have to know how to lose before you can learn how to win."
---
As mentioned, the previous four interviews were the only ones that the Rangers provided in-full.
Up next, my thoughts on the short clips and transcriptions floated out there by the Rangers' beat reporters, where again – it's a disgrace that the Rangers didn't share all of these with us.
---
Thankfully, @SNYRangers did a good job of uploading clips of these interviews.
Here are the highlights of Kakko's interview:
(Of note – look at the scar on Kakko's left wrist.)
"It's never fun when you're not making the lineup. I wasn't so happy about that."

– Kaapo Kakko on being scratched in Game 6 pic.twitter.com/sfzUHCQeiD

— Rangers Videos (@SNYRangers) June 13, 2022
---
Kaapo Kakko is using his Game 6 benching as motivation for next year:

"I'm going to show, 'I'm better than that. You should put me in the lineup. I'm a good player.'" pic.twitter.com/WOCXjhwvuG

— Rangers Videos (@SNYRangers) June 13, 2022
---
While I can't proclaim to be Kakko's biggest fan – I do hope he puts it all together one day. I don't root against him or anything like that, but unlike others – I don't think he's above criticism either.
That said, for the polarizing Finn, who has an extreme amount of support from one sect of the fan base, while another sect wants him out of town – I'll never say this (at least not yet) – "Kakko's a bust."
I really enjoyed Kakko's interview.
You could tell that Kakko was miffed a bit about being scratched. GOOD!
He should be pissed – and not at Gallant – but at himself.
Had he been better and more productive, then he never would've been in the position to be scratched in the first place.
Everyone interprets all of these interviews differently. Your opinion is as good as mine.
My take on this interview? Kakko wants to be back and isn't looking for an offer-sheet.
Furthermore, who in their right mind would give up a bunch of draft picks and big bucks for Kakko to begin with?
That said, if the Rangers come in too low – who knows? That's why this time of the year is just as crazy as the stuff on the ice!
---
I thought two things from this interview were most telling. First, and as noted, Gallant praised Kakko and had him slated in his line-up next season. There were no ifs, ands, or buts about that.
Two, Kakko said he was going to use this Game Six slight as motivation.
There was no talk from Kakko about not being wanted. There was no sulking. There was no scathing commentary.
Instead, he flat-out said that he'd be back next season and said verbatim, "I like to play here."
By saying that he wants to play here, and that he wants to use all of this as fuel for next season (and of course, Drury could have a different opinion, but Gallant said that he wants Kakko back), this much we can say for a fact – Kakko didn't help his negotiating power here at all.
As noted last night, while there may be a few twists and turns to get there – I do think Kakko is back next season.
---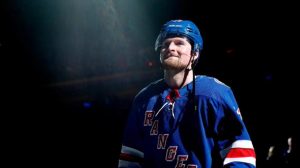 Here's Lafreniere:
"I want to play in the top 6. That's my goal."

– Alexis Lafrenière pic.twitter.com/TIWYTT9ahe

— Rangers Videos (@SNYRangers) June 13, 2022
---
I must've said this about 96786896868678969 times during the past few months, but it's true – Alexis Lafreniere found a new motor once the Rangers returned from the All-Star break.
He found a bigger motor come the Stanley Cup Playoffs.
Lafreniere, who just like Kakko, hasn't come close to his potential yet; unlike Kakko – you can see the ascension of Lafreniere coming.
If you've been with me from day one of this site's now eight-year existence, or even if you've been with me for just the past year (when the new regime took over), then you know this – I'm batting pretty good with my long-term predictions.
Want my craziest long-term prediction yet? Screenshot this:
Alexis Lafreniere flirts with forty goals and one hundred points during the 2022-23 season.
---
I know, I know, I know – how can I say such a thing?
However, at the same time – who predicted that Chris Kreider would score 52 goals this season, and then go on to tie Rod Gilbert's franchise record of 34 postseason goals?
You know I'm an eye-test guy, where I've also been pretty good at calling who will score goals prior to games. (My silly and daily 4-0 SHUTOUT predictions? Well needless to say – they didn't pan out the same!)
I just have a good feeling, an EYE TEST feeling, that Lafreniere is going to run hog-wild next season.
Starting next season, and for the first time in his career, there will be no COVID bullshit. There also won't be a third head coach in Lafreniere's third professional season either.
As noted before – not one former first overall NHL Draft pick had to enter the league under the conditions in the way that Lafreniere did – right down to joining a strong team – rather than playing for a down-in-the-dumps cellar-dweller franchise, and as most first overall picks do.
I loved Lafreniere's comment of, "I want to play in the top six."
Just as good, Gallant wants that too.
While it's way too early to look at lines and power-play units; I think that Lafreniere will draw in on both.
(And you can't blame Gallant for not putting #13 on the first PP unit – after all, and as Gallant reminded us too on Monday – the Rangers had one of the best power-plays in all of the league this year.)
Lafreniere finished this season with 19 goals and 31 points. Are you telling me that he can't score twenty more on a top-ranked power-play while also receiving top six minutes?
And while his first-line audition didn't work out initially this season (while playing on the off-wing) – he'll get every opportunity to do so next season.
Better than that, Lafreniere, a natural left-winger, also said on Monday that he plans on working on his right-wing game during this summer.
I really think that Lafreniere is ready to break out. There's no time like the present!
---
When it comes to the Rangers who are both under contract and who will be back next season – we can rapid-fire through these interviews. After all, not much was said, shared or reported.
CZAR IGOR: #31 said that with the season now completed, now he can reflect on his status as both a Hart and Vezina contender.
Igor praised Ryan Lindgren, where he added – "Lindy blocked more shots than me."
Shestyorkin then thanked the fans for chanting his name, as he was very appreciative in regards to all of the "IGOR IGOR IGOR" chants from this season – chants that should continue on for many more years.
---
ARTEMI PANARIN: Without seeing his interview, it's tough to get a true read on it.
Some reporters said that he was joking around a lot, where Panarin was quoted as saying that he couldn't wait to sing karaoke – the complete opposite of what Kreider and Zibanejad were saying, and the complete opposite of the vibes that both #93 and #20 were giving off too.
While Kreider and Zibanejad were on the verge of tears; Panarin seemed too happy.
Again – I'm going by media reports, as the Rangers didn't bother sharing an interview from their highest-paid player.
In what I found completely baffling – Panarin said that he was going to spend the summer over in Russia. I don't get it, and do I really have to explain why to you?
I mean, I understand that his grandparents and family live there, but knowing his past and knowing what's going on in Russia today – why the hell would he, of all people, go back there?
Not one reporter asked Panarin if he had any injuries, so nothing about his ailments were confirmed.
---
RYAN REAVES: "The Grim Reaver," and as always, was both very entertaining and informative.
Reaves, who was asked about being scratched (but not one reporter bothered to ask if Gallant had told him in advance, as they asked Kakko), said, and I quote, "I was dogshit in Game Four."
On the season, and while speaking about the team as a whole, Reaves said, "we surprised a lot of people. Next year, it's not going to be a surprise anymore. It's going to be an exciting season."
Reaves also talked about the genesis of "SHESTY, RELEASE US!" where like most big hits – was completely organic.
Reaves said that he was asking Strome about who was going to lead the Rangers out of the tunnel and Strome didn't have an answer. In a response, Reaves hit his now trademark line.
---
ADAM FOX, BARCLAY GOODROW, RYAN LINDGREN, K'ANDRE MILLER and BRADEN SCHNEIDER: these guys all pretty much said the same thing, about how they were happy with the season – but not happy about the way the season ended.
Schneider said he couldn't believe his opportunity at his age and how at twenty years old, he came two games away from a Stanley Cup Final. Fox said the same, without the age remark and the excitement that Schneider had.
Lindgren talked about all the pain he endured and said, "there were times where it was really painful and I didn't know if I could get through it. I ended up being alright and getting back out there every time." Warrior.
Lindgren also mentioned that his biggest injury was his ankle, where the injury took place during the Rangers' last game of the regular season, against Washington.
Speaking of ankle injuries, Goodrow confirmed his – he fractured his left ankle. How he was skating on that, I do not know. What's that word again? Oh yeah – WARRIOR!
Miller, like everyone else, also talked about how the Rangers were two games away.
Miller then said, that come next season, he doesn't think it will take much more for the team to accomplish their goal(s). Confident? Yes. Cocky? Maybe. But he should be thinking like this!
---
TROUBA'Z TREEHOUSE:
From the footage and quotes available, there wasn't much out of Jacob Trouba – outside of the fact that he wants Andrew Copp to return next season.
Again, with limited footage and coverage of Trouba's talk, I don't know if he said the same about Vatrano and Motte.
We just know for a fact that he said that he'd be politicking for Copp's return – to both Copp and Drury.
(I wonder if the NHL's salary cap were as the same as the NFL's, if Trouba would say this – where then he could be asked to restructure his own insane $8M per season contract. Hmmm!)
Copp, during his interview, was very open to the idea of returning – but also said that he hasn't thought about it much, as the wound from the ECF loss was still fresh.
Copp, like Strome, in the same U-(FA) Boat, also said this was his first summer as an unrestricted free agent and like anyone else – deserved the right to be in this position to call his own shots.
Copp also repeated the frequently used words of "unfinished business."
In perhaps his most interesting comment, Copp stated that he'd rather receive less ice time playing for a good team, rather than getting top ice time on a bad team. This was his way of saying that he wants to play for a contender – which the Rangers most certainly are.
Of course, just like Strome, he doesn't owe the Rangers anything – so if multiple contenders come calling – you can't blame him if he takes the best offer available.
Frank Vatrano, an unrestricted free agent himself, wasted no time in making his intentions known – he wants to be back. Again, and as now mentioned 786867897896689 times during these past 48 hours – money talks.
Vatrano also said this: "I have some unfinished business here. I want to help this team win a Stanley Cup."
Tyler Motte, who as noted last night, I hope is Drury's first priority; #64 was more business than anyone else on Monday.
Here's Motte: "I enjoyed being here, for sure. It's a great organization."
Motte really wouldn't go any further than that.
It should be noted, that the reason why Vancouver even traded him in the first place was because Motte told them he was looking for the biggest money and term of his career during this off-season.
And despite my own desire of wanting Motte re-signed; he sounded more polite about the Rangers than anything else.
Many people, whether signed for next season or not, all said "we have unfinished business." Motte did not.
At the very least, he didn't plead his case in the same manner that Vatrano did.
---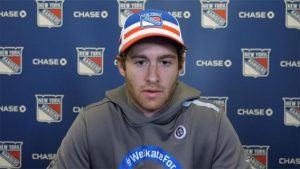 Two other Rangers spoke on Monday, where Kevin Rooney said that he hopes to return, while Filip Chytil talked about a sub-par regular season and how it all clicked for him during the postseason.
With that all covered, that's a wrap on this 2021-22 season.
---
Before closing out, a few quick hits:
— Thanks for all of the birthday wishes!
— After writing about 30,000 words during the past 96 hours, I need a break. I hope Drury stays idle during the Stanley Cup Final!
— While I don't think that I'm really 100% "Ranger'd Out" right now (as I do plan on working on two Blueshirt books this summer, plus posting stuff on this site too); I know that many of you are.
— After all, it's been over nine months of non-stop Ranger hockey, where the last six weeks were insanely intense. Prior to this season, there was a ton of DOWNTIME during the last four years. In just three months, we'll be right back to the preseason. In other words, at this time – everyone can use a nice stiff drink and a break!
— Thanks for all of the feedback, opinions and commentary this season. I always try to get back to everyone, no matter the medium. You guys and gals make it enjoyable.
— As noted during the last two blogs; obviously, these blogs won't be as frequent during the off-season. However, I should still pump out one or two a week. Hit that subscribe button below if you should desire!
— Last, but not least – LET'S GO RANGERS!
PLUGS TIME.
---
On Monday night, our buddies over at "The Blueshirt Underground Show" held their memorial for the Rangers' 2021-22 season.
To listen/watch the show, click the play button below:
---
My first plug of tonight's blog – the mandatory plug for my book, "The New York Rangers Rink of Honor and the Rafters of Madison Square Garden".
As mentioned previously, the book is now available in hardcover, in paperback and in Kindle formats. To purchase a copy of the book, visit this link:
https://www.amazon.com/Rangers-Rafters-Madison-Square-Garden-ebook/dp/B09CM5N2WD
For those still looking for signed paperback versions of the book, I have re-ordered more copies. I now have a few signed copies for sale at $25 a pop (includes shipping price) through me directly. Here is all the information on that:
---
Here are my last few blogs, in case you missed them:
---
---
---
If you haven't already, subscribe to this blog for the next update:
---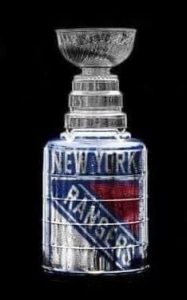 Two final predictions for now:
One, the Rangers will win the Stanley Cup in 2023!
Two, the Rangers will win their home opener by a final score of 4-0!
Enjoy the summer.
LET'S GO RANGERS!
Sean McCaffrey
BULLSMC@aol.com
@NYCTHEMIC on Tweeter