What's up everyone and welcome to another blog here on BlueCollarBlueshirts.com. This is the third and final blog that I've posted here on Tuesday, September 5th. Make sure to check out the home page of BlueCollarBlueShirts.com for a Deloran blog on the 1995 Rangers & for a "Losing The Edge" book review.
For this blog, this will be a blog catching you up on all the latest NHL & Ranger news. Plus I got news on other stuff going on.
So…. with Labor Day come and gone, how was your summer?
For me, this summer flew by. As many of you know, I work in heavy construction. I was on a slow, "Eight & Skate" job, but in the last few weeks, we started working a lot of overtime. By the time you get home, get something to eat, have a beer and watch a little TV, it's already time to do the same thing the next day. I'm not complaining, although I'm not thrilled with getting less than 50% of my check, so my tax money can go to junkies, people who want sex changes & people who choose to stay on welfare.
I mean really – cops & EMT's are forced to carry around Narcan for a heroin addict, on a downward spiral, but not insulin, for a diabetic, who doesn't choose to have diabetes? Our priorities are wrong here.
If the government is going to tax me and rape me like "The Gimp" in "Pulp Fiction", at least let me choose where my money goes. Give my money to the broke military veterans around this country. Instead of fake tits and creating cocks for people, use that money for a prosthetic for a wounded warrior. Shit, I wish I could donate my taxes to the A.S.P.C.A.
Speaking of animals, many of you follow me on the twitter & on the book of Face. My girlfriend and I have four cats. (She had 3 when she moved in 6 years ago & combined, all four of our cats were rescues.) This past Friday we had to put down "Mookie Wilson" (My girlfriend is a Mets fan, while I'm a Yankees fan.) The cat lost half her body weight in a month and had a deadly red blood cell count. Cats are supposed to have a red blood cell count of 33-55, and Mookie had an 11. On Friday afternoon, Mookie collapsed, out of exhaustion, from just walking. The cause of all this? Just old age, as Mookie was 16+ years old.
We've been in and out of the vet with Mookie the last month, so when we asked for more time, the vet said it would be a huge risk. We were willing to accept nature and that her death was near, but we were hoping she could die peacefully at home. (Admittedly, my girlfriend and I are animal freaks. For all the crazy shit I say on this blog, I have no tolerance for animal abuse. I know it's hypocritical that I eat meat and all, but when it comes to domestic pets, I will never forgive a piece of shit like Michael Vick.)
Anyway, the vet said that Mookie's death wouldn't be a peaceful one. Since red blood cells carry oxygen, it meant that her death would be her struggling to breathe and she would eventually suffocate to death. I know many of you readers have been, where I've been, with your pets. I've talked to some of you before about your pets, before Mookie's passing, and I have talked to several of you since. Even if I don't know you or have talked to you personally, we've all been there with our pets.
When you're in that little examination room at the vet's office, and they tell you that your pet is going to die painfully, if you don't do the right thing there and then, man, it's a tough snap decision to make. It's not like choosing between having your bacon, eggs and cheese with ketchup or without ketchup. This is a life altering decision for both you and your pet.
In this case, you know that it's the right and humane thing to do, by deciding to put the animal down. However, you're still debating to yourself, that maybe you can squeeze out an extra day or two. However, you know you're just being selfish, if you let the animal live and suffer in pain. It's tough to let go for any pet owner and ultimately, as pet owners, we will all be put into this position.
If you're a pet owner, I don't have to tell you this – when it comes to cats or dogs, or any other animal with a personality, (sorry goldfish owners) they become family real quick. (Especially if you don't have kids & my girlfriend & I like our life without being parents.) You get used to seeing your pets around the house and in certain spots. You have a routine. It's just never easy, but that's life & death. After all, isn't that why kids get pets, to teach them about death?
Today, as I'm working on this blog, one of my three cats, is looking for Mookie. It's tough to watch that and I'm not a soft guy either. I am happy to report that FATMAN (I talked about him two years ago), is still alive and well, after we sunk a few thousand dollars (Told you we're nuts) in an amputation and a cancer mass removal surgery. Our other two cats, Boogie and Sabrina, have clean bills of health and we're hoping that stays that way for a long time.
While I'm not trying to make this sound like the end of the world here, that is why I posted three blogs today. Doing these blogs just kept my mind busy and my mind off of it. My girlfriend handled her grief by working on her Zumba playlists. I decided to write. We all handle grief differently. So while these blogs are fun to write, it was also therapeutic.
Hey death sucks, but we all deal with it. Maybe if we add another cat to our brood, I'll name him "Stanley", because that seems like the only way I'll see a Stanley in New York any time soon! (That was a shot at Lundwiss. That's the end of the sappy shit, I'm back baby!)
Remember towards the end of "Goodfellas", when Tommy, played by Joe Pesci, gets whacked? Jimmy Conway, played by Robert Deniro, makes a phone call, only to hear "He's gone, and there's nothing we could do about it." Here's your refresher:
If you haven't heard, Tanner Glass is no longer with the Rangers and has gotten a try-out with the Flames. Here's the full story from Sportsnet.ca:
The Calgary Flames have signed Tanner Glass to a professional tryout agreement, according to Rick Dhaliwal of NEWS 1130.

The bruising forward spent the past three seasons with the New York Rangers, where he totalled 181 penalty minutes in 134 games.

Glass actually had a productive seven playoff games with the Rangers in 2017, scoring a goal and adding three assists.

The 33-year-old has 24 goals, 45 assists, and 639 penalty minutes in 511 career games
If you've been living under a rock or just not familiar with my stuff (check the archives!) then you don't know that I was a huge supporter of Tanner Glass.
I wrote this blog in March of 2016:
I wrote this blog in October of 2016:
All season long, I was campaigning for the call-up of Tanner Glass. When it came playoff time, I was campaigning for him to start over Buchnevich. Listen, I don't have any pull at all with the Rangers. (Duh.) However, Ron Duguay does, and he was openly tweeting and using his forum on the MSG Networks to push for Tanner Glass as well. I'm not saying Alain Vigneault started Glass because of Ron Duguay, because we all know that Glass has always been an AV guy. That said, starting Glass in the playoffs, was an unpopular decision for many Ranger fans. How did Glass respond? By scoring the first goal of the 2017 playoffs, by beating the big, bad, Carey Price!
When I heard that Glass had officially moved on from the Rangers, I felt like a mix of Robert Deniro & the guy on the other end of the line, saying "there was nothing we could do about it". I get it. Glass's time with the Rangers was up. He just doesn't fit in with this team anymore. I'm totally aware. However, how great would it be, come the trade deadline, with the Rangers looking soft & needing help for a playoff push, that they bring back "The Glassiah" himself and GLASS 3:16 takes over MSG!
I'm totally aware that Glass looked like a bust in year one and Ranger fans had it with him. However, you can not deny that he was perfect in his role in both year 2 and 3 of his contract. He embodied the word "teammate." He fought hard for his spot. He maximized his minutes. He lit a fire under the team and really, he was a factor in the Rangers win, over Montreal, in the first round, this past postseason.
I'm not trying to sell you that Tanner Glass is a make or break player for a Stanley Cup winner. However, neither is Henrik Lundqvist, yet fans give him a pass, despite no evidence suggesting that a fading overrated & overpaid goaltender, can win a Cup in today's NHL.
I think Tanner Glass still has plenty of NHL hockey left in him and I hope continues to live out his dream. While many Ranger fans may have not appreciated his tenure here, let me be the proudest Ranger fan to say, "THANK YOU TANNER GLASS."
And no joke – if this doesn't work out for him, I could see him being a coach in this league one day. Watching him in Hartford, you could just see his natural leading and teaching ability. In another era, Glass would be more of a commodity. In today's NHL, his style is being phased out a bit. No matter what happens with his playing career, I hope Tanner Glass will continue to contribute to the sport. I got a soft spot for the unsung heroes of a team, and the way Glass stepped up, whenever the Rangers called his number, was admirable to me.
In the latest JAGR WATCH 2017 update, there is nothing to report, except fan blogs of all 31 teams, writing blogs on why Jagr makes sense for their team. I already did mine months ago, so I'm not going to repeat it here. Check the archives for it.
The strongest rumors have Jagr in the KHL and perhaps hooking up with the NHL later on in the NHL season.
While I would've loved a Rangers reunion, for my own personal enjoyment, to me, if I'm Jagr, I want another Cup. The best destinations for that would be Pittsburgh or Edmonton, in my opinion. I just don't see what Jagr would get out of playing for a bad team. The Vegas rumor would be fun, but is Jagr here to pad his career totals or to win another Cup?
Time will tell, but I'm hoping Jagr hooks up with a team before the puck drops on the 2017-2018 season. I'm not ready to live in a world where Jagr isn't in the NHL.
I feel like I plug this blog all the time, so let me do it one more time, before I go on my latest tirade:
I have an update on the Rangers and Frank Boucher. As you know, for the last two plus years, I've been campaigning for the Rangers to retire Frank Boucher's #7. Sure, the number is retired already for Rod Gilbert, but M$G currently has two number 9's hanging from the rafters, for Adam Graves & Andy Bathgate.
During a random google search on Frank Boucher, Frank Boucher's great-nephew, found this blog. I've been conversing with him for nearly a year now. The nephew, whose name is Mike, is now in touch with people in the Rangers organization, about possibly making this happen. I'm not saying this is a done deal or even close to happening, I'm just saying that the proper contact has been made and hopefully, the puck gets rolling on all this.
To this day, Frank Boucher has four living granddaughters in Canada. The above picture was sent to me from Mike. The family has tons of Boucher heirlooms and memorabilia as well. I'm hoping to eventually get a statement from the family and pictures of some of these "artifacts" as well and get it up here for you on the site.
As stated, Boucher's number might not be retired this season, the season after or maybe ever. However, I did put the family in contact with the Rangers, and that's all I can do. I just hope Frank Boucher's memory and accomplishments will eventually get the respect they deserve from the franchise. That said, (Take another shot) I will not stop mentioning Frank Boucher, until he gets the recognition that's long overdue.
And if Frank Boucher's number does get retired one day, I'm bringing back the "Rangers Fan Club's Frank Boucher Trophy". Just in case that you're not familiar, here's the history of that award:
And here's a shot in the dark request – who wants to float me $400 so I can buy this off eBay:
As time goes on and the family sends me updates, I will continue to have more Frank Boucher information here. Hey, someone has to do it and I'd rather be known as the "Frank Boucher guy" than "the Hank hater." Eh, some things you can never change!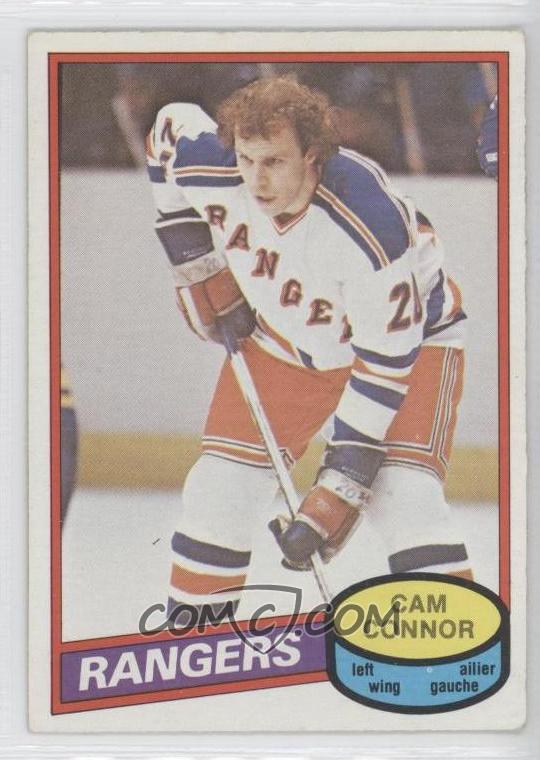 I recently talked about Cam Connor in my 1982 Delorean blog, as he scored the game winning goal in a playoff game. As luck would have it, Cam Connor is still around today and has just started his first podcast. Here's the information, from his twitter:
Episode 1 of my new podcast is out. Please subscribe & share. I'll be sending a poll out soon for next week's topics https://t.co/QsQEVzUCq3

— Cam Connor (@CamConnorNHL) August 29, 2017
"View from the Penalty Box" is hosted by Cam and his son. I listened to the debut episode, as it was a quick 20 or so minute listen. I thought it was pretty entertaining & I subscribed. I gotta say, to an American like me, I found Cam's thick Canadian accent to be humorous at times, especially when he belted out a stereotypical Canadian "EH?"
By now, you guys know about my pro wrestling background and today, there are about 7896789696968796789678967896869 wrestling podcasts from ex-wrestlers, writers, promoters, popcorn vendors, ticket takers and fans. There aren't many podcasts with ex-hockey players. I hope this works out for Cam. Give it a try.
I swear, I promise to get to current Rangers stuff eventually. I just have a ton of stuff I want to share with you.
Derek Stepan, the new Arizona Coyote, has been in the news this week. First, he bought a $3M home in Arizona, which means he's embracing the move. You can read more about that here: http://www.azcentral.com/story/money/real-estate/catherine-reagor/2017/08/15/arizona-coyotes-forward-derek-stepan-pays-3-million-scottsdale-home-dc-ranch/570572001/
Secondly, this story appeared on NHL.com this week. Since NHL.com is impossible to use and freezes everything, I saved you the trouble and copied & pasted the story for you:
GLENDALE – Derek Stepan is two weeks into making Arizona his new home and things are going well.

The new Coyotes center and his family are settling into their residence, and Stepan is making rounds around town meeting new teammates and other Valley athletes and teams.

Not long after arriving in the Phoenix area in mid-August, Stepan began skating informally with other Coyotes at the Ice Den in Scottsdale a few times per week. Then, earlier this week, Stepan and defenseman Alex Goligoski volunteered at Fitz's Supper Club – Celebrities at YOUR Service, aka Arizona Cardinals icon Larry Fitzgerald's annual charity event, during which they helped serve food to guests. Next week, Stepan will throw the ceremonial first pitch at the Arizona Diamondbacks game on "Coyotes Night" at Chase Field on Sept. 8.

Alex Goligoski and Derek Stepan at Fitz's Supper Club event in Scottsdale.

"It's all good," Stepan said. "Our family has gotten settled fairly quickly here and we're very excited about it. We love the area and the home we are in, and we're ready to get into that routine. New York was home to us for seven years, but now Arizona is home. We've had the mind-set of making this our home since the trade. It's a new chapter in our life."

The Coyotes acquired Stepan and goalie Antti Raanta from the New York Rangers in June. Both are expected to play key roles as Arizona builds a fresh identity under new Head Coach Rick Tocchet.

"I talked to him probably three weeks after he got the job and we had a good, 30-minute conversation and got to know each other," Stepan said of Tocchet, who has said he'll look to Stanley Cup Playoff veterans such as Stepan and Niklas Hjalmarsson as on-ice extensions of the coaching staff.

"Being able to be a leader in the locker room for the Rangers at a young age is something that I really took very seriously and it's something that I'm very proud of," Stepan said. "To be able to wear a letter (A) on my sweater at a young age in New York, and to get respect in the room was special. Coming out of college, I wasn't even sure I was going to make the team, and then to be able to stick around for a full season and wiggle my way into a spot and stay is also something I was really proud of."

Stepan has quickly made friends with the other Coyotes he is skating with at the Ice Den. Some of them – Goligoski and defenseman Kevin Connauton – he knew before the trade.

Watching him interact and joke with all of them creates the illusion that he's been around them all for years. Coyotes fans can look forward to watching Stepan interact with them on-camera this season as he brings his light-hearted "Stepan Behind the Mic" video feature to ArizonaCoyotes.com. It's a Q&A he'll do with teammates on various pop culture and holiday topics.

"I have fun with it," Stepan said. "The guys hate me for it because I try to embarrass them, at least a little bit, but that's OK. I think we need to come up with a new name for it here. I don't know what that'll be, but we can figure something out."

As for his first pitch at the upcoming D-backs game, Stepan said he's up for the challenge. In fact, he's been preparing.

"I've never done it before, but me and Goose (Goligoski) played a little bit of catch recently. I think the knuckle-curve will be the pitch of choice," Stepan said with a smile. "It's important as a professional athlete that you meet other athletes in your state, and do events like the first pitch and Larry's charity event. It's good to give back to the community and do whatever we can to help."

As if joining a new team and moving cross-country weren't exciting enough, Stepan and his wife, Stephanie, are expecting their second child, a daughter, on Sept. 23, right in the heart of training camp. Their son, Max, was born nearly two years ago.

"I'd like to say I'm more relaxed this time around, but it feels the same as the first time," Stepan said. "We're still a little nervous about what's going to happen, but we're also so very excited."

The Coyotes are excited to have Stepan in the mix. He's a proven winner who already has played in 97 post-season games. Having never not qualified for the Stanley Cup Playoffs, he's eager to help lead the Coyotes there.

"We've got to get off to a good start and play good hockey for 82 games," Stepan said. "Teams that can handle the balance of ups and downs, more times than not will make the playoffs. This is a unique situation and I don't want to use the word challenge because every team has challenges, but it's something that I am new to. We've got a group of younger guys, which is weird for me at age 27 to say, that you kind of have to teach a little bit more. And there's going to be a learning curve throughout the year. But we haven't even started the season yet and I don't want us to get too far ahead of ourselves. I like to look at the season as 10 games at a time, then the next 10 games at a time, then the next 10 games, and then when you get to the playoffs it's round 1, then round 2, then round 3, and then the final one. The Coyotes haven't been to the playoffs since 2012. Ending that streak should be our focus and our goal."
I talked about the Stepan trade plenty already, but all I gotta say now is that I hope he has success there. Who even knows if the Coyotes last in Arizona? It's gotta be tough for Stepan, to be in the playoffs every year and then go to Arizona. It's also tough to be traded, just because you called out an egomaniac goalie, who was throwing another one of his usual hissy fits, in a playoff game.
The Arizona Rangers, with Stepan (Who could be a Captain candidate with Shane Doan retiring), starting goalie Antti Raanta (NYR refuses to learn from their Talbot trade mistake), & Anthony Duclair, could surprise the league, and be a playoff team this upcoming season. Let's also not forget the son of ex-Ranger Tie Domi, in Max Domi, who's a stud himself.
As we continue to talk about ex-Rangers, Anthony Duclair, THE DUKE, made the news. From the Arizona Coyotes:
GLENDALE, ARIZONA – Arizona Coyotes President of Hockey Operations and General Manager John Chayka announced today that the Coyotes have signed forward Anthony Duclair to a one-year contract. As per club policy, terms of the contract were not disclosed.

"We are very pleased to sign Anthony to a new contract," said Chayka. "Anthony is a highly skilled forward with great speed and scoring ability. We are confident that he can be an impact player for our team and look forward to having him in our lineup this season."

The 22-year-old Duclair registered 5-10-15 and 14 penalty minutes (PIM) in 58 games with the Coyotes and collected 1-7-8 and four PIM in 16 games with the Tucson Roadrunners (AHL) last season. In 2015-16, Duclair registered 20-24-44 in 81 games with Arizona.

The 5-foot-11, 185-pound forward has recorded 26-40-66 and 67 PIM in 157 career NHL games with the Coyotes and New York Rangers. Duclair was originally drafted by the Rangers in the third round (80th overall) in the 2013 NHL Draft.
According to the hockey reporters, the deal is for 1 year at $1.2M.
For Duclair, I felt the Rangers never should've traded him. I think he would've progressed faster if he played with the talent in NY, rather than being stuck in a losing environment. However, with all the changes in Arizona, perhaps Duclair will grow into the hockey player that I always thought he would be.
Time for some current stuff.
As this upcoming season approaches, it looks like the roster the Rangers have right now, is what they're going with. My pipe dream of Jaromir Jagr will not happen. My dream of seeing the Rangers win a Cup, as an adult, most likely won't happen either.
I am not going to rehash myself and do my Lundqvist spiel. You know it by now. I've also given you my thoughts on Pavelec already. I just don't see him handling the load that Talbot or Raanta did. I think it's going to be a long season in net for the Rangers.
Goaltending aside, it's time for the long-tenured Rangers to step up a bit. I've given up on Marc Staal. He should retire. He was never the same player after all his injuries. Instead of being honored for being a guy who gave it his all, Ranger fans know now Staal, as that overpaid albatross on defense. (I've said this countless times on this blog, don't blame me for talking about contracts. This is the NHL that Bettman created, where player salaries are crucial when trying to win a Cup.)
Even if Staal was bought out instead of Dan Girardi, Ranger fans wouldn't hold Staal as in such a high regard, as they now hold for Dan Girardi. Unless Staal finds a Delorean, that I use to do my throwback Ranger game reviews, we will continue to watch a slow death out there.
Heading into this season, the four longest tenured Rangers are Henrik Lundqvist, Marc Staal, Mats Zuccarello & Ryan McDonagh. The latter two of Zucc and Mac, both debuted in the 2010-2011 season, with McDonagh being the more heralded of the two.
On an aside, I'm officially old. The only player older than me on the team now is Henrik Lundqvist, and he's only older than me by 3 months. When I saw Mats Zuccarello turned 30 years old last week, I had to double check that information. I could've swore he was 27ish-28ish. So hopefully the Rangers will sign Jaromir Jagr tomorrow, so I won't feel as old!
If you read the other two blogs I posted today, Mark Messier was featured in both of them. I know I've said this before, but as Ranger fans, we were spoiled. If you're also a fan of the Yankees, you're spoiled. You will never see a Captain like Mark Messier or a Derek Jeter, ever again. These are once-in-a-lifetime type of players.
Sure, over the course of time, there will be better players that come along, but when you are looking for a LEADER, you will never do better than Messier or Jeter. I don't care who comes along. No one will ever surpass the leadership that Messier and Jeter brought to their respective teams. Case closed, and I don't even want to hear the opposing side.
The reason I bring up a Mark Messier is because when I say Ryan McDonagh has to step up, I have realistic expectations. No one is going to be Mark Messier. I get it. I just think Ryan McDonagh needs to become more vocal out there.
Listen, I like McDonagh a lot. I'm not trying to knock him here at all. Trust me, if I want to knock someone, I know how to, and I think my commentaries on Lundswiss have proven that. That said, (take a shot) what I'm trying to say here, is that too many times last season, McDonagh didn't really embrace the role of captain, nor rally the troops. If he did, it didn't come off that way in the public eye. I don't know what goes on behind closed doors, so I can only comment on what I see.
There were too many times last season that after a loss, during a post-game interview, McDonagh would have his head down when talking. He look dejected. I get it. However, he needs to be the leader who looks at everyone in the eye. Maybe I'm putting too much into body language and eye contact, but I want to see him look more bold and brazen when doing these things.
On the ice, while he has stepped up a bit with conversing with officials, I would like to see him develop a mean streak. Get pissed out there. When Wayne Simmonds crushed him two seasons ago, it was Tanner Glass and Dylan McIlrath extracting revenge. As a defenseman, I would like to see McDonagh be the guy who gets the guys fired up.
With Derek Stepan gone, the Rangers will be missing a voice. Stepan, whatever you want to say about his play on the ice and trust me, I didn't think it was great last season either, he showed emotion all year. He got mad. He would get into people's faces. He would let the four letter words fly. Was he mad at himself for not delivering? Yes. However, he did hold himself accountable (unlike Lundswiss) and would try to lift his teammates to a new level. Whether he succeeded or not is another story, but you knew the guy cared and wanted to win.
Is Ryan McDonagh captain material? I think he is. He's shown glimmers of it. Is he fully ensconced in the role yet? I don't think he is, at least not at 100%.
In this upcoming season, I want to see McDonagh screaming on the bench. I want to hear stories about him kicking the coaches out of the locker room for a players only meeting. I want to hear him hosting his own practices. I want to hear about him taking out the team on a team building activity. I want to hear how he is one of the most respected players in the league. I want him to start getting calls. I want him to be a voice of reason and provide the passion for this team.
I have no problems with Ryan McDonagh's game. He will probably be the All Star for the Rangers, as usual, come the 2018 All Star Game. I just want to see him become one of the all-time great Ranger captains. He now has the tenure. With a lot of new faces and young players on this team, it's time for McDonagh to be "Old Man McDonagh", and help this team grow.
I really hope this doesn't come off like I'm burying McDonagh in any way, because I'm not. I really appreciate the guy and enjoy his game. I hope this comes off as the way I intend, but I'm sure people will twist my words around anyway!
When it comes to Zuccarello, he's my favorite player on the team today. I've talked about this plenty of times here. I love this guy's heart and the way he plays out there. He reminds me of a "clean" Theo Fleury and he isn't afraid of shit.
As you may know, every team can field either a captain and two alternate captains or just three alternate captains, for any given game. There's no reason to strip McDonagh of the "C", I just want to see him grow into the role more.
Dan Girardi and Derek Stepan wore the "A" for the Rangers for many seasons, just like Marc Staal did. Rick Nash also wore the "A" last season as well. The Rangers have two "A's" to give out with Girardi & Stepan gone. It's time to take the "A" away from Staal, because he's not a leader anyway.
During last season, I said Zuccarello should be made the alternate captain. When Shattenkirk was signed, in that blog, I said that Shattenirk should be given the other "A". Two months later, I still feel strongly about that.
Zuccarello has been here longer than most and his style of play can be contagious. It's time to let him open his mouth a little and become a leader on this team, especially with his tenure.
For Shattenkirk, we all know what he did and the sacrifices he made financially to get here. He's a star in this league. Let's give him some responsibility and make him feel like the Rangers are his team from the jump.
I know many people will suggest Chris Kreider for the "A", but I just don't see it happening…. yet. Maybe down the line.
As I've been saying all off-season, I don't really see how this team is better than the team that lost to Ottawa in May. Anything can happen in the playoffs, but while the Rangers may not be as talented as other teams in the league, they could only help themselves by finding some leadership on this team.
I know every goalie does it, but the Rangers have been releasing photos of Lundqvist's new pads and new mask for the upcoming season. Every goalie does it, but I guess because of my disdain for Lundswiss, it just bothers me. Win a fucking Cup already and enough of all the other silly meaningless bullshit. I don't give a fuck if he wears a tutu and uses a baton for a stick, just win and enough of the crybaby diva bullshit.
The stupid crown insignia bothered me the most, because Kings have crowns and the last time I checked, all Lundswiss has are a couple of medals. A couple of medals and a $1 bill will get you a cup of coffee in NY. A Stanley Cup, you will never have to pick up a check ever again. Ask Messier. Ask Leetch. Ask Richter.
And for those making a big deal of the IIHF World gold medal, which Lundswiss received by beating the team that Phil Esposito called the "Scrub Squad", Cam Talbot won that same gold medal a year ago. It just amazes me that Ranger fans continue to think that keeping Lundswiss over Talbot was the right move. By the way, Talbot just finished fourth in the Vezina voting and set a bunch of Oiler team records, which is pretty amazing, considering that franchise won 5 Cups in less than 10 years, with a bunch of hall of famers.
Ugh, enough about Lundswiss, I hate being riled up when the season hasn't even started yet. However, speaking about Cam Talbot, how about his wife Kelly Talbot? (Get your mind out of the gutter folks!) Check out what she's doing:
Since I've talked about plenty of ex-Rangers, how about a story on another ex-Ranger, written by an ex-Rangers reporter? Check out this article by Jim Cerny, which talks about Cam Talbot's wife, Kelly Talbot, and her efforts to help out Houston: http://www.sportingnews.com/nhl/news/cam-talbot-kelly-talbot-edmonton-oilers-houston-relief-efforts-hurricane-harvey-floods/qz1vdmqurgk31pks5nmxokjfv
Kelly Talbot, a Texas native, is currently doing fundraisers, taking donations and getting supplies, with all proceeds going to the relief effort in Houston.  The Talbots, who had twins last year, want to help everyone and this disaster in Houston has hit close to home.
You can follow Kelly Talbot and her relief efforts by visiting her twitter @KELLYTRAIN
I know I have a lot of Edmonton Oiler fans that read this site, ever since I adopted the Oilers as my "second" team, when Cam Talbot, my favorite player in the league today, was traded there. While here in NY, we have people doing things by me locally, for you readers in Edmonton, Kelly Talbot has taken it upon herself to spearhead the donation drive in Edmonton. Here are a few of her tweets about this:
Thank you to everyone donating!! I love seeing all the updates!!Don't forget to tag me in your donation pictures!! #edmontonhelpshouston pic.twitter.com/gsPQg71IVD

— Kelly Talbot (@kellytrain) September 4, 2017
Thanks to @Jillys_Boutique for being a donation drop off location and pushing so hard for donations! #edmontonhelpshouston pic.twitter.com/LCy2nRstyz

— Kelly Talbot (@kellytrain) September 2, 2017
Operation Edmonton Helps Houston cut off date will be September 7! When getting back to school supplies grab some donation goods!❤️❤️ pic.twitter.com/Z3V0TWbiQu

— Kelly Talbot (@kellytrain) August 31, 2017
Hey everyone! If you need more details on locations and supplies @CISNCountry has posted all information on their website & Facebook page!! https://t.co/535rGMNCIe

— Kelly Talbot (@kellytrain) August 31, 2017
All donations I get directly! Please DM if interested! Thsnks y'all for your help!! #HurricaneHarvy #anythinghelps #TexasStrong #home

— Kelly Talbot (@kellytrain) August 29, 2017
If you're a regular reader of this blog, you know I'm one of the biggest Cam Talbot fans out there. It's great to see that his wife is a great person too. Just think, Edmonton, not really a big market or a big city, is doing everything they can, to help a huge city in another country. This folks, is called humanity. (Hillary Clinton could learn from this, cough Haiti cough.) This is the human spirit at its best. I wish Kelly's efforts & Houston, all the best of luck, moving forward.
As I've said in previous blogs, I'm trying to cut down on going so long, so just a quick few things, and then I'll go home:
Igor Shestyorkin is continuing to be a stud in the KHL. While the Rangers own his NHL rights, will Igor make the jump? Will he be able to dominate the NHL, like he is doing in the KHL? Let's hope the answer is "YES", to both of those questions. With the Rangers cutting bait on Skapski and Halverson not looking like the prospect he once was, the Rangers, for the first time in a long time, are going to be without top level goaltending.
The annual Traverse City Tournament starts up this week. First round pick (7th overall)  Lias Andersson will represent the Rangers for the first time in his career. However, it will be the NHL preseason, that determines if he gets a roster spot on the big club.
The big news is that the Rangers other first round pick (21st overall) Filip Chytil is injured. Originally slated to play in the Traverse City Tournament, Chytil tore a muscle in his leg during the U20 Four Nations tournament in Finland. He'll be out of the Traverse games, but no timetable has been announced on when he will be 100%. As of right now, it's up in the air if he'll be ready for preseason.
Do you see what the Minnesota Wild are doing this season? Tell me this isn't cool:


Mark your calendars now… Sept. 16 is two weeks away! Bring your water and help Flood the Rink. #OurIce pic.twitter.com/W0cZuQQWTX

— Minnesota Wild (@mnwild) September 2, 2017


This is a tradition that I can get behind!

Did you hear about Cam Ward? Check out this story from NBC Sports: http://nhl.nbcsports.com/2017/09/02/cam-ward-ready-for-backup-role-with-hurricanes/ All I gotta say, is I wish Henrik Lundswiss had the same mentality.
In closing, thanks for checking out all three blogs today. I know it's alot. I'm sure you didn't read them in one shot, but I'm glad you checked them out. I have a few of you, who tell me to space these blogs out, but if they're done, they're done and they're now available. Read them at your own pace.
As far as what's on-tap, we're less than three weeks away from the preseason. My work schedule is all over the place (In construction, there is no such thing as a regular 9-5) so I don't know what the hell I'll be doing. I love going to preseason games (I'm that nut) because it's a way to see what's in the system. It's also the cheapest Ranger tickets around too.
I have one more Delorean blog I'd like to do, before putting a wrap on those summer blogs. I just ordered the new Emile Francis book, so I'd like to get a book review up sometime next week. After that, it's preseason predictions and all that happy horseshit.
I don't think I'll be recapping preseason games, because they have no meaning and while the games do determine roster spots, the result of the games don't matter. Maybe I'll chime in with who I think is doing well and who isn't, but as far as doing a review of the game, that's out the door. Everyone wants to win, but winning a preseason game isn't what the team is looking for. They are looking for strong performances and seeing what works.
In the meantime, I've been booking my road trips, as I don't think I'm going to go to MSG 30+ times a season anymore. It's just too expensive and I rather use that money going on the road and seeing new places. That said (Had to get that expression in one more time), I did secure tickets for the home opener, the Oiler game (ICWT) and the Jean Ratelle retirement ceremony vs Detroit.
I also genuinely enjoy the MSG broadcast crew & analysts, sans Joe Micheletti. While nothing beats going to a game, Vally & Duguay are great & I enjoy their opinions, even if I don't agree with everything they say. These two have forgotten more about hockey than I'll ever know.
As far as the next blog update, it depends on how fast I can finish this Emile Francis book on the train. If I have off next weekend, I'll squeeze in the last Delorean. Just keep checking the site or follow me on twitter for updates.
As always…
"Let's Go Rangers"
Sean McCaffrey
BULLSMC@aol.com
@NYCTHEMIC on twitter