It's time to add these to your collection Michelle Stanzi!

Picture courtesy of @kristinaa_barry
Welcome everyone to another blog here on the new & improved DOINOW.com. This blog is being written later than usual, because this has been a busy day for the New York Rangers and there was no sign of when Rangers GM, Glen Sather would stop. For all we know, Sather may still be wheeling and dealing before the 3PM trade deadline on Monday, March 2nd. As always, thanks for spreading the word about this blog, check out the archives on the right hand of the site, tip your bartenders, don't fart & cough at the same time (Unless you're looking to do laundry) and always, and I mean always, use "IN CAM WE TRUST" as your personal mantra!
If you read the blog yesterday, and if you didn't, you can view it directly by going here: http://doinow.com/nyrphi-recap/, I talked about the rumored trades & moves that were being discussed.
Going into Sunday, the penultimate day before the trade deadline, it seemed like a foregone conclusion that Zuccarello was going to be dealt. At one point, there were even reports that Dan Girardi was going to be dealt. At the end of the day, Zuccarello remains a Ranger, the Rangers grab the best defenseman available on the market, pick up a 3rd/4th center and say goodbye to someone who seemed to have a lot of potential, Anthony Duclair.
Zucc takes shit from no one
Let's start with the news that made Ranger fans happiest the most – the re-signing of Mats Zuccarello. It is funny, I have a good friend, named STANZI, who like many of my readers/twitter followers, expressed interest in buying a Zucc jersey. However, Stanzi & my readers did not want to buy a jersey until it was 100% set in stone he was going to remain a Ranger. I would love to see what Zucc's jersey sales are over the next few weeks. I'm going to see if I can find that out for you.
Ranger fans know that the Rangers have a tight cap, due to Henrik Lundqvist saying he wants to win at all costs, but then threatened to test the market unless he got the highest contract for a goalie in the salary cap era. For the extra $500,000 Hank doesn't need, it could've went to Zucc and there would be no Zuccgate during this year's deadline.
I understand Zucc's position. After today, Zucc has now accepted three pay-cuts to remain a New York Ranger. Now that is a guy who puts his money where his mouth is and wants to be here at all costs. How can you not love this guy if you're a Rangers fan? This is a guy who wants to win a Cup in NY. Sure, he's not having the same year as last year, but he is a Top 6 forward in this league, part of the most productive line for the NYR and is beloved not only by fans, but by his peers in the locker room.
Zucc, who was looking for $5M a season for 4 years, settled for $4.5M a season for 4 years, basically taking at least less than $2 million he probably would've received on the open market. Instead of signing a big deal and rotting away in an Edmonton, like his ex-teammate Benoit Pouliot, Zucc has a fighting chance at a Cup & remains on a team with his good friends, Hagelin & Brassard.
It was funny. Around 6PM on Saturday, Mats Zuccarello's brother, Fabian, posted on social media that Zucc was never offered a deal by Sather. This posting came after reports that Sather was putting Zucc on the trade block. Was Sather putting the pressure on Zucc? Probably. But Sather is a man who will call his own bluff. See Ryan Callahan. I wish Sather used this pressure on Hank, instead of giving him a salary cap killer of a contract, but Hank's worth to this team is more than Callahan's ever was.
At the end of the day, Zucc remains a New York Ranger. I am sure his level of play will increase, now knowing that he has piece of mind. After posting a -3 on Saturday, I expect big things from Zucc moving forwards. Not that he ever left, but WELCOME BACK ZUCC!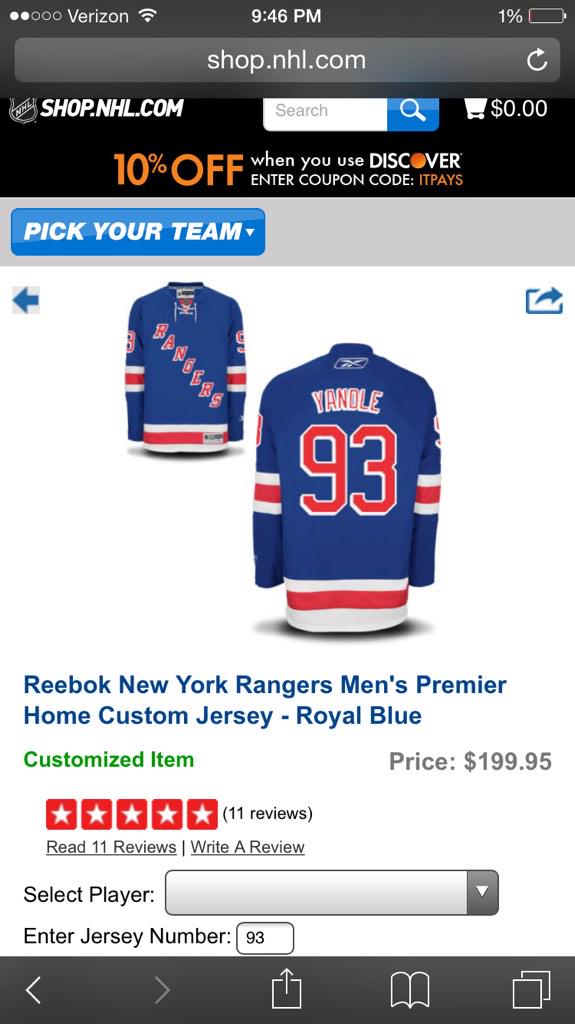 Will Ranger fans be buying this jersey too?
Before re-signing Zucc, the Rangers shocked the NHL by announcing this trade:
RANGERS RECEIVE:
Keith Yandle
Chris Summers
2015 Fourth Round Pick
COYOTES RECEIVE:
Anthony Duclair
John Moore
2016 First Round Pick
2015 Second Round Pick
There are many ways to look at this trade. Here are the pros/cons:
PROS:
– Keith Yandle is a steal, in what essentially, for this season, is Yandle for Moore straight up. Yandle, a two time all star, a quarterback on a powerplay and the point leader on the Coyotes easily makes the Rangers the best (and most expensive) defense in the league.
– This trade screams "WE WANT THE CUP!" louder than any other trade made thus far. The Rangers are throwing away their future for a Cup right now. If it pans out, Sather is a genius.
– Coyotes will take on 50% of Yandle's cap hit, at $2.65M for the next two seasons. The Rangers added a premiere defensemen and got him on the cheap, cap-wise.
– Yandle can pick up the slack for Dan Boyle, who has been having a depressing season.
– Bonus: Yandle is American. Always fun to cheer for my fellow countrymen in Ranger blue.
CONS:
– Rangers continue to throw away their future, as they will not have a first round draft pick for four years straight. (On the flipside, the Rangers basically stole Kevin Hayes from Chicago, due to cap reasons, which helps giving these picks away.)
– John Moore was well liked, but at the end of the day, trading Moore for Yandle is a no-brainer.
– Losing Anthony Duclair. If you've been following these blogs, you know I'm a huge Duclair supporter. In fact, I thought Duclair could've been a very special Ranger. You can read more to find out why in this blog:
http://doisports.blogspot.com/2014/10/how-anthony-duclair-can-change-hockey.html
– Losing Duclair just sucks. The kid is 19 years old and could be a future perennial all-star. Sure he could be a bust too, but his talent suggests he will have a good career in the NHL.
On the other hand, if the Rangers win the Cup this season, it will be worth throwing away Duclair.
I gotta be honest, I have mixed reactions about this trade. I understand this trade, but it is a gamble. This is a trade that can bite you in the ass or a trade that makes you look like a genius. This is a trade that we won't be able to really evaluate for at least two seasons, when Yandle's deal runs out with NYR & we see where Duclair is. If the Rangers win the Cup, all is good. If Rangers are bounced in the first round, and Duke is scoring 40 goals for the 'Yotes, this trade is a bust.
Sather, who had a horrible track record, until recently, especially in the salary cap era, has had more hits than misses. Klein worked out and perhaps is the best deal he's made, for the value. MSL worked out with MSL being a playoff hero and helping the NYR to the Cup.
Unfortunately, a signing that Sather made, signing Dan Boyle for 2 years for $9M, has been a bust. I don't know why Slats opted to sign Boyle over Anton Stralman. Stralman was a superb defenseman and is now lighting it up for the Lightning. I don't get why you would trade youth & a solid hand, for a 40 year old player who is not what he once was. It would be like signing Jagr over Kreider. Sure, you get glimpses of greatness, but the player has been a burden more times than not.
If you still had Stralman, perhaps you don't have to panic and throw away Duclair for Yandle. It was reported that the only way the Coyotes were going to make this deal was if Duclair was involved.
He's a commodity in the NHL. I feel this trade was made to right Sather's wrong on Boyle, more than anything else.
Yandle is a great asset and was having a good season for a terrible team. He said he is pumped to be a Ranger. Let's hope he's even better with better talent and coaching around him.
Adios Stempy
Immediately after the Rangers dealt for Yandle, the Rangers announced they traded Lee Stempniak to the Winnipeg Jets for  Carl Klingberg. If anything, this was a salary cap move, as the Rangers get Stempy's contract off the books and deal for a player who will most likely wind up on the Wolfpack. What this really means, is that Jesper Fast should be ready and could slide into Stempy's spot.
Stempniak, outside of a 2 goal performance against the Coyotes on Thursday, was on a major slump. It's hard to say he will be missed, as he didn't have a complete season with the NYR. He wasn't as bad as Tanner Glass, but by no means was he someone worth having around for a playoff push either.  Stempy now heads to his fourth team in two seasons, as he seems to have earned the journeyman/"solid hand" reputation.
Not much is known about Klingberg, except that he's a prospect that wasn't good enough to earn a spot on the roster with one of the worst teams in the NHL. Whether he develops into anything remains to be seen, but it is highly unlikely you see him in blue sweater this season.
New NYR face, James Sheppard
The final roster move the Rangers made on the first day of the month was trading a 2016 fourth round pick for San Jose Shark center, James Sheppard. I can't lie, I'm not too familiar with Sheppard's work. I asked several Shark fans on twitter, who basically said he struggled at center this year (Kind of like Hayes, especially with the faceoffs), and he's a third line guy at best. This seems like another cap move, as the Sharks will take $100,000 of the $1.3 million cap hit.
Again, I mentioned this in yesterday's blog, but I really hate the salary cap. We talk way too much about it and it plays into what the GM's do too much. Solid players are dealt not for their quality of play but for the amount on their contract. The cap needs to be raised dramatically. Check out my blog yesterday for deeper thoughts on the subject.
With Fast still out, Sheppard may be in the Ranger's line-up as early as tomorrow. Yandle is expected to play as well.
Knicks playoff tickets this season are worth more than Glass
One Ranger that many Ranger fans want to see dealt, in the same vein as Michael Del Zaster last year is Tanner Glass. Why the Rangers signed Glass I do not know. My good friend, Joe "SHOES" DiLeo, a Penguins fan, remarked to me when the Rangers first signed Glass, that Glass was the shits. Well, Glass has proved Shoes right all season.
Glass has a bad deal and it will be hard to deal him. Maybe sending him to the Wolfpack to embarrass him might do him some good. In nearly 50 games this year, Glass has 0 goals and 2 assists. The Rangers would be lucky if the NY Liberty would take this guy off their hands.
One of the reasons the Rangers went so far, last year in the playoffs, was because they had four solid and deep lines. The fourth line has been a shit show all season. This piece of Glass has been broken (Har, har, har) all year. I'm hoping by the time the trade deadline hits, Glass is shipped out of the Garden.
The Rangers are 10-2-2 without Hank
At the end of the day, what do all these deals ultimately mean? It means the Rangers are in it to win it now. Anything less than playing for the Cup in June will be a disappointment. The East is rough this year. As much as I can see the Rangers winning the Cup, I can see them being bounced out early by the Islanders, judging by the way Henrik Lundqvist has played them this year. It's too tough to call where any of these teams will finish, which is great for the unbiased hockey fan, bad for the diehard fan!
What this means is that Henrik Lundqvist has no more fucking excuses. No more blaming your teammates. No more doing your stupid TV shows over practicing. No more blowing 2 goal leads in playoff games. No more losing three straight overtime games in the Stanley Cup. No more being the highest paid goalie in the league, by far, and having nothing to show for it. You can't be called King without a crown.
All these deals, especially the Yandle deal, means that Henrik Lundqvist needs to go out there and cement his legacy and become the best NYR goaltender of all-time. Once he gets that elusive Cup, he is just that and will justify his contract. He's getting older and now coming off a life threatening injury.
The Rangers best chance was last year, but Hank was outplayed by a better goaltender, making millions less than him, despite Quick having two Cups and singlehandedly stealing an entire Stanley Cup playoffs all by himself, culminating with beating the Devils for the Cup in 5 games, several years ago.
Hank can be the face of the franchise all he wants. He can call himself King and sell King merchandise. He can do all the hair commercials he wants. He can have a silly TV show named after a movie that Rocky Dennis starred in. Bottom line, he will be a FAILURE, if he can not produce a Cup in NY. The greats have long careers, but the elite win championships. Would Wayne Gretzky be considered the greatest hockey player ever if he didn't win a Cup? It is time for Hank to put all that money he gets for good use, shut me up and win the fucking cup. No excuses.
Derek Jeter will always be remembered more fondly than Don Mattingly. Walt Frazier will always be remembered more fondly than Patrick Ewing. Eli Manning goes down as the greatest Giants QB of all time. There's a reason why the Mets drag out their 1986 team every season. It's the same reason why the Islanders pretend no other hockey game was played after 1984. The 1994 NY Rangers are still legends to this day and don't have to buy a beer in any bar they go in. NY celebrates winners and does not embrace losing. It is time for Hank to join the Mount Rushmore of NY sports, win the cup & go down as the greatest goalie in NYR history.
I'll be back tomorrow night, with a NYR/NSH report. Let's hope Glass is shipped out in a FRAGILE box by then!
Sean McCaffrey
BULLSMC@aol.com
@NYCTHEMIC on twitter