Photo Credit: Brian Lonergan
Welcome everyone to another blog here on the NEW & IMPROVED and gluten-free DOINOW.com. As always, check out the archives on the right hand of the site for previous blogs, as I do not like to repeat myself, especially on a topic we'll be getting into tonight, Hank vs Cam. Just read the past blogs.
You can also see recent tweets, search the site, get some links and anything else your heart fancies by checking out the right hand of the site as well. As always, watch out for Garrett Gorton singing Maxine Nightingale songs at the Bold O'Donoghues, don't drink and drive, try drinking beer from a boot, don't fart & cough, and always, and I mean ALWAYS, use "IN CAM WE TRUST" as your personal mantra.
The Rangers skated into a late Sunday night game with another original 6 team, the Chicago Blackhawks. Points are at a premium in a tight Metropolitan division race. Heading into the game, the Islanders were 3 points ahead of the second place Rangers, with 4 extra games played. As a result of the win against the Blackhawks, the Rangers now trail the Islanders by one point, but have 3 games in hand. If Tuesday's clash with the Coliseum Chumps wasn't big enough, it will determine first place, at least until Wednesday night. What a glorious time to be a Rangers or Islanders fan right now. For as much as I hate the Islanders, you have to give them their due this season.
The Rangers, without the most overpaid goalie in hockey, have rested their hopes and dreams on a one Cam "GOALBUSTER" Talbot. Since Henrik Lundqvist went down on 2/4/15, Cam Talbot is 10-2-3 as starting goalie, or in other words, under Talbot's watch, the Rangers have taken 23 out of 30 possible points. Not too shabby! The Rangers have not been blown out since Talbot has become starter, where Henrik Lundqvist has been blown out 9 times this season and has left games in the second period. Hank makes $8 million more than Cam Talbot. With a 29 save shutout performance tonight, the Talbot Train gains more passengers.
Proving Hank is overpaid everyday!
We've had these debates before on these blogs and through my twitter page, @NYCTHEMIC. Read the past blogs for deeper analysis. However, one thing is for certain, based on Talbot's play, Hank's age and Hank's level of play this season- Henrik Lundqvist is overpaid. It will only get worse as time goes on.
Listen, if this wasn't the cap era, then who cares? However, it is the cap era. There is no reason for Hank to take up 10% of team payroll, forcing Sather to get rid of guys to get under the cap. I understand athletes need to make all the money they can, because they have a short shelf life, career-wise versus the normal person. However, my issue with Hank is that he said he wanted to win a cup at all costs, then in the next breath, demanded his coach be fired (deservingly so), teased testing free agency and then asked for the biggest contract, as a goalie, in NHL salary cap history.
Hank makes a ton of money over endorsements, TV shows, his own clothing line that's even sold at MSG & from other investments. The guy won't be hurting for money ever in his lifetime. His kids won't be hurting either. His grandkids will have a great life too. Just don't tell me you want to win at all costs, then every action you do, after saying that, suggest you're Hypocrite Hank.
One thing is for certain. Now that we have a sample of Talbot, it shows us that Hank is overpaid. The Rangers are the hottest they've ever been – all without Hank. Now I know some people will say, that Talbot won some high scoring games. Rewatch those games. Look at the goals. Powerplays. Bad turnovers in front of the net. Defensemen screening their own goalie.
Some will also say – "wait until the playoffs." I've been waiting 10 years. Sure, Hank has been the best player on some offensive lacking teams. Last year he had a team scoring goals for him when it counted most and was beat by the better goalie, who's making much less, has 2 Cups & is younger than Hank.
Talbot isn't perfect – he's let a few bad ones beat him, especially two long distance goals, the Tavares brain-fart and a bad high glove shot in Nashville. However look at Hank this year. 9 blow outs. Hank got better as the season went along. Talbot is doing the same thing and he's doing it against great teams. I mean for the first time since 1969 – the Rangers shut-out the Blackhawks. This is a Stanley Cup contending Blackhawks team, it's not like Talbot shut out some scrub team. This could be a Stanley Cup preview for all we know.
Let this be the most important thing you take out of this blog:
Once Hank comes back, if the Rangers do not win the Cup this season, you will see a lot of second guessing, in regards to pulling Cam. You will also be second guessing the Yandle trade. If Hank buckled under the pressure before, when he returns, this will be the most pressure in his career, by far. Talbot is playing with house money, where Hank needs to show he deserves his. Can't be a King without a crown.
If Hank does win a cup this season, it would justify the Yandle trade, but to me, I don't think you can ever justify paying Hank 10% of team payroll, especially as Hank gets older. If Hank is worth $8.5M, what should Quick really be paid?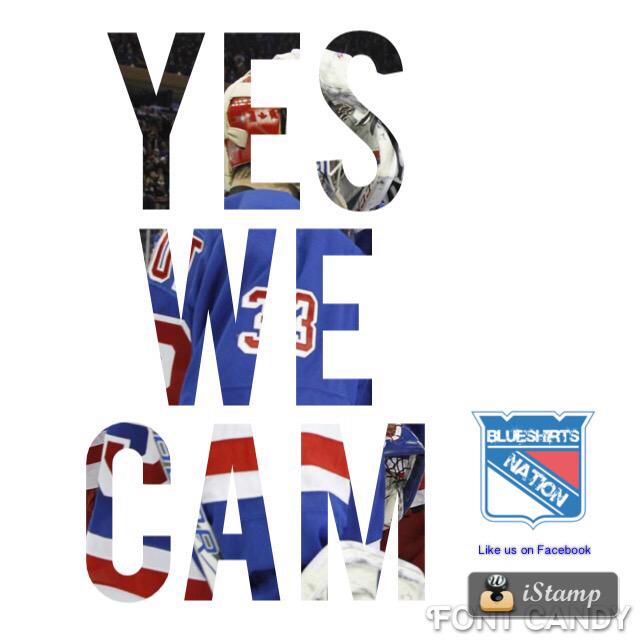 Give Blueshirts Nation a follow!
 Tonight's Rangers game was one of those "beloved" NHL on NBC games. I fucking hate everything about it. Read my NYR/DET blog for more on this issue. You get no pregame or postgame show, which I really enjoy before & after the games. I think the MSG crew does a great bang-up job. You get no Bill Pidto & his 150 seconds. I mean the game didn't even start on time, because of a college basketball game that only the mothers of the players cared about. The crowd was fucking empty!
The only bright side of this game was getting Kenny Albert on commentary. However, the camera work was still shoddy, the replays were lacking, the analysts were blah and the overall presentation was second rate, compared to MSG. I guess we will have to get used to it, with the Rangers being a good team, NBC Sports wants Ranger games.
Tonight's game against the Blackhawks was completely different than the Redwings game. The Redwings/NYR game was exciting and was a classic goaltender battle. You just saw high-powered offenses being shut down by two of the best goalies in the NHL today. The action was fast and you felt like you were on a roller coaster.
In tonight's game, the game seemed to drag. I thought the Rangers looked tired at points, which is odd, since they had 3 days off. Talbot was consistent, as the best player on the ice for the Rangers. Without him being at his absolute best, a level many goalies can't attain, Brassard isn't banging home a game winner.
The Rangers looked sloppy, just like the refs. It is embarrassing for the league, that not only do they favor players and allow their referees to be Crosby's personal property, but it is downright unacceptable that they can't even call penalties right. They sent Kreider to the box for an obvious penalty on Stepan. It benefited the Rangers, having their center on their PK out there, but showed the incompetence of the NHL officials.
I don't know if the Rangers win tonight without this guy
Carl Hagelin is an interesting Ranger. He's in a contract year. He's having a great season, but you have to wonder if the contract of his fellow Swedish countryman forces him out of here. You know Hags wants to stay here, since he actually hangs out with people on the team in his spare time and does TV shows with his teammates, unlike the Swedish goalie on this team.
I don't know if the Rangers win tonight without Hags, as Hags was an integral part of all four Ranger penalty kills tonight. From getting to the puck, clearing the puck, forcing turnovers, playing his ass off – Hags did it all here. He's the fastest skater on the ice and at times, his regular third line is the best line of the game.
Brassard and Talbot will get the majority of talk after tonight's huge win, but Hags was a big reason why the Rangers won tonight.
I have no interest in making Handle/Yandle puns
Keith Yandle, the player the Rangers traded their future for, due to Sather choosing Stralman over Boyle in late June, is supposed to beef up the Rangers PP. If anything, he just added to the problem. The Rangers have too many pass-first guys on the PP. At times tonight, Yandle seemed to parody that, by passing over taking wide open looks at the net. Maybe the Rangers can ask Carmelo Anthony, since he has all the time in the world now, to come talk to the Rangers & teach them about being a ball/puck hog.
I thought Dan Boyle played better than usual. There are times when he's out there, and he just takes these shots that are wider than a Scott Norwood Superbowl field goal kick. He was more accurate tonight and at least had no issues in ripping the puck.
In these tight games, especially in the closing seconds of a period, there is no point in trying to be fancy and finding the perfect shot. Just blast one home and hope for a deflection or rebound. I thought Blackhawks goalie Corey Crawford was shaky in the first period. He did settle down and looked more confident as the game went on. However, the Rangers, instead of testing him, tried to draw up the perfect play. There's nothing wrong with firing up a slapshot in front of the net and hope a good thing happens.
Yours truly with a future Vezina winning jersey?
Where I thought the Detroit/NYR game was a pure goaltending battle, as they had to face tougher shots, Talbot & Crawford had pretty strong defenses in front of them. However, both would be tested in key spots as the game went along. Talbot was able to make several spectacular saves, bailed out  Staal on a horrible turnover and stood on his head all night. He looked rock solid all game.
One thing Talbot does that makes me go "Oh shit", is when he gets out of the net nonchalantly, even with defenders in the zone, to play the puck. However, playing the puck is one of his strengths. He's not Brodeur or anything, but he does this effortlessly, where even so, you still get nervous. I guess the best way to describe those plays is comparing Cam to Robinson Cano. Cano had a bad reputation for looking like he didn't care or being carefree. However, it was the opposite. Cano was just that good, that he made things look like he did them effortlessly. That sums up Cam playing the puck.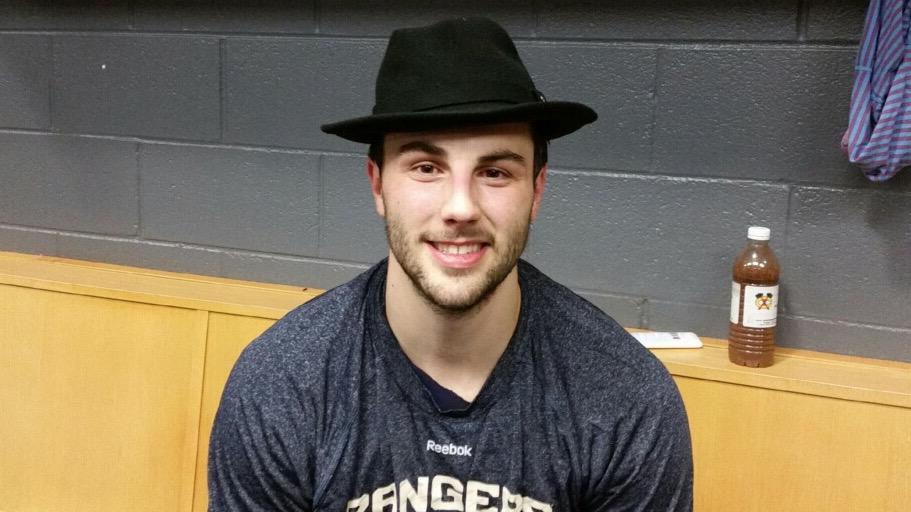 Broadway Hat Brassard
After a scoreless regulation game, where I thought both teams had great goaltending, but didn't pressure the puck the way they are capable of,  for a full 60 minutes, we headed into OT. Derick Brassard took a pass from one of the most happiest Rangers on the team right now, Mats Zuccarello, and blasted one from the left circle, 32 seconds into OT. 1-0 Rangers. Give Cam a goal, and that's all you need! ICWT!
For Brassard, it was a monkey off his back, as it was his first goal in 15 games. Brassard was big for the Rangers in last years playoffs, and it's good to see him get going. He looked confident and relieved once the puck beat Crawford. It was probably a save Crawford makes most of the time anyway, but luckily for the Rangers, he didn't make it tonight.
With Brassard's goal, the quick & dirty Metro standings look like this now:
NYI – 88 points in 67 games
NYR – 87 points in 64 games
PITT – 85 points in 65 games
WASH – 82 points in 67 games.
As you can see, the Rangers have a very good shot at winning the Metro division this year. In fact, they have a shot at the President's trophy (Most Points in the NHL) as they are 4 points behind the league-leading Anaheim Ducks at 91 points, with the Ducks playing three more games. I'm sure everyone can remember what happened the last time the Rangers won the President's Trophy.
Everyone's favorite picture!
Take this information in, courtesy of the NYR, that was released after tonight's game:
Cam Talbot stopped all 29 shots he faced to record his 14th win and fifth shutout of the season. Talbot is the 11th goalie in Rangers history to record at least five shutouts in one season. He has earned at least one point in 12 of his last 13 appearances (9-1-3 record over the span), and in 13 of 15 appearances he has made since Feb. 4 (10-2-3 record). Talbot has posted a 5-1-1 record, along with a 1.69 GAA, a .943 SV%, and 2 SO in his last seven appearances. He is tied for sixth in the NHL in shutouts (five) in 2014-15, and he leads the NHL in GAA (min. 40 appearances) since the start of the 2013-14 season (2.02). 
Talbot was lights out tonight and he's doing it against great teams. Hank is being paid to be the man, but Talbot is doing all the heavy lifting. We all know I've been the conductor of the Talbot Train from day one. The train is starting to get more passengers. 99% of any NYR disagreements, with other Ranger fans is Hank vs Cam. Of course, most of those people have Attention Deficit Disorder and can't get through a full blog, never mind reading a full tweet. No one is debating Hank's history with this team, but right now, you do have to ask, who gives you a better chance to win? It's Hank's team, but man, if they don't win the Cup this year, I suspect my train will be making more stops for more passengers.
There's always been a saying in football, "when you have two quarterbacks, you have zero quarterbacks." Right now, the Rangers have two great goalies, one who has a HOF career and the other proving he is a starting goalie in the NHL. I don't know where Talbot's future may lie, but Hank going down this season and Talbot's play in turn, means he will be getting a chance to become a full-time starter, eventually down the line. Will it be in Ranger blue? Time will tell.
The Rangers are in the thick of a tough schedule, but have grabbed 5 out of 6 points. They return for a date circled on everyone's calender, on Tuesday, against the Islanders. They then play Wednesday for the Capitals, before returning on Saturday & Sunday for games against the Sabres & Panthers. This NHL schedule is so weird. For the majority of the season, the Rangers have played 3 games less than the Islanders, Pens & Caps. Now all of a sudden they have two back-to-back's in a row. Who booked this shit?
Hank doesn't look to be cleared this week, but with the rumors and chatter going around, he should be back sooner than later, barring any setback. As I've said before, he doesn't have a normal hockey injury, he has a life-threatening one, so you're not rushing him back until he's 100%. If it's up to me, the Isles/Caps games are too important not to get points out of. I would start Cam on the back-to-back there. I would then start the ginger on Saturday against Buffalo, since he's already won there and it would be a fun little story, then give the reigns back to Cam on Sunday vs the Panthers, another team looking for points, at home. For Skapski, it will be another perfect time to play, against Buffalo, since the Sabres are trying to lose anyway. However, if Hank's ready, talk about playing a team that would make his transition back as easy as possible.
I just read a new Rangers book by Adam Raider & Russ Cohen. I'll try to get a review of that up tomorrow!
I'll definitely be back Tuesday night with NYI/NYR reaction. Let's hope we're talking about them First Place Rangers again!
You can discuss this blog and other Sport topics on the new DOINOW.com FB page at:
https://www.facebook.com/groups/1564026407193056/
LGR!
ICWT!
Sean McCaffrey
BULLSMC@aol.com
@NYCTHEMIC on the twitter machine