Round Two, It's On!
In continuing our Rangers playoff coverage, here on DOINOW.com, I present to you another Point-Counterpoint discussion, this time with Washington Capitals fan & writer for JapersRink.com, Rob Parker. Rob Parker did me the courtesy of talking the Capitals and gave me their view, heading into the second round series with the Rangers. The following is a series of email exchanges, between Rob & I, talking the series. I hope you enjoy our conversation about this huge second round match-up as much as I did:

Sean McCaffrey: Welcome everyone to another point-counterpoint discussion here on DOINOW.com. Today, I'm joined by Japers Rink columnist, Rob Parker. Rob is a longtime Washington Capitals fan and has been covering the team since 2009. With the Rangers and Capitals meeting in the playoffs for the fifth time in seven years, it's a pleasure to have Rob here to discuss this upcoming second round series between the Capitals and Rangers.

First off, Rob, congratulations on your Game 7 victory. As a Rangers fan, I wanted no part of the Islanders in the second round, so thank you! I think the Islanders would've been more physical and more draining for the Rangers, a team that really is in a "Cup or Bust" year. I truly believe the Capitals present the path of least resistance, for the Rangers, in the second round.
How are you feeling about the Capitals Game 7 victory against the Islanders? Do you think the Capitals are spent after playing a 7 game series with the Islanders?
Rob Parker: Thanks for inviting me, Sean. For starters, any time you can win a playoff series, it's a good, positive feeling. That goes doubly for a Caps fan base that has seen far too many collapses at home. Game 7 against the Islanders was probably the best 60-minute game 7 effort we've seen from the Ovi-era Caps, so right now we're all riding high. The skaters came out and dominated the game basically from start to finish, and if not for Halak (again), the game wouldn't have been close.
As for your wishes and expectations, I saw plenty of Rangers fans rooting for the Caps for just this reason. Quick question though, which team lost two defensemen during the series (to go along with losing their top D before the playoffs)? It was a physical series for sure, but the Caps were the more physical team (and if not for that Isles fourth line it wouldn't have even been close) and the Caps are the healthier team, so I suspect the Caps are going to be tougher than you've imagined. All year long the Caps have focused on playing physical hockey, and this was the goal they had in mind all along. Numerous opposing defenders were hurt by the Caps all year, and you can add Visnovsky and de Haan to the body count. Who's next? My guess is Keith Yandle or Dan Boyle. 
SM: I watched every game of the Capitals/Isles series, since I love playoff hockey and more importantly, the winner would meet the Rangers in the second round. I agree with your point, the Islanders are a very deep team. I thought they were deeper than the Caps and could match the Rangers speed. One of the reasons I preferred the Caps match-up is that the Rangers are 3-1 vs the Caps this year, as opposed to 2-3 with the Islanders. Lundqvist was 2-0 vs the Caps, while posting an 0-3 record against the Islanders.

The Capitals were a very physical team throughout the series. I still think the Caps got away with two penalties before their first goal, with the Ward high-stick and the Ovi boarding. Would it change a game the Caps just dominated? Who knows? That's a gripe and concern for an Islander fan. The move Kuznetsov made though, wow!

The Capitals are the more physical team, but I believe the Rangers are the faster team and the more skilled team. The Rangers will get Kevin Klein back, who can bring some toughness back to the ice for the Blueshirts. Trotz may be familiar with Klein and what he can do.

I would like to get your take on what you learned about the Rangers from their series with Pittsburgh. Conversely, for me, I learned that Holtby can be beat, easily. Some of the goals he gave up this series were ugly. If this series comes down to just goaltending, the Rangers may cakewalk in this series.
RP: The league already knows the Rangers, they are who they are. They went on a run to the Stanley Cup Final last year, and the team is substantially the same, with more depth. I don't think the Rangers are going to take anyone by surprise. Lundqvist will be great. McDonagh will be stout. Nash will be wearing a Rangers jersey. Whether the depth additions/changes can match the third line output the Rangers got last year will be a key long term, but we know we're going to see a deep and disciplined team.
That said, it was a surprise that the Rangers didn't win the possession battle against a beat up Penguins team down two of their top three defensemen. The Caps aren't quite as fast as the Islanders, but they are more battle tested and obviously were able to overcome the Isles' speed so I think the bigger challenge for the Caps will be getting open looks against the Rangers defense, and then actually beating Lundqvist when they can get those looks. 
Holtby let in a few bad goals this series, but I'm surprised a Rangers fan needed any more evidence that Holtby can be beat. Maybe you've already forgotten the last time these teams met in the playoffs. If the series comes down to goaltending the Rangers obviously have the advantage, but I wouldn't count on Holtby making it too easy. This series is not going to be a cakewalk for either team, but I sure hope the Rangers share your optimism. 
SM: I think the common misconception is that this is the same team as last year. The Rangers lost a lot of veterans in Richards, Pouliot, Stralman, Carcillo, Dorsett & Boyle. The Rangers biggest weaknesses as a result were faceoffs and being tough in the middle. The Rangers have the most expensive defense in the league, but got very young with their forwards. Kevin Hayes has been a godsend for this team, and gave the Rangers leeway to trade more #1 picks and Duclair for Yandle.
Kreider, Zuccarello and Haglein have really grown into their roles.

The Nash stuff is tough. This is a guy who played with concussions and the effects from concussions. With what we know now about concussions, it is understandable to see why he wasn't the same player. It's also why Zuccarello may be held out of this series, which is a huge advantage for the Capitals.

Holtby seemed to turn it around a bit during the regular season for Washington and the Caps streaked into a playoff spot, in addition with the collapse of the Islanders & Penguins. It's no wonder,  that it is the Capitals & Rangers still alive from the Metropolitan division. They were the hottest teams at the end of the season. I thought Holtby just looked extremely off all series, especially with that goal allowed in Game 7.

The Rangers have shown they can lock down their opponent's best players. We saw the Rangers hold Malkin pointless and Crosby only had one good game. Ovechkin has been a beast all season (and in my opinion, MVP of the league) and if Girardi, McDonagh and Staal can continue what they've been doing, the Caps are going to have to find scoring from elsewhere. Will it be Backstrom?  I will say, one Capital that the Rangers will need to hold accountable and keep an eye on is Jason Chimera.

In the regular season, the Rangers were the better team on the ice. The Rangers MUST improve on the powerplay, especially with what Ovi can do on the Caps PP. The Rangers must at least keep up/stay even with the Caps special teams. They can not continue to squander these powerplay opportunities. The Rangers proved they can win defensive and discipline games, as they did with the Penguins. The Rangers need to get the scoring going and give Lundqvist some relief.

RP: Holtby has quietly been under-the-radar good for several years and just finally got his due this season. As far as looking "extremely off all series," he was physically ill during game 1. Didn't play game 2. Let in 1 goal in regulation in each of game 3, 4, and 5, then gave up a whole 2 in game six, before giving up 1 again in game 7. If that's extremely off, the Caps fans will take it. Aaron Asham opening the floodgates this wasn't. 
The Caps, and every team, always need to find scoring from their depth players. It's what makes the playoffs so fun, you never know who is stepping up. Ovi and Nick will have a battle in front of them, but they'll get their looks. I wouldn't mind seeing a little more from Nick and Ovi at even strength, but they haven't been bad at five aside. If Kuznetsov has really broken out and he's for real, the Caps have a good chance. If this becomes Ovi and Nick against the Rangers, the Caps are toast. I can see why Chimera is the guy to watch for Rangers fans, given his somewhat inexplicable history of goal scoring against Lundqvist, but for the Caps fans it comes down to Kuznetsov and Johansson. If they can help provide a one-two punch at even strength, the Caps will have a shot (and, to be fair, Chimera is the third player on that line right now so Chimera will need to bring his A game as well). 
In the regular season the Rangers caught the Caps on the second night of back-to-backs twice and then they met in the final game of the regular season when both teams had locked up their playoff spot. I'm not personally reading much into the regular season matchups, but I can see why it gives Rangers fans some confidence. Given how the Islanders series went, I don't see special teams being a huge factor (meaning, there won't be a ton of calls). The Rangers power play was somehow less effective than the Islanders power play this year, and the Caps just held the Isles to an 0-for-the-series. Maybe one game gets turned on special teams, and while that could have a huge impact on the series, I think this is going to be settled at even strength.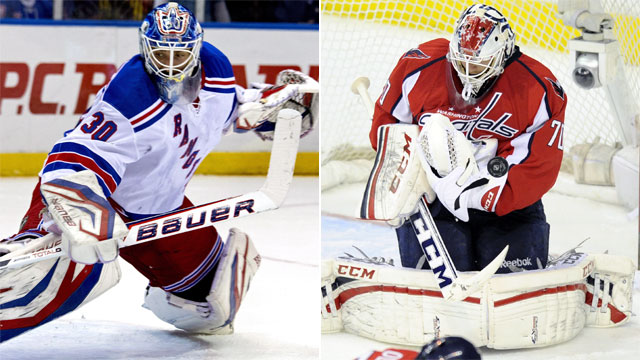 Does anyone think Holtby is better than Lundqvist?

SM: I always thought Holtby was good, but like you mentioned, he's had some playoff mishaps. You have to wonder if the Caps even make the comeback and win game 2 with Holtby in net. Perhaps they do. I thought some of the goals that Holtby let in were pretty bad and stuff Holtby usually stops. He didn't look at his best. Maybe he's still recovering from his illness, but that goal in Game 7, he's lucky the Caps just dominated the Islanders and he didn't have to do much of anything else.

Chimera has been a Rangers killer as of late, just like Brassard has always played well against the Penguins. I think the Rangers will clamp down on Ovi. One of the most exciting things about watching the Capitals is watching Ovi on the PP. You know they will run that triangle on the side, then kick it to Ovi and Ovi will just blast away. It happens every time, yet it's so hard to stop when it happens in front of you. The Rangers D will have to be all over that. 
You mentioned the Caps taking out defensemen earlier in this exchange. I don't question the toughness of Kevin Klein, but he's already had an arm broken from an Ovi shot before. You have to wonder if the Rangers will rely on Hank to make the save, rather than diving and blocking shots, which was a ritual during the Tortorella years.

If this game is an even-strength series, I think it favors the Rangers. They have more speed and are more fluid than the Capitals, in my opinion. In fact, Ranger fans were joking about just "punting" the two minute powerplays and staying five-on-five. If the Rangers can use their speed (Hello Kreider & Hagelin) and get these open looks on Holtby, the Caps don't stand a chance. The Rangers to need to shoot more. Just rip shots from all angles on Holtby and really pressure him. There were times when the Islanders gave Holtby long stretches of no action. The Rangers must be aggressive, even if Holtby seems like one of those goalies that is better when he's constantly called on. Game 5, Holtby looked his best all series, when the action was fast and at a frantic pace. Still, the Rangers can't sit around and wait for the perfect shot. I know this sounds a bit contradictory, but the Rangers must shoot, shoot, shoot.
Obviously, Ovi & Backstrom are players to watch for the Caps, in Ranger fan eyes, in addition to Chimera. Who are Capital fans worried about? Who do the Capitals need to shut down in your eyes?

RP: Everyone says "you know the Ovi shot is coming but you can't stop it." That's largely true, but a huge part of the reason you can't stop it is that Nick Backstrom and John Carlson/Mike Green are very good at making defenders and goalies respect them. They skate pucks to open ice in the slot and either the penalty killers move with them, losing their structure, or they let the Caps take high quality shots, some of which find their way into the net. It really is a pick your poison situation, and nobody has really figured out how to solve it since Oates took the team over.
I think the Rangers are the faster team, but that bothers me less now that the Caps have already handled an even faster team. It's something that they'll need to be conscious of, but the Caps want these games to be played on the boards where the Rangers' speed won't be as big of a factor. If the Rangers can keep the game fast and in open ice, they'll have an advantage. If the Caps can keep the puck on the boards where they can use their size, they have the advantage. But forgive me if the offensive powerhouse that is Carl Hagelin doesn't strike fear into my heart. The guy has as much speed as anyone, but he doesn't have the hands and offensive instincts to kill teams. That's why he's a middle line forward and not a top line forward. Obviously I don't want to see him taking breakaways all game long, but he's low on the list of guys that need to be contained. Kreider scares me because he's got much better offensive instincts, a much better shot, and if all else fails he sure knows how to freight train a goalie. And all that said, the Rangers may have singlehandedly begun to rehabilitate Marc-Andre Fleury's playoff reputation so I'm not exactly sure where this wellspring of scoring confidence is coming from. 
I'd agree the Rangers need to shoot early and often, but that's the same for every team in the playoffs. Nobody can get by looking for the perfect shot, and with some of the big Rangers forwards those shots help get scrambles going down near the goal (look at both OT winners for the Rangers). Holtby does generally play stronger when facing more shots, but more shots are more chances for a leaky goal (game 1 and game 7) or a horrible rebound goal (game 3 and game 4). I'm not even going to try to predict the Holtby that shows up, but obviously the Caps need something pretty close to his A game if they are going to win the series. 
Derek Brassard is the guy that worries me. He's not one of their big names, but every time I watch him in the playoffs he seems to step up. He's got a good amount of skill, but he's not a finesse guy. He is a great middle line guy in the playoffs because he can play defensively responsible hockey and still hurt the opposition when they get a little too loose on D. I also think, depending on how the matchups go and whether Eric Fehr is healthy, Hayes could be a problem. The Caps don't have a center, besides Fehr, that can handle his size and reach, so they'll need to be very careful when Hayes is out there, especially for offensive zone draws.
The Rangers & Capitals aren't strangers to each other
SM: There is a reason why the Caps continue to be one of the best powerplay teams in the league and I believe you summed it up perfectly.

Hagelin is having one hell of a playoff run, assisting on one OT goal and scoring the other. He's also lit the lamp on a breakaway too. I think you are underrating him. Hagelin's speed has created tons of scoring all season. You can argue that some of his goals are empty netters, but it's because of his speed, that he's able to get to the puck and put games away, rather than sweating out the final minute of a game. Stepan's passing and feeding Hagelin has also increased Hagelin's production.

The Rangers lack of scoring against Pittsburgh is a concern, but a lot of the credit goes to Fleury. Imagine if he played like this during every series Crosby was ever involved in? Pens would most likely have multiple Cups. Can Holtby replicate that performance? I don't think so. I also think the Rangers have to be due. That being said, even if they score two goals a game, if Lundqvist plays the way he did against Pittsburgh, that might be all they need.

For me, this series will come down to goaltending and the special teams. I think the Rangers are better five on five, but Zuccarello's injury worries me. It's not like the Rangers were scoring so many goals against Pittsburgh with him, but Zuccarello means so much to this team. He is their fireplug and their heart at times. He's always involved when he's on the ice. I don't think Sheppard hurts this team, just like I didn't think Hunwick hurt this team in Klein's absence, but the Rangers will miss him.

These are definitely two teams that know each other. The schedule has just been released, and we will see Game 1 on Thursday night and Game 2 on Saturday afternoon, before going to Washington on Monday for Game 3. I don't think the schedule gives an advantage to either team. The Rangers will be rested and ready, just like I think the Caps have some momentum and will be ready.
The pressure is on the Rangers to win this series. After last year and winning the President's Trophy, this is a team that must win this series. For the Caps, if they lose, I think people will say they lost to the better team, while wondering if Ovi will ever win a Cup. What would the take be in Washington if they lose? Obviously, we know the take if they win.

My prediction is that the Rangers handle the heavy lifting, and do what the Islanders couldn't do, and win this series in 6. What's your prediction?

RP: Hagelin can hurt you, but he's a volume guy. His speed gives him so many chances that of course he's going to finish some of them. (The Caps just dealt with this kind of player in Michael Grabner, but thankfully Capuano stopped dressing Grabner mid-series). If Hagelin is out there to score empty net goals, the Caps are already in trouble. 
I think it's going to continue to be a low-scoring series and the Rangers should feel pretty confident in that with Lundqvist. And if anyone is "due" here I'd say it's not the team that has been to Eastern Conference Finals in the last 3 years, including a decent bit of luck on their run to the Los Angeles Kings Meat Grinder last year. 
You can say the Rangers are the better even strength team all you want, but over the season the Caps were the better possession team. The Rangers have the goaltending to hide the mistakes, but I don't think the Rangers are going to dominate the shot attempts throughout the series. Zucarello is going to be a big loss, I agree. He always seems to be worth more than just his stat line and he provides a lot of versatility through the lineup. Whether or not he can get back in the lineup will be an important factor in the series. 
I think you're right about the narrative. The "can Ovi win" stuff will always be there unless the Caps win, but this year I think they have less pressure because they just got through a seven game battle with a team that was neck and neck with them in the regular season and are now facing the top regular season team in the league. As long as they don't totally unravel I think Caps fans will be relatively understanding and look at this season as just the first step in the path to establishing a perennial contender under Barry Trotz. 
I'm with you, Rags in 6.
(FYI, here's an unofficial list of players injured in games against the Caps this year: Komarov, Howard, Mason, Ehrhoff, Clarkson, Severson, Shattenkirk, Laughton, Meszaros, Beleskey, Vatanen, Letang, Holzer, Versteeg, Tanguay, Havlat, and Klein.)
The most exciting one-on-one match-up of all
SM: I think you're underrating Hagelin a bit. He's been a huge asset for the Rangers all season and in the playoffs thus far. Who knows what Capuano is thinking? I still can't believe he didn't pull Halak during that final powerplay to make it 6 on 4, when you needed a goal to extend your season.

When I say due, I've seen these Rangers have these games where they explode and score goals in bunches. They are due for a game like that, where everything just clicks. It's been happening all season, and while it's the playoffs and the games are different, I still think this is a team that, like your Caps, can put up a 5 spot in a meaningful playoff game.

Zuccarello is officially out with an "upper body injury" which many believe is a concussion. It's not something they can rush him back from, especially with what we know about concussions. We've seen massive lawsuits and payouts from the NFL and WWE on this subject, so I don't think he will be back on the ice unless he's 100%. On a side note, how silly is it that the NHL still allows their teams to not fully disclose injuries like the NFL and other sports do?

In my first Point/Counterpoint blog with a Penguins fan, he had the Rangers in five. I hope you continue the streak of my guest predicting the series!

All I'm hoping for are enjoyable hockey games with no dirty stuff. I believe the refs have been told by now they can't let blatant penalties take place in front of them. The officiating, league-wide, has progressively gotten worse since the lockout.

I really want to thank you for your time. I would also like to tell you that you're safe, if you want to come to MSG for a game. Only those pigs at the Coliseum act act like animals to opposing fans!  Is there anything you would like to say in closing? Oh, and feel free to plug any endeavors you're involved with!  By the way, "LET'S GO RANGERS!"
RP: I think Capuano wanted to pull Halak about halfway into the PP but then the Caps got a bunch of clears. Maybe not. Either way, definitely a wasted opportunity.
Yeah, agreed, the Rangers definitely have the firepower to hang a big number up. But I don't think they're going to do it like 3 games in a row or anything.
Saw the Zuc shot to the head, looks brutal. Tom Wilson took a shot to the head late in the regular season and missed 2-3 games so who knows with these guys. I don't think any team is above sending out a guy before he's 100%, but I hope Zuc is ok. I love the way he plays. I'm fine with the NHL not disclosing injuries; I think it's be better if they just said "in/out/questionable" something like that. Just tell us if they are playing, no need to dance around what the injury is.
Thanks for inviting me, this was fun and hopefully it generates some conversation. I grew up in the NY area so I've been to several games at MSG (old and new) and Nassau so I'm pretty aware of the fan experience at the two rinks. Don't think I have any closing thoughts, I think we covered it mostly. We'll have a bunch of stuff up over the next couple days so just a plug for our on-going playoff coverage would be great.
Round 2 Schedule
Again, major thanks to Rob Parker of http://www.japersrink.com for his time and thoughts. I'm looking forward to seeing his take on the series as it goes along. See Islander fans, this is how you get along cordially with a Capitals fan, you freaking animals!
You can follow Rob on twitter @RobParker_JR
Thank you once again for checking out another blog here on DOINOW.com. We will be back Thursday night, with a Game 1 Recap!
LET'S GO RANGERS
WE WANT THE CUP
BUST A CAP
Sean McCaffrey
BULLSMC@aol.com
@NYCTHEMIC on twitter