Welcome everyone to another blog here on DOINow.com. As always, archives on the right hand of the site, tip your bartender and don't forget to lift the toilet seat up.
The Rangers, experiencing their worst losing stretch since mid-December, after back-to-back losses to the Islanders at home and Boston on the road, both with 3-0 finals, returned Friday night in Columbus, to face the Blue Jackets. Talk about a run-on sentence!
If you don't count Rick Nash's empty net goal against San Jose, last Saturday night, the Rangers were held scoreless for 8+ straight periods, until Marc Staal put the Rangers on the board at 5:59 into the second period. Staal, a free agent come this summer, basically agreed in principle early Friday morning, to remain a Ranger. Staal is rumored to be signing a 6 year deal at $5.7 million a year. Not a bad contract when you see how much Staal does on the ice. The biggest problem for casual viewers and fans is that you don't really appreciate your defensemen. Usually, when you notice them, it's because they are fucking up left and right. See: Michael Del Zaster.
Staal, who on paper, is the Rangers third defenseman on the depth chart, behind Captain Ryan McDonagh and Dan Girardi, will be making more money than his counterparts. I don't know the reasoning why that is, but if I had to venture a guess, it's probably because Staal is older and this will be the last big contract of his career. It also shows me the dedication Captain Mack has for this team, that he took a deal, for under market value, to be on this team. I obviously have a soft spot for the Americans on the Rangers, so this makes me proud as a Mack Truck fan.
Just looking ahead here, with Staal soon-to-be locked up, MSL expected to stay with the club at a discount because he loves playing/living in the NY area, the Rangers two main free agents this summer will ironically be Mats Zuccarello and Carl Hagelin, who are best friends on the team. Hags/Zucc also do a special show, with Brassard, on the official NY Rangers website. It's pretty entertaining, and it's a free show if you have the NYR app. I don't know if Zucc & Hags will take a hometown discount to continue to play with each other or will money talk come this summer? This is why I hate Hank's contract so much. Zucc is one of those grinder spark plug type of players that you love and I don't think Hagelin has even come close to playing the best hockey of his career. It would be a shame to lose either.
While on the subject of contracts, the contracts of Derek Stepan, Miller, John Moore, Stempy, Fast and Hunwick expire this off-season. Stepan is an automatic re-sign. I can see keeping Miller and letting everyone else go, based on what's in the farm system. Of note, with the center position being the weakest it's been in years, former Ranger, Brad Richards, will be a free agent this summer. Obviously, business was the reason why Brad had to go during this off-season. Brad loves NYC, wants to play with MSL, has a residence here and the Rangers need a Center. Could he be back? Time will tell.
However, I'm getting way ahead of myself here, so let me just say I'm glad to have Staal back. That relieves any trade deadline talk. The Rangers, for the last few seasons and moving forward, should be a perennial playoff team every season. There is no reason to dump quality players. This is a team of the NOW, not the future.
How did I even get on this topic? This is what happens when you start these blogs after a long night of drinking, you start going all over the place, just like the offense of the Columbus Blue Jackets last night.
The Bluejackets fired at the Rangers all night long. Early into this game, it felt like the Islander & Bruin games all over again. It was a flat first period, the Rangers were on defense and seemed like making a line change was a bigger priority than getting some shots off. I know everyone, especially Rick Carpiniello, of Rangers.Lohudblogs.com, thinks I hate Hank, despite me writing a million times I just hate Hank's contract, but this is a game I always expect from him for the money.
Despite defeating a weaker team, than some of the other teams Hank beat on the recent winning streak, this may have been Hank's biggest win of the season so far. Yep, it wasn't against a rival. Yep, Columbus is not a playoff team. Yep, it was just a Friday night in Ohio. However, to me, what impressed me was that the Rangers were coming down to earth. I feel like the Islanders and Penguins don't fucking lose, unless they are playing each other, and the Washington Capitals are just as hot as the recent Rangers run. These games in hand in the standings don't mean jack shit if you don't win the games.
Put it this way – Hank was horrible in the first 33% of the season. The Rangers won 13/14 games and as of right now, are a wild card team, if the playoffs started today. Just imagine this – if the playoffs started today, they would play the Islanders. Talk about a first round match-up that would make any logical Ranger fan nervous.
Coming into the game, the Rangers needed the two points. They needed to right the ship. This was a classic, "I'll do it myself" game from Henrik Lundqvist. For the money, this is what you're paying for. I don't have the stats in front of me, but from watching every game this season, I believe Hank recorded his high in saves during this game, stopping 35/36 shots and posted a .972 save percentage. If he did this every game, not only is Hank in the ASG just obligatory, we are talking Vezina. Hank just needs to be consistent and that's always been a problem of his. The Rangers play 82 games for playoff positioning, not 40. Chasing points is never fun, whether it comes to gambling or hockey!
Again, since half of you never read every word in these blogs, and just assume I hate Hank, without realizing I just hate his contract, it might shock you to read here that I thought Hank was amazing in this game. I really think a stronger team than Columbus would've stole this game. A stronger team definitely pushes this to overtime. The Rangers improved on the faceoffs a bit during this game, but continued to make terrible turnovers. Hank was all over the place stopping shots from all angles and at all times. The one goal he let up, to Hartnell, was a breakaway. This is where you want your money goaltender to stand on his head and make the save, but I give Hank a pass on that because he was so worn out from constantly stopping whizzing pucks off of bad turnovers.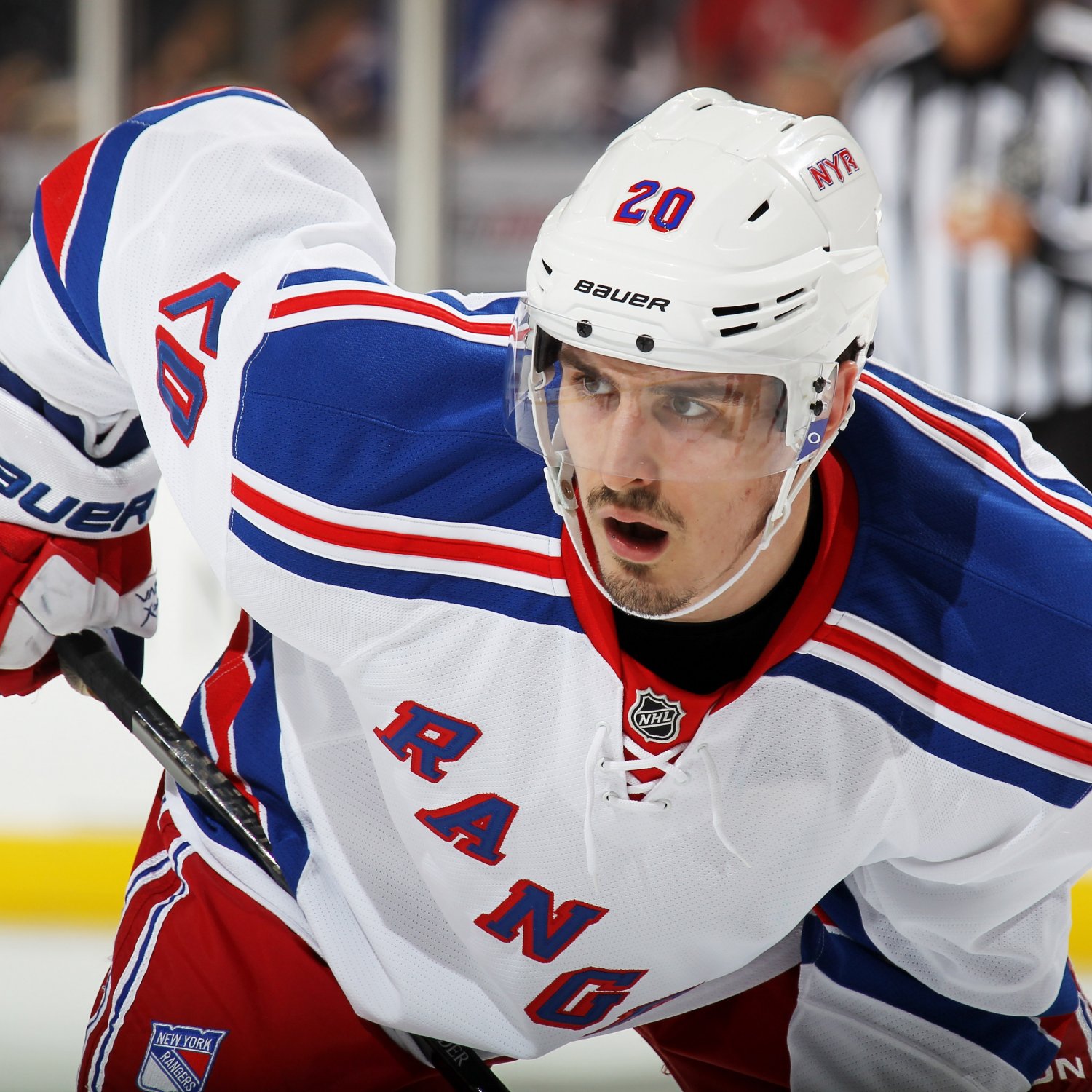 Chris Kreider, someone who really came into his own last year but has been up and down this season, got back on the score sheet, pushing the Rangers ahead 2-0 midway into the second period. Kreider broke out and used his signature backhand for the goal. I will say, while I'm happy Kreider is scoring, the guy really needs improve his fighting game if he's going to play dirty. There's only so many times you can say something was an accident before you get a reputation. I was surprised he wasn't suspended before going into this contest.
What more can you say about Kevin Klein? The guy should be in the All-Star Game, no ifs ands or buts. Not only is he the best Rangers defenseman this season, he's the highest scoring even-strength defensemen in the league. Klein looked like had a goal, late into the third period, which would've gave the Rangers an insurance goal at 3-1, but it was ruled a high stick. Replays had it looking either way. The call on the ice was no-goal and with no real conclusive evidence to suggest otherwise, Toronto once again sided against the Rangers. My friend made a point that it looked like it bounced off of a defensive player, before crossing the goal line, so the goal should've counted. Perhaps the NHL changed that rule?
Marty St. Louis is always one of the biggest factors on the Rangers. Even with Rick Nash scoring an abundance of goals this season, Marty is usually the man behind the Rangers offense. There are games this season where you barely notice Marty, and that usually means a Rangers loss. However, when he's all over the place, he just tallies up the assists and gets the offense flowing. Does anyone even remember Ryan Callahan anymore?
I was also happy to see JD and Rosen in the commentators/press booth before the game. Aside from Phil Rizzuto, these two are my favorite commentators of all-time. I grew up on JD and Rosen. Nothing against Joe Micheleti, John Gianonne, or whoever else the Rangers drag out to do commentary with Rosen, there is just no pair like JD & Rosen to me. Selfishly, I wish Columbus would fire JD already and give us one more run in the MSG broadcasting booth!
I must also add, it was great seeing a lot of diehard Ranger fans at the Bold O'Donoghues last night. Always great to watch the games with people who know their shit, even if they don't shut up about Cam Talbot and why he should be the Vezina winner this year! While football games are fun, nothing beats the speed and excitement, of an NHL game to me, especially when watching it with people who give just as much as a fuck as you.
In the standings department, the Islanders crushed the Pens 6-3 to regain first place in the division. The Capitals, who are two points ahead, with two extra games played also lost to the Nashville Predators. For shits and kicks, the Devils also got Quacked the fuck up by the Ducks. The Rangers currently sit in a wild card spot, but have games in hand. I think it's crucial, with the way this season is going, to at least get home ice in the first round of the playoffs.
Rangers return with a 12:30 Sunday showdown in Shitsburgh, against that cunt Cindy Crosby and his merry band of pussies. I'm assuming the disgustingly early 12:30 start is because of the NFL Conference Championship games later in the day. Unless I'm attending, I hate early Ranger games. Plus for drinkers like me, it's going to be a long day of pacing with these football games and UFC on at 10PM Sunday night. Please be advised: Don't wake me up on Monday morning for the annual MLK Knicks blowout!
Big win for the Blueshirts!
LETS GO RANGERS!
I'll be back either sometime Sunday or Monday morning with NYR/Pitt reaction.
Sean McCaffrey
BULLSMC@aol.com
@NYCTHEMIC on the twitter gimmick