One of the most open autobiographies you will ever read
Welcome everyone to another book review here, on the new and improved DOINOW.com. I feel like I'm in high school all over again, by typing up a book report, but when you read a book as deep and as open as Theo Fleury's "Playing with Fire" it is a book you want to spread the word about.
I was a big fan of Theo Fleury's hockey career, although I was young for the beginning of his career. Fleury's first NHL season, in 1988-1989, I was only 7 years old. However, Fleury at that time was a fourth liner, on a team that would eventually win the Stanley Cup that season. It wasn't until the early 1990's that Fleury would break out as a bonafide league-wide superstar.
There were several themes in Fleury's autobiography, away from all the alcohol, drugs and sex stories. Fleury is a proud Canadian patriot, and at times, found Americans & our way of thinking to be perhaps a bit "boorish", for lack of a better word. Where Canadians are born with a hockey stick in hand, it normally isn't like that for us Americans. So Fleury probably won't be impressed that I first found out about him by playing video games on the Sega Genesis at 8 or 9 years old.
In a time where there was no internet, NHL network (Canada had Hockey Night) and hockey was only on the sports pages when either the Rangers, Devils or Islanders were doing well, it was very rare to hear about a Western Conference team, especially one that played in Calgary. Growing up, my friends and I learned about the different players through our video games and collecting hockey cards. We realized that Theo was a superstar through highlights and All-Star Games. You could follow his numbers in some hockey magazines, but we never had the game-to-game footage that is so easily accessible today.
You can imagine my joy when the Rangers signed Fleury for the last year and first year in the millenium, that 1999-2000 season. The Rangers had an offensive star to replace Gretzky. While Fleury would never be  "The Great One", it was a step in the right direction, especially since Wayne wasn't the same player he was in his prime.
I wish I could find my old Rangers puck signed by Fleury, but I lost it when I moved
In that 1999-2000 season, I was 17 years old. From about 1996-2001, my friends and I would meet the players before and after games. Fleury became an instant favorite of mine, because of his reputation. During his first two seasons as a Ranger, I was able to meet him several times and get autographs after games. Where in the past, guys like Messier, Richter, Leetch and Gretzky would try to duck fans and escape in different ways, Fleury always walked out the back entrance/exit, with the majority of his teammates. The same teammates that weren't being paid a fraction of his salary, although you couldn't tell that Fleury was loaded financially. Reading this book, I found out he was loaded in other ways as well.
As far as a fan, Fleury was right up there with Adam Graves, as Fleury stopped and chatted with anyone who wanted his autograph. Those cards above are from that 1999-2000 season when I met him. Remember, this was a time before eBay, he could see my friends and I were collecting his autograph for our personal collection, and not selling it. I used to have about 10-12 more cards signed and a puck signed that I lost when I moved. The reason I bring that up is because I want to make sure you know that Fleury was cool as shit and really went out of his way to sign anything that fan asked for.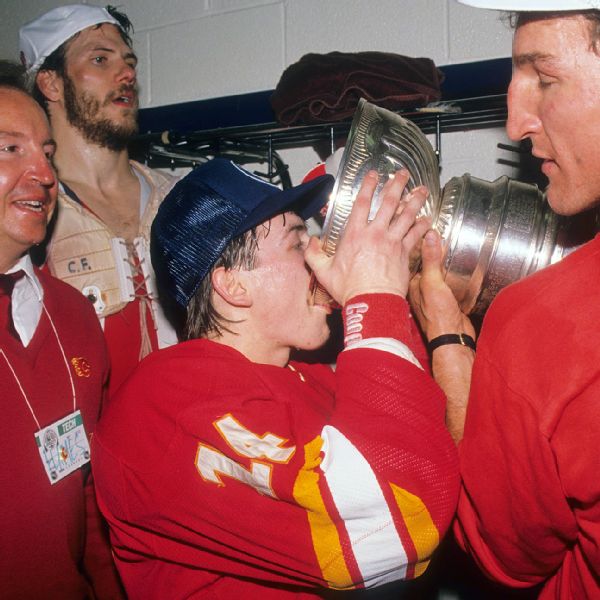 Fleury drinking out of the cup in his rookie year. He wouldn't win another cup in his career.
Fleury's autobiography "Playing with Fire" was released in 2009. It has since been adapted as a film and a play in Canada, that is how strong the book was. I read a ton of different books, mostly biographies/autobiographies because I'm interested in different lives and why people are who they are. Fleury has that same trait as me, as he mentioned in his book, during his Ranger years, he would even hang out with the homeless people at Chelsea Piers, just to talk to them. I don't think I could do that every night, but I get where Fleury was coming from.
Hands down, this was one of the most interesting autobiographies I ever read. For a hockey book, you will not find a book so raw, so emotional and with so many stories of success and failure.
The book is a complete recollection of Fleury's life. No rock is left unturned. His family. His upbringing. His drug use. His hockey career. His boozing. His sex addiction. Being a victim of sexual molestation. The money. The fame. The gambling. Racism. His love for Canada. Every topic is discussed in detail.
This was the book that put the final nail in the coffin of Graham James. James was a hockey coach that raped/molested boys, similar to Jerry Sandusky, here in the United States. James got a lenient jail sentence, when his first accuser, Sheldon Kennedy brought James to light. Fleury recaps what happened with him with James, his times with Sheldon and everything in between. You really need to read his powerful words to get a grasp on it.
This book, which was published 6 years ago, would eventually keep James in jail for a longer sentence, as Fleury recapped his horror with James. Fleury's childhood would make no one envious.
Fleury never had the same success in NY that he had in Calgary
"Playing with Fire" talks about Fleury's life from day one until its publishing date. Fleury talks about James at different points in his career. Another common them, and the bulk of the book, deals with Fleury's addictions. Fleury talks about his $2000 a week cocaine habit. His $30,000 one night tabs at strip clubs. His boozing.  Alcohol and hockey go hand-in-hand, whether you're a fan just watching the game, or a player needing a few suds after a battle.  Fleury has no qualms talking about anyone in this book, but he isn't painting himself to be an angel either. He is right there to tell you all the crazy shit he did. He also brings up a good point about how many NHLers have DWI's and alcohol related issues.
Fleury wasn't a fan of Mike Keenan
As Fleury's playing career progressed, the book was out on him and how he abused cocaine. He talked about his time in the NHL substance abuse program and why he thought it was a farce at time. He was furious at other players like Chris Chelios and Sean Avery, who brought up his off-ice issues, while playing with him. I can see why Fleury wouldn't want to be called a cokehead on the ice, but at the same time, Fleury, self-admittedly, would talk about other players wives, alcohol problems and other sensitive issues. I feel that Fleury would've harassed himself about the cocaine, if he could.
Fleury talked about his parents, how his mother abused prescription pills and his father was a bad alcoholic. He talked about how his parents neglected him as a child, and how his coaches & a neighboring family were more there for him than his parents. Ironically, Fleury, despite all his money, would become a combination of his parents, and neglect his kids too for substances. The cycle had repeated.
Fleury scoring his most favorite goal, in April of '91 vs the Oilers
Every teammate, whether it be juniors, the NHL, Olympic or rez league are talked about. Fleury talks about taking Jarome Iginla under his wing, and hanging out with another future Flames legend, that had to leave because of money issues. For me, being a Ranger fan, it was cool to see that Fleury liked and respected Mike Richter so much. Fleury was not a fan of Mike Keenan or John Muckler, but really, who was? Fleury had a great admiration for Sather, and knew he let him down with his off-ice issues.
This book really covered everything. I did learn a little bit about the game, from a players perspective. I learned a lot about Canada and some of its history. I don't think a brash New Yorker (Looking back, Fleury feels going to NY destroyed his life & career) was Fleury's target audience for this book, but I really enjoyed it. A Canadian would love this book more than me, as Fleury's Canadian patriotism really shines through and through.
Fleury commented on many of the top stars in the league during his era too. He loved "Super" Joe Sakic. Gretzky was his role model. You could beat Patrick Roy with your mouth, as he got agitated easy. Marty McSorley was dirty. Lindros got so many concussions because at minor levels of hockey, he was the biggest & the best, and always skated with his head down. When he did it in the NHL against guys of his caliber, it led to the concussions. He enjoyed the FLY line. He hated coaches that never played the game. For everyone and anyone that intersected lives with him, Fleury had a story about them.
Fleury retired as a Flame & works with them as an ambassador
"Playing with Fire" is one of the best, realest and emotional hockey books you will ever read. Fleury has no issues with telling it like it is from his perspective and doesn't shy from talking about his faults. I highly recommend picking up a copy. Since the book is 6 years old now, I was able to get one off Amazon.com for only $1. Can't go wrong with that!
You can learn more about Fleury today by visiting his official website at:
http://theofleury14.com
Sean McCaffrey
BULLSMC@aol.com
@nycthemic on the twitter machine