A familiar face from Henrik Lundqvist when playing the Boston Bruins
Welcome everyone to another blog here on DOINOW.com. It's been a long day, there's lots to get into, so let's skip the regular intro and get right into it.
2/4/15 Rangers 3 – Bruins 2
Starting Goalie: Cam Talbot
3/2/14 Bruins 6 – Rangers 3
Starting Goalie: Henrik Lundqvist
11/29/13 Bruins 3 – Rangers 2
Starting Goalie: Henrik Lundqvist
11/19/13 Bruins 2 – Rangers 1
Starting Goalie Henrik Lundqvist
5/25/13 Bruins 3 – Rangers 1
Starting Goalie Henrik Lundqvist
5/23/13 Rangers 4 – Bruins 3
Starting Goalie Henrik Lundqvist
5/21/13 Bruins 2 – Rangers 1
Starting Goalie Henrik Lundqvist
5/19/13 Bruins 5 – Rangers 2
Starting Goalie Henrik Lundqvist
5/16/13 Bruins 3 – Rangers 2
Starting Goalie Henrik Lundqvist
Today, 3/28/15
Bruins 4 – Rangers 2
Starting Goalie Henrik Lundqvist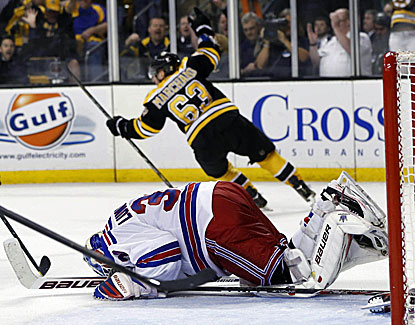 Lundqvist is now 1-8 in his last 9 games vs Boston
By now, if you've been reading me, and if is this your first blog here on DOINOW.com, check out the archive section for my in-depth thoughts on Lundqvist's return, you know I'm the conductor of that Talbot Train. I think the Rangers best chance to win a Cup in 2015 is with Cam Talbot as your starting netminder. That being said, it made no sense for Henrik Lundqvist to return against the Boston Bruins this afternoon, in his first game in nearly two months.
Cam Talbot beat the Bruins in his last outing, while the Bruins have owned Lundqvist like a white master owning slaves on a plantation in the 1800's. As much as I want Talbot to be the starting goalie for the playoffs, I understand Hank will get his chance to live up to his reputation and contract.
However, what I don't get, is why would you bring back Hank today, against a team that has always dominated him like a bottom bitch? Why not ease Hank back and give him a game that he has a chance of winning? Hank has a storied history with the Capitals, and in recent times, has been on the winning side of it. Why would you bring him back in hostile territory, against a team fighting for their playoff lives? Wouldn't it make sense to bring him back in the friendly confines of MSG? I mean really, the Rangers blew a possible "Willis Reed" type of moment. I could've seen Hank posting a shutout at home vs Washington.
Instead, game one of Hank's return was a bloodbath. The Rangers looked bad, but not as bad as they did against the Kings, Panthers or Chicago in recent times. In none of those games, did Talbot give up a field goal in the first period and Talbot kept the team in all those games, and the Rangers actually won some of those games.
This game was night and day from the Ottawa game, where Talbot stoned a potential playoff first round match-up. Here today, Hank made every Ranger fan nervous if he's in net against the Bruins in a potential first round series.
The devotion Ranger fans have for Hank is admirable. At the same time, you have to look at him objectively. I get he has had some bad offensive teams in the past. However, look at his quotes in recent years:
"Give me two goals and I got this."
How did that work out in the Stanley Cup Finals?
"I want to win a cup at all costs in NY."
 After saying that, Hank asked for Torts to be fired, teased Free Agency then demanded to be the highest paid goalie in the league.
"I'm dedicated to this team 100%."
 So dedicated that he is running around making silly TV shows that 1000 people watch. JB Smoove's silly show does better ratings.
Boston has always been heads and shoulders over Hank in recent times
Yes, I get Hank's stats. I know what he's meant for this team. While his situation isn't as severe as Marty Brodeur, you know, one of the best goalies of all time and someone who won 3 Cups, the Devils had no qualms sending their future HOF goalie packing for the younger Corey Schneider. It was just time. On that wavelength, it is why I think Talbot should be the starting goalie. HE IS THE BETTER GOALIE TODAY! HANDS DOWN!
Hank defenders will be quick to point out that "You have to give him time", or "It's a team game." Sorry, tired of hearing it. Hank gets $8.5M a year or 10% of team payroll until he's nearly 40 years old. For that money, he needs to WIN NOW! If it's a team game, then don't demand to be the highest paid goalie in the NHL. If it's a team game, spread the money around. I'm also sick of people saying "It's a team game", as Hank pouts and moans after every bad goal he lets up. His body language rivals Eli Manning after an interception. At least Eli has won 2 Superbowls and has earned that right. I've never seen Talbot writhe with agony and pout like Crosby after giving up a goal like the way Hank does.
Some fans can not look at their teams objectively, bottom line. Listen, I'm a diehard Yankees fan too. I don't think they have a shot in hell of making the playoffs this year. Does this make me a bad fan? No. It means I'm realistic. In the same vein, I don't think Hank is the best option for the Rangers to win a Cup this year. Does this make me a bad fan? No, it means I believe there is another road to the Cup and I would ride the hottest goalie in the NHL, in Cam Talbot.
Hank should rub Talbot for luck
Before Hank's start today, Cam Talbot & the Rangers were in first place in the entire NHL, with games in hand on everyone. After Hank's dreadful performance, the Rangers are not even first place in their conference. I get you want to get the rust off Hank, but this was a game he shouldn't have even started.
I said before this game that you can't overreact to this game, win or lose. However, how long is Hank's leash? If this performance keeps up, you really have to wonder when do you say, "Fuck it, it's Talbot Time."  Everyone likes to point out that it is a team game, but how long should the Rangers sacrifice themselves in the standings for Hank? Is it worth hurting the team for one guy?  Why screw with what's working?
Critics will also like to point out Talbot's lack of playoff experience. Well how is he supposed to get it? It's not like Hank has a collection of Cups either. I get he has had bad teams too, but there was no excuse for his performance in the Cup, with all the blown leads and losing 3 OT games. Yes the Kings outshot the Rangers, but again, if you want to be the highest paid goalie in the game, you're being paid to be superhuman.  You can't have all the credit and none of the blame.
I'll leave my thoughts on Hank vs Cam to this, because I can go on and on. However, if the Rangers continue to slide in the standings during Hank starts, you are really going to have to reconsider your goalie situation.
It's true, the Bruins owned Hank again
I predicted before this game the Rangers would lose by two goals. I have been pretty good with my predictions recently, but the two goals came late, when the Rangers were already losing and game out of hand at 4-0.
While it wasn't as bad as the Kings or Panthers game, the Rangers got dominated again. It was turnovers left and right, too much Tanner Glass on the ice, fourth line being brutalized, smoked on the faceoff, making dumb passes instead of shooting and just not wanting it as much as a team fighting for their playoff life. Just like you can't put too much stock into Hank's terrible performance, you can't really feel the sky is falling down because of this loss. The Rangers just have these horrible games, but bounce back. However, these performances are becoming more frequent, and the Rangers need to figure out why. I know Hank isn't on Talbot's level right now, but the Bruins were 0-3-3 in their last 6 games, making this game even more puzzling.
Milan Lucic got the scoring started, less than two minutes into the first period, after a Bergeron rebound bounced off Lucic's skate and right by Hank. Hank was horrible here, first giving up a terrible rebound and leaving half the net open. The goal was called off on the ice by the officials, as they ruled it was kicked in. However, Toronto, who 9/10 favors the opposition over the Rangers (True stat!) ruled that the goal was good.
To me, it looked like it was good, because Lucic didn't make a kicking motion. It just bounced off his skate and past Hank. I just love how Toronto quickly reversed the decision. The NHL officiating has been a train wreck all year. How amazing it that the Rangers haven't even had a powerplay in the last two games? One horrible missed call in this game was Tanner Glass being boarded right in front of the referee. Glass retaliated and for his efforts, got a $4000 fine. Unfuckingbelievable.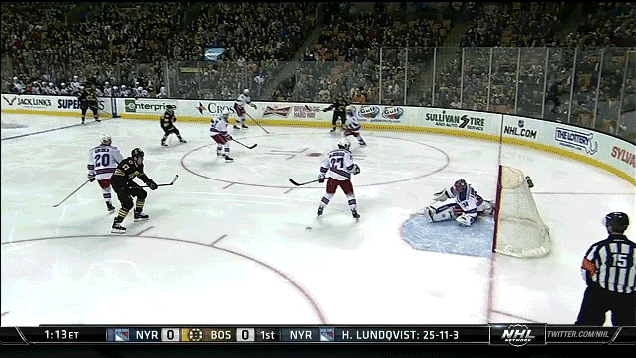 Is that good to you?
Lundqvist couldn't blame the refs for a controversial goal after Lucic's second goal. Lucic just took a pass from Torrey Krug and blasted a 20 footer right by King Contract. 2-0 Bruins.
With 5 minutes and change left in the first period, Carl Soderberg scored after a terrible Hunwick turnover. Is it a shot Hank could've stopped? When you want to be the highest paid goalie in the league and want all the fame & glamour that comes with that, then yea, it could've been stopped. However, it was on Hunwick, as he pulled a Kotska. Since Klein's injury, I would say this was the first really bad play Hunwick has made since the Yandle trade made Hunwick the permanent 7th defenseman.
The bleeding continued into the second period, as Reilly Smith capitalized off another bad Hank rebound, and put one past the red line. 4-0, and essentially game over.
Rick Nash would break his scoring slump, scoring his 40th goal of the season, late into the second period. It was too little too late. I've made the A-Rod references before, and this felt like that. I'm not gonna dump on Nash here, but as of late, outside of the lucky deflection goal against the Islanders, Nash has been absent from the score sheet since the All-Star break. The Rangers need him to change games again, like he was doing for the majority of the season.
Matt Hunwick, scored a bullshit goal, with 30 seconds left in the game. It didn't redeem his horrible turnover from earlier in the game though.
In Cam We Trust
It is funny to look back at my article when Talbot first took over. You can read that article here:
http://doisports.blogspot.com/2015/02/time-is-now-cam-talbot-named-starting.html
I predicted that Talbot would be the man, and he has done that. He will try to bring the Rangers back to first place in all of the NHL tomorrow afternoon, at home, with a game against the Washington Capitals.
From there, the Rangers head on the road against two teams with hopes for a deep playoff run, in the Jets (Tuesday) and the Wild (Thursday). I'm assuming Hank gets those two starts. If Hank plays the way he played today in those two games, I really think it's time to reconsider who your starting goalie will be for the playoffs. No one is discrediting Hank's history with this team. I am only disputing that Talbot is better NOW.
Sorry for the short blog, it's been a long day and there isn't much to analyze. Rangers just didn't want it as bad as the Bruins.
I'll be back tomorrow with NYR/WASH recap. Thanks to everyone who showed up at the Bold! Great times and even better soup!
On the bright side, the Islanders lost today too. Rangers still have a healthy lead in the division, but slip to Montreal in the conference.
LGR
ICWT
Sean McCaffrey
BULLSMC@AOL.com
@NYCTHEMIC on the twitter machine