Greetings and salutations everyone and welcome to another blog here on BlueCollarBlueShirts.com. Never in doubt, never in doubt!
On December 31st, 2021, New Year's Eve; the Rangers played their final game of the year in Tampa Bay, Florida, where they then defeated the Tampa Bay Lightning by a final score of 4-3.
What a good way to close out a wacky year in Rangerstown, USA – a year that also saw the Rangers fire a head coach, a general manager and a team president. You may have heard about this.
While it took a shootout to do it, all that matters is that two points is two points.
I also think the statement of "two points is two points" is the biggest positive takeaway from this win – outside of Goodrow's individual performance.
I've said it so many times before (and you guys have said it too), but sometimes, not every win is a Picasso. Hell, this win pretty much resembled the horrible artwork that I bestow upon you every blog, via my photoshop "skills." (Or more like a lack thereof!)
It should also be remembered that during the course of an 82-game season, you're going to have your disadvantages and advantages. Not every game is played between two balanced-out teams.
When it comes to the former, look no further to the two Ranger losses against Calgary, where the Blueshirts were a victim of the schedule. Ditto the first loss (the Huska start) to Colorado too.
When it comes to the latter, that's what happened tonight. It's nice to be on the right side of one of these situations and as such – no one should be "apologizing" for tonight's victory.
Yes, Tampa has both injury and COVID-related issues right now. I don't deny that.
The Bolts are currently missing perennial Hart Trophy candidate Nikita Kucherov. They are also without the greatest goalie in the league today, 2021 Conn Smythe winner Andrei Vasilevskiy. In addition, they are also missing an assortment of depth players, such as Anthony Cirelli, who is a vital part of the Lightning roster.
However, and at the same time – you can only play the hand that you're dealt.
While it would be ignorant to say that the Rangers woes with their own COVID list issues are equal to the Lightning's; they too are missing two of their regulars, in first-pair defenseman Ryan Lindgren and fourth-line center Kevin Rooney.
Needless to say, on this night, the Rangers caught the Bolts at the right time. I'll take it!
After all, the game that Brian Elliott had on Friday night is your lede story. Had Elliott not been in net, this very easily could've been a Tampa Bay shut-out victory, especially with the way Vasilevskiy has been playing this season. (The Tampa goaltender probably deserves some Hart Trophy consideration as well.)
However, Elliot was playing, and we can only deal with the facts, with the biggest fact being this one – the Rangers got back on the winning track, closing out 2021 on a high note.
The Rangers will get a chance to keep the good vibes flowing at the start of 2022, against this very same Lightning team, when the two teams rematch on Sunday afternoon at "The World's Most Expensive Arena."
---
While I'll get into the game review segment in just a bit; it should be stated that following this victory, the Rangers are the fifth-best team in the league overall. And if the Rangers were in the Western Conference – they'd be in first place in either Western division.
Of course, the Rangers play in the East, where the four teams above them are all in the same conference. Two of these teams are also in the same division, in the Washington Capitals and Carolina Hurricanes. The other two teams above the Rangers are the Florida Panthers and the Tampa Bay Lightning.
Yes, Wednesday night's loss to the Panthers was disappointing, but the Rangers did play them well.
After all (and yes, the Lightning, as mentioned, do have roster issues right now), following Florida's win over the Rangers; just twenty-four hours later, the Panthers drubbed the Bolts 9-3. This is my way of finding some solace in Wednesday's loss!
Tonight, the Rangers knocked off the best team in the league and on the road to boot.
For all the talk about the Rangers not playing the upper-echelon teams well, the Rangers are rarely whooped. Outside of Calgary and Colorado, who the Rangers played while at a disadvantage – the Rangers have held their own in every game.
Head coach Gerard Gallant (more on him below) has this team rolling. Even better, with a New Year's Eve flight, where the team won't return to New York until after the ball drops at Times Square; the Rangers were able to enjoy their flight back home. I'm sure a few "Sprites" were cracked open on that flight!
Let's now get into the news.
---
Okay, okay, okay – I'll say it – Jaromir Jagr isn't returning to the Rangers. And I doubt he'll return to the NHL either.
The soon-to-be automatic Hall of Famer (which will take place whenever he officially retires), will be 50 years old, come February 15th, 2022.
The man who made the #68 jersey synonymous with himself, is still playing for Kladno of the Czech Extraliga.
As mentioned in the past, the only reason Jagr continues to play is because of his father, who once owned the club and then passed it on to his son in 2011.
It's Jagr's belief, that as the team's only draw, that should he retire, then the franchise would fold without him. In turn, he's put on an incredible amount of pressure on himself, both professionally and personally, where wouldn't you know it – he's also one of the team's best players.
With the NHL needing warm bodies on their rosters, and with Jagr playing fairly well overseas – could you imagine if he returned for a few more NHL games in 2022?
While it won't happen, I just bring this up, as it's fun to think about. Can you imagine Jagr on a line, or on the power-play, with Artemi Panarin?
I know that Jagr can't leave Kladno, because he fears that the team will fail and fold without him. However, it would be nice if Jagr, like a modern-day Gordie Howe, got one last run in the NHL – where he then could enjoy a "retirement tour."
And if Jagr was to ever entertain this idea – just don't sign with a Canadian team!
(And I won't go any further than that, because as mentioned last blog, I'm done with talking about COVID – although I do have one last COVID-related comment to make during our next segment.)
---
In what turned out to be a big night out for Goodrow during his return to Tampa; the Rangers jack-of-all-trades/Swiss army knife player entered the home team's locker room prior to the game, where he then finally received his 2021 Stanley Cup ring.
The video of this event first appeared on the Tampa Bay Lightning's social media accounts and would later be replayed during M$GN's broadcast of the game.
Last COVID comment, I swear.
During the video, Goodrow and the Lightning were seen wearing their silly cloth face masks and doing fist pounds. Thirty seconds later, all masks were off, as Goodrow and the Bolts posed for the picture depicted above.
Mask or no mask, however you feel about the topic – it's my belief/opinion that you should do whatever suits you best.
That said, I just shook my head and laughed when I saw this farce and display of public pandering taking place. What's the point of wearing a mask for a few seconds, only to take it off and start hugging and posing for pictures?
And that's my final rant on that!
---
As far as any Ranger news prior to this game, there wasn't much, outside of the obvious story of Goodrow's return to the city where he won two Stanley Cups (and then was handsomely compensated for it by the Rangers).
When it comes to the roster and protocols, there was no movement. The roster remains status-quo for the time being. That could change over the weekend.
On Friday morning, Gallant said he'd be using the same line-up as he did on Wednesday night.
However, while Gallant did use the same players in back-to-back games; very early into the game, Patrik Nemeth was bumped up to the first-pair with Adam Fox. Barclay Goodrow was also bumped up two lines, where he took Hunt's spot on the second line. I would say the latter, and not the former, worked out pretty well.
With that all said, here was Gallant's last line-up for 2021:
FIRST LINE: Kreider/Mika/Kakko
SECOND LINE: Panarin/Strome/Hunt
THIRD LINE: Lafreniere/Chytil/Gauthier
FOURTH LINE: McKegg/Goodrow/Reaves
FIRST D-PAIR: Hajek/Fox
SECOND D-PAIR: Miller/Trouba
THIRD D-PAIR: Nemeth/Lundkvist
And in net, the returning CZAR IGOR SHESTYORKIN.
---
BOX SCORE time.
The following information and graphics come from the new world-wide leader in NHL coverage, ESPN.com:
SCORING:
SHOOTOUT:
PENALTIES: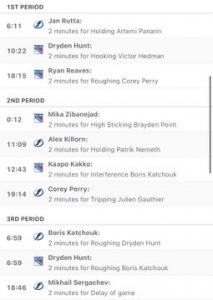 TEAM STATS: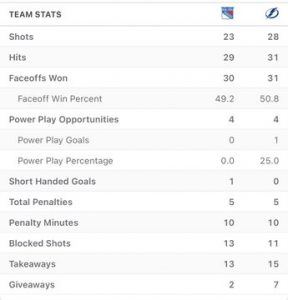 GOALIES:
| | | | | | | | | | | |
| --- | --- | --- | --- | --- | --- | --- | --- | --- | --- | --- |
| SA | GA | SV | SV% | ESSV | PPSV | SHSV | SOSA | SOS | TOI | PIM |
| 23 | 3 | 20 | .870 | 12 | 0 | 8 | 0 | 0 | 64:17 | 0 |
| | | | | | | | | | | |
| --- | --- | --- | --- | --- | --- | --- | --- | --- | --- | --- |
| SA | GA | SV | SV% | ESSV | PPSV | SHSV | SOSA | SOS | TOI | PIM |
| 28 | 3 | 25 | .893 | 19 | 1 | 5 | 0 | 0 | 65:00 | 0 |
---
Steve Valiquette, still out with his virus, was replaced by Dave Maloney tonight. Let's now hope that Maloney "Wally Pipp's" Vally.
(And yes, to reiterate what I said last blog – despite all of my Vally jokes, I do hope that he makes a 100% recovery, where following his return to health – M$GN boots him to Islander broadcasts!)
As mentioned last blog, while I do enjoy Micheletti's FABULOUS analysis whenever he's asked to fill-in – Maloney is so much better.
Both Micheletti and Maloney have done television for a long time, although Micheletti is much more "polished" than Maloney – which is to mean that I think he's "sanitized," and will rarely cross the line with his criticisms. He knows what players to praise, and what players he should not say one negative word about.
When it comes to Dave Maloney, the former captain, he's raw. He's always open and honest – and if he has to be truthful about the crown jewel of the 2020 NHL Draft, then so be it. If he has to say that Zibanejad isn't up to snuff, he won't shy away from that either.
I thought this pregame show, the intermission segments and the post-game show were the best of the season – and it was all because of Maloney.
Not once did we have to hear about analytics, or foo-foo terms that regularly plague these broadcasts whenever the legendary and iconic goalie of 46 games is on the air.
Even better, we didn't have to hear Vally's war stories either. (And we didn't get any plugs for "Clear-Sighted Analytics" too! A godsend!)
Instead of Henrik Lundqvist's coffee boy talking about himself, as if he was the second coming of Terry Sawchuk; we had Dave Maloney, a veteran of 657 games, who has actually been there, done that, and who has also been through all of the wars – on the ice, and not on the bench while watching Lundqvist do it.
I thought Maloney did a spectacular job, not only when talking about the Rangers (both their strengths and weaknesses), but when talking about other things, such as the opponent, Goodrow's new situation as a visitor facing his former team and real stats (the Rangers five-vs-five numbers, and not anything of the "EXPECTED" variety.)
I also thought he had the best zinger of the season too, which took place at the end of the pregame show.
Prior to puck drop, John Giannone brought up Tampa getting smashed by the Panthers the night before, where he then asked Maloney, "how does Victor Hedman finish with a plus/minus stat of negative 6?"
Maloney: "He didn't get off the ice fast enough!"
I'll take that type of humor, rather than Vally's boring tripe of whenever he jokingly pretends that his career was better than Lundqvist's.
Kudos to the captain!
And oh, speaking of ex-NYR captains, here was my KEY TO THE GAME, a prediction that I posted about eight hours prior to puck drop:
While ex-NYR prospect Sean Day never played, the point remained the same – I wanted to see a Ranger torch their former team for once, after seeing so many ex-Rangers burn the Rangers time-and-time again.
Heck, just look at the last two Ranger games played prior to tonight.
Brett Howden had his best game of the season against the Rangers on 12/17, where he picked up a goal and an assist for Vegas in their win. Then, in the Rangers first game back from the "pause," Anthony Duclair scored the game winning goal.
And wouldn't you know it, Barclay Goodrow, so reliable all season, had his greatest offensive output of the season tonight, where he scored a season-high two goals.
For once, it felt good to be on the right end of one of these scenarios! Thank you Goodrow!
---
The first period of tonight's game is fairly easy to sum up – NO OFFENSE.
Seventeen minutes into the period, the Rangers had only one shot on goal. They'd finish the first frame of the game with three.
And before diving into this game review – yes, I am aware that winning covers warts. Winning will always knock negative things out of headlines.
I bring this up only to say that the Rangers power-play, which had been clicking prior to the Christmas break and the "pause," had another 0-fer tonight, where they finished 0-4 overall.
And if it weren't for the bumbling Brian Elliott in net, the Rangers inefficient power-play would be a top topic of conversation.
I'll get more into "Elliott The Erroneous" in just a bit; but that's what bothered me so much about this first period.
Yes, Tampa played a strong defensive game, but Brian Elliott, who the Rangers have massacred in the past, is now 36 years old. He's also rarely played this season and was just coming off of the COVID list. Rather than peppering this guy like an Italian waiter with a heavy hand, the Rangers rarely tested him.
And if Elliott wasn't in the "Christmas Spirit," the Rangers don't win this game. I'm not trying to rain down on anyone's "New Year's" parade, but facts are facts.
One last thing before getting into the game review.
While Maloney was great, this broadcast wasn't.
Sam and Joe, still in-studio, had audio issues all night. The M$GN missed goals and penalties since getting 9678968686896896 JB Smoove commercials on-air is the matter of the utmost importance.
A $2B franchise, and for whatever reason this season – many of their broadcasts resemble something out of a junior high school's A/V department.
Let's roll.
---
As expected, the fourth line, Goodrow's line, started the game. Gallant did the same thing with Ryan Reaves when the Rangers played Vegas. Good move, and really, Gallant gets it, since he's a former player himself. He knows all about the little things that matter.
Sam and Joe, who spent the majority of this game praising the Tampa Lightning and their players, where at one point, I was expecting them to tell us how Phil Esposito founded the franchise; saw Kreider shoot wide just 90 seconds in.
Shooting wide would be an issue tonight, but that said, more times than not, the Tampa defense deflected pucks.
5:13 into the period, we saw an example of this, as Panarin stripped Stamkos at center ice and found Strome. As Strome shot, at the last second, Hedman caught up to him, deflecting the puck into the netting above Elliott rather than into the netting behind the goaltender.
Tampa, who was the much better team of the game and of this period; soon had a strong shift in the Rangers zone. Dryden Hunt responded by blocking two shots. This then set-up Panarin the other way, who at the 6:11 mark of the period, was held by Jan Rutta.
This was a smart penalty to take here, as Rutta's infraction most likely prevented a goal. In addition, you could also argue that this should've been a penalty shot.
During the TV timeout following the penalty and prior to the Rangers power-play; Tampa Bay held a video tribute for Goodrow. Rather than showing that, we got 7966797996 commercials with JB Smoove. Let's hope his "Ides of March" is on its way.
The Rangers power-play was pretty bad here. It was too much fancy passing, and no shots on goal.
And I know I said this last blog, and this isn't a criticism, it's an observation – Fox seems hesitant to shoot. Time-and-time again, and all game long, he had open lanes to the net, but rather than shooting the puck, he made an extra pass that led to nothing. The guy has a great shot. I'd like to see more of it.
I bring this up, because during this power-play, rather than trying to shoot the puck and maybe go for a "puck on pads" play against a rusty goaltender; Killorn forced Fox into a turnover, where Killorn then raced down the ice, only for CZAR IGOR to make the huge save. This would've been disastrous had Tampa scored a short-handed goal here.
As the Rangers offense continued to do nothing, CZAR IGOR stopped Sergachev on a wraparound.
With 9:38 to go, Hunt went off for prostitution, I mean hooking, when he got a piece of Hedman.
The Rangers PK and Igor came up big here, keeping the game scoreless.
As we got under three minutes to go, and despite some zone time, the Rangers still only had one shot on goal.
With under two minutes to go, Stamkos split the Rangers defense but Igor held him off. However, while that was going on, with 1:45 remaining, Ryan Reaves was boxed for roughing Corey Perry. Just six seconds later, Stamkos scored a power-play goal. 1-0, bad guys.
On this goal, the M$GN completely missed it. However, we'd get a replay. Once again, as they often do, Zibanejad lost a defensive zone face-off, and boom, the puck was in the back of the net.
I wouldn't pin this goal on Igor. Stamkos has one of the best shots in the game, and is also extremely lethal on the power-play. Like an Ovechkin, you can't leave him wide-open.
Following the goal, the Rangers defense continued to flail around, where Igor was able to bail them out.
After one period, we remained 1-0 bad guys, in one of the most offensively-anemic periods of the Rangers 2021-22 season. This felt like that third period from the game against Vegas.
---
The second period was much better, although that doesn't say much. In addition, the two Ranger goals from this period were the end result of gaffes made by Elliott.
Twelve seconds into the period, after losing a face-off, Zibanejad high-sticked Point at center ice.
The PK was phenomenal here, in particular Chris Kreider, who was clearing pucks and hitting anything that moved, including Hedman. I think what may be lost in tonight's game was how great Kreider was defensively. He was an absolute warrior.
However, once killing the Zibanejad penalty, the Rangers defense still had issues, but CZAR IGOR was there to rectify them.
Four minutes into the period, Panarin did the same exact move that he did on Ekblad from Wednesday, doing so here on Sergachev. However, this time, he didn't get a goal, nor a shot on goal either.
As it started to feel like that even a crappy goalie like Steve Valiquette would shut out the Rangers on this night, Brian Elliott prevailed at the 5:30 mark of the period:
don't mind if I do 🥅 pic.twitter.com/8gAG4vLWzS

— Rangers on MSG (@RangersMSGN) January 1, 2022
---
1-1!
On this play, Julien Gauthier pressured Elliott from behind the net, forcing the Bolts backstop to throw the puck up ice, where it caught the blade of Alexis Lafreniere. I was just glad that Lafreniere got the puck here, and not his linemate Filip Chytil – because if #72 got the puck in this situation, the puck would've landed somewhere in Clearwater!
Needless to say, a huge break here, as Elliott gift-wrapped this one up. He could've even put athletic tape on the puck and wrote "Lafreniere's Last Goal of 2021, 12/31/21" on it.
Following #13's goal, the Rangers first line seemed rejuvenated, where they constantly marched at Elliott. However, Elliott was able to make stops while in front of his own net, as opposed to being behind it.
After a Reaves/Maroon altercation (no call), with 8:51 remaining, Killorn was boxed for blatantly holding Nemeth. In a game where goals were at a premium, Gallant took his timeout to give his PP1 unit some time to get ready.
After Elliott stopped Fox (a #23 who played a whopping 30:51 – over eight minutes more than any other NYR defenseman), with 27 seconds left on the power-play, Kakko was boxed for interfering with Irishman Boris Katchouk. (Yes, that's a joke.)
Also a joke was this call.
During this play, Kakko was crossing the Tampa blue line, turned around and Katchouk was right in front of him. This was not interference, nor did Kakko ever try to impede Katchouk.
After the foreplay time was over, Tampa then had a power-play worth 1:33 of time. However, it would be the Rangers PK scoring here, after ANOTHER error by Elliott:
What. A. Move. 🚨🚨🚨 pic.twitter.com/U7WFtQGHbg

— Rangers on MSG (@RangersMSGN) January 1, 2022
---
2-1, GOOD GUYS!
This time, Elliott's error wasn't as bad as the first one, as he did get back in time; but Barclay Goodrow, in his best offensive play of the season, made a move and went backhanded for the goal. What. A. Goal.
Now with 5:30 remaining, and up 2-1; yours truly and I'm sure other Ranger fans too, were feeling good, especially as the Blueshirts killed off the rest of the Kakko penalty.
However, following a strong forecheck out of the fourth line (Hunt/McKegg/Reaves); the puck squirted out and with 2:29 remaining, Ross Colton beat an unobstructed Igor cleanly with a slap shot. 2-2.
With 90 seconds remaining, McDonagh deflected a puck that then caught Zibanejad in the face. However, the eventual hero, who had to go to the locker room early, would soon be back at the start of the third period.
As we got under a minute, Perry rang a puck off of the crossbar. Then, with 46 ticks left, Perry himself tripped Gauthier, thus giving the Rangers another power-play. Like the previous two, the power-play couldn't pick up a goal.
After two periods, we remained tied at 2-2, where you were also nervous about the third period, especially with the way the Rangers have handled these final frames lately.
---
The third period felt very reminiscent of the first, as the Rangers couldn't get much going offensively.
The Tampa Bay PK finished killing off the Perry penalty, and then continued to attack Igor.
Nearly six minutes in, Lafreniere made a great defensive play, breaking up what would've been an easy one-timer goal for the Bolts.
With 13:31 remaining, Hunt and Katchouk went at it, where they dropped the gloves and had a mini-fight. Rather than getting five-minute majors as they should've, the refs gave each man a two-minute roughing minor.
Once back at full-strength, Mika found himself alone with the puck, where he then tried to catch a trailing Fox for a one-timer. However, the pass didn't connect and a scoring chance was missed.
After some hairiness out of Nemeth, a crisis was averted when Tampa couldn't beat a distressed Shestyorkin with 8:30 to go in regulation. Right after, Palat missed a wide-open net. Whew.
In a period that was quickly-paced, Lundkvist busted his ass down the ice, which then created an icing call on the Bolts with 6:35 remaining.
Ten seconds later, and with a face-off in the Bolts zone, K'Andre Miller fired a puck at Elliott. Goodrow, who was crashing the net, got a piece of the puck, and with 6:25 remaining, #21 put the Rangers ahead. 3-2, GOOD GUYS!
At this point, all I was hoping for was a Goodrow empty net goal, which would've then given him a hat trick.
After Igor made three quick saves, bailing out his teammates once again; Kreider then blocked a shot. He went to the bench, where he started wincing in agony. However, he refused to go to the locker room, where he also shook off trainer Jim Ramsey and said he'd play.
This then led to a long delay, as with 2:25 remaining, we had a whistle when Goodrow was sent flying into Igor.
Upon the face-off, Kreider jumped back on the ice. Bolts bench boss Jon Cooper threw a fit about this, even using his timeout with his net now empty, and with a face-off in the Rangers d-zone.
After long arguments between the officials and both coaches; the officials, even going to a video review, decided that Kreider had to remain on the bench. In turn, Gallant blew up, where for the first time this season, we saw him really explode:
THAT'S MY COACH @ 00:17 pic.twitter.com/zgzSdUvmbA

— The _______ of S ____s (@TraditionoleWiz) January 1, 2022
---
Of note: watch Gallant's hands. He went to take a swing at the officials, where I think he was going for a piece of paper. On the downswing, he caught Reaves right in the mush.
(And had Gallant made contact with the official, I'm sure he would've been fined and suspended. And who knows – that may still happen anyway, as the intent was there.)
And of course, right after kicking Kreider off of the ice, just 28 seconds later, Perry, all alone in front of Igor, scored a loose change goal. 3-3, with 1:57 to go. And yep, Gallant was irate about this too.
As the Rangers remained on their heels, they got a break with 1:14 to go, when Sergachev fired a puck over the glass. The Rangers would get another power-play and another great chance to close out the game. They wouldn't.
During these final 74 seconds, the Rangers did everything they could, but couldn't find the back of the net. As a result, an overtime was needed.
---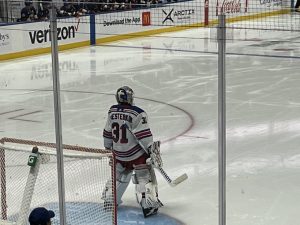 In the overtime, where the Rangers started out the extra portion of hockey with a 4×3 power-play; once again the man-advantage didn't create a goal.
With 3:32 to go, and the puck now touched-up, we then had some 3×3 hockey.
This was pretty much a boring overtime, as both teams played it conservatively. There wasn't any of the usual hectic helter-skelter that you normally see during these bonus periods.
When the Rangers (who pretty much had the puck for the majority of the overtime), continued their puck control with 75 seconds remaining; I thought they should've just took the puck and sat behind Igor. My reasoning for this was simple – I thought that CZAR IGOR could handedly beat Elliott in a shootout.
While the Rangers didn't employ my strategy (and with ten seconds remaining, Goodrow came this-close of winning the game), that's what wound up happening – Igor defeating Elliott in a shootout. However, it didn't come as easy as I thought it would.
Igor was LIGHTS OUT on the Lightning during the shootout. He made a huge stand-up save, where he seemingly grew to the height of Godzilla, where he then stopped Hedman in the first round.
After Kakko went wide with a backhand try, Stamkos came up next. Stamkos, like Kakko, went wide himself. Panarin was up next, where Elliott, to his credit, swallowed up "The Breadman."
Now in the final round, where the next goal could win it; CZAR IGOR sprawled out like a gymnast, making a left pad save on Point. For someone with a history of groin injuries, Igor threw caution to the wind here.
With the game on his stick, Mika Zibanejad beat Elliott cleanly. 1-0 Rangers in the shootout, 4-3 Rangers for the STOLEN VICTORY. Thank you Brian Elliott!
---
As I wrap-up here, I know there will be some people who will complain about the lack of ice time that players like Lafreniere, Gauthier and Chytil received, as all three members of the third line played under nine minutes each tonight. However, I don't care about that. The Rangers won – that's all I care about.
Despite Tampa's roster issues, they are still a veteran team. Gallant relied on his veterans as a response. I see no fault in that, especially since Filip Chytil is the weakest link on the team.
I will say, of the three, Lafreniere was most noticeable, using his offensive awareness to pick up one goal, and using his defensive awareness to break up what would've been a sure-fire Bolts tally.
It's time to go home here, but of course, before doing so, your favorite segment – THE PLUGS segment!
---
The first plug of tonight's blog – the mandatory plug for my new book, "The New York Rangers Rink of Honor and the Rafters of Madison Square Garden".
As mentioned previously, the book is now available in hardcover, in paperback and in Kindle formats. To purchase a copy of the book, visit this link:
https://www.amazon.com/Rangers-Rafters-Madison-Square-Garden-ebook/dp/B09CM5N2WD
For those still looking for signed paperback versions of the book, I have re-ordered more copies. I now have 14 signed copies for sale at $25 a pop (includes shipping price) through me directly. Here is all the information on that:
---
Here are my last few blogs, in case you missed them: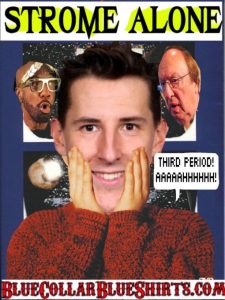 ---
---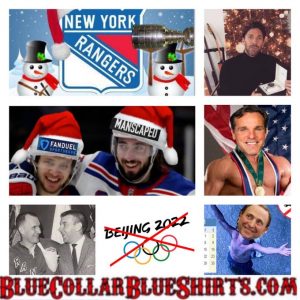 ---
If you haven't already, subscribe to this blog for the next update:
---
Up next: a rematch with these very same Lightning, this Sunday afternoon at 12:30PM. What else are you going to do? Watch the Giants and the Jets?
Happy New Year.
Stay FABULOUS my friends.
As always here, thanks for reading and…
LET'S GO RANGERS!
Sean McCaffrey
BULLSMC@aol.com
@NYCTHEMIC on Tweeter