Greetings and salutations everyone and welcome to another blog here on BlueCollarBlueShirts.com. Best win of 2022! (And maybe of the 2021-22 season too!)
Heading into Sunday's game at MSG versus the champs, the Rangers had a ton of things going against them, such as:
— A puck drop of 12:30PM, where the Rangers, more times than not, usually don't come out so hot for these afternoon tilts.
— A late COVID-19 positive test result for Artemi Panarin.
— Without their greatest skater in the line-up (Panarin), the Rangers were now missing three of their regulars, as Ryan Lindgren (first-pair defenseman) and Kevin Rooney (fourth line center and a cog of the penalty kill), still remain on the NHL's sniffles list.
— Andrei Vasilevskiy, the former Vezina winner and the 2021 Conn Smythe winner, returning to Tampa's line-up. Also returning for the reigning and defending two-time Cup champs were two of Tampa's regulars, two regulars who didn't play in the Rangers overtime win over this Bolts team from Friday, Erik Cernak and Anthony Cirelli.
— An undisclosed scratching of Patrik Nemeth, where it was reported that he wasn't on the runny nose list, and where as of this writing, we just don't know if he was a healthy scratch or had something else ailing him. (After the game, Gallant said Nemeth had a "personal issue." I don't know what that means, nor do I want to speculate.)
— The 2021-22 season debut of Zac Jones, and the second game of this season for rarely-used forward Timothy Gettinger. Of note, with Jones in the line-up, this gave the Rangers a third defensive-pairing with as much meanness and fire as a pair of toddlers fighting over the last crayon inside of their "Crayola" box.
However, despite all of this (and it should also be stressed that the bumbling Bolts backstop, Brian Elliott, who assisted on two Ranger goals some 36 hours prior to this game, wasn't in net on Sunday either) – the Rangers not only beat the best team in hockey – they blew 'em out and shut 'em out too.
Once news of Panarin's absence became official, the Bolts, who already entered this game as a road-favorite, saw their odds of winning this game increase to nearly 2:1. Thankfully, we didn't have to hear JB Smoove or Jessie Pinkman tout this fact.
By the time the final horn went off at around 3PM on Sunday; the Rangers blew away everyone's expectations and were the victors, thanks to a 4-0 blanking of the Bolts.
When you consider everything that I just told you – it's very easy to pump your chest out and proudly proclaim – "THIS WAS THE BEST WIN OF THE SEASON!" And you may be right.
---
Going into this contest, I said on social media that Mika Zibanejad needed to have a big game – especially with Panarin out. No one is happier than me, when burying the "Rika Zibanenash" talk, smack-talk which admittedly, I first conjured up!
I can tell you that "crow" sure tastes good today – but with that said, we just need to keep seeing Mika shine offensively and at a more consistent rate.
Similar to the Chris Kreider of previous seasons; ever since the pandemic started, Zibanejad has been extremely streaky, where most of his hot streaks begin against bottom-feeding teams, and then soon conclude once a top team is on the schedule.
In his first game of 2022, Zibanejad lifted the Rangers offense, behind two power-play goals, and later, a third goal, a five-vs-five goal, which then gave him his seventh hat trick of his Rangers career. He's now tied for the second-most amount of hat tricks in Rangers history (Rod Gilbert) and now trails Hall of Famer, and the franchise's first captain, Bill Cook by two.
Even better, following his huge shootout game winning goal from Friday; Zibanejad picked up right where he left off, scoring all of these goals against the best team in the NHL, not only of this season, but of the last two NHL campaigns too.
And this time, Tampa Bay couldn't say that they didn't have Vasilevskiy either. Oh Baby!
In addition, while I don't have the stats on me (I'm sure someone else can look them up and post them in the comments section if they feel so inclined); I don't imagine that many players have posted hat tricks against #88 in Tampa blue and white.
Who knows, Zibanejad may have been the first player to do so – or at the very least – the first to do so since Vasilevskiy's ascension to "best NHL goaltender" status.
While Mika Zibanejad was carrying the Rangers offense on one side of the ice (#93 in Rangers blue also, as he's been all season, was solid defensively); there was CZAR IGOR Shestyorkin on the other side, where the 2022 Vezina candidate pitched a 38 save shutout, where #31 was absolutely FABULOUS during the first period, logging 18 saves in all.
And just like the last time these two teams played, and similar to Mika – Igor saved his best for last in that incredible first frame.
With the Rangers closing out the first period on a penalty kill, CZAR IGOR made six saves, including a highlight reel save during the process. (I'll have that clip for you below.)
---
Yes, this is only one game, and as the adage goes, "you're only as good as your last game played" – but on this afternoon, the Rangers were just as good as anyone in the NHL – if not better.
There are a multitude of things you need whenever trying to win the Stanley Cup. One of those things is having your stars play like stars.
If Mika can keep rolling, and if he's finally thawed out – the Rangers will be more dangerous than they've ever been this season.
A red-hot Mika can only propel the team, especially when you consider the fact that the Rangers have their best fourth-line in seven years, a Hart Trophy Finalist (Panarin), a Vezina candidate (Igor) and a Norris Trophy winner (Fox). Throw in Chris Kreider, who is currently enjoying a renaissance season – the possibilities are endless. And if Kakko and Lafreniere can ever realize their potential – watch out!
At this time, let's get into the news and then into the game review.
---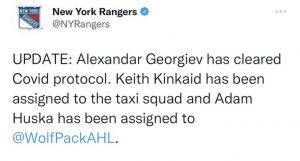 As far as news from the off-day, which was Saturday; the only news we got was from the graphic depicted above.
I'll also say here, that going into Sunday's game, I thought that Igor would get this game against Tampa and then Georgiev would get Edmonton – only because Gallant has said that he doesn't like giving his goaltenders back-to-back starts. He's exhibited as much this season.
After a shutout, and with extra time in-between (due to the 12:30PM start on Sunday); I now think you would have to go right back to Igor against Edmonton – especially since Georgiev had issues handling McDavid and company last time. The less said about that game, the better!
I don't think I'll find much push-back with that opinion!
On Sunday, an hour prior to the game, Gallant met with the media. Here's his short press conference:
---
During his three minute chat with the media, Gallant hinted at line-up changes, but never made mention of Panarin's status.
We'd only find out about Panarin's name on the COVID list once the Rangers took their warm-ups at noon. There was also no mention of why Nemeth was excluded from this game either. (As stated earlier, following the game, Gallant said it was for personal reasons.
Come 12PM, the following was announced as the Rangers line-up:
For those looking for the print version, here was Gallant's first line-up for 2022:
FIRST LINE: Kreider/Mika/Kakko
SECOND LINE: Lafreniere/Strome/Goodrow
THIRD LINE: Hunt/Chytil/Gauthier
FOURTH LINE: Gettinger/McKegg/Reaves
FIRST D-PAIR: Miller/Trouba
SECOND D-PAIR: Hajek/Fox
THIRD D-PAIR: Jones/Lundkvist
And in net, CZAR IGOR SHESTYORKIN.
(Of note: Adam Fox rotated between partners, as there were several shifts where he was teamed-up with Trouba. That said, for the first time this season, K'Andre Miller led all skaters in TOI, playing for a whopping 26:52. That's also a career-high for #79 too.)
---
BOX SCORE time.
The following information and graphics come from the new world-wide leader in NHL coverage, ESPN.com:
SCORING:
PENALTIES:
TEAM STATS:
THREE STARS:
GOALIES:
| | | | | | | | | | | |
| --- | --- | --- | --- | --- | --- | --- | --- | --- | --- | --- |
| SA | GA | SV | SV% | ESSV | PPSV | SHSV | SOSA | SOS | TOI | PIM |
| 21 | 4 | 17 | .810 | 14 | 0 | 3 | 0 | 0 | 59:58 | 0 |
| | | | | | | | | | | |
| --- | --- | --- | --- | --- | --- | --- | --- | --- | --- | --- |
| SA | GA | SV | SV% | ESSV | PPSV | SHSV | SOSA | SOS | TOI | PIM |
| 38 | 0 | 38 | 1.000 | 27 | 2 | 9 | 0 | 0 | 60:00 | 0 |
---
With Steve Valiquette still fighting the "Big Homie Omi" (or at least that's how former NFLer Pat Mcafee describes omicron), Dave Maloney replaced the legendary and iconic goalie of 46 games on the broadcast, where once again, he was spot-on throughout.
Also spot-on? My predictions: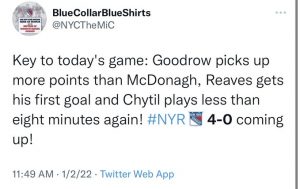 Of note: I'm still waiting to see if friend of the site, Derek "NO FLEX" (check out his blog at NewYorkPuck.com), posts a video of himself chowing down on a New Balance filet of "sole." As of this writing, he's been radio-quiet – which is unusual for him.
And yes, while I always make 4-0 game predictions (I first did so a few months back, where the Rangers then beat the Blue Jackets 4-0, so I've been rolling with it ever since) – this was the first time where NO FLEX made this "foot-in-his-mouth" prediction! What timing!
My advice? Pull a Joey Chestnut, and dip your sneaker in water. It will go down easier – just as easy as Tampa Bay went down today!
Back to the pregame show.
---
Maloney, who had that great Hedman zinger last broadcast, had me cracking up again, during the "BUD LIGHT BAR" segment, the bar that no one ever drinks at.
Maloney told "Billy Pidto," that he'd like to have a few pops with him and get inside his head. Just a little line like that was funny. Maybe you have to hear it to laugh, as I'm not giving it justice here.
Maloney also raved about CZAR IGOR and pretty much echoed how I felt – Mika Zibanejad needed to have a big game with Panarin out.
After another 2021 Top Ten list, it was time for puck drop.
Of note, this game also featured two goaltenders, where if it weren't for COVID – these two (Vasilevskiy and Shestyorkin) would probably be Russia's tandem at the Chinese Olympics.
Game review time!
---
Zibanejad, after a poor performance against the Panthers, continued his winning ways at the dot today against Tampa (he had an excellent game at the face-off circle on Friday), where he won 12 of 17 faceoffs for a winning percentage of 70.6%. That's a trend I hope to see continue.
He'd win the first faceoff of this game too, where after changing, Strome's line came on and Goodrow, trying to pick up where he left off, rang a puck so hard and loudly off of the post that even Sam Rosen heard it.
Goodrow's shot sailed over Vasilevskiy's glove and hit the left post, where following his shift, he was still shaking his head about it – as this very easily could've been 1-0 Rangers just a minute into the game.
After the two goalies exchanged saves, the Rangers got a big break after Point went wide on a shot.
On this play, Point made a move and blew by Zac Jones, in a play that looked like boys vs men, but Lundkvist got back at the last second to help out his goalie.
And when it comes to Jones, while he did have some questionable plays (including an ill-advised late third period icing), I didn't think he looked that bad. It's tough for any defenseman, much less a rookie, to be thrown in there against this Tampa offense. Overall, I thought he handled himself well.
(Also of note: at about the ten minute mark of the second period, creepy Jon Cooper tried to put his first line against the Jones/Lundkvist pairing, where to their credit, the new duo, who were also playing together for the first time this season, held Tampa off of the board. Of course, CZAR IGOR was a big part of this too.)
With 14:11 remaining in the first frame, Colton got right in front of Igor, where Igor then made a save. In the process, Colton knocked Igor's mask off, but it was accidental. Still, isn't that goalie interference? Hmmm.
Goodrow, the ultimate team player, following a Rangers d-zone faceoff loss, made a huge shot block. The Rangers went all out for their goalie today, where they blocked 18 shots in all. Tampa only blocked 3 for Vasilevskiy.
After a Hunt-to-Gauthier Craigslist "missed connection," with 12:37 remaining in the period, Sergachev was boxed for hooking Gauthier on that play. Nineteen seconds later, this happened:
What a shot from Mika! pic.twitter.com/8ANd7vd1md

— Rangers on MSG (@RangersMSGN) January 2, 2022
---
1-0, GOOD GUYS, as Mika revved up, and fired a blast from "Ovi's Office." Not only did Mika need this goal, but so did the Rangers. After all, since returning from the break, the Rangers power-play was 0-6 in their last two games. They finished 2-3 today, scoring two quick goals on the first two power-plays and creating a ton of havoc on Vasilevskiy on the third one.
In some back-to-back goaltender highlights, Kreider and Mika were stopped by Vasilevskiy, as the first-liners were on fire all game. On the other end, Igor pop-flied a puck off of his glove and then caught the puck on the way down, as if he was a gold glove shortstop like a Cal Ripken.
As we got under ten minutes to go, new tough guy Libor Hajek, along with new face Timothy Gettinger, got into a nice little scrum with Katchouk and Rutta. However, it would be Strome, and not Hajek or Gettinger, getting a roughing call here, along with Rutta. In turn, we had two minutes of foreplay.
With 7:31 remaining, this 4×4 turned into 4×3, advantage Rangers, after Stamkos high-sticked Mika. Eight seconds later, this happened:
You love to see it! pic.twitter.com/QZNj7oitrJ

— Rangers on MSG (@RangersMSGN) January 2, 2022
---
2-0, GOOD GUYS!
Mika, who does get more chances on the power-play when Panarin isn't around (and this makes sense, as #93, as the top star, gets more opportunities and doesn't have to share the puck with #10), got a nice puck-luck goal after shooting the puck, and where the rubber then took a nice bounce off of the skate of ex-captain Ryan McDonagh and then past Vasilevskiy.
Go figure – Elliott gives the Rangers trouble on Friday, and against the best goalie in the league – the team picks up two quick power-play goals! I'll take it!
As Igor continued to rack up the saves; Goodrow, as predicted, did wind up picking up more points than ex-Ranger Ryan McDonagh again, assisting on this goal:
Goodrow with the defensive play and Stromer with the finish! pic.twitter.com/aKQmY0geoM

— Rangers on MSG (@RangersMSGN) January 2, 2022
---
3-0 GOOD GUYS, as Goodrow found a streaking Strome, #16 made a move and then wristed a puck past Vasilevskiy. What's that phrase again? Oh yeah – "OH BABY!"
Right after this, Chytil's line came on, where he had a good scoring chance, but you know the rest.
With 1:57 remaining, Strome was boxed for slashing Cernak.
Up next? The Igor Shestyorkin Show:
IGOR! IGOR! IGOR! pic.twitter.com/r7Rs4V6s1q

— Rangers on MSG (@RangersMSGN) January 2, 2022
---
As Joe Micheletti would say – FABULOUS, ABSOLUTELY FABULOUS, as CZAR IGOR made six saves in all, including another save suggesting that he is not worried one iota about his history with groin injuries.
After one of the best periods of the season (if you don't consider the fact that Igor had to nearly make twenty saves during it), Rangers 3, Bolts 0.
---
The second period wasn't much like the first. In fact, this period, or at least the first fifteen minutes of it, felt like how you thought the first period of an afternoon game would go.
After Strome came out of the box, Trouba and Killorn went at it a bit. If I've said it once, I've said it 767896789678969676969 times – angry Trouba is the best version of Trouba.
After a turnover from Lafreniere, and with Fox and Trouba on the ice too, Igor bailed out his teammates with another breathtaking save.
On the following Tampa possession, they spent nearly two minutes and thirty seconds with the puck, due to a Rangers icing. Goodrow would eventually chip the puck out, giving his team the clear, while also preserving Igor's "nyet-nyet."
Kreider, a stud defensively, and already with two power-play assists, continued to block shots as he did on Friday, where he made a big stop on Hedman.
As Tampa continued to heat up, the Rangers offense came to a crawl. All you could think of was the "dreaded three goal lead" crap. However, it would be the Rangers scoring next.
As both goalies continued to do their jobs, with 3:17 remaining in the period, the Rangers scored the only goal of the second period, and a goal that would eventually stand as the final goal of the game:
Zibanejad – Kreider connection is strong 🚨🚨🚨 pic.twitter.com/zfVHn0Gn5p

— Rangers on MSG (@RangersMSGN) January 2, 2022
---
4-0, GOOD GUYS, a hat trick for Mika Zibanejad.
Following the goal, Jon Cooper, showing no respect for "bro code" or the unwritten rules, challenged this hat trick goal for a high stick. He would be wrong. What was right was when the referee told a crying Steven Stamkos to shut the "Father Fink" up, prior to saying that the goal on ice was being upheld.
As a result of the failed Tampa challenge, the Rangers received a power-play here. They did everything possible here, besides scoring. Vasilevskiy did his best work of the game at this time.
At the end of two periods, we remained 4-0 in favor of the GOOD GUYS. All that was left to do was get Igor his shutout and to nail my 4-0 final game score prediction!
---
The third period wasn't much offensively, at least not for the Rangers. It would take them about 15 minutes in to get a shot on goal. They'd get another, meaning that they only logged two shots on goal during this period.
You don't mind playing conservatively and protecting a lead (and a shutout to boot) when up 4-0. However, and as we all know – the Rangers have had a rough go of it lately when trying to employ this strategy. Unlike the game against Vegas, this time it worked out for them. Perhaps being successful here will give them confidence and more success moving forward.
To their credit, the Rangers also limited Tampa early too.
Eight minutes into the period, the SOG were 1-0, Tampa. Fox was breaking up plays. Ditto Mika. Ditto Kreider. And even with one shot faced, the crowd was still chanting "I-GOR" at the top of their lungs anyway.
At the 7:39 mark of the period, Trouba was boxed for hooking Nash. No matter, the Rangers elite penalty kill did their job anyway, despite missing four of their normal PKers (Trouba in the box, Nemeth scratched and Rooney & Lindgren on the runny nose list.)
The Rangers first shot of the period came very late, as Julien Gauthier, all alone and on a breakaway, shot a puck right into the Bolt logo on Vasilevskiy's chest. If he can't score on that, when will he? At least make Vasilevskiy move a bit!
With three minutes to go, the weak link of the team, Filip Chytil, and Gauthier couldn't connect on another solid scoring chance. When it rains, it pours. Then again, had they scored, my 4-0 prediction wouldn't have been proven true! Thanks guys!
As the Rangers continued to stifle the Cup champs, with 29.8 seconds remaining, Jones iced a puck. Igor would be tasked again, where he made his 38th save of the game, his last, in the waning seconds of regulation.
As the final horn went off, 4-0 Rangers, a SHUTOUT for CZAR IGOR! WHAT. A. WIN!
---
I'll try not to get too cocky here, and go crazy with the "I-told-you-so" stuff; but all I'll say is that when everyone was crying about this off-season, writing love poems for Pavel Buchnevich, and damning this team to eternal hell – I said this team would not only be a good team, and not only would they make the playoffs as well- but I said they'd make a ton of noise in the playoffs too.
With under 50 games remaining, the Rangers are 13 points better than the second wild card of the Eastern Conference, where unless they have a collapse of the most epic proportions – they're making the playoffs.
And for the concerns (both legit and some overblown) about needing a top six winger and some scoring from the third line – you know Chris Drury won't be sitting on his hands at the deadline. He'll improve this team.
I'll take CZAR IGOR, ADAM FOX, ARTEMI PANARIN, CHRIS KREIDER and these two versions of Jacob Trouba and Mika Zibanejad on my team any day.
Right now, two of my season predictions have hit. Come the playoffs, I believe my third will hit too! (And the Rangers will win every playoff series 4-0 too – CALLBACK!)
Great job from your boys today!
PLUGS time, followed by a few site programming notes.
---
The first plug of tonight's blog – the mandatory plug for my new book, "The New York Rangers Rink of Honor and the Rafters of Madison Square Garden".
As mentioned previously, the book is now available in hardcover, in paperback and in Kindle formats. To purchase a copy of the book, visit this link:
https://www.amazon.com/Rangers-Rafters-Madison-Square-Garden-ebook/dp/B09CM5N2WD
For those still looking for signed paperback versions of the book, I have re-ordered more copies. I now have 14 signed copies for sale at $25 a pop (includes shipping price) through me directly. Here is all the information on that:
---
Here are my last few blogs, in case you missed them:
---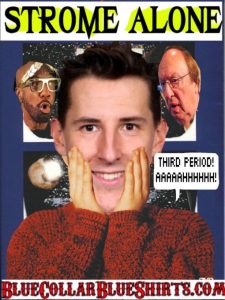 ---
---
If you haven't already, subscribe to this blog for the next update:
---
Up next: the Rangers match-up against the Edmonton Oilers. McDavid's men are coming off back-to-back overtime losses to the Devils and Islanders. I'll leave it at that.
On this site, I've previously talked about my upcoming and planned trip to Las Vegas and California, where I plan on seeing the Rangers play the Knights, Kings and Ducks. As of now, I'm still going.
I am not concerned about the omicron shit. As mentioned, I have all my shots and not worried about the common cold.
Even better, it looks like the Rangers and these three opponents are all playing, and have no plans of postponing games either (fingers crossed).
If there is a new wrinkle to my plans, it's that a lot of flights are getting canceled. I'm supposed to go out Wednesday, but who knows now. Even worse, these airlines, despite canceling a ton of flights, won't let you change your flight to an earlier flight, in an attempt to avoid such a hassle.
In the event that my trip goes off as planned, following the game with Edmonton (unless there is someway I can get my flight bumped up to Monday night, which doesn't seem like a possibility), I probably won't have game reviews up right after games. In fact, I know I definitely won't be rushing to my hotel room and my slow-as-shit laptop after the Vegas game!
Maybe I'll just post pictures and a few words, but nothing like the normal deal here. Just wanted to get this out there, to you, the loyal reader!
Stay FABULOUS my friends.
As always here, thanks for reading and…
LET'S GO RANGERS!
Sean McCaffrey
BULLSMC@aol.com
@NYCTHEMIC on Tweeter