Greetings and salutations everyone and welcome to another blog here on BlueCollarBlueShirts.com. Drop the damn puck.
Off puck drop, I hope that everyone had a great Christmas and all of that other happy jazz. Let's talk hockey now.
By now (and as you're probably well aware of already); on Christmas Eve, "The Grinch" himself (I kid, I kid), NHL commissioner Gary Bettman, announced that the NHL would be furthering their state of "pause" for at least one more day. In turn, every game slated for 12/27 was postponed.
To read that full press release, visit: https://www.nhl.com/news/nhl-postpones-games-additional-day/c-329224638 
---
As far as how that news impacted the Rangers, it meant that Monday's game, originally scheduled to take place at the "World's Most Expensive Arena" against the Detroit Red Wings, was now postponed. The Rangers, who last played on December 17th, are now scheduled to return on Wednesday, December 29th, on the road and against the Florida Panthers.
Should the contest in Sunrise, Florida go off without interference; the Rangers will then close out 2021 on Friday night (New Year's Eve), in a game against the Tampa Bay Lightning.
And to quickly go back to something I said at the end of my Rangers/Golden Knights review (a blog that now feels like I wrote it ages ago) – the previously scheduled Rangers three-game home-stand lasted all of one game.
It's assumed that the Rangers will make-up these recently postponed games with the Canadiens and Red Wings sometime during the first three weeks of February – the end result of the NHL saying no to the Chinese Olympic games just last week.
And oh yeah – needless to say, the NHL will have to figure out what to do with Canada in the interim too, as the Rangers also have to make-up a game with the Ottawa Senators as well. However, this all feels like a case of "you must be able to crawl before you can walk" type of a deal.
At this time, let's try to blow through the COVID news as fast as possible, because as mentioned 9786786868686 times on this site, I hate talking about this and it all feels like a waste of time. That said, this topic is unavoidable.
---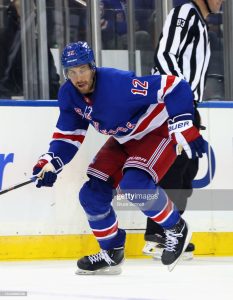 On Christmas Eve, when the NHL first announced that they were extending the pause for at least one more day, my initial reaction was "this sucks." However, and at the same time, I also thought – "if this is what it takes to get back to normal and to rev up at full-speed – then one more postponed game isn't the end of the world either."
On Sunday, December 26th, and while our neighbors up north were celebrating "Boxing Day;" the Rangers reconvened at practice, where like every other NHLer in the league – they too took part of mandatory COVID-19 testing.
After all testing was completed, the Rangers announced the following on social media, using Twitter as their medium of choice:
For the Rangers, this news isn't truly all that bad.
Sure, in a perfect world you wouldn't be testing any of these guys to begin with, but when you look at how other teams have been ravaged with positive tests – the Rangers came out fairly unscathed here. (Heck, just look at the cross-town Islanders, who added four players of high value to their COVID list on Sunday.)
Of course, losing first pair defenseman Ryan Lindgren for any significant amount of time isn't a good thing, but it is what it is. For a season full of cliches, we're back to "next man up."
At Sunday's practice, Libor Hajek, who has been playing well since first receiving ice time once Nils Lundkvist caught a bug, filled in for #55.
Losing Nemeth is obviously the least of the Rangers concerns – and I know that sounds callous. That's not my intent, I'm just saying what it is.
The Rangers have plenty of options with their defensemen (and even more now, as I'll soon get into), so in the grand scheme of things, the Rangers can replace Nemeth fairly easily in the meantime.
Alexandar Georgiev, coming off of his best stretch of the season, isn't that big of a loss either – especially with CZAR IGOR now at 100% health.
As mentioned last blog, had the Rangers been able to play on 12/23 as scheduled, Igor would've manned the pipes against Montreal. He most likely would've done so again in the Rangers first game after Christmas, the game against Detroit, had it not been postponed too.
And like Nemeth, and as I'll get into in our next segment – replacing Georgiev is piece of cake and perhaps even easier than replacing Nemeth. Not only will CZAR IGOR resume active duty in net, but Keith Kinkaid is more than serviceable as a back-up too.
At this time, let's now get into this previously teased "next segment," which is something I've been discussing for a while on this site – the return of taxi squads.
---
Around 2PM EST on Sunday 12/26 (which was also the time that NHL teams were first allowed to re-open their practice facilities), SportsNet reporter, Elliotte Friedman, went on Twitter and confirmed that the NHL would be going back to using taxi squads. An hour later, he posted a story about all of this here: https://www.sportsnet.ca/nhl/article/nhl-nhlpa-working-covid-19-roster-protection/
Of note, Friedman posted this story long before the NHL made any sort of official announcement, but as is always the case – Friedman was right on the money with his reporting. In fact, teams were already posting taxi squad announcements on Twitter before the NHL released any sort of announcement too.
As Friedman reported, Bettman, the owners and the NHLPA came to an agreement on some temporary salary cap related news items, including the return of taxi squads.
When it comes to the topic of taxi squads, Friedman reported:
TAXI SQUADS: These are in-place until the All-Star Break, for now. Teams don't have to use them; maximum of six players; no one can be on it more than 20 days. There are some eligibility requirements. You can't be on it if you're on an NHL roster as of Dec. 22 (with the exception of emergency recall); are waiver-exempt; were on the NHL roster for at least 75 per cent of the regular-season days or played in 16 of a team's last 20 games through Dec. 22 (goalies who dressed but did not play is counted as having "played").
In addition, teams are now allowed to make emergency recalls, in the event that they aren't able to dress twelve forwards, six defensemen and/or two goalies.
Rangers-wise, once this news broke, it meant that Keith Kinkaid was an automatic lock to be recalled. When that happens is to be determined (see the Gallant press conference below.)
With all of the Rangers forwards accounted for, including Artemi Panarin, the only real decision to make is what to do with the defensemen.
Due to both Lindgren and Nemeth currently on the COVID protocol list, the Rangers are now down to Adam Fox, Libor Hajek, Jacob Trouba, K'Andre Miller, Jarred Tinordi and Nils Lundkvist, with the latter two practicing together on Sunday as the Rangers third-pair.
At the time of the announcement of taxi-squads, the Rangers were able to dress six defensemen. The new taxi-squad rules now allows the team some wiggle room – at least until the All-Star break.
However, and as Friedman suggested (and as we all probably thought too) – these taxi squads (and salary cap exemptions) can be altered and extended at any time, and forever as long as the NHL sees fit.
---
When you break it all down, whatever happens with the Hartford Wolfpack is the least of anyone's concerns. Pandemic or no pandemic – that's always the case.
It should be stated here, that as of right now, the Hartford Wolfpack are currently three points out of first place in the AHL Atlantic Division. The Springfield Thunderbirds, who are on top of the division, have 33 points. However, they've gained their 33 points in 25 games played, as opposed to the Rangers AHL affiliate, who have earned their 30 points in two games less, in 23 games played.
For at least the next five weeks of the NHL's 2021-22 campaign (and again, perhaps this could last longer and really, for the entire season at that), the Rangers will have to do what's best for them. If the Wolfpack get stripped of key talent, so be it.
In addition, it's not like this is a problem that's exclusive to just the Rangers – as all 32 NHL teams will soon be plucking talent from their AHL squads.
Zac Jones, who many wanted here from day one of this season, should draw the most interest. Yes, this will hurt Hartford, but no one is worried about that.
Conversely, the Rangers must also decide if it's even worth recalling Jones, especially if he won't get playing time. As we all know, it serves no purpose for Jones just to wear a suit everyday, when he could be getting meaningful minutes in Hartford.
Perhaps an alternative that would suit the Rangers the best would be a recall of veteran Anthony Bitetto. Nothing against the defenseman who grew up rooting for the Rangers, but he isn't in the Rangers long-term plans. Whether he plays in Hartford, sits in the press box at M$G, or plays sparingly for the Blueshirts – it's not a big deal.
The Rangers could also take a peek at defensemen Matthew Robertson and Tarmo Reunanen, who like Jones, are young prospects that the Rangers are high on. However, they're in the same boat as Jones too, meaning that it serves no purpose to have them in the press box every night.
And if the Rangers should need a young defenseman, whether as an emergency call-up or on their taxi squad – you'd probably want to give the nod to Jones anyway, who not only earned a spot in camp – but is the best of the lot today too.
---
Following all of the Rangers COVID-19 testing and practice, Gallant met with the media. Here's the five-minute video:
---
Gallant, as he's done throughout this "omicron" period, pretty much stuck with his "roll-with-the-punches" mentality.
I should also mention here that Gallant didn't tip his hat one way or the other in regards to a potential Rangers taxi squad. And with general manager Chris Drury knowing what's going on in Hartford much more so than Gallant – it's probably Drury, and not Gallant, whose opinions will carry the most weight, once the Rangers decide on what to do.
In addition, with the club having an extra day off prior to boarding Tuesday's flight to Florida – the Rangers have some time here. If and when the Rangers decide to form a taxi squad (and call-up Kinkaid too, based on whatever is going on with Georgiev), those announcements will most likely come either Monday after practice, or on Tuesday, when the Rangers are due to head south.
---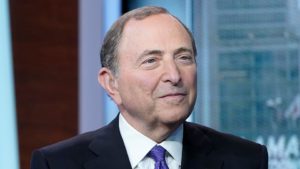 As of this writing, it's nearly 9:00PM EST on 12/26, and the NHL hasn't made any sort of an official announcement on their return to play plans yet. However, I'm sure once I hit the "publish" button on this blog, that's when that announcement will come out.
This is my way of saying to check out NHL.com after reading this blog, as I'm sure they'll have something official up soon enough.
As mentioned earlier when talking about Elliotte Friedman's report, NHL teams have already talked about taxi squads on Twitter, so we know this is all happening. In addition, at around 8:00PM EST, ESPN, now in bed with the NHL, confirmed Friedman's original report.
(Of note: in ESPN's report, NHL deputy commissioner Bill Daly, who is Bettman's right-hand man, also confirmed all of the new roster rules that Friedman originally broke.)
In turn, all we're waiting for is the NHL's rubber stamp mark. We're also waiting for the NHL to say these three words too: "NO MORE POSTPONEMENTS!"
(And as talked about a lot during these last few blogs, as someone with a road-trip coming up at the start of the New Year to Vegas and California, I am hoping all of these new measures ensures no more future postponements. Plus, with the NBA and NFL still marching on, it's my belief that the NHL looks poor here during this latest state of pause.)
As we start to wind down, how about we get into bars, tattoos and sports jerseys – three things that I'm most certainly a fan of!
---
A few weeks ago, during my Seattle road-trip blog (located in the archives of this site), I talked about "The Angry Beaver," a local watering hole in the city where Meg Ryan and Tom Hanks were once "sleepless" in.
As mentioned, "The Angry Beaver," long before the inception of the Kraken, was Seattle's first sports bar exclusively dedicated to the NHL. (Other hockey bars in Seattle, since the founding of the Kraken, have now popped up.)
On December 11th, 2021, restaurateur Denis Ladouceur opened the doors of "The Canuck," a new bar in the Chelsea section of "the city that never sleeps." Just like the "The Angry Beaver," the bar is a one-stop destination for hockey fans looking for a bite and a drink (or two, or three, and you get the point!)
For those who don't know, Ladouceur is a former hockey player and a forward who spent the turn of the century at Cornell University. After four years with "The Big Red," he later played several seasons at both the WCHL and ECHL levels.
While I haven't personally visited "The Canuck" just yet; based on the reports from fans who have, the bar, and as you would probably assume – does serve both Molson and Labatt Blue beer. (And if they can get Gretzky's 99 whisky on their shelves – I'll be there in a heartbeat!)
The Canadian delicacy known as poutine (and for all you french fries and cheese curd fans that are out there), is also a staple of the restaurant/bar. (For what it's worth, "The Angry Beaver," some 3,000 miles away from "The Canuck," also whips up Montreal's favorite dish.)
Since the bar/restaurant isn't even three weeks old at the time of this writing, there is no website for the establishment yet. However, if you search "The Canuck NYC" on Facebook, a page promoting the bar will pop up. (The bar also has a Twitter page, @TheCanuckNYC.)
"The Canuck" replaces the former "Jake's Saloon" at 202 9th Avenue, between 22nd and 23rd Street. For those wondering about "Jake's Saloon," the bar is still operational, having relocated to 202 West 23rd Street
Of course, with the state of the world, and until the latest fear about COVID's latest variant, <cue the eerie BA-BA-BUM music> the omicron variant, subsides – these are tough times for small business owners, especially someone trying to get a bar/restaurant off of the ground – a business that is tough enough already, COVID or no COVID.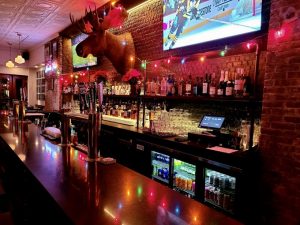 As mentioned, I haven't been there yet to give you the full details; but hopefully within the next few coming weeks I can stop in, and then give you a first-hand review/report of the experience.
Very often on this site (especially since I have written two blogs in the past about bars around Madison $quare Garden), I'm asked by fans (both supporters of the Rangers and fans of the visiting team alike) – "what's a good hockey bar in NYC to go to?"
While "The Mollie Wee" remains my favorite bar for Ranger pregame belts and pops, it's not really a hockey bar either. It's a Rangers bar. And while I don't know their financials, nor is it any of my business either –  it's my guess that the bulk of their profits are generated during the two hours prior to any Rangers game.
For a true hockey bar, "The Flying Puck" (and as the name would suggest), and which has since become a victim of both COVID and Manhattan developers, was always my answer.
With "The Flying Puck" no longer in operation, I'm hoping "The Canuck" can be my new answer to inquiring fans looking to get their beak wet.
All the best to Mr. Ladouceur and his new project.
---
Friend of the blog, Andre Donadio, currently making a living in San Paulo, Brazil, shared the above picture on his Twitter account, which you can visit by checking out @donadio39.
As you can tell, Donadio has forever marked himself as a true devotee to #23 on the Rangers, Adam Fox. (And have I mentioned that Adam Fox once won a Norris Trophy on this site? What's one more time!?)
When I shared Donadio's art work on my social media accounts, some fans thought he was crazy to get such a tattoo, remarking, "what if Fox gets injured or traded?" (To that I say – Fox will always have the Norris!)
While the first part of the question is always a probability, and for as unlikely as that is; even unlikelier is the notion of Fox wearing a jersey without the diagonal letters of R-A-N-G-E-R-S on it. (And yes, I am aware of alternate third Ranger jerseys, but you know what I mean here!)
Your personal feelings on tattoos aside, I think we can all agree that Donadio's artist did a bang-up job here.
And yes – it's only a matter of time before Donadio will have to revisit his artist, and then get the letter "C" tattooed on his arm too!
---
Two blogs back, I wrote a piece on Cosby sports, where I raved about the recent work they did for me, which ironically, was an Adam Fox Rangers alternate jersey:
During my piece on Cosby's, I also relayed to you how Fanatics, now the NHL's official supplier, has disappointed a myriad of fans, including friend of the site Captain Dave:
On Christmas Day, Rangers fan Connie Crameri shared the following on Twitter:
@Fanatics totally mortified!!! This is what we saw when my son opened his gift!!
NOT what I expected from your company!!! Will be contacting customer service and writing a letter to corporate Monday!!@NYRangers isn't this sad!! 😞 pic.twitter.com/z1AEphyfCs

— connie crameri (@CrameriConnie) December 25, 2021
---
While I hope Crameri's concerns are addressed by Fanatics, and like Dave, hopefully issued a refund and a replacement jersey too – of course I have a bad joke for you at this time.
Bear with me – maybe Fanatics were trying to be gentlemen here, and didn't want to force the "D" on Crameri.
<RIM SHOT>
Horrendous jokes like these will run you a two drink minimum. And hey, try the veal! (Maybe I can perfect my horrific take at comedy at "The Canuck," where then you can also enjoy the said two drinks minimum and perhaps a veal dinner as well!)
Alas, I digress.
Seriously speaking, doesn't Fanatics employ people whose sole job is "quality control?"
And for what it's worth, Dave and Crameri aren't the only people to have headaches with Fanatics. You can find stories similar to theirs all the time on social media, where these stories aren't just exclusive to Ranger or NHL fans either. There are countless horror stories among fans of the NFL, MLB and NBA too.
My advice to Dave and Crameri – continue to fight the battle against Fanatics and pray to the hockey gods that you get a refund. In the meantime, have your jerseys fixed-up by going to Cosby's.
PLUGS TIME!
---
The first plug of tonight's blog – the mandatory plug for my new book, "The New York Rangers Rink of Honor and the Rafters of Madison Square Garden".
As mentioned previously, the book is now available in hardcover, in paperback and in Kindle formats. To purchase a copy of the book, visit this link:
https://www.amazon.com/Rangers-Rafters-Madison-Square-Garden-ebook/dp/B09CM5N2WD
For those still looking for signed paperback versions of the book, I have re-ordered more copies. I now have 14 signed copies for sale at $25 a pop (includes shipping price) through me directly. Here is all the information on that:
---
Here are my last few blogs, in case you missed them: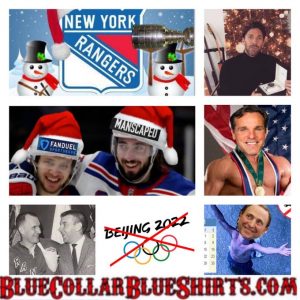 ---
---
---
If you haven't already, subscribe to this blog for the next update:
---
Up next (or so we hope): a battle between two third-place teams, as the Metropolitan Division Rangers visit the Atlantic Division Florida Panthers.
Drop the puck.
Stay FABULOUS my friends.
As always here, thanks for reading and…
LET'S GO RANGERS!
Sean McCaffrey
BULLSMC@aol.com
@NYCTHEMIC on Tweeter