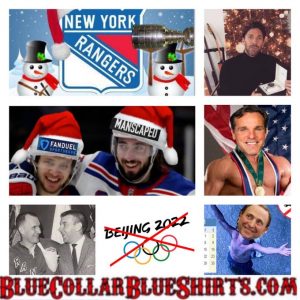 Greetings and salutations everyone and welcome to another blog here on BlueCollarBlueShirts.com. AH-CHOO!
If there are two topics that I absolutely hate talking about on this site, those two topics are COVID-19 and the Olympics. With that said, of course that's our lede story for tonight. I'll try to make this as painless as possible.
As you've probably heard already (and as previously covered in this space), the <cue the eerie DAH-DAH-DAH music> OMICRON variant has wreaked havoc upon the NHL schedule, where the league has now postponed a total of fifty different games across America and Canada. As a result, and as was expected – the NHL's involvement in the 2022 Chinese Olympic games is now off.
No matter where you go, one phrase that you're seeing all over the place is "material disruption to the schedule."
This is another way of saying that this was the NHL's decision to pull their players out of the Olympics, rather than the players and/or the NHLPA deciding to do so. This news also eliminated any future potential squabble about monies and schedule – where prior to this news, a January 10th, 2022 deadline was set.
At this time, let me give you the official press releases from all of the parties involved.
Up first, the NHL, who broke the news on Wednesday morning via Twitter with this graphic:
In case that graphic makes your eyes squint, here is the full text version of the press release, courtesy of https://media.nhl.com/public/news/15568 :
NEW YORK (Dec. 22, 2021) – With the National Hockey League's regular-season schedule having been materially disrupted as a result of increasing COVID cases and a rising number of postponed games, the National Hockey League announced today that NHL Players will not participate in the 2022 Winter Olympics in Beijing.

"The National Hockey League respects and admires the desire of NHL Players to represent their countries and participate in a 'best on best' tournament. Accordingly, we have waited as long as possible to make this decision while exploring every available option to enable our Players to participate in the 2022 Winter Olympic Games," NHL Commissioner Gary Bettman said. "Unfortunately, given the profound disruption to the NHL's regular-season schedule caused by recent COVID-related events — 50 games already have been postponed through Dec. 23 — Olympic participation is no longer feasible. We certainly acknowledge and appreciate the efforts made by the International Olympic Committee, the International Ice Hockey Federation and the Beijing Organizing Committee to host NHL Players but current circumstances have made it impossible for us to proceed despite everyone's best efforts. We look forward to Olympic participation in 2026.

"Our focus and goal have been and must remain to responsibly and safely complete the entirety of the NHL regular season and Stanley Cup Playoffs in a timely manner. Therefore, with stringent health protocols once again in place, we will begin utilizing available dates during the Feb. 6-22 window (originally contemplated to accommodate Olympic participation) to reschedule games that have been, or may yet be, postponed."
---
Here is the press release that the NHLPA issued, courtesy of https://www.nhlpa.com/news/1-22236/statement-from-nhlpa-executive-director-don-fehr-on-olympics :
TORONTO (Dec. 22, 2021) National Hockey League Players' Association (NHLPA) Executive Director Don Fehr issued the following statement today regarding the Olympics:

"Since the CBA extension was reached 17 months ago, NHL players have looked forward with great anticipation to once again participating in the Winter Olympics. Until very recently, we seemed to be on a clear path to go to Beijing. COVID-19 has unfortunately intervened, forcing dozens of games to be postponed this month alone. No matter how much we wish it were not the case, we need to utilize the Olympic period to reschedule these games.

"Certainly, the players and hockey fans are quite disappointed. But playing a full 82-game season this year, something the pandemic has prevented us from doing since the 2018-19 season, is very important. We expect that NHL players will return to the Olympics in 2026.​"
---
As mentioned a few weeks back, I don't care about the Olympics. It's my belief that most American hockey fans share my opinion, while fans in other countries do not – including fans in Russia, Canada, Sweden and Finland.
Yes, watching Olympic hockey is entertaining. It's fun to watch the best players in the world do their thing.
However, I much rather see the New York Rangers win one Stanley Cup, rather than see Team USA win 10, 100, 1,000, 10,000 (you get the point) gold medals.
(As I was writing that above paragraph, it did make me wonder about something. What would fans of the Toronto Maple Leafs rather see – the Leafs win their first Stanley Cup since 1967 or Team Canada win the gold? Heck, it's my opinion that some Leaf fans would sacrifice a Canadian gold medal if it means that the Leafs could get past a first round!)
As a hockey fan, my allegiance and devotion lives and dies with the Rangers. Hands down.
Sure, I like to follow the Blueshirts alumni of the league, whether it be Cam Talbot, Ryan McDonagh, Mats Zuccarello, Tony DeAngelo, Carl Hagelin, Marc Staal, Vinni Lettieri and others – but at the end of the day, my number one concern are the New York Rangers.
Furthermore, and to reiterate my stance – even if the Rangers were in last place this season, and with no hope of getting out from the bottom of the barrel – my opinions wouldn't change on this topic.
I just don't see how the risk matches the reward, especially not this year between the rumored 3-5 weeks of quarantining and going to a communist country like China – a country that may not be on the up-and-up with North American athletes.
Had the NHL players gone to the Olympics as planned; the Rangers would've risked the health and the chance of NHL games missed, between players such as Artemi Panarin, CZAR IGOR Shestyorkin, Chris Kreider, Adam Fox, Kaapo Kakko, Filip Chytil, Mika Zibanejad, and perhaps even AHLer Adam Huska too (Slovakia.)
With the Rangers having an extremely strong chance of qualifying for the 2022 Stanley Cup Playoffs this season (and assuming you're a Ranger fan like me), would you want to take the chance of losing any of the Russian or American Rangers for at least three weeks (and perhaps even longer than that), especially during the final stages of a playoff race/playoff seeding? I know I wouldn't.
I'll always remember every Ranger of every Stanley Cup winning team. (After all, I have written a book about this, and two more books are currently being worked on too. More on this at the end of this blog.)
Conversely, I can't name every American gold medalist hockey player. I can tell you about Herb Brooks, and name some of the players from the 1980 "Miracle" team, but beyond that, I don't really care.
And yes, perhaps part of this is because the Americans don't exactly have a winning track record at the Olympics and/or during most international tournaments. Usually, Canada and Russia, where the national sport is hockey, wins these international tournaments. (In addition, European countries are now becoming better than ever before too.)
That said (and even if Team USA had won every international tournament known to man), at the end of the day, my number one hockey concern will always be the New York Rangers.
For me, the Olympics (and the IIHF Worlds Tournament too), will always be "bonus" hockey. When it's on, I'll watch it, when even then – I'm pulling for whatever current Rangers that play in these tournaments to do well.
And if David Quinn is behind the bench for Team USA (as is rumored), it will give me an incentive (and more of an interest) to watch the Olympics during the days/nights that the Rangers are off. However, if the Rangers are playing at the same time as Team USA – I'll read about what Team USA did rather than watch it.
---
I don't want to go too long on this, but if you're a regular reader of these blogs, then you know that I wasn't on the "FIRE DQ" bandwagon like many Ranger fans were on last season. I was indifferent about DQ, as I understood his situation.
Plus, for all the Ranger fans that buried DQ non-stop, often ignored during their many complaints, was that both Artemi Panarin and Mika Zibanejad had their best years under him. Ditto Tony DeAngelo. And then there was that Adam Fox guy, a #23 in blue who won the Norris Trophy while playing for DQ.
Unless you just feel rage and see bright red whenever DQ's name is mentioned; the following is also true – David Quinn never had the roster that current head coach Gerard Gallant has today. Until James Dolan flipped the script, DQ's role was to help facilitate a rebuild, while Gallant's role is to win the Stanley Cup.
This is my way of saying that I'd like to see what David Quinn could do with a competitive team – and not a team that teared it all down to the studs.
Should DQ do well in China (assuming he's tabbed with the head coaching gig, as myself and others feel like will happen), it should help his case for his return behind an NHL bench.
(As talked about before – I hope this potential return takes place in Philly, just because of the irony if that should happen. Plus, I have a fake parlay going too, where I predicted the firing of Alain Vigneault, need DQ to wind up in Philly, and then for AV to return to Montreal in order to hit all three legs!)
And as far as the Drury/DQ relationship goes, based on what DQ recently said on "The Cam and Strick" podcast, he gets it.
New general managers need to choose their own people. I don't think Drury giving DQ the pink slip in New York would impact DQ's chances (positively or negatively) of getting the head coaching gig of Team USA. These guys are big boys and they all know that no head coach lasts in one place forever.
Just food for thought.
However, I do have one conspiracy theory for you before wrapping up on this COVID and Olympic news. Bear with me!
---
As mentioned at the top of this, you're seeing the phrase "material disruption to the schedule" all over the place. I think Gary Bettman was the engineer of that quote – and I don't blame him one bit. After all, that's part of his job – to play peacemaker.
Rather than letting this drag on all the way through to the January 10th financial deadline (which is key, because the 1/10/22 date only had to do with money, such as the NHL footing the cost for travel and accommodations – AND NOT if the players physically played or not); with 50 NHL games now postponed, Bettman was able to trigger the "material disruption to the schedule" excuse clause.
When it comes to my suggested conspiracy – this is why I think all of the American vs Canadian games were postponed. In addition, a bunch of games, where teams only had 2-3 asymptomatic players testing positive, also were postponed too.
Yes, I know the Islanders had a new building to open (which is my belief why they played those games, despite having eight players on the COVID-19 list); but in just the last five days alone, the NHL has postponed games with far less players testing positive than the Islanders had during late November.
By padding the number of games postponed, Bettman was then able to avoid a battle between the owners (who did not want their players going to China) and the players (where many in the NHLPA did want to go to China, including superstars such as Alex Ovechkin, Connor Hellebuyck, Connor McDavid and Steven Stamkos.)
For Bettman, the league and their owners – it's much easier to worry about rescheduling games during the first three weeks of February in North America, rather than worrying about who and who doesn't come back from China following the Olympics.
As mentioned last blog, unlike the NFL which is changing their ways, the NHL will always have the "Canada" problem. However, while Canada (in particular, Quebec) presents headaches and issues – it's much easier dealing with Canada than it is to deal with China.
Who knows what happens next, as there are some people suggesting that the NHL, in order to complete a full 82-game season (and in a timely manner), change the schedule entirely.
(And you can bet your bottom dollar that the NHL will do whatever they have to do to play all 82 games, as they need the revenue. In addition, the players have an escrow debt to pay too.)
Rather than playing the current weighted schedule; it's being suggested, in order for each team to play 82 games, that all the Canadian teams play each other exclusively. Ditto the American franchises.
That may be too much of a stretch, but at the same time – all options must be considered, especially with Canada going back to the Stone Age.
The Great White North (and rather than trying to live through the times and the virus), Canada seems to be cowering from everything. It's amazing that they still don't have the Spanish Flu of 1919 mandates alive and well today too!
We'll see what happens next, but I do think the majority of people involved got what they wanted here – the NHL and their players will remain in North America for the rest of the season.
And as suggested a month back (and what seems to be all the rage today) – just bring back the World Cup of Hockey as soon as possible, perhaps as early as Fall of 2022. After all, there is an escrow debt to pay down, and monies generated from this potential tournament would put a dent into that debt.
For two topics I hate, I sure spent a lot of words on them! I can't wait for this COVID, Delta, Omicron, Transformers, Ghostbusters, Matrix and whatever other variant pops up next to all be over with.
Let's now get into something silly!
---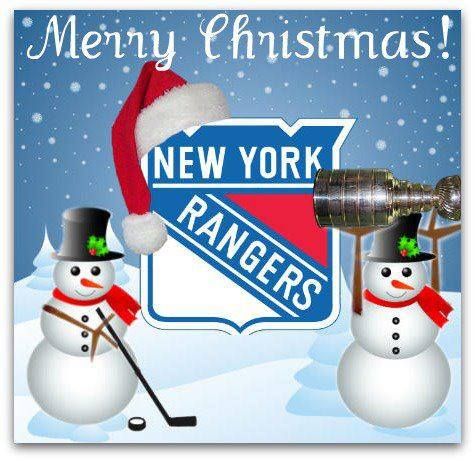 Whenever Christmas rolls around (and yes, despite what you may read elsewhere, it's still okay to say "MERRY CHRISTMAS"); there are always 63764789638926865247892678946389 different articles, blogs, podcasts, social media postings, etc, with the following headline: "(Insert Team X here) Wishlist for Santa."
Of course, this is all corny, but it's also a way to suggest what you want to see out of your favorite team (and their players) during the upcoming new year.
Since there is no real Ranger news to talk about right now (the team held practices on Monday and Tuesday, where not much took place. The team, after the break, will then return on 12/26 for practice & for mandatory flu testing and will then play on 12/27 when they host Detroit at M$G) – why not do one of these jerky lists myself?
Without further ado, here's my wish-list for each Ranger, as we approach the back-half of the 2021-22 season. I'll spare you from using the word "Santa" here!
---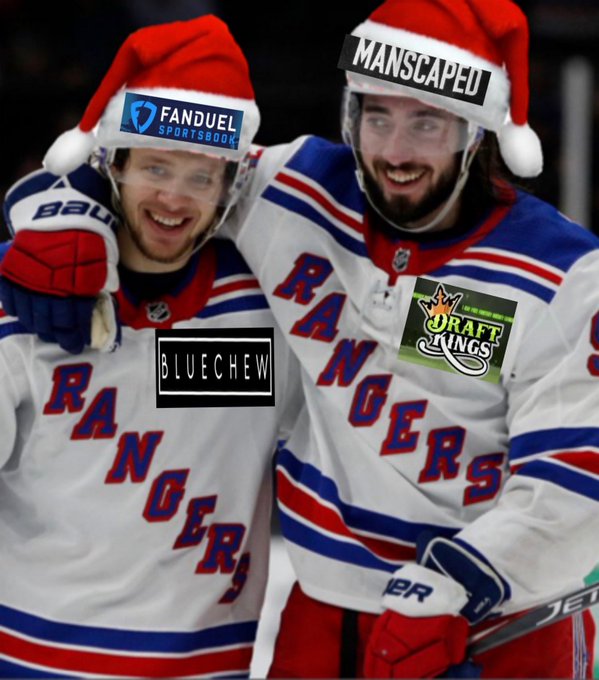 FILIP CHYTIL – a new jersey, and I'm not talking about an alternate Lady Liberty jersey either.
---
ADAM FOX – another Norris Trophy and the chance to make noise in the playoffs too.
---
JULIEN GAUTHIER – to figure it all out and start capitalizing on all of his chances.
---
ALEXANDAR GEORGIEV – the ability to play strong every 7-10 days, just like he does during a stretch of consecutive games played in one week.
---
BARCLAY GOODROW – like Rodney Dangerfield, "respect" from Ranger fans who can't get their heads out of their charts and graphs.
---
LIBOR HAJEK – an every day role, whether here or elsewhere.
---
DRYDEN HUNT – more goals, as a reward for all of his hard work.
---
KAAPO KAKKO – selfishly, while it would be great for the Rangers and their 2022-23 salary cap if this doesn't happen – a consistent stretch of games where he's the best player on the ice.
---
CHRIS KREIDER – to not only surpass the 30 goal mark for the first time in his career, but the 40 goal mark too.
---
ALEXIS LAFRENIERE – like Kakko, a nice long stretch of games where he averages a point a game. It's time to throw the "bust" label into the fireplace. (Not my opinion, but I'm constantly tagged in social media postings about Lafreniere being a "bust.")
---
RYAN LINDGREN – more headlines as the team's unsung hero – something his head coach is keenly aware of.
---
NILS LUNDKVIST – to pick up where he left off prior to his recent health ailment.
---
GREG MCKEGG – better food in the press box.
---
K'ANDRE MILLER – the ability to "get it" and start using that big frame of his to create havoc like his partner Jacob Trouba.
---
PATRIK NEMETH – a new team for the 2022-23 season.
---
ARTEMI PANARIN – his first "real" playoff run with the Rangers. (Unless you count that 2020 debacle as his first.)
---
RYAN REAVES – just one goal, as a reward for all of the intangibles he brings to the club.
---
KEVIN ROONEY – a new contract stuffed in his stocking, as signed by Chris Drury.
---
IGOR SHESTYORKIN – his first Vezina and no more injuries. Let's see a healthy Igor get his first crack at trying to win sixteen games in the Spring.
---
RYAN STROME – like Rooney, a new contract, preferably with more money and years than the one Rooney should get.
---
JARRED TINORDI – a nice warm bed in Hartford.
---
JACOB TROUBA – to finish out this season, and the remaining years left on his current eight-year deal, by playing the way he's played during the last six weeks. This current version of Trouba is the one that Jeff Gorton envisioned two years back.
---
MIKA ZIBANEJAD – to figure it all out and consistently score goals. Time to shed the "streaky" label!
---
KENNY ALBERT – to become the successor of the legendary Sam Rosen.
---
CHRIS DRURY – a chance to win the NHL's Executive of the Year award. And if he doesn't win it? Well it won't ruin his Christmas!
---
GERARD GALLANT – his second Jack Adams victory.
---
JOHN GIANNONE – to one day crack open a beer as the bartender of the "Bud Light Bar."
---
HENRIK LUNDQVIST – a full time deal with the M$G Networks and for his jersey retirement ceremony to go off without any sort of COVID issues.
---
JOE MICHELETTI – a FABULOUS New Year, just absolutely FABULOUS.
---
BILL PIDTO – thirty more seconds added to his "150 seconds" segment.
---
SAM ROSEN – to enjoy his grandchildren on a full-time basis.
---
STEVE VALIQUETTE – a full-time seat between Shannon Hogan and AJ Mleczko on Islander broadcasts.
---
As we start to head home here, and as I wish you a Merry Xmas and all that happy horseshit – I may take the rest of the week off, barring any real news being broken. (Which I don't envision.)
This NHL "pause", for as silly as it is (and I don't want to get into the topic of COVID again), has given me free time to go back to working on my second (and possibly third) book – "The Best and Worst Trades in New York Rangers History & Everything In-Between." (Working title!)
It's funny, when I used to run updates on this site when working on my first book, some of you guys wished me luck, but also said, "will you ever really finish it?" Publishing that book was a feat and an experience to itself.
If you can believe it, this second book may double the size of my first book. It's why I will most likely publish three editions – the years of 1926-1975 (Patrick-Francis), the years of 1976-2022 (Ferguson-Drury) and one massive complete tome, which could run 1,000 pages. If I decide to do this, this will save on printing/publishing costs, which will then make the book cheaper for anyone who wants to buy it.
As of right now, I'm up to 450 pages – and I just finished the Francis era. And that's without pictures, formatting, and everything else, as I'm still in the rough draft phase.
When it comes to getting this project completed, I still have ways to go.
Obviously, I'd like to get this book completed as quickly as possible, but I'll be happy with a September 1st, 2022 release date. However, these last two nights (and the rest of these off-days ahead) have helped me big-time.
In addition, I have had many people (including Walt Tkaczuk himself), asking me to release an updated version of "The New York Rangers Rink of Honor and the Rafters of Madison Square Garden" already, as I could easily add fifty names to that list, including Tkaczuk's old pal – Dean Prentice. (Prentice, and others, were listed in the "omission" section, where I also teased the idea of a "Volume II.")
Of course, time is always the issue, but I am plugging away, as writing about Rangers history is one of my favorite pastimes. I also think it's important to get books like this out there – since there's nothing else like them out there on the market.
And yes, I know I could self-publish books that are 100 pages or less, just like other independent authors, but as you long know by now – that's not my style.
If I'm doing a major project like this, and as was evident with my first book – I'm giving you my all and trying to present the most complete book as possible. Yes, great book sales are nice (and thank you to all who purchased my first book), but QUALITY (especially in regards to the information presented) is my number one concern.
PLUGS TIME! (As if the above wasn't a plug already!)
---
Up first (and before going into my normal spiel), on Wednesday 12/22, "The Blueshirt Underground Show" returned.
To watch their special Christmas-themed episode (one of their longest shows yet, and a show that features fellow scribe Russ Cohen), click the play button below:
---
The first plug of tonight's blog – the mandatory plug for my new book, "The New York Rangers Rink of Honor and the Rafters of Madison Square Garden".
As mentioned previously, the book is now available in hardcover, in paperback and in Kindle formats. To purchase a copy of the book, visit this link:
https://www.amazon.com/Rangers-Rafters-Madison-Square-Garden-ebook/dp/B09CM5N2WD
For those still looking for signed paperback versions of the book, I have re-ordered more copies. I now have 14 signed copies for sale at $25 a pop (includes shipping price) through me directly. Here is all the information on that:
---
Here are my last few blogs, in case you missed them:
---
---
---
If you haven't already, subscribe to this blog for the next update:
---
Up next: The Rangers return for flu testing on 12/26 and then host the Detroit Red Wings on 12/27.
Stay FABULOUS my friends.
Merry Christmas and all that jazz.
As always here, thanks for reading and…
LET'S GO RANGERS!
Sean McCaffrey
BULLSMC@aol.com
@NYCTHEMIC on Tweeter