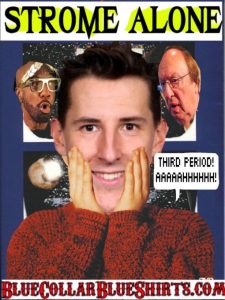 Greetings and salutations everyone and welcome to another blog here on BlueCollarBlueShirts.com. We waited twelve days for this?
Originally, I was going to do a blog last night (Tuesday), prior to tonight's Rangers/Panthers game. (And yes, soon enough, we'll get into that game!)
However, as I was listing the subjects I was going to talk about, all of them were COVID-19 related. Rather than wasting my time (and boring you in the process), I skipped doing that blog and went back to work on my second book. Without question, that was a much better use of my free time.
Plus – if you want to skip/scroll through the COVID stuff, you now have the option to do so tonight! You're welcome!
This site is now in its eighth year of existence. If there's one thing I said when I first opened this site, and then have repeated many times over the years, it's this – I do this for fun and as a hobby. Once it stops becoming fun, that's when I'll pack it in.
Writing about COVID is never fun. Instead of writing as a hobby, whenever I talk about COVID it feels like work – work I'm not paid for at that!
This is my way of saying that I won't be writing blogs that are 100% dedicated to the topic of COVID anymore. To me, it's a waste of time – especially since all COVID news becomes dated the second you talk about it, or in my case – publish a blog about it.
(For example, I wrote this introductory preamble, and all of the COVID stuff that you'll soon see below at 4PM – three hours prior to tonight's game. At 4:45PM, two stories were already dated and needed updates. I'll timestamp those updates for you once we get there to give you a better look at what I'm talking about.)
Simply stated – I just want to talk about what happens on the ice, whether it's from Rangers past, present or future.
And don't get me started on the topic of Canada and their mandates either! I'm going to skip all that stuff tonight, because just like Chris Kreider recently said to Mollie Walker last week, "I'm sick and tired of being sick and tired!"
In addition, I think you all know by now how I feel about all of this crap. This is all silly and now it's redundant as well. It's even pathetic.
Yes, I'm going to open up tonight's blog by racing through all of the COVID-19 related topics. Once I breeze though that, I'll get right into tonight's Rangers vs Panthers game, the Blueshirts first game since December 17th.
I think what bothers me the most is the hypocrisy of everything.
The NHL, despite their worthless pause, are still postponing and canceling games left and right. It's pure insanity.
I won't bore you with going into my "Greatest Hits" here, and bring up once again, how the NBA and NFL are still playing games (including at M$G) and how this is all unfair to the fans – especially road-trip fans (like myself) and season ticket holders – whose tickets currently have as much value as a Jets or Giants "personal seat license."
And yes, as mentioned 7678968969 times before, we know that Canada, and their mandates, are a huge problem/monkey wrench. However, the NHL, at least in my opinion, needs to show some balls here, and defiantly (and proudly) shout, "GAME ON!"
Having the league in a perpetual state of uncertainty isn't good for anyone.
It's even more of a farce when the league still continues to postpone and cancel games (including the Islanders/Red Wings game from Wednesday night too), especially when you know that if the St. Louis Blues and/or the Minnesota Wild have a massive full-blown outbreak – that no matter what, they'll play the Winter Classic game on New Year's Day. The NHL will dress fans on the ice if that's what they have to do in order to get that game off as scheduled.
And let's not even bring up how stupid it is, and what a horrific business move that it is too, for the NHL to also have eight other games scheduled on New Year's Day, including one game (Senators vs Leafs) scheduled at the same time of their big event.
Only the NHL, only the NHL.
Lastly, before running down all of the COVID stuff I had scheduled for Tuesday night; can someone answer me the following question:
"WHAT IS THE POINT OF INSTALLING SIX-MEN TAXI SQUADS AND EMERGENCY CALL-UPS IF YOU'RE STILL GOING TO POSTPONE GAMES ANYWAY?"
I think I have made my point. Let's now get into all of the non-Ranger news, and then get into our favorite team afterwards.
---
On Monday, USA Hockey sent out a press release confirming what I thought would happen (and what many of you thought too) – David Quinn is now taking over the reins of the men's Olympic team.
For complete details, here is USA Hockey's press release on the announcement: https://teamusa.usahockey.com/news_article/show/1200437
Just a few things here:
— As talked about when I first made this prediction, I hope David Quinn does well. Sign me up for "Miracle Part II!"
— It's being suggested that AHL players, with the hopes of becoming NHL players, may be part of whatever roster is built. Of course, that may change now, with the NHL currently allowing their teams to form taxi-squads again.
— If Quinn is limited to only American ex-NHLers playing overseas and college kids, maybe this will benefit him, since he's had his most success at the college level anyway. Also helping DQ here is that expectations won't be high, so this is somewhat of a win-win situation for him – outside of you know, having to go to China.
In addition, with the NHL now out of the Olympics, former Rangers goaltender John Vanbiesbrouck, who was named as the assistant executive director of hockey operations at USA Hockey in June of 2018, is now the team's general manager. Of course, that announcement was met with some vitriol too.
I talked all about Beezer's incident from 2003 in my first book. I won't rehash all of that again here. All I will say is that he made a huge mistake, what he did was wrong (and pig-headed at that), and he paid for it – both financially and professionally – just as he should've.
It's also why whenever I hear players like Akim Aliu, and others like him, looking for a dime and screaming about how no one would listen to them, I'm highly suspect of all of them.
After all, a precedent was set way before Aliu and others tried to extort money out of the NHL (which is what they tried to do after making their accusations.)
Prior to Aliu looking to get his palm greased; fifteen years prior, in the OHL, a league much inferior than the NHL, Trevor Daley rightfully (and immediately) spoke out about Beezer. In turn, Daley's teammates supported him. Beezer quickly re-signed before he could get fired and the Sault Ste. Marie Greyhounds moved on.
Even better, Daley then went on to have a sixteen season career in the NHL, where unfortunately for Ranger fans, but good for Daley – he won two Stanley Cups with the Pittsburgh Penguins in 2016 and 2017.
---
I know we now live in the era of cancel culture, which can also be very hypocritical at times.
As long as some people/celebrities align with cancel culture's political beliefs, those people are fine. (Look no further to Alec Baldwin as an example here.) If these people/celebrities have different ways of thinking than the cult of cancel culture – then, and only then, are these human beings becoming proverbially burnt at the stake.
In no way am I excusing or pardoning Beezer for what he did/said.
However, it's been twenty years. He paid for what he did. He's had to deal with it. Should he be boxed off and sent to Siberia for the rest of his natural life? As a society, aren't we supposed to forgive, heal and root for people to become better humans? Or has that all been thrown out the window?
That said, he did what he did, and Beezer's name will only give fuel for his detractors, and for non-American hockey fans too.
It's such a slippery slope here. That fact can't be denied.
I do think that after twenty years, like anyone else, he deserves a second-chance. He's atoned for what he did. At the same time, especially in these times, I also understand why fans don't want him as the top face and voice of USA Hockey.
Speaking of USA Hockey, that brings us to another COVID related story.
---
Recently, I had some of you asking me if I'd be covering or talking about the World Juniors tournament and the cancellation of the women's U-18 tournament. In a word, "no."
As I've stated numerous times in the past, and is evident in all of my writings, including my books – history, and not prospects, is my forte and number one interest. I rather talk about what happened, than trying to predict what will take place in many years down the line.
Plus, I just have no interest in watching kids play hockey, unless it's somehow immediately Rangers related.
The extent of my prospect watching lies in Hartford, Connecticut. However, even then, I must admit that I have only watched one Wolfpack game this year and for two reasons:
1 – The camera work is so bad that I found myself getting woozy while watching it.
2 – Unlike recent seasons, outside of really Zac Jones, there is no player to really keep an eye on down there.
When CZAR IGOR was in Hartford, I watched nearly all of his games – just as I did when Shestyorkin was playing in the KHL. The Rangers rebuild is over, and there really isn't a "stud" in Hartford right now that can become a key piece of the future. The future is now.
---
When it comes to the women's tournament being canceled, what can you do?
Like anything else, it's about dollars and cents – dollars and cents that these women don't draw/generate.
For all the belly-aching and pandering about how there needs to be a focus on women's sports; very rarely do you hear these loud voices pony up their own bucks in support. It's much easier to scream and judge on social media than to put your money where your mouth is.
And since I don't watch (nor care about) teenage boys playing inferior hockey either, it's not like I can pretend and go on a soapbox like others. I simply can't lecture you about how unfair this all is. I fully understand that the males generate much more money than their female counterparts, and at the end of the day, that's what it all boils down to.
Plus, with hockey reeling from a financial aspect, especially since the advent of our favorite word, "COVID" – it's tough for the NHL or any other hockey entity to incur more monetary losses, which is what women's hockey (like most female sports outside of MMA, pro wrestling and tennis) always does. It's just the reality – nothing more, nothing less.
If a women's hockey player could generate millions and millions of dollars like an Amanda Nunes, Rose Namajunas, Valentina Shevchenko, Becky Lynch, Sasha Banks, Charlotte Flair, the Williams' sisters, Cris Cyborg, etc – then I'm sure that tournament would've been played. However, women's hockey doesn't have such a star in their ranks, and that's why their games are the first to get canceled.
When it comes to the tournament that is going on, the World Juniors; on Tuesday, Team USA were forced to forfeit a game (a LOSS – and not a postponement), to Switzerland.
As the graphic above depicts, Team USA had two people sick with the flu. Yes, as in only two players.
It's being suggested that both players to come down with an ailment, that a good dose of NyQuil would've cured, were the team's two goaltenders.
Again, I'm not a prospects guy, but are you telling me that the team doesn't carry a third goalie and couldn't find a fourth (as a back-up) elsewhere? Two players go "ah-choo" and that ruins it for everyone else?
Maddening!
4:45PM UPDATE: The IIHF has now canceled the remainder of the Worlds Junior Tournament. Equality for all! No one gets to play!
And really, how did Canada ever overcome the Spanish Flu of 1919? They really are in the Stone Age right now.
---
In our final piece of non-Rangers news, on Tuesday, Brad Marchand posted the following on his Twitter account:
Listen, I get where Brad Marchand is coming from. He will be 34 years old in 2022. Come 2026, the next time the Winter Olympics rolls around, he'll be 38 years old. While he's won gold medals for Canada before (World Juniors, Worlds Tournament and the World Cup of Hockey), he's never played in the Olympics.
However you may feel about Marchand as a player, I think we can at least understand what he wrote. He's upset, and unless he can defy Father Time – he probably won't ever get a chance to play in the Olympics.
That said, I think he could've approached this better.
Rather than bitching about his current predicament, I think he should've provided a better solution.
Just as the Olympics have done in the past, I think Marchand should've championed for the Olympics to postpone the games – whether it be during the Summer of 2022 or during Winter of 2023.
As predicted in this space months ago, there are now rumblings about the NHL hosting another "World Cup of Hockey," whether it takes place prior to the start of next season or the season following. That said, the NHL's own man-made tournament isn't the Olympics either.
Despite my own general lack of interest in the Olympics; all of these players, especially non-American players, all grow up dreaming of representing their country at the Olympic stage.
It's probably doubtful that the hockey portion of the Olympics gets postponed, even if that's what would be best for the quality of competition, television ratings and overall interest.
Unfortunately for Marchand, and other players like him – he'll have to settle for his millions and millions of dollars instead. What a life.
Let's now get into the Rangers news that's COVID related, and then finally get into tonight's game itself.
---
On Tuesday morning, Larry Brooks, of the New York Post, released his latest article, a piece which you can read here: Rangers should postpone Henrik Lundqvist Night to properly honor a legend.
As the headline suggests, Brooks thinks that the Rangers should postpone the Henrik Lundqvist #30 jersey retirement ceremony, which is currently scheduled to take place on January 28th against the Cam Talbot and Mats Zuccarello led Minnesota Wild.
While never said outright, it is believed that Lundqvist wanted this ceremony to take place with his buddy, the former Ranger with the #36 jersey, in the building.
It should be stated here that the Rangers haven't said anything about Brooks' suggestion.
It should also be said that Brooks is extremely close with Lundqvist (he even gave him "The King" moniker), so it's my belief that Brooks wrote this after speaking to Lundqvist. I just can't see Brooks trying to poo-poo Lundqvist's big night without talking to his friend first.
You know where I stand – GAME ON.
I would hate to see this night get postponed, even if I wasn't a fan of Lundqvist's contract in his later years with the Rangers.
As I said in my book, he one million percent deserves to have his number in the rafters of Madison Square Garden. You can debate whether he's a Hall of Famer or not – but you can't debate his legacy among Ranger all-time greats.
---
As Brooks suggests (or as he was tipped-off), it might be difficult to get Lundqvist's friends and family in Sweden into New York for the 1/28 ceremony.
To that I say (and I know I'll be the only one to bring this up), back in 1967, when the Rangers honored Harry Howell for his 1,000th game played, the franchise (under Emile Francis) flew out plane-loads of Howell's friends and family from Hamilton, Ontario to the game. (Of course, the Rangers then waited 42 years to then retire Howell's #3, but that's a story for my new book and not now!)
Come January 28th, 2022, Howell's big night will have turned 55 years old. Are you telling me now, even with the flu, that the Rangers couldn't charter a private jet or plane for Lundqvist's crew? Hell, with over $100M in career earnings as a player (and who knows what else with endorsements), I think Lundqvist could foot the tab himself!
Should the event be postponed, it will create a myriad of issues, issues that I'm glad I wouldn't have to deal with.
---
As you all know by now, "Lundqvist Night" is the hottest Rangers ticket of the season. People have paid thousands and thousands of dollars to enter the building, where in some cases, these tickets/seats are obstructed, meaning that these fans won't even see Lundqvist's jersey in the rafters once it is raised!
Not only were these tickets jacked up by Ticketmaster, the Rangers official scam-artist ticket distributor – but prices were inflated like a hot-air balloon on the secondary market too.
And oh Part I: did I mention that many fans bought ten-game and/or partial season ticket plans, where they then resold the Lundqvist night tickets, which in turn, paid for the rest of their plan?
And oh Part II: did I mention that the Rangers took my suggestion, and have now sold tickets for a Hulu Theatre watch party, where they'll generate six-figures in profit too?
Just imagine if the ceremony is postponed, but the game goes on. Sorry Charlie – no refunds – the game was played.
It's in the best interest of everyone for the night to go off without a hitch and for the Rangers and/or Lundqvist to arrange transportation for #30's friends and family.
Fly them in now if you have to. Trying to figure out how to dole out refunds and risk pissing off thousands of fans (18,000 in all) is a situation that no Rangers ticket representative, nor the organization themselves, wants to endure.
And while I don't think it was Brooks' intention to create a shit-storm, that's what he did on Tuesday!
4:45PM UPDATE: The MSG Networks, in coordination with the Rangers, have announced their own version of a "30 for 30" special, where they will be airing Henrik Lundqvist clips and games on both their social media accounts and on the network for the next thirty days, all in preparation for January 28th. This is good news, as it tells us that they are full-steam ahead for Lundqvist's big night.
Let's now get into the Rangers of the 2021-22 season.
---
After talking about taxi-squads last blog (and following that blog, the NHL finally did issue a press release, where it was strongly urged for teams on the road to carry spare players), the Rangers made a flurry of moves.
On Monday, the Jacksonville Icemen, the Rangers ECHL affiliate, announced a bunch of roster moves, where most of them were call-ups for the AHL Hartford Wolfpack. At the same time, the Rangers also announced the call-up of Keith Kinkaid, which we all knew was going to happen the second when Alexandar Georgiev's name popped-up on the NHL COVID protocol list.
In addition, also on Monday, it was announced that Patrik Nemeth was no longer in COVID protocol. Instead, the Rangers made a trade with Omicron, where the Rangers received Nemeth in exchange for Jarred Tinordi. This is my dumb way of saying that Tinordi is now in COVID protocol.
If that wasn't enough COVID nonsense for you; on Tuesday, it was announced that Kevin Rooney, like Ryan Lindgren before him, is now in COVID protocol.
In response, prior to Tuesday's flight to Sunrise, Florida, the Rangers announced their taxi squad:
In other news prior to the Rangers flight from Tuesday; Gerard Gallant met with the media, where he said that the entire taxi-squad would be traveling with the team. This makes sense, because after all, the NHL had previously suggested that teams on road-trips do this, and because the Rangers finish out 2021 on the road, in both Sunrise and in Tampa.
Once the Rangers touched down in Florida, at 5:37PM Tuesday, the Rangers said the following:
"New York Rangers President and General Manager Chris Drury announced today that the team has recalled defenseman Zac Jones and forward Tim Gettinger from their Taxi Squad."
At the time, this didn't guarantee that Jones and Gettinger would play on Wednesday night. All it guaranteed is that they'd be receiving an NHL paycheck – whether they were on the ice or in the press box.
On Wednesday, prior to the game, Gallant met with the media one last time, where he said that both Hajek and McKegg would be in the line-up, where they would be replacing Lindgren and Rooney respectively.
While the media did bring up Gallant's past with Florida (albeit briefly in regards to coaching Aaron Ekblad), what wasn't brought up was Artemi Panarin's history and friendship with Panthers goalie Sergei Bobrovsky.
Going into this game, I predicted that Panarin would have a good game, just because he practices/trains with his former goaltender (Columbus) during the off-season. If anyone knows Bobrovsky's tendencies and weaknesses, it's "The Breadman." In turn, Panarin was the best Ranger on the ice tonight, picking up three points in all. Unfortunately, it wasn't enough for a team victory.
---
With that all said, here was Gallant's new starting line-up, for the Rangers 31st game of the season:
FIRST LINE: Kreider/Mika/Kakko
SECOND LINE: Panarin/Strome/Hunt
THIRD LINE: Lafreniere/Chytil/Gauthier
FOURTH LINE: McKegg/Goodrow/Reaves
FIRST D-PAIR: Hajek/Fox
SECOND D-PAIR: Miller/Trouba
THIRD D-PAIR: Nemeth/Lundkvist
And in net, the returning CZAR IGOR SHESTYORKIN.
---
BOX SCORE time.
The following information and graphics come from the new world-wide leader in NHL coverage, ESPN.com:
SCORING: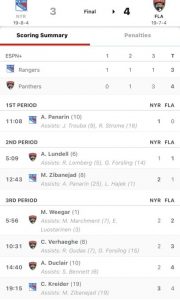 PENALTIES: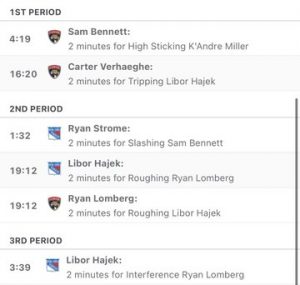 TEAM STATS:
GOALIES:
| | | | | | | | | | | |
| --- | --- | --- | --- | --- | --- | --- | --- | --- | --- | --- |
| SA | GA | SV | SV% | ESSV | PPSV | SHSV | SOSA | SOS | TOI | PIM |
| 33 | 3 | 30 | .909 | 25 | 0 | 5 | 0 | 0 | 60:00 | 0 |
| | | | | | | | | | | |
| --- | --- | --- | --- | --- | --- | --- | --- | --- | --- | --- |
| SA | GA | SV | SV% | ESSV | PPSV | SHSV | SOSA | SOS | TOI | PIM |
| 32 | 4 | 28 | .875 | 26 | 1 | 1 | 0 | 0 | 57:44 | 0 |
---
After twelve nights of anticipation, the Rangers finally returned on Wednesday night, where they lost a 4-3 decision to the Florida Panthers.
As has been the case as of late, the Rangers took a lead into the third period, but come twenty minutes of game time later – the Rangers found themselves on the wrong end of the scoreboard.
I'm not a coach, and I'm not in that locker room, but there has to be a reason why the Rangers have been so bad lately when it comes to protecting leads. Whether you want to say they sit back, choke, lose energy, or even if you want to say the other team wants it more – whatever it is, Gallant must fix it.
I'll get more into this, once we get into the blow-by-blow review below; but even with another three goals allowed third period (the Rangers did the same thing the last time these two teams played, but fortunately had a four goal lead prior to giving up those three goals), the Rangers had about 756675656675 chances to run away with this game.
Whatever it is, ever since the start of December, the Rangers have had a tough time of finding the dagger, or the proverbial "final nail in the coffin." And more times than not, it has cost them points in the standings. It's an issue that needs to be eradicated.
And when it comes to the two wonderkids, Kakko and Lafreniere; while they have shown flashes of brilliance at certain points in the season, there's just no consistency.
This is why everyone throws a parade whenever one of them shows up and has a good game – because it happens so infrequently, where it's like seeing a lunar eclipse or winning the lottery.
---
As far as the M$GN broadcast itself went, Vally was out with COVID. No word on how long he'll be out for, as we didn't get any EXPECTED omicron stats tonight.
Instead, "Jumpin'" Joe Micheletti replaced him, where because I'm deranged, I was really looking forward to his appearance on the "BUD LIGHT BAR" segment with John Giannone.
Unfortunately, Micheletti, who if you ever listen to him during interviews, is actually a funny guy and can ad-lib pretty well; didn't pack a punch at the bar. Or at the very least – he didn't live up to my warped expectations!
I was hoping that once at the bar, Micheletti would've said, "JOHNNY BOY, THIS BUD LIGHT FRUITY BOOTY MANGO MADNESS SELTZER IS ABSOLUTELY FABULOUS, JUST MOTHER EFFING FABULOUS!"
Instead, Micheletti talked hockey – a good thing – especially since he didn't bring up analytics once. Unlike Bud Light Seltzer, this was refreshing.
And not for nothing, Micheletti, a skater, and a veteran of 300 professional career games (WHA included), was much better than the guy with 46 career games played. Micheletti tells it like it is.
While sometimes there is a touch of "homerism" in Joe's words – he just talks hockey and leaves all the foo-foo stats at the door.
---
I've mentioned this before, but ever since Lundqvist stopped wearing a Rangers jersey, Micheletti has been unleashed and is no longer forced to praise the Swede for 150 minutes straight, while ignoring everything else.
In turn, just as he does nationally, it allows Micheletti to look at the entire game, rather than just focusing on one player and pulling out excuses from his "excuse rolodex." It's made him much more easier to listen to.
And I know I've said this before too – while Dave Maloney would be my go-to skater for these broadcasts, due to his history with the club; as a studio guy, Micheletti is great. I really don't find myself ever disagreeing with him, and more times than not (and this is purely a coincidence), whatever I say on social media usually comes out of his mouth five minutes later. (Great minds think alike? FABULOUS!)
Also for your consideration? Not only was Micheletti doing Vally's job tonight and his own job too; as usual, he was covering up for Sam Rosen. In other words, Micheletti is doing three jobs at once. They may as well have him do the 150 seconds segment too. (And Micheletti should get an Emmy this year as well, especially with all the fill-in work he's done.)
In closing on the FABULOUS one, I just wanted to give him some credit here, for doing, yep, you guessed it – a FABULOUS job. It's not easy to be on live television for over three hours straight.
---
Finally, as I nearly wrap-up on the topic of the broadcast; just as they did when the Rangers were in Arizona, Sam and Joe called the game from the studio. We'll see if this continues during upcoming NYR road-trips, as perhaps the M$GN doesn't want to risk Sam and Joe catching the omicron on the road, especially since they are both senior citizens.
For what it's worth, I think Sam and Joe in the studio, and as you'd expect, lessens the quality of the broadcasts, as Micheletti usually has some good observations and news on plays that take place away from the puck. You don't get that in the studio, as they are forced to watch the same feed as us.
And oh yeah – despite my well-known opinion that I think that Steve Valiquette is absolutely horrendous on these broadcasts, here's to hoping for his full recovery and return.
I might not like his work, but he is a good human – and outside of the Islanders (I kid, I kid), I don't want to see anyone with the virus. Get well soon, so I can continue to bury your analytical junk on this site! (I kid, I kid, or am I?)
Let's finally get into this game, as I think I've stalled long enough!
---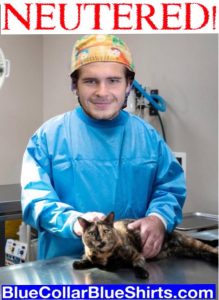 Just a few last blanket statements, before getting into the main event, the game review:
— This wasn't a "SKY IS FALLING LOSS." It was just disappointing. At the same time, while not the end of the world – this game was a textbook example of not only pissing one point away – but pissing two points away too.
— Ryan Strome, who seemed to public enemy number one for this loss, wasn't the reason why the Rangers lost. He didn't help, but he didn't bury the team either. And as I've said about 7856756675675 times before, it always feels like whenever Strome scores, it's one of the biggest goals ever – but whenever he blows scoring chances, it's even bigger. There is just no "ho-hum" regarding his scoring opportunities.
— I spoke of trends earlier, in regards to the Rangers having these terrible third periods. Two other negative trends also continued tonight – some jabroni scoring his first goal of the season against the Rangers (Mackenzie Weegar), and some ex-Ranger scoring the game winning goal (Anthony Duclair). Like clockwork my friends, like clockwork!
— I thought Libor Hajek did an excellent job filling in for Ryan Lindgren tonight. If there's a positive that should be accentuated after this loss, it's the fact that #25 in blue personified the "next man up" mantra. Not only was he getting into scraps, he also made bum-rush at Patric Hornqvist (sporting a hair-style similar to WWE's Brock Lesnar), after "Horny" leveled Adam Fox with a crushing, yet clean and legal hit.
— While I'm not in the "LAFRENIERE IS A BUST" camp; this was another game where the former #1 overall pick didn't even record a shot on goal. I had to check the box score to see if he played in this game or if he was in COVID protocol.
Simply stated – there's just been way too many games this season where he isn't noticeable at all. In fact, off of the top of my head, I think he has to have at least a dozen games without a shot on goal this season.
— Lastly, the sooner the Rangers deal off Filip Chytil, the better.
---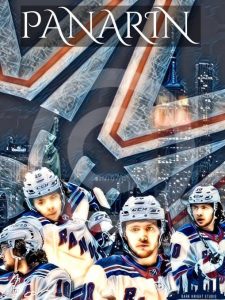 The Panthers won the first face-off of the game. They would win 36 more, as they won the battle at the dot tonight 37-30.
While that doesn't sound like much of a disparity, it felt like the Rangers got destroyed during defensive zone face-offs all game.
Also not helping matters is that Rika Zibanenash finished at the dot winning five of fifteen draws, while Ryan Stome finished one better, winning six of sixteen.
Needless to say, your top two centers need to be better than that. You just can't keep on finishing games at the face-off circle with winning percentages of 38% or less.
The reliable Adam Fox didn't do much offensively in this game. He had two shots on goal in this contest. I thought he very easily could've had more, as early into this game, he had opportunities to shoot the puck but instead, tried to force passes. I won't question the Norris Trophy winner, but it's just an observation that I had.
I have no clue what the real attendance was (the Panthers reported a crowd of 15,857, and they were lucky if even half of that number were actually in the seats tonight), but the crowd make-up of this game was 75% Ranger fans, 20% empty seats and 5% Panther fans. Throughout the game, loud "LET'S GO RANGERS" and "POTVIN SUCKS" chants broke out, and as we heard within the opening two minutes of this game.
About 3:30 into the match, Hornqvist tackled Kreider to the ice. No call. Kudos to "Horny," as he was an agitator all game. Of course, he also tried to keep his distance from Ryan Reaves on every shift too.
4:19 into the period, Sam Bennett high-sticked K'Andre Miller while in the Rangers d-zone. The Rangers were afforded an early Christmas present here, with this power-play. However, the power-play would go 0-2 tonight, where during this particular man-advantage, the PP1 unit couldn't get much of anything going.
Following the Panthers penalty kill, the game turned into a shooting gallery, where in all, CZAR IGOR made twelve saves in this first period. It also felt like on all twelve of them, he had to deny shooters from two feet or less away.
That said, CZAR IGOR looked like he hadn't missed a beat, which is why his third period was kind of frustrating tonight. (And I'm using the word "frustrating" here for lack of a better of word.)
Reaves, the Rangers top hitter of the night, six in all, made his presence known early, as he was laying the body left-and-right. Of the Rangers four lines, I thought the fourth line was the best of this period.
As Florida was dictating the pace a bit, with 8:52 remaining, this happened:
.@artemiypanarin with the silky mitts pic.twitter.com/aFgeLhbTks

— Rangers on MSG (@RangersMSGN) December 30, 2021
---
1-0, GOOD GUYS!
Not only did my prediction about Panarin scoring ring true; but even better – he beat a Norris candidate in Aaron Ekblad to the net, and got some luck along the way, as the puck squirted by Bobrovsky. While not exactly a snipe here – he did put himself into this situation. And hey, sometimes it's better to be lucky than good!
(Of note: Sam and Joe never brought up the history between Panarin and Bobrovsky.)
Following another Rangers face-off loss, the Panthers had a two-on-one try, but failed to convert, as somehow, Lundell missed the net from a foot away. Quickly thereafter, Duclair found himself a foot away from Igor, but the Vezina candidate made the big stop. "The Duke" wouldn't forget this one.
After a long Florida forecheck, where Igor continued his bed-rock performance; Barclay Goodrow, solid defensively all game, knocked a loose puck out of the zone. At the time, I believe the Panthers were in the Rangers d-zone for at least 90 seconds.
With 4:37 remaining in the period, Rika Zibanenash found himself all alone with Bobrovsky. I mean all alone, as even Zibanenash seemed surprised with how wide open he was. After the shock wore off, the soon-to-be $8.5M man squared up and promptly shot a puck right into Bobrovsky's glove. Should've been 2-0 here.
After Reaves leveled Gudas with a thunderous hit; with 3:40 left in the period, Carter Verhaeghe tripped Hajek behind Igor's net. This was now the second offensive-zone penalty that the Panthers took. This would also be the second Rangers power-play that the Panthers killed too.
The PP1 unit had three chances in all to score here, with Zibanenash having the biggest chance. Zibanenash was all alone again in front of Bobrovsky, but once again – he couldn't finish. This should've been 3-0 here.
Following the kill, with 25 seconds remaining, Dryden Hunt, the "toe" of a great "tic-tac-toe" passing play, went wide from a foot away. This should've been 4-0 here.
After twenty minutes, in a game where the Rangers could've had a four-spot at this point – good guys 1, bad guys 0.
This was a good road period, where admittedly, Igor covered up about 656756758785 defensive mistakes, mistakes that I guess were somewhat expected, due to the long layoff and all.
---
After Zibanenash lost another face-off to open a period, Dryden Hunt had a chance to score, deflecting a puck at the last second, a puck, where to his credit, Bobrovsky stopped.
Just 92 seconds into the period, Ryan Strome went to the box, after slashing Bennett.
Sam and Joe, as they so often do; did everything in their power to mush and will Florida into a power-play goal. The Rangers PK, especially Nemeth, Kreider and McKegg, were great here, where all of them made big plays and clears.
However, just seconds following the kill, Panarin lost a puck, Florida went the other way, and bada-bing bada-boom, Anton Lundell scored a rebound goal. 1-1, with 14:51 to go in the middle stanza.
Could have Igor done a better job of kicking the initial shot to the corner boards? Of course. However, at this point, he was stopping all of these shots from a foot out and he wasn't really getting that much help from his defensemen either.
And while some fans with an axe to grind about Hajek blamed him for this goal, I wouldn't be one of them. None of the Rangers defensemen were particularly that great in the first 25 minutes. It seems ludicrous to me to just single out Hajek.
After Igor bailed out his d-men again (save on Marchement), Zibanenash was wide-open again, where this time, instead of shooting into Bobrovsky's glove, he left rubber marks on the boards. While I'm not saying this should've been a goal – the puck should've at least hit a piece of Bobrovsky.
As Igor continued to make saves, including one while being completely screened by Trouba; Gudas bodied the hell out of Hajek after #25 put a puck on net. However, it was a clean hit, and Gudas, formerly one of the biggest villains of the league, gave Hajek a pat and a sorry. Maturity?
In a period where the Rangers were getting zone time, but not shots on goal, with 7:17 remaining, this happened:
breadman to mika for the 2-1 lead! #NYR pic.twitter.com/qbMK9BsJr5

— Rangers on MSG (@RangersMSGN) December 30, 2021
---
2-1, GOOD GUYS! Even Rika Zibanenash couldn't shoot this puck wide or shoot this puck right into a glove!
This play was all Panarin (even if Hajek got a fugazi secondary assist here – but hey, good for him), who made a defensive play, had everyone watching, and then found Zibanenash all alone for this easy goal.
With 4:21 to go, Hajek and Hornqvist got into it, where for the second time, Hornqvist wasn't penalized. I was fine with that, as long as the refs would stay consistent all game. They wouldn't.
With under a minute to go, Hornqvist leveled Fox with a clean hit. Hajek immediately jumped Hornqvist, which then saw Ryan Lomberg jump into the mix too. The refs then boxed both Hajek and Lomberg for off-setting two-minute roughing minors.
While the teams remained at even-strength for this two minutes of foreplay, the officials had already set a precedent that they weren't going to box guys after scrums. Why choose to call penalties now, with 47 seconds left on the clock? That was my only beef.
At the end of two periods, we remained good guys 2, bad guys 1. All that was left to do was close-out, which obviously is much easier said than done these days.
---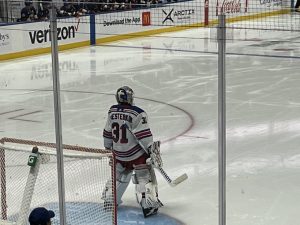 Quick note: is anyone else sick of these never-ending JB Smoove commercials? It feels like his presence has spread faster than omicron in the hockey world.
No joke, it feels like he must have some sort of deal with the M$G Networks, where we must see his face every thirty seconds. Whether it's for that stupid gambling app, or where he's telling us about "his Garden" – I've seen enough!
As someone who has watched "Curb Your Enthusiasm" ever since it debuted, I just can't stand the guy anymore. (And I still don't know why Leon is still living with Larry David these days, but that's a topic for a different time!)
Like Julius Caesar, I hope the gambling app bearing his name has its own "Ides of March." Ditto all of these JB Smoove commercials!
Even scarier – sports gambling in New York isn't even legal yet. Wait until it is, where as mentioned before, sports gambling will conveniently become legal right before the Super Bowl.
If you think these 72647647892645789267894265789263 gambling commercials per broadcast (which just aren't exclusive to JB Smoove, as Jesse Pinkman can suck it too) are bad now – just wait until February.
Speaking of bad, let's breeze through this Rangers third period!
---
Once Hajek got out of the box, at the 3:39 mark he returned to it, after an interference call assessed to him on Ryan Lomberg. This looked like bullshit, or at least I'm under the impression nothing happened – as M$GN didn't have any video evidence of such a penalty taking place.
However, prior to Hajek returning to the sin bin, Strome went on a breakaway, a shot that Bobrovsky stopped. Throw away all of the other missed Ranger chances from this game – this could've been an insurance goal at this point. It wasn't, and Bobrovsky's save gave his team life.
CZAR IGOR would face one shot during this second Rangers penalty kill, stopping a blast from Ekblad after a Rangers d-zone face-off loss. On the next play, Goodrow made a FABULOUS intercept, where the penalty was then killed.
And just like the first time the Rangers killed a penalty, where Florida then quickly scored; we had deja vu all over again. With 14:04 remaining in the final frame, Weegar, from between the circles, wristed a puck right past Igor.
Have we seen Igor stop these shots before? Of course. However, I can't blame the goalie here, when Weegar, like many Florida shooters tonight, was left all alone. 2-2.
Following Weegar's goal, Strome, again all alone with Bobrovsky, put a puck off of the post. A chance to regain the lead was lost, where really, the Rangers could've easily had a touchdown on the board in this game.
With 11:30 to go, as he often does, Gauthier got to the net. However, at the last second, Bennett caught up to him and denied #15 of a shot on goal that he probably would've shot wide anyway.
Now with 9:29 remaining, Carter Verhaeghe scored. 3-2 bad guys. This is one that Igor should've stopped, as he partially got a piece of it, only for the puck to trickle past him.
The Rangers, who blew the lead here, and now needed a goal to get this game back to even, held back a bit. There were about three or four times, where a defenseman just sat behind the net with the puck, waiting for a change. It just felt like there was no sense of urgency during any of this, especially against a top-level team like the Panthers.
With 5:20 to go, and with the Rangers only having five SOG in the period; Duclair beat Igor on a shot that Igor usually stops 999 out of a 1,000 times. This just happened to be the one. 4-2, bad guys.
Florida, who had the Rangers doubled-up here, knew how to close out, even if there was a temporary scare.
With 44.4 seconds left, and with Igor on the bench, Panarin fired a shot. The puck deflected off of Zibanenash and found Kreider, camped up to the left of Bobrovsky. Kreider got the easy goal here. 4-3, bad guys.
After Kreider brought the Rangers within one, Gallant took his timeout to set-up a play. The Rangers wouldn't touch the puck for the rest of the game, much less get a shot off.
4-3 bad guys, your final.
Again, while not an "end of the world" type of a loss, this game just left a bad taste in your mouth. The Rangers should've at least got a point.
I think I've gone on long enough tonight.
PLUGS TIME!
---
The first plug of tonight's blog – the mandatory plug for my new book, "The New York Rangers Rink of Honor and the Rafters of Madison Square Garden".
As mentioned previously, the book is now available in hardcover, in paperback and in Kindle formats. To purchase a copy of the book, visit this link:
https://www.amazon.com/Rangers-Rafters-Madison-Square-Garden-ebook/dp/B09CM5N2WD
For those still looking for signed paperback versions of the book, I have re-ordered more copies. I now have 14 signed copies for sale at $25 a pop (includes shipping price) through me directly. Here is all the information on that:
---
Here are my last few blogs, in case you missed them:
---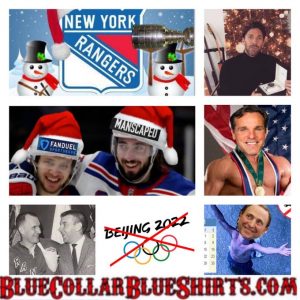 ---
---
If you haven't already, subscribe to this blog for the next update:
---
Up next (or so we hope): a back-to-back two-game series with the reigning and defending two-time Stanley Cup champions, the Tampa Bay Lightning. The Rangers will finish out 2021 in Tampa on Friday night, and will open up 2022, at home, on Sunday afternoon (12:30PM puck drop, ugh), against these same Lightning.
Stay FABULOUS my friends.
As always here, thanks for reading and…
LET'S GO RANGERS!
Sean McCaffrey
BULLSMC@aol.com
@NYCTHEMIC on Tweeter