Greetings and salutations everyone and welcome to another blog here on BlueCollarBlueShirts.com. For all of the positivity overflowing the streets of Rangerstown, USA right now; it's been the complete opposite in both Long Island, New York and in Philadelphia, Pennsylvania. (And Newark, NJ isn't peachy either!)
And heck, if it weren't for the Islanders and Flyers; another despised Manhattan rival, the New Jersey Devils, would be getting a lot more looks right now. (And not "GOOD LOOKS" either, as Alain Vigneault would say.)
In fact, as the Rangers continue to soar (a team who is not only in the mix for a high seed in the playoffs, but also a legit contender in the Presidents' Trophy race too); a few miles away in Elmont, New York, not only are the Rangers fiercest rivals playing with the scent of horse manure in the air – the team is playing like horseshit too, as the orange-and-blue are currently on an eleven (yes, as in the number 11) game losing streak.
But wait, there's more.
A rivalry that precedes the Rangers vs Islanders feud is the war between the Blueshirts and the Broadstreet Bullies.
In fact, to this very day, you'll still find older Ranger fans that hate the Philadelphia Flyers more than the disdain they presently have for the current tenants of the IBS Arena.
As you may know already (and I'll have the full poop-scoop for you in a bit); on Monday, December 6th, not only did the Flyers say goodbye to head coach Alain Vigneault, but as a cherry on top – a police dog celebrated the news by taking a meaty dump right on the Flyers logo at center ice. And no, despite my affinity for all things bathroom humor (and anything else related to such puerile material) – I'm not making this up.
To simplify, while the Rangers are one of the best teams in the league right now (and as we're now past the quarter-mark of the season and edging closer-and-closer to the New Year); both the Islanders and Flyers are up to their necks in fecal matter – and I mean this somewhat literally!
However, before kicking Ranger rivals while they are down (and I do take some joy in that), let's start off tonight's blog by talking about the New York Rangers themselves.
---
Usually during these Ranger off-day blogs, I start off by looking at Gerard Gallant's daily press conferences with the Rangers media.
On Monday (following a Sunday where the team was idle), Gallant met with 2-3 reporters (the rest were on a flight to Chicago, in preparation for Tuesday night's game against the Blackhawks), where not much was truly said.
The biggest thing to come out of Gallant's most recent fireside chat with the NYR beat, was the confirmation of Alexandar Georgiev starting the Rangers next tilt against the Blackhawks.
As you're aware of already, Gallant has played it tight-lipped with the media (and gamblers, you know, the people, just like any other fan, who are pelted and bombarded with 897678678678967896896 gambling ads during the broadcast of any given NHL game), with news pertaining to his goalies.
With Igor Shestyorkin currently unavailable, and with Adam Huska having never played a minute of NHL action; Gallant confirmed that Georgiev will start on Tuesday night.
When it comes to the possibility of Georgiev starting back-to-back games (as the Rangers, following the match with Chicago, will immediately return to New York and then host the Colorado Avalanche less than 24 hours later), Gallant left that idea open-ended.
As Gallant somewhat alluded to, and in what we're all probably thinking too – if Georgiev has another good game against Chicago, he'll most likely go again on Wednesday night.
It should also be mentioned that it might not behoove anyone on the Rangers right now (Gallant, the team, and the goaltenders themselves), to throw a rookie goalie, making his first ever NHL start, against an offensive powerhouse like the Colorado Avalanche.
Then again, CZAR IGOR, when he made his M$G debut in January of 2020 (a win), did so against these same Avalanche of Colorado. Of course, and as I give you every fact and opinion available – Adam Huska is not CZAR IGOR. Or so I say!
One last thing about the Rangers goaltending situation.
It's very likely, had Keith Kinkaid been healthy (rather than his current status on the NHL's COVID-19 list), then he would've been the one, instead of Huska, to have been called up by the Rangers following Shestyorkin's injury.
I only bring this up, just to say that if perhaps Kinkaid is cleared by Wednesday night (I don't know if this is a possibility because all of this COVID stuff is so unpredictable), maybe he'll get a call and the spot start against the Avalanche, where in this scenario, Huska would then be returned to Hartford.
Of course, the only way to render all of this as 100% meaningless would be a nice shut-out from Alexandar Georgiev on Tuesday night. That's what I'll root for! Give 'em hell, KING OF KINGS!
As far as anything else out of Gallant, the bench boss praised his fourth line, repeatedly at that, which brings us to our next topic, Ryan Reaves.
---
Joining Gallant at the podium on Monday was #75, Ryan Reaves.
I've brought up many points on this site about Reaves, not only during the off-season – but during this season too.
I think a fact that often gets glossed over a bit, is that "The Grim Reaver" is the oldest player on the team, as the man with over 700 NHL games played will turn 35 years old on January 20th, 2022.
In comparison, the second-oldest player on the team is Chris Kreider, who turns 31 years old next year. (Third-oldest, Artemi Panarin, also with a 1991 birthday, just like CK20, turns 31 too in 2022.)
While not new to the league by any stretch of the imagination, Reaves is new to the Rangers. However, despite being a "fresh face" in the Rangers locker room – Reaves has grabbed the bull by the horns.
In fact, Reaves has displayed complete dominance over such said proverbial bull. (Not to be confused with bull shit, something that we might see at Flyers ice one day!)
Need evidence? Just watch the way Alexis Lafreniere looks at Reaves during warm-ups and before exiting the tunnel. The last time I saw a face like that, was when my young nieces examined their loot from their Halloween experience.
Plus, it's Reaves, and not one of the 9767866968 alternate captains on this team, that proudly gives the team a pep-talk prior to taking the ice before any given game. (Usually, it's Reaves screaming out "RELEASE US [insert the starting goaltender here.]"
Previously this season, I've shared some of Reaves' interviews, where once again, I thought the Rangers deterrent with the #75 on his back was fantastic.
If you missed it, here's Reaves from Monday:
---
Yes it was only an off-day for the streaking-in-the-right-direction Rangers, but this interview jacked up the fan base – as if this interview followed a major playoff victory.
Reaves pretty much said every right thing he possibly could, where his line of "I don't care if I score a goal this season" stood out to me the most. Following that quote, Reaves said the only thing that matters to him is winning games and competing for the Stanley Cup. Sign me up for that!
Obviously, this isn't the first rodeo for Reaves. He's done it before. He also has been to a Stanley Cup Final too, playing in the 2018 rendition, where not so ironically today – Gallant was his head coach at the time (Vegas).
Both Reaves and Gallant were complimentary of each other on Monday. While I don't know if they exactly have the same relationship that David Quinn once had with Kevin Shattenkirk (DQ and the former Rangers defenseman were so close, that "The Quinnster" was even a part of Shattenkirk's wedding party), you can see that these two have a ton of respect for each other.
In fact, it wouldn't surprise me one day, when Reaves is retired and Gallant has a Stanley Cup to his name with the Rangers (or so I hope!); that Reaves joins Gallant's coaching staff as an assistant. From both their days in Vegas and now in New York – the mutual admiration for what the other does is always on display.
---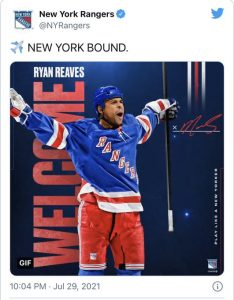 Of the many impressive things Reaves said on Monday, I also thought his words on Gallant were ear-catching.
The fourth liner showered praise upon his head coach, saying that he and his linemates know their roles. More importantly, they know if they err, that they won't be stapled to the bench either. Maybe they'll get a talking to (like anyone else), but one mistake doesn't mean a TOI stat of five minutes or less.
(And I'll save you from the David Quinn comparisons, because as noted many times before, it's my opinion that DQ and Gallant have coached this team under different circumstances.)
I should also note here, that both Reaves and Gallant shared a similar message – you need to be able to roll out four lines. If you're a chart geek that thinks otherwise, that's all you are – a geek.
It was also brought up that Adam Fox told the media that the team feels "safer" when playing with Reaves. This really goes back to what I said after the season-opener with the Capitals, and after the win over the Devils/the P.K. Slewban game.
Reaves is just too smart to fight every game. Plus, this isn't the same NHL from a yesteryear, where all quibbles and debates were decided by a rowdy bout of fisticuffs – especially with the "instigator" penalty now being a thing today.
Instead of being a true "enforcer" (where his knuckles after every game would then have to be placed inside of an icebag), Reaves is a deterrent – and a good one at that.
Sure, everyone wants to see Reaves pound the crap out of Tom Wilson and Slewban, but Reaves isn't playing caveman hockey either. There is intelligence there, where Reaves has to pick his spots and not put his team at risk by giving the other team a five minute power-play – and risk being suspended himself too.
Reaves' biggest value is not as a boxer, rather it's his physical style – where every opponent must keep their head up and brace for hard checks.
Yes, fights always get an arena, no matter the allegiances these fans have, standing and applauding. However, that's a temporary thing. A day-in and day-out thing is keeping opponents on-guard and playing in fear. With the way Reaves and his linemates are playing; opponents, including defensemen, get worn down, which explains why the Rangers have been so successful as of late.
Every puck battle is just that – a battle, as Reaves and company never give up and always are there to lay the body to players who don't want such contact.
And as stated about 78956868967896896 times before on this site – that's how you win playoff games.
In fact, just go back to what I first said when the Rangers originally acquired Reaves – his biggest value, despite playing well now, won't be seen until the playoffs. That's where physicality is at a premium and where you need players like Reaves to win hard-hitting and grinding playoff games.
I'll spare you from my 7867896789678966th rant on analytics; but come the playoffs (and in the regular season too), you can throw out all of the expected this and expected that stat crap. It's a player like Reaves that will help the Rangers ascend to the next level – and not analytics. (By the way, I'm still waiting for the first player and/or coach, to thank his analytics department after a win.)
Even better (and something else that doesn't show up on these charts, hieroglyphics or graphs either) – it's Reaves role in the locker room, an intangible that will never show up in any box score.
Let's now kick around the bottom-feeders of the Metropolitan Division!
---
Where to start, where to start, where to start?
How about starting with the Devils, the "least-worst" of the three teams floating inside of the porto-potty, and working our way down? That sounds like a plan!
Admittedly, expectations weren't that high for the Devils this season – at least not as high as the expectations many pundits and experts had on behalf of the Flyers and Islanders. (Let me remind you that many Canadian reporters, and ESPN jerk-offs, had the Islanders not only qualifying for the 2022 Stanley Cup Final – but had the Belmont Bozos winning it too. I don't think so!)
(And this isn't me pooing on all of these people with the benefit of 20/20 hindsight either. As noted in my season preview blog, I thought the Islanders had peaked. After all, what team makes three straight Conference Finals in this salary cap era? Maybe Tampa does it this year, but the Bolts are in league of their own – a league that the Islanders will never be in.)
---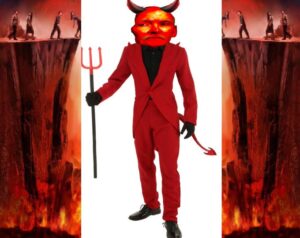 Again – I never envisioned the Devils making the playoffs this season, just because of the division they play in. And to be fair, not many people, including Devil fans, had the Newark Nitwits making the playoffs either.
However, at 9-9-5, the Devils haven't really improved yet this season. They may even be worse than last season, and that includes after doling out two insane contracts (Hamilton, in effect this season and Hughes, which goes into effect next season.) At least last season's Devils didn't have such contract commitments!
I think head coach Lindy Ruff, and his employment status moving forward, has somewhat flown under the radar a bit. After all, not only do Canadian reporters ignore the Devils – so do American reporters. Heck, the Devils don't even have a dedicated beat reporter either (at least not one from any of the major outlets here in the tri-state area.)
I understand that the Devils are a small-market team, and don't have the advantages that teams like the Rangers have. I went in-detail on this a few blogs ago, when the Devils gave Hughes that horrendous contract.
While the Rangers do overpay talent too; 999/1000 times, a free agent would rather play at M$G than at the Rock in Newark. It's why the Devils have to overpay talent in order to retain them. (Another reason for the Ranger big contracts – the insane tax rate associated with a NYC paycheck.)
If you're looking for a better comparable, look at a small-market team like Columbus, often referred to as "the Winnipeg of America."
As we've seen in recent years, no one wants to play in Columbus, even when the team is on fire. Just ask Artemi Panarin, Sergei Bobrovsky, Seth Jones, etc. Heck, ask Rick Nash too!
(And let's not forget that current Team President, John Davidson, also bolted from Columbus the second the NYR job was available two years ago. I still think "Cucklumbus" looked bad when they immediately accepted JD back into their fold, after JD deserted them.)
That said, Columbus, who many pegged to be at the bottom of the division this season (I was one of them), is 13-10-0, three points better than the Devils, and who don't have the talent like the Devils do, nor the mass accumulation of all of these first-round picks either.
Sure, there is plenty of time left in this season, but the Devils are trending downwards. They should at least be better than the Blue Jackets.
In addition, with the Pittsburgh Penguins missing both Malkin and Crosby during the majority of these first 23 games played – the Devils, record-wise, should be ahead of the black-and-yellow too.
To be fair, the Devils are probably a year or two away from taking the next step; but when you look at the entire division, and the fact that teams usually change coaches as they go from rebuild-to-playoff contending – Ruff's future with the red-and-black attack seems bleak.
Let's now take a look at the shitty and Gritty Flyers.
---
I'm assuming you've heard all of the news out of the cheesesteak city by now, but what's one more time?
Following the news of the franchise's firing of Alain Vigneault, this took place at Flyers practice on Monday morning:
How things are going in Philly right now

(🎥: @JamieApody) pic.twitter.com/QXaPEJj1Rb

— Spittin' Chiclets (@spittinchiclets) December 6, 2021
---
Of note: I have no clue why police dogs were on Flyers ice on Monday. Maybe they were sniffing out a bomb threat, with the way the Flyers have been bombing this season?
Prior to a dog defecating at center ice (I'm envious of this pup, as I wish I could do the same!), the Flyers finally fired AV on Monday morning.
If you read my blog following the Rangers/Flyers game from last week, I felt this firing was coming. If you follow me on social media, I predicted this firing would take place first thing on Monday, following the Flyers embarrassing 7-1 home loss to the Tampa Bay Lightning from Sunday.
---
I won't do my "GREATEST HITS", by repeating and explaining what I've said about 4388337373 times over the years; but unlike the large and vast majority in Rangerstown, USA – I liked Alain Vigneault.
Sure, I'm aware of AV's past and I like the gum jokes too (just look at the silly photo I made following the Rangers win over the Flyers from last week), but I still maintain that AV is the fifth-best coach in all of Rangers history. In fact, I even put him in my "New York Rangers Rink of Honor and the Rafters of Madison Square Garden" book.
As a near 40-year old, outside of 1994, AV's teams were the best Ranger teams I've ever seen, especially during my adult life.
Some critics will say that AV took over a great squad from John Tortorella, but you can only assess a coach by what they did – and not the roster they took over. Plus, Torts' never won a Presidents' Trophy or qualified for a Stanley Cup Final as AV's Ranger teams did. And if Jean-Gabriel Pageau wasn't a Henrik Lundqvist killer, who knows what happens in 2017?
That all said, even Helen Keller, in her present state today, could've seen this firing coming.
As you'd imagine, since I waste all of my free time watching and writing about hockey, I do follow the entire Metropolitan Division. I want to know what my enemies are doing! When the Rangers are off, I usually turn on another game featuring a Metro team. (Admittedly, I have watched a lot of the Carolina Hurricanes this season, as Tony DeAngelo proves all of my prior stuff on him correct, and because they are fun to watch too.)
And when things are bad for a Metro team? I always go out of my way to watch their post-game press conferences – especially the interviews with each team's respective head coach.
---
Over the course of the last week, I have watched every single Vigneault post-game presser, where following the Flyers loss to the Rangers – I knew AV was cooked. There was no way to come back from that one.
I mentioned this already during the Rangers/Flyers review; but on that night, AV was gray, sloppy looking and pretty much looked like one of the miscreants begging for change and drugs at Penn Station. You could see he was fried. He was shot.
Granted, a lot of the Flyer issues from this season are injury-related, including Kevin Hayes – with the first line center missing nearly twenty games already.
However, when you heard AV speak after the loss to the Rangers, he sounded like a defeated man. He was blaming his players for the loss, and once that happens, even if the coach is right – it's the coach that goes. After all, in this salary-cap world, you can't fire the players. You can only fire the coach.
And after the Flyers got spanked by the Lightning on Sunday – it was just a matter of time. AV had no answers in that press conference and it sounded like he lost his locker room for good too.
(Seriously, if you didn't see it, check out the Flyers social media pages – AV was at a loss for words, when trying to answer his team's struggles. He was 100% finished after that interview.)
Come Monday morning, it was official – AV out, assistant Mike Yeo in.
And oh yeah Part I: remember my parlay from last week? That's one down, two to go. (AV gets fired, David Quinn winds up in Philly and AV returns to Montreal. However, this won't play out until the off-season, as Jeff Gorton, now the boss of the Canadiens, has said that he won't make any coaching changes until the completion of this season. Furthermore, it feels like Mike Yeo will get the rest of this season too.)
And oh yeah Part II: while Bruce Boudreau has already replaced Travis Green – can you imagine if AV returned to Vancouver? Hey, it's more probable that happens than Torts II in Canuckville!
The Flyers are a mess right now. A team once atop of the Metro just two seasons ago, is now at a new all-time low, where if it weren't for the Islanders issues with COVID, who knows?
Of course, the word REBUILD is now plastered throughout Philly.
---
Chuck Fletcher, now three years into the job as the general manager of the franchise that hasn't won a Stanley Cup in nearly fifty years; hired AV and has now fired his first choice as the team's head coach.
Yes, I am a bit sympathetic to AV here (even if he will be handsomely paid to stay home – we should all be lucky to get millions of bucks to do nothing), but I also believe Fletcher deserves a lot of the blame here too. He was the one who made a ton of moves this off-season. None of them have really panned out. Far from it.
In fact, a lot of the moves Fletcher has made has backfired on him a bit, especially when you see how Jakub Voracek is doing in Columbus.
I don't disagree with the canning – AV lost the team. However, how long will Fletcher last in Philly, especially with the word "rebuild", like a pile of shit on the Flyers logo, front and center on everyone's mind?
It should be interesting if the Flyers decide to truly embrace a rebuild like the Rangers once did, which took place several months before Fletcher's arrival in Philly.
Across Rangers social media, where "2 Guys 1 Cup" podcast host Shawn Stein first introduced the idea several weeks ago; many are clamoring for the return of JT Miller. I really have no opinion on this, outside that I do want the Rangers to retain Ryan Strome. (In other words, I rather Strome over Miller if that's what it comes down to.)
Furthermore, while deals will be done prior to the trade deadline; at this current moment, which everyday Ranger would you scratch (or trade) right now for a trade acquisition? Filip Chytil at best, and perhaps packaged with Vitali Kravtsov?
However, and while I know this will never ever (and do I mean NEVER EVER) happen – can you imagine a Kevin Hayes return to New York, where Philly retains 50% of his salary? Again, fun to think about, but as Gorilla Monsoon used to say – "highly unlikely."
There's just no chance that the Flyers would trade with the Rangers, much less help them out by taking 50% of Hayes' cap hit. Plus, there would be that whole #13 issue too, as Lafreniere isn't giving his jersey number up!
(In addition, and while I don't think this would matter if this potential trade opportunity presented itself – Hayes wasn't that happy about being dealt to Winnipeg in the first place. That said, the Rangers have new management now.)
In the event that the Flyers do decide to rebuild, Hayes and that contract is probably one you'd look to deal. And then what happens with the Cup-less Claude Giroux – the soon-to-be 34 year old center, whose contract expires at the end of this season?
Of a possible trade for Giroux and/or Hayes, the former would be a perfect rental for the Rangers – especially with the Rangers issues with faceoffs. However, again, due to the rivalry – it's hard seeing that deal taking place either.
The Flyers are currently a shit-show and every Ranger fan should be happy to see it!
Let's now transition from dog shit to horse shit and close out on the Islanders.
---
While the Islanders do have five games in hand; did anyone think, that at the quarter-mark of the NHL season, that the two time Eastern Conference finalists would only be three points better than the "we give up, see ya at the draft lottery" Arizona Coyotes?
Hell, even the lowly desert dogs haven't had a losing streak of eleven games this season, as the Islanders are currently experiencing.
If there's anything that simply wows me about the Islanders epic losing streak; it's the fact that on the secondary market, after just five home games played, fans can now get tickets at the IBS Arena for only $6! That's not a typo. (Again, credit to Shawn Stein of "2G1C" for unearthing this fact.)
And while I'm an Islander hater, I'm fair too.
After all, just go back two weeks ago on this very site, when I wrote my "IBS Arena" review, where I said the venue was the best place to watch a hockey game in all of the league. (Even Islander fan sites ran with my review and I thank Andy G. for the plug!)
At this moment in time, the properly named "UBS Arena" may as well stand for "U Beat uS!" (Joke Credit: Jim and Eddie of "The BSU Show".)
Unlike the now-fired AV, and the perhaps the soon-to-fired Ruff – I don't think Barry Trotz's job is in jeopardy, even if there is a small contingent (of an already small fan base) supporting such a removal.
In my opinion, I just think Trotz is too hooked up with Lou Lamoriello and a lot of the Islander struggles are easy to explain, such as their dilemmas with COVID-19 and injuries.
That said, while a dog did shit on the "P" logo in Philly; a horse from the adjacent Belmont Race track hasn't plopped and dropped on the Islanders logo at IBS – yet. I'm sure that's soon to come, and such an event would be just as hilarious as the Mike Milbury era!
Even with the excuses that the Islanders (and their fans) can make; what's inexcusable is the fact that they don't score goals.
The Fishsticks have only scored 38 goals this season, which just like their record in the Metro – is worst in the league. For comparison, even the second-worst team of the division, the Flyers, have scored 56 goals. (Ironically, the goal disparity between the two teams is identical, at a negative 23, as the Flyers have just given up more goals than the Isles.)
---
Do you know hard it is to lose eleven games straight, especially in a league where parity, like FECAL MATTER in Philly, is front and center? (Yes, I will not let this joke go! I'm beating this to death like all of my stuff about player contracts!)
And the Islanders have done so in a bunch of different ways too, including shoot-outs, overtime and just getting blanked.
Put it this way – what do you think the following prop bet would've paid out, had you made it prior to the season:
— Alexis Lafreniere more fights than Islander home wins by Thanksgiving.
If such a bet was available, you would've made a fortune, as Lafreniere, a winner from his lone fight of the season and first of his career (ironically against the Islanders at IBS too), with this one fight on his record – currently has more fights (and wins) than the Islanders have wins at home, as the Isles have posted a goose-egg on home ice this season.
And needless to say – Alexis Lafreniere isn't exactly a Bob Probert type. In fact – the complete opposite!
I never liked the idea of the IBS Arena. Never did and never will. Yes it's a great arena, but unnecessary too.
It's a shame Mr. Wang never got his Lighthouse project off of the ground. And after seeing the Islander crowds during the playoffs from last season – I thought the Isles should've remained where they had the most success in all of their franchise history. (Speaking of, you don't see Stu Feiner or the NY Jets at Islander games anymore. Hmmm!)
I thought it would take several years for the buzz of a new arena to die down – then the building would look like a "Spirit of Halloween" pop-up store. Instead, it hasn't even been two weeks at the IBS Arena and fans are running away from that place as if it was the epicenter of the Wu Flu.
Once again, do you know who loses out here? Islander season ticket holders, who can't get any value for their tickets, not only at the arena, but also when trying to sell their ducats on the secondary market. The front-running bandwagon has left the Islanders in the dust – just like how every Metro team is leaving the Isles in the dust too!
Put me on blast in the future if this prediction bombs – but I'll say it anyway. The Islanders are D-O-N-E! There will be no comeback. There will be no playoffs. There will be no glimmer of hope.
In fact, like any team that has success during the salary-cap era, I think the Isles will be worse before they ever get good again.
And yes, spare me all of the St. Louis Blues talk from the 2018-19 season too. The Isles play in a much rougher and tougher division (and conference) than the Blues did during that season. (And there won't be a coaching change either.)
At the end of the day, I think come the completion of this season, the Islanders will chalk this up as a "wasted throwaway" season, rather than owner Jon Ledecky forcing any drastic action – meaning that both Lamoriello and Trotz are safe.
---
Before going home tonight, everyone's favorite segment – the PLUGS segment!
On Monday 12/6, "The Blueshirt Underground Show" returned with a new episode. To watch/listen to the show, which also includes a thrilling discussion of sneakers and 1970s fashion, click the link below:
---
The hardcover version of my book, available now at Amazon.com
The first plug of tonight's blog – the mandatory plug for my new book, "The New York Rangers Rink of Honor and the Rafters of Madison Square Garden". And let me say this – thank you to everyone who has bought one, as my Amazon sales have exceeded all expectations, where for a limited time (that damn Mark Messier who just released a book!), my book was number one on the Amazon hockey book sales charts.
As mentioned previously, the book is now available in hardcover, in paperback and in Kindle formats. To purchase a copy of the book, visit this link:
https://www.amazon.com/Rangers-Rafters-Madison-Square-Garden-ebook/dp/B09CM5N2WD
For those still looking for signed paperback versions of the book, I have 2 copies left for sale for $25 (includes shipping price) through me directly. Here is all the information on that:
---
Here are my last few blogs, in case you missed them:
---
---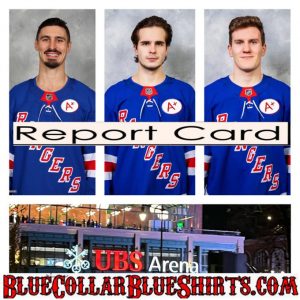 ---
If you haven't already, subscribe to this blog for the next update:
---
Up next: a rematch with the Blackhawks in Chicago on Tuesday night. Puck drop is scheduled at 8:30PM.
What a time to be alive – the Rangers are rolling and our three most-hated teams are literally dog shit! (That dog shit joke will never get old!)
Stay FABULOUS my friends.
As always here, thanks for reading and…
LET'S GO RANGERS!
Sean McCaffrey
BULLSMC@aol.com
@NYCTHEMIC on Tweeter