Greetings and salutations everyone and welcome to another blog here on BlueCollarBlueShirts.com. After last night's manifesto, I have a short update (at least short for this site!) for you tonight, where I'll cover a bunch of different news items.
Sometimes, no news is good news, and that's pretty much where the Rangers are at right now – a rarity for them!
During the unexpected four-day break, the Rangers practiced on Saturday, Monday and Tuesday, where not much has come out of the last two practices. (And just like it should be!)
In fact, listening to the NYR beat reporters interview Gerard Gallant and the players on Monday and Tuesday was the equivalent of pulling teeth, as there wasn't much to talk about.
The media, looking for something and anything to write about, pretty much had nothing to run with, as they too, like the fans, are waiting for Wednesday night, when the Rangers will host the Philadelphia Flyers.
To give you an example of the boredom around Rangerstown, USA, here's the head coach's press conference from Tuesday:
---
Gallant (whose press conferences are usually pretty entertaining and/or newsworthy), looked bored himself, when being inundated with all of these meaningless and time-filler questions.
If there was anything notable, and this is a h-u-u-u-u-u-u-u-u-g-e stretch, it's when Gallant said he looks at the standings, but doesn't pay attention to them. Not exactly breaking news! Just gotta take care of your own business, which the Rangers are currently doing.
As far as any other morsel of "real news" about the current Rangers; it's when Brad Marchand addressed the Boston media on Monday, saying that he told Artemi Panarin that "no one in Russia likes you." Of course, Panarin spilled the beans first, as Marchand originally joked about what he said at the time.
Marchand then continued to say that the NHL must be getting soft if someone like Panarin is getting upset about that comment.
As talked about when it first happened, I tend to agree with the rat in the #63 black and gold jersey. Panarin overreacted and let the whole league know how to get under his skin.
And if you don't know your NHL (or world) history, I can tell you that far worse has been said in the past, especially out of the mouths of North Americans whenever talking about their European counterparts.
In addition, for a long time, Swedish players were considered to be "soft". And need I remind you of that whole "Cold War" thing, and the hatred that both American and Canadian players once had for Russians? Ever hear of the "Miracle on Ice"?
Yes, I'm a Rangers fan, but I'm always honest in my opinions – Panarin was soft. He let the best agitator in the league get under his skin. Fortunately, the phrase "get under his skin" is not a literal thing here, as was the case with Brendan Lemieux and Brady Tkachuk on November 28th:
Brendan Lemieux was given a 5-minute match penalty after Brady Tkachuk claimed that he was bitten after they dropped the gloves. pic.twitter.com/kUlig9bKGb

— Sportsnet (@Sportsnet) November 28, 2021
---
I know this Lemieux/Tkachuk story is several days old, but I bring it up here in regards to Brad Marchand, because when I saw a ton of reaction that included "kick Lemieux out of the league", and how the commentator remarked, "he bit him during Covid?" – it reminded me of the Marchand/Ryan Callahan licking incident from several postseasons ago.
Can you imagine the fine and suspension Marchand would have received today, had he licked the tears off of Panarin's face? The repercussions of licking someone's face may be worse than slamming a penalty box door. Just ask "Mr. Swagger" David Quinn!
Speaking of the "Quinnster", the former Rangers head coach recently did his second interview since his dismissal from the Rangers.
Quinn, who originally did an interview during the off-season for Mark Rosenman for SportsTalk NY; on Tuesday 11/30, DQ appeared on "The Cam & Strick" podcast. Ironically, that was the same podcast that former Rangers general manager, DQ's old boss, Jeff Gorton first appeared on following his firing.
To listen to DQ's interview, click the play button below:
🎙️Episode #162 featuring David Quinn

➡️Tom Wilson/Panarin situation
➡️Coaching in New York
➡️Rebuilding/young players
➡️Brady Tkachuk being bit
➡️Changes in Montreal
➕ Much more

🎧Listenhttps://t.co/dpyFGb0gYr pic.twitter.com/inAHd4OO7X

— The Cam & Strick Podcast (@CamandStrick) November 30, 2021
---
As of this writing, I haven't listened to the entire interview, but I did hear some of the highlights, where DQ is a huge fan of using the word "Father Fink!"
Among the highlights:
— DQ said he preached toughness for some time and wanted players like Reaves and Goodrow from day one. That kind of sounds like hindsight being 20/20, especially with those two specific names, but I don't think he's lying either. However, the timing of these comments just doesn't do DQ any favors.
— DQ said he expected his firing after Gorton and JD got their pink slips from Dolan. DQ also mentioned that he thought the Rangers "over-achieved" last season.
— DQ pretty much said what I've said, and what many of you said, in regards to both Kaapo Kakko and Alexis Lafreniere.
DQ said these two lottery picks were tossed into an unprecedented situation, not just because of COVID-19, but because they weren't joining a weak team either.
With veterans like Kreider, Panarin, Buchnevich and others around; unlike a usual lottery team, like a Buffalo or an Arizona, the Rangers did have high-quality players, meaning that you just couldn't put Kakko and Lafreniere on the top line every night. DQ was very sympathetic to the situations around his young players, but at the same time, he had to answer to twenty players and not just two.
Simply put, you couldn't put the "Fat Cats" on the third line, while skating two new faces trying to get acclimated to the NHL.
— DQ, primarily known for his work at the college level, expressed interest in manning an NHL bench again. Maybe he should start brushing up on his French. And yes, that's a tease for our next story.
---
As quickly mentioned on this site previously (and as you probably know by now), Jeff Gorton is now the Executive Vice President of Hockey Operations of the Montreal Canadiens, following owner Geoff Molson's decision to "can" (how ironic, considering his family's legacy with Molson beer), his entire front office.
Gorton, who is also currently temporarily serving the Habs as the franchise's interim general manager, will not wear the GM hat for the club on a permanent basis. As decreed by Molson himself, the Canadiens want a bilingual (French and English) speaking general manger, to serve the bilingual fan base.
Of course, this decision to limit the general manager pool to a bilingual speaking individual is not a wise one. It's my belief that you should go with the best possible candidate available, even if that person only speaks pig Latin or "Trekkie."
It's now up to Gorton to find someone who can fluently curse in both French and English, as former general manager Marc Bergevin was able to do.
With John Davidson immediately returning to Columbus after his firing, and with Gorton now in Montreal; David Quinn remains the only one unemployed, of the Rangers triumvirate from last season. But hey, appearing on "The Cam & Strick" podcast worked out for Gorton – so who knows what lies ahead for DQ? Hello Philly? (Talk about irony, considering DQ replaced Vigneault in New York! More on AV in our final segment tonight.)
This is a pretty good gig for Jeff Gorton, as he is now the top man on the Montreal totem pole. If his general manager works out, that's great for Gorton. If the general manager doesn't work out, Gorton can put all of the heat on that bilingualist.
While Montreal and Molson raved about Gorton; not mentioned was how two lottery picks fell into Gorton's lap, how Artemi Panarin chose New York during free agency and how Adam Fox forced a trade to New York too. Just sayin'!
Good luck to Gorton moving forward.
Speaking of luck (as I continue to transition from subject-to-subject faster than Caitlyn Jenner), if you're lucky, and are fortunate to have some bucks behind your back, may I suggest the following charity drive?
---
The Rangers have issued the following press release over at: https://www.nhl.com/rangers/community/annual-toy-drive?icmp=int_web_nyr_comm_toys_DL_211130
Rangers Annual Toys for Tots Toy Drive
Bring your unopened toys to one of the Rangers' holiday traditions, the Toys for Tots Toy Drive presented by Lexus. This gives fans an opportunity to meet some of the Rangers' greats Mike Richter, Stephane Matteau, and Adam Graves to receive autographs. Player cards will be provided, however, please limit your memorabilia to one item for signing. 

Location: Hulu Theater Lobby (please enter the building through the South Concierge entrance on 31st Street)

Date: December 6th

Time: 5:00 – 6:30 pm
---
I know it's tough for everyone to get to NYC, but even if you don't go to the Rangers "Toys for Tots" drive, there are plenty of "Toys for Tots" locations throughout the tri-state area. You can find a list of locations here: https://www.toysfortots.org/
Similar to "The Garden of Dreams", "Toys For Tots" is a great charity that works on enriching the lives of children who need it. Even a cheap $10 toy will help some family out, families who may have been struggling already, only to get slammed harder during the pandemic.
And while mentioning that "P" word, that brings us to our next topic of this magic carpet ride.
---
The following comes from https://www.hartfordwolfpack.com/news/detail/wolf-pack-vs-thunderbirds-game-on-december-1st-postponed :
HARTFORD, CT – The American Hockey League (AHL) has announced that the Hartford Wolf Pack's game against the Springfield Thunderbirds on Wednesday, December 1st, 2021, will not be played as scheduled due to league COVID-19 protocols affecting the Wolf Pack.

A make-up date for Wednesday's postponed game has yet to be determined. Season ticket holders are asked to hold onto their tickets for the new date, which will be announced shortly. All group purchasers will be contacted by their respective sales representative. For single game buyers, you can exchange your ticket at the Sunwave Gas and Power Ticket Office for any 2021-22 Wolf Pack home game. You may also call 860-727-8010.

The decision to postpone Wednesday's game was made in consultation with medical experts and the AHL.
---
As of this writing, there is no word on how many Wolfpack players who had tested positive for COVID, but I've heard rumors suggesting as many as ten players that have tested positive. Again, how many players actually tested positive we don't know – but we do know that it was a significant amount which forced a game postponement.
Additionally, Greg McKegg, who is currently on the Rangers NHL roster, has tested positive for the virus too.
If this news "benefits" anyone, and for as sick as that may sound, it's Rangers back-up goaltender Alexandar Georgiev.
With an outbreak with the farm team (and again, we don't know who tested positive for it either), it's highly unlikely that Adam Huska or Keith Kinkaid will now take the next back-up start on behalf of the Rangers.
While who knows if recalling a goalie from Hartford was ever seriously considered; for the time being, Georgiev should get one more chance in net. (I still say it happens on Saturday night, when the Rangers host the struggling Chicago Blackhawks.)
Get well soon Wolfpack!
One last thing, somewhat Rangers-related, before talking about Wednesday night's game.
---
Late Tuesday afternoon, the New Jersey Devils said they had major shocking news to announce. I thought perhaps Marty Brodeur married another sister-in-law. Instead, the Devils announced that they have come to terms with Jack Hughes, where the number one overall pick of the 2019 NHL Draft signed an eight-year deal with the club worth $64M overall.
Here are the details of the contract:
Jack Hughes extension breakdown:
22-23: $9 (includes $2M SB)
23-24: $8.5M
24-25: $8.5M
25-26: $8.5M
26-27: $8M
27-28: $7.5M
28-29: $7M
29-30: $7M
(10-team no-trade clause kicks in 26-27, so for last 4 years of deal)

— Pierre LeBrun (@PierreVLeBrun) November 30, 2021
---
I don't get this contract at all. Like many of you, this feels like a contract given out based on someone's status as a number one overall pick – and not because of merit.
In a way, this also somewhat indirectly effects the number two selection of the Hughes draft, Kaapo Kakko. And looking ahead, it may also effect the Rangers negotiations with their number one overall pick of the 2020 NHL Draft, Alexis Lafreneire. You know these agents were happy about Hughes' new deal today.
Food for thought, here are the numbers between Kakko and Hughes:
Jack Hughes, 119 games played, 20 goals, 35 assists, 55 points and a plus/minus of -27.
Kaapo Kakko, 130 games played, 22 goals, 24 assists, 46 points and a plus/minus of -19.
Needless to say, neither 2019 draft pick is worth $8M a season.
---
I have no clue what the Devils are doing here, unless they are trying to make things tougher on the Rangers.
In no way, shape or form, is Jack Hughes worth $8M a season. Rather than giving Hughes a safe bridge deal, the Devils are bypassing all of that, buying out all of those bridge years with this long-term deal. If Hughes was like Adam Fox, then it would make sense to do this, as the Rangers just did with Fox this season. However, Hughes is nowhere near productive as Fox is.
This news is most certainly beneficial for Kakko and his agent. However, there's no way Kakko is worth $8M either. Additionally, the Rangers don't even have that type of cap space to pay the young Finn. Heck, half of this money, at $4M per, may be too much for Kakko.
If there is any explanation of the Devils move here, it's perhaps the fact, that like Columbus, like Florida, like Winnipeg and like several other teams – the New Jersey Devils are a small market team, where free agents usually don't desire to play for. After all, who wants to live in the slums of Newark?
Sometimes, small market teams need to overpay to retain players and to lure stars, as the Devils did with Dougie Hamilton during this past off-season. (Carolina sure hasn't missed Hamilton, as Tony DeAngelo, at 1/9th the price, has been a hockey salary cap godsend for them.)
While I doubt Rangers general manager Chris Drury will overreact, or do anything drastic; at the same time, the Devils have impacted the market a bit with this "jumping-to-the-gun" contract.
It should also be stated that the Rangers have more leverage over Kakko than the Devils had with Hughes. After all, the Devils don't have talent like Mika Zibanejad, Artemi Panarin, Chris Kreider, Igor Shestyorkin and Adam Fox. Instead, the Devils have the expiring contract of P.K. Slewban. The Devils did what they felt was necessary to keep their face of the franchise with this gross overpay.
And yes, I hate talking about player contracts, but that's the system that the NHL has designed.
Even worse? Whenever you see these contracts that these baseball players are currently signing, where they make more than 50% of an NHL's team payroll. A starting pitcher can make nearly $50M a season, play 40 games and then go on the disabled list with a fart injury if he wants. Insane. The NHLPA really needs a better negotiator.
(Of note: the MLB players' union is the strongest union in America. Fact.)
Speaking of "gross", let's finish up and now talk about the Flyers.
---
Like the Rangers, the Flyers schedule was effected by the Islanders issues with COVID. The Flyers were supposed to host the blue and orange on Tuesday night, then drive down I-95 to play the Rangers on Wednesday. Instead of a back-to-back, the Flyers, who last played on Sunday 11/28 (5-2 loss to the Devils), got some time off.
There are two rumblings in Philadelphia now, where the word "rebuild" is one of them and where the job status of former Rangers head coach Alain Vigneault is the other. (And as Jim S. of "The Blueshirt Underground Show" said last night, how ironic and messed up would it be, should AV be fired during another franchise's rebuild? What poor luck!)
If it weren't for COVID, and the Islanders looking to make a quick buck at the IBS Arena, there's a good chance that the Flyers would be last place in the division.
Currently, the Flyers, with their 8-8-4 record, good for twenty points in twenty games played, are the second worst team in the division. (The LAST PLACE Islanders have 12 points in 17 games played.)
And just like the Islanders, who are on a losing streak (eight games), the Flyers are on a bad losing streak themselves, losers in their last six games played.
And need I remind you about all of the success the Rangers had over the Flyers last season? Why not:
Of note, for those looking to relive Rangers success and enjoy Philly misery, you can read my 3/17/21 Rangers/Flyers game recap here: https://bluecollarblueshirts.com/31721/
While I don't like to curse on this site, I must admit – the Philadelphia Flyers are a "phucking" mess.
After a hot start in Year One under AV, the Flyers have fallen to the bottom of the standings during these last two seasons, where it's never the same issue plaguing them. Sometimes it's their goaltending. Sometimes it's their special teams. Sometimes it's injuries. They can just never put it all together.
Of course, this is where Ranger doubters and the pessimists will use the phrase "trap game"; but haven't we heard that phrase several times this season, where in all of those alleged "trap games", the Rangers have gone on to handle business and win? In fact, Ranger fans, just last week, were saying "trap game", regarding the Rangers taking on the COVID-infested Islanders at the IBS Arena.
Going into this game, Kevin Hayes, who has only played two games this season because of injuries, is a game-time decision. You know he wants to play this game, as he tries to continue his revenge tour against his former team, where admittedly – he's had success in the past.
However, the Flyers will be without Derick Brassard (yep, he's there), Ryan Ellis, Patrick Brown and Nate Thompson. Sans the Sammy Blais season-ending injury, which is now two weeks old, the Rangers are 100% healthy and are playing their best hockey of the season.
Just like their win over the Islanders last Wednesday, the Rangers must continue their winning ways, while adding to the Flyers losing ways. The Rangers can't be a slump-buster here.
And with four days to prepare for this game, I kind of expect a slow first period as the Rangers get back into the thick of things, followed by a strong finish – where the Rangers are sticks up at center ice once the final horn goes off.
Of note: while gambling odds aren't always the best indicators of anything, I should mention that the Rangers are nearly a 2:1 Vegas favorite, where you have to risk $190 in order to win $100 on the Blueshirts.
LGR!
Plugs time, and then the finish!
---
The first plug of tonight's blog – the mandatory plug for my new book, "The New York Rangers Rink of Honor and the Rafters of Madison Square Garden". And let me say this – thank you to everyone who has bought one, as my Amazon sales have exceeded all expectations, where for a limited time (that damn Mark Messier who just released a book!), my book was number one on the Amazon hockey book sales charts.
As mentioned previously, the book is now available in hardcover, in paperback and in Kindle formats. To purchase a copy of the book, visit this link:
https://www.amazon.com/Rangers-Rafters-Madison-Square-Garden-ebook/dp/B09CM5N2WD
For those still looking for signed paperback versions of the book, I have 3 copies left for sale for $25 (includes shipping price) through me directly. Here is all the information on that:
---
Here are my last few blogs, in case you missed them: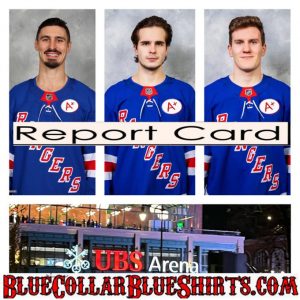 ---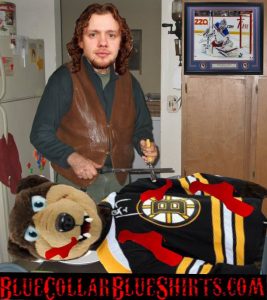 ---
---
If you haven't already, subscribe to this blog for the next update:
---
Up next: The Flyers, on Wednesday night, live at M$G.
As I sign-off here, I'd like to thank everyone for all of the feedback to last night's manifesto, featuring the IBS Arena Review and report card.
Also thanks to Andy G., an Islander fan/writer, who plugged the IBS Arena review on his well-viewed and well-received Instagram account. I noticed a huge uptick in site traffic today, and I believe it was because of his plug. Thanks again – even if Andy is a filthy Islander fan.
Stay FABULOUS my friends.
As always here, thanks for reading and…
LET'S GO RANGERS!
Sean McCaffrey
BULLSMC@aol.com
@NYCTHEMIC on Tweeter