Greetings and salutations everyone and welcome to another blog here on BlueCollarBlueShirts.com. How about those New York Father Finkin' Rangers?
Following the news of CZAR IGOR's designation on the injured reserve (complete details in the news segment of tonight's manifesto), the Rangers, who have exemplified pretty much every positive cliche in hockey, did it again – where the cliche of "NEXT MAN UP" was most apparent.
While Panarin's (and Strome's too) three-pointer (much more impressive than the never-ending three-point chuck ball that you currently see in the NBA of today) is the lede story; it's perhaps Alexandar Georgiev who needed this game the most. In fact, scratch that word "perhaps" from that previous sentence. Georgiev 100% needed a strong performance tonight. I thought he succeeded in achieving that goal on Saturday night.
In a game where the referees did Georgiev, nor the Rangers, any favors (the Blackhawks were the beneficiaries of two video review replays – both good goals for the franchise unfortunately now known for their sexual molesting), "THE KING OF KINGS" (remember that old moniker?) turned back 25 shots in all, during the Rangers 3-2 victory over their Original Six rival.
During last night's blog, I ran down all of the cliches that I've been using all season, such as "Special Teams Swing Games", "Good Teams Find Different Ways To Win", and "One Game at a Time."
As noted at the top of this report, you can also throw in "Next Man Up" as well, with Georgiev being the latest Ranger to meet the challenge. Previously, players like Dryden Hunt and Julien Gauthier have delivered in their new roles.
However, the cliches don't stop there, as this game had another cliche – "sometimes it's better to be lucky than good." And of course, I'm also referencing Alexandar Georgiev here.
Aside from cliches, I've also talked a lot about people/fans with negative narratives wanting to be proven correct rather than accepting the truth. You can't argue with these fools, because they are so pig-headed, so much so, that they won't listen to reason. They would rather just wallow in their own pool of pessimism rather than enjoy the team playing well. Thankfully, I lost one of these people from my Facebook page last night!
That said, one negative narrative from this season is that "GEORGIEV SUCKS!" You may have heard about this.
---
Sure, Georgiev hasn't been that hot this season, but as mentioned about 675675675675678567567853678534 times on this site already – he's at his best when he's getting regular ice time.
Thus far, #40 in blue hasn't shown us that he can just take spot starts every 7-10 days and then play at his best. (And yes, in case you're new here – I'm well aware that is his role. This is CZAR IGOR's team – and as it should be. Simply stated, the Rangers have no reason to prioritize Georgiev's issues.)
With CZAR IGOR now down for a bit; this is Georgiev's best chance (if not his last), to showcase what he has to the entire league – especially during his contract year.
While no one roots for injuries, this was the opportunity that Georgiev needed for himself personally. In his first two tests (the final 14:52 from Friday and tonight), Georgiev has aced them – even if he owes his iron and crossbar a steak dinner after Saturday night's game.
---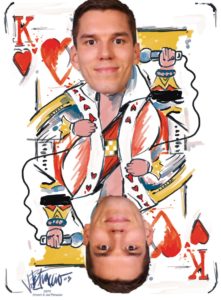 I don't want to get too in-depth on this, as if this was the "Book of Georgiev" from some Rangers Bible; but #40 (formerly #90) has had an interesting up-and-down career with the Rangers. Let me explain.
Originally joining the team as a third-string goalie (behind starter Henrik Lundqvist and back-up Ondrej Pavelec) during the 2017-2018 season; come the 2019-2020 season, Georgiev paced all Ranger goalies with the most amount of starts and the most amount of wins too. (17 wins in 34 games played.)
An undrafted free agent, Georgiev was never deemed to be the successor to Henrik Lundqvist. And heck, CZAR IGOR was never thought to be that guy either. Instead, Brandon Halverson, drafted 59th overall during the 2014 NHL Draft (Shestyorkin was drafted that same year at #118 overall), was originally thought to be that guy. However, and as I keep the theme of cliches running strong here – "the best laid plans of mice and men often go awry."
And I think we can all agree that CZAR IGOR was a nice little surprise. After all, Halverson is still trying to break into the NHL, where he's currently playing at the ECHL level today.
Back to Georgiev.
With Henrik Lundqvist declining (Father Time is undefeated – another cliche), Georgiev actually posted better stats as #30's back-up; as previous back-ups, Cam Talbot and Antti Raanta, once did before the Bulgarian. Will Georgiev get big-time starter's money elsewhere in the future, as both Talbot and Raanta went on to receive? Only time will tell.
However, with the emergence of CZAR IGOR, this was never going to be Georgiev's team. Rather than being given the keys, Georgiev found himself stuck in the middle between a legend and perhaps the next future franchise goaltender of the organization.
---
After leading the team in both starts and wins during the 2019-2020 season, come the 2020 Stanley Cup Playoff qualifiers (the NHL's return-to-play format during the pandemic); Georgiev quickly found himself as the odd-man out.
Despite CZAR IGOR's injury at the time, and Georgiev's stellar work prior to the pandemic; DQ opted to go with legacy over the future, naming Henrik Lundqvist as his starter until Shestyorkin could return. It wouldn't matter anyway, as the Rangers were the worst team of the 2020 bubble, losing three straight to the Carolina Hurricanes.
(Of course, this worked out in the end, since the Rangers then won the 2020 NHL Draft Lottery – aka "The Lafreniere Sweepstakes.")
After Henrik Lundqvist's buy-out in the off-season that followed; Georgiev thought he'd have a chance to wrest the starter's gig from CZAR IGOR. Like the Islanders making the playoffs this season – FAT CHANCE.
(And speaking of the lowly Islanders, how about their current TEN GAME LOSING streak, and the fact that all of these ESPN douchebags, including that brainless woman who said that Lafreniere wasn't playing well this season, predicted the Islanders to win the Stanley Cup in 2022? Dumbasses!)
Last season, the truncated 2021 version, Georgiev had the worst season of his career. Georgiev never truly forced the issue, as CZAR IGOR was many steps ahead of him.
In this season, and in his second-year of a contract that expires in June of 2022; Georgiev has only gotten worse.
Granted, a lot of Georgiev's poor numbers aren't 100% on him; but at the same time, the disparity in both talent and ability between he and CZAR IGOR has never been greater. Rather than challenging Igor for more time; Georgiev's numbers have only strengthened CZAR IGOR's bid for a Vezina.
---
Hurting Georgiev (even more so than ever before), is the fact that he is one of the highest paid back-up goaltenders of the league, in a time where salary cap hits have never been more important than they are today.
In addition, prior to this season, while Georgiev never directly asked for a trade – he also made it known that he wants a chance to compete for a starter's job. (And really, any goalie should have this mentality.) However, his limited performances from this season hasn't helped his case. That is, until now.
I'll get more into this during the game review segment, but while Georgiev had a TON of help from the iron tonight (three metallic dings, where Sam Rosen heard all of them), he also played well enough to win – as he did.
Furthermore, and as mentioned, the two goals Georgiev allowed in Saturday's contest were extremely questionable.
If you're a Georgiev hater that wants to go on-and-on about the three pucks that touched metal, I won't stop you; but at the same time, you must also admit that Georgiev made a bunch of big saves and that both goals allowed weren't on him either. (Again, more in the game review segment.)
In now 74+ minutes of action over this weekend, Georgiev has only given up two goals and more importantly – has played his best hockey of the season – when the Rangers need him the most.
That stated, we all know that Georgiev will never be the starter in New York.
However, for at least the next week, if not longer – Georgiev will perhaps get a chance to earn a starter's job elsewhere.
Maybe Georgiev is traded prior to the 2022 trade deadline. Maybe the Rangers keep him as a back-up and then move on from him in the off-season, where then Georgiev can look for a starter's job on the open market.
Either way, it does feel like this season is Georgiev's last in New York.
Whether or not he's a starter in the future may be determined by what immediately happens next for him. These past two nights have helped out #40, where he's boosted his putrid numbers from this season, and where he will have to keep this going in order to bolster his argument to become a starter in this league.
And for someone who didn't want to write a lot about Georgiev tonight (after all, Panarin's night was bigger for the team), so much for that!
Let's now get into the news!
---
Prior to tonight's game, the Rangers made some roster transactions in light of the injury to CZAR IGOR.
Morgan Barron, just recalled on Thursday, was sent back down to Hartford on Saturday. With Barron sent back down to the AHL, we are to assume that he was just an insurance policy in the event that Barclay Goodrow needed some time off.
And speaking of Goodrow, since I was at the game on Friday night, I didn't get a chance to see a close-up of his face until Saturday. But man, oh man, how about this:
An injury like this would put one of those $50M per-season baseball players on the disabled list for three months!
Instead, here's #21 in blue, with stitches above his eye, where it also looks like he took a right hand from an in-his-prime Mike Tyson. Again – hockey player.
Of course, the big news of the day was the aftermath of CZAR IGOR's right leg injury, where at this time, we don't know what the specific injury is.
On Saturday afternoon, it was reported (and then later confirmed by the Rangers themselves) that Shestyorkin will miss at least a week's worth of games, as he's now on the seven-day injured reserve.
With Shestyorkin out for at least the next week, the Rangers recalled Adam Huska from Hartford. As talked about last night, Keith Kinkaid wasn't an option, due to his current status on the COVID-19 list.
Here's Gallant's pregame press conference from Saturday afternoon, where he addressed the state of his goaltending:
---
While there is never a good time to get injured, for the Rangers, who are now without their Vezina candidate for at least a week – the upcoming schedule isn't that bad.
Prior to tonight's contest with the Blackhawks, where it was already announced that Alexandar Georgiev was getting this start anyway; the Rangers will play the Blackhawks one more time (Tuesday), followed by a home game against the Colorado Avalanche on Wednesday.
If Igor is able to return, he would first be able to rejoin the club on Friday night, when the Rangers go on the road to play the lowly Buffalo Sabres. And even if Igor can't make that start – it's a start that Georgiev should be able to handle.
Just like any other injury, this is another case of "NEXT MAN UP" for the Rangers. If Georgiev and/or Huska struggle, it's up to the team to help lift them up, and that includes Rika Zibanenash – a #93 that's now without a goal in his last dozen games played.
---
With all the news of the day now covered, here was Gallant's line-up for tonight's game, which is the same line-up that he's been using lately:
FIRST LINE: Kreider/Mika/Kakko
SECOND LINE: Panarin/Strome/Hunt
THIRD LINE: Lafreniere/Chytil/Gauthier
FOURTH LINE: Rooney/Goodrow/Reaves
FIRST D-PAIR: Lindgren/Fox
SECOND D-PAIR: Miller/Trouba
THIRD D-PAIR: Nemeth/Lundkvist
And in net, CZAR IGOR.
---
BOX SCORE time.
The following information and graphics come from the new world-wide leader in NHL coverage, ESPN.com:
SCORING:
PENALTIES:
TEAM STATS:
GOALIES:
SA

GA

SV

SV%

ESSV

PPSV

SHSV

SOSA

SOS

TOI

PIM

31
3
28
.903
19
1
8
0
0
57:
| | | | | | | | | | | |
| --- | --- | --- | --- | --- | --- | --- | --- | --- | --- | --- |
| SA | GA | SV | SV% | ESSV | PPSV | SHSV | SOSA | SOS | TOI | PIM |
| 27 | 2 | 25 | .926 | 21 | 1 | 3 | 0 | 0 | 60:00 | 0 |
---
After writing last night's blog (plugged below), I watched the M$GN replay of the Sharks/Rangers game. Following the replay, I saw the post-game show, where during the thirty minute affair – Steve Valiquette didn't mention his own career, nor mentioned anything analytical related either.
Similar to the 2013-14 Rangers, which this 2021-22 team currently reminds me of; Valiquette stuck strictly to the eye-test and human element, rather than bombarding us with 8767867896796786 meaningless and useless made-up statistics. It was nice to see "Vintage Vally" here, as I can't stand the current incarnation. (You may be aware of this!)
During tonight's broadcast, Vally once again shied away from all his analytical nonsense, where instead, he focused on intangibles and chemistry, where he also mentioned Ryan Reaves by name. Perhaps Vally's disciples will also take notice – and give "THE RANGERS WILL NEVER WIN WITHOUT PAVEL BUCHNEVICH" stuff a rest too.
I'm always firm but fair on this site, and I thought this was one of the better M$GN broadcasts of the season.
If there was anything that bothered me, and this is definitely a nit-pick, it's how Sam Rosen and Joe Micheletti are the two biggest reverse-mush jinxes in the world. Anytime they speak, I feel they are hexing the Rangers, whether it's bringing up how some player is cold on the other team (who then immediately scores), or something else.
For "home announcers" (and to fair, they do get excited when the Rangers win – it's just everything else in-between), you'd think after the 89678678678967896976 gambling commercials that air during these games, that both Sam "Ulf Nilsson" Rosen and FABULOUS Joe Micheletti had money on the opponent. Then again, maybe they are out-smarting us all (okay, I highly doubt this) and are "reverse reverse jinxing" the other team!
And oh, nothing gives Rosen and Micheletti a bigger hard-on, then whenever two brothers are playing in the same game.
Between the two Strome's (Dylan on Chicago and Ryan on New York) and the two Jones' brothers (Caleb and Seth) on the Blackhawks – Rosen and Micheletti were fully erect all broadcast. They couldn't contain their raging boners for brothers. This is not a new development, as we've previously seen this with both the Smith and Staal brothers.
Off to the game review!
---
If I had only one word to use when summing up the first period, that word would be "snooze".
In a first period devoid of any real action, it would take the Rangers nearly nine minutes to record their first shot on goal of the game. In fact, once the period was over, the SOG tally read as Chicago 7, New York 5.
However, and as we all know by now, this team always finds new ways to win.
Plus, Gallant's Gang had just played the night before, so a slow start was somewhat expected. And it's not like the Rangers were playing bad or anything like that – they were just more focused on defense than offense, where a lot of the time – great defense leads to even better offensive opportunities. (And perhaps this was the game plan due to Georgiev being in net. Completely understandable.)
I won't rehash all of my stuff on Trouba, but if you're current with what I've been writing – I think he's been playing well as of late. I also think (especially when watching these games inside of the arenas), that it's extremely apparent he's been doing a lot of covering up for K'Andre Miller. (You notice this more live, than you do on TV.)
That said, Adam Fox, as he usually is, was the best rearguard on the Rangers tonight. However, it was Trouba who was most noticeable first, especially when he stepped up to the plate, and blocked a huge shot off of the stick of Slavin.
The Rangers, who can win the 5-2 game just as easy as they can win the 2-1 game (and just like the night before); continued to limit offensive chances in this game, although Patrick Kane broke through several times – something Micheletti pointed out repeatedly before #88 eventually broke through and scored.
Twelve minutes into the game, each team were sitting on two shots on goal a piece.
With seven minutes remaining in the first period, Patrick Kane hit a post, while his former teammate Artemi Panarin (where the two exchanged passes with each other during warm-ups) was then stopped on the other end by Georgiev's counterpart, Kevin Lankinen, who like #40 in blue, also played well tonight.
And really, isn't that always the case? Any opposing goalie making their first start at M$G always looks like the second coming of Georges Vezina. I've learned to accept it!
Right after, the Hawks hit the iron again.
And I don't know if you saw this, but in Chicago's last game against Washington, future Hall of Famer Marc-Andre Fleury kissed his goal posts, after his posts denied two Cap shooters. After this game, Georgiev should've given his two red pieces of pipe a deep and passionate french kiss – no matter what his opinions are regarding "public display of affection!"
As the Rangers fourth line continued their great forechecking (or is it "four-checking"?), Kane zipped into the Rangers zone again, where this time, K'Andre Miller lifted Kane's stick, preventing a catastrophe for Georgiev.
Dylan Strome, perhaps trade-bait in Chicago, won three consecutive faceoffs in the Rangers d-zone within the final two minutes of the period, winning two against his brother Ryan, and one against Zibanenash. Ironically, these would be the only three faceoffs that the younger Strome won all game.
After Georgiev made a blocker save on #88 in white, with 22.8 seconds to go, Brandon Hagel high-sticked a puck. Georgiev made the initial save, but the puck then traveled towards Kane, who had a wide-open net to deposit the puck into, with nary a Ranger in sight.
1-0, bad guys.
Three things:
1. During this season, usually it are the Rangers scoring these last minute back-breaking goals. Instead, they were on the other end of the equation tonight, where to their credit; this never derailed them. Rather than sulking, the Rangers played their best period of the game in the following stanza.
2. This looked to be a high-stick, meaning that this goal should've never counted. Gallant used his review here, where after about 3.4 seconds later, the refs stuck with their original call – good goal. In my eyes, and yes, there is homerism here – this goal should've been erased.
3. Since the referees disagreed with Gallant, this gave the Rangers a delay of game penalty – which Ryan Reaves served on behalf of his team.
After one period, we remained at 1-0 bad guys. We wouldn't remain with that score for too long.
---
After Georgiev made two great saves during the final 1:37 of the Hawks power-play; the Rangers got a man-advantage themselves, when Henrik Borgstrom high-sticked Filip Chytil. #13 in white drew blood here, which meant that the Rangers got four minutes worth of power-play time.
The Rangers made good use of the first power-play afforded to them, as 4:41 into the period, Strome tied the game:
Fox + Breadman + Stromer = PPG #NYR pic.twitter.com/Wz7yZcaVr7

— Rangers on MSG (@RangersMSGN) December 5, 2021
---
1-1.
Just like Strome's goal scored 24+ hours earlier; Adam Fox found Panarin and "The Breadman" found his favorite center wide-open and undetected. Strome had all day to pot this puck, which he did. While not exactly a frame-to-frame equivalent of Strome's PPG against the Sharks; this was pretty much the same play, the same passes and more importantly – the same result.
As Rika Zibanenash continued to struggle on the power-play, even hitting a post himself, as the soon-to-be $8.5M man remains snake-bit; the Hawks would stunt the Rangers during their second power-play.
Following the Hawks kill, Georgiev made a great save, when he stopped Carpenter during a wrap-around backhanded attempt.
The Rangers would get a chance to grab the lead during a 3 x 2 odd-man rush, but Kaako made an ill-advised pass, resulting in a turnover. This trend would continue throughout the game for the Rangers, who often decided to make the extra fancy pass for a turnover or no SOG, rather than just shooting the puck and looking for a puck-on-pads type of play.
As the period progressed, the Rangers really owned the time of possession stat. There was a long stretch here, and do I ever mean a looooooooooong stretch, where the Rangers dominantly controlled the puck. The Blackhawks not only were held without a SOG for nearly ten minutes; but they literally didn't have possession of the puck during this time either.
With the Rangers just owning the period, where all they needed to do was find the go-ahead goal; that goal finally came with 2:35 remaining in the period, courtesy of your future two-time Norris Trophy winner:
Fox puts it in!

Last 6 Games (1G, 8🍎's) pic.twitter.com/kcyWId0OMm

— Rangers on MSG (@RangersMSGN) December 5, 2021
---
2-1, GOOD GUYS, as Fox slammed home a rebound, following a shot off of the stick of Panarin.
On this play, Panarin dipsy-doodled around, deked out some Hawks, fired a shot and Fox was there to clean up. GOOD THINGS HAPPEN WHEN YOU SHOOT THE PUCK.
Seriously, at this point in the game, I thought the sticks of the Blackhawks had collected dust, as they weren't doing anything offensively.
However, just as I was thinking that, with 69 seconds remaining in the period (heh-heh Beavis, you said "69"), Georgiev made a header save, even if it was most likely accidental:
Georgiev looking sharp🙌 pic.twitter.com/EEbb06tM3T

— Rangers on MSG (@RangersMSGN) December 5, 2021
---
On this play, I think Georgiev was going for a glove save, but instead, the puck bounced off the right side of his mask. But hey, he was in the right position to make this save! Then, with .5 ticks remaining, Georgiev made one more save, keeping in tact the Rangers one goal lead.
After forty minutes, 2-1, GOOD GUYS.
If there was anything negative to say here (should you be looking for that angle), it's that Rika Zibanenash continues to struggle. We're all waiting for him to break out and dominate, like we all know he can do.
---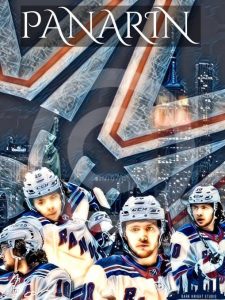 Just 46 seconds into the period, Georgiev made a pair of saves. Immediately after, Zibanenash was denied again.
Three minutes and change into the final frame, Seth Jones and Chris Kreider collided. Kreider got up gingerly, but otherwise he was fine. He didn't even miss a shift. On the same play, Jones blatantly slashed Miller, giving the Rangers another power-play.
This man-advantage attempt wouldn't be successful, as Lankinen continued to stand tall in net for the Hawks.
As Sam Rosen repeatedly called Nils Lundkvist "Ulf Nilsson" (Rosen would later correct himself, bless his heart), Panarin then drew Wyatt Kalynuk for a trip with 12:55 remaining. And really, that line, the Panarin/Strome/Hunt line, looked amazing tonight.
During the power-play, Mika hit the post again. (Can you imagine if the Rangers had the Islanders record right now? Mika would be crucified for his struggles, but instead, they are swept under the rug a bit due to all of the Rangers success.)
The Hawks would kill this Rangers power-play too, where right after, Kubalik hit iron. Georgiev had a big friend tonight.
With nine minutes to go, Trouba got a puck out of the zone, to prevent the Hawks from tying the game. A minute later, Filip Chytil went wide from a foot away. Two minutes after Chytil's miss, Georgiev stopped Debrincat – another huge save for #40.
As you started clock-watching, and just wanted to get to triple zeroes; with 5:14 remaining, Panarin tried to set up Strome. Strome couldn't finish on this try, but the puck squirted back to Panarin, where one of the best snipers in the league displayed his skills, going top shelf for the goal. 3-1, GOOD GUYS!
Not only did this give the Rangers the much-needed insurance goal – this also gave Panarin and his favorite center three-point games a piece. Not too shabby!
With 2:30 remaining, and the game all but won for the Blueshirts; Chicago went empty net, and employed their 6×5 attack.
Following a pair of Barclay Goodrow empty net goals from earlier this season (at Nashville and at Seattle), the Rangers aren't as automatic with these "sealing-of-the-deal" goals. Rather than going up 4-1; instead, the Blackhawks struck within one goal with 79 seconds remaining.
Just like the first Blackhawk goal, this one wasn't without controversy either, as Georgiev made the initial save and was then BLATANTLY PUSHED (interfered with) into his own net by Kirby Dach. How this goal counted I don't know; but then again, no one in the world, including NHL officials, know the exact definition of "goaltender interference."
3-2. Ass-clenching time.
With 14.3 seconds left, the Blackhawks took a desperate time-out. No matter, as the Rangers did their job, held on and picked up the win. 3-2, GOOD GUYS, your final!
And oh yeah – "GOOD TEAMS FIND DIFFERENT WAYS TO WIN!"
---
The Rangers do it again, as they are currently the hottest team in all of the league.
With Washington also winning tonight; the Rangers still remain one point out of first place, but do have two games in hand, as the Caps have played 25 games to the Rangers 23 games played.
In addition, the Rangers increase their win-streak to six games and push their winning streak at home to eight games. "Home Cookin'" has never tasted this good!
And the winning is also infectious and contagious, including inspiring positivity all-throughout Rangerstown, USA. I didn't see all of the post-game show, but Vally was giddy as a school girl from what I saw – definitively stating that this was the best Rangers team that he's ever seen.
While I think it may be too early to compare these Rangers to the 1994 and 2015 teams – I won't stop you, nor criticize Vally for this opinion. We've waited for this for a while, and it's great to see this team shatter all expectations.
Even with Igor's injury, the schedule isn't as bad as mentioned earlier.
Sure, the Rangers draw Colorado on the second half of a back-to-back this coming Wednesday night; but the Rangers also have games against these same Blackhawks and the 8-13-3 Buffalo Sabres.
---
Before going home tonight, everyone's favorite segment – the PLUGS segment!
The hardcover version of my book, available now at Amazon.com
The first plug of tonight's blog – the mandatory plug for my new book, "The New York Rangers Rink of Honor and the Rafters of Madison Square Garden". And let me say this – thank you to everyone who has bought one, as my Amazon sales have exceeded all expectations, where for a limited time (that damn Mark Messier who just released a book!), my book was number one on the Amazon hockey book sales charts.
As mentioned previously, the book is now available in hardcover, in paperback and in Kindle formats. To purchase a copy of the book, visit this link:
https://www.amazon.com/Rangers-Rafters-Madison-Square-Garden-ebook/dp/B09CM5N2WD
For those still looking for signed paperback versions of the book, I have 3 copies left for sale for $25 (includes shipping price) through me directly. Here is all the information on that:
---
Here are my last few blogs, in case you missed them:
---
---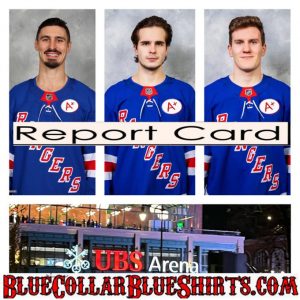 ---
If you haven't already, subscribe to this blog for the next update:
---
Up next: a rematch with the Blackhawks in Chicago on Tuesday night. Puck drop is scheduled at 8:30PM.
What a time to be alive.
Stay FABULOUS my friends.
As always here, thanks for reading and…
LET'S GO RANGERS!
Sean McCaffrey
BULLSMC@aol.com
@NYCTHEMIC on Tweeter