Greetings and salutations everyone and welcome to another blog here on BlueCollarBlueShirts.com. WOW.
Regular readers of this website know that after every Rangers game, I routinely make some sort of header photo (usually horribly done, and with some of the worst cuts one can ever make while using MS Paint), featuring the star (or goat) of the game.
During tonight's Blueshirts victory, as the Rangers entered the third period tied at 2-2, only to go up 3-2, then 4-2, then 5-2, and eventually finishing the game with a final score of 6-2; I had no clue who to headline and feature with my atrocious photo alteration skills.
While these 2021-22 Rangers have had several team-wide victories before; in my opinion, none were greater than this 6-2 winning effort from Tuesday night.
I just wish the Rangers had a better team photo to work with, as at this time, there is no customary team photo of the entire roster all sitting together. The best picture of the roster is the one you see above, as per the Rangers themselves.
(And yes, even with the win and #93's two assists in the game, I couldn't resist – yep, that's Rick Nash's head where "Rika Zibanenash's" face should be featured! More on Zibanejad to come, where like his inability to score goals (13 game drought) – he's pretty much an afterthought right now. I'm over all of the excuses. Man up.)
---
There are so many different and great things to talk about tonight, where really, it's tough to find one lede story – hence tonight's headline and photo.
Not only did Jacob Trouba pick up a Gordie Howe Hat Trick tonight (one fight, one goal, one assist and presumably one bourbon, one scotch and one beer on the plane ride home too), but the reigning Norris Trophy winning defenseman, Adam Fox, had a monstrous game too.
Elsewhere, Artemi Panarin, who definitely seems like he enjoys playing against his former team; had a four-point game himself, behind his two goals and two assists.
Chris Kreider (the man who many fans wanted to see as team captain), had a multi-point game, where he also added another power-play goal to his ledger during this match, his tenth PPG of the season. (Kreider is now one shy of Leon Draisaitl (11), for most power-play goals scored in the NHL this season.)
But wait, there's more. In fact – there's much more.
You had the Rangers fourth line completely taking over the game in the third period, a fourth line which I have been raving about since the off-season and into this 2021-22 season. Once again, on this night in the windy city – they displayed why they are the best Blueshirts fourth line since the peak years of the Alain Vigneault era.
Ryan Reaves, who I gushed over once again last night (the link to that blog is in the PLUGS segment below), had another multi-point game this season, assisting on both a Rooney and a Goodrow goal.
Even better (the fourth line, not here for their scoring in the first place), picked up all of their goals and points in crunch time, in the latter stages of a wild Rangers third period. Not only are they wearing down opponents all game – they are capitalizing offensively during this time too.
And then there was Alexandar Georgiev, who is currently trying to prove to the NHL that he's a starting goaltender, and a goalie who gave up two goals in the first period, never to give up another goal again in the game.
The man with the #40 jersey finished the game making 24 saves on 26 shots against, giving the Bulgarian a save percentage of .923.
Prior to CZAR IGOR's injury, Georgiev had some horrific numbers, which as explained on this site previously, were not 100% an indictment of his play – he's just not Shestyorkin.
Perhaps even better for Georgiev, unlike Saturday night (the last time these two teams played, as this game was the rematch), there weren't an abundance of pucks ringing off of the iron in this go-around. Georgiev buckled down after a shaky start, keeping the Rangers in the game until they finally exploded in the third period.
Oh yeah, there's also that Gerard Gallant guy, where again, his "One Game at a Time" mantra proved true, as his gang is now on a season-high seven-game winning streak. That's one more win than all of the games the Islanders have won all season.
And did I mention that the Rangers have the best points percentage in all of the league yet? The team has picked up 77% of all points afforded to them – an NHL high.
Standings-wise, following the win over Chicago, the Rangers are not only one point out of first place in the division – but one point away from first place overall in the league! Presidents' Trophy ahead? Who knows?
That said – there will still be those analytical losers crying about the team being "too tough" and whining about Chris Kreider going offside.
As you probably can tell, I love this team in its current state. Not only are they winning, but they are also shoving every analytic and chart up all of these mooks five-holes! Who could've predicted that? Hmmm!
---
Officially (at the arena), and unofficially (M$GN's opinion), Artemi Panarin was named the first star of the game.
After all, "The Breadman" picked up four points in this contest, as #10 also surpassed the career 500 point mark in this tilt. Following this game, Panarin is now only 497 points away from point 1,000!
However, in my eyes, no one was more important in this game than Adam Fox – and that says a lot, considering both the individual and team efforts that we saw in this affair.
Yes, you need to score goals to win games, but you need defense to prevent goals too. Fox did both, and he also did it at even strength and on special teams.
Fox, who did pick up two-points himself, broke up what felt like twenty different Blackhawk scoring chances. More impressive, there was one Rangers penalty kill in this game where Fox broke up 3-4 different Chicago scoring chances, where on any of them, the Hawks would've had an easy power-play goal.
There was even one play, where Patrick Kane had a wide-open net (and do I mean wide-open), during a Rangers penalty kill, where somehow, at the last second, Fox was able to deflect a sure-fire goal into the netting above Georgiev – rather than into the netting behind Georgiev. Simply fantastic. I was blown away. Ditto Lundqvist and Vagistat during the second period intermission segment.
Similar to the Academy Awards; if there was ever a game film to submit to the voters of the Norris Trophy – it was this one, and that doesn't even include all of the games where #23 was embarrassing goaltenders with his wicked backhand shot.
---
This win, and the reaction following it, feels like a "bursting-at-the-seams" type of a deal.
Like a good Thanksgiving Dinner, you just want to unbuckle your belt or change into sweatpants, so you can relax and savor it. And no you PC people – this isn't a Blackhawks/Indian joke!
In fact, and I'll get more into this at the end of this blog – I wish there was no game on Wednesday night.
While the first period from this game wasn't the best; once again, the Rangers showed their RESOLVE, and as usual, exemplified every cliche I've been using all season.
This victory over the Blackhawks is one you'd like to marinate for a bit.
Instead of being able to enjoy it; following the game, the Rangers had to rush to a plane, where they wouldn't get home until a little past 3AM Wednesday morning. (The same time I'm publishing this blog!)
For all the cliches, adages and sayings I've been using on this site all-season long; here's one more: "you're only as good as your last game played."
The Rangers were more than good on Tuesday night, but nearly twenty hours after this win, it will all be forgotten, as the team hosts the Colorado Avalanche – a team that many picked (including the Vegas odd-makers, who gave the Av's the best odds) to win the Stanley Cup in 2022.
That said, I'm just glad I have a $100 bet (at +2800) on the Rangers to win the Stanley Cup this June!
One more cliche – "ya gotta believe!"
---
There is so much to get into tonight, so let's get right into the NEWS segment.
As far as any pregame news, I covered everything in last night's blog. You can find that blog (and my most recent blogs) in the PLUGS segment at the end of this manifesto.
The only somewhat major thing to take place prior to tonight's game with the Blackhawks, was that the NHL announced the make-up date for the previously postponed Rangers vs Islanders rematch. The game, originally scheduled on Sunday, November 28th, 2021, will now take place on Thursday, March 17th, 2022.
(Of note: despite the Rangers/Senators game from November 20th, 2021 being postponed first, there is still no news on when that game will be played. Obviously, it's easier to reschedule a game between two teams that play within fifteen miles of each other, rather than rescheduling a game between two teams who play in two different countries – two different countries with different sets of COVID-19 mandates to boot.)
Penn Station should be fun on March 17th, between a heated Rangers/Islanders game and all of the St. Patrick's Day drinking festivities! Wear your galoshes and thank me later as you tip-toe over vomit and Islander fan tears!
And may I mention, that the last time the Rangers played on St. Patrick's Day, the Rangers massacred the Flyers to a tune of 9-0, where Rika Zibanenash also recorded a hat-trick (3/17/21).
Needless to say, I'll take another nine spot in three months time!
---
When it comes to any other sort of news that hasn't been covered already; prior to tonight's game, Gallant met with the media, where he basically reiterated everything that he said on Monday.
In other words – the same line-up from Saturday night.
As a refresher, here was tonight's line-up:
FIRST LINE: Kreider/Mika/Kakko
SECOND LINE: Panarin/Strome/Hunt
THIRD LINE: Lafreniere/Chytil/Gauthier
FOURTH LINE: Rooney/Goodrow/Reaves
FIRST D-PAIR: Lindgren/Fox
SECOND D-PAIR: Miller/Trouba
THIRD D-PAIR: Nemeth/Lundkvist
And in net, Alexandar Georgiev.
---
BOX SCORE time.
The following information and graphics come from the new world-wide leader in NHL coverage, ESPN.com:
SCORING:
PENALTIES:
GOALIES:
| | | | | | | | | | | |
| --- | --- | --- | --- | --- | --- | --- | --- | --- | --- | --- |
| SA | GA | SV | SV% | ESSV | PPSV | SHSV | SOSA | SOS | TOI | PIM |
| 29 | 5 | 24 | .828 | 21 | 1 | 2 | 0 | 0 | 59:40 | 0 |
| | | | | | | | | | | |
| --- | --- | --- | --- | --- | --- | --- | --- | --- | --- | --- |
| SA | GA | SV | SV% | ESSV | PPSV | SHSV | SOSA | SOS | TOI | PIM |
| 26 | 2 | 24 | .923 | 19 | 0 | 5 | 0 | 0 | 60:00 | 0 |
---
As far as the M$GN broadcast for tonight's game goes – it was largely hit-or-miss.
Once again, I thought Henrik Lundqvist did a great job, as he continues to bring new and interesting insights from the desk. There was even a segment about his recent trip to Dubai, a unique segment that you wouldn't find anywhere else.
Steve Valiquette, who has noticeably limited his analytical nonsense as of late, since none of that junk no longer applies; continued to do his fan-boy act with #30 next to him.
The way Vally looks at Hank is the same way that Lafreniere looks at Reaves, as the Rangers exit the tunnel and take the ice.
With Lundqvist around, Vally is more useless than normal.
As mentioned 7856675675675675 times before – M$GN needs a skater's perspective on the broadcast with Lundqvist. (Hello Sean Avery?) We just don't need a franchise goalie with a yes-man next to him, parroting everything Lundqvist says.
And after watching the Islanders broadcast tonight (their game started ninety minutes before this one), with three women on the air -"Vally's View" would be perfect for a studio show that feels like "The View" itself. At least Vally wouldn't have to worry about his "suit game" with Shannon and AJ.
Before closing out on the Rangers studio portion of the broadcast; after Lundqvist talked about how he thought Georgiev would rise to the challenge, Vally then had a segment on goaltender's butts. I'm not making this up. I wish I was.
Lastly, as the broadcast was transitioning from the studio to the game itself; I really enjoyed the camera shot where Barclay Goodrow tossed a puck into the stands, a grown man caught it, and then the adult did the right thing – found a kid to give the puck to.
Far too often, you see these mongoloid adults, crowding the glass and bowling over little kids, just so they can get a piece of rubber worth $1.
I know I've done these rants before, so I'll limit myself here by just repeating the following – if you can afford good seats to a game, then you can afford a $10 puck at the team store too.
Let the kids have their moment, you freaks.
(And if you're a grown man that carries around a piece of cardboard begging for free shit, you should be sent to Guantanamo, or even worse – be forced to watch Vally talk about analytics (or his career) for a year straight, while your eyes are duct-taped so you can't close them.)
---
Let me get the following off of my chest before jumping into the game review.
We all know about my comments regarding Trouba's contract. I stand by all of them. I won't budge on those opinions – I think Trouba's contract doesn't benefit the Rangers.
However, just to be clear, I am not rooting for Trouba to fail at all – despite contrary opinion! (And I am 100% joking when I say this – that includes you Eddie G. of BSU! "Buchnevich who?")
I hope Trouba earns every cent he makes. Furthermore, I hope his deal becomes a steal too!
I don't know if people just ignore when I praise people or not, but as stated over these last three weeks – I think Trouba has played great. Whenever he's angry, he's at his best. He was angry tonight, but that had nothing to do with his hit on Khaira, as I'll soon get into.
And to also expand on this point – I'm not rooting for "Rika Zibanenash" to fail either.
That stated, I won't accept any more excuses on behalf of #93 in blue. It's time to call a spade a spade.
The Rangers are now 24 games into their 82 game schedule, and the "elite" center has four goals to his name – two less than fourth line center Kevin Rooney, a Rooney who receives one-third of the ice time Zibanejad receives, and a Rooney who doesn't play on the power-play either.
In other words – I call it like it is.
And simply put – Zibanejad has been disappointing this season.
If the team wasn't the hottest team in the NHL of the last three weeks, then #93's issues would be front and center – just like dog shit on the Flyers logo. (CALLBACK to last night's blog!)
Just like how I hope Trouba keeps this going and has finally found his mojo (it only took over two seasons, egad!) – I hope Mika figures out whatever is plaguing him. No one is more excited about the Rangers excelling than me, but the Rangers (and us fans), need Zibanejad to step up to the plate here – especially come playoff time.
Lastly while on this – I don't think it's a coincidence that the Rangers have never been hotter this season once the light went on for Trouba. He's been a one-man wrecking crew and the Rangers need this consistency out of him.
Yes, many Ranger victories are the result of team-wide efforts (hello fourth line), and the special teams have never been better; but the Rangers really kicked it into next gear as Trouba became more of an offensive threat and a physical powerhouse. The REAL STATS and EYE TEST don't lie – only the analytical losers do!
---
The first period, not the Rangers best, was marred by troubles at the face-off circle.
However, and to pat myself on the back here (no shame!) – I was never concerned, even if other fans were. I just don't know how anyone can be concerned whenever this team experiences their lulls, as more times than not – they always rebound and comeback to win.
(And don't forget another one of my cliches – "the other team is paid to play too.")
In a "SPARTA 500" game, where Panarin was looking for his 500th point, while Gallant's former goaltender Marc-Andre Fleury was looking for his 500th win; it would be Panarin hitting the milestone on this night. MAF will have to wait.
Just 61 (Rick Nash's number!), seconds into the game, Panarin made a simple pass to Trouba. The $8M defenseman then wristed a shot past MAF. Take a look:
Trouba with the quick shot to get the boys on the board pic.twitter.com/eYS37DIsmb

— Rangers on MSG (@RangersMSGN) December 8, 2021
---
1-0, GOOD GUYS, just like that.
And while I wouldn't exactly call this a "monkey-on-his-back" type of ordeal; Panarin got his 500th career point out of the way. He'd later pick up three more.
Unfortunately, just 43 seconds later, Hawks defenseman Erik Gustafsson scored. (His first goal of the season too, of course.)
This goal was the result of the many defensive zone faceoffs the Rangers lost in this game.
On this particular faceoff loss, the puck made its way to Gustafsson near the blue line and the defenseman then went long distance on Georgiev.
I thought Georgiev should've stopped this one, even if Patrik Nemeth (who else?) was screening his goaltender.
That said, when you look at Georgiev's performance overall, I think you can blame the fact that he was screened on this, rather than saying Georgiev played this puck poorly. Gallant said as much after the game.
Of course – that won't stop the Georgiev haters who want him banished to the gulags! (Or even worse – forcing Georgiev to watch Steve Valiquette "highlights"!)
No joke, the guy could post a shutout every game and some Ranger fans will still bury him, as some have thrown the towel in on him, never to retrieve it. (Ironically, the same morons who also said that the Rangers would miss Buchnevich, Ryan Reaves is just a goon, Chris Drury doesn't know what he's doing, the Rangers won't make the playoffs, etc.)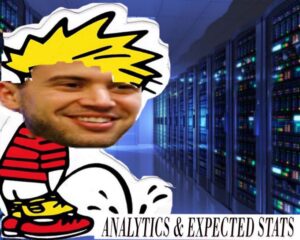 After the Blackhawk equalizer, the Rangers put together three consecutive solid shifts, where Kakko put on a forechecking show.
However, and for really the remainder of the contest, Kakko and the third line (I refuse to call it the "Kid Line", knowing my hockey history – unlike the majority of the NYR beat reporters), were barely a blip on the radar – outside of drawing a penalty later in the game.
That said, there will be nights where different players will step up and tonight just wasn't this quartet's (including Kakko) night.
And really, if you were to draw up a successful game plan for every Rangers game, wouldn't you want the bulk of your production coming from your FAT CATS – rather than relying on your youngest players to do all of the heavy lifting? The FAT CATS did a wonderful job in this game – and I'm glad to see it. (And that sentence does include Zibanejad, despite his goal scoring woes.)
---
Six minutes into the period, it was mostly all Rangers, somewhat similar to the second period from Saturday. However, that would soon change, as Chicago pretty much took over the period, largely due to all of their faceoff wins.
Georgiev's number would soon be called upon frequently, where he first stopped Carpenter from a foot away. #40 would then stop Calvin de Haan – as the former Islander gave the Rangers fits all game, including drawing two penalties.
Following another brutal defensive zone faceoff loss, Kirby Dach scored with 12:51 remaining in the period. 2-1, bad guys, as Ranger fans were already shipping Georgiev off to Hartford. Georgiev would later show these people up, as the goaltender would then remain flawless throughout.
(And like the first game between these two teams, I don't think you can blame Georgiev for the two goals allowed. The Rangers just have to get better at the circle.)
As the Rangers offense struggled to get going, with 4:22 remaining, Georgiev made two quick saves to prevent the Hawks from gaining a two goal lead.
Georgiev, who made seven saves in this period (not all of them easy), kept the Rangers within one as the final horn of the first period went off.
If anything was plaguing the Rangers in this period, once again, it was the battle at the dot. However, despite being down 2-1 after twenty minutes, I felt good about the Rangers coming back. Very rarely, do you see this team play two blah periods in a row.
---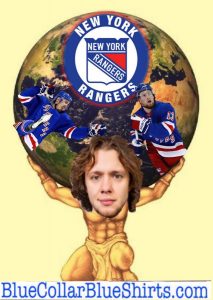 Not even thirty seconds into the second period, both goaltenders made huge denials to keep the game at 2-1.
2:05 into the period, Nils Lundkvist (where he and Nemeth weren't exactly the best players on the ice tonight) drew a penalty, as Borgstrom hooked the Swede as he was entering the Hawks zone.
In one of the best executed power-plays you'll ever see, at the 3:19 mark of the period, Panarin scored a power-play goal:
For the 6th time in 7 games…

IT'S A POWER PLAY GOAL!

🎥 @NYRangers pic.twitter.com/Da63MjmcH0

— Rangers Videos (@SNYRangers) December 8, 2021
---
2-2.
What was so amazing about this goal, was that all five Rangers on the PP1 unit all touched the puck, before Panarin slammed it into the wide-open net. TEAM PLAY!
In a play that would change the vibe of the period, at the six minutes and change mark, this happened:
— DeSomething, Louis the Whatever's Finance Minister (@FSUNYREDM) December 8, 2021
---
As you can see, Jacob Trouba just floored Khairi. This was a clean and legal hit. (Trouba's skates never came off the ice either.) The consequences were just unfortunate, as Khairi, who was skating with his head down, just got absolutely run over here.
Fortunately, after the game, the Blackhawks released a statement saying that Khairi was doing better.
Coach King said that Khairi was upright, talking and responding well. King even said that Khairi is already looking to get back on the ice, but obviously has to undergo testing before being cleared to play. What looked (and was) extremely scary seems to be a crisis averted. Glad to hear it.
(For what it's worth too, King didn't say the hit was dirty, nor was upset about the officials not giving Trouba penalty for this gigantic smash either.)
There's just no other way to say this – this is one of the risks you take when playing hockey, especially when skating around with your head down. Nothing intentional or malicious went down here. It was just something that can happen when playing this fast and physical game.
(And at the risk of sounding like a barbaric uncouth caveman here – I wouldn't mind if Trouba made this same, and LEGAL, hit on P.K. Slewban one day.)
---
After a long delay, where Khairi was stretchered off the ice (and again, thankfully he is okay as this could've been much worse), the game resumed.
You knew that the Blackhawks had to run Trouba, even if #8's hit was clean as a fresh white sheet. It's part of the code, and I'm glad this "old time hockey" code was applied.
Following the Rangers first of four successful penalty kills (a boarding penalty assessed to Panarin, as "The Breadman" caught de Haan in the numbers), and a penalty kill where the Rangers didn't allow a SOG; with 9:30 remaining in this period, Riley Stillman dropped the gloves and went toe-to-toe with the larger and bigger Trouba.
Trouba won this fight handily, but I give Stillman props for defending his team, even if Trouba's hit wasn't dirty. It's what a hockey team should do. Trouba had to know this was coming and he answered the bell.
And yeah – an instigator penalty should've been called here, but I'm not crying about it. This was old time hockey. I'm fine with what transpired here.
(Of note, Trouba, who did look visibly shook up as Khairi was being stretchered off of the ice, wasn't available to the media following the game. I thought that was a poor PR move, but perhaps Trouba was busy checking up on Khairi instead. In fact, that wouldn't surprise me at all, as despite all my comments on Trouba's contract, I don't think he's a bad guy and I do think he's a class act.)
Following the fight, Dryden Hunt high-sticked de Haan. Once again, the Rangers penalty kill here was amazing, as Fox was all over the place breaking up Hawk chances. Additionally, the Rangers PK had the best scoring chance during these two minutes, as Mika and Kreider almost connected for the man down goal.
As we hit under a minute to go, the Blackhawks only had two SOG during the previous thirteen minutes of action – where the Hawks also had two power-plays.
Upon returning to the ice, Trouba, who led the team in hits (8), crushed Stillman. However, with 6.6 seconds remaining, Trouba's partner, the befuddled K'Andre Miller, tripped Debrincat, thus giving the Hawks 1:53 worth of power-play time to open up the final frame.
2-2 after two periods. What's that cliche? Oh yeah – "win the period, win the game"; where the Rangers most certainly overachieved!
---
The Rangers once again killed off another Hawks power-play, where again Adam Fox, Adam Fox, Adam Fox.
And yes, we all know that I love my "SPECIAL TEAMS SWING GAMES" quote; but at this point in the game, the Rangers PK was 3-3 and had limited the Hawks to only one SOG. Impressive. My quote rang true!
Following the kill, Lafreniere forced a turnover in the Rangers d-zone and then got the puck up ice. From there, Kakko drew a slash out of Dach at the 3:52 mark.
At the 4:59 mark of the period, the Rangers scored one of their most skilled power-play goals of the season, with Chris Kreider as the beneficiary of an expertly-aimed soft lob of a shot/pass from who else – Adam Fox!
3-2 GOOD GUYS!
---
No joke, Fox, who received a pass from Panarin, then lined Kreider up with MAF, and passed a puck that was the equivalent of a Little League coach under-handing baseballs to a grade-schooler, and CK20 deflected it right by Fleury. You couldn't have drawn this up, much less executed this, any better.
Now with the lead, it was all about closing this game out.
However, there would be one hurdle ahead, as with 14:11 remaining, Trouba was nailed for blatantly tripping Kubalik. No matter, as the Rangers penalty kill came up big, where this time, it was Georgiev, and not his skaters, doing the big boy work. (Georgiev made four saves on this PK.)
With the Hawks man advantage now neutralized, the Rangers PK was now 4-4, while the power-play was 2-2. A PERFECT NIGHT, 6-6, FOR THE RANGER SPECIAL TEAMS. That's something to hang your hat on and beat your chest about.
As we got under ten minutes to go, and as both de Haan and Kane were threatening the Rangers one-goal lead; with 7:50 to go, Adam Fox, like Brittney Spears, "did it again", finding Kevin Rooney for the insurance goal.
On this play, Ryan Reaves won a puck battle, threw the puck towards the direction of Fox and the Norris winner caught up to a misaligned puck and then found Rooney for the tally. I'm running out of positive adjectives here, so let's go with the tired-and-true Micheletti special – FABULOUS!
4-2, GOOD GUYS!
With 3:10 to go, MAF was off to the bench for the extra attacker. Not even nanoseconds later, Panarin scored an empty netter. 5-2, GOOD GUYS!
---
Of note, with the assist on this ENG, Trouba earned the first Rangers defenseman Gordie Howe Hat Trick since the days of Brian Leetch (1988). And for all the Tony DeAngelo/Trouba comparisons I've made on this site, Trouba now ties DeAngelo with one Howe hat trick this season a piece. Not too shabby!
And of course, Sam and Joe had no clue that Trouba picked up this Gordie Howe Hat trick, despite yammering on about Panarin being a fight away from picking up one. Does this shock anyone? I didn't think so.
But the Rangers weren't done yet.
Following a Strome/Carpenter brawl, which didn't get too crazy as the refs stopped it before one man could fall to the ice; with 79 seconds remaining, and with MAF back in net, Barclay Goodrow scored. 6-2 GOOD GUYS. This was another pure fourth line goal this season, as both Reaves and Rooney assisted. OH BABY!
6-2 your final, as the Rangers abused the Blackhawks like…. oh wait I can't make that joke.
6-2 your final, as the Rangers bombed the Blackhawks on 12/7 like… oh wait I can't make that joke either.
6-2 your final, as the Rangers had one of those classic four goal third periods!
WHAT. A. WIN.
---
One last thing before closing out on this particular game – Georgiev is now 2-0 since Igor went down. NEXT MAN UP!
And really, even if the Rangers do lose to Colorado, there's already the built-in back-to-back excuse. Just beat Buffalo on Friday, where a win over Colorado would literally be "house money".
---
It's late, so let's get into the PLUGS segment before going home.
Up first, the "2 Guys 1 Cup" podcast returned on Tuesday night, recapping the recent events in Rangerstown, USA, including this win over the Hawks. This is the first time this podcast has released a "post-game" episode.
I haven't listened to it yet (I will once I publish this manifesto), but I'm sure, like always, that the episode is a hit.
And with this being their first "post-game" episode, it tells me that the two hosts, Shawn and Roc, are just as excited about this team as I am.
To listen, click the link below:
A recap of the 2 blackhawk and Sharks games, the LEGAL Jacob Trouba hit, Panarin getting his 500th point, the list of the other 20 Russian NHL players to amass 500 points, a look to the weak ahead, and navigating the goaltending situation without Igor #NYR https://t.co/MhmRbNjbtL

— 2 Guys 1 Cup Podcast (@2G1CRangers) December 8, 2021
---
The hardcover version of my book, available now at Amazon.com
The first plug of tonight's blog – the mandatory plug for my new book, "The New York Rangers Rink of Honor and the Rafters of Madison Square Garden". And let me say this – thank you to everyone who has bought one, as my Amazon sales have exceeded all expectations, where for a limited time (that damn Mark Messier who just released a book!), my book was number one on the Amazon hockey book sales charts.
As mentioned previously, the book is now available in hardcover, in paperback and in Kindle formats. To purchase a copy of the book, visit this link:
https://www.amazon.com/Rangers-Rafters-Madison-Square-Garden-ebook/dp/B09CM5N2WD
For those still looking for signed paperback versions of the book, I have 3 copies left for sale for $25 (includes shipping price) through me directly. Here is all the information on that:
---
Here are my last few blogs, in case you missed them:
---
---
---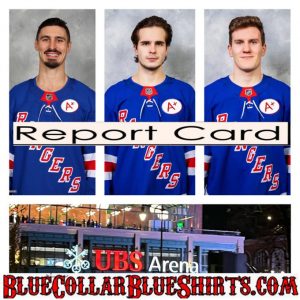 ---
If you haven't already, subscribe to this blog for the next update:
---
Up next: right back at it, less than twenty-four hours later, with a home game against the Colorado Avalanche.
Stay FABULOUS my friends.
As always here, thanks for reading and…
LET'S GO RANGERS!
Sean McCaffrey
BULLSMC@aol.com
@NYCTHEMIC on Tweeter