Greetings and salutations everyone and welcome to another blog here on BlueCollarBlueShirts.com. I was told by the analytical chart geeks that the Rangers had no chance this season, following the trade of Pavel Buchnevich!
The Rangers, fresh off of another victory, this time 4-1 over the Flyers, and officially at the quarter-mark of the season; are now presently enjoying their third four-game winning streak of the season. They'll try to make it the first five-game winning streak of the season, this Friday night, when they host the San Jose Sharks.
And after tonight (and really, after any game this season) – Rangers bench boss Gerald Gallant must tell Georgiev, "NO WAY (SAN) JOSE", and go right back to his starting goaltender, CZAR IGOR SHESTYORKIN. Ride the hot hand – especially with first place within reach.
With this victory over a much-heated rival (and a loss that could lead the Philadelphia Flyers into rebuild-and-sell mode), the Rangers are now in a virtual tie for second-place in the division.
Currently, the Washington Capitals (23 games played) pace the toughest division in hockey, the Metropolitan Division, with 33 points. Both the Carolina Hurricanes (15-5-1) and the Rangers (14-4-3) have 31 points, with both squads playing 21 games each.
If the Rangers can continue their winning ways, especially with three very winnable games ahead (San Jose on the second end of back-to-back, followed by a home/road series with dreadful Chicago), by this time next week – the Rangers may very well be at the top of the division. What a time to be alive!
So much for all of the negativity out of the analytical chart geeks – am I right?
One more time, "I hate to say I told you so," but yeah – I predicted the Rangers would be very good this season! Of course I'm going to enjoy this victory lap with the team over-achieving!
Yes, there's a lot of time left (I feel like I've been saying that a lot too), but the Blueshirts have been a breath of fresh air, in a New York City sports scene full of smog, garbage and losing. LGR!
---
While not exactly a tale of two halves; this was a two-faced type of a game, with the men in stripes being the sole reason for this.
The Rangers, from puck drop, came out hot, where they immediately dictated both the pace and tone of the game. They would race out to a quick 2-0 lead. The home team could've then had a 3-0 lead; had a dopey linesman not blown a whistle for an offside. (More on this in the game review segment.)
Instead of being up 3-0 (like they should've been after twenty minutes), once returning from the first intermission, the Rangers quickly got the third goal they should've had previously, with Chris Kreider pushing the score to 3-0 at the 34 second mark of the second frame. What's that expression? Oh yeah – "OH BABY!"
From this point of the game, and like two games against the Flyers last season – it looked like the blowout was on. However, because of the zebras, that never happened – despite the Rangers eventually winning the contest by three. (A Rangers ENG padded the score.)
Less than ninety seconds after Kreider's big goal, his sixteenth (ten more than anyone else on the team), the refs bagged Dryden Hunt for a penalty, which originally was a boarding call.
After a review, the refs refused to remove their heads from their five-holes, and changed the call to a five-minute charging call – with a game misconduct tacked on too.
Listen – unlike most fans, bloggers, reporters, or whatever label you want to bestow upon me – I rarely, rarely and did I mention rarely, ever complain about the officiating. I'll let friend of the blog Howie S. do that!
However, the call assessed to Hunt was after a clean hit, where at the very most, it was a two minute boarding offense. (Justin Braun, who drew the penalty, turned his numbers to Hunt.)
Rather than calling what actually happened; instead, the refs reacted to what happened, as Braun came up bloody following the hit – making Hunt's love-tap look worse than it actually was.
This changed the game. It also showed us why the Rangers are a good team this season.
As you may know already, I always like to say, "good teams find different ways to win." Now down a forward for the rest of the game (a second liner at that), the Rangers had to change their approach, especially with a five minute Flyers power-play to kill off.
Enter CZAR IGOR.
Up 3-0, and now having to kill off the erroneous five minute major assessed to Hunt; the Rangers didn't flinch. Not for a second.
I'll get more into what happened during the game review, but needless to say, CZAR IGOR came up with seven saves during this flawless kill – and where he also got a ton of help from his defense too – including, yes, major help from a one Jacob Trouba.
While the successful penalty kill took some gas out of the Rangers, as Gallant was then forced to shuffle his lines too; the Rangers never cracked.
I said the following on this site a few times during the past week: CZAR IGOR has a ton of games with only one goal allowed, where in all of them, it's always some sort of fluky play that leads to the opponent's lone goal.
Following the kill, the Flyers would soon be afforded one of these "puck-luck" goals.
However, that would be it for the cheesesteak city.
After the scoreboard read 3-1, in favor of the GOOD GUYS; there would only be one more goal scored in the contest – an empty netter for Artemi Panarin.
Outside of CZAR IGOR, who continues to strengthen his Vezina bid, and where I'm at the point that none of his FABULOUS saves shock me anymore; it was Jacob Trouba who shocked me the most – and in a good way.
---
Yes, we all know my complaints (and maybe yours too) about #8's contract; but in my eyes, this was his best game of the season. In fact, this may have been the best complete game that Trouba has played for the Rangers, ever since first arriving to the club in 2019.
I don't know if someone on the Flyers told Trouba that "no one in Russia likes you" or not; but whatever the case, Trouba was like King Kong out there, just dominating these little pissants known as the Philadelphia Flyers.
Including a monstrous Godzilla-powered one-timer power-play goal, which kicked off the scoring in the game; Trouba was also equally as impressive defensively.
On a night where the Norris Trophy winner, Adam Fox, struggled a bit (#23 in blue did pick up an assist though, to keep atop of the NHL defensemen scoring leaderboard); the hulking Jacob Trouba did the heavy lifting on behalf of the Ranger rearguards.
While this has happened before, it was Trouba, and not Adam Fox, who led all Rangers in TOI, playing 22:47 overall. (Fox finished with 21:54 worth of time.)
Not only was Trouba's lone Rangers power-play goal a key part of the victory (special teams swing games – you may have heard me say this once or a million times before, and that was most certainly evident in this match); but the $8M-per-season man also blocked four shots – another team high.
And it's not just the black-and-white stats either.
Throughout the 60 minute duration, Trouba was making things tough on the Flyer shooters, breaking up odd-man rushes, forcing shots wide and not giving up an inch. I was blown away – and contrary to popular opinion – loved every second of it.
This is the Jacob Trouba we need to see every game. I know that it's impossible to play this way every night, as the 82-game schedule is a grind and you're always due for an off-night; but if we can get this Trouba on a consistent basis – watch out.
And if you can tell – I'd rather rave about Trouba than whine like a bitch about his contract!
Unlike others, I don't want to be proven right with a personal negative narrative/opinion – like these morons who are still going on about the Buchnevich trade! I hope Trouba keeps this going and then makes his contract look like a bargain.
That said, there is one last piece of negativity to talk about here, for as minor as it is.
Following my words on Zibanejad, and very much like the Rangers themselves – I'll then bring on my often-mocked overwhelming positivity!
---
I have talked a lot about Mika Zibanejad's disappointing start to this 2021-22 season, where I don't want to rehash all of that again tonight. (You can find those blogs, including the "REPORT CARD" blog, located at the end of this manifesto. Also, a quick FYI: several of you have asked me to bury the plugs at the end of these write-ups, and that's what I'll do.)
While "ZIBANENASH" did pick up an assist in this game, his thirteenth of the season; at the same time, the soon-to-be $8.5M center isn't scoring goals, which he is paid to do.
As I predicted last night on this site (and like many of you guys predicted too) – I thought Mika was going to break-out against one of his favorite opponents. Even Mr. FABULOUS himself, Joe Micheletti, made ZIBANENASH the focus of his pregame "TACO BELL TAKE" segment, where "Jumpin' Joe" also predicted a huge night out for Mika. Unfortunately, that never happened.
And to be clear – it's not like Mika was atrocious tonight – far from it. After all, he had one of his best nights out at the faceoff circle, winning nine of thirteen draws. That's a winning percentage of 69.2% – a season high for #93.
Simply stated, Zibanejad has to start scoring goals again.
If it wasn't for the team's success right now, where the Rangers are getting goals from everyone else on the roster (Kreider's 16 tallies don't hurt either!); Zibanejad's issues with potting the puck would be deeply intensified and magnified. Instead, because of the Rangers impressive night-in and night-out performances, Zibanejad's woes to score goals are swept under the rug a bit.
Again, this is not me writing off Zibanejad. This is me assessing #93 at the 25% mark of the season. You have to think he'll eventually get going. If not, it's going to be a long eight plus years.
---
With a four-day break, and a COVID outbreak in Hartford (all covered on this site already, check the PLUGS segment if you missed out), Rangers head coach Gerard Gallant used the same line-up in this game as he's been using as of late. As a reminder, here's the line-up:
FIRST LINE: Kreider/Mika/Kakko
SECOND LINE: Panarin/Strome/Hunt
THIRD LINE: Lafreniere/Chytil/Gauthier
FOURTH LINE: Rooney/Goodrow/Reaves
FIRST D-PAIR: Lindgren/Fox
SECOND D-PAIR: Miller/Trouba
THIRD D-PAIR: Nemeth/Lundkvist
And in net, CZAR IGOR.
---
BOX SCORE time.
The following information and graphics come from the new world-wide leader in NHL coverage, ESPN.com:
SCORING:
PENALTIES:
TEAM STATS:
GOALIES:
| | | | | | | | | | | |
| --- | --- | --- | --- | --- | --- | --- | --- | --- | --- | --- |
| SA | GA | SV | SV% | ESSV | PPSV | SHSV | SOSA | SOS | TOI | PIM |
| 27 | 3 | 24 | .889 | 23 | 0 | 1 | 0 | 0 | 58:16 | 0 |
| | | | | | | | | | | |
| --- | --- | --- | --- | --- | --- | --- | --- | --- | --- | --- |
| SA | GA | SV | SV% | ESSV | PPSV | SHSV | SOSA | SOS | TOI | PIM |
| 34 | 1 | 33 | .971 | 19 | 1 | 13 | 0 | 0 | 59:57 | 0 |
---
While I talked about AV's seat getting hotter in Philadelphia last night; if you're of the belief that a fresh shaved man is a successful man, then the former Rangers head coach should start packing his orange-and-black bags now.
With "Movember" now over, Gerard Gallant had a fresh shaved face, and much like his team – looked like a million bucks.
On the other bench, AV looked slovenly, haggard and disheveled, where it looked like he hasn't shaved in weeks, much less has had any sleep either.
The Flyers, who have a "rocky" (get it?) stretch of games in December, beginning with this one; may soon embrace those rebuild rumors that are popping up all over the place.
And wouldn't it be amazing Suzyn, if in the near-future, AV gets canned in Philly, the Flyers hire DQ to facilitate their rebuild, and then AV joins his former boss Jeff Gorton in Montreal? I wonder what this three-legged parlay would pay out!
---
As far as the M$GN broadcast went tonight, it made me wonder how deep Steve Valiquette's ass truly is, as he continues to pull all sorts of things out of there.
Even after the game, during the post-game show (which I then turned off because I couldn't take anymore of Vally and his never-ending stories about his iconic career), Vally said the Flyers gave up and didn't put forth much effort.
Igor made 33 saves in the game (and who faced seven more shots than his counter-part, Carter Hart), with 13 of those saves while short-handed.
In addition, during a hectic five minute penalty kill, Igor lost his stick and then made three saves while using Trouba's stick. In turn, I ask you – how did the Flyers give up? Igor was just the man – even Vally knows that.
Really, I had to wonder if Vally took a puck to the head too, as Barclay Goodrow did in this game. (More on Goodrow in the game review/recap, but here's a good spoiler – Gerard Gallant said he'd be fine.)
I long for the day where the M$GN gives us an alternate broadcast option, similar to the successful and profitable "MANNINGCAST" on ESPN during Monday Night Football. This seven-foot chart boob, who either has damning pictures of someone, or is related to someone high up, is completely unbearable to listen to.
When Vally wasn't telling us his meaningless stories about his legendary Hall of Fame career, he was then giving us all of his meaningless stats that he makes up, stats which are derived from his own opinions. And how are his Eichel "TINGLES" working out these days? Much like all of his stuff regarding Eichel over the summer – his never-ending analytics are just as hollow.
Perhaps even more disgusting, and proof that these analytical cretins rather see their negative narratives be proven true, rather than being happy about being wrong? Chew on my next paragraph.
Vally also said on-air that his analytics suggested that the Rangers wouldn't be successful. How'd that work out? The EYE TEST, and the HUMAN ELEMENT, trumps all of that foo-foo nonsense. (It also helps that the Rangers have a goalie that is infinitely better than Vally ever was at the NHL level.)
If there was anything good on the pregame show, outside of the usual solid work out of Dave Maloney; taking time away from Vally was the M$GN's presentation of the "Top Eight Ranger Plays of the Month." Ryan Lindgren's walk-off .4 seconds remaining goal won top honors. (Reaves' picture-perfect assist against the Islanders was eighth.)
I rather watch Ranger replays than listen to Vally go on-and-on about his EXPECTED stats, stats that have NOTHING to do with whatever game you're watching. (And if his analytics meant anything, he would be cashing out at a Vegas sports book right now.)
After all, I'm sure the Flyers EXPECTED to score at least one goal on their five-minute power-play. Their effort was denied by CZAR IGOR and the Rangers PK! Human desire > EXPECTED stats!
Enough belly-aching about the useless analyst. Let's talk about the good stuff – the Rangers win!
---
Last night, I said I expected (there's that horrible word again!), a slow start from the Rangers, followed by strong second and third periods.
Instead, the Rangers kicked off this game with fireworks, where the previously mentioned Hunt major penalty changed the flow of the game at the onset of the second period.
After Zibanejad won the opening faceoff against ex-teammate Kevin Hayes; the Rangers created three quick scoring chances. Both Mika and Kreider tried to set-up Trouba, but no dice. That would come later. Following Hart's denials, Panarin was then stopped by the Flyers netminder, after #10 in blue created a turnover.
Just 2:03 in, Morgan Frost took a blatant high-sticking penalty, when he nabbed Gauthier as #15 was streaking into the Flyers zone.
The Rangers first power-play unit, who struggled in this contest, were abysmal here.
In fact, continuing this newest wrinkle to his game, Artemi Panarin made one of the most brutal turnovers you'll ever see, which led to CZAR IGOR bailing his comrade out on the other end, where #31 then stopped Joel Farabee.
I haven't fully watched Gallant's post-game interview yet; but I do wonder if Panarin's turnover influenced what the head coach did next at this moment of the contest.
As you know by now, the Rangers first power-play unit nearly plays the entire two minutes of each power-play. Not this time, as with over a minute remaining on the man-advantage, and following #10's horrible turnover, the PP1 unit was yanked, in favor of the second power-play unit that rarely ever gets significant time.
The decision worked.
At the 3:41 mark of the period, this happened:
TROUBA with a 🚀from the point! #NYR

It's a Powerplay Goal! pic.twitter.com/qZCLEnYLLQ

— Rangers on MSG (@RangersMSGN) December 2, 2021
---
1-0, GOOD GUYS, after a one-timer from the point out of Jacob Trouba. This not only was Trouba's first PPG of the season, but his first PPG since January of 2020 – so don't throw a parade just yet! Keep it going!
As always is the case, right after scoring, the Rangers found themselves on defense, with #79 in blue being the reason.
K'Andre Miller, while not truly 100% horrific tonight, wasn't that good either. A common problem this season. At least Trouba has his good games, where during the last two weeks, it's never been more apparent that he's trying to cover up for his partner.
With 11:28 to go in the period, Joel Farabee tripped and hurt himself. He'd immediately go to the bench.
Farabee would take one more shift, but after wincing in agony during and after it – Farabee went to the locker room and never returned to the game.  This would balance things out, as the Flyers were now down a man, as the Rangers would soon be.
Following Farabee's injury, Carter Hart absolutely robbed Dryden Hunt from a centered shot two feet away. However, Hunt would get the last laugh.
With 10:28 remaining, Hunt made it 2-0, GOOD GUYS:
Under the stick and through the legs 👌 pic.twitter.com/MU96P8ORLT

— Rangers on MSG (@RangersMSGN) December 2, 2021
---
What a pass from Panarin, and what a better finish for Hunt; as like his namesake would suggest – Hunt targeted the available space that Hart provided.
As the Rangers continued to motor on, which made Hart a busy camper; on the other end, and with seven minutes to go, Igor busted out an old school kick save, sending the puck to the boards.
During a TV timeout, the great Stan Fischler was honored by the Rangers.
---
I've written so many words about Stan Fischler on this site already, so I won't go into my "GREATEST HITS" here – but yeah, I was happy to see "The Maven" get his due from the Rangers at M$G. After all, who knows when he'll be there again, as the near ninety year old is currently making his home in Israel, where he has family, including grandchildren.
And for someone who is almost 90; also on December 1st, Fischler announced that he would be writing three columns a week for one of his first employers in hockey – "The Hockey News" magazine and website. Life is a full circle!
As Fischler said while making this announcement, "rest leads to rust". (That's a quote that will always stick with me forever too.)
No joke, the guy could be living the retired life, but he still remains as hard-working as ever – and I can tell you this from a first-hand account too. After all, I'm a nobody, but Fischler gives me notes and critiques on my writings. I'm forever in debt. Who better to give you advice on hockey writing, than Fischler himself? (He'll tell you that my vocabulary is horrendous!)
(And you may be wondering where this leaves me, as since the release of my book, I've been contributing to Fischler's "Java Jive", a project that now no longer ceases to exist. More on that to come, but it's good news – or so I hope!)
The Rangers, with two of their top five defensemen in franchise history presenting (Ron Greschner and Brad Park), gave Fischler a framed collage of historical photos from his career. You could really see the joy coming out of Fischler during this. Well deserved.
Few things here before going back to the game review:
— Brad Park has been at M$G a lot this season, and I mean a lot. I think we all know where this is going – a jersey retirement ceremony. (Perhaps next season, since Lundqvist is getting top honors this season. Maybe the Rangers make that announcement during #30's day of glory.)
— As previously opined on this site, and as said in my book (plug below if you haven't bought a copy yet) – I'm not opposed to Park getting his day. However, I think eight other men deserve the honor more, including Greschner himself.
Additionally, while I doubt my dream of seeing Frank Boucher's #7 entering the rafters taking place any time soon (especially not after Gilbert's passing), if you're going to retire Park's #2, you might as well do it while he's alive and able to travel. (Park is now 73 years old.)
Poor Emile Francis, who the Rangers had inside of M$G two years ago, but opted not to give him a banner – despite having four players (and maybe soon to be five, if Park gets in) in their rafters.
— Speaking of Park and Fischler, if you never done so, you owe it to yourself to pick up a copy of "Play The Man", a revolutionary book from its time. Fischler assisted Park in this autobiography – a tell-all following Park's negotiations with the Rangers. Even some fifty years later, you'll never see a book like this. (Check the book review tab of this site for the review.)
— Every time I see Stan Fischler at M$G, it just makes me think of lost opportunity. When Fischler was living in New York, it's always been my opinion that the Rangers should've put a camera in front of him and just let him go. Look at how successful the "Yankee-ography" series was for the Pinstripes. The Rangers could've done the same with The Maven.
— Finally, did anyone else crack up when seeing John Giannone sitting side-by-side with the nearly 90 year old Fischler during the intermission interview? During the next intermission interview, a microphone was placed in front of Trouba, while Giannone seemingly ran 1,000 yards back.
I know this is an NHL thing, and not a Rangers thing – but yeah, it's okay for Giannone in this COVID world to sit next to an elderly man, but PERISH THE THOUGHT, regarding Giannone sitting next to a 27 year old, in the prime of his life. (And let's not forget that everyone involved here is vaccinated too.)
Back to the game review, but yeah – congratulations Stan Fischler. I was happy to see him honored.
(And if you haven't read my book and/or new here – it were Fischler's writings that got me into Rangers history. He'll always be an icon in my eyes. Without his books, I'd never foster the relationships that I currently have with many members of the alumni and their families.)
---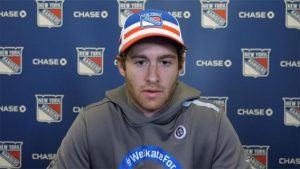 After some great forechecking out of Kaapo Kakko, which almost led to a goal; with 5:30 remaining, Patrik Nemeth bailed out his fellow countryman Nils Lundkvist on defense, going stomach down on the ice, preventing the Flyers from scoring while on a 3 x 1 odd-man rush.
With 2:58 to go, Adam Fox made a perfect intercept in his own zone, went up ice, and found Kevin Rooney for a goal. Or so we thought. Instead, the refs said that Ryan Reaves went offside. Upon review, that wasn't the case.
Rather than letting the play finish out, and then reviewing the goal for an offside; the refs deaded the play immediately, and not on time either – as Rooney had buried the puck by the time the linesman called the offside. Poor officiating, and again, I very rarely criticize the stripes on this site.
The Rangers weren't done yet. Right after this play, Kakko had what AV would call a "GOOD LOOK", with an empty net in front of the third-year Finn. However, the Flyers defense swarmed him, preventing #24 from capitalizing.
Thirty seconds later, Panarin rung a puck off of the iron. Even with the clock winding down, the Rangers would get one more chance, with Hart then denying Gauthier.
2-0, GOOD GUYS, after twenty. This was pretty much as perfect of a period that a team could play.
---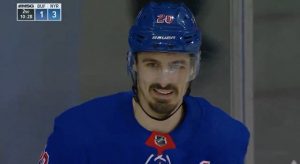 The Rangers started the second period where they left off in the first, as just 34 seconds in, this happened:
Kreider with the finish…FALLING DOWN pic.twitter.com/3afz8QkWQV

— Rangers on MSG (@RangersMSGN) December 2, 2021
---
3-0, GOOD GUYS! The rout was on, or so we thought.
As mentioned earlier, ninety seconds after this goal, this is where Hunt got bagged for a questionable infraction, and an even more debatable game misconduct penalty.
No matter, as the Rangers killed off this five-minute Flyers power-play.
The highlight of this PK, was during a crazy sequence when Igor lost his stick, Trouba then gave up his stick to his goalie, Rooney then gave his stick to Trouba and Igor made three saves with #8's stick. WOW.
The Garden, perhaps because you don't see as many Wall Street types this season, went absolutely bonkers.
The "E – GORE!" chants were overwhelming. It sounded like a playoff game. And yes, as you'd imagine, the "E – GORE!" chants never stopped, following the Rangers goaltender all the way to his first star of the game announcement.
Really, I can't stress enough how great Igor was and how appreciative the crowd was too. The energy in the building could've propelled a rocket into outer-space.
And while I can't confess to seeing every NHL penalty kill of this season – I've seen many. In my opinion, this was not only the best Rangers PK of the season, but one of the best PK's in all of the NHL too.
---
Despite the amazing kill, with 10:23 to go, Morgan Frost was the beneficiary of a puck-luck goal.
Atkinson fired a shot from the left faceoff circle, and the puck then bounced off of Trouba's skate, a Trouba who was trying to clear Igor's net of a filthy Flyer. Alexis Lafreniere, perhaps caught watching, like us; then saw Frost dip in and poke a puck into the net. 3-1, good guys. (This is also my way of saying that this goal wasn't on Trouba.)
Again, the mandatory fluke goal allowed, where without them, Igor could be sitting on 6-7 shutouts this season. That's hockey Suzyn! (And that's my line Mr. Larry Brooks!)
From here on out, the Rangers lost a step a bit, due to the emotional penalty kill and because they were down a man.
Truth be told, it's not like the Rangers were bad or anything like that – it's just that they were scrambling more, rather than controlling the game as they did during the first period. What once looked like a blowout turned into a more of a dump and chase & chip, chip, chip type of a game.
With 5:45 to go, the Rangers were awarded their second power-play of the game, after Frost was nailed for high-sticking again, this time catching Trouba high.
Unlike the first power-play of the game, the PP1 unit ate up pretty much the entire two minutes.
Mika Zibanejad, who after doing his Scott Norwood "high and wide" act for so many games, decided not to shoot the puck while wide open. Instead, he forced a pass backwards to Fox, where the Norris Trophy winner wasn't expecting it. A free clear for the Flyers.
With about 19 seconds left on the Rangers power-play, the second unit came on, where Hart then stopped a nice-looking attempt off of Kakko's blade.
And while on Kakko, he had what DQ would call a lot of "SWAGGER" tonight, behind his two assists and six SOG. (Still not worth $8M though, just like Hughes!)
Now under a minute to go, and after Trouba bailed out Miller again, where #8 broke up a Flyers odd-man chance; #79 went to the box himself, for what was called a cross check at center ice. To me, this was another questionable call, where if you were going to call anything here, it should've been interference.
The Rangers would kill the 17.9 seconds of Flyers power-play time here, keeping the score at 3-1 as the horn went off. The Flyers would then start the final period with 1:43 worth of a man advantage.
---
After what felt like a second period that took an hour to complete in real-time; the two I-95 rivals played a much brisker paced third period.
The Rangers would open the period killing off the remainder of the Miller penalty, where Igor made an extremely difficult save, following a back-handed attempt from Couturier.
It should be noted, that with one minute remaining on the eventual failed Flyers power-play, coach AV used his timeout, in an effort to give his first unit some extra time. In turn, AV wouldn't have a timeout left at the end of the game.
After another brutal Miller turnover; with about twelve minutes and change remaining, Keith Yandle fired a puck, where the rubber looked like it caught Barclay Goodrow directly into his right eye. #21 immediately raced to the locker room for repairs. Of note, this was accidental – and not something intentional by the ex-Ranger who last wore #93 for the club before Zibanenash.
And as mentioned above, following the game, Gallant said the puck didn't hit Goodrow's eye as initially feared, catching him in the forehead instead.
Either way, this was a brutal thing to see and I'm glad Goodrow will be okay. It was so bad, that his face shield cracked, leaving remnants on the ice. Again, crisis averted, as this could've been really horrible.
Hockey-wise, with Goodrow done for the game, the Rangers were now down two forwards. Again – "good teams find different ways to win." The Rangers did just that, clamping down a bit. They played conservatively (as they should've done) with the two-goal lead.
Despite not taking any aggressive chances, the Rangers did challenge Hart a few more times, with the Flyers goalie stopping Chytil on several #72 opportunities. Same old story on Chytil – but I won't go into repeat-mode here.
As the two teams slogged back-and-forth, with 4:11 to go, Fox was penalized after putting a puck over the glass.
I'm not one to get after coaches (who am I to do so?), but I don't know what AV was thinking during this moment of the game.
Down two goals, and on a power-play; AV opted to keep Hart in net, until there were just ten seconds left on the power-play.
Rather than trying to strike within one, with a potential two minute 6 x 4 attack; the Flyers were then thwarted during their limited ten second two-man advantage attack. And they didn't have a timeout either.
Following the kill, and with Hart now on the bench, with 43.9 ticks remaining, "The Breadman" sealed the deal with the empty netter. 4-1, GOOD GUYS. 4-1, your final. 4 game winning streak!
---
Lastly (and I don't really want to get into this, because I didn't think it was that big of a deal, but I know everyone else is talking about it) – following the win, during the traditional fist-pound celebration at Igor's net, Georgiev gave Igor a quick tap and then ran away like a Kenyan in a foot-race.
Some fans are taking this as Georgiev being a bad teammate. In my opinion, I don't really care how the back-up goalie reacts after a game. After all, he was there to congratulate Igor. For all we know, Georgiev, like Igor a few games back, had to use the bathroom.
If you get anything out of this, it's this: if your biggest takeaway after a win is the back-up goalie's reaction, your priorities are fouled up. I think this is a non-story and much ado about nothing.
Plugs time, and then the big finish!
---
The first plug of tonight's blog – the mandatory plug for my new book, "The New York Rangers Rink of Honor and the Rafters of Madison Square Garden". And let me say this – thank you to everyone who has bought one, as my Amazon sales have exceeded all expectations, where for a limited time (that damn Mark Messier who just released a book!), my book was number one on the Amazon hockey book sales charts.
As mentioned previously, the book is now available in hardcover, in paperback and in Kindle formats. To purchase a copy of the book, visit this link:
https://www.amazon.com/Rangers-Rafters-Madison-Square-Garden-ebook/dp/B09CM5N2WD
For those still looking for signed paperback versions of the book, I have 3 copies left for sale for $25 (includes shipping price) through me directly. Here is all the information on that:
---
Here are my last few blogs, in case you missed them:
---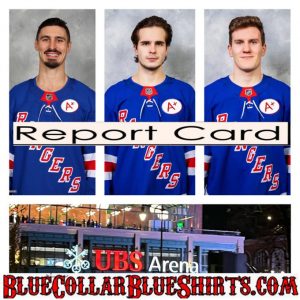 ---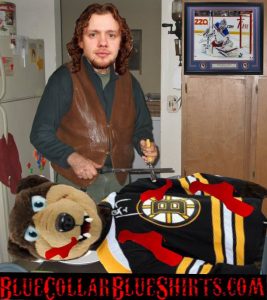 ---
---
If you haven't already, subscribe to this blog for the next update:
---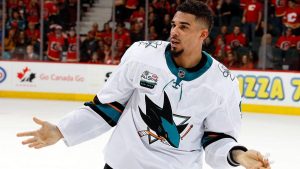 Up next: A back-to-back affair at M$G, as the Rangers host the Sharks on Friday, followed by the Chicago Blackhawks on Saturday night.
Of note: I am attending Friday night's game, so the game review/recap of that game will be posted much later than usual.
In addition, since I am attending, I won't be keeping notes like I usually do whenever doing these game review blogs. Instead, I'll be writing off of memory and from the live experience perspective. Watch out!
Stay FABULOUS my friends.
As always here, thanks for reading and…
LET'S GO RANGERS!
Sean McCaffrey
BULLSMC@aol.com
@NYCTHEMIC on Tweeter