Greetings and salutations everyone and welcome to another blog here on BlueCollarBlueShirts.com. Well, I did predict the Rangers to win this series in six games!
Ugh.
On Tuesday night in Tampa, the Rangers played their worst game of these playoffs.
While there were losses to both the Penguins and the Hurricanes that were pretty bad; this loss was a pure wire-to-wire smackdown of the New York Rangers.
You know it's really bad, when just five minutes into this game, I'm thinking about how the Rangers blew their two-goal lead to this Lightning team during Game Three – and then thinking about that loss in comparison to their Game One loss to the Hurricanes.
Let's just hope that we have a similar result for the Rangers come the end of this series.
What I mean by this comparison (and yes, these two situations are different), is this: had the Rangers lost their second-round series to the Hurricanes – then everyone would've been thinking about that Kakko miss from Game One. It's all you would've been thinking and hearing about all summer.
Thankfully, it never got to that point – as the Rangers then went on to win that series against Carolina in seven games.
Now, with this Eastern Conference Final currently tied at two games a piece; I'm sure with the Rangers having now blown their previous 2-0 series lead, and should they then go on to lose this series – then all you'll think and/or hear about all summer, is how the Rangers blew a 2-0 lead during Game Three.
And of course – you'll be hearing about those Trouba penalties too.
---
It's very easy to be negative and down in the dumps tonight. And if you are – I can't blame you.
However, big picture – this series is now tied. The Rangers aren't trailing.
Furthermore (and yes, this is the "glass half-full" in me) – I'd reckon to say that 99% of you didn't expect the Rangers to appear in the ECF this season.
The fact that you're currently upset, dejected, pissed off or whatever; well that's a good thing – it means that the Rangers are still playing hockey in June – where they will at least play two more times during this month.
This series is now a Best of Three series, where if the Rangers can continue their trends, and continue to win at home – it will be another seven game victory for the Blueshirts.
Of course, that's much easier said than done – especially after what we saw during the last ninety minutes of this series in Tampa.
---
It would be very easy for me to come out throwing bombs and haymakers on this team, as if I were some sort of stark raving lunatic looking for a morning deejay gig.
Again I say – "big picture."
While obviously, I'm not happy with the two games in Tampa; I must remind you of a phrase that you'll be hearing a lot of, or at least until Thursday night at 8PM – "this series has held serve."
As the old cliche goes, "a playoff series isn't lost until a team loses on home ice."
Hopefully both of these expressions will roll into Saturday, come Game Six in Tampa.
The Rangers, winners of their last eight at home, will look to increase that number to nine on Thursday. And hopefully, for us Ranger fans – the tenth consecutive home win will take place during the Stanley Cup Final.
That said – don't you feel that it's destiny for the Rangers to play another big Game Seven at home on the date of June 14th?
You know that's what the NHL is rooting for – and I won't even get into the officiating, where truth be told – wasn't much of an issue tonight.
In other words, to blame the officials for tonight's loss is ridiculous.
This loss was all on the Rangers.
Conversely, this win was all about the two-time reigning and defending Stanley Cup champions too.
---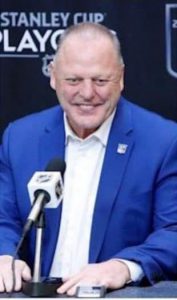 There really isn't anything positive to say about the Rangers' Game Four performance.
For sixty minutes, they looked like they were in quicksand.
For the many Ranger doubters that are out there, including fans of this franchise – all of their negative junk, at least for one game, rang true tonight.
The Rangers were horrible while at five-vs-five, where for the second game in a row, they didn't score an even strength goal.
The Rangers were out-matched tonight – and in every facet imaginable.
As the doubters say, the Rangers did look "inexperienced" and "not ready to compete" just yet.
(Of course, those fans were nowhere to be found during the first two games of this series. For whatever macabre reason, they only come out and do the King Kong shit after the Rangers lose. Some "fans" we got here – you know, the same fans that didn't even have the Rangers qualifying for the playoffs in the first place!)
The Fat Cats? They didn't dine at all, as instead, they looked like kittens trying to scratch their way through a 100 foot solid steel scratching post.
Heck, it was worse than that, as they didn't even make a scratch.
Of the fat cats, it was the player that I predicted to score a goal tonight that was most noticeable – even if that doesn't say much.
After being lambasted by fans after Game Three; Trouba led all Ranger shooters in the SOG department tonight, with seven SOG in all. He also had at least five more shot attempts – more than I can say for the rest of them.
Also of note? Trouba was the only Rangers' defenseman without a minus in the plus/minus statistic, where he finished even at zero.
Filip Chytil (injured in this game, more on that during the GAME REVIEW) and Kaapo Kakko were the only forwards to finish without a minus too, as they both finished this game at zero – just like Trouba.
And when it comes to the stats, the most telling, and the one that the EYE TEST told you too?
The Rangers' didn't have one odd-man rush SOG, nor a breakaway chance either.
Conversely, Tampa had many of them, and worse than that – cashed in on them too.
During the playoffs, it's the team that makes the least amount of mistakes that win games. The Rangers were flawed throughout Game Four. The Bolts were flawless.
And despite a final score that reads as 4-1, which would suggest a blow-out – this game was much worse than that.
It may as well have been 10-0 – after the first period.
---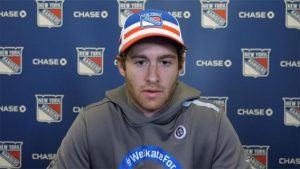 This game reminded me, and many times at that, about something that I always say on this site – "the other team is paid to play hockey too."
The Rangers learned this the hard way on Tuesday night. It's now up to them to earn their money on Thursday.
There's a lot to get into tonight, where I'll try to make it short as possible (at least for me), as there's no reason to relive this disaster again.
However, before getting there, let's get into all of the pregame news and interviews, and then into the main event – the GAME REVIEW.
---
If you haven't seen it already, I covered all of Monday's news here: https://bluecollarblueshirts.com/6622/
On Tuesday morning, game day, the Rangers held a pregame optional practice.
There were three things to come out of the practice:
One – Ryan Strome was there, as he took to the ice for the first time since leaving Game Three.
Two – Sammy Blais was there, and for the first time since being "Slewbann'd," was wearing a regular/contact jersey.
Three – Barclay Goodrow was not there.
Following the practice, Gallant held his daily "TURK TALK," where he addressed all three of these players:
---
As noted at the end of Monday's night blog; while Gallant expected both Strome and Goodrow to play during Game Four – nothing was going to be official until at least 7:35PM, when the Rangers took their warm-up skate.
At the time of this "TURK TALK," which took place around noon Tuesday, Gallant reiterated that he still expected Strome and Goodrow to play. However, Gallant also gave himself an "out," where he also said that he had to talk to the trainers before putting these players into his line-up.
In a way, since Gallant spoke to the media prior to talking to his trainers – this "TURK TALK" was kind of meaningless.
(And of note, in case you didn't know this already – it's not a big deal for players to miss optional skates. Most of the stars, including Ryan Lindgren, who hasn't participated in any of these, miss them, as they try to stay as fresh as possible come game time. In other words – it wasn't a big deal that Goodrow wasn't there on Tuesday morning.)
That all said, and despite Gallant's optimism at the time – we wouldn't know anything for certain until warm-ups. And even then – we wouldn't know the truth.
When it comes to Sammy Blais, Gallant said that he didn't expect #91 to draw back into his line-up.
As noted earlier on this site, and before this series began – it's just tough to play Blais right now, even if he's at 100%, since he hasn't played a hockey game in over six months.
In a worst case scenario where both Strome and Goodrow wouldn't be available for Game Four, I thought that Kevin Rooney and Dryden Hunt would be the first names brought back into the line-up.
And that's what happened.
As far as anything else out of Gallant, there wasn't much to note, unless you need to be reminded that Adam Fox is pretty good at this hockey thing.
---
Right before pregame warm-ups, it was reported that both Dryden Hunt and Kevin Rooney were in the locker room and getting ready for the game.
Once the pregame warm-ups began, both Ryan Strome and Barclay Goodrow were on the ice. So was Kevin Rooney.
In footage we'd later see during the third period, we saw isolation shots of Strome during the warm-ups, where during them, he was wincing in agony the entire time.
No joke, he looked like Ric Flair (in-attendance tonight) trying to prevent a Hulk Hogan comeback.
With Strome obviously in a lot of pain (where we still don't know what his injury is yet), Gallant opted to play Kevin Rooney instead.
For the head coach, he didn't want to risk being down to eleven forwards, should Strome's condition worsen during the game. Playing Rooney was the safer option.
And since I talked about Strome's worth to this team last night, I won't do it again here; but yeah – the Rangers missed him big-time.
They miss him even more when their third line center, Filip Chytil, goes down too.
---
Here's what "The Turk" ultimately went with for this "Vladislav Namestnikov" tribute game:
FIRST LINE: Kreider/Zibanejad/Vatrano
SECOND LINE: Panarin/Goodrow/Copp
THIRD LINE: Lafreniere/Chytil/Kakko
FOURTH LINE: Motte/Rooney/Reaves
Defensively, we had this:
FIRST D-PAIR: Miller/Trouba
SECOND D-PAIR: Lindgren/Fox
THIRD D-PAIR: Braun/Schneider
And in net, CZAR IGOR.
---
BOX SCORE time.
The following information and graphics come from the new world-wide leader in NHL coverage, ESPN.com:
SCORING:
PENALTIES:
TEAM STATS:
GOALIES:
| | | | | | | | | | | |
| --- | --- | --- | --- | --- | --- | --- | --- | --- | --- | --- |
| SA | GA | SV | SV% | ESSV | PPSV | SHSV | SOSA | SOS | TOI | PIM |
| 35 | 1 | 34 | .971 | 30 | 1 | 3 | 0 | 0 | 60:00 | 0 |
| | | | | | | | | | | |
| --- | --- | --- | --- | --- | --- | --- | --- | --- | --- | --- |
| SA | GA | SV | SV% | ESSV | PPSV | SHSV | SOSA | SOS | TOI | PIM |
| 30 | 3 | 27 | .900 | 21 | 1 | 5 | 0 | 0 | 56:50 | 0 |
---
As you know by now, I have two televisions in my man cave, and at 7:30PM, I tuned into both the M$GN and ESPN pregame shows.
And as you also know by now – these M$GN pregame shows remain horrific whenever Henrik Lundqvist isn't around.
For the first time this season, once the M$GN showed the Cadillac Trivia answer (the only highlight of these Sieve Vagistat exclusive pregame broadcasts) – I just turned off M$GN. Vagistat was that bad.
While Vagistat was criticizing two Vezina winners, busting out his homemade arts & crafts charts, and reciting cliches; over on ESPN, and as usual, they showed us the complete pregame warm-ups – a big thing going into this game because of all the Ranger injuries.
And yep – the Rangers are getting hurt at the worst possible time right now, while Tampa is very close to having their full line-up back, as Brayden Point may return on Thursday night.
And really, do I have to say this again – Mark Messier is 6795675678578576856785678568 times better, and more credible at that, than some back-up goalie of 46 games – a back-up goalie that seems more focused on getting his horrible jokes in – rather than actually talking about the games themselves.
That is, unless he can promote his self-serving ANALytics – useless crap that he makes a profit on.
The M$GN broadcast was as terrible as the Rangers themselves on this night.
No joke, at one point during this broadcast, Vagistat was going on-and-on about Igor's sleeping patterns, where I was surprised that the seven-foot Clairol king didn't whip out "expected sleep stats."
The only other thing that I will add here, was that even Dave Maloney must be reading this site, as he echoed what I've been saying on this site during the past month – "I know all of this is repetitive, but…."
And to be fair to the former captain, I guess it's also a good thing if the news is repetitive. It tells you that the team is playing at a high level and are consistent. More important than that – it tells you that they are still alive too.
But yeah, there are only so many times where you can say that Igor is great, Fox is great, Drury's moves were great, everything is great, external anal itch relief cremes are great, and etc.
Over on ESPN, and during the pregame warm-ups, Mark Messier, usually spot-on with his predictions, hit the nail on the head once again, when he said, "it's going to be a tough game for the Rangers tonight."
What an understatement.
After ESPN provided us with the Strome/Rooney update, they interviewed Patrick Maroon, where to Steve Levy's credit, he asked him about his stuff with Reaves. Maroon laughed it off and admitted that they've shared beers together.
GAME REVIEW time. (Ugh!)
---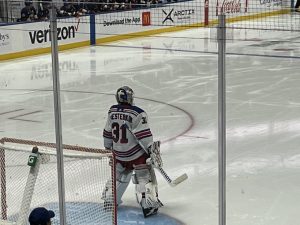 FIRST PERIOD:
It took just seven days into "PRIDE MONTH," but for the first time in June, not only did the Rangers not display much pride – they took it up the five-hole too.
And speaking of five-holes, by the end of this game, CZAR IGOR now leads all playoff goalies with the most five-hole goals allowed, with twelve in total. That's seven more than anyone else too.
That said, and as talked about previously on this site (in regards to Igor also leading all goalies in total saves); that number is boosted a bit because of Igor's playing time, as he's played in more playoff games than any other goalie, which in turn, means he's faced more shots and scoring chances than any of his peers.
---
The Rangers' third line opened the game, where Nick Paul easily beat Chytil at the faceoff circle.
While I understand how good the third line has been, and while yes – I'm a devout disciple of Gallant's too – I didn't think that starting the Rangers' worst center at faceoffs was the right move.
Just 32 seconds into the period, and despite Chytil's opening draw loss – Trouba had two shot attempts.
As I predicted, I expected him to be a man possessed with the puck tonight. He was, but he could never score. Andrei Vasilevskiy (AV from this point forward) had his number all game.
At the 1:15 mark, Panarin committed his first of what felt like 789678678968796876796 turnovers in this game.
Officially, he was only "credited" with two giveaways. That's why the EYE TEST trumps all, as he was baking turnovers left-and-right all game.
As friend of the site Danny Mack put it to me – more times than not, Panarin will not shoot, and in turn, find himself in a low percentage passing situation – a situation that he always tries to defy the numbers on – and rarely to much success.
Fortunately, after Panarin's first turnover, a turnover that led to a Tampa odd-man rush; the Bolts then turned over the puck too. A crisis averted, albeit, temporarily.
With 17:37 to go, Kevin Rooney went to the high slot and was denied by AV. No joke, this was the best Rangers' 5 vs 5 chance of the game.
After Rooney was stopped, and with the fourth line and third pair on the ice, Patrick Maroon scored at just the 2:38 mark of the game.
So much for my proud prediction of a 4-0 Rangers' shutout victory.
This goal was set up after another Rangers' zone faceoff, although this faceoff took place in the Tampa d-zone, following AV's save on Rooney.
After Motte lost the draw, Braun just watched Bogosian skate by him, didn't bother to check him, and after Bogosian took a shot, a save for Igor – Maroon laughed as everyone on the ice puck-watched him.
1-0, bad guys, a Maroon rebound goal, and just like that.
And give Messier credit too – during the first intermission, he called out Braun for not laying the body here.
Up next was pure slog and slush – which pretty much describes this Rangers' outing as a whole.
After Panarin went wide from five feet away; back in the Rangers' zone, Vatrano lost his helmet which just extended a Tampa attack.
Following another Rangers' turnover, and with 14:50 to go; whoever is in control of the goal horn in Tampa got trigger-happy, as that person blew the horn after a Tampa 3 vs 2 odd-man rush chance – a chance that went wide.
The officials quickly got it right, blew the whistle, and official Dan O'Rourke, in his thick accent, said, "WE STOP PLAY BECAUSE OF HAWN."
A rare laugh in this laughter of a game.
Also notable? Gallant, like most Blueshirt backers, was irate after this.
Tampa messed up here. Instead of a faceoff at center ice, where it should've been; instead, the Rangers had to deal with another d-zone faceoff – one that they lost.
In a game that was already out of control; at the 6:26 mark, Reaves was boxed for tripping Bogosian. This was a soft call, and perhaps a conspiracy call – especially if you subscribe to the school of Tim Peel.
It felt like Tampa could've scored a dozen power-play goals during these two minutes. In the end, the Rangers survived all of this – including winning a review (Tampa isn't Pittsburgh) where Igor had the puck under his right pad, only for Perry to push both the puck and CZAR IGOR into his own net – stuff that's not allowed.
Following the kill, and with 11:30 to go; Lindgren blocked a Cernak shot in his low right shin/high right foot area. He was in a ton of pain after this blocked shot, but as is always the case – went to the bench, grimaced the pain away – and then returned to the game without missing one shift.
At the ten minute mark of the game, and in stat that means something – the Bolts had 4:00 of zone time. The Rangers only had 53 seconds.
After two tries from Rooney, one puck that was deflected out of play and another being stopped by AV; with 8:36 to go, the Rangers were out-shooting the Bolts 7-6. That stat was very misleading, as the Rangers only had that one GOOD LOOK out of Rooney, while the Bolts' offense looked like an NRA convention.
After another Ranger turnover; Mika got back and prevented a Stamkos breakaway. Then, with 7:13 to go, Copp broke up a Palat one-timer attempt.
As the Rangers continued their follies while Tampa had their jollies; Panarin turned over the puck – again.
Too bad that you can't bet on Panarin turnover over-unders.
This then led to a long Tampa attack, where the Rangers failed to clear puck on it during three separate tries (fourth time worked), and with 2:45 to go.
The Rangers' fourth line, who pressed the offense more than the other three lines tonight (perhaps because of familiarity); this trio had a spirited shift with under a minute to go, but AV stopped all comers, including a decent enough looking shot from Tyler Motte.
In a first period that felt like a blowout, the Rangers were only lucky to be down by one.
Here's what I said at the time:
1-0, bad guys after 20. 1P Thoughts:
— Lucky to be only down one.
— No Strome, no good.
— SOG 10-8, Hits 15-8 #NYR; FO's 10-8 TB – stats don't tell the story.
— Fourth line has been the best line.
— Tampa has all the momentum.
— Regroup.
— LGR!

— BlueCollarBlueShirts (@NYCTheMiC) June 8, 2022
---
SECOND PERIOD:
The Rangers, full of many comebacks this season, and many strong second periods too – could never find a way tonight.
After Chytil lost the opening faceoff to Paul (again), Lafreniere got the puck, where he was then stopped by AV.
In all, #13 had four SOG tonight, four good ones at that, but as has been the case – can't beat the goaltender.
That's not an indictment. It's just a fact.
Another fact – Lafreniere has been excellent throughout these playoffs.
The third line continued the pressure early during this period, but slowly, Tampa would recover and go right back to what they were doing.
And two things here, when talking about what Tampa is doing:
One – why did Cooper stick with 11F/7D during Game Two? Now with a more orthodox line-up, his team has dominated.
Two – why did it take Tampa until the half-way mark of Game Three, to figure out that clogging the zone, and not giving the Rangers an inch of ice, is what's best?
For all of the talk about perhaps the Rangers sweeping after the first two games of this series – had Tampa had a traditional line-up, and put road closure signs in the middle of the ice – they'd be the one with the sweep right now.
Just sayin'.
---
Following more turnovers out of the Rangers, turnovers that led to saves for CZAR IGOR; this is when Gallant started to fool around with his lines a bit, where Panarin and Kreider were flip-flopped. It didn't make a difference.
With 15:10 to go, Miller turned the puck over. Fortunately, Cirelli, from the slot, whiffed from two feet out.
Down to twelve minutes remaining, and after another Rangers' turnover (yawn), Trouba broke up a Tampa two vs one odd-man rush.
Three minutes later, and with Trouba screening him; CZAR IGOR somehow caught a loose pop fly puck. If he hadn't, it would've been 2-0 here.
Now down to 8:37 remaining, we had our first fight of the series, where it weren't Reaves and Maroon as the combatants.
Instead, it were Frank Vatrano and Brandon Hagel going at it, following a Hagel shot block on Vatrano, which he then followed-up with a cross-check (no call).
Since the officials ignored the cross-check applied by Hagel, Vatrano took matters in his own hands.
This was a pretty good fight, an even fight at that, where both men landed some heavy shots. The two then fell on the ice at around the same time.
In other words – no winner here, but both men gave it their all.
Also – I found it ridiculous when Hagel was celebrating on his way to the penalty box, as if he were a 1992 Tie Domi. However, his theatrics did wake up the crowd a bit.
Barclay Goodrow, still obviously injured and playing through pain (left ankle fracture), then turned over the puck.
After CZAR IGOR stopped Tampa's top line; another Ranger turnover led to a Kucherov breakaway goal, and with 6:53 to go.
2-0, bad guys.
This was Igor's twelfth five-hole goal allowed of these playoffs – where really, I don't see how you can get on him for giving up a breakaway goal to one of the best players in all of the NHL today.
It was also a weird angle type of a shot, which also reminded me of the 2022 NHL All Star Game, where it was mentioned back then that Kucherov tries all of this weird and unorthodox stuff – stuff which pays off for him.
In other words – this was an elite player doing an elite move that beat Igor here. This wasn't Bellemare going between the wickets.
This goal also wound up being the game winner – a fluky game winner at that – as the Rangers' lone goal of the game would take place during a power-play, and with CZAR IGOR pulled.
Sad to say – the Maroon goal was good enough for the Bolts tonight – a goal scored not even three minutes into this game.
Up next were more turnovers which then led to Igor saves and/or Tampa shooting wide.
Put it this way – I always preach my power of positivity rhetoric on this site.
At the 35 minute mark of this game (meaning that there were still 25 minutes to go in this Rangers' then two-goal deficit), I said this:
This game feels like you'll be seeing the "Tampa held serve" headlines tonight #NYR

— BlueCollarBlueShirts (@NYCTheMiC) June 8, 2022
---
I've never felt more horrible while being right.
After two back-to-back lengthy stoppages to allow AV to fix his skates (where in most cases, the officials would force the back-up goalie in); both Lafreniere and Trouba were sniffing for goals, but AV wasn't having it.
Following a Lindgren turnover during an end of the period attack for the Rangers; a turnover that negated one of the best Ranger shifts of the game; Vatrano was then forced to break up a Perry chance with just seconds remaining.
2-0 after two periods.
Here's what I said at the time:
2-0, bad guys, after 40. 2P Thoughts:
— #NYR can't get much going
— All Tampa from puck drop
— SOG 22-15, Hits 24-18 R, FO's 18-16 #gobolts
— No #NoQuitinNY PPs, but nothing egregious missed either
— Panarin needs to step up here
— Strome is missed
— Not dead yet.

— BlueCollarBlueShirts (@NYCTheMiC) June 8, 2022
---
THIRD PERIOD:
Around the 13:30 mark of the second period, Filip Chytil ate an innocent enough looking hit from Hedman:
Victor Hedman hit Filip Chytil into the boards. he sat on the bench for a bit then went to the dressing room. #NYR pic.twitter.com/daLB8739gT

— David 🔹 (@DaveyUpper) June 8, 2022
---
In real-time, ESPN missed this and didn't realize that Chytil had gone to the tunnel.
Come the third period, Emily Kaplan reported that Chytil was done for the game.
How unfortunate.
I'll give you Gallant's post-game interview in just a bit, but on Chytil, all "The Turk" said was: "he should be fine. We'll have to wait and see."
That doesn't sound too encouraging, especially since Gallant had also previously stated (twice) that he thought that Strome was fine for tonight's game.
Just like Goodrow and Strome prior to Game Four; we won't know anything for sure about Chytil until puck drop of Game Five.
---
Stop me if you heard this before – on his first shift of the third period, Panarin turned over the puck.
Right after, Tampa went on the attack. Copp, to his credit, was able to prevent Stamkos from receiving a breakaway. However, right after, and at just the 1:06 mark – Kreider tripped Stamkos from behind Igor's net.
It were the Rangers who looked better during these two minutes, where both Trouba and Lindgren came close to scoring. However, no dice.
Once the kill was complete, Panarin came on and turned over the puck again. I'm not making this up.
Fifty seconds after Panarin's turnover; the Rangers iced the puck.
On a Tampa o-zone faceoff; Palat shot the puck, rebound city, and there was that Stamkos guy for the goal.
3-0 bad guys.
Give it up for Tampa – their star and name-brand players are doing all of the heavy lifting during their wins.
So of the three goals scored against Igor, two were of the rebound/puck watching variety, while the other was a breakaway scored by one of the best in the game.
To get through the rest of this mess as fast as possible; up next were the fans at Amalie getting their revenge on M$G fans, where they belted out "IGOR SUCKS" and "VASY'S BETTER."
The Rangers would soon receive a power-play after a scrum, where Reaves was boxed for two minutes (slashing) and Sergachev was boxed for four minutes (slashing and interference).
The Rangers, who could do no right on this night, soon had their power-play negated, where just 56 seconds into it – Kreider took an o-zone penalty, when he messed around with Cernak.
This was also Kreider's second penalty of the game.
As Tampa continued to dominate; with 3:52 to go, Killorn held Fox.
Prior to the power-play, Gallant took his timeout and then pulled CZAR IGOR.
Fifteen seconds later, on their 6 x 4 empty net attack; Panarin scored an A-Rod goal.
3-1, bad guys.
All this goal did was to break up AV's shutout. It also boosted Panarin's scoring numbers, numbers which have been very hollow during this postseason.
The rest of the game saw Igor return to his net, then go to the bench once the Rangers had possession of the puck.
With nine seconds to go, Palat scored another late second goal, this time a meaningless one, as he cruised a puck into the Rangers' empty net.
4-1, bad guys.
4-1, your final.
Simply stated – the Rangers are better than this.
---
Here's Gallant after the game, where as you'd imagine, he wasn't thrilled with his team tonight:
---
Gallant won't say it, but I will – you can feel this series slipping away – especially when you consider the injuries on both sides.
As Tampa heals up, the Rangers are becoming the walking wounded.
For the Rangers to win Game Five, not only will their stars have to show up –  they'll most likely have to embrace a slogan they've used a lot this season too – "NEXT MAN UP."
And oh yeah, it would be nice if they can score a five-vs-five goal too, as they are now nearly 150 minutes without one.
It's easy to be extremely irate after this game, but the Rangers are still two wins away from the Stanley Cup Final.
Win at home on Thursday.
PLUGS TIME.
---
My first plug of tonight's blog – the mandatory plug for my book, "The New York Rangers Rink of Honor and the Rafters of Madison Square Garden".
As mentioned previously, the book is now available in hardcover, in paperback and in Kindle formats. To purchase a copy of the book, visit this link:
https://www.amazon.com/Rangers-Rafters-Madison-Square-Garden-ebook/dp/B09CM5N2WD
For those still looking for signed paperback versions of the book, I have re-ordered more copies. I now have a few signed copies for sale at $25 a pop (includes shipping price) through me directly. Here is all the information on that:
---
Here are my last few blogs, in case you missed them:
---
---
---
If you haven't already, subscribe to this blog for the next update:
---
Up next: Game Five, Thursday night at M$G.
LET'S GO RANGERS!
Sean McCaffrey
BULLSMC@aol.com
@NYCTHEMIC on Tweeter