Greetings and salutations everyone and welcome to another blog here on BlueCollarBlueShirts.com. The New York Rangers are only two wins away from the Stanley Cup Final.
Let that sink in – I'll wait.
Let this sink in too – in your wildest dreams and/or nightmares – do you really see CZAR IGOR losing four times in his next five games played?
I know I don't.
Call it confidence, being cocky and/or "touching the money," but whatever you want to call it – I can feel it in my bones – these 2021-22 New York Rangers are going to the Stanley Cup Final.
There's not one fiber in my being that suggests otherwise.
After all, and going into this series – how many of you readers would've just settled for a split during these first two games?
(And a shout-out to my uncle Tom McG., who preached the importance of this game to me prior to puck drop, where he also felt that this game was a "MUST WIN" game. Now that this game is complete – and as you'd expect – I feel much better after a win rather than I would of after a split! Duh!)
Instead of a split, the Rangers not only won both of these home games at M$G – they dominated their opposition in both of them.
While yes, nothing is concrete at this time, nor should you even be looking at the cement yet – it's tough to envision these Rangers blowing this 2-0 series advantage.
If there's anything concrete right now, it's this – these aren't David Quinn's Rangers anymore – something we saw play out in front of our eyes once again this season – which all started with a bad penalty assessed to Ryan Reaves during the first few minutes of the first period.
---
The Rangers, who absolutely dominated the Tampa Bay Lighting during Game One, where following it, all you heard about was "rust vs rest;" on Friday night at M$G, where some tickets were actually going for over $12,000 a pop (and don't even get me started on the "convenience fees" of $2,225 – where I'm not making that number up at all) – the Blueshirts dominated the Bolts – again.
While the final score may read as 3-2; as anyone with a functioning pair of eyes in their head can tell you – the Rangers once again whipped the Lightning.
And for the sake of brevity, and to spare you from yours truly once again blasting my "GREATEST HITS," and at a maximum volume at that – I won't pull a Butters from "South Park" tonight – which means that I won't throw my pants down to my ankles, and take a nice steamy hot piss all over the ANALytical crowd – a common occurrence this season!
(However, if you want such talk, just check out my Twitter page – as I couldn't help myself there – because as stated on Wednesday night – every time that the Rangers win, it means that the ANALytical jerks were wrong! I love it!)
Instead, and like an overpriced M$G DJ that nobody cares about – I'll blast my "GREATEST HITS" once this series is over – when the Rangers return to the Stanley Cup Final!
---
There was a lot of anti-Rangers junk and REAL NEWS trends & narratives going into Game Two.
The junk? The stuff about Tampa being rusty and how they'd make right during Game Two.
The facts? The Lightning were 18-0 during the past two seasons following a playoff loss.
Another fact? That number is now 18-1. (More on all of this during the NEWS segment.)
Want another fact? The Rangers extended their playoff winning streak at home to eight games tonight – another franchise record for Gallant and company.
And for all of the talk about Brayden Point being out? Not mentioned once by any of these people slinging that stuff? The fact that it didn't let Tampa bother them last round, when they swept the Florida Panthers with ease.
In addition, for all of the excuses about Point being out of the line-up – I never heard these excuses in 2015, when Mats Zuccarello was out of the line-up.
Just sayin'.
And oh yeah – are you telling me that missing Brayden Point is the difference between being dominated and winning, a vast difference at that?
How about this narrative instead:
The Rangers are kicking ass and can feel it right now. They are the better team.
---
The Rangers, known for their comeback ability, resiliency and rebounding all season; and just like a late 1990s Britney Spears – "did it again" on Friday night.
And heck, Tampa were pretty "Toxic" themselves too! (And yep – I can't believe that I have this much knowledge of Ms. Spears' song catalogue either!)
Following a horrendous and horrific slashing penalty assessed to Ryan Reaves at just the 2:31 mark of the game (A LOT more on this during the GAME REVIEW segment); just ten seconds later after the bogus call, Nikita Kucherov scored.
This Tampa power-play, a Christmas-sized gift afforded to the two-time reigning and defending champs by the officials, put the Bolts up by one.
Rather than letting this miscarriage of justice derail them or bury them; instead – the Rangers scored the next three goals of the game.
K'Andre Miller (more on him too, as in a Barry Horowitz moment – I called this one around 7:00AM Friday morning), #79 soon tied the game.
Once Miller tied it – the Rangers never looked back.
No joke, this could've been another blowout win for the Rangers, but an 0-4 power-play, where they had numerous GOOD LOOKS during each of them, could never connect.
In addition, the Blueshirts hit the iron three times tonight too.
No matter.
The Rangers' third line, and with whatever moniker you want to use here (I like the "new World order" line), were absolutely phenomenal.
---
After dictating the pace of the game, and as they just ate Tampa alive, as if they were Florida love bugs on a hot humid day; Kakko scored the go-ahead goal – and with just under three minutes remaining of the first frame.
During a second period where the Rangers did everything but score; Mika Zibanejad, who has found his game (offensively) ever since "I-PAD GATE;" the Rangers' number one center soon found some breathing room with an insurance goal, a much needed tally that was scored at the 81 second mark of the third period.
The Rangers never relented.
CZAR IGOR, who finished the game with 29 saves, saved his best for last.
Now up 3-1 and with Tampa pressing – the Bolts could never get #31 to crack – at least not while at five vs five.
The Rangers, who admittedly don't make things easy on their fans (they wouldn't want it any other way) – as they extremely enjoy these Disney finishes, rather than going all Wes Craven on their opponents – then allowed Nick Paul to score a late goal, during Tampa's end of the game 6 x 5/empty net attack.
The score, now at 3-2, GOOD GUYS, and with 2:02 to go – would remain that way come triple zeroes.
While I have Miller, Kakko, Mika and Igor featured in tonight's blog header photo – really, there were many stars tonight.
There were no passengers.
No joke – you can look up-and-down this Rangers' line-up and then make a case for anyone as a star of the game.
And for all of the "IGOR'S BETTER" chants, as M$G and Ranger fans continue to troll the future Hall of Famer Andrei Vasilevskiy, how about this one:
"FOX IS BETTER!"
In an ECF series featuring two of the greatest defensemen of the league, two Norris Trophy winners at that – it's Adam Fox who is getting the better of Victor Hedman.
---
There's a lot to get into tonight.
Even better, everything is positive!
And if you're a regular reader of this site, then you know what I've been saying all season – I'm a GLASS HALF FULL fan – and not one these never-ending pessimists that you'll find elsewhere.
Now, my glass is no longer half full. Instead, it's brimming over the rim with positivity!
At the risk of looking like a mook should a disaster happen – I'll say it anyway:
This team is going to the Stanley Cup Final.
At this time, let's get into all of the pregame news and interviews, and then into the main event – the GAME REVIEW.
---
On Thursday, following the Rangers' Game One spanking of the Bolts; head coach Gerard Gallant conducted his daily "TURK TALK."
Here's the video of Gallant's chat with the media:
---
Gallant, and as you'd expect, was very happy with his team's Game One performance.
The head coach also spoke about his friendship with Jon Cooper, where the two bench bosses of this 2022 Eastern Conference Final spent time together when coaching Team Canada, where they did so during a previous IIHF Worlds Tournament.
Gallant, who was most certainly in a jovial mood, brought up how the two just clicked, and then joked about how he had to "baby-sit" Cooper.
"The Turk," always the comedian, then added that while the two aren't exactly spending their summers together – they do text each other all the time. Gallant said all of this while laughing and in a palling-around way.
Gallant said that he knew that Tampa would be fired-up for Game Two, but as has been the case all season – then preached "one game at a time."
(Of note: many of you guys and gals gave me favorable feedback about a 2021-22 New York Rangers compendium/Year Book idea, where should I do so – yep, the title of that book would be entitled as "ONE GAME AT A TIME!")
(Also of note: during Tampa's practice from Thursday, Cooper had the final score from Game One plastered all over M$G – a wise motivational tactic – albeit one that didn't work out!)
Gallant then praised Ranger fans, where he said they just get louder with each game.
Going into Game Two, it was brought up that the Rangers have won their last seven home games (a franchise playoff record), while Tampa (since the 2020 Stanley Cup Playoffs) are 17-0 after losing a playoff game. In response, Gallant said – "they didn't beat us seventeen times."
(Also of note, some sources have reported Tampa's streak at seventeen games. Others have reported it at eighteen games. Either way, I don't care, nor can be bothered to look it up – all I care about is the Rangers' win!)
Like his jokes about Cooper, this too created laughter.
In some serious talk, Gallant, after bestowing praise upon the competition; the head coach then poignantly stated this:
"The future looks real bright for our club, but I'm not looking at the future. I'm only looking at the near-future."
I can not tell a lie – that quote had me jacked up when I heard it! It must've jacked up his team too!
---
On Thursday night, prior to puck drop of Game Two of the Western Conference Final, the NHL announced the 2022 Jack Adams Award winner, where Darryl Sutter of the Flames was then presented the award by his brother Brian.
Here is the NHL's official press release on this award: https://www.nhl.com/news/jack-adams-award-won-by-flames-coach-darryl-sutter/c-334439328
Yes – this award only reflects the 2021-22 regular season – and NOT the playoffs.
Yes – the Calgary Flames had a tremendous regular season, despite their embarrassing second-round loss.
Yes – I am a homer.
Yes – I irrationally hate Sutter, only because of the 2014 Stanley Cup Final.
---
That now out of the way, I thought that "The Turk" was robbed here.
The Flames were always supposed to be good this season.
Despite my own expectations, many across the hockey media/community saw the Rangers as a "bubble"/teetering team – including the Rangers' horrible slate of beat reporters.
(So much for that "Bolts in Five" bullshit – am I right?)
Following the most drama-filled regular season in all of franchise history, the 2021 campaign; Gerard Gallant pulled off a complete 180.
Not only did his once perceived "lowly" Rangers qualify for the playoffs – but they flirted with first place too – and right down to the final week of the regular season.
And if both Andrew Copp and Artemi Panarin didn't get hurt during the last week of the season, when the Rangers were playing against the Carolina Hurricanes for first place in the division? Who knows?
(Not that any of this matters now!)
In any event, I know that I've previously went in-depth on why I think that Gallant should have won the award. He didn't. What can you do?
While personally, I'm sure he's a bit miffed about being snubbed; at the end of the day, I'm sure he's also happy about being named as a finalist.
And today? I'm sure he's much happier with his team and situation, than Sutter currently is with his team and situation.
---
On Friday, game day, Gallant spoke to the media again:
---
Gallant didn't have much new to add on Friday, outside of joking about "I-PAD GATE," when Kreider threw Mika's I-Pad behind the bench during Game Six of the first round.
Gallant said that while he still didn't know what that was all about; he also said that perhaps that moment helped to turn Mika's game around. That's another way of saying – "Chris Kreider, Team Captain."
---
Here's what "The Turk" ultimately went with for this "Brad Richards" tribute game:
FIRST LINE: Kreider/Zibanejad/Vatrano
SECOND LINE: Panarin/Strome/Copp
THIRD LINE: Lafreniere/Chytil/Kakko
FOURTH LINE: Motte/Goodrow/Reaves
Defensively, we had this:
FIRST D-PAIR: Miller/Trouba
SECOND D-PAIR: Lindgren/Fox
THIRD D-PAIR: Braun/Schneider
And in net, CZAR IGOR.
---
BOX SCORE time.
The following information and graphics come from the new world-wide leader in NHL coverage, ESPN.com:
SCORING: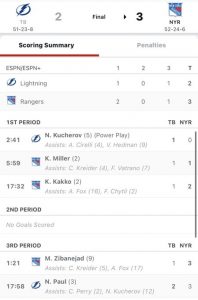 PENALTIES: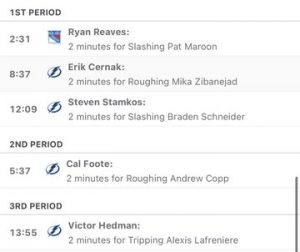 TEAM STATS:
GOALIES:
| | | | | | | | | | | |
| --- | --- | --- | --- | --- | --- | --- | --- | --- | --- | --- |
| SA | GA | SV | SV% | ESSV | PPSV | SHSV | SOSA | SOS | TOI | PIM |
| 28 | 3 | 25 | .893 | 16 | 0 | 9 | 0 | 0 | 57:22 | 0 |
| | | | | | | | | | | |
| --- | --- | --- | --- | --- | --- | --- | --- | --- | --- | --- |
| SA | GA | SV | SV% | ESSV | PPSV | SHSV | SOSA | SOS | TOI | PIM |
| 31 | 2 | 29 | .935 | 28 | 0 | 1 | 0 | 0 | 59:57 | 0 |
---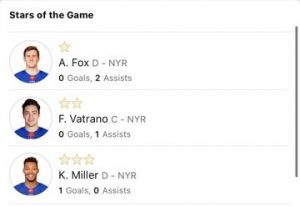 You know the drill – come 7:30PM, I tuned into both the M$GN and ESPN.
As has been the case lately, ESPN showed us the pregame warm-ups – a nice touch.
In fact, it's so nice of a touch, that despite their NBA and WNBA coverage during these thirty minutes – I'm starting to enjoy their broadcasts better than the hometown pregame show. (Mark Messier on their panel helps too.)
Thankfully, Henrik Lundqvist was back, which in turn, spared us thirty agonizing minutes of his two back-ups, Sieve Vagistat and Marty Biron, rambling on about nothing.
"SIEVE, DIS IS WHAT DEY HAVE TO DO. DEY NEED TO DO DIS."
And yep, and as I always say too – give me a M$GN panel of Messier and Lundqvist next season!
What would be better than that? Certainly not Sieve Vagistat and Anson Carter – two people who have doubted the Rangers' Cup quest all season.
Lundqvist, who was there for Game Seven against Carolina, but wasn't there during Game One of this series; "The King" went right back to a word that he used often prior to Game Seven – "confidence."
Lundqvist repeatedly said the word "confidence" during these thirty minutes of pregame coverage. He was right. (And yes, I'm holding my fingers back from doing another EYE TEST v ANALytics rant right now!)
And I just want to say something else about Lundqvist before I forget to do so.
---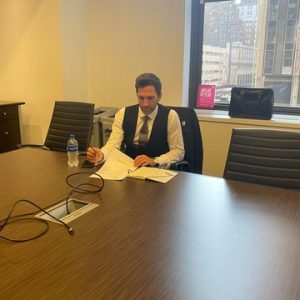 Just to fast-forward to the end of this game; I also watched some of the M$GN post-game show tonight, and as much as I could, before Vagistat sickened my stomach.
I've alluded to this following stuff during my previous writings on this site, where I've even included quotes from players, both former and active; but this much is true – while you always root for your team – you're a competitor too.
No one wants to be shown up or out-played. And if an injury happens, sometimes that's an open window for players, especially of the fringe variety.
While Lundqvist was never a fringe player; at the same time, it could be very easy for him to have the, "aw shit, I wish I had this team in front of me," mentality.
Instead, he's been the complete opposite.
Whether it's his stuff on social media, and/or what he says during these broadcasts, this much is evident – Lundqvist is enjoying this ride like any other fan of Rangerstown, USA.
And since I always bury him on this site (even if it's just for comedy) – to his credit, Sieve Vagistat has been waving the pom-poms harder than anyone.
(He's used to it after all – since that's what his entire NHL career consisted of! See, I still got a joke in here!)
Lundqvist could be very jealous right now. He hasn't been.
For everything I've ever said about his contract on this site, this much is true too – he never had a team like this in front of him during his fifteen years between the pipes – especially when it comes to the offense. (Outside of the Jagr years, where the Rangers weren't at the peak of their powers yet.)
Instead of having feelings of remorse, you can see that he's enjoying every second of this. There are no regrets or "WHAT IF" stuff out of him.
It's just a pleasure, and just like Mark Messier (even though he tries to suppress it on a national broadcast, even if he does a bad job of doing so) – Lundqvist is loving every minute of this.
As a fan of the Rangers – this has to pump you up.
Like a pair of 1990s "Pump" Reeboks – I know I'm pumped up myself!
---
As far as anything else from the M$GN side of things, where as mentioned last blog – a lot of the material came off as repetitive; towards the end of the broadcast, Sieve Vagistat compared K'Andre Miller to a fart, when he said "Miller is silent but deadly."
Vagistat, who must be rubbing off on Lundqvist these days; the legendary back-up goalie of the most epic 46 games of all-time, then saw his peer follow up that remark with this: "Miller's toolbox is massive."
Ah, who doesn't love a good old sexual innuendo?
While these guys were talking about farts and penises, here's what I said at 7AM on Friday morning:
I think THE PRAYING MANTIS (remember that short-lived nickname, as first coined by DQ?), K'Andre Miller, picks up his second goal of the playoffs tonight. He's due, more aggressive lately & just have that eye-test vibe about the guy who has played in every game this season. #NYR pic.twitter.com/PMgqxSTeV8

— BlueCollarBlueShirts (@NYCTheMiC) June 3, 2022
---
And that's what happened.
As far as anything else from the ESPN side of things; while Chris Chelios took the Bolts to win this game – our beloved hero, Mark Messier, number eleven himself, said that the Rangers would win.
And that's what happened too!
GAME REVIEW TIME!
---
FIRST PERIOD:
A general statement for what you're about to read next – the TEAM STATS, and other such statistics, and just like the officials from this first period – were FAKE NEWS.
The Bolts were credited with three more shots on goal than the Rangers (31-28), but outside of the final two minutes – you never questioned the Rangers.
The Bolts just got most of their shots on goal when they pulled Vasilevskiy, and prior to that – never tested Igor too much – or at the very least – not as much as CZAR IGOR has been tested earlier during these playoffs.
Seriously, by the half-way point of the game; CZAR IGOR could've turned his net into his hammock, and then enjoyed some authentic Russian vodka, while kicking out and "chillaxing." That said – that would later change.
The Bolts were also credited with nine more hits than the Rangers (32-23), where that stat is also misleading.
The Rangers just dominated puck possession tonight, where in turn, the Bolts were chasing the Rangers like chickens with their heads cut off.
Another fugazi stat (hi Jim and Eddie of "The Blueshirt Underground Show") was the faceoff stat.
The Bolts were credited with eight more faceoff victories than the Rangers (28-20), where I have no clue how the stat geeks came up with that.
As far as what I saw, the Rangers were the much better team at the dot tonight, especially on o-zone draws – where on one of them – they scored a goal.
If there was any stat that was both truly alarming and telling, it were the special team stats.
The Bolts were perfect on special teams, where they went 1-1 on their power-play and 4-4 on their penalty kill.
While the Rangers' never scored on their power-play, they still put nine decent shots on goal on Vasilevskiy. The future Hall of Famer was just able to survive – where three posts along the way didn't hurt either.
The Rangers controlled the puck for most of the game, where at one point, the Rangers had 11:00 worth of zone time as opposed to the 4:48 of zone time that Tampa had.
And here's a silver lining for you – despite going 0-5 on special teams tonight – the Rangers, despite a one-goal margin of victory, absolutely dominated this game.
It's hard to imagine their special teams posting another 0-fer during this series. They got it out of their system tonight – and most importantly – WON the game.
---
I don't want to get into the "ESPN SUCKS" stuff again, but yeah – these broadcasts could be better produced.
Whether it's airing Kaplan interviews during game-play (this isn't the NFL where you have forty seconds between plays), or just not showing us the opening faceoffs of periods – ESPN needs to be better.
And don't get me started again on the Epileptic Seizure Providing Network's use of horrible camera angles!
After ESPN missed Mika's opening faceoff win; Tampa Bay, who remained with a line-up of eleven forwards and seven d-men; it were the Bolts who received the first shot on goal of the game – a CZAR IGOR save on Captain Mac.
As we were shown Gerard Gallant in his POWER POWDER BLUE suit (why he doesn't wear this lucky suit every game – I do not know), the officials soon made two terrible calls in a row.
With 17:29 to go, the officials called an icing on the Rangers – despite Ryan Reaves being the first to arrive to the puck. This negated a Rangers' attack.
The officials, who did own up to their mistake, then brought the puck back up to center ice – rather than dropping it in the Rangers' d-zone – the right call after their initial error.
At the time, both Ryan Reaves and Patrick Maroon, who got into it during the final stages of Game One, were jaw-jacking again.
Once the puck was dropped, Reaves and Maroon got into each other's faces.
Rather than letting them fight, which would've been the right thing to do – the officials broke it up.
Why the officials won't let them go – I don't have an answer for that.
At the end of it, and after failing to let them fight as they have ought of done; instead – the officials decided to hand out a two minute slashing minor on Reaves.
Give credit to both Mark Messier and Chris Chelios here, two Hall of Famers, who come the first intermission, shared my opinion – this was a display of BRUTAL officiating.
During a playoff game, you can't call these ticky-tacky minors. Either let them fight, call off-setting penalties, or just don't call anything at all.
To give either player a minor, while letting another player off of the hook – that's called swinging a game.
And yes this too – for all of the never-ending bitching that I hear about concerning Reaves for not fighting that much – here he is, during the last two games, trying to fight Maroon. The officials won't allow him.
And then when Reaves tries to get physical? He's the one that gets punished.
In other words, this is a textbook case of "damned if I do, damned if I don't."
This was also another case of the officials screwing the Rangers (they'd later give the Rangers a make-up call – and I have to admit that), as just ten seconds into the Tampa power-play – Kucherov scored while Perry was screening CZAR IGOR.
1-0, bad guys and at just the 2:41 mark of the game.
Not only did this ruin my shutout bet, but way more important than that – this would be the last goal that CZAR IGOR would give up until 2:02 remaining in the game.
The Rangers didn't allow this pee-wee officiating crew to deter them.
Up next? Pretty much forty or so minutes of Rangers' domination.
If anything, this bullshit call and gifted Bolts' PPG riled up Gallant's Gang.
It took the Rangers until the 4:30 mark of the game to register their first SOG, an Andrei Vasilevsiky (AV from this point forward, and no – not Alain Vigneault!) save on Artemi Panarin, a #10 who had Victor Hedman on his heels.
From this point on, Tampa got way too loose with the puck, where they iced the puck repeatedly. More on that soon.
As the third line continued their impressiveness on the ice, this happened at the 5:59 mark:
K'Andre Miller levels us back at 1-1!pic.twitter.com/vMcX7Q2AgM

— Rangers Videos (@SNYRangers) June 4, 2022
---
1-1!
You know how I always share my prop bets with you on this site. This is my way of telling you that a K'Andre Miller goal wasn't even offered by the Caesers' sports book app tonight. Had it been, I would've thrown chump change on it and would've cashed out.
My degenerate gambling aside; this was a huge goal, as Miller erased the bullshit that was bestowed upon the Rangers by these boneheaded bozos in stripes.
Following Miller's rip-job of AV; it was CZAR IGOR's turn.
With 11:50 to go, CZAR IGOR made his two best saves of the game, where he stopped Stamkos on a breakaway and then stopped Killorn on the rebound.
Better than that – CZAR IGOR's night would become tame after these two game-saving "NYET's" – that is, until the latter stages of the third period.
With 11:23 to go, Cernak was boxed for a roughing call, after an altercation with Zibanejad.
As would be the case during all four Ranger power-plays – they did everything but score.
After Trouba had trouble clearing the zone; Palat then stripped Lindgren, but right after that – Motte blocked a shot and raced towards AV. On his backhanded try, #64 hit the post – a puck luck bounce for Tampa – something they didn't receive during Game One.
However, during this scoring attempt; Stamkos slashed Schneider. Up next was power-play number two for the Rangers.
In some redundancy out of yours truly – the Rangers did everything but score during these two minutes of a man-advantage.
With under three minutes to go, and after what felt like the sixth Tampa icing of the period, I said this on Tweeter:
Tampa, unlike Pit & CAR, can't afford all of these icings, #NYR better at the dot

— BlueCollarBlueShirts (@NYCTheMiC) June 4, 2022
---
Call me a seer, call me a wizard, call me lucky – but I'd soon be proven correct on this opinion.
After Lafreniere hit a post, Tampa got the puck back – another break.
However, Chytil immediately forced a turnover while in the zone. Fox then got the puck, and at this time – take a look at this sweet dish:
THE KIDS!

KAAPO KAKKO FOR THE LEAD!pic.twitter.com/g58yHJsGbG

— Rangers Videos (@SNYRangers) June 4, 2022
---
2-1, GOOD GUYS, a goal for Kaapo Kakko, a much needed goal at that!
During the third period of this game, ESPN said that the Rangers' third line had fifteen shot attempts. (They finished with nine SOG in total.)
Of the shooting, it was Filip Chytil that started a national debate over gun control – as he was shooting constantly tonight. (It's a joke, settle down and laugh!)
While Kakko got the goal here, it was Chytil who set it all up – a #72 that has pulled off the biggest 180 that you'll ever see, when compared to his games from the regular season.
And with this goal – Kakko, like Miller before him, wiped out the bullshit penalty call assessed against Reaves.
Down to 1:20 remaining, and in his only flub of the game (keep in mind – the other team is paid to play hockey too), Miller was stripped – but his partner, Jacob Trouba, covered him up.
After the game, Miller just raved about the "GREAT EIGHT," where he said that Trouba has been a big brother and a mentor for him.
I'll get into this more if WHEN the Rangers win this series – but this team is so damn likeable.
Without question, they are one of the most likeable teams in all of franchise history – and I say that not only as a Rangers' historian, but as someone who has had the "YOUNG MAVEN" nickname bestowed upon him, by the legendary Stan Fischler himself! (I'll let Stan explain this more, should he accept my offer and write the foreword to my next book!)
After twenty minutes, we remained at 2-1, GOOD GUYS.
Here's what I said at the time:
2-1, GOOD GUYS, after 20. 1P Thoughts:
— Horrible call on Reaves – but they didn't let it deter them. It just pissed them off.
— Fox is a wizard.
— Told ya KM79 would score!
— Nice to see join KK24 join the party.
— Igor!
— SOG 8-7, FO's 13-10 #NYR; Hits 12-9 TB
LGR!

— BlueCollarBlueShirts (@NYCTheMiC) June 4, 2022
---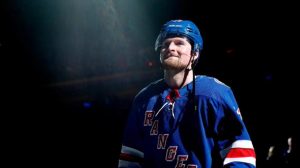 SECOND PERIOD:
After Messier and Chelios trashed the officials for their horrid call against Reaves; the second stanza began.
Also of note? It was at this time, where Carey Price, of the Montreal Canadiens, was given the Bill Masterton Trophy.
I don't know about that one. I would've given it to Kevin Hayes, who unlike Price – his problems/hardships weren't self-inflicted.
And as Forest Gump once famously said – "and that's all I got to say about that."
---
These twenty minutes of action saw the Rangers imply their will, superiority and dominance over the Bolts. However – they could never find the insurance goal.
As ESPN missed another draw for a Kaplan interview with Miller; Tampa took possession of the puck.
With 17:45 to go, Copp blocked a shot while Schneider snuffed out a Hagel one-timer pass.
Down to 16:32 remaining, Lafreniere hit his second post of the game – another Tampa break.
With the third line driving the Ferrari, Corey Perry saved a goal, when he batted a loose puck away from AV's goal line. Another break for the Bolts.
Up next were the first line, where Vatrano went wide during an odd-man rush, and then had his follow-up denied by AV.
Now past the five minute mark of the period, AV came up with two more saves, on both Panarin and Chytil.
At the 5:37 mark, the Rangers received their Reaves' make-up call, when Cal Foote was boxed for roughing Andrew Copp.
In other words – no matter what happened next – the officials had restored a balance to this game.
Again, the Rangers' power-play did everything but score here.
In what should be noted, is that with 36 seconds remaining on the power-play; McDonagh cross-checked Chytil into the goal, where following this contact – the net went off of the moorings.
This was a 50/50 delay of game penalty on McDonagh, where the officials opted not to give the Rangers' a 5 x 3 power-play.
More important than that – Filip Chytil, who during this regular season, was also known as "Filip Brittle" (first coined by Eddie G. of BSU); got right back up.
So many times this season, I brought up how Chytil would get hot, then he'd get hurt, in what essentially was a case of "one step forward, two steps back."
Knock on wood here if you must – but despite eating some big-time hits – Chytil remains healthy. He's really grown during these playoffs. And better than that? Despite all of these big checks on the Czech – #72 continues to drive to the net, and with no fear of oncoming contact.
With 11:11 to go, and following TB's kill, the SOG stat of this period were 9-1, Blueshirts.
A minute later, Tampa was still hung up on nine shots.
When was the last time that CZAR IGOR had to face only nine shots during the first thirty minutes of a game?
TEAM EFFORT.
Down to 9:51 remaining, the Rangers' first line had a 3 x 1 odd-man rush, where they got busted for over-passing, which then led to Captain Mac breaking this scoring chance up.
After AV came up with a pair of saves on Kreider and Vatrano with 8:49 to go; the Big Cat then stopped Chytil too.
Down to 7:52 to go; AV stopped Lindgren again, and as mentioned, and as mentioned often – the Rangers did everything but score here.
With 5:35 remaining, Fox blocked a Paul shot while Igor stopped Colton.
It was also around this point of the game where the Rangers' offense were stalled a bit, as they wouldn't get anymore SOG during this period. Instead, they played defense.
A big hero during the final five minutes of this period was Jacob Trouba, as he was blocking shots and breaking up passes.
Of note – Trouba's six blocked shots were the team's high. A few Rangers finished with two blocked shots a piece – good for second-best on the team tonight, which means that Trouba blocked thrice as many shots as anyone else in Rangers' blue.
With 1:32 to go, Igor stopped Sergachev with his glove. This glove save then ended over seven minutes of whistle-free hockey.
The final minute saw CZAR IGOR come up big, where he made five saves in all – as this was the best Tampa would look up to this point of the game.
After forty minutes, we remained at 2-1, GOOD GUYS.
Here's what I said at the time:
2-1 after 40. 2P Thoughts:
— #NYR did everything that period but score. Please no fluky deflection goal allowed. FINISH THEM.
— Rangers should be up by 4, Messier saying it too.
— SOG 22-17 R, Hits 24-14 L (TB chasing), FO's 18-17 L (doesn't feel that way)
— Bolts PK 3-3.

— BlueCollarBlueShirts (@NYCTheMiC) June 4, 2022
---
THIRD PERIOD:
Outside of his saves on Stammer and Killorn during the first period; Igor had a pretty easy night in net – at least for him.
Up next? His best period of the game, where he made a dozen saves in all.
As you were expecting Tampa to have a big push here, especially after Cooper changed his lines (reunited Stammer and Kucherov), it were the Rangers who struck first:
MIKA MAKES IT 3-!pic.twitter.com/7X4i8uStBP

— Rangers Videos (@SNYRangers) June 4, 2022
---
3-1, GOOD GUYS!
On this goal, Kucherov coughed up the puck and BOOM – Mika blasted a puck, top shelf, and over the right shoulder of AV.
Not only was this a much needed insurance goal for the Rangers – that insurance would be needed – as this would soon become the game winning goal for Mr. Mika.
Tampa would have some good attacks after this goal, where Goodrow got the puck out of the zone on three occasions.
Lafreniere, who would lose his stick with 16:35 to go, got a puck out of the zone himself, with a nice little soccer kick.
By the time the five-minute mark of the period hit, M$G was right back to the "IGOR'S BETTER" chants. Again, how about a "FOX IS BETTER" chant?
As the two goalies exchanged saves; Miller bodied Stamkos with 11:35 to go, strong defense out of #79 that also prevented a breakaway for Tampa's captain.
With 9:37 to go, we had our first whistle in over seven minutes of non-stop action, as a puck was knocked out of play.
After a TROO TROO TRAIN hit on Killorn with 9:04 to go; Tampa retaliated by cross checking Ryan Strome. No call, despite this infraction taking place right in front of a linesman.
Up next, we saw Braden Schneider come up with a clean escape out of the Rangers' d-zone, and then, with 6:05 to go, Hedman tripped Lafreniere.
Following the power-play's failure to score; Tampa bench boss, Jon Cooper, pulled AV with 3:49 to go.
The Bolts would ice the puck 49 seconds later, which meant that AV had to return to his net.
Once the Bolts regained possession of the puck, AV went right back to the bench.
Then, with 2:02 to go, and with Tampa all over the Rangers like white on rice; Nick Paul, a hero in Tampa's series with Toronto, scored an easy goal against a stretched-out CZAR IGOR.
3-2, good guys.
Up next, the longest 2:02 of your life.
Cooper would wait until there was 1:05 remaining to pull AV again. Tampa then had an attack that may as well have lasted an eternity – as that's what it felt like at the time.
As your ass cheeks clenched so hard that you could make diamonds out of rock; with 37 seconds to go, and after a Tampa near-goal; Zibanejad iced the puck.
This was the best icing that you'll ever see – as without it, Tampa would've tied the game.
Cooper used his timeout here.
On the face-off that ensued, Goodrow won it; but he too, like Mika before him, iced the puck.
Down to 28 seconds remaining, Tampa won the faceoff this time, where Trouba was soon able to get the puck the hell out of dodge.
With 4.7 seconds to go, Tampa went offside.
After one last clear out of the Rangers', the final horn went off.
3-2, GOOD GUYS, FINAL.
2-0, GOOD GUYS, SERIES LEAD.
And yep, this too – "WE WANT THE CUP!"
---
Here's your favorite coach and mine, after the game:
---
As both Adam Fox and CZAR IGOR would say after the game, and as Gallant alluded too as well – until puck drop of Game Three, expect to hear a lot of this – "you have to win four games."

And should the Rangers win Game Three? You'll still hear "you have to win four games."
In other words, while the Rangers are half-way there – it won't be easy – even if these two home games would imply otherwise.
You just can't count the champions out, but this much is clear – the Rangers have their number.
Better than that, and as I said after Game One too – the Rangers know that they can beat these guys.
Beat them two more times – and we're going to the Stanley Cup Final.
LGR!
PLUGS TIME.
---
On Thursday afternoon, Ron Duguay and company returned with a new episode of "Up in the Blue Seats," where the crew gave out their Game One reactions.
To listen to the show, click the link below:
— Ron Duguay (@RonDuguay10) June 2, 2022
---
My first plug of tonight's blog – the mandatory plug for my book, "The New York Rangers Rink of Honor and the Rafters of Madison Square Garden".
As mentioned previously, the book is now available in hardcover, in paperback and in Kindle formats. To purchase a copy of the book, visit this link:
https://www.amazon.com/Rangers-Rafters-Madison-Square-Garden-ebook/dp/B09CM5N2WD
For those still looking for signed paperback versions of the book, I have re-ordered more copies. I now have a few signed copies for sale at $25 a pop (includes shipping price) through me directly. Here is all the information on that:
---
Here are my last few blogs, in case you missed them:
---
---
---
If you haven't already, subscribe to this blog for the next update:
---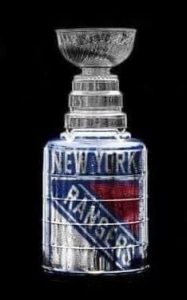 Up next: Game Three of the ECF, Sunday afternoon in Tampa, with a puck drop of 3:00PM.
LET'S GO RANGERS!
Sean McCaffrey
BULLSMC@aol.com
@NYCTHEMIC on Tweeter