Greetings and salutations everyone and welcome to another blog here on BlueCollarBlueShirts.com. Needless to say – the final result of Game Three was aggravating.
However, if you're looking for a silver lining right now, there's this – the Bolts were at their best today. The Rangers were at their worst. The desperation and hometown Bolts only won this game by one goal – a somewhat fluky goal at that.
The New York Rangers, up 2-0 in this Eastern Conference final series prior to the start of Game Three; come the mid-way point of Sunday's contest – the Blueshirts also found themselves up 2-0 on the scoreboard.
By the end of it, the Rangers found themselves on the wrong end of the scoreboard, by a final score of 3-2, as Tampa wound up victorious – in what was a pretty much "must win" situation for them – even if it wasn't a true/mathematical "must win" game for the reigning and defending two-time Cup champs.
As a result of Tampa's comeback win, the Rangers' lead in the series is now at 2-1. Game Four will be played on Tuesday night at the Amalie Arena.
And if you're looking for more positivity out of yours truly, a glass-half full fan? How about this:
Going into these two games in Tampa, the majority of the fan base had this mind-set – get a split.
After Sunday's loss, I'd expect a much more fired up Rangers' team during Game Four.
These 2021-22 New York Rangers have rebounded from tough and bad losses all season. What's one more?
---
Unlike the previous two games of this series – the box score does tell the story of Game Three – and right down to the goaltender stats.
The Bolts, who were most certainly desperate on Sunday, and who also rose to the task at hand – not only wanted it more, but they wouldn't be denied either – despite finding themselves trailing by two goals by the time the half-way mark of the game had hit.
Even down by two goals, two power-play goals scored by both Mika Zibanejad and Chris Kreider – it were the champs, and not the challengers, that thoroughly dominated Sunday's affair.
The Bolts played a complete sixty minute game, where by the end of it, they out-shot the Rangers (51-30), out-hit the Rangers (38-37), and pretty much controlled puck possession at a rate of 2:1.
The Rangers did win more faceoffs than the Lightning (28-27), but most of those wins took place during the first period.
While the Bolts were at their best on Sunday, the Rangers were the opposite.
That proved most true, big-time at that, during a third period where the Lightning out-shot the Rangers 20-5.
Throughout this series, the Rangers have allowed the Lightning to muster up these monstrous attacks during the final minute of each period.
It took nine periods for them to do so, but come the end of Game Three – the Bolts finally made the Rangers pay for all of these never-ending transgressions.
---
An Ondrej Palat goal, scored with only 41.6 seconds left in regulation, put the Bolts up 3-2 – a goal that also prevented Game Three from entering overtime.
It should've never even got to that point.
And perhaps this goal saved Ranger fans from prolonging the misery anyway. Unfortunately – we'll never know.
While the officiating was most certainly suspect today, and on both ends of the ice; come the 10:56 mark of the final frame, and with the game tied at two goals a piece – the Rangers received a four-minute power-play, following Nikita Kucherov's high stick infraction committed on Mika Zibanejad.
Even with the Rangers not at their best, and with the game tied – they now had four minutes to not only score a go-ahead goal, but find an insurance goal too.
Instead, following an uninspiring attack from the first power-play unit; the second power-play unit came on the ice, and immediately thereafter – Jacob Trouba took a horrendous penalty, when he tripped Alex Killorn.
The end result of that penalty, Trouba's third of the game (more on this during the GAME REVIEW), were two minutes of four vs four hockey, followed by a 27 second Rangers' power-play.
Opportunity blown, and an opportunity that blew up in the Rangers' faces even harder, following Palat's late game winning goal.
Of course, choking away a two-goal lead stings, but even with that lead – there was never one point in this game where you thought that the Rangers had this game in the bag. Not even close.
For the Rangers, they are still up 2-1 in this series. Let's not forget that.
And in a story that's even bigger than both Trouba's fouls and the loss itself, is the status of Ryan Strome.
---
During Game Three, and as we'll get into even more during the GAME REVIEW – Ryan Strome left the game, following both a weak, and what was perceived to be harmless, cross-check (no call) committed by Palat:
Ryan Strome went to the locker room after this play. 🙏

(via @hayyyshayyy) pic.twitter.com/XMZGt3VcMb

— Rangers Videos (@SNYRangers) June 5, 2022
---
To just fast-forward a bit here, following the game, Gerard Gallant had no update on Strome's injury.
All the head coach said was that we'll find out more on Monday.
Again, and as you already know, one, I'm not a doctor, and two, I don't like to speculate on injuries.
All I'll say is what I always say – usually, non-contact injuries and light-contact injuries, can lead to significant time off. Sometimes, they are even worse than eating a big hit or skating into the boards.
Of course, I'm just rooting for a back spasm here, and nothing serious. Hopefully that will be the case come Monday.
Strome, who did try to return to the game during a 42 second shift, wouldn't return following that shift.
I know that many fans like to joke about Strome missing empty nets, as if that's his lone contribution to the team (a faulty opinion at that), but if you don't know this already, this is true – losing Strome hurts the Rangers big-time.
While #16 isn't the MVP of this team (far from it), he provides a ton of value.
He's the center of the second line. He's part of the Rangers' first power-play unit. He's a team leader.
It's also tough to replace him.
Need evidence? Just look at the games that that Rangers played during the regular season when he was out.
While both Panarin and Strome have proven that they can still play well without each other; what's also true is that they just play better whenever they are together.
Another thing to think about right now, is that while Filip Chytil has most certainly heated up during these playoffs; during the regular season, that wasn't the case for the team's third-line center.
A mini-stint with Copp at 2C didn't necessarily work out towards the end of the season either.
The Rangers don't have anyone who can replace Strome.
Furthermore, whenever Strome is out, more times than not, it's Barclay Goodrow who gets the second center assignment.
At the moment, and with Chytil playing the best hockey of his career – do you really want to break up that Rangers' third line right now?
We'll find out more on Monday, but should Strome not be able to go during Game Four (and let's hope that's not the case), I wouldn't be shocked to see Goodrow return to the second line, and then see Kevin Rooney draw back in with the fourth line.
That all said, Strome's status for Game Four is a Monday problem.
Let's talk about Sunday's problems.
However, before getting there, let's get into all of the pregame news and interviews, and then into the main event – the GAME REVIEW.
---
On Saturday afternoon around 12:00PM, the Rangers boarded their flight to the sunny streets of Tampa, Florida.
Once landing and settling down, head coach Gerard Gallant conducted his daily "TURK TALK."
Here's Gallant, who spoke for over ten minutes:
---
To read the entire transcript of Gallant's interview, check out Adam Rotter's recap, which you can find here: https://nyrangersnews.com/2022/06/04/updates-from-the-rangers-on-saturday-7/#more-192524
Gallant, and as you'd probably expect by now, talked about the routine things – "one game at a time," praised his players (both the veterans and the younger stars), talked about the team's positive chemistry, and the stakes at hand.
When it comes the interesting nuggets of information, Gallant raved about Ryan Lindgren, where he spoke glowingly of #55. Gallant talked about Lindgren playing through pain, and where at this point – he just expects his defenseman to bounce back from everything.
Gallant also said that Lindgren is getting healthier, despite everything that he's been through during this playoff run.
In what I found to be most noticeable, Gallant said the following about Barclay Goodrow:
(Transcript credit: Adam Rotter)
How much more of a resource is Goodrow right now, "Little things. Honestly, do we pick his brain? A little bit, but there's not a whole lot. We're coaches, we watch video tapes of their team. I coached with Jon Cooper a little bit in the World Championships, there are no surprises anymore. You do your work, every coaching staff does it's work, there are no surprises on faceoff plays. We don't worry about that thing, but Barclay played with a lot of those guys and he said that you can get under this guy's skin a little bit doing this, little things like that, but not key, key things."
What about what Goodrow has given you since he came back, "he's given it his all. He was out for three and a half weeks and we missed him dearly and he's one of those character guys that does all the right things. You talk about Lindgren and you talk about Goodrow, same type of guys."
---
In my eyes, I was somewhat surprised that Gallant opened up a bit on Goodrow's history with Tampa.
While I said I expected this to happen during my series preview blog; it's one thing to think that, it's another thing for Gallant to confirm these suspicions. More times than not, Gallant keeps things close to the vest, or in his case – his POWER POWDER BLUE suit.
Whether Patrick Maroon is one of these guys being rattled by Goodrow's intel or not, a "Big Rig" that's been helped out a lot by the officials during the first two games of this series, as the men in stripes won't allow Ryan Reaves to get his pound of flesh; I don't know. Maybe he is – or maybe it's just Reaves getting to him on his own.
Perhaps once this series concludes, or maybe even after exit interviews, exit interviews where I hope follow a Stanley Cup win; maybe then we'll find out specifically who Goodrow spilled the secrets on.
What I'm getting at here, is that while Maroon has been riled up, maybe there are also little things we're not seeing elsewhere, things that are throwing Tampa's stars off of their game.
That being said, and as Gallant stated himself, not only on Saturday, but ever since he first got here – the Rangers have to handle their own end.
And that's exactly what they've been doing – except during Game Three. (Nobody's perfect.)
---
A day later, on Sunday, which was game day; Gallant spoke to the media one last time prior to the commencement of Game Three:
---
Gallant spoke for less than ninety seconds on Sunday, because there wasn't much left to say. He just answered questions about his defense being able to win their battles against Tampa's offense.
---
Here's what "The Turk" ultimately went with for this "John Tortorella" tribute game:
FIRST LINE: Kreider/Zibanejad/Vatrano
SECOND LINE: Panarin/Strome/Copp
THIRD LINE: Lafreniere/Chytil/Kakko
FOURTH LINE: Motte/Goodrow/Reaves
Defensively, we had this:
FIRST D-PAIR: Miller/Trouba
SECOND D-PAIR: Lindgren/Fox
THIRD D-PAIR: Braun/Schneider
And in net, CZAR IGOR.
---
BOX SCORE time.
The following information and graphics come from the new world-wide leader in NHL coverage, ESPN.com:
SCORING:
PENALTIES:
TEAM STATS:
GOALIES:
| | | | | | | | | | | |
| --- | --- | --- | --- | --- | --- | --- | --- | --- | --- | --- |
| SA | GA | SV | SV% | ESSV | PPSV | SHSV | SOSA | SOS | TOI | PIM |
| 30 | 2 | 28 | .933 | 21 | 1 | 6 | 0 | 0 | 60:00 | 0 |
| | | | | | | | | | | |
| --- | --- | --- | --- | --- | --- | --- | --- | --- | --- | --- |
| SA | GA | SV | SV% | ESSV | PPSV | SHSV | SOSA | SOS | TOI | PIM |
| 51 | 3 | 48 | .941 | 39 | 3 | 6 | 0 | 0 | 59:23 | 0 |
---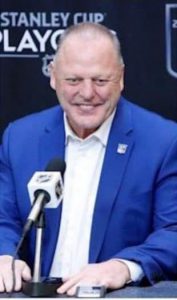 When it comes to the ESPN vs M$GN pregame shows, once again, it was the national network that was better.
Not only did ESPN enhance their greatest strength, by presenting an hour-long pregame show with two Hall of Fame legends (Mark Messier and Chris Chelios); but M$GN were without Henrik Lundqvist, which in turn, took away their biggest strength.
Marty Biron and Sieve Vagistat were horrible again. I guess Lundqvist had to attend one of his daughter's soccer games or something.
While I don't know where Lundqvist was, this much is true – these M$GN pregame shows are brutal without him.
And really, if you're a Rangers' fan, who these M$GN pregame shows are catered to – who would you rather listen to – Mark Messier or two of Lundqvist's back-ups?
Vagistat presented his nonsense again and soon demanded that the Rangers try not to shoot at Vasilevskiy glove-side. Personally, I'll go with whatever Gallant wants to see out of his team.
Dave Maloney, during his segment, talked about the the team's chemistry – a bond that he felt has been strengthened by going with six alternate captains – something that no one was championing for at the start of this season.
Biron, who really wasn't all that bad (he's just not #30), then used the word that Lundqvist has hit a lot during these playoffs – "confidence."
During this instance, Biron was talking about how Igor's confidence lifts the Rangers – a true and valid point.
ESPN, who has done a great job of showing us the pregame warm-ups of these games, as Messier and Chelios give their thoughts on the players during them (one of the best things that ESPN does during these broadcasts); the sports-leader then showed us a wide-angled shot of the crowd – where at the time, looked like a 50/50 crowd.
Based on television, and from the crowd reaction to goals scored, by the end of the game, it felt like this crowd was 60-40 and in favor of the home team. Not only do Ranger fans travel well – there are a ton of New York transplants living in Florida. (Thanks Captain Obvious!)
It was also mentioned by ESPN that CZAR IGOR leads all playoff goalies in saves, with 540 in total.
That number now reads as 588, where yes, playing in two Game Sevens, and also playing in that triple overtime against Pittsburgh (79 saves) are two huge reasons why Igor leads in this department. He's also pretty damn good too!
---
In one of the dumbest things that I've ever heard in my life, Sieve Vagistat then tried to sell that Alex Ovechkin isn't Washington's number one power-play option. He didn't say who was.
Vagistat was talking about Ovechkin in relation to Mika Zibanejad, a #93 who has replicated #8's game from the faceoff circle to the right of the goaltender, a circle which is also known as "Ovi's Office."
But yeah, despite a spot on the ice being named after Ovechkin – he's not the Capitals' first option on their power-play.
Ridiculous, as I think the hair dye has seeped into Vagistat's brain.
---
To continue his stupidity, Vagistat then said, "if the Rangers win the Stanley Cup, then the Kid Line will be known as the Stud Line."
While Vagistat laughed at his own attempt at humor (always the case); both Biron and Giannone rolled their eyes at him, with Giannone pretty much saying that comment was ridiculous.
Over on ESPN, Messier interviewed Barclay Goodrow. Goodrow said that he shared his Stanley Cup winning experiences with his teammates, and then complimented the team on the way they've been playing during these playoffs.
Both Messier and Chelios, who have described #21 as a "Jeep," as opposed to a "Ferrari," then asked Goodrow about this vehicle comparison. (This was all said jokingly.) Goodrow laughed himself and said that he didn't see himself becoming a Ferrari anytime soon, and that he was happy about being a Jeep – also a compliment, as it describes Goodrow's grit, ruggedness and eagerness.
Goodrow, in his final comments, then said that he had no problems with temporarily forgetting about his success in Tampa, because for now – they are standing in the way of his current dreams – winning the 2022 Stanley Cup.
As far as anything else, while Vagistat was going on-and-on about nothing; ESPN reported that Riley Nash would be suiting up for the Bolts, while Cal Foote recieved an all expenses paid for trip to the press box.
Messier felt that this was Cooper admitting that Tampa was tiring in-games and looking for balance in his line-up.
Unfortunately, this move worked – especially during the third period.
Game Review time.
---
FIRST PERIOD:
The first period of this game felt like the first period from Game One, where the Lightning were the better team.
The Bolts sent fifteen pucks on Igor during these first twenty mintues, only for the '22 Vezina winner to deny all of them.
And keep in mind of the following three things:
One – the other team is paid to play hockey. And let's not forget that these guys are the champs too.
Two – the Bolts, now back on home ice and down 2-0 – you had to know they'd come out jacked-up and full of fire today.
Three – you had to expect the Rangers to survive a desperate and motivated Tampa attack. And that's what they did for most of this game – SURVIVE.
---
As feint chants of "Let's Go Lightning" rang out from the Tampa crowd; Anthony Cirelli won the game's first faceoff, when he defeated Mika Zibanejad.
For what it's worth, and as noted earlier, the Rangers did a pretty good job on faceoffs during this first period, but as the game went on, they reverted to their numbers from the first two rounds.
In the opening minute of the game, Rutta went wide and then Killorn hit Miller into the boards, a hit that knocked #79's shell off.
The Rangers' third line, and in a rarity, were held without a point today. It wasn't for a lack of trying though, as they had plenty of chances, but they could never connect.
On their first shift, they spent all of it in the Tampa d-zone, but a wide shot out of Miller ended this attack.
After a few saves out of CZAR IGOR at the three minute mark; Miller then forced a turnover in the Tampa d-zone, where following it, Andrei Vasilevskiy (AV from this point forward) then stopped Copp.
With 15:42 to go, CZAR IGOR made a quick snap of his glove on a Kucherov try. A minute later, AV matched his comrade and then stopped Chytil.
Adam Fox, who had an up-and-down game today, looked brilliant early on, where from his own end, he deked out two Tampa forecheckers and then cleanly brought the puck out of the Rangers' d-zone.
As the Rangers continued to test AV; Tampa finally had their first best shift of the game with 13:20 to go, where Igor stopped McDonagh with a big save. Miller would eventually break up this 42 second Tampa attack and get the puck out.
This Tampa attack was reminiscent of what we've seen before from the Rangers during these playoffs, where they have trouble with getting the puck out. This has been their biggest weakness of this particular series.
With 11:57 to go, Panarin, much better defensively as this playoff run has gone on, forced a Tampa turnover while in the Rangers' d-zone, and as he approached center ice – was caught with a Kucherov high-stick.
In Game Two, the Rangers' power-play went 0-4, where despite no goals – each man-advantage attack looked good.
This wasn't the case here, as Nick Paul, single-handedly, killed off thirty seconds of this Rangers' power-play.
The Rangers would only get one shot on goal during these two minutes (AV save on Kreider), and that was that.
Then, right after Tampa's kill, this happened:
This save by Igor Shesterkin on Nikita Kucherov was something else #NoQuitInNY #gobolts pic.twitter.com/9m7FFYjCoi

— Alex Micheletti (@AlexMicheletti) June 5, 2022
---
Here's CZAR IGOR, making a save on a Kucherov jack-in-the-box breakaway opportunity. Whew.
Igor then followed up this save, his best of the game, with two more, as the Rangers were doing him no favors at this point of the game, and with 8:28 to go.
In fact, just a minute later, Igor was already up to 13 saves.
Down to 7:03 remaining, Trouba and Copp got pass happy during a two-vs-one odd-man rush, which then allowed Hedman to easily break it up. Chance blown.
After a bad turnover committed by Justin Braun with 5:45 to go; Tampa spent some time attacking, but Igor said "NYET NYET" again.
With 4:08 remaining, Goodrow and a Bolt were battling for a puck. The puck went over the glass.
ESPN immediately went to commercial following this, while both Sean McDonough and Ray Ferrero were begging for a Tampa power-play, prior to going to another one of those legendary PETER BONGIORNO, mob lawyer, ads.
Once back from commercial, we remained at full-strength, where no replay was shown.
Worse than that, were these never-ending Emily Kaplan interviews that air while the game is in play.
I have no problems with the interviews themselves, but as mentioned 7867866876 times before – air them during stoppages, and not while the puck is in play.
With 3:47 to go, we had our first real scrum of the game, where I'm surprised that Ryan Reaves (who was not on the ice at the time) wasn't called for a two-minute minor. Remember this for later.
Down to ninety seconds remaining, Tampa had already spent 4:45 in the Rangers' d-zone. They hit that 4:45 number at the fifty minute mark of Game Two.
After a scoreless first period, this much was evident – the goalies came to play.
Here's what I said at the time:
Scoreless after 20. 1P Thoughts:
— Goalie duel
— Best TB has looked all series – they aren't going down without a fight.
— SOG 15-12, Hits 21-14 Bolts, FO's 13-7 #NYR
— NYR PP didn't look hot
— NYR survived the storm, regroup and rebound
— LGR!

— BlueCollarBlueShirts (@NYCTheMiC) June 5, 2022
---
SECOND PERIOD:
Worth noting?
Prior to puck drop, I saw fans of both fan bases complaining about the horrid ESPN broadcast – where fans of each team both said that the broadcasters were biased. I'm always entertained whenever that happens.
And I'm guilty of this myself, because after all – ESPN have been biased against the Rangers!
Don't forget – the trio of McDonough, Kaplan and Ferraro all picked the Lightning to win this series!
(Ferraro said Bolts in five. What a douche!)
---
After ESPN missed another faceoff for a meaningless interview, Igor stopped Hedman at the 53 second mark. After that, Kakko had Lafreniere wide-open in the slot, but put too much hot sauce on the pass.
Following an Igor freeze at around the 3:15 mark, this is when we saw the Strome injury on replay. In real-time, we didn't see it live.
As Tampa put forth a strong attack against the Rangers', and following a no-call on a McDonagh hook/hold on Vatrano too; with 16:20 to go, AV then came up with a pair of saves on Panarin.
At this point in the game, it were the two Russian goaltenders who were stopping the star Russian forwards. That would soon change – which was not a good thing for the Blueshirts.
With 15:10 to go, we had some more inconsistency from these officials, following an Igor save on Perry.
Following the save, Colton tried to get cute with Igor. Lindgren wasn't having it.
DESPITE THE OFFICIALS ONLY GIVING RYAN REAVES A PENALTY DURING A SIMILAR SITUATION WITH PATRICK MAROON DURING GAME TWO – we had off-setting penalties here.
While off-setting penalties (or no calls at all) would be the correct course of action, I'm still left wondering – how did Reaves only get a penalty during a similar situation?
Jackson, ESPN's "EXPERT" officials analyst, was a ghost following this.
You know, the same Jackson that praised that call on Reaves, and a Jackson that was then trashed by both Messier and Chelios for doing so afterwards.
Just sayin'.
Also of note – the officials never raised their arms on Colton, who started this scrum. Keep this in mind for later.
Now down to 14:54 remaining, Mika was then boxed for interference, which in turn, gave Tampa a 4 x 3 power-play for 1:45.
The Rangers, who didn't get the puck luck that they received during the previous two games of this series, would soon have that displayed.
During a penalty kill where both Miller and Trouba looked spent while trying to fend off Tampa for over a minute straight; Miller finally sprung loose, and during two vs one odd-man rush, found Goodrow wide-open.
Goodrow hit the puck off of the post so hard, that I can still hear it. A millimeter to the left – this would've been a short-handed goal.
With just thirteen seconds left on the kill, Perry attacked CZAR IGOR, and whacked #31 in his mask and shoulder areas.
That meant we now had thirteen seconds of three vs three, followed by a Rangers' power-play.
The Rangers power-play would soon strike, by who else – Mika Zibanejad:
ZIBANEJUNE IS IN FULL EFFECT pic.twitter.com/mtTRvcZxeG

— Rangers Videos (@SNYRangers) June 5, 2022
---
1-0, GOOD GUYS, a huge goal, especially considering how Tampa was dominating this game, and how their own power-play had failed to score.
Of note – this was Mika's sixth power-play goal of these playoffs. He's now tied with Adam Graves for the franchise record. I'm sure Mika will break that record soon enough.
Now with 11:27 to go, Tampa took another penalty when trying to mess around with Igor. This time, it was Riley Nash who barreled over CZAR IGOR.
While the power-play was nice, it looked like Tampa's strategy was to knock Igor out of the game. They constantly ran him all game. At least the officials decided to call it on two of these occasions.
ESPN, god-awful as usual, didn't pick up that Chytil was now on the first PP unit with Strome out. They also were running interviews during this power-play. Whoever produces these broadcasts should be "Old Yeller'd."
With 10:16 remaining in the period, Kreider tied Rod Gilbert for most Ranger playoff goals all-time:
2-0 RANGERS, CHRIS KREIDER SCORES! 💪pic.twitter.com/YAY6SL6Ajv

— Rangers Videos (@SNYRangers) June 5, 2022
---
2-0, GOOD GUYS, as Kreider cashed in a Mika one-timer rebound!
Sadly, and outside of CZAR IGOR – this was the last Ranger highlight not only of this period – but of the game too.
Up next, thirty minutes of free-falling.
Just seconds after Kreider's goal, Trouba was boxed for interfering with Palat. This was a weak call, and a call, like others, that just reeked of conspiracy.
What conspiracy you may ask?
This one – the fact that the NHL has stated that Game One of the Stanley Cup Final will begin on June 18th.
With Colorado on the verge of sweeping Edmonton – what better way to limit the off-days by screwing the Rangers?
Yes, I'm being tongue-in-cheek here, and I'm not 100% serious – but yeah, a lot of these penalties were fugazi.
What I am 100% serious about is this – these officials have been inconsistent.
Down by two goals, and even when down by one – Tampa got away with a lot.
If Trouba farted near a Bolt, it was a two-minute timeout. You also have to wonder if Trouba, a new villain of the NHL, is under the microscope a bit too.
As mentioned earlier, and as I'll say again – Trouba's third penalty was atrocious. His first two? Not at all.
We all know this is true, and as former NHL official Tim Peel has recently admitted to, and many times at that – NHL officials look to even games out and will always try to hand out "make-up" calls.
I think we saw a lot of that today.
And that's my story and I'm sticking to it!
---
After another Rangers' penalty kill that looked horrendous; Kucherov went five-hole on Igor from the left circle.
2-1, and with 9:10 remaining.
Another quick goal allowed after scoring too.
Once back to full strength, Ryan Strome attempted his comeback, a short-lived one. It took a while for ESPN to notice this.
With Zibanejad pretty much double-shifting here; Mika and Panarin then had an odd-man rush, but waited too long to shoot. Trouba eventually did, and with 4:30 to go – AV made an easy save.
Down to 3:08 remaining, Hagel tried to get cute with Igor. Miller threw him into Clearwater, while Mika got the puck out of the zone.
Here's what I said right before the period ended:
Another major end of a period push from TB during this series #NYR

— BlueCollarBlueShirts (@NYCTheMiC) June 5, 2022
---
Twenty minutes of game time later – I'd be even more disgusted by this.
Once the Rangers escaped the second stanza up by one goal, Patrick Maroon cheap-shotted Zibanejad from behind.
No call.
I wonder if there would've been a call if Reaves and/or Trouba did the same thing, and/or if Sidney Crosby was the recipient of this hit?
Hmmmmm.
And to be clear – I'm not blaming the officials for this loss. Far from it. I'm just pointing out what happened.
Here's what I said at the time:
2-1, GOOD GUYS after 40. 2P Thoughts:
— 20 minutes away from broom territory.
— Tie/win the period, win the game.
— TB would be morons to hit Igor again.
— SOG 33-24, FO's 19-18 TBL; Hits 29-all
— Special teams & goalies – #NYR PP 2-3, TB 1-2
— Trouba is due
— LGR!

— BlueCollarBlueShirts (@NYCTheMiC) June 5, 2022
---
THIRD PERIOD:
I won't prolong the misery much longer. This final frame is easy to recap.
The Rangers got destroyed this period. That's not on the officials.
As noted earlier, the Blueshirts were out-shot 20-5.
Maroon, who was not in the box for his late hit on Mika; "The Big Rig" watched Trouba take the softest penalty that you'll ever see at the 37 second mark – a hold on Cirelli during a play that you'll see about twenty times during the course of any NHL game.
Do you know how soft this penalty was? (HOW SOFT WAS IT?) I'll tell you:
DESPITE THIS PLAY (BEHIND IGOR'S NET) TAKING PLACE IN FRONT OF AN OFFICIAL – THAT OFFICIAL DIDN'T CALL IT. INSTEAD, IT WAS THE OFFICIAL NEAR THE BLUE LINE WHO CALLED IT.
Make-up call? Keeping the score close? You be the judge.
---
With 18:38 to go, and during another bad Rangers' penalty kill, Stammer blasted one by Igor. Nothing #31 could do here.
2-2.
At the 6:27 mark, we had more questionable officiating, when Vatrano was boxed for being hit from behind by McDonagh. You see, #77 in white made contact with Vasilevskiy after McDonagh's ode of homage to Patrik Nemeth.
With nowhere to go, since McDonagh pushed him, and despite Vatrano jumping into the crossbar in an attempt to not make contact – Tampa got a power-play.
The Rangers survived this one, and I mean they survived, as I think Igor made four saves during this.
I should also mention here that Goodrow blocked a shot with his injured left ankle/foot during this penalty kill.
He went to the tunnel, but would soon return. Let's hope he's fine, as the Rangers can not afford to be down both Strome and Goodrow.
The turning point of the game occurred with 9:04 to go.
Kucherov high-sticked Mika near the benches and drew blood.
DESPITE EVERYTHING – you could no longer blame the officials anymore.
In a tied game, the Rangers now had four minutes to get a goal and the win. As you know – they didn't.
If there was one minor complaint, Filip Chytil was high-sticked early into the power-play – but these officials haven't handed out one 5 x 3 power-play yet.
Even so, once again – the Rangers had four minutes to get a PPG.
The first PP unit couldn't do much, and once the second PP unit came on; Trouba flubbed, turned over the puck, and when chasing Killorn, tripped the left winger.
This erased two of these four minutes of a man-advantage.
And of the three penalties that Trouba took – this is the one you can whine about.
But to solely blame him for the loss, where I saw one jackass (the one fired from WFAN many years ago) suggest that Trouba should be benched for Game Four? That's absolutely ridiculous.
Once returned to full-strength, Tampa motored on, where at the time – all you were hoping for was overtime.
That never came.
Instead, with 41.6 seconds left, and with Kreider puck-watching (he said this himself after the game), Palat scored.
3-2, bad guys.
3-2, final.
---
This is a tough one. On one hand, the Rangers were nowhere near their best. On the other hand, they did have a two-goal lead.
And while I know that I sound like I'm crying like a wuss about the officials today – they didn't help either.
However, and one last time – the Rangers had a four-minute power-play to end it.
That all said, my faith remains unchanged. After all, I said the Rangers in Six going into this series.
Yes, a sweep would've been great, but you had to expect Tampa to go down swinging. They landed a big right hook today. The Rangers will have to prevent a left hook on Tuesday.
And yes, I know – the irony in Tampa pulling off a comeback against the greatest comeback team of the league today.
Shit happens.
Win on Tuesday and then close out at home! Let's not even get to a sixth game!
I might be back tomorrow, depending on what goes on with Strome.
---
Here's Gallant after the loss:
---
PLUGS TIME.
---
My first plug of tonight's blog – the mandatory plug for my book, "The New York Rangers Rink of Honor and the Rafters of Madison Square Garden".
As mentioned previously, the book is now available in hardcover, in paperback and in Kindle formats. To purchase a copy of the book, visit this link:
https://www.amazon.com/Rangers-Rafters-Madison-Square-Garden-ebook/dp/B09CM5N2WD
For those still looking for signed paperback versions of the book, I have re-ordered more copies. I now have a few signed copies for sale at $25 a pop (includes shipping price) through me directly. Here is all the information on that:
---
Here are my last few blogs, in case you missed them:
---
---
---
If you haven't already, subscribe to this blog for the next update:
---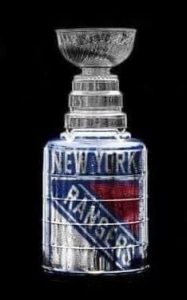 Up next: Game Four of the ECF, Tuesday night, at 8PM, at the Amalie Arena in Tampa, Florida.
LET'S GO RANGERS!
Sean McCaffrey
BULLSMC@aol.com
@NYCTHEMIC on Tweeter