Greetings and salutations everyone and welcome to another blog here on BlueCollarBlueShirts.com. Ugh.
If you're looking for a silver lining out of yours truly, Mr. "Glass Half-Full" himself, following the Rangers' 3-1 Game Five loss to the Lightning from Thursday night, there's this – the Rangers are 5-0 during playoff elimination games this season.
In addition, during these 2022 Stanley Cup Playoffs, the Rangers are undefeated in both Game Sixes and Sevens.
Furthermore, these 2021-22 New York Rangers have a flair for the drama, where more times than not – they opt for "Disney" finishes – rather than massacring their opponents as if they were the lead protagonists of a Quentin Tarantino film.
So there's that.
However, the reality?
It feels like we're not only just sixty minutes away from doing the "WHAT IF" stuff, regarding the Rangers blowing a 2-0 lead during Game Three (as well as the fugazi penalties assessed to Jacob Trouba) – but we now have a new contender for the "turning point of the series" too:
Unlike others – I can't bury Ryan Strome as if he was the biggest and only reason why the Rangers lost Game Five.
Far from it.
In addition, and despite what tonight's blog header photo may suggest – I can't solely blame the officials either – but I'm not saying that they weren't at fault.
Way far from it.
Simply stated, the officials favored the Bolts all game – FULL STOP and no debate.
(And as noted 9678689689689689 times before – I hate, hate, and hate, whining about the officials – win or lose.)
Here is the bottom line of all bottom lines regarding Game Five – once again, there were no even strength goals scored by the FAT CATS tonight. End of story.
That includes Ryan Strome. That includes Artemi Panarin, Mika Zibanejad, Chris Kreider and Jacob Trouba too.
When Ryan Lindgren is your only goal scorer – well then it's tough to win games – and with all due respect to the "ULTIMATE WARRIOR" of the Rangers.
Yes, all of us can harp on the Strome miscue, and the officials too – but when your biggest guys can't score a goal when it matters the most – you're not going to win too many games.
Furthermore, while we can talk all about Strome and the officials until the cows come home; it were the Rangers, and not the Lightning, who had all of the puck luck tonight.
After all, the Bolts hit two posts during the first period of this game, where at the time, my friend, "EDDIE WHISTLES," texted me this:
"These pucks have hit the post so hard that I went to Taco Bell."
Of course, during that same first period, the officials also decided to put their noisy metal apparatus in their pockets, and flat-out ignored two blatant Tampa infractions – blatant missed calls that took place prior to the eight minute mark of the game.
Let that sink in.
Just eight minutes into Game Five, and two potential Ranger power-plays were given the Dikembe Mutombo treatment by the douches in Foot Locker employee gear.
For the Rangers, perhaps the "Cinderella" of these 2022 Stanley Cup Playoffs – it's a tough enough of a task to knock off the two-time reigning and defending Stanley Cup champions – the best hockey team of the salary cap era.
That task becomes "Mission Impossible" when the officials start calling one-sided games – especially when your top stars can't score.
---
If you toss away the bad officials, and the Strome miss too (tough to do – I know), this game boiled down to fluke goals, where Tampa got one more than the Rangers.
That's all it took.
Once again, and for the second time during this series – it was Tampa, and not New York, who scored a heart-breaker of a game winning goal during the final seconds of regulation.
For whatever reason, the Rangers can't get to overtime at all, as instead – they prefer to lose these games in regulation. I guess they don't want to prolong the misery.
Ugh.
For whatever you want to say about these late and fluky Tampa game winning goals; you also have to ask yourself this question – "why does this keep on happening?"
The answer? Easy – the Rangers get as nervous as a new kid joining a new school, where as a result – then allow Tampa to attack, attack and attack.
While Tampa's stars and future Hall of Famers are not beating them during these moments – it's the same old shit every time – a goal scored following both a deflection and a screen.
And this isn't new either, as we've also seen this during the first two rounds. Brendan Smith? Ian Cole? Ugh.
On this night, it was Mikhail Sergachev's turn, who not only scored the game's tying goal in this fashion – but who also pretty much scored the game winning goal. (Ondrej Palat was credited with the goal, a deflection, but Sergachev made it happen.)
And yep, if the ghosts of 2015 weren't bad enough for you, there's also this:
When former Rangers' general manager, Jeff Gorton, decided to blow it all up and embrace a rebuild in February of 2018 ("The Letter"); who did he want the most in return for Ryan McDonagh and J.T. Miller?
Mikhail Sergachev, who then Tampa general manager, Steve Yzerman, essentially responded with, "he's off of the table."
Needless to say, a collection of Nils Lundkvist, Brett Howden, Vladislav Namestnikov, Karl Henriksson and Libor Hajek, haven't panned out as well for the Rangers as Sergachev, a two-time Stanley Cup champion, and much like McDonagh himself, has panned out for the Bolts.
While Gorton did hit a few homeruns during his tenure (even if some of them were softballs over the plate); this trade was a monumental loss – and perhaps the worst trade of his era.
What's that word again?
"Ugh."
---
If you're a regular reader of this site, then you already know how I feel about this team.
In short, I'm proud that they got to the Eastern Conference Final.
An ECF loss to the Bolts won't change that – even if in this moment – it's tough to watch.
That said, previously up 2-0 in the series, and then up 2-0 during Game Three – yeah, that's going to eat me alive all summer – should the Rangers not have one more comeback in them.
And while I will be King Konging myself into believing that the Rangers can pull off three Game Seven victories in a row – after seeing these bandit officials, who pulled off a bigger robbery during Game Five than anything that Jesse James ever did in his lifetime – it's just tough to envision.
Put it this way – I felt like the Rangers would come back against both Carolina and Pittsburgh. I don't have that same feeling now.
While I've never been on the "CONSPIRACY TRAIN" bandwagon before; it does feel like the NHL wants the story-line of a "Three-Peat" vs "A Team of Destiny" Stanley Cup Final.
Between the horrendous acts of officiating during Game Three, only to be superseded by tonight's nonsense – while the Rangers were able to overcome the officials before (Pittsburgh); there's also a reason why Tampa are two-time Cup champs, while at the same time – Pittsburgh hasn't made it past the first round during the past four seasons.
At this time – let's get into Game Five.
However, before getting there, let's get into all of the pregame news and interviews first, and then into the main event – the GAME REVIEW.
---
Wednesday was kind of a morose day in Rangerstown, USA, where even in my own personal travels, I bumped into several Ranger fans – fans who may as well have been wearing all black, and with the veil attached too.
My "real-life" encounters with Ranger fans also matched a lot of what I was reading on social media, where there was an equal amount of "gloom and doom."
Now, following Game Five, I have to admit – I'm now feeling a bit this way myself.
When it comes to the team from Wednesday, that day was a travel day back to New York, where once arriving – everyone went home to rest, regroup and recharge.
However, prior to his team's flight back home, head coach Gerard Gallant fulfilled his daily media requirement.
Here was the Wednesday edition of "TURK TALK":
---
Similar to his stuff prior to Game Four (regarding Ryan Strome and Barclay Goodrow), Gallant didn't have much of an update on Strome, nor did he have much on the recently injured Filip Chytil neither.
When it comes to both players, Gallant said that both were day-to-day, where as you know by now – can mean anything.
Gallant then mentioned that he was in a bad mood during his Game Four post-game press conference, but then reminded both himself, and the media, about what this team has done all season.
When it comes to the Rangers' success on home ice, Gallant credited that to a combination of things, including the loud crowds, his players sleeping in their own beds, and for him as a head coach – having the last change – where Gallant stressed that having the last change during this series was significantly more important when compared to the two previous rounds.
Gallant, who has previously stated that he's not numbers guy, nor harps on the past neither; "The Turk" then rattled off a few numbers, including how the Rangers came back when down 3-1 to Pittsburgh and how they are 8-1 at M$G during these 2022 Stanley Cup Playoffs.
As far as anything else worth noting here, Gallant also praised the competition, where he may as well have said my line – "the other team is paid to play hockey too."
---
A day later, on Thursday, game day; Gallant met with the media one last time prior to puck drop of Game Five:
---
The big news, and really, the only thing that mattered from Thursday's "TURK TALK?"
The fact that both Ryan Strome and Filip Chytil were LOCKS for his Game Five line-up.
Nothing against the "black aces" of the team, including Kevin Rooney, but yeah – both Strome and Chytil, even if they aren't at 100%, are better than the alternatives. They just give the team a better "roster stew" – something that I wouldn't have said about Chytil during the regular season.
And speaking of Kevin Rooney?
Come pregame warm-ups, there was Ryan Reaves, in Rangers' apparel, rather than dressed with his #75 jersey on his back.
In turn, Kevin Rooney was slotted back into Gallant's line-up.
It didn't make a difference.
While fourth lines are important; what's more important is that your big stars show up in big games.
They didn't.
And while I'll never doubt Gallant; when focusing on your fourth line is your biggest concern – then that speaks volumes.
Again, no points tonight from Kreider, Mika, Panarin, Trouba, Fox or anyone else that matter; as a fluky and unassisted Ryan Lindgren goal would be the only Rangers' score of the game.
---
Here's what "The Turk" ultimately went with for this "J.T. Miller" tribute game:
FIRST LINE: Kreider/Zibanejad/Vatrano
SECOND LINE: Panarin/Strome/Copp
THIRD LINE: Lafreniere/Chytil/Kakko
FOURTH LINE: Motte/Rooney/Goodrow
Defensively, we had this:
FIRST D-PAIR: Lindgren/Fox
SECOND D-PAIR: Trouba/Miller
THIRD D-PAIR: Braun/Schneider
And in net, CZAR IGOR.
---
BOX SCORE time.
The following information and graphics come from the new world-wide leader in NHL coverage, ESPN.com:
SCORING:
PENALTIES:
TEAM STATS:
GOALIES:
| | | | | | | | | | | |
| --- | --- | --- | --- | --- | --- | --- | --- | --- | --- | --- |
| SA | GA | SV | SV% | ESSV | PPSV | SHSV | SOSA | SOS | TOI | PIM |
| 25 | 1 | 24 | .960 | 22 | 0 | 2 | 0 | 0 | 60:00 | 0 |
| | | | | | | | | | | |
| --- | --- | --- | --- | --- | --- | --- | --- | --- | --- | --- |
| SA | GA | SV | SV% | ESSV | PPSV | SHSV | SOSA | SOS | TOI | PIM |
| 26 | 2 | 24 | .923 | 17 | 1 | 6 | 0 | 0 | 59:12 | 0 |
---
As usual, the ESPN pregame show was much better than the M$GN pregame show – if only because they show us footage of the pregame warm-ups.
Henrik Lundqvist was back for the M$GN. Unfortunately, so was Sieve Vagistat.
In an attempt of not playing my "GREATEST HITS" here; the M$GN pregame show was repetitive again.
The biggest highlight was Dave Maloney telling a story from 1979, where after Billy Joel sang the National Anthem during Game Three of the '79 final, he then gave Joel a hearty whack on the ass.
Maloney told that story to get to his point – he thought that the M$G crowd, during the National Anthem, would juice the Rangers up. Of course, I think you can say that about any home team during the playoffs.
While ESPN showed us the warm-ups, and reported all of the line-up changes; there was Sieve Vagistat, and as usual, rambling on about nothing.
And I know I've said this 786786786789687969 times before – but we didn't know the official line-up until 8PM – despite both networks telling us to bet our life savings on this game.
Giannone's final question to Lundqvist and Vagistat during the waning minutes of the final segment, "The BUD LIGHT" bar segment?
This one:
"Do you think that the first ten minutes of this game are important?"
What a hard-hitting on-air journalist.
---
Over on ESPN, Mark Messier and company interviewed Jacob Trouba – a #8 that gave off vibes as if he were a serial killer – and in a good way. (I know that sounds weird.)
Unlike previous pregame interviews (Barclay Goodrow, Patrick Maroon, etc); Trouba was as serious as a heart attack.
After some stone cold remarks from Trouba; Messier smiled and said – "give me some of that."
In what was pretty spot-on; at the end of the ESPN pregame show, the panel, with goaltending analyst Brian Boucher leading the way, all of them came to the same conclusion – this had to be a game that CZAR IGOR stole.
Everyone was predicting a 1-0 final.
While the final score was 3-1, bad guys (empty netter included); ESPN got it right – this was a low scoring game – and another game where the Rangers' offense were stifled in.
Following an animated National Anthem out of John Amirante 2.0, new resident baritone John Brancy; as Maloney predicted – M$G was jacked to the gills.
Sadly, the Rangers were not.
Ugh.
Game review time.
---
FIRST PERIOD:
One more time, and to be clear – I'm not saying the officials were the sole reason why the Rangers lost. I'm just saying that they didn't help.
And despite it all, come the final stages of this game, the score was 1-1 – where the lone Rangers' goal didn't come off of the stick of any of their big money (FAT CATS) players.
Legacies are made during the playoffs, and while many Blueshirt backers do believe that this team has over-achieved; at the same time, you live in the moment.
You just can't sit there and say – "well, they had a good run this year, that means they'll win the Cup next year."
Need evidence of this? Just go back and look at the 2014 and 2015 teams. Ugh.
Need more evidence? Just look at the team's freakin' history!
In the moment, and with team not only once up 2-0 in this series, but two wins away from the Stanley Cup Final too – the best players on the Rangers aren't making their legacies – yet.
They still have at least one more game to do so.
Win Game Six – and they'll get a chance to make their names known forever during a do-or-die Game Seven.
However, and as head coach Gerard Gallant always says – "one game at a time."
Let's talk Game Five first before getting into Game Six.
---
As the crowd belted out "LET'S GO RANGERS;" Kevin Rooney defeated Anthony Cirelli during the game's opening faceoff.
At just the ninety second mark, Nikita Kucherov hit the post so hard that even Sam Rosen must've heard it down in Florida.
This would be "Exhibit A" of the Rangers' getting a puck-luck break. They'd never do anything with it.
Prior to the two-minute mark; Braden Schneider, who to his credit, shot any puck that came his way (even if most of them missed the net); had his lone shot on goal of the game denied by Andrei Vasilevskiy. (AV from this point forward.)
And speaking of Schneider, when this season ends, whether it's on Saturday night or beyond that – I think we'll appreciate him even more.
At twenty years old – he has never looked overwhelmed. He looks like he's been competing at the NHL level for his whole life.
While I'm not saying that he's been better than Fox, Trouba, Miller and/or Lindgren (nor should he be) – he's definitely becoming a pillar of the future.
---
As has often been the case during these past three games; Tampa absolutely destroyed the Rangers when it came to odd-man rushes and breakaways.
However, as opposed to Game Four (when the Rangers didn't have one odd-man rush and/or breakaway) – the Rangers did receive several tonight – but just not as many as they afforded the champs.
On the first Tampa odd-man rush of the game, which took place at just over the two minute mark; Braun broke up this scoring chance.
Not even two minutes later, it was K'Andre Miller's turn, after an errant Panarin pass that went nowhere, as #79 made a picture-perfect sliding block on Bogosian, on this Tampa two-vs-one odd-man rush.
With 14:48 to go, the officials swallowed their whistle, as both Barclay Goodrow, and his stick too, were held while in Tampa's d-zone. This should've been a Rangers' power-play.
Following the officials refusal to do their jobs; ESPN went to their horrible camera angles where you can't see shit (there's a reason why the seats at center ice cost more than the ones directly behind the net).
During this, Mika missed a chance that looked easy – but that could've been the terrible camera angles playing tricks on my peepers.
With 12:50 to go, and after a denial from CZAR IGOR; Jacob Trouba was blatantly tripped.
Of all the no calls in this game, this was the worst.
How bad was it? Even noted Ranger hater, Ray Ferraro, called out the officials for this no call.
This no call also led to our first of many derisive chants directed towards the officials, where the word "ASSHOLE" then echoed all over the iconic ceiling of M$G.
After Emily Kaplan reminded us that Adam Fox grew up in Jericho, NY (maybe something that national fans didn't know, but something that has been repeated about 789678967896786868967896 times this season by M$GN); a Trouba bomb went wide with 11:20 to go.
With 10:20 to go, the Rangers had their first "best chance" of the period. However, the third line couldn't finish, as Filip Chytil came close to scoring. A Fox follow-up couldn't reach twine either.
And right after this "Craig's List MISSED CONNECTION;" we then saw a camera shot of both Chytil and Kakko looking at an iPad, as they reviewed their miss. I was hoping that Lafreniere, like Kreider before him, would toss the i-Pad into the Blue Seats. No dice.
Now under ten minutes to go, Panarin, about five feet away from AV, had two GOOD LOOKS at the goalie. Rather than shooting during either occasion, he decided to set up Ryan Lindgren at the blue line instead.
And yes, while Lindgren did score the lone Rangers' goal of the game – double nickel isn't being paid to score goals. Panarin is.
As we hit eight minutes remaining, M$G pumped in the old 1994 Knicks theme song – "GO NY, GO NY, GO!"
Just like the 1994 Knicks – the Rangers disappointed their fans tonight.
And oh, since I forgot to mention it earlier – the Rangers' biggest "theme song" of the season, you know, "SHESTY, RELEASE US," and as sung out by future Grammy Award winning artist Ryan Reaves; "The Grim Reaver," in his Rangers' playoff shirt, was in the locker room, and not in the press box, at the start of tonight's game.
Despite not dressing for this contest; Reaves was there to belt out his biggest hit.
Team player – as I'm sure Reaves was miffed about not playing, but he also didn't allow that to deter him tonight.
And also as an aside here – Reaves vs Rooney – it don't matter. Both are serviceable. The top six were not, at least not offensively.
---
With 8:10 to go, Nick Paul crushed an iron so hard, which led to my friend's comment about Taco Bell.
In fact, my ears are still buzzing when thinking about this post job.
This was also "Exhibit B" of Rangers' puck-luck tonight.
The officials, again, horrid; then decided if they weren't going to call Tampa penalties, then they'd blow their whistles on questionable offside infractions, and worse than that – quick whistles while the puck was still in play while the Blueshirts were attacking.
With 7:40 to go, and with the Rangers' attacking; the officials blew a fast whistle, where they determined that the Rangers were offside – despite that not being the case.
And as we've seen so many times before – during these borderline offside plays, the officials will let the play go on, and if a goal is scored – then go back to video review.
Instead, during Game Five – the officials just blew whistles rather than doing their job properly.
After Motte broke up a Killorn drive at Igor; with 6:48 to go, CZAR IGOR made his second save of the game, on Riley Nash – a #16 who is now 3-0 during this ECF. Ugh.
Right after this Nash denial; CZAR IGOR stopped Perry too – his third and final save of this frame.
And of course, right after these pair of stops, there was Corey Perry, once again, inciting a scrum after getting cute after a whistle.
No call on Perry for going after IGOR, again.
Following a Hedman strip of Lindgren; we saw more bullshit out of these dickhead officials.
During this sequence, and with under six minutes to go; AV stopped a Chytil-to-Trouba attempt. Right after, both Panarin and Chytil had shots stopped.
Then, with the puck still in play, and with the rubber CLEARLY in the white space in front of AV; the officials blew the play dead.
Even ESPN questioned this one.
Here you had the Rangers, on an all-out attack – and the officials decided to do their Stevie Wonder impression and then lose sight of the puck.
Inexcusable.
Down to under five minutes, and following a bad Lafreniere turnover (these never-ending backward passes to nowhere were maddening tonight); the first line spent some time battling for a loose puck near the boards to the right of AV.
The Rangers, who love giving up GOOD LOOKS, then saw Bellemare miss a wide open net from 18 inches or so away. "Exhibit C" of Rangers' puck-luck.
After one last attack from Tampa at the end of the period (the Rangers love doing this too, and now it's led to two game winning Bolt goals during this series); we remained scoreless after the first period.
Here's what I said at the time:
Scoreless after 20. 1P Thoughts:
— Weird period to assess.
— TB two posts, officials two missed calls.
— SOG 8-3, FO's 9-7 #NYR, Hits 16-all
— Too many passes, shoot the puck
— Captain Obvious reporting first goal is huge.
— Third line best scoring chance.
— LGFNR

— BlueCollarBlueShirts (@NYCTheMiC) June 10, 2022
---
SECOND PERIOD:
At one point, ESPN's prediction of a 1-0 NYR final looked spot-on. However, like most things in life – if something is too good to be true – it usually is.
Following Cirelli's faceoff win over Rooney; Lindgren broke up a Hagel scoring attack.
Right after that, we had another Rangers' turnover, where this time, CZAR IGOR bailed out the team and stopped Palat. If this was Game Four – this puck probably would've went in.
As the Rangers continued their never-ending cross ice and backward passes to nowhere; with 16:55 to go, Schneider was boxed for a hook on Palat.
Again, ESPN called out this penalty as soft and faulty.
This was a strong defensive play – and not a penalty – where worse than that – the officials pocketed their whistles on worse Tampa infractions than this "penalty."
And as you'd imagine – Gallant blew a gasket during this, while M$G chanted, "THESE REFS SUCK!"
The Rangers killed off this Tampa power-play, where Miller, Trouba, and Igor kept the game scoreless during these two minutes.
Come 14:07 remaining; Igor had amassed six saves (one per minute) – which was also double the number of the amount of saves he had made during the first period.
After two strong back-to-back shifts from the Rangers' first line, where yep – they couldn't score either; CZAR IGOR said "Father Fink it," and drew a penalty himself.
With 12:12 to go, Igor went for a homerun pass, and instead of connecting with a Ranger; hit a Bolt instead – while the Lightning were changing.
End result? A too many men on the ice penalty for the champs – their lone penalty of the game – which yep, was also bullshit.
The Rangers' power-play wasn't too hot here, where only Trouba put a shot on goal.
The first PP unit couldn't set up, while Copp was allergic to shooting the rubber. (Keep this in mind for later.)
However, once Tampa killed off this Rangers' power-play; at the 10:29 mark of the period (pretty much the half-way point of the game), this happened:
RYAN LINDGREN OPENS THE SCORING IN GAME 5!pic.twitter.com/gpfub5spXb

— Rangers Videos (@SNYRangers) June 10, 2022
---
1-0, GOOD GUYS, on a goal that I had to watch about 97867867868686 times on replay to see how it went in.
Two things here:
One, good teams find a way during the playoffs, and you need these screened "puck-luck" plays to lead to a goal.
Two, the Rangers scored in this fashion once. Tampa did it twice. Ugh.
Now up 1-0, the Rangers did what they always do – allowed the opposing team to win the face-off after the goal and attack, attack, attack.
As Igor survived this storm, the officials soon got fed up and decided to box Miller for hooking, and with 8:53 remaining.
On this play, Miller made a textbook strip of Perry, but the officials, most likely paid off by all of these NHL gambling partners – said no way and put #79 on a two-minute timeout.
Another horseshit call, but fortunately, a Tampa power-play that the Rangers' would kill off again.
Once returned to full strength, the officials decided to ignore Kakko being tripped.
At least the officials were consistent – they were one-sided throughout these sixty minutes.
You could also see the frustration setting in on Igor too; as with five minutes to go, and really, for the remainder of this game, he continued to play aggressive and was trying to force the offense.
Let me be crystal clear here – I'm not blaming Igor for anything at all. However, especially after drawing a penalty (his third of the series), you could see Igor trying to press the issue.
Rather than leaving pucks for his defensemen to push up ice (and again – I don't blame Igor here – because on numerous occasions, the Rangers, and as they've had problems with all series – couldn't clear pucks out of the zone); CZAR IGOR would make these wild and crazy passes, passes that led to Tampa attacks.
To his credit, and as he usually does – Igor cleaned up all of his turnovers and made saves on each of them.
Similar to the Rangers' 2-0 lead during Game Three – there was never one point in this game where you thought that the Rangers had this game on lock.
In fact, here's what I said during the final minutes of the second stanza:
#NYR is going to need one more goal with these officials, 3:40 to go

— BlueCollarBlueShirts (@NYCTheMiC) June 10, 2022
---
Ugh, I'd be right on this – and I've never hated being right this much before.
After another Rangers' turnover, and a Tampa odd-man rush too (Cirelli went wide here); with 2:34 to go, Schneider broke up an odd-man rush himself.
Eight seconds later, and with Tampa still controlling the puck – Sergachev scored from downtown, as his seeing eye puck went through Rooney's legs and past a screened CZAR IGOR.
1-1.
For good measure, with under a minute remaining – Killorn interfered with Fox as #23 was chasing a puck in Tampa's d-zone. No call.
Here's what I said once the period concluded:
1-1 after 40. 2P Thoughts:
— Way too many odd-man rushes allowed.
— Too many turnovers too.
— I'm positive, but these officials have me nervous.
— #NYR are owed 4 make-up calls.
— SOG 16-all, Hits 23-22, FO's 20-13 #GoBolts
— No PPG's
— Win the period, win the game.

— BlueCollarBlueShirts (@NYCTheMiC) June 10, 2022
---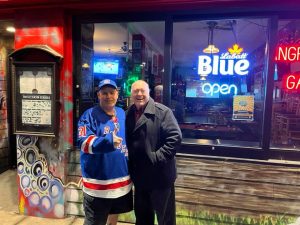 THIRD PERIOD:
Let's run through this final frame as fast as possible.
The Rangers missed about 6589484848484 chances to go ahead.
Early on, Frank Vatrano went wide on two shots.
Then, with 17:39 to go, McDonagh went to the tunnel after an accidental collision with Kreider.
While "Captain Mac" would return towards the end of the period; the Rangers had a good fifteen minutes to score while the Bolts were down to five d-men.
Despite being down a man; Tampa largely dominated the first ten minutes of this period. The Rangers could barely touch the puck – much less see their logo on it.
Let's get the misery over with.
Now down to ten minutes, AV stopped Strome. He then was able to prevent both Fox and Lindgren of scoring, where #55 came this-close of his second goal of the game.
Down to seven minutes, Rutta head-locked Kakko, where ESPN laughed about how the officials ignored this obvious infraction.
In a play that you won't forget should the Rangers lose this series; with 5:40 to go, the second line were all over AV.
This play led to two different reactions – and none of them are positive.
As depicted at the top of this manifesto; Strome had a chance to put the Rangers up by one.
On this play, Copp could've went five hole on AV, or at the very least – go for a puck on pads play.
Instead, he passed to a wide-open Strome and #16 couldn't handle the puck.
This is when you knew it was lights out Rangers.
Blame Copp, blame Strome – I don't care – but this was the Rangers' chance to overcome everything.
Copp, who looked to pass all game anyway; decided to pass again.
Whether Strome's back injury flared up or what, I don't know; but what I do know was that he wasn't able to catch up to this pass and then score the easy tap-in goal.
Puck luck – now in favor of Tampa.
With 4:30 to go, McDonagh returned.
With 1:50 to go, Sergachev seemingly scored another seeing eye shot on a screened Igor; but on replay – Palat, a new Rangers' killer, deflected it.
2-1, bad guys.
That's all she wrote.
The Rangers had trouble regaining possession of the puck, and it wasn't until there was 1:13 remaining where Igor could go to the bench for the extra attacker.
Fourteen seconds later, and as the Rangers refused to shoot the puck; Hagel scored the easiest empty net goal that you'll ever see, and while untouched.
3-1, bad guys, 3-1 your final.
With the game now complete, the Rangers decided now was the right time to fight – perhaps a fight that inspired ugliness from the fans in-attendance too.
Fox and Cernak went at it. Lindgren came up bleeding after an altercation too. Stamkos then won a fight with Lafreniere.
If you believe in gaining momentum during post-game fights/scrums – Tampa won all of it here.
---
Following this depressing 3-1 loss; I had many fans reach out to me, where they all told me there were a ton of fights after the game.
One reader, and not a "yout" at that, Joe F., told me that he was accidentally hit in the head during one of these melees.
However, nothing was as disgusting and boorish as this:
Fight at MSG #NYR #NoQuitInNY #Fights #TampaBay pic.twitter.com/xxL9oD1if1

— Scott Kaplan (@ScottKaplanOn) June 10, 2022
---
While Scott Kaplan (the person who captured this on video), described this as a "fight;" this was anything but a fight.
If you know me, I love hockey fights (and MMA is my second favorite sport too); but come on – this is criminal.
Let the paid professionals fight – and not amateur fans.
As you can see in the video above, some Ranger fan cold-cocked a Tampa fan right in the mouth with a devastating southpaw punch.
And yes, I know the jokes that can be made here, such as "the hardest hit of the game," "I wish the Rangers showed this much fight," and etc – but even if this Tampa fan was a drunken asshole – this is an assault.
Had this Tampa fan been grabbing at some woman or child, then, and only then, would I think that such an attack would be warranted.
It's one thing to defend the safety of someone who can't defend themselves (a woman and/or a child against a grown male – and save me the talk about 8976789678687969 genders today) – but it's another thing to blast some unsuspecting person in the mouth – and with all of the force of a "TROO TROO TRAIN" hit behind that fist.
This Tampa fan was talking shit by himself, and an obviously frustrated (and I'm sure soon-to-be-locked-up and banned from M$G too) Rangers fan cheap-shotted him.
I just hate all of this, and let me tell you the ways:
— When people see stuff like this (and this video has already gone viral like it took place in Wuhan); it discourages them from going to games.
— As someone with young nieces in my life – I know that I wouldn't want to take them to an environment like this. Nor would I expect my sister and brother-in-law either.
— After all, like I just told you, I was relayed other incidents of innocent bystanders being caught in the crossfire too. I wouldn't want to see some young child be put in a similar situation.
— As talked about 4067867867867896789 times before on this site – these players aren't fighting over your jobs. Why fight over theirs?
— I love going to road games. Heck – I save my money for road games rather than going to M$G. It's a much better experience and a nice mini-vacation too. (I love traveling and seeing all parts of America and Canada – it's given me a ton of life experience and new friends too.)
— While I don't troll the home fans, nor run my mouth towards their direction neither, as I respect their fandom and buildings instead (including in Tampa – one of my favorite NHL cities); I know, and especially at near 40 years old (my birthday is June 13th), that I don't want to deal with any of this shit – shit where you can lose your job over. (Plus, as anyone my age or older can tell you – it hurts to hit someone!)
— It just makes us, as Ranger fans, look like animals straight out of the Bronx Zoo. You may as well be flinging feces.
---
If you must fight an opposing fan – man-up and do it in the streets – and square off and fight an even fight.
This wasn't that at all. It was the complete opposite, where I'm sure sometime Friday, we'll hear about this attacker's arrest. This wasn't brave. This was cowardly.
I can tell you this from first-hand experience – M$G has a ton of cameras all over the arena.
How do I know this?
In my younger days (and even going back to 2012 too – when I was thirty – I'm still immature at heart – and also the last time where I did this), I would beat the bathroom lines by taking an empty beer cup to the staircase, where I would then beat the 897678689678967896 minute long bathroom lines and pee in it.
After being caught (where I then received a fair, but stern warning from M$G security) – I never did it again.
Need more? While I was pissing in the staircase; people would be smoking there – both cigarettes and the ganja.
My point about all of this?
M$G's camera systems have evolved since 2012, where their footage from this incident will be turned over to NYPD.
In this fan's moment of extreme frustration (and weakness) – he'll have a rocky few months ahead – months where his lawyer fees won't even come close to the $700 get-in price for tonight's game. These fees will be much more severe.
Sports are an escape from reality, where yes – we also live-and-die by them too.
I know about all of this – after all, I write 10,000 word blogs after every game.
Be mad about the loss. Get angry on social media. Throw a beer bottle at your TV if you must.
To commit a crime after what's supposed to be entertainment? Come on.
And if you're interested, I do have four friends (three active, one retired) who are NYPD and work in the precinct that M$G is in. Maybe I can follow-up, and see if this guy was caught.
---
Here's Gallant after the game, a head coach who was noble in his criticism of these bozos in zebra stripes:
---
I may return tomorrow.
Then again, I may need a day to fully relax and get my mind off of this.
Maybe I'll finish off "Yellowstone" on Paramount Plus.
Plus, what can Gallant, and his players, say that we don't know already?
Gotta win Game Six.
That said, if you watched all of the post-game interviews from tonight's game; you could hear it in everyone's voice – the Rangers are slipping away.
This series is feeling like a loss.
Do they have another comeback in them? I sure as shit hope so.
If not – I still stand firm on what I've been saying from day one – I'm very proud of this team.
PLUGS TIME.
---
My first plug of tonight's blog – the mandatory plug for my book, "The New York Rangers Rink of Honor and the Rafters of Madison Square Garden".
As mentioned previously, the book is now available in hardcover, in paperback and in Kindle formats. To purchase a copy of the book, visit this link:
https://www.amazon.com/Rangers-Rafters-Madison-Square-Garden-ebook/dp/B09CM5N2WD
For those still looking for signed paperback versions of the book, I have re-ordered more copies. I now have a few signed copies for sale at $25 a pop (includes shipping price) through me directly. Here is all the information on that:
---
Here are my last few blogs, in case you missed them:
---
---
---
If you haven't already, subscribe to this blog for the next update:
---
Up next: Game Six, Saturday night in Tampa, Florida.
For those looking to watch the game in a friendly environment, for the first time in a long time (I think since 2012), the Rangers are opening up Madison $quare Garden for a watch party.
That party could be a funeral.
In other words – I'm staying at home, and as I always do – will be watching the game from my couch with my friend/neighbor/road-trip buddy, "TEN O'CLOCK TOMMY," while texting my dad, my uncle, and all of my other friends and Ranger fans. (I don't use the phone whenever I'm at M$G, aside from taking pictures.)
Tickets will run you $10 a pop for this "party," with all net profits going to the Garden of Dreams.
Why is "party" in quotes? Easy – all of these games are like a cardiac arrest event.
For more information, check out: https://www.nhl.com/rangers/fans/viewing-parties
LET'S GO RANGERS!
Sean McCaffrey
BULLSMC@aol.com
@NYCTHEMIC on Tweeter