Please return if found!
Welcome everyone to another blog here on DOINOW.com. We are getting a ton of new readers lately, as the site is doing its best traffic since its inception. For the new readers, I urge you check out the past blogs in the archive section, as I do not like to repeat myself and won't go in-depth on topics I already discussed. On the right hand of the site you can find the archives, live tweets (@nycthemic), the search button, other links to Ranger sites and all that good stuff.
With that being said, don't drink and drive, tip your bartenders, always double down when holding Jacks or higher when playing Broadway, try the potato soup at the bold and always, and I mean always, use "IN CAM WE TRUST" as your personal mantra!
You can call it ironic or you can make nothing of it, but the second Henrik Lundqvist was announced as returning, the Rangers gave you a shit sandwich vs LA, dominated a potential first round match-up in Ottawa, saw Hank get destroyed by Boston like usual and Talbot had one of his worst games of his career against Washington. The Rangers haven't lost 3 out of 4 since Lundqvist was starter, just saying. They also haven't lost a back-to-back under Cam's watch either.
Today, the Rangers hosted the Washington Capitals. As some of these games have been as of late, this was another potential first-round preview.  How weird is it that this week alone, the Rangers played three possible first round teams, in the Capitals, Senators & Bruins?
This was a game the Rangers should've won. We all know I'm the conductor of that Talbot Fan Train, and while I wouldn't put this loss on him, he wasn't making saves that he has been making. He wasn't as lights out as he has been. I wonder if Lundqvist is in the back of his mind a bit. It's a fair question. Talbot had that stretch of games where he was able to bail out the Rangers from their mistakes, but with Hank taking his job, maybe Talbot played at a lower level to make Hank feel good about himself for yesterday! (How many of you think I'm 100% serious with that last sentence! I'm sure several of you have steam out of your ears already!)
During the latter part of Talbot's run as starter, he has been a rock. He has saved the Rangers from giving up bad goals and from people to be over-analyzing mistakes because the Rangers were winning games. The Rangers have been consistent recently in losing faceoffs, having a piss-poor powerplay, over-passing and turning the puck over. All four of these things are reasons why the Rangers lost this matinee game.
Cam Talbot didn't have much to smile about today
Once in a while, I'll live tweet these games, and it's fun interacting with everyone. It is funny how bat-shit insane and angry people get with the fact that I would like to see Talbot as the starter for this years playoffs. According to some, that means I'm not a real fan nor know what I'm talking about. It also leads to a flood of name calling, which is always classy! The fact of the matter is you can either share my opinion or don't, I don't really care either way. You don't have to read it, but you have to admit, Talbot has been playing so great that is even an issue. Where at one point, the Hank vs Cam debate was 99% to 1% (Guess who the 1% was, ha!) I would peg it now at 65%-35%, in favor of Hank.
The facts, even if they are ironic, is that the Rangers have had some pretty horrible games since Hank's return. At the same time, the Rangers have also looked horrible since clinching a playoff spot. All their normal problems were exposed again here today.
Alex Ovechkin, barring slumping to a level of epic failure, should win the Hart Trophy this season. He's the MVP of this league. Without him, the Capitals are hanging out with the Devils and Columbus. Ovi was just a beast and kept his team in this game, before the Rangers imploded.
Ovi scored the first goal of the game, less than 5 minutes in, as he took a pass from Joel Ward and put it through Dan Girardi's legs and Talbot's legs. Talbot looked like he was somewhat screened as well. Should the shot been stopped? Perhaps, but there's a reason why Ovi has the most goals in the league. He's hot as fuck and where someone like Nash has lost his nose for the puck, Ovi has been in the zone all season. 1-0 Caps.
HAYES! HAYES! HAYES! (Notice how old this picture is by the jersey number)
I've said it a million times on this blog and on twitter. Kevin Hayes is the future of this team. Where most of you people focus on me being a Talbot guy, I'm also very big on Kevin Hayes. I guess because being a Hayes fan is either of little importance or not against the grain, no one cares about that!
Hayes has been a godsend for the Rangers. Not only does it give the Rangers flexibility in dealing their first round picks and <Gulp> Anthony Duclair, the Rangers also have a bonafide NHL-er. He was a stud in college, the Blackhawks couldn't afford to keep him and now, he has the potential to be the hottest star on Broadway one day.
Hayes was all over the net in the first period. He was robbed by Holtby and had a stick break on him on another try. Hayes stole the puck from Carlson and was left one-on-one with Holtby in front of the net. Hayes made an incredible move, deked Holtby out of his pads, and tied the game with two minutes to go.
The Rangers got a goal a minute later, this time off the stick of Derick Brassard. Zuccarello, who perhaps passes too much, had one work out for him, as he tossed one to Brassard on the rush and Brassard buried it home. The period was over a minute later, and the Rangers took the momentum and the lead into the second period, up 2-1. It would be the last goal the Rangers scored all game.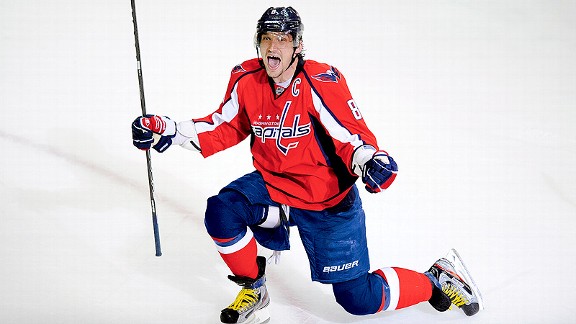 Just give him the MVP
I did a blog a few weeks ago talking about Ovechkin. I know the history with him and the Rangers, so spare me. However, he is one of my favorite players to watch play. He is just an animal and does everything. He can snipe. He has a killer slapshot. He is tough. He hits guys. He'll swing if has to. He is everything that Crosby of the Penguins is not, and that is why I think fans respect Ovi more.
Ovi should be the MVP of the league. I'm not the only one saying that. We all know that. Then for the life of me, why is he always open on Capital PP's? The Caps are one of the best PP teams in the league and Ovi is their star. Time and time again, Ovi is wide open on the PP. It cost the Rangers here and Ovi's goal was just so infuriating as a Rangers fan.
The Rangers would finish up 0-5 on their powerless play. Where to start here? I mean, after two games of not getting a powerplay, the Rangers returned to their futile attempt at scoring goals during the PP. Put it this way – Tanner Glass has just as many goals as the Rangers in their last 30 PP attempts.
Nothing pisses you off like seeing your team take a penalty while on the PP. That's exactly what happened after a slashing call on Brassard. The Caps had a short man advantage and before the PP expired, Ovi is left wide open and just bombs one past Talbot. At this point in the game, the Rangers were in the chase the puck and be gassed on defense mode. Do I blame Talbot for the goal? No. Was it something he's stopped before? Hell yea. That's why I'm a fan of him to begin with. However, Ovi just showed why he's an MVP candidate, hence his 2 goals here today. 2-2.
Make your Yandle/Handle puns now
I haven't jumped down the throat of Keith Yandle like some other Ranger fans. I mean, look at MSL last year. He didn't start off hot. Took him a while to learn the system. Yandle started off cold, but eventually got his first NYR goal and had a 3 assist game. However, from reading Coyote fan blogs/writers, those people didn't seem too upset about losing him. Many Coyote fans called him a human turnover machine or "Mis-Yandled".
Yandle committed a brutal turnover by the blue line, five minutes into the third. Two passes later, bang, 3-2, as Chimera had an easy goal. The turnovers smacked the Rangers in the face again three minutes later. This time it was AHL-er Chris Summers turn. Summers played today for Matt Hunwick, who was scratched with injury. I just figured he was scratched because of the brutal turnover he gave up in front of Lundqvist yesterday. Don't fear Hunwick, Summers filled your spot well, as Summers turnover turned into another Chimera goal. 4-2 Caps.
With the score 4-2, the Rangers continued to play like shit. No fire. Playing four potential 7 or 8 seeds this week (Kings/Sens/Bruins/Caps) has told the story of a team fighting for their lives and a team coasting. Faceoffs were lost. Defense was non-existent. Powerplay was a failure. Getting beat to the puck. The Rangers need to get back to playing a full 60 minutes and remember why they are one of the top teams in the NHL today.
Marcus Johansson added an empty netter, as Coach AV pulled a Patrick Roy move, when down by two and with time on the clock. Your final, 5-2, Caps.
Will Hank put the team on his back or lay on his back?
I"m assuming Hank gets the call for the rest of the week, with games at Winnipeg (Tuesday), Minnesota (Thursday) and the Devils (Saturday).  The Rangers then have a back-to-back the following week, where I see Cam getting a chance to redeem himself after this game.
Hank vs Cam, whatever your stance on the issue, Hank will have his chance this week. If the Rangers PP continues to fail and the defense keeps turning the puck over for goals, it won't matter who's in net. Of course, you want your $8.5 million dollar man, the highest paid goalie in the history of the salary cap era bail you out, but you can't do anything if you want to give the puck up in front of the net several times a game.
However, the sky isn't falling. Relax. Martin St. Louis & Kevin Klein will be returning shortly. After these games by Hunwick & Summers, Klein can't get back fast enough. You hope that MSL can return and be a spike in the arm for the Rangers PP. When Marty gets hot, he gets right to that dot and can fire away multiple scoring chances a game.
Ranger fans haven't experienced this much losing this season since Lundqvist was the starter. I mean if you compare Lundqvist's first 20 games as starter vs Talbot's first 20 games as a starter, then wow, Lundqvist looks like he should be backing up Skapski!
Rangers get a chance to right this ship on Tuesday. The last thing team needs to do is slump into the playoffs. Games like this, while it's not time to go nuts or anything, can make me believe this team has just as good of a shot of being swept in the first round as they do of winning the whole damn thing. The playoffs can't start soon enough.
For those who indulge, enjoy Wrestlemania.Watching Daniel Bryan win the IC title, as I type these words, is like watching the Rangers lose the Cup. You know he should've won the big prize today. Just like the Rangers should've won today and should've won the Cup in June.
See ya Tuesday night.
LGR
ICWT
Sean McCaffrey
BULLSMC@aol.com
@NYCTHEMIC on twitter