What's up everyone and welcome to another book review, here on BlueCollarBlueShirts.com. This is the first book review of the summer, as this is usually the time of the year that I catch up on things after the busy NHL season.
For new readers and old readers alike, you can access my previous book reviews, by checking out the tab at the top of the site, or visiting http://doinow.com/book-reviews/ directly.
Furthermore, for the latest blogs, keep checking the main page at BlueCollarBlueShirts.com. After this book review, I will have a new blog up, checking in on the 2018 Stanley Cup Finals, as well as the Rangers hiring of head coach David Quinn.
Ironically, on the Rangers search for a new head coach, I was openly questioning if Roy would be considered for the job, back on February 21st. You can see me bring Roy up here: http://doinow.com/22118/
As far as Quinn getting the Rangers job (From all reports, Patrick Roy and for that matter, Sheldon Keefe, weren't even considered) I'll save my thoughts on him & the hiring for my next blog.
Let's get to Patrick Roy and this book.
There have been countless "TOP 10 NHL GOALIES OF ALL TIME" lists put out there in the media, whether it be the NHL Network, ESPN, TSN, The Hockey Writers, Joe Blow's Blog, Clickbait.com or where ever else you get hockey news/opinions from.
What many of these lists, if not all of them, fail to mention, is how much hockey changes from one generation to the next. While changes occur in every sport, it is in my opinion, that hockey, at least in its NHL presentation, has changed more than the other professional sport leagues in North America, especially when it comes to stats.
With each passing generation, the current generation will always have the greatest advantage when it comes to scouting, nutrition, training, healing and film study. However, the current generation will also have the least chance at winning championships, due to expansion, salary caps and watered down teammates.
When it comes to goalies, the newer generation currently plays in the no-tie era, which means, that in time, the next crop of great goalies will soon surpass the win totals of the goalies of the past. You're already seeing it now, with Luongo, Lundqvist and Fleury all about to be on the Top 10 list for Most Wins in NHL history. For comparison, Roy has 551 wins (second all time), but 131 ties. Hypothetically, if Roy won half those ties, he would've finished with over 600 wins. It's just so hard to compare generations with different variables. It's easier to compare goalies from the same generation.
To compare Patrick Roy, who was the greatest goalie in the league during his prime, to goalies of yesteryear, such as Terry Sawchuk, Jacques Plante or Johnny Bower, would be unfair. It may also be unfair to compare him to goalies from this current generation, like Marc Andre Fleury, Jonathan Quick or to even a player who could never win a Stanley Cup, like Henrik Lundqvist.
Goalies from the old guard didn't have the advantage of playing with a mask. The equipment was different. The game was different. However, it wasn't all bad. A good goalie could collect multiple Stanley Cups, especially if he played in Montreal or Toronto, where these teams had advantageous draft rights. In the Original 6 era, without weighting the talent among the teams, you had a 1/6 shot at the Cup, unlike the 1/31 shot (soon to be 1/32 once Seattle gets in) you have today.
While the game of hockey is essentially the same, there are a lot of differences, when comparing generations. One big difference was goaltending. The way to play net was different, as goalies were predominately trained to tend net from a standing position. Very few utilized the butterfly and when they did, they were critiqued. Even the famous Sawchuk crouch was ridiculed.
While Roy did not create the butterfly approach, he was the one that innovated the style. It wasn't until Roy came around and excelled, that the butterfly technique really caught on & became the standard bearer. This was also in direct correlation of the skater skill level rising and improvements to hockey sticks. The puck was coming at goalies faster and harder than ever before. In turn, goalies had to adapt.
Any "Top 10" or "Greatest Ever" list is always going to be subjective and in the eye of the beholder. However, no matter the generation, the one thing that can't be disputed is that Patrick Roy is one of the greatest goaltenders in the history of the NHL. Sure, some lists may have him as number 1. Some lists may feature Brodeur as number 1. Then again, a list from an old-timer may have Sawchuk or Dryden sitting at number 1. Regardless of wide-ranging opinions, the only opinion everyone can agree on, is that Roy was one of the best at what he did.
As far as what I personally think about Roy's positioning on any "Top 10 Goalies of All-Time" list? To me, Brodeur edges Roy by a hair for number 1 overall. However, outside of clips, I never seen Sawchuk play. I do know he was a real prick off the ice though, and that counts for something. I never seen Dryden play live either, but his career is too short & he played on a team that had all the advantages in the world.
At the end of the day, there will never be a definitive answer to "who's the greatest goalie of all time?" It's all in the eye of beholder and a matter of personal preference. We tend to think the people we've seen are better than the players we haven't seen. A perfect example of this is "Sports Illustrated" comparing Ohtani, of the Los Angeles Angels, to Babe Ruth. Just idiotic.
When you look at the career of Roy, three huge stats stick out. Four Stanley Cups, winning two a piece in two markets completely different from one another. Three Conn Smythe Trophies, which means Roy was the best player, against the top competition, for three different Springs. Gretzky and Super Mario can't  even claim to have three Conn Smythe's. In fact, Roy is the only player in the history of the NHL to have 3 Conn Smythe's. That is purely outstanding. Along with his three Conn Smythe Trophies, Roy also has 3 Vezina trophies.
To me, the Smythe trophy means much more than the Vezina, because the Smythe awards a player for being the best, against the best, for an intense 2-3 month period. The Vezina trophy rewards regular season accomplishments, which is no small feat either. However, in the history of the NHL, the Vezina trophy was created during the 1926-1927 season, while the Conn Smythe trophy didn't come around until much later, as it debuted in the playoffs of 1965.
So while other goalies won more Vezina's than Roy, there was a long stretch of time where there were only six goalies competing for that award. Later on, as the game progressed, Roy featured steep competition from Marty Brodeur (4 Vezina's), Dominik Hasek (6 Vezina's) and Ed Belfour (2 Vezina's). However, when compared to his competition, no one won more Stanley Cups or Conn Smythe's than Roy, and winning the Cup is what it's all about. To be named the best player in the playoffs, on three separate occasions? That's just the proverbial icing on the cake.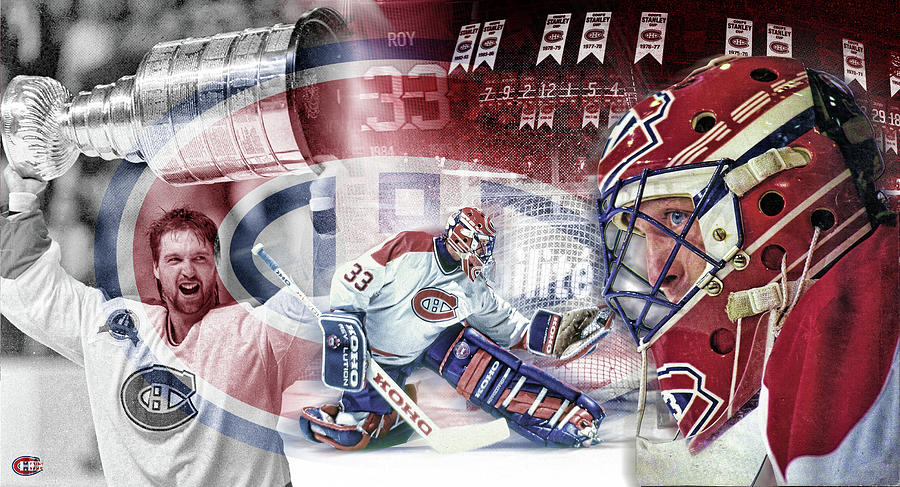 Being a teenager in the mid 1990's and graduating high school in 2000, I was always a diehard Ranger fan. However, from the 1997-1998 season, all the way until the first season after the lockout, the Rangers never made the playoffs. Come April, the Rangers were done. During the same time and until 2002, the Islanders weren't a playoff team either.
My friends and I, a mixed up bunch of Ranger and Islander fans, like Patrick Roy himself, were addicted to collecting and trading NHL cards.
During my high school years, (and a little into my days at UNC, you know, University of Nassau Community) there was no greater feud in the NHL than the Colorado Avalanche vs the Detroit Redwings. In fact, check out the book review page for my book review on "BLOOD FEUD", by Adrian Dater.
With our Rangers and Islanders chasing draft picks instead of chasing Stanley Cups, as hockey fans, we were engrossed by the Avs and Wings. Most of us pulled for the Avalanche. They were the new team in town. While not exactly like the modern day Vegas Golden Knights, the Avalanche were ripped out of Quebec and put in Colorado. The jerseys were cool looking too, as I can remember many kids from my area sporting Avalanche jerseys. (It also helped that a local sporting goods store in my town carried Avalanche jerseys, as you could get a Foote, Roy, Forsberg or Sakic jersey for about $75.)
Personally, I was rooting for the Avalanche to win once the Rangers were out. When they would later get Ray Bourque, and contend for the Cup in 2001, like most of us with non-Devil allegiances (and we hated the Devils) we were all aboard the Avalanche train. Plus, I had a few Devil fan friends and I loved giving them shit about how Roy (and Richter too, for that matter!) was light years better than Brodeur. I will admit, 20 years later, I don't share that same opinion.
I've talked about this story before, but it's worth repeating. The following was originally written on 2/4/15:
One day, in the late 1990's, the Avalanche were in town to take on the Islanders. This is when the Avalanche were dominant with Sakic, Foote, Forsberg, etc. Of course, the Av's also had arguably the greatest goalie of all time, in Patrick Roy. My friend Justin, who was obsessed with getting autographs and got us (my friends & I)  into the hobby, decided we needed to cut school after fifth period and try to get Avalanche autographs after their morning skate.

I forgot where Justin got his autograph location tips, as some teams didn't always stay at the Marriot and some teams skipped a morning skate, but I want to say he got info from a guy at this baseball card store near us. Justin was hellbent that day about getting to the Coliseum early. He never met Patrick Roy or Joe Sakic before and this was going to be the best opportunity.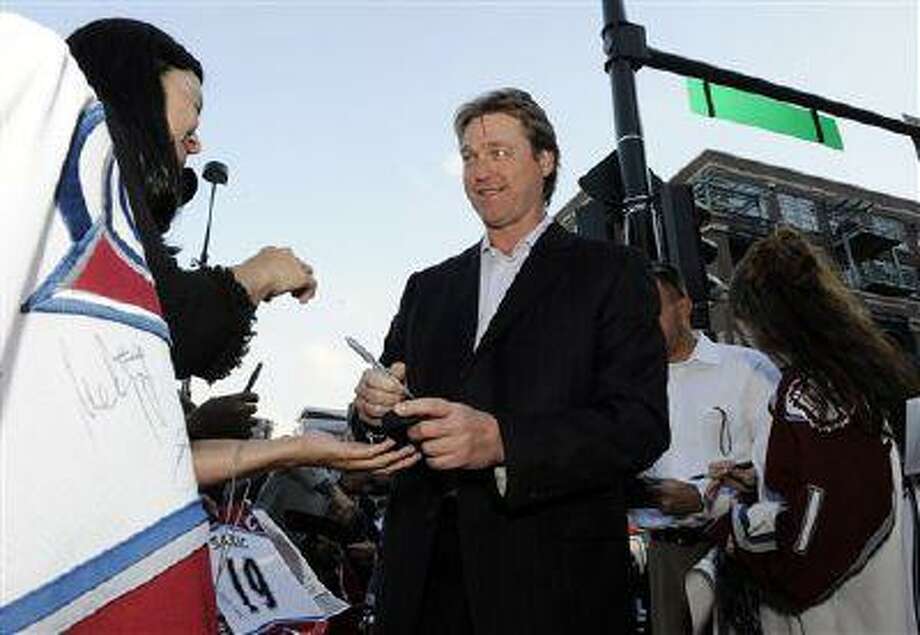 After ditching the second half of the school day, we arrived at the Coliseum at 1PM. We set up camp by the ramp that led to the underground parking garage, since we got a tip about that being the entrance/exit that the Av's would be using. I was 17 years old, while Justin was 18 and about to wrap up his senior year at high school. There weren't that many autograph seeking degenerates that day, just a few old men, who we got to know. (Boy does that sentence sound fucked up, make your priest or Michael Jackson joke to yourself if you like!)

We knew these grown men due to our past exploits of chasing autographs. To this day, I have binders full of hockey cards signed by hundreds of players from the late 1990's. While we collected them and boasted about our collections to each other, those older guys at that time would get autographs and sell them to the baseball card stores or at conventions.  As I was talking to one of the guys there, I noticed Justin was gone. Now I know what you're thinking, old men and a fresh faced, legal teenager. Get your mind out of the gutter, this is a sports blog, not a homosexual erotica blog!

I never got to meet Patrick Roy that day. I would eventually meet him later on during the season. Realizing I wasn't going to see Roy that day, I started wondering where Justin went. I figured he went back to his car to get something or to take a leak. As the autograph seekers started dispersing and heading out for lunch, all I could think was, "where the fuck is my ride?"

While sorting out my autograph binder, I heard a large commotion from the ramp. When I looked, there was Justin, at a full sprint, with two large black guys chasing him. Justin had a hockey stick in his hand. I didn't know it then, but it was Patrick Roy's goalie stick! These security guards were a tad on the chunky side and Justin was a 3 sport athlete in high school. Justin booked it and was running towards the Marriot. The security guards were beat.

With no cell phones in that era, I had now lost Justin again. Eventually, I beeped him, he beeped back and we reconvened at the Marriot. Payphones were a thing back then, if you could remember. When we finally hooked back up, it turned out that Justin snuck down the ramp, into the building and weaseled his way into the visiting player's locker room. He immediately saw Roy's locker and grabbed his goalie stick. Listen, I don't advocate stealing, but this was a teenager not thinking right and wanting a rare piece of memorabilia. Security got a glimpse of him, and the chase was on.

At the end of the day, Justin was in possession of Roy's stick & had a great story to tell. Only at the Nassau Coliseum, could a kid sneak inside and steal player gear. You could never pull something like that off at MSG.
So where am I going with this? Being born in 1982 and as a Ranger fan in New York, I never watched Roy much when he was with Montreal. It's not like the NHL had out of market games on TV then. When Roy went to Colorado, the NHL had out of town games on TV. Due to the Avs/Wings feud, both teams were featured extensively.
Come high school, I was very up-to-date and knew all about his Colorado daily doings. When Roy retired in 2003, I realized I saw one of the greatest careers in the history of sports. I was always a fan of Roy. Even when he had his incidents (beating guys up on the ice, the alleged domestic assault off of it) I knew that he had some "x-factor" gene, that eye of the tiger drive to win.
This book, "Patrick Roy, Winning. Nothing Else" was originally written in 2008, by Michel Roy, the father of Patrick Roy. It would've been nice to read the book then, but the book was released only in French. My knowledge of the French language is limited to signs you'd see at an airport, like the word "Sortie." So reading the book wasn't going to happen then.
Fast forward to 2015. Michel Roy re-released the book, this time in English and with a brand new chapter. The version of the book I read covers Patrick Roy's entire career and ends with St. Patrick taking the Head Coach job of the Colorado Avalanche.
When I opened the book and thumbed through it, only to see that there were 500+ pages to devour, I knew I as going to be investing some time into this book. I have no problem with putting the reading in. After all, how hypocritical would I be, if I couldn't get through a long piece of literature. After all, look at how long these blogs go!
I will include pages of the book soon, but I just want to share you the introduction page now:
The first sentence, now in hindsight, after reading the entire book, contains truth and falsehoods. The book discusses Patrick Roy's career in-depth. The only problem is that it feels like it takes you until page 150 to get there.
A portion of the book talks about Michel Roy's up-bringing. An interesting story, for sure, was how he grew up thinking someone else was his father (who, for the record, had venereal diseases), only for that man to die, which in turn, allowed Michel Roy's mother to marry his biological father. You see, Roy's mother couldn't divorce someone who cheated on her and brought VD to the bedroom, because of the rules of the Cult, I mean the Catholic Church. Instead, Michel Roy's mother had to wait for her first husband to die, so she could marry Michel Roy's biological father. Got all that? Good! Trust me, Michel Roy explains it better in the book!
If that was the only Michel Roy story, that would've been fine, but a lot of the book is about Michel Roy too. I get that he's a big part of his son's upbringing, but no one is buying a book to hear what Michel Roy did for work.
Obviously, the author is biased. He's not a journalist. He's a father writing about his son. I don't care about the bias, as we all have our biases in someway, but while you can blatantly see where Michel could be biased, he never gives you the other side. Like a modern day Henrik Lundqvist, Michel Roy blames Patrick's teammates and coaches for anything wrong. Michel would list one or two games where Patrick wasn't in his best light, but quickly brushed over it to talk about Patrick's long term successes. While Michel is obviously his son's biggest advocate, I don't know if this is a reflection of how Patrick felt. We know that's how Patrick's father felt.
I go back to the opening sentence. "This story is not about hockey." The sentence that follows that opener was, "…it is the human story of someone…"
If you're really looking to find out what Patrick Roy felt about anything, you really don't get that in this book. Michel even glosses over Patrick's family. One day he meets a girl during Montreal's first Cup run of 1986. The next day he's married to someone else and has three kids. You would think in the human story of Patrick Roy's life, talking a little about his nuclear family, and not how Michel felt on things, would be important. Then again, Michel said he never cared for his ex-daughter-in-law anyway, and since this book is a reflection of what Michel felt & believes, I guess that's more important than what Patrick lived & felt.
I'm not here to shit on Michel's written word parade of his son. Far from it. I thought the book was well written, covered everything and had some inside stories. (There are some translation errors, which aren't bothersome much, outside of the translator claiming that Ranger fans chanted "GO RANGERS GO!" instead of "LET'S GO RANGERS!")
However, my main criticism of the book, which flowed throughout the entire 500+ page journey – you were getting the story through the eyes of Michel, and not Patrick. Once in a while, Michel would try to relay's Patrick's feelings on something, but even then, it felt you were reading a press release, written by an agent. There was that much spin. You just never got the other side of any story.
Let me share you some pages of the book. I posted the following pictures, not in page order, on my twitter, with comments:
I'll take things Lundswiss would never say for a $1000 #roy pic.twitter.com/WuuFzjDCJw

— BlueCollarBlueShirts (@NYCTheMiC) May 23, 2018
Fortunately for Ray Bourque, Lundswiss currently holds this dubious honor. #roy pic.twitter.com/7W90cS0e33

— BlueCollarBlueShirts (@NYCTheMiC) May 23, 2018
Fans forget that Roy was successful coaching kids at a junior level #roy pic.twitter.com/VVe8XYNjfs

— BlueCollarBlueShirts (@NYCTheMiC) May 23, 2018
Makes you really think. 20 years old and Roy won the Conn Smythe. 30 years later, young Matt Murray won his first of two Cups, but not the MVP. #roy pic.twitter.com/7LIAqRnuPr

— BlueCollarBlueShirts (@NYCTheMiC) May 23, 2018
This was a phone call to a Quebec radio station in 1974 #roy pic.twitter.com/C1da4S7SH9

— BlueCollarBlueShirts (@NYCTheMiC) May 23, 2018
Politics and family swerves in #Roy pic.twitter.com/WQb6D3cGr0

— BlueCollarBlueShirts (@NYCTheMiC) May 23, 2018
Roy and Lemieux were born on the same day. Isn't that amazing Suzyn? #roy pic.twitter.com/ESMEPjwBT6

— BlueCollarBlueShirts (@NYCTheMiC) May 23, 2018
All hazing stories are rooted in homosexuality #roy pic.twitter.com/ZM5r2tGvOC

— BlueCollarBlueShirts (@NYCTheMiC) May 23, 2018
Of course the Rangers Cup futility is mentioned. By this point, Roy was coming off the Calder and Stanley Cup seasons. At 20 years old. #roy pic.twitter.com/Wik9fxsvWi

— BlueCollarBlueShirts (@NYCTheMiC) May 23, 2018
Draft and contract talk are talked about in-depth.#roy pic.twitter.com/KRIuwdadUv

— BlueCollarBlueShirts (@NYCTheMiC) May 23, 2018
The Francois Allaire & Roy connection proved more successful than the Benoit Allaire/Lundswiss tandem. #roy pic.twitter.com/J04qixH6Iy

— BlueCollarBlueShirts (@NYCTheMiC) May 23, 2018
Michel Roy spends time in this book alleging racism against French Canadians. This doesn't help the crybaby stereotype. #roy pic.twitter.com/5hRLoHROKH

— BlueCollarBlueShirts (@NYCTheMiC) May 23, 2018
Michel Roy had no problem with French players bumping off their non-Quebec competition. Guess the rules only apply when you want them to! #roy pic.twitter.com/71zE2gnCg1

— BlueCollarBlueShirts (@NYCTheMiC) May 23, 2018
Montreal always holds their French values in the highest of regards. Soon enough Keane & Roy would be playing for Roy's old agent, Pierre Lacroix #roy pic.twitter.com/BrJ5LuFJN0

— BlueCollarBlueShirts (@NYCTheMiC) May 23, 2018
Imagine your boss telling you that you can't have a post work pop? #roy pic.twitter.com/aVMtmrrHZ9

— BlueCollarBlueShirts (@NYCTheMiC) May 23, 2018
Building up the blow up #Roy pic.twitter.com/ZhFPxRSt9Q

— BlueCollarBlueShirts (@NYCTheMiC) May 23, 2018
A real king #Roy pic.twitter.com/3akwNQpO26

— BlueCollarBlueShirts (@NYCTheMiC) May 23, 2018
Roy wasn't afraid to throw down #roy pic.twitter.com/v499unqRjX

— BlueCollarBlueShirts (@NYCTheMiC) May 23, 2018
King #roy pic.twitter.com/XvuMkLS7Rb

— BlueCollarBlueShirts (@NYCTheMiC) May 23, 2018
You can find more pages of the book on my twitter page, @NYCTHEMIC
While this book leaves no stone unturned, 99% of the time, you get Michel Roy's view on things. One common thread throughout the book is Michel Roy's pride in being a French-Canadian. While it is honorable and understandable to be proud of where you come from, I found Michel Roy trying to equate French-Canadians to the American racial slur for a black person, starting with the letter N, to be very off. I wasn't offended or trying to give you fake outrage here. However, I just don't know how you can compare the self-perceived French-Canadian struggle in the NHL to slavery, KKK murders, Jim Crow laws, etc. For someone who works in politics, Michel Roy should've known better.
Michel blames alleged biases against French-Canadians for some of Patrick's dealings with the national team, in Team Canada. However, when a French-Canadian is rewarded for something, Michel Roy beamed with pride. Just a bit hypocritical.
While the amount of material Michel Roy covered was immense, you're often reminded of who the author is, especially when Michel Roy said that Patrick Roy was bigger in Colorado than John Elway. Listen, I never lived to Denver. I've never even been there. However, there is no fucking way that Patrick Roy, or any of the Colorado Avalanche, past or present, were bigger than John Elway.
When Michel Roy takes his biases and stories of himself out of the book, the book becomes a fascinating page turner. Again, I was in high school when Roy went to the Avalanche and the world was a different place. For example, the internet was just in its infancy, as AOL CD-ROMs were being passed out like condoms during a sex-ed class. There were no cell phones. The way we got news was a lot different, so it wasn't until I read about this book, until I fully understood how much Pierre Lacroix meant to Roy and to his career.
Throughout the book, Lacroix is a key character in Roy's development and success. In fact, it was Lacroix's agency that represented Roy throughout his entire career.
When the book finally gets to the NHL (about 200 pages or so in) every season is recapped. When Roy shines, the book spends a good portion on it. If Roy wasn't starting or if the team failed, the finger was pointed at someone else. Again, I felt this was Michel's view/take and not necessarily Patrick's.
Wrestling fans know about the Montreal Screwjob, which occurred in 1997, during a Bret Hart vs Shawn Michaels match, in the very same city that Roy made his career in. Before the WWF's Montreal Screwjob, there was the Roy trade, which was a direct result of Montreal head coach, Mario Tremblay, allowing Roy to get beat up unmercifully.
The Montreal split was discussed in full detail in this book, with obviously, all the blame going to Tremblay and Montreal's front office. With the benefit of hindsight, the Roy trade may be the most lop-sided trade in NHL history. The once great Montreal franchise hasn't won a Stanley Cup since.
Whether Montreal's lack of success, post-Roy, is due because of the Roy trade or because of the ever-changing league rules that took away Montreal's advantages (salary cap, draft rights, etc) the fact remains – Montreal hasn't fielded a winner since Roy left. To make matters worse, Roy immediately won the Cup with the Colorado Avalanche, who just a year before, were Montreal's biggest rival, as they were formerly the Quebec Nordiques.
(Also ironic, it was the Redwings and Bowman, looking to stick it to Tremblay, which led to Roy getting pelted and saying he'd never play for the Habs again. Who would've thought at the time, Bowman would give his eventual new rival, the Colorado Avalanche, one of the greatest goalies of all time? Isn't that amazing Suzyn!?)
After Roy's run in Montreal, the book talks about his Colorado career, season-by-season. Of course, this is discussed:
At this point in his career, Roy was already a first ballot HOFer, with the hardware to back it up. He'd fight a few more times after this. How can you not love this? Outside of playoff wins, is there anything more exciting in the NHL than a rare goalie tilt?
Off the ice, Roy's alleged domestic disturbance was brought up, but again, through the eyes of his father. In Roy's defense, the case was dismissed and Roy's wife at the time said nothing happened, outside of Patrick Roy damaging property. However, due to the laws in Colorado, the case was treated as a domestic abuse, for better or for worse. Again, the case was eventually tossed and everyone said that Roy was innocent. I didn't think this story would even be discussed by Michel, but credit to him for not omitting it. I've seen other athletes skip the drama in their own autobiographies, such as Tie Domi in his "Shift Work" book.
Eventually, Patrick Roy's career comes to an end in 2003. Michel summarizes it and then talks about Patrick's coaching career in junior hockey and his love for the game & Quebec. It is here where we discover how Patrick developed players and was successful at the junior level.
The version of the book I read, the updated English version, closes with Roy's first year as head coach of the Colorado Avalanche. For those who don't know, Patrick Roy would win the Jack Adams award (coach of the year) and would then quit after his third season, as he felt Joe Sakic & Colorado Avalanche management broke their contractual promises to him. (Roy was supposed to have a say in the roster and felt that Sakic overruled him on everything.)
In closing on "Patrick Roy: Winning. Nothing Else.", I found the book enjoyable, but I feel that many readers, like me, had their Spidey-senses tingling during sections of Michel Roy's recollection of his son. I don't fault Michel at all. He's a great father and loves his son. Was he the best equipped person to write a biography on Roy? He certainly had the most access and had the inside track. However, is this a book that gives you two sides of every story? Of course not. That said, that would've been okay if Patrick wrote the book himself.
As someone who was a fan of Roy & his career, I liked the book and would recommend it for fellow Roy fans, Canadien fans, Avalanche fans and Quebec fans. If you're looking for something entertaining and riveting, this isn't exactly the book for you. This book is about a father and his son, who just happened to be one of the greatest goalies of all time.
Overall, not the best hockey book I ever read, but not the worst either. A middle of the pack book, that's only worth a read because of the player involved. To be fair, I prefer autobiographies or first-hand accounts, than second hand takes.
Keep it here on BlueCollarBlueShirts.com for more blogs and hockey opinion.
As always, thanks for reading.
Sean McCaffrey
BULLSMC@aol.com
@NYCTHEMIC on twitter